Last updated on February 23, 2021
These grey bathroom ideas will show you how to use this trendy color in designing your own room. Read on to find out how you can make a rather dull grey scheme exciting.
When designing your bathroom, it's essential to consider what you're trying to achieve before you even consider buying anything. Generally, we want to create a bathroom that gives off a sense of spaciousness and luminosity. However, if, for example, you have a large bathroom that feels too spacious, you might be looking to create a dark cozy bathroom instead.
Every single color you choose to incorporate into the design process can alter things drastically. The overall mood and feel of any room are massively influenced by the shades present.
So if you're working with a small bathroom, you may want to opt for colors that do the space justice like white.
This is why white is a trendy color for the bathrooms that tend to be very small. White reflects the light and makes the walls recede, which will allow you to achieve that feeling of spaciousness much easier.
But if your hearts set on grey, then we have to make it work, don't we?
When you think of grey, it doesn't exactly inspire the happiest of emotions, right? In fact, grey doesn't have any positive psychological properties at all.
Personally, I like grey as it gives off an attractive vibe, but at the same time grey can be quite calming, and I think that's why it's a color very suited for the bathroom.
Grey bathrooms do stand the test of time too. It's not a color that will go out of fashion, so its a future investment as well, especially if you mix grey with another color.
We recommend checking out our page on cheat sheets here.
But grey is a reasonably malleable color. Given the right combination of design elements – it can be a "moody" color. Given alternative combinations – it can feel sterile. But given the right combination of design philosophies and careful attention to detail – you can create an incredibly luxurious environment – even in smaller bathrooms.
There are some key benefits to building out a grey bathroom. Namely, the benefits that are already inherent when undertaking a design project with color as malleable and neutral as grey. Many people feel like grey is too "cold" of a color.
Neutral colors also run the risk of making rooms feel "washed out" and generally pretty dim. Luckily, there are a handful of crucial design strategies you can keep in mind to avoid this. Building a bathroom with a specific color palette in mind can get pretty tricky, especially as one as restrictive as grey.
Luckily, there is a wide range of hues that pair excellently with the color grey. So if you have a bit of wiggle room in the other colors you're planning on using in your design – you're in for a treat.
Choosing Bathroom Colors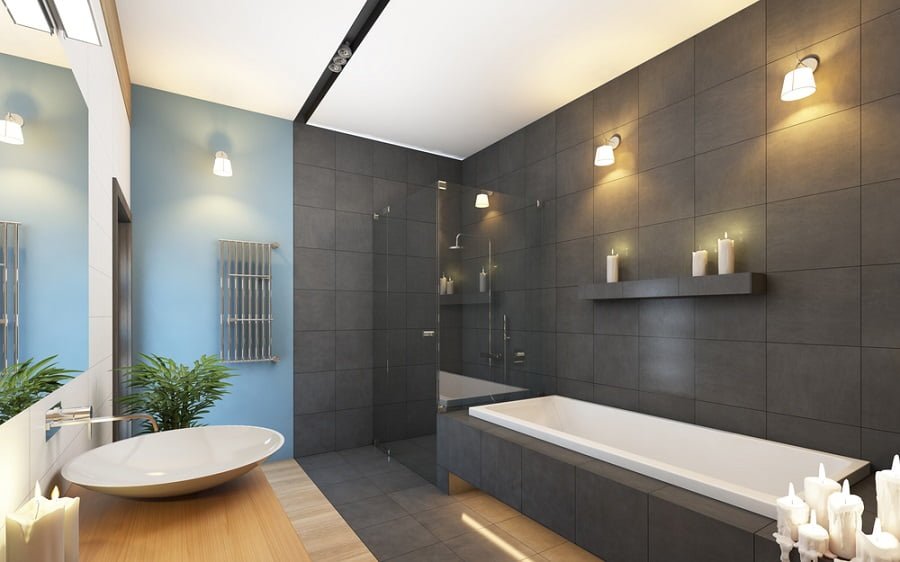 Dark slate grey looks good in most bathrooms. You can pair this color up with a lighter color on another wall for a nice contrast. You could even experiment with patterns too, and it could be an exciting way to make a statement. However, it's also pretty hard to pull off, so we recommend planning this out carefully.
Use Colorful Accessories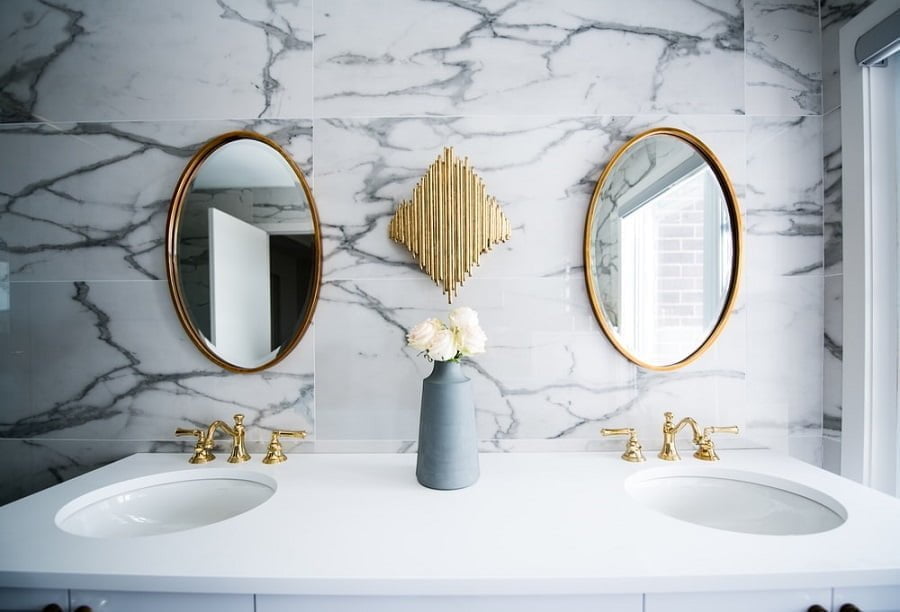 Adding color to your bathroom can be a fantastic way of breaking things up.
One of the best ways you can stop a grey bathroom design feeling bland is through the use of accessories. A significant upside to this design philosophy is that it draws more attention to said accessories. What's going to stand out more – a red ornament in a room full of various colors, or a red decoration in a room that's defined by the color grey?
If you have a piece you're particularly proud of that you'd love to feature and draw attention to – this is the perfect opportunity.
White, black, and other relatively neutral colors will add to the overall aesthetic of the room. But brightly colored accessories and ornaments will be immediate eye-catchers to anyone entering the room.
Keep Things Clean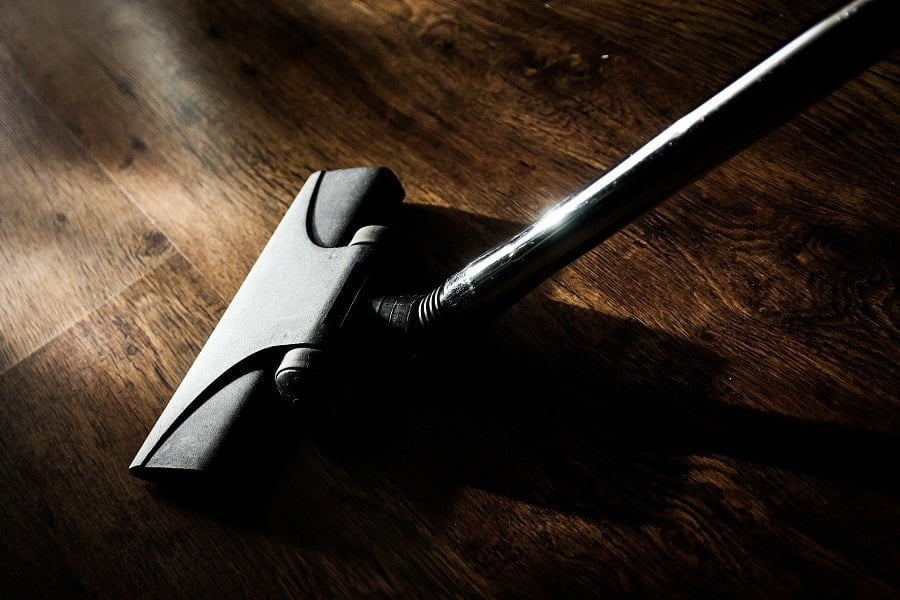 Seriously, this can't be stressed enough. Grey is a pretty interesting color in that provided a room is clean it can leave a room feeling reasonably sophisticated. But if you neglect your cleaning duties – it will only serve to compound how dirty a room actually looks. You don't want it looking like a dark old dungeon, do you?
Take extra care to clean and organize rooms with grey color schemes. It may sound like a lot of extra work right now, but the payoff is honestly worth it.
Grey Slate Tile Design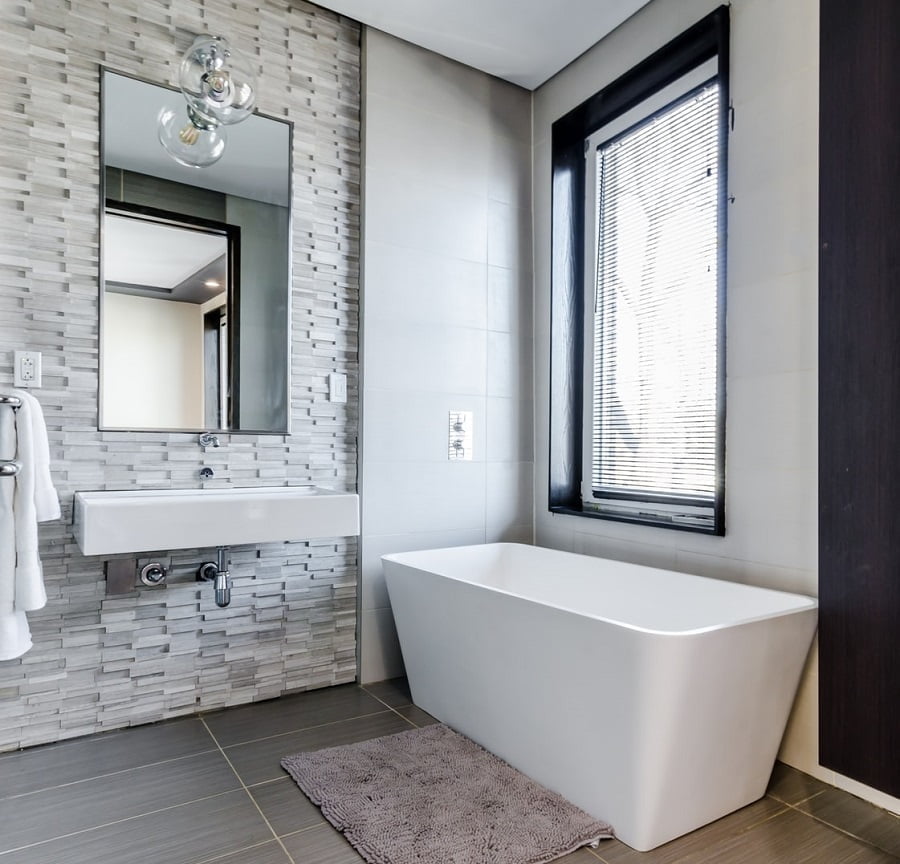 Grey slate walls are incredibly commonplace across a wide variety of bathroom designs. Grey slate integrates pretty well with a wide range of color palettes – but it blends perfectly with pale and dark greys. If you're looking to obtain a significant air of both sophistication and luxury in your bathroom – this is the optimal tiling to go for.
There's actually a huge variety in the different types of tiles you can opt for to give your bathroom that much-needed boost.
Grey metro tiles are amongst the more popular of design choices when building out a washroom of this caliber.
Small Bathroom Decor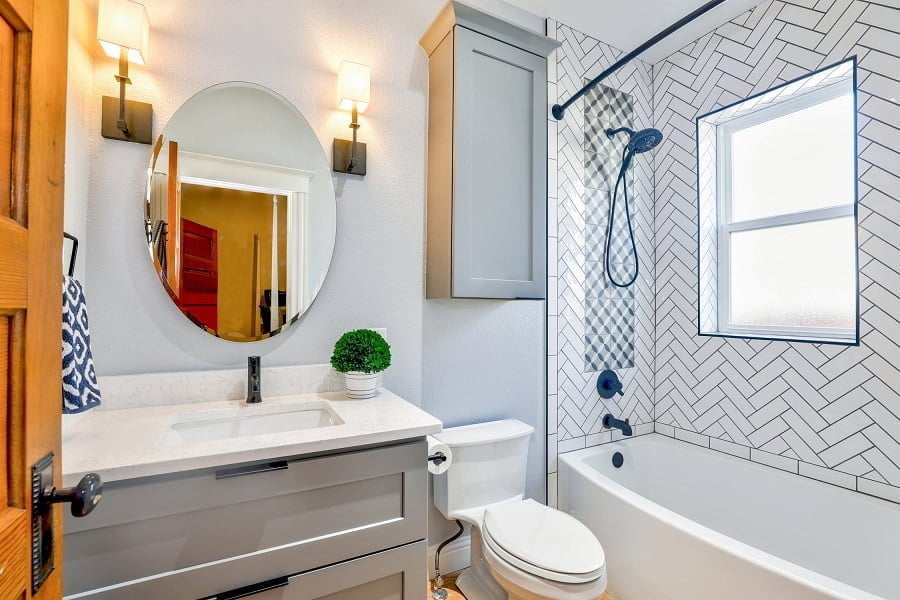 A small grey bathroom isn't any different from any other small bathroom. We recommend choosing light colors with any furniture if the walls are dark. You should also try to maximize the space you have by implementing a corner sink.
A glass door looks significantly better than a shower curtain with a grey bathroom. The issue is a glass door requires more space to swing out, whereas a curtain saves space by moving in and out.
Grey Bathroom Decor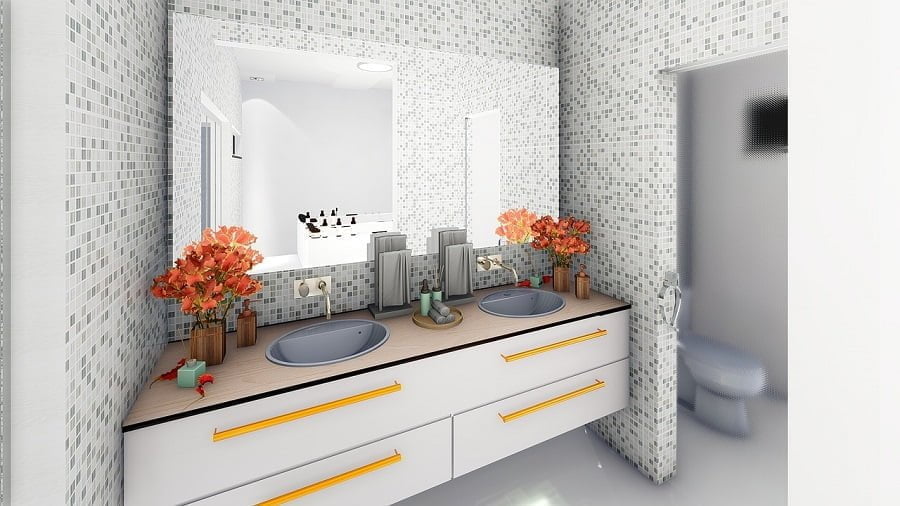 Tiles, paint jobs, and basic accessories aren't where you have to draw the line. There are a plethora of additional accessories you can utilize to improve your overall design. From radiators right through to the specific bath you choose to put in your room. Miniature decorations right through to feature pieces – all of them make a massive difference to the mood and ambiance of the place you're designing.
Radiators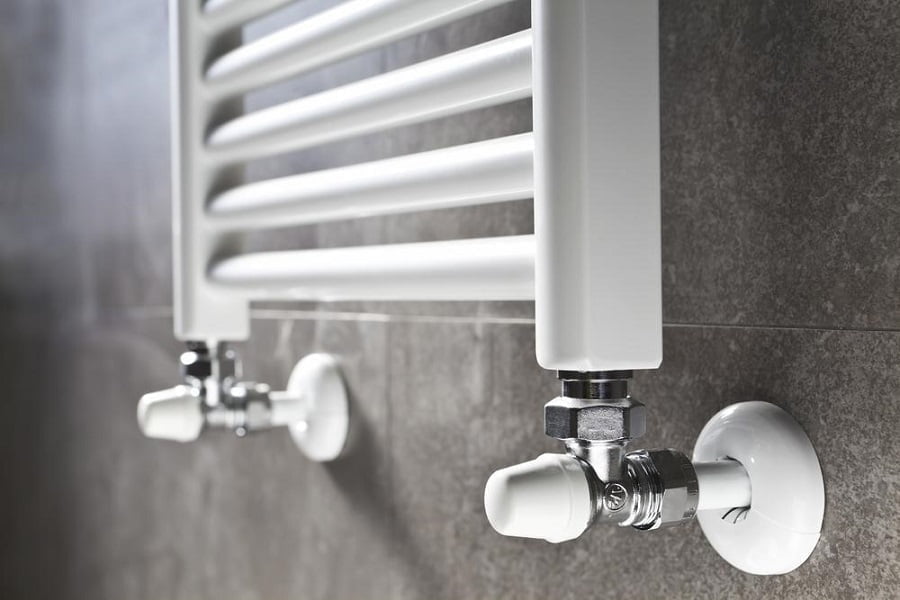 Tall, well-engineered and well-designed radiators are an absolute must in a grey bathroom.
The color palette present grants you the freedom of choosing between black or white radiators – black is a personal favorite. Something about black radiators emanates a particular era of non-conformity without feeling like you're trying too hard.
You can make radiators work that utilize more earthy colors too. But effectively working these into a design can be pretty tricky. It's often best to stick to the basics.
Grey Bathroom Vanity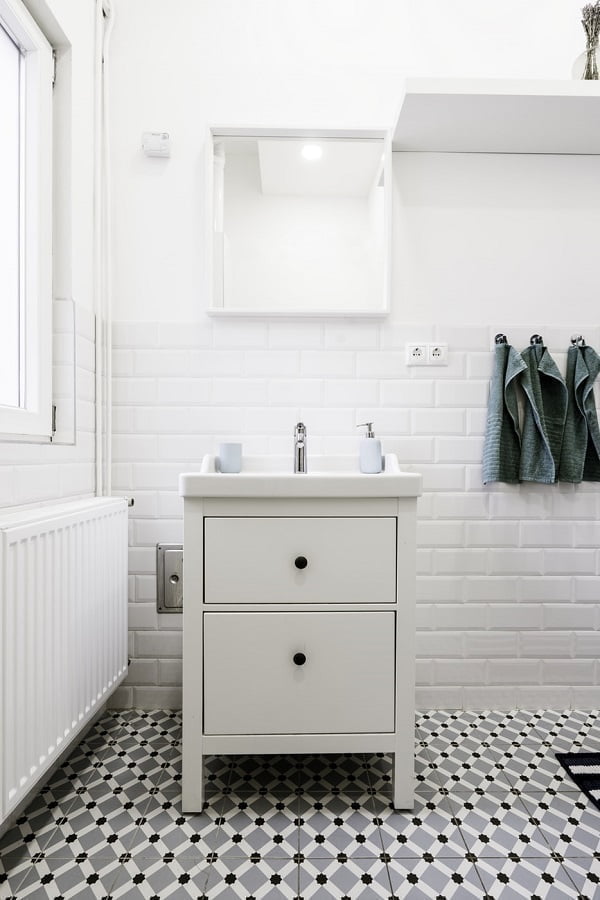 If you're feeling adventurous and plan on redoing your entire bathroom, you could invest in a beautiful wall hung unit or grey cabinets. Be careful with the shades of grey you use. Using the same color too much can drown the entire room. It depends on the room, but it can be helpful to break the room up with different shades.
Take a look at the grey vanity unit below? Bodega Grey is such a fresh color. The White vs Grey wall looks great with the natural light coming in. I'm a big fan of the renders Bella Bathrooms creates as they help visualize the furniture in my own setting.
Your Choice Of Bath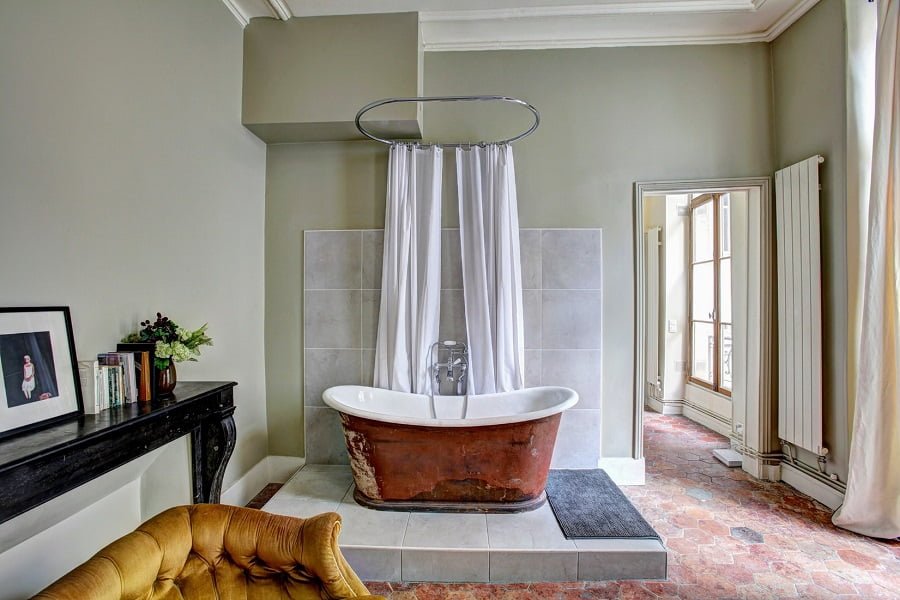 Assuming you don't have a walk-in shower – your choice of a bath can make a massive difference in the ambiance of a bathroom. You should be pretty selective when picking specific bathtubs for your interior design choices. Primarily when operating with a restrictive palette. Freestanding baths are an excellent choice for this scenario. Especially ones that strictly adhere to your original design philosophies.
Grey Bathroom Flooring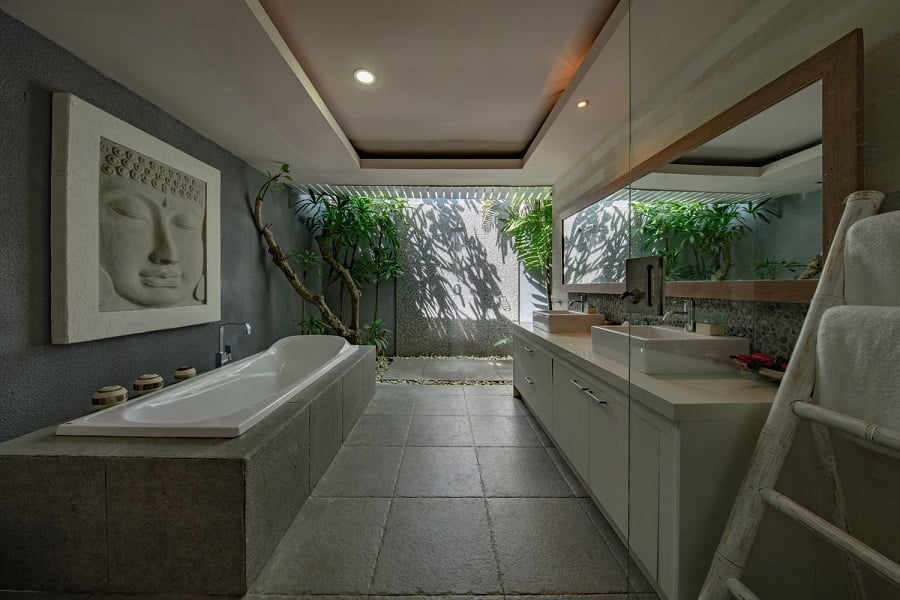 Ceramic, porcelain grey flooring generally looks good in a grey bathroom. You have two options when choosing your flooring, and you could mirror the color or the walls or add something that compliments it instead.
These colors compliment grey well:
Yellow
Pink
White
Coral
Navy
Teal
Green
There are a handful of key design elements to keep in mind when designing a bathroom with such a restrictive color palette. But it's not all bad. Seemingly arbitrary restrictions can breathe a whole new life into any design project. Operating under and working with these restrictions can force you to get a lot more creative than you would have previously.
You also don't need to splash out to create a feeling of luxury with a grey color palette. All you need to do is keep things tidy, clean, and consistent.
Recap
Liked this article? Here's what you can read next: