Last updated on March 11, 2020
Looking for the best shower curtains for your bathroom? There's more than you think to this seemingly simple choices. Here are the top picks for 2020.
When you're choosing the shower curtains you want function first and foremost. The style usually comes as an afterthought. Or is it the other way around? At the end of the day, it will depend on personal preference. We dare to make our best picks anyway!
From the decor point of view, choosing a bold shower curtain is the go-to way to revamp the bathroom completely. Think about it, it's easy to replace, and the impact is significant. So if you invest in a pattern or a bold color, it will change the way your bathroom looks. Consider changing the curtain every season.
How do you choose the right shower curtain?
Here's what you need to think through:
The size of the curtain.
How are you going to hang it on the rod (hooks, hookless, grommets?)
How are you going to clean it and keep it clean?
The material of the curtain.
Weighing it down for stability.
Style and design as a decor choice.
We will answer all of these questions with our picks that are coming next. These picks aren't based only on experience but on extensive research and data available to use. Most importantly, we cater to the home improvement and decor ideas that our readers (you) like – and we know very well what that is. As a note, we do get compensated for qualifying purchases on Amazon (#ad), that comes at no expense to you.
Enjoy our picks for the year 2020!
What's Inside?
Hookless Shower Curtain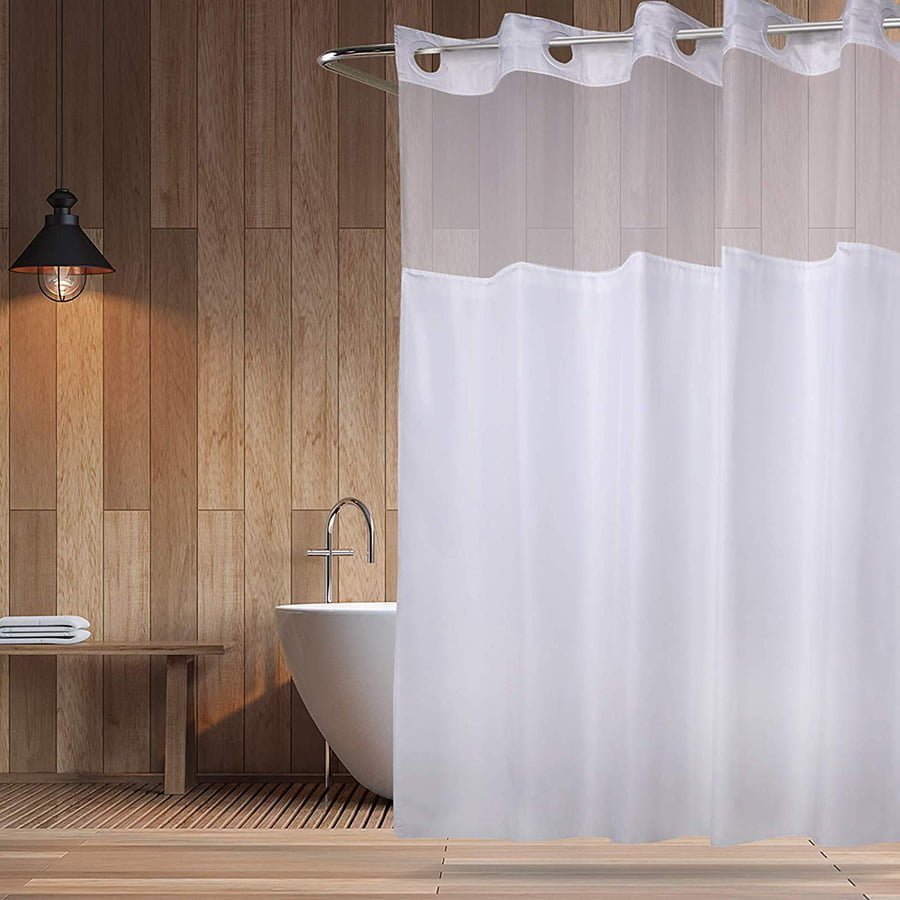 No hooks, no trouble – that's the motto of this shower curtain. A simple modern curtain design to get that nice grommet style in the shower.
Pros: anti-mildew, light-filtering, plastic rust-proof hooks, sheer-top part, fast and easy to install.
Cons: doesn't come with liner attachment, some water splashes through the material, no magnets.
Extra Long Shower Curtain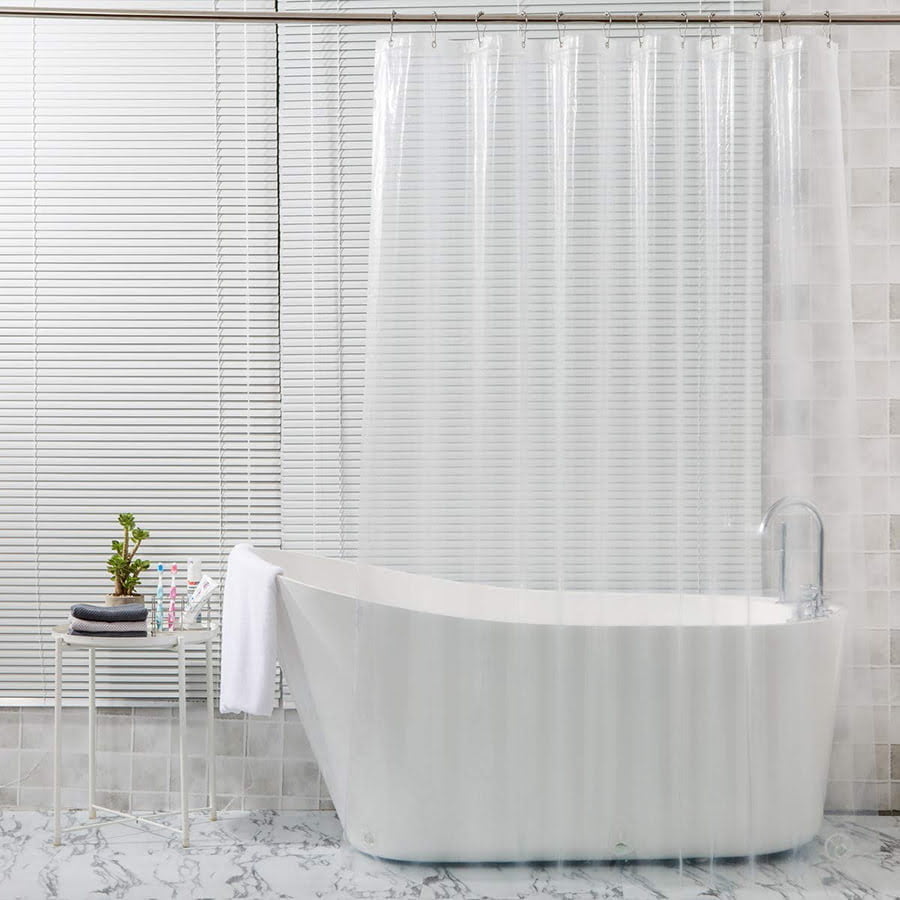 This curtain has that extra length you need and it will fit any shower or bathtub to cover from top to the floor. It is a nice see-through design too.
Pros: heavy-duty clear stones for weight, rust-resistant metal grommet holes, waterproof, quick to dry, thick liner, no smell.
Cons: not draft resistant.
Grommet Curtains
These are the curtains to get that grommet style in your shower. The metallic texture is a nice decor accent.
Pros: premium quality weave fabric, water repellent and machine washable, easy and convenient, perfect fit, easy to keep clean.
Cons: rings are metal-colored plastic and cheap looking.
Hemp Shower Curtain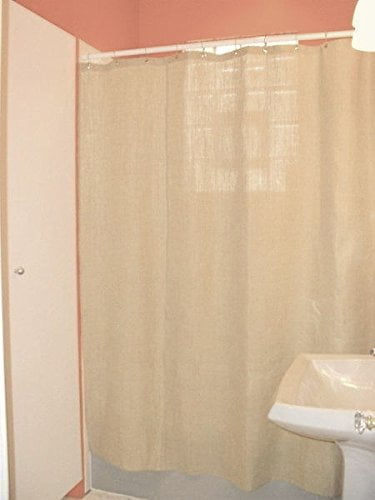 Natural materials (hemp) are used to make this curtain. If you care about sustainability, this is your choice.
Pros: Organic hemp fabric resistant to mildew and bacteria, dries quicker, nice neutral color, rustproof nickel grommets, easy to wash.
Cons: It will shrink.
Fabric Shower Curtains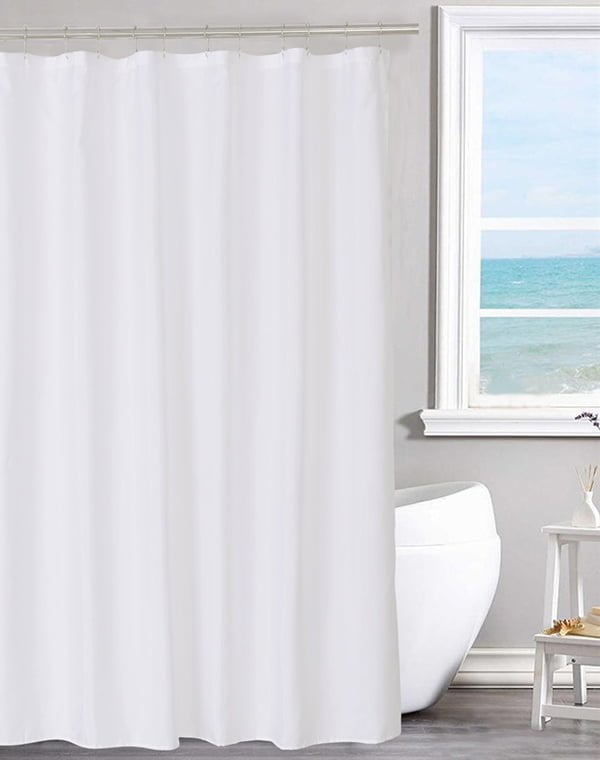 Care to use fabric curtains in your bathroom? They come with their pros and cons. This is a great choice for fabric.
Pros: thick and made of 100% premium polyester fabric, dries quickly, light-weight, water-resistant, metal-rimmed holes are secure in doubled fabric, class hotel quality.
Cons: some water might go through, not mildew resistant.
Linen Shower Curtains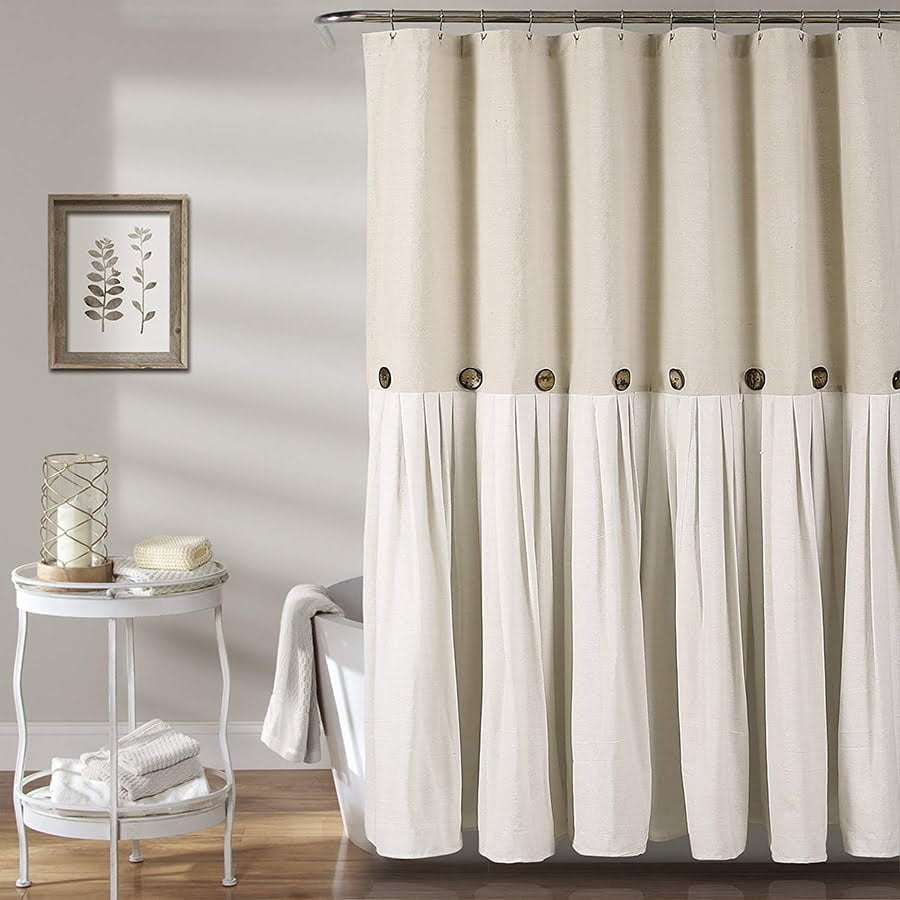 Linen is a great material for shower curtains if you're looking for a fabric option. It has its drawbacks but gives you a classy style.
Pros: Two-tone shower curtain, simple, minimalist or country-style design, irons out easily, good quality fabric, very modern.
Cons: molds easily and the outer curtain is not washing well.
Extra Wide Curtains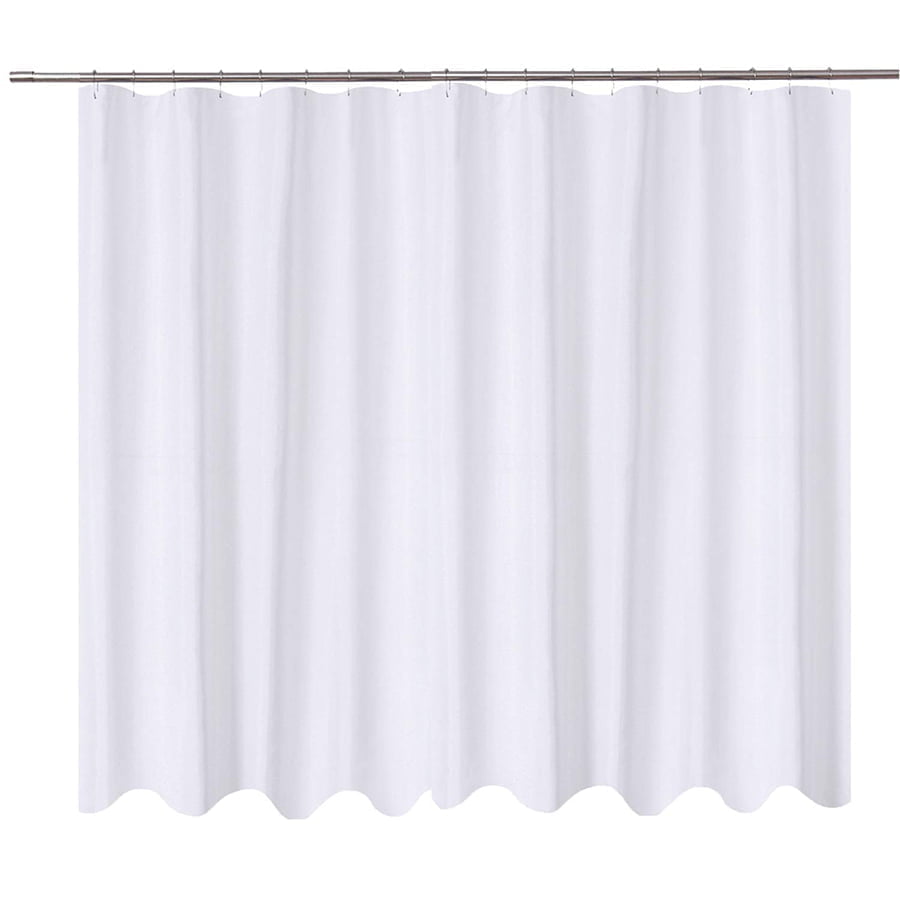 If you need extra wide curtains to cover more space in the bathroom, these are your curtains. It's a nice and stylish modern option with hooks.
Pros: water-repellent fabric, easy to clean, suction power, perfect length, the liner is sleek, hangs well.
Cons: not mildew resistant, some water goes through.
Clear Shower Curtain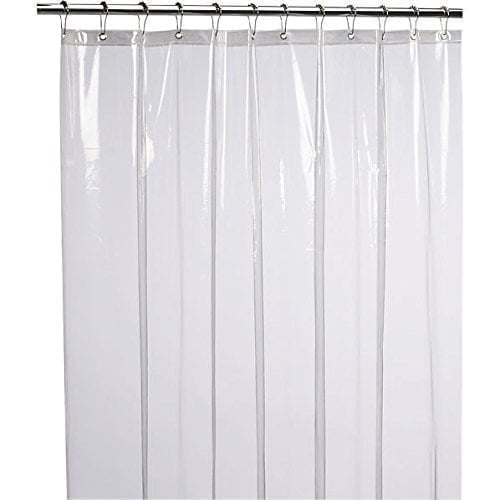 This PEVA clear shower curtain is what you expect to get from a see-through curtain. It's a nice unobtrusive style that won't hurt your bathroom decor.
Pros: non-toxic, eco-friendly, no chemical odor, rustproof grommet, curtain liner uses a proprietary mildew treatment, includes a 12-month warranty against mildew and curtain tears.
Cons: Very rigid and not standard length.
Weighted Shower Curtain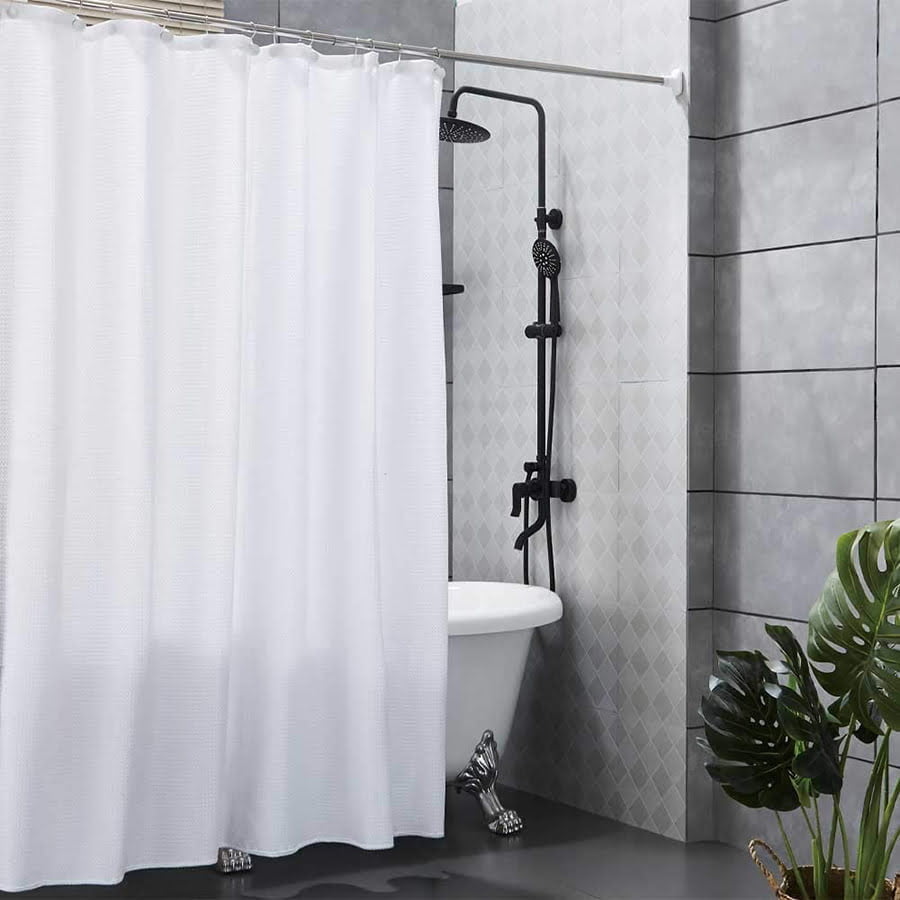 A good shower curtain is weighted to provide a solid screen that moves only when required. This option does the job best.
Pros: reinforced rust-proof grommet top, high quality and seems to repel water nicely, perfect fit and easy to clean, hotel quality.
Cons: a bit flimsy.
Rustic Shower Curtains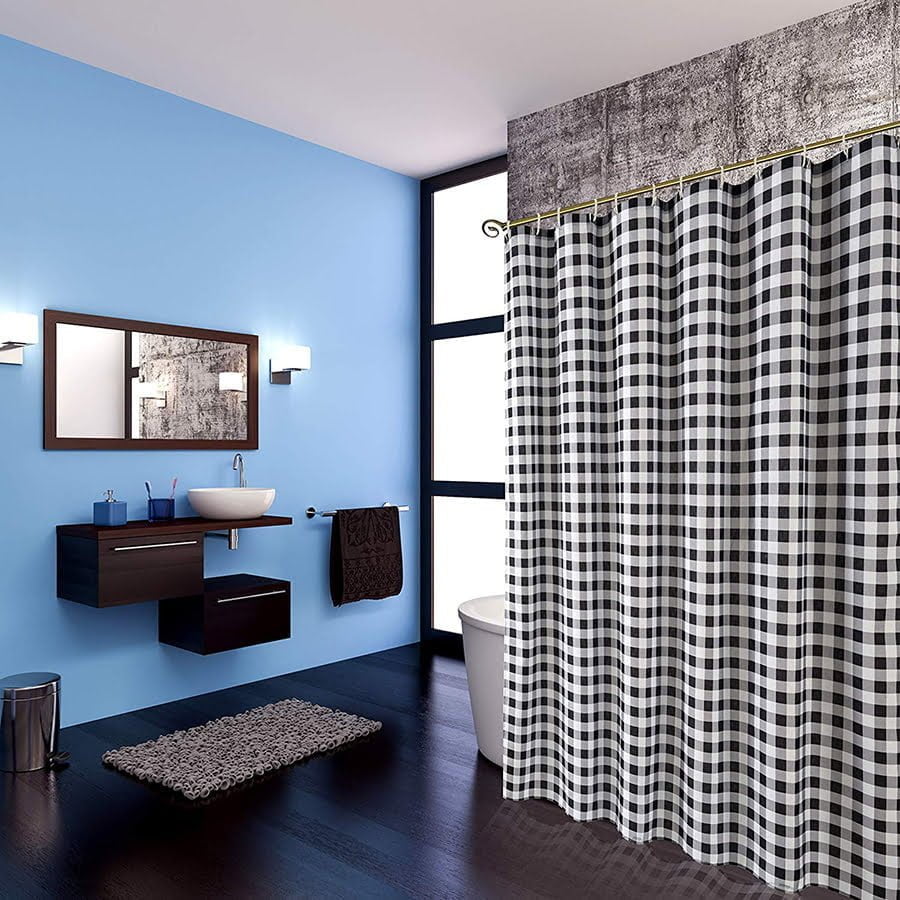 Yes, we must include a rustic pattern option because it's so popular. It will work great with your rustic or farmhouse bathroom.
Pros: easy to clean, nice pattern and quality, great selection of colors and styles.
Cons: thin and not vibrant.
FAQ
How long are shower curtains?
The standard length is 72 inches, but extra long curtains can go as long as 84 inches.
How to clean shower curtains?
Most shower curtains are machine-washable. If yours aren't, clean them with a moist microfiber cloth.
How to remove mold from shower curtains?
Use a mildew remover. Usually, it's Hydrogen Peroxide and Borax based, and you can even make it yourself at home.
How to keep shower curtains clean?
The key is letting them cry properly. So leave them fully open and let enough air in to get them dried.
How to make shower curtains?
The key is to choose a moisture-resistant fabric, cut it to measure, and sew in the grommets or hooks. It's a simple project for anyone who knows how to sew.
What are shower curtains made of?
Typically they are made of polyester as a moisture-resistant material. But they can be made of natural fabrics too, such as hemp, linen, or bamboo.
Liked this article? Here's what you can read next:
---
Disclosure: As an Amazon Associate we earn from qualifying purchases.