Spruce up your home with these chic beaded curtain ideas. Here are all the classic styles and modern designs. Read on!
Beaded curtains are all about color and texture. It doesn't only add beauty to your home, restaurant, or any space, but value and personality as well. These things are essential if you want your house to be a home where you are most in your element.
Beaded patterns and curtains are often hung in doorways, windows, or anywhere else you'd like to add a unique touch.
This is the perfect solution for creating that hippie-inspired home you've wanted or that touch of vintage you dream of for your space.
Retro Chinese Restaurant Beaded Curtain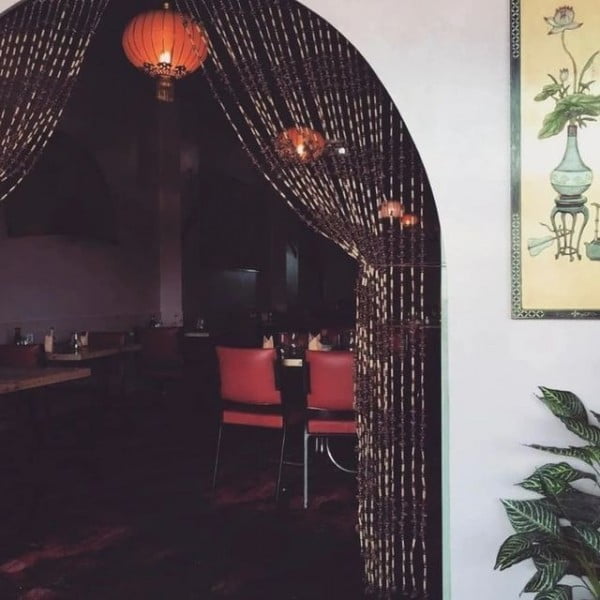 Add a touch of retro to your restaurant using a Chinese beaded curtain. It features colorful, vibrant beads that hang from a metal rod in an aesthetic pattern, creating a unique and vintage look.
It adds a casual dining atmosphere to the eatery while providing guests privacy. It's perfect for mixed entrees or special holiday meals shared with family and friends, making it stylish and functional.
Jitterbug Beaded Curtain
Create a separation between parts of your home with this jitterbug bug beaded curtain. It features a variety of colorful beads in an intricate pattern. It's bold, and it's beautiful.
The curtain hangs from six thin metal rods anchored securely into the wall for easy installation. The unique design gives your home a unique taste.
Hippie Heart Bohemian Beaded Curtain
Incorporate a Bohemian look for your home. This vibrant and colorful decor is perfect for creating a boho and hippie-inspired atmosphere in your living space.
The intricate pattern of the beads creates an eye-catching effect that draws visitors' attention and makes them feel welcome. Hang it anywhere in the house and rest assured, people will see and appreciate how good it looks.
Bamboo Eyes Beaded Curtain
Keep it interesting with these eye-beaded bamboo curtains. The alternating rows of beads and bamboo provide a unique visual effect that draws the eye.
When sunlight hits the beads, they sparkle captivatingly, as if eyes are watching you from within the curtain. The eyes let you see not one's soul but the soul of your home. It's the perfect analogy for those wanting others to feel welcome in your house.
Boho Beaded Curtain
Black and white boho curtains work like magic. The design is perfect for those looking for statement pieces. This one screams peace symbol in the middle.
The colorful strands of beads are arranged in a mid-century modern pattern, creating an eye-catching display that will bring life and energy into any room.
Combining vintage elements like wicker and houseplants with contemporary design ideas makes this beaded curtain unique.
It's the perfect piece for anyone looking to make their home stand out with a unique interior design.
Camouflage Diamond Beaded Curtain
If you don't want the beaded curtains to take the focal point of your home, you can pick this camouflaged beaded work of art.
The beaded strands are arranged in a camouflage pattern, making the curtain both on-trend and vintage-inspired. Repurposed materials give the curtain an extra special touch, while its flyaway design adds a fun element.
Whether you're looking for something pretty or practical, this beaded curtain will draw the line between casual living and vintage decor.
Iconic Beaded Curtain
This beaded work is a favorite on this whole list! It has a unique, more impressive design as you stare into it. This one features bright colors inspired by Frida Kahlo and brings a vibrant energy to any room.
The curtain is made of colorful glass beads and hand-painted iconic designs. Hang it in your living area or by the dining area. You can even put it in your bedroom space.
Atomic Goose Beaded Curtain
Make it pretty and stylish with this atomic goose beaded curtain. It's made from various mid-century materials and features beautiful patterns for that modern and chic look.
The neutral colors blend harmoniously with any interior design scheme, making it ideal for retro and modern spaces. It catches your eyes wherever you hang it in the house.
Multicolored Wooden Beads Curtains
Play with colors using these handcrafted multicolored beads. You can't go wrong with putting a pop of colors into your home.
This curtain is perfect for adding a splash of color and texture to your living space and providing privacy when needed. Combine traditional style and modern design to get your desired design for your home.
Red Iridescent Beaded Curtain
Be bold with this red iridescent beaded curtain. Its colorful strands of beads create a beautiful, shimmering effect that will bring life and energy to any room.
Please put it in by the door and let it create that sound whenever someone opens and closes it. It gives you that homey vibe even more.
Let the sun shine through and transform your home into a stylish oasis with this unique beaded curtain!
Crochet Granny Square Beaded Curtain
Crochet is in and back in season. The crafted crochet granny squares have intricate designs and various colors. It gives a modern room a more la0d
Strung with tiny beads, it provides an ethereal quality to a room that can filter light and add an unexpected artistic element.
Perfect for the passionate crocheter or devotee of boho style, this unique beaded curtain brings effortless charm into any interior decor.
Colorful Books Beaded Curtain
This design is the ultimate bookworm's dream! It's a book-inspired design with colorful beads that sparkle and shine, creating a stunning effect.
The curtain hangs like a filled bookcase. It provides an elegant backdrop for any space. Use it as a doorway decoration or an entrance to another room in your home. Keep your entryway and every part of your house eye-catching.
Brown Stand Beaded Curtain
Keep it simple with this brown beaded curtain. Crafted with vibrant beads in various colors, it creates an eye-catching display that's sure to draw attention.
Hang it around furniture such as a vintage sofa or couch or as an accent piece. Coordinate it with other vintage pieces like artwork and floor lamps for a unique look.
Soft throw pillows and lush plants complete the design, making this beaded curtain the perfect finishing touch.
Unique Layer Beaded Curtain
Keep layering until you get the desired design, just like this layered beaded curtain. Its beads shine and shimmer, giving your home the vibrancy it needs.
It's also a perfect decor for vacation and rental homes by the beach. It gives off that coastal feel and adds a touch of luxury to your villa. Furthermore, it keeps your privacy as well.
This beaded curtain is inspired by traditional Japanese craftsmanship; this elegant beaded curtain is sure to make any room stand out.
Colorful Jewel Beaded Curtain
If you want to get that color into your home, contact this colorful beaded curtain. It has strings of beads that create an inviting atmosphere.
The jeweled curtain is perfect for adding a touch of sparkle and glamour to any space. It also creates a cozy, nostalgic feel in an antique or vintage room.
Dreadlock Beaded Curtain
Are you looking for something fun to add to your home? This dreadlock curtain is a perfect choice. It features an array of colorful beads that hang in long, luxurious strands from a wooden frame.
The beaded curtain hangs down like a shimmering waterfall. It provides privacy when needed and gives you fun, especially with its colors. This beaded curtain is an easy focal point of your home.
Falling Circles Beaded Curtain
For that classic cozy home look, go for natural and traditional falling circle beads. This particular beaded curtain features vibrant blue, green, and pink hues. It goes well in bedroom entryways.
The beads are strung together on a metal rod, creating an eye-catching display that will draw attention from anyone who enters the room. It's a playful design, and it casts a beautiful dancing light during the afternoon siestas.
Night Owl Beaded Curtain
Another favorite in this list is this massive work of art. It's hand-painted hanging colorful beads and features an owl design to delight owl lovers everywhere.
It's perfect for apartment style or dorm decor. This door curtain brings a touch of paradise to your space. Hang it in your bedroom or living room for a nocturnal feel.
Singing Beads Curtain
This is a more interesting beaded curtain than anything on the list, as the materials vary in size and color. Its vibrant colors and intricate design make it a stunning suncatcher, perfect for any window.
Lovers of handmade African beads will find much to admire in this creation. It's crafted into a windchime that will bring you joy with its cheerful chorus of singing beads.
Boho Beaded Curtain
Maintain your boho home with this eye-catching piece that features colorful beads in various shapes and sizes. It gives off that retro vibe, an inviting atmosphere reminiscent of the 70s and 60s.
The design is perfect for those who love to make a statement with their interiors. The extra touches, like houseplants, add an element of nature to bring life into your home.
Jasmine-Hued Beaded Curtain
Another inspiration for your home is this handmade with jasmine-hued beads; this stunning piece creates a unique shimmering effect when light passes through it.
The intricate design of the strands adds texture and dimension to your space. It's eye-catching, it's fun, and it's modern. What else could go wrong? Nothing! Just home with a homeowner of excellent taste.
Mona Lisa Beaded Curtain
Spruce up your home with this handcrafted from strands of shimmering glass beads. The painted Mona Lisa design is a classic, and it's a timeless piece.
Hang it in front of doorways or windows to create a dramatic and luxurious effect that will make all your guests feel welcome.
Blue Beaded Curtain
This blue beaded curtain fits a verandah or bedroom. It gives a shimmering light letting you relax and feel at home in your own space.
The beads are 1970s-inspired, and its nightlight brings a cozy ambiance to your home. Keep your home stylish with this impressive beadwork.
Sacred Heart Bamboo Beaded Curtain
These handmade bamboo beads feature a romantic Sacred Heart art and decor design. It's an ideal Valentine's Day gift. The vibrant colors of the beads create a stunning visual effect that will add life to any doorway or wall.
Hang this beautiful beaded curtain in your home or shop and walk into love every day. Or wrap it up via gift to your loved ones.
Charming Pink Beaded Curtain
Keep your home charming with this beautiful pink beaded curtain that glitters against natural light. It also has neutral tones to blend seamlessly with any interior design scheme.
Decorative accents such as tassels or filigree designs for extra texture and interest. Use it as a room divider, a window drapery, or whichever.
Recap
Liked this article? Here's what you can read next: