Last updated on September 29, 2023
Here are the most up-to-date bedroom window curtain ideas to help create a cozy and elegant space. Read on!
The key to choosing curtains for the bedroom is controlling the sunlight and making the room look cozy. That's why it's important to hang curtains in layers and choose different types of window treatments (sheers, drapes, curtains, shades, blinds.)
The curtains in a bedroom have the potential to make a significant design statement. Not only do they prevent excess heat and glare from the sun, but they also make a room feel cozier and more finished.
The bedroom curtain trends still honor the classic white and dark grey (or black) pleated curtains. But we also see additional embellishments getting more popular — accent curtain rods, tassels, and other embellishments. Thick double weave curtains in a rustic or chic pattern are also popular and create coziness.
Curtains are one of the most effective ways to bring all the design elements in a room together, and they can serve various purposes. Some people hang curtains to create a sense of privacy, others to add drama, and others to decorate.
Whatever your goal, these curtain ideas will inspire you to consider your bedroom window treatments seriously.
Hang Curtains in Layers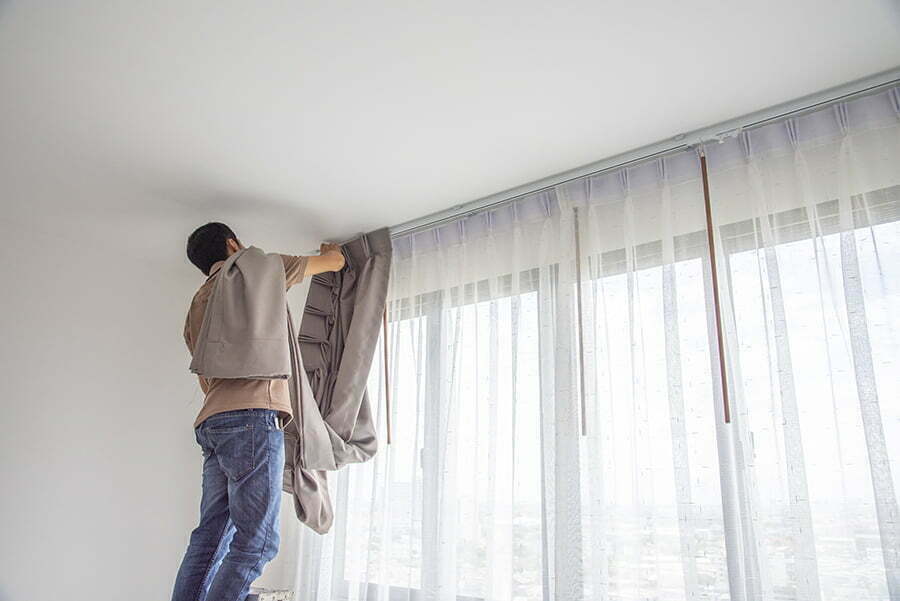 There are several advantages to using many layers of curtains. Due to this simple decorating trick, your windows will have more color and depth, and the area will be enhanced and made more beautiful. It is also a terrific technique to add an extra layer of privacy protection.
Also, layered curtains offer additional insulation, which may improve your home's energy efficiency and reduce the expenses of its electricity bills.
Installing a sheer curtain as a layer under an opaque or blackout drape or curtain requires using two brackets and double curtain rods. This method allows natural light to pass while preserving the user's sense of seclusion.
Curtains and Blinds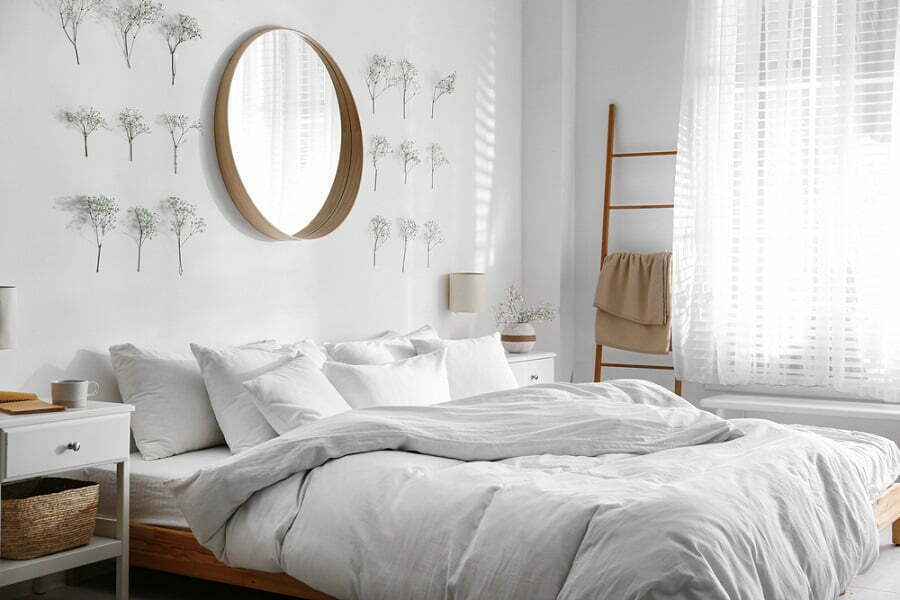 When coordinating curtains with blinds, it's ideal to start with the sort of blind you desire for the area. One of the most important advantages of combining curtains and blinds is that it can change the illusion of the size of your windows.
It is ideal if your home is tiny. When drapes and blinds are well-matched, it may transform a standard-sized window into a large one, and your ceiling can appear much higher than it is.
Pattern Curtains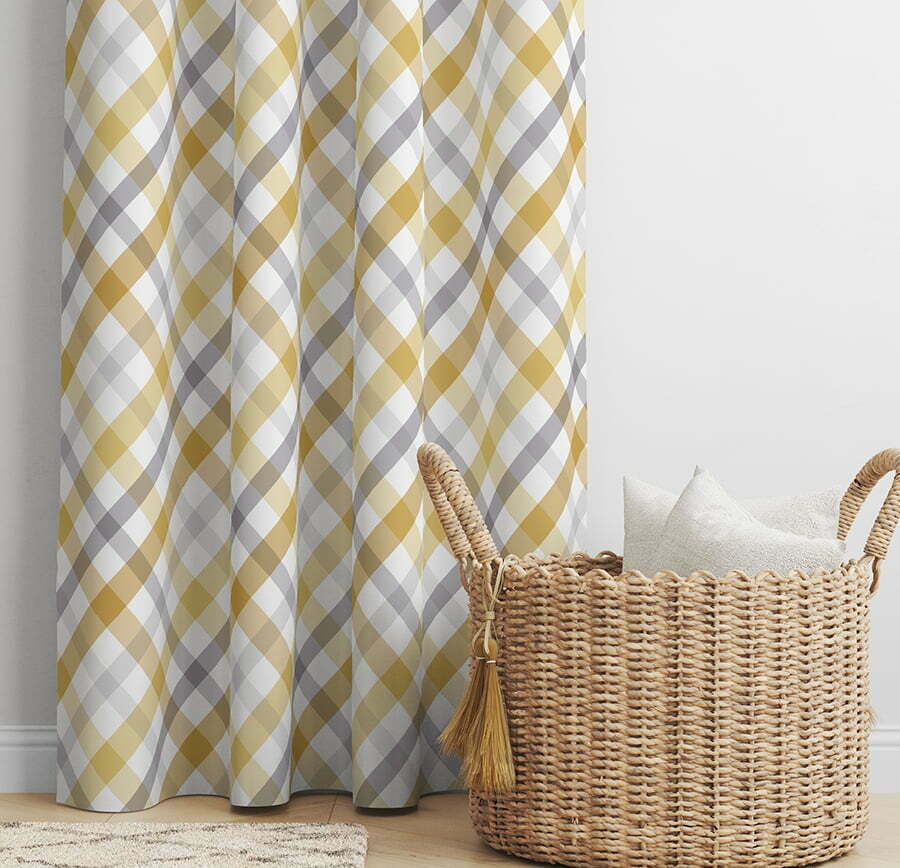 A large and eye-catching pattern is the single most effective way to infuse a boring bedroom with drama.
Tropical or botanical designs or geometric motifs, such as these, are always popular for bedroom decor to bring a touch of timelessness to the look of the space.
If you choose curtains with a colorful design, you should keep the rest of the room uncomplicated so that the curtains can take center stage and do all the talking.
Lined Curtains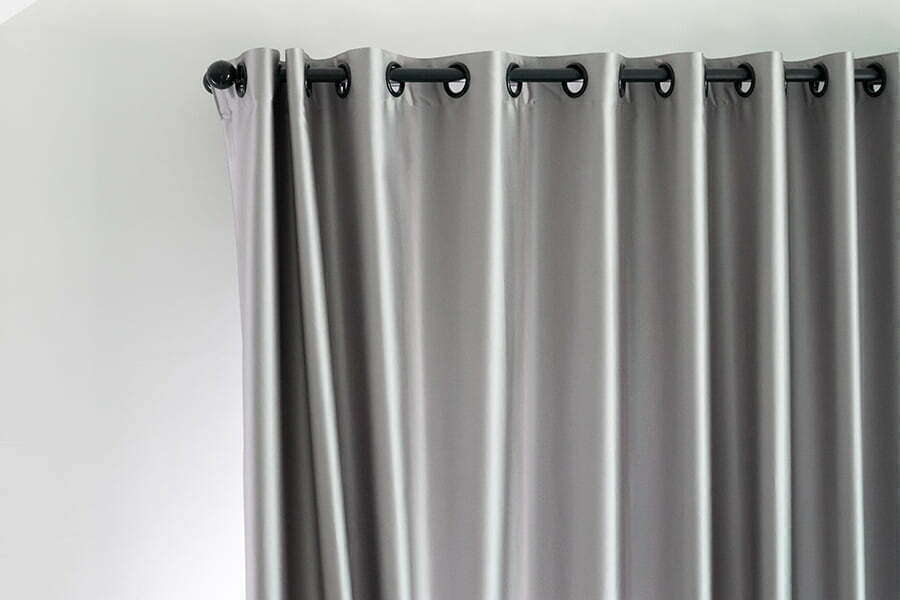 Lined curtains have an additional lining layer attached to the back of the curtain. This lining layer can be attached to the curtain itself or placed on a separate track behind the curtain.
Lined curtains offer increased privacy by making it more difficult to see through the window and into the room, particularly at night. They are also excellent for generating a more attractive drape and providing structure to your curtains.
Another advantage of lined curtains over unlined curtains is that they can help protect your furniture from the damaging effects of the sun.
Linen Curtains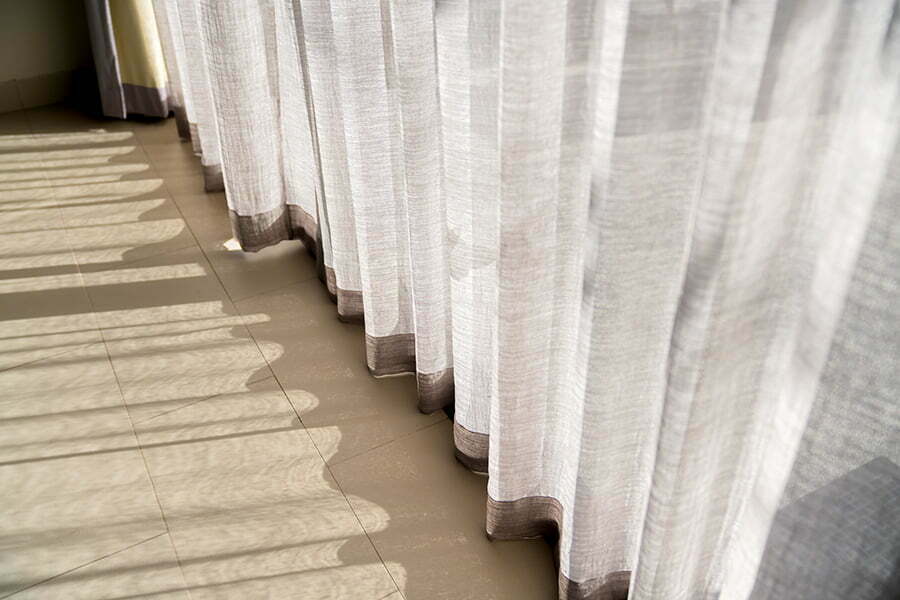 Especially in bedrooms, custom-made curtains made of linen frequently show in understated hues like white, cream, and neutral colors. Linen curtains, with their pale shades and uncomplicated design, are an excellent choice for coastal vacation houses and homes with families.
Because of the well-ventilated construction of handmade linen curtains, they do not grow hot as other textiles, which can cause them to fade and become damaged by the sun over time.
Velvet Curtains and Drapes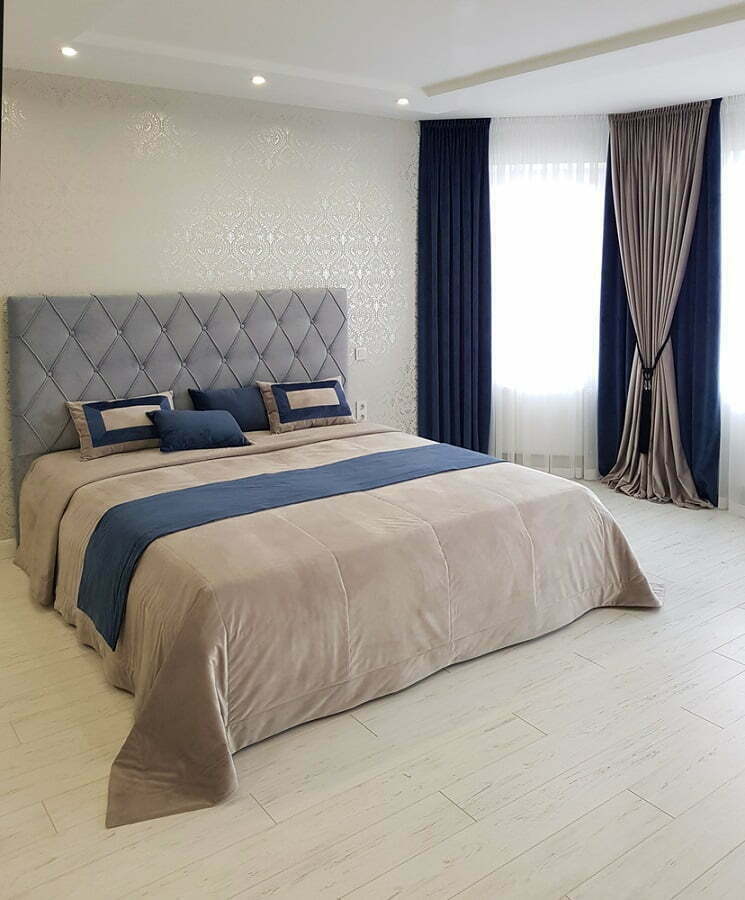 Other than looking very elegant, velvet curtains are among the most valuable accessories when the weather is chilly. Because of its density and thickness, the fabric acts as an insulator, protecting the space from cold and dampness.
In addition, the curtains stop dust and other potentially hazardous particles from entering the room and spreading throughout it. There's also the soundproofing effect.
One of the drawbacks of velvet curtains is that they have a tendency to retain the dust and other small particles. Because of this, you must regularly clean the room to keep the dust at bay and maintain it tidy.
Curtain Tie-backs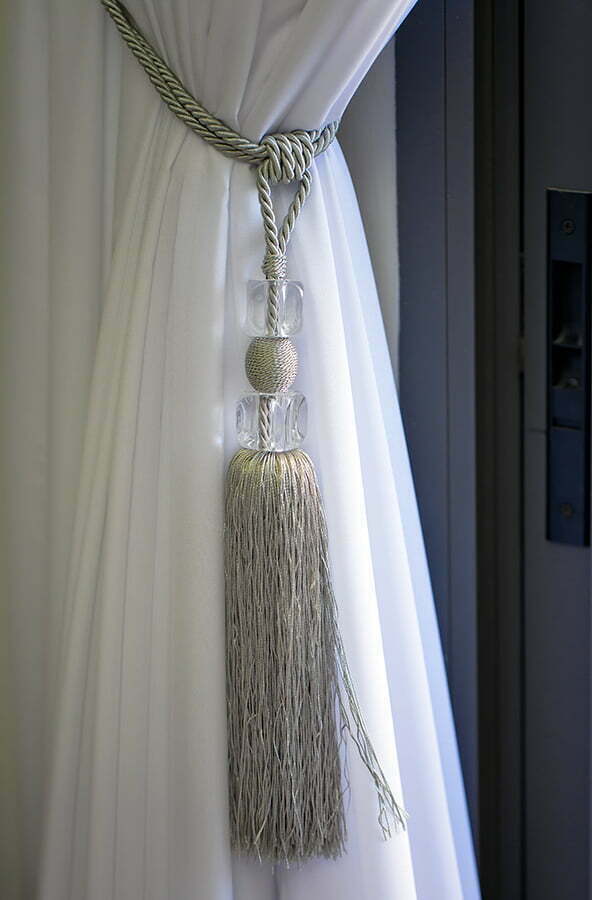 Curtains can be gathered and held open with the help of an accessory called a tieback. They can have tiebacks, which wrap around the curtain and occasionally attach to a hook on the wall.
In addition, they can gather a curtain in the middle of a window and allow it to hang freely. Even the most basic curtains or drapes may transform into show-stopping additions to your home decor just by outfitting them with a set of curtain tiebacks or holdbacks.
It may control the amount of light entering a room with curtain tiebacks. Depending on how high or low you connect the tiebacks to your curtains, you may adjust the amount of light that enters via those openings.
The most light is let in by high tiebacks, whereas low tiebacks let in less light but have a more dramatic appearance.
Extra Long Curtains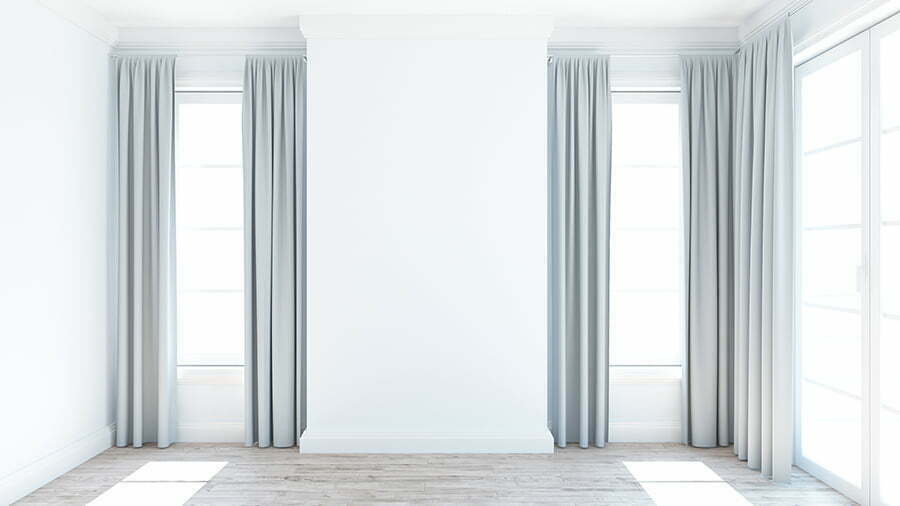 It is preferable to have the curtains in the bedroom reach the ground all the way. It helps to draw the room's look together and gives the impression that it is longer than it is.
However, the positioning of the curtains is more important than their actual length when giving the belief that the space is more prominent.
The focus draws up the entire wall length, which draws attention to the fact that the curtain rod is hung high towards the ceiling rather than on the window sill. It creates the impression that the room is taller and has more vertical space.
The "line" created by drapes that draws the eye from the ground up to the ceiling is the key to the successful visual trick. If that line stops dead around a foot from the ground, it doesn't generate the impact it should, which is disappointing.
Short Curtains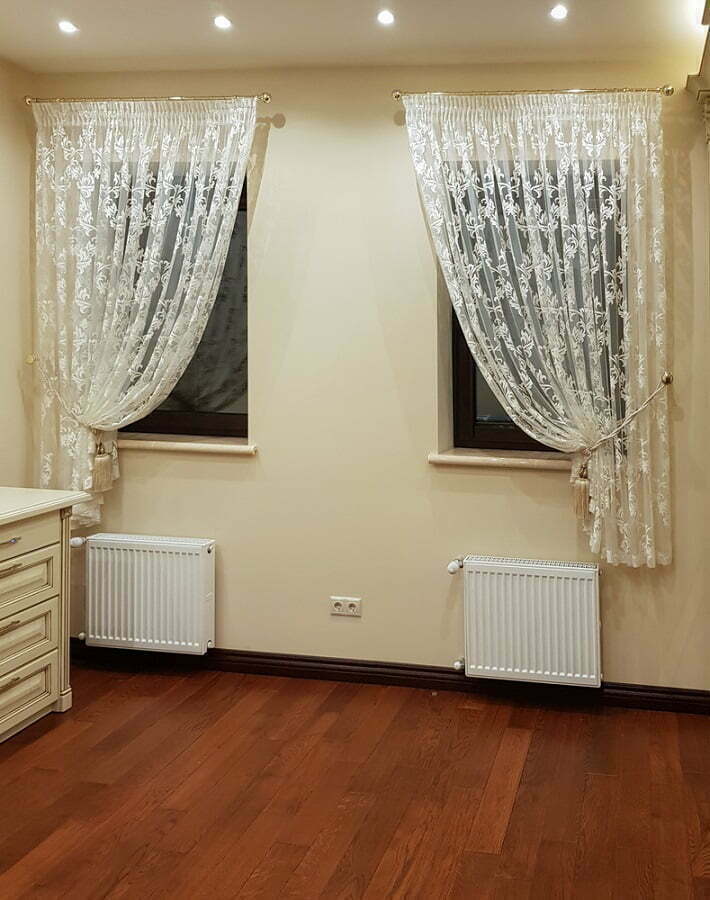 Short curtains have several distinct advantages. One of their most excellent characteristics is the ability to open access to the window simultaneously on three sides, a capability that does not exist in lengthy equivalents.
It is helpful for windows that are frequently open to allow fresh air into the space. When the bottom of the curtain almost reaches the window sill or extends down to the floor beneath the apron, it creates an attractive visual effect.
Another advantage is that they are less prone to collect dirt and need less cleaning. It is a feature that makes the curtain stand out.
Match Curtain Color to Wall Color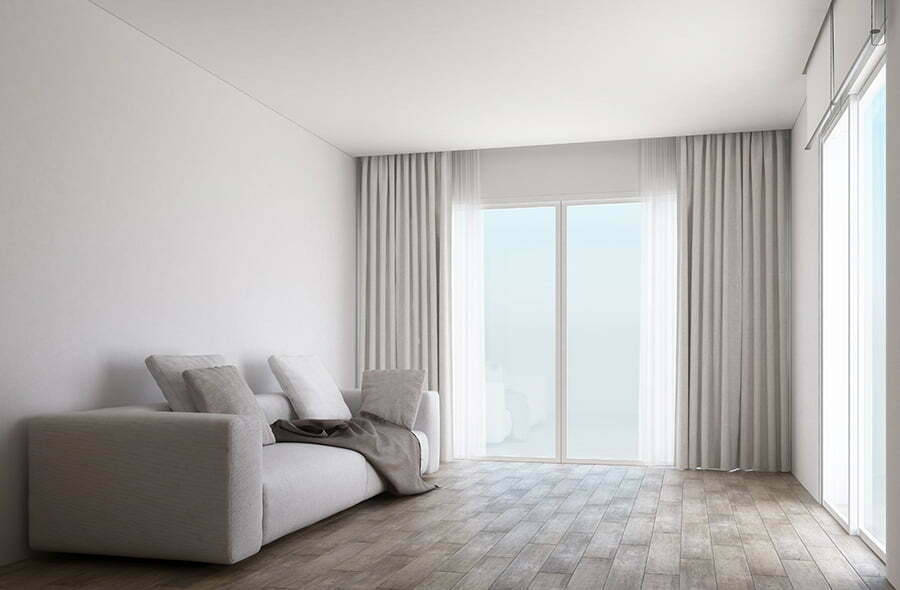 Curtains provide an additional chance to add color, pattern, and interest to a room; but, if you want the space to have a fashionable and elegant appearance, you might consider using curtains that are the same color (or one shade lighter or darker) as the walls around the room.
It is standard advice that window coverings should match the color of the walls in the room, regardless of whether the walls are a fantastic (green, blue, purple, or gray) or warm (red, orange, yellows, or beige) tint.
A color of at least one shade lighter or darker than the version currently on the wall is the best way to style it.
Another smart move would be to choose drapes or blinds for the space that complement the existing furnishings
Curtain Pelmet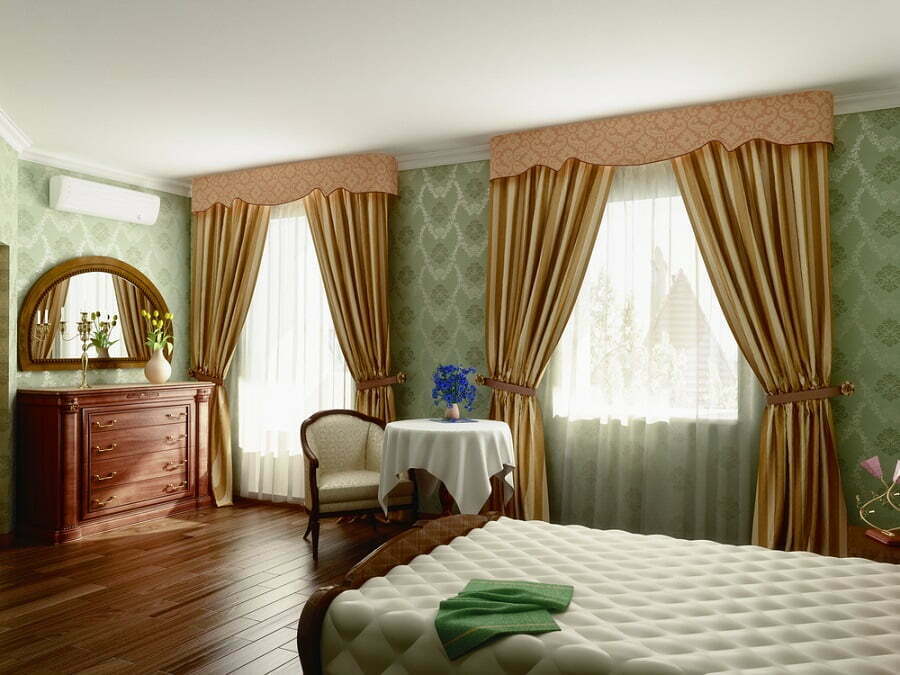 Pelmets are ornamental panels that conceal curtain installation parts such as rails. They come in many forms and patterns and can bring charm to any area. This finishing touch offers a distinctly comfortable and opulent feel that might complement your specific taste.
A curtain pelmet, also known as a cornice, is a box made of plywood meant to conceal curtain rods and fixings while adding flair and drama to any space.
Pelmets are typically painted or covered in a patterned or plain fabric that matches the design of your drapes or room decor.
Wrap-around Bedroom Curtains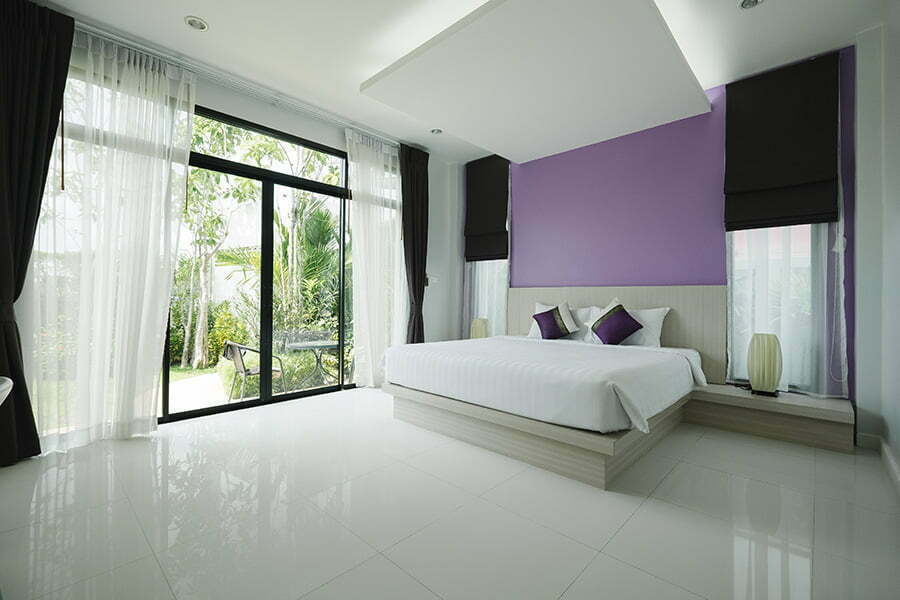 The image of bedrooms as cozy sanctuaries comes to mind when we consider the role that draperies may play in bringing that image to life.
Because the drapes in this room extend to the ceiling and wall to wall, the atmosphere within is richly textured and inviting.
Additionally, by enclosing the room with curtains, the light may be blocked or filtered all during the day. It is an essential component in getting a good night's sleep.
Blackout Curtains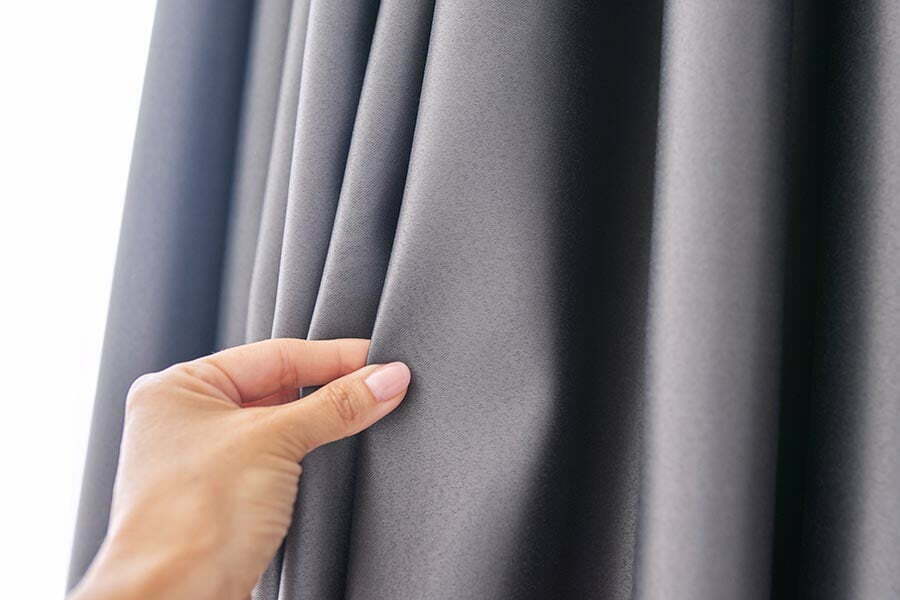 Blackout curtains are drapes constructed using a tightly woven double-lined fabric. These drapes help to obstruct the light from entering a room.
When blackout curtains cover a window, light can only enter the room through the spaces surrounding the window. Installing blackout curtains in a room is the most effective way to get the desired level of darkness.
These particular drapery styles are likely to be most suitable for usage in bedrooms, nurseries, home cinemas, or any other area utilized throughout the day for naps or periods of rest.
Fabric Blinds and Shades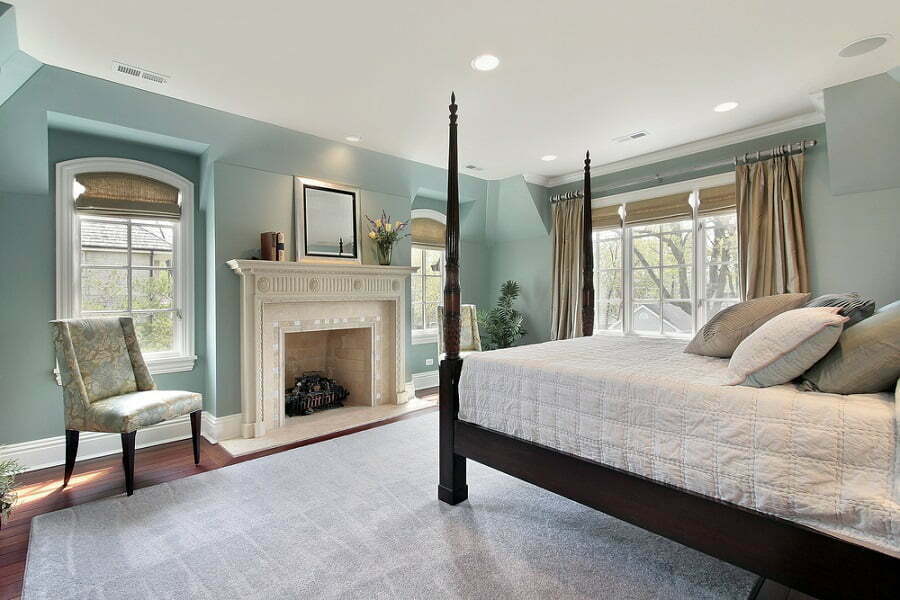 You may immediately modify your space and serve to instantly warm up a room by adding fabric shades in color, pattern, or style that compliments your current decor.
Fabric shades will give your home a contemporary feel and design and assist you in maintaining a comfortable temperature within the area. You can combine them with curtains as well
In the winter, it will keep a room warm without triggering allergy symptoms, and in the summer, it will hold a space cool while maintaining its elegance and durability
Wall-to-wall Curtains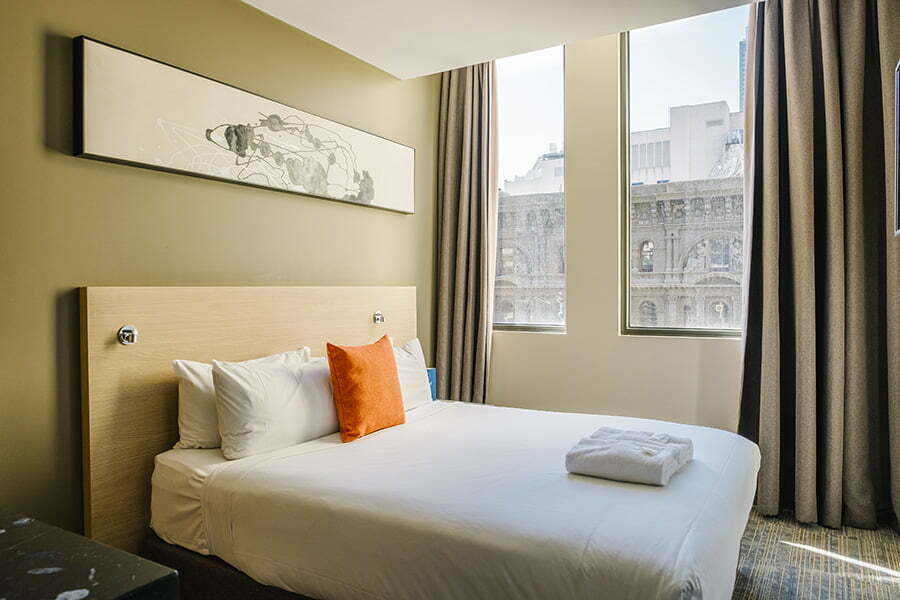 You could take an upgrade and wrap an entire wall with them if you wanted to. Although it is more common in public places and event halls, it may also be successful on a more intimate scale in bedrooms as well.
It is an excellent method for imparting a sense of coziness and gentleness into spaces that come off as chilly or unwelcoming and concealing unattractive wall paint or bricks.
Drapes that go from wall to wall are another strategy that you may utilize to create the illusion that the bedroom is an expansive and open area.
This approach is beneficial in compact bedrooms, such as the bedroom as a guest room. Cotton curtains in lighter tones are the way to go if you want the space to seem breezy and calm.
Pop of Color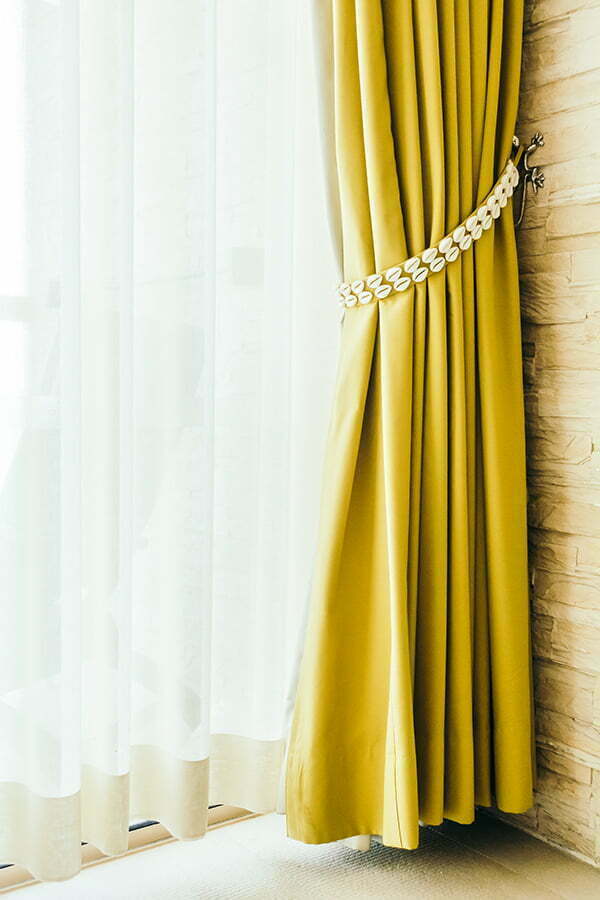 It's easy to catch in the trap when something is elegant and understated but ends up seeming more muted than was intended.
When a space needs a jolt of vitality to perk it up and take it to the next level, adding a splash of color may be an effective way to accomplish this.
Curtains in the bedroom are the perfect place to add that splash of color. Use complimentary colors for your bedroom theme.
Decorative Trim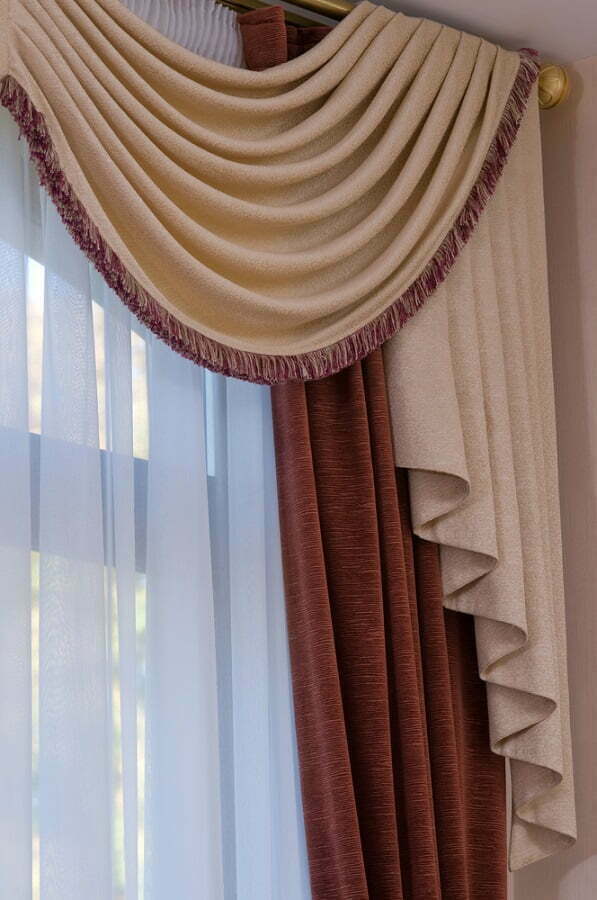 Curtain trim, such as tassels and embellishments, is excellent in the bedroom. They add visual interest and transform the space where there's a lack of elegance.
So you can add a layer of curtains with decorative trim and instantly make your bedroom look elegant. The best part is that this layer is easy to change (add and take away.)
Bold Curtains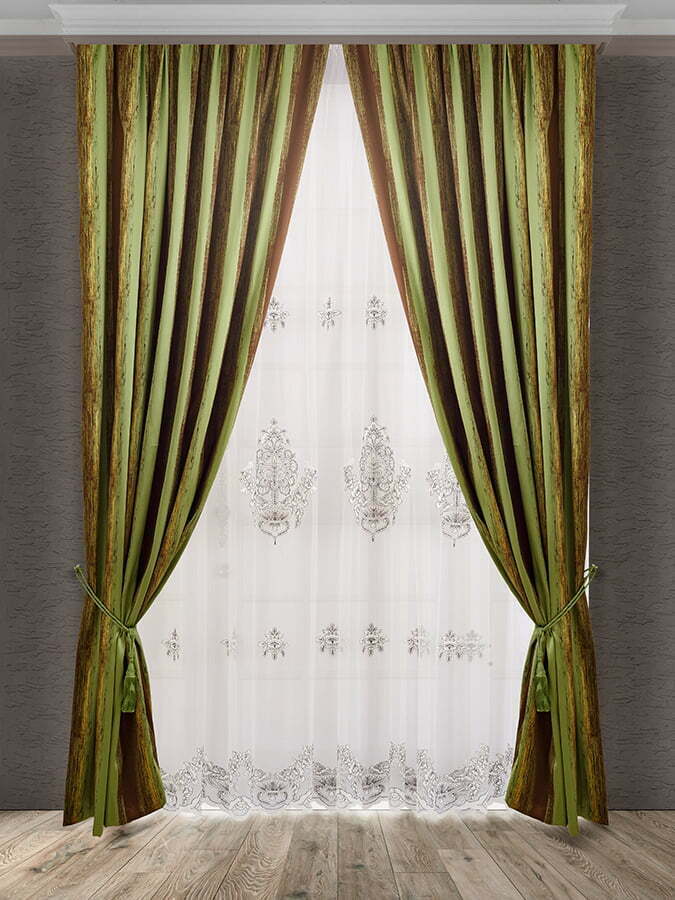 Pattern and texture are essential aspects to consider while shopping for curtains.
You may think about lining your curtains with a rich color or a slight touch of the texture if you want to improve their overall appearance.
Selecting a pervasive shade across the area is ideal for giving the overall impression of cohesion and stability.
Pleated Curtains
Pleated panels are a timeless kind of drapery; hence, they are never indeed out of style, even though their popularity waxes and wanes in response to shifting fashions.
Since they have a very formal appearance, they are ideally suited for more conventional or standard interior design.
If you want to make your window coverings and are interested in sewing them, you can get header tape from fabric stores sold by the yard and used to construct the pleats.
The tape, sewn into the panel from the back, when pushed together, generates pleats. After doing so, the hanging hooks stick into the tape, and the hung panels are on rings or traverse rods.
The circles or traverse rods include a cord and pulley system that allows the curtains to be opened and closed.
Oversize Curtains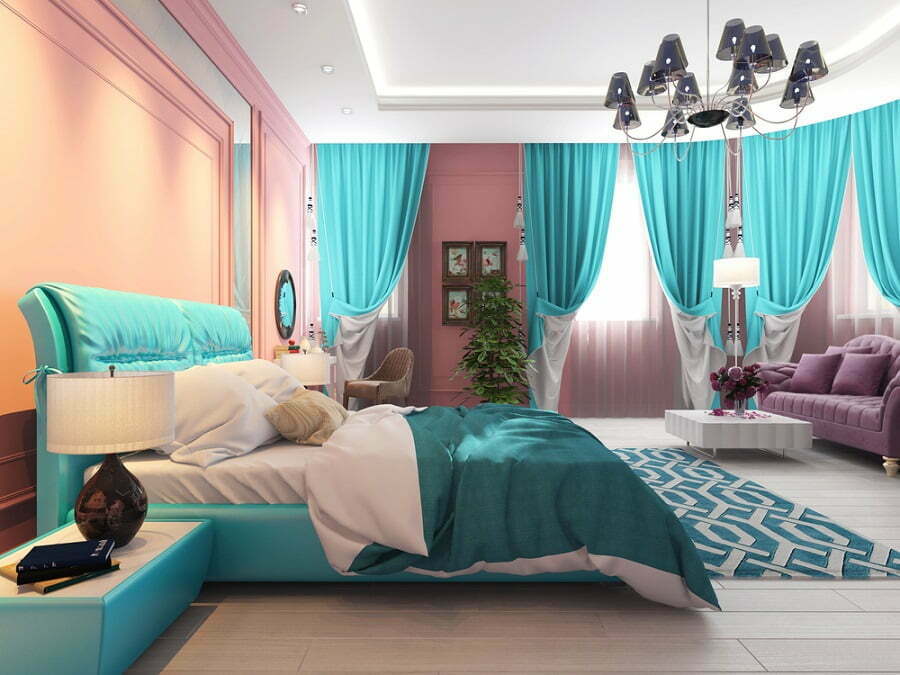 This room brings to mind high-end boutiques. They always have the coziest rooms. A modest contemporary bedroom may transform from drab to fab by adding long, flowing oversize drapes to the window treatment.
Longer curtains add volume, but you have to make sure you select the right fabric. It is not easy to pull off this style, but the result may be stunning.
Hang Curtains High Above the Window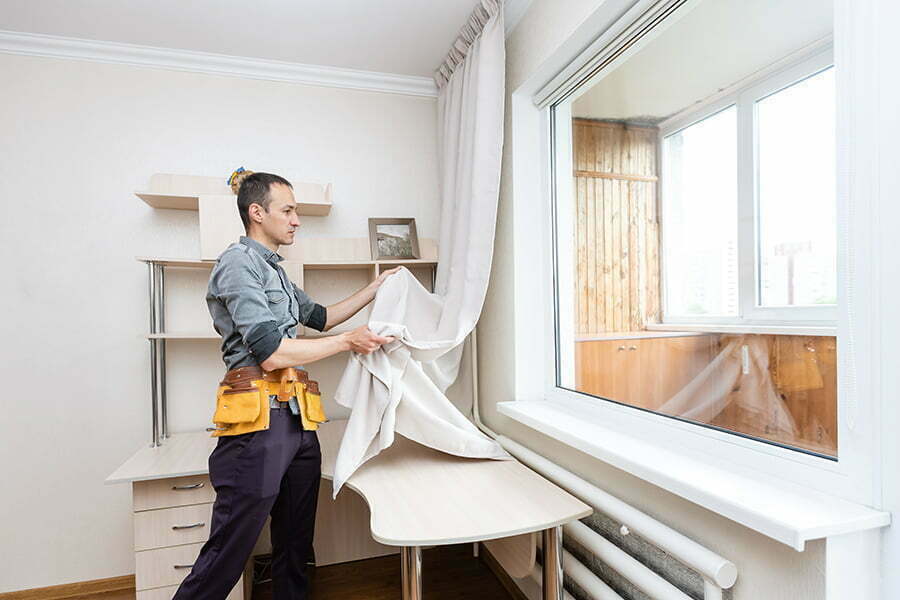 Hang curtains high, and they will make the room taller. A tiny bedroom might benefit significantly from this idea since it will give the impression of a larger area.
It is important to remember that while measuring the window, you should measure the complete length from the ceiling to the floor. It will ensure that the curtain hangs without any gaps.
Valance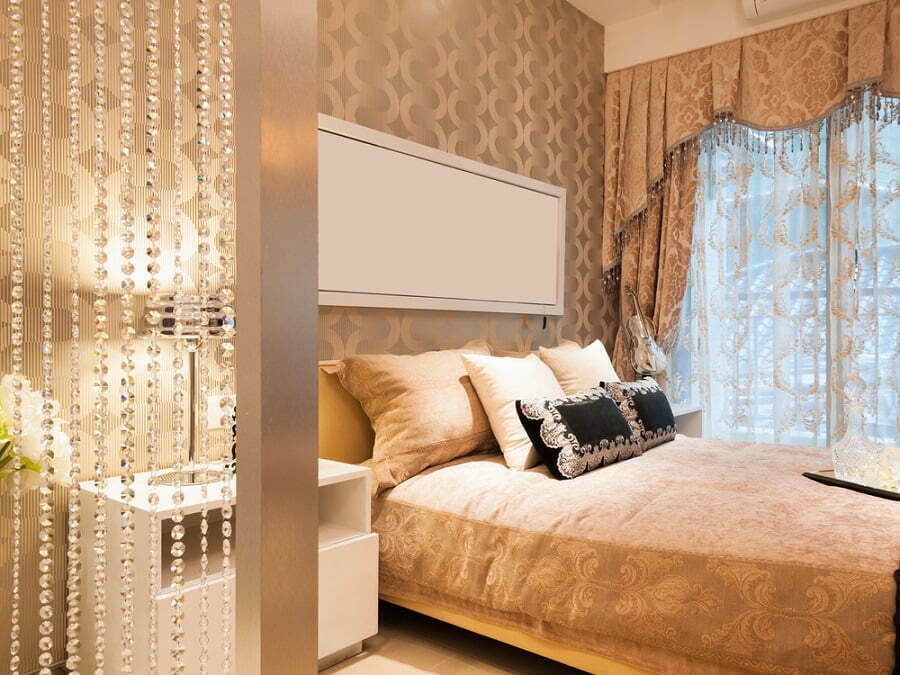 Covering up hardware, curtain rods, and anything else that could be at the top of a window that you would want to embellish is one of the essential purposes of a valance.
Any window treatment may have a more polished and put-together appearance by adding a valance. Even inside the same space, they may unify the appearance of windows dressed in various treatments.
Some may consider valances to be an acquired taste, but when properly installed, they have the potential to work quite well in bedrooms that have an air of grandeur about them.
Finally, they contribute a hint of cloth to the space without obstructing the natural light.
Curtains for a Headboard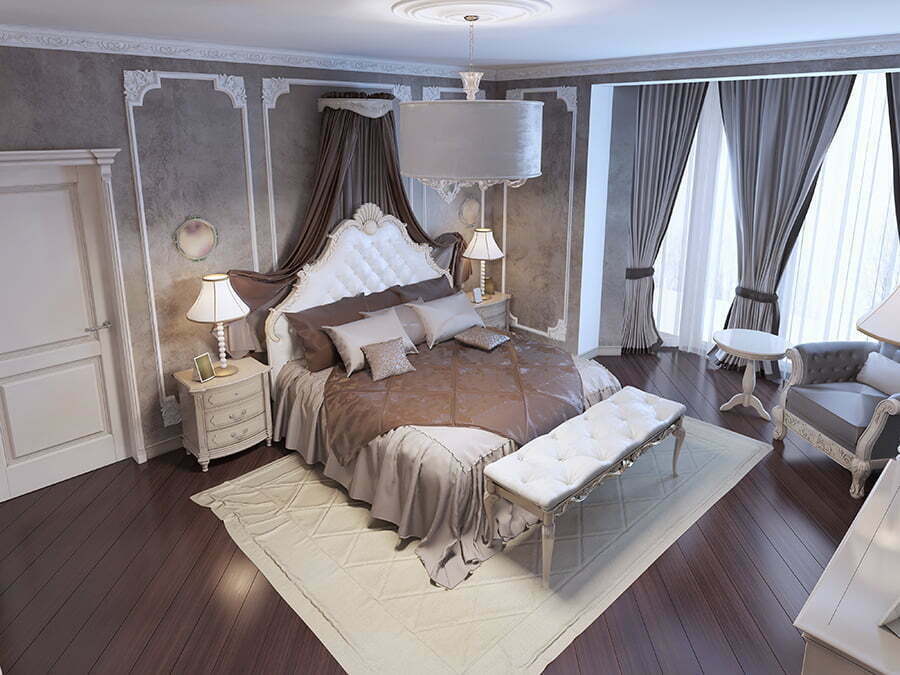 Using a curtain over as a headboard alternative is an unexpected way to use window treatments in bedroom decor, and it adds an amazing finishing touch.
If you want your curtain headboard to cover the wall, you will need to install a curtain rod that goes across the width of the bed and is attached to the wall just below the ceiling.
Window Shutters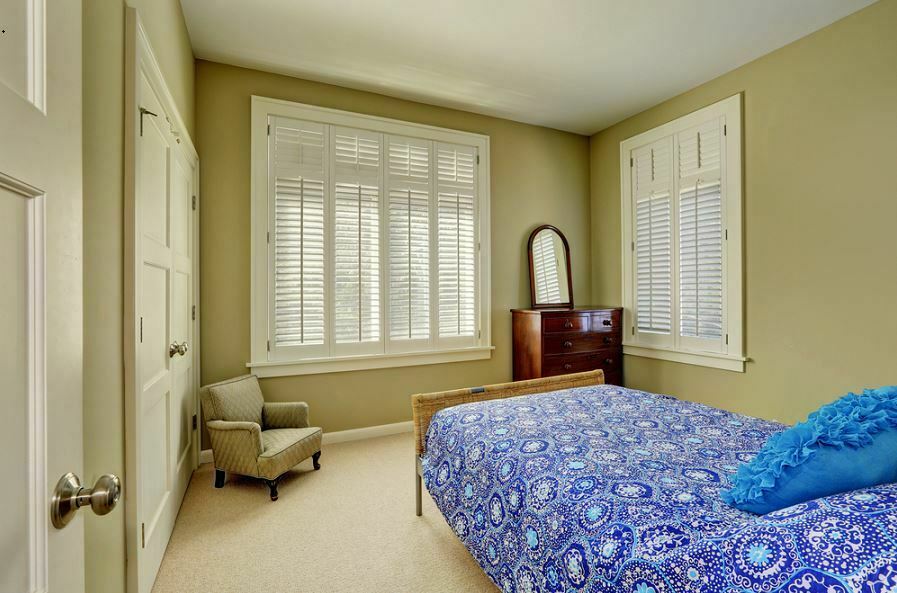 Window treatments that are most suited for bedrooms include shutters. Installing internal shutters over the windows in your bedroom may help you create the perfect sleeping hideaway for you and your partner.
However, consider adding a layer of sheers or drapes over your bedroom window shutters if you want to create a more elegant look.
Roller Blinds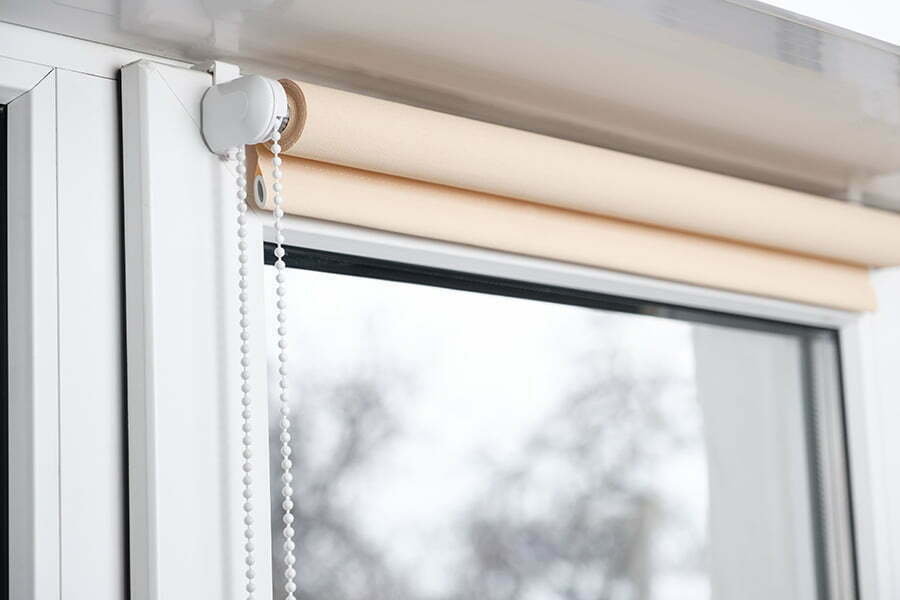 For various reasons, roller blinds are one of the most often chosen window covering options for bedrooms. Roller blinds are typically the most cost-effective option compared to other types of blinds.
A blackout or dim-out finish and an insulating lining are also available options for the cloth that goes into roller blinds designed for use in bedrooms.
You can combine them with other types of window treatments in the bedroom as well.
Venetian Blinds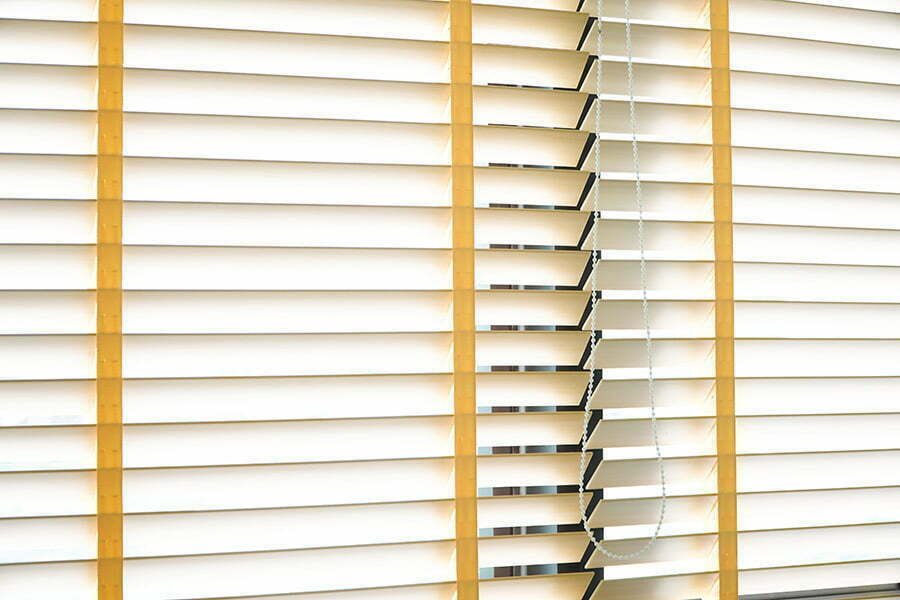 Venetian blinds are the most common type of blinds used in a bedroom because, besides being utilitarian, they add style to the room.
Add a layer of drapes and sheers over your Venetian blinds to improve the coziness effect of your room.
Curtain Rod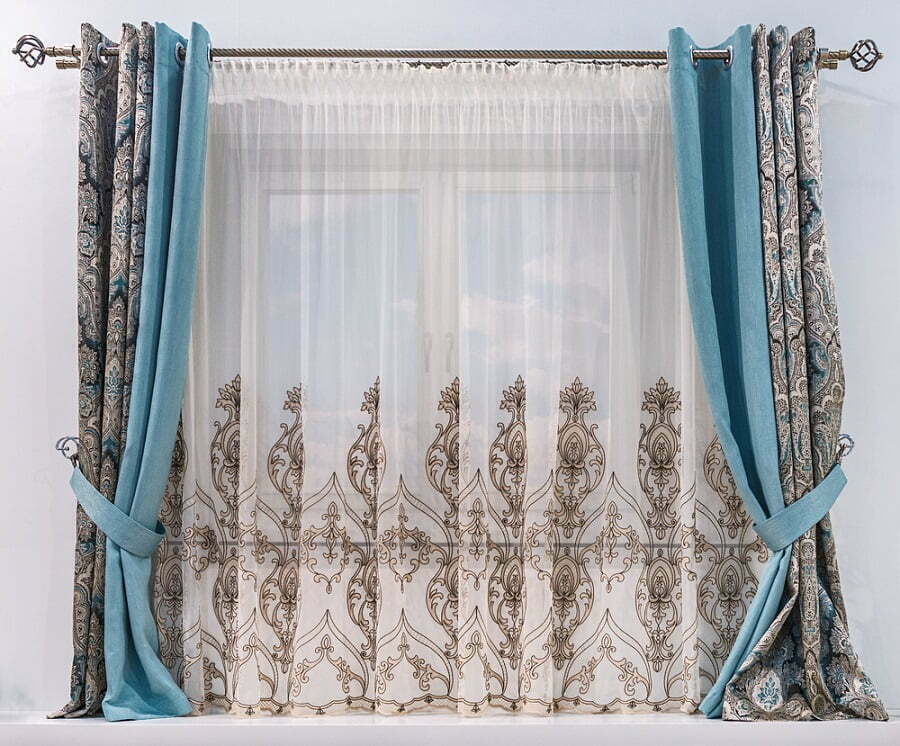 Curtain rods are available in various styles, materials, and finishes. The hardware can create a fashionable statement all on its own, even though it is frequently an afterthought.
In recent years, various current styles inspired the design of curtain rods, such as earthy accents and finishes with gold tones. In the same way, shoes finish off an outfit, curtain rods accomplish the same for window coverings.
They support the drapes, frame the window, and establish the room's overall mood. Because of this, selecting the appropriate curtain rod is just as crucial as choosing the proper curtains to hang.
Mix and Match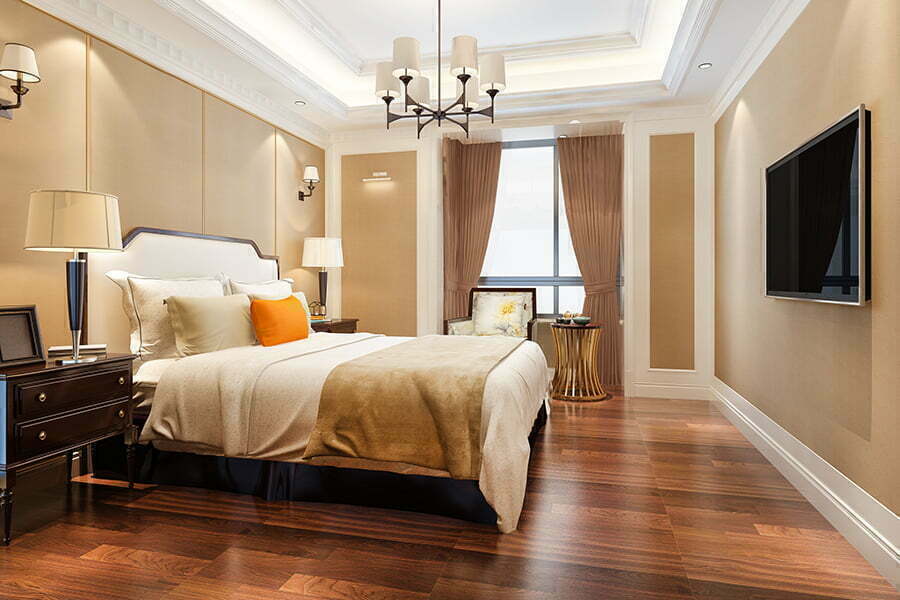 As a final idea, consider that all of these options listed above are not mutually exclusive. That is, you can mix and match and combine many of them. Your idea of a cozy and elegant bedroom is what will define what ideas you want to implement.
Layer the curtains and blinds, drapes and shades, and choose different patterns, textures, and colors. And at the end of the day, the views outside your bedroom window might be so breathtaking that you may want to choose not to use any window treatments at all.
FAQ
Do bedroom curtains have to touch the floor?
Your taste and the overall aesthetic you hope to establish in the space will significantly determine the height you hang your curtains. Curtains that go down to the floor are often chosen for bedrooms due to their ability to block more light.
How to make a bedroom look luxurious with curtains?
Use velvet drapes and layer them over sheers. Consider adding valances and decorative trim. Use tie-backs. All of these elements are what you typically see in luxurious bedrooms.
Should bedrooms have curtains or blinds?
The best option is to have both curtains and blinds. That way you get the best of both — the privacy provided by blinds and elegance curtains.
Recap
Liked this article? Here's what you can read next: