Last updated on March 3, 2021
Looking for a space-saving sleeping solution for a small room? These are the best murphy beds that will make the most of your space. Read on!
A small room can be quite a headache when it comes to accomodating sleeping. A good comfortable bed takes space. But what do you do if there's no room for it? Compromise and make a cluttered room? That's not an option. A good murphy bed is.
A murphy bed is a type of bed that folds away into a cabinet, a bookcase, or a chest when not used. That way it takes up minimal floor space and it can double as storage during the day. It's a win-win for small spaces.
But how do you choose the right murphy bed with all the options available?
Here's what we suggest:
Consider the purpose of the room – guest, kids, living room?
Do you want it to double as a bookcase, a sofa, or do you want it to fold away and take up as little space as possible?
Finally, do you want to turn your old bed into a murphy one with a kit?
We will help you answer all of these questions with our top 10 picks. As always, we use extensive research to come up with these picks. We have a lot of data about what people are interested in and it gives us a unique opportunity to pick awesome products. As a disclaimer, we do get compensated for qualifying purchases on Amazon (which is indicated with #ad). This comes at no expense to you and it helps us do a better job.
Now on to the top list. Which is your favorite murphy bed?
What's Inside?
Twin Murphy Bed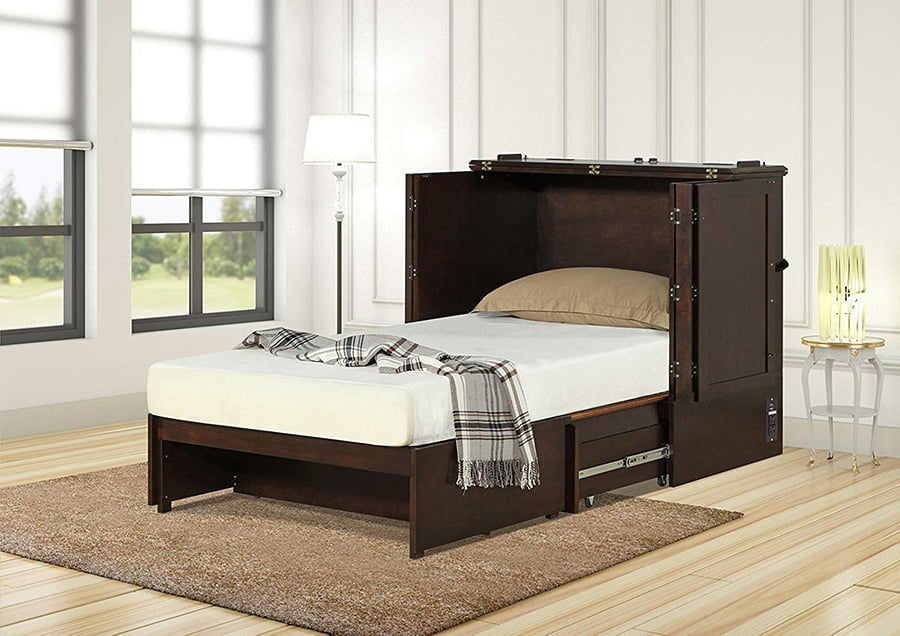 Pros:
Compact cabinet when closed
6″ memory foam
Solid wood design
Two drawers for storage
Cons:
Thin back panel can easily crack
Low clearance can lead to head bumps
A twin murphy bed can provide adequate sleeping space for two people. This one from Emurphybed hides well during the day as a TV stand. You can place it in your living room or entertainment room. If guests decide to stay for the night, just open it up and unfold the twin size mattress. It's an incredible space saver as the closed cabinet only measures 44.5″ x 30″ x 40.75″. When fully extended, it goes up to 80″ long.
Cabinet Bed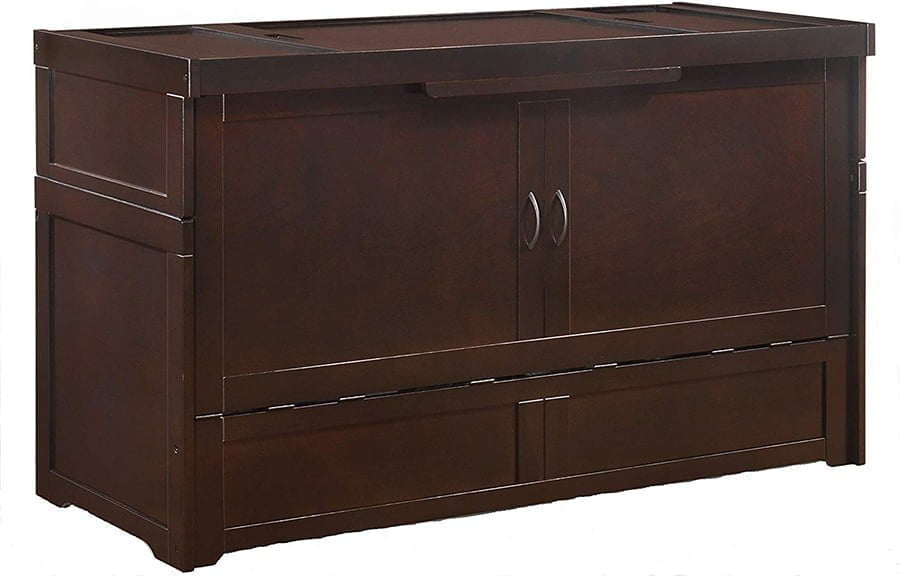 Pros:
Compact package
10-year warranty
Solid hardwood
Cons:
Not fully assembled
Some quality issues
The great thing about a cabinet bed is that it can be tucked into a corner of a room without taking up much space when idle. Just put a TV or picture frames at the top to make it more functional during normal days. When guests come to visit, unfold the mattress and let them sleep in comfort. This SDS Murphy Cube Queen Cabinet Bed features solid hardwood and a 10-year warranty that should take care of the rare quality issues. It still requires some setup despite being marketed as fully assembled.
Murphy Bed with Couch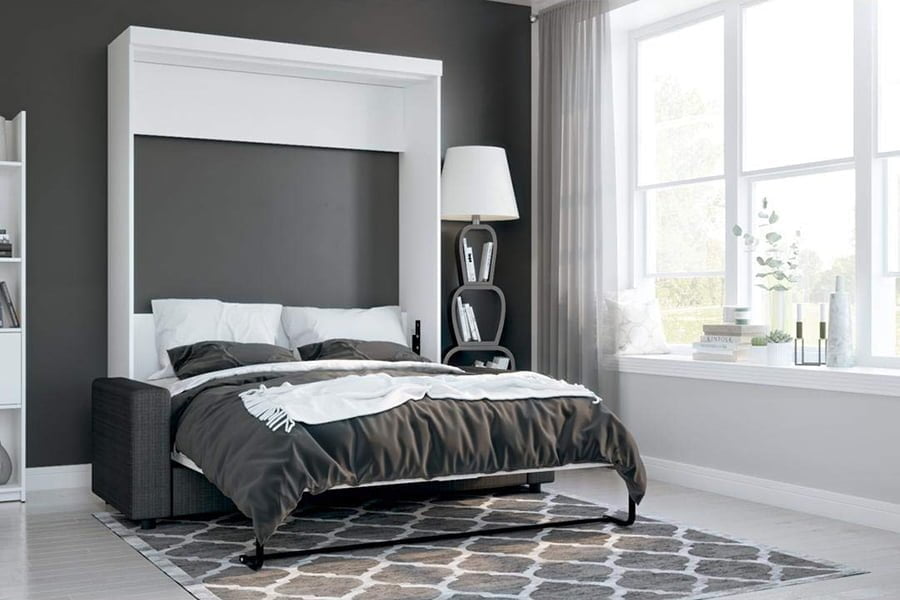 Pros:
Hardwood frame
Dual furniture design
Quality materials
Thick cushions
Pre-assembled except for legs
Cons:
Requires wall for back support
Only 12-month warranty
A murphy bed with a couch takes hidden furniture to a higher level. It disappears into the wall when not in use to provide clear floor space. It then reappears in two forms depending on what you need. Entertain more people with a couch or have them stay the night on a bed. The seats are almost 8″ thick while the fabrics have heavy-duty backing for longevity. You need to place it against a wall for back support.
Murphy Bed with Desk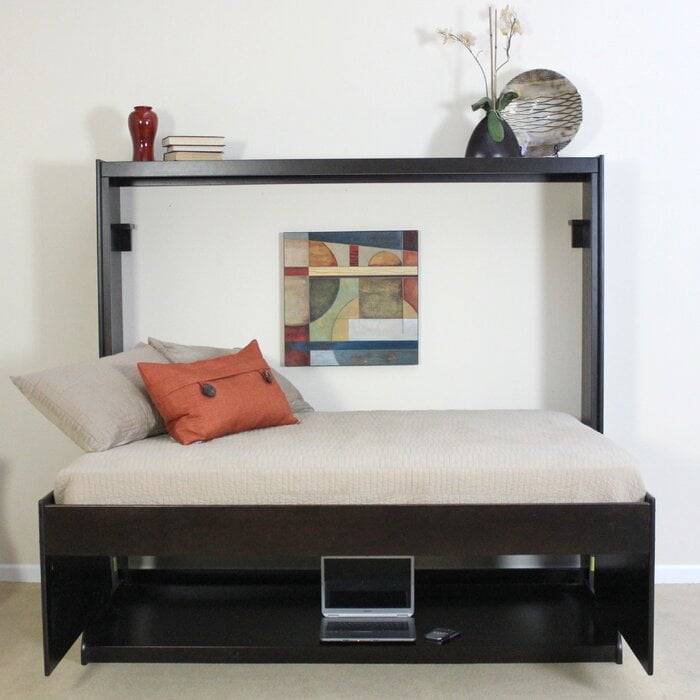 Pros:
Effortless lift mechanism
No need to clear desk items
Bed covers remain tucked after closing
Compatible with up to 10″ thick mattresses
Solid construction
Cons:
Difficult assembly
Can be damaged during shipping
A murphy bed with a desk is the perfect solution for those who want to convert small rooms into a home office that doubles as a guest room. The Berner Murphy Bed is made from real wood with exquisite natural grains. As a desk, it will provide a work surface that is 44 inches deep and 85 inches wide. As a bed, it will give you ample space that is 64 inches deep and 75 inches long. You do need patience with the assembly but the finished product is a great buy.
Queen Murphy Bed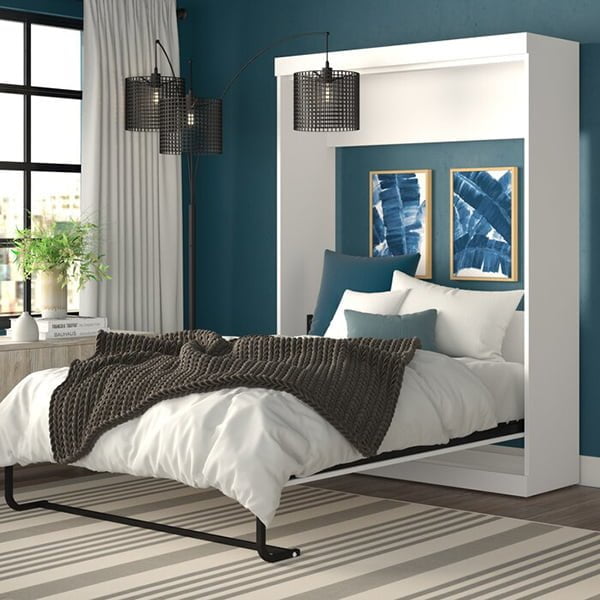 Pros:
Clean minimalist design
Comfortable Euro slat support
Safe dual piston system
Cons:
Difficult and time-consuming assembly
Cheap particle board instead of solid wood
Needs a tall room at 91″ full-height
If you need a queen murphy bed, then check out this product from the Zipcode Design Shop. Their Colquitt Murphy Bed has an elegant simplicity that makes it a good fit for contemporary homes. It features comfortable supports and a safe dual piston system for opening. Just note that this requires complex assembly and the room must be more than 91″ in height. The use of manufactured wood instead of solid wood reduces its appeal.
Full-size Murphy Bed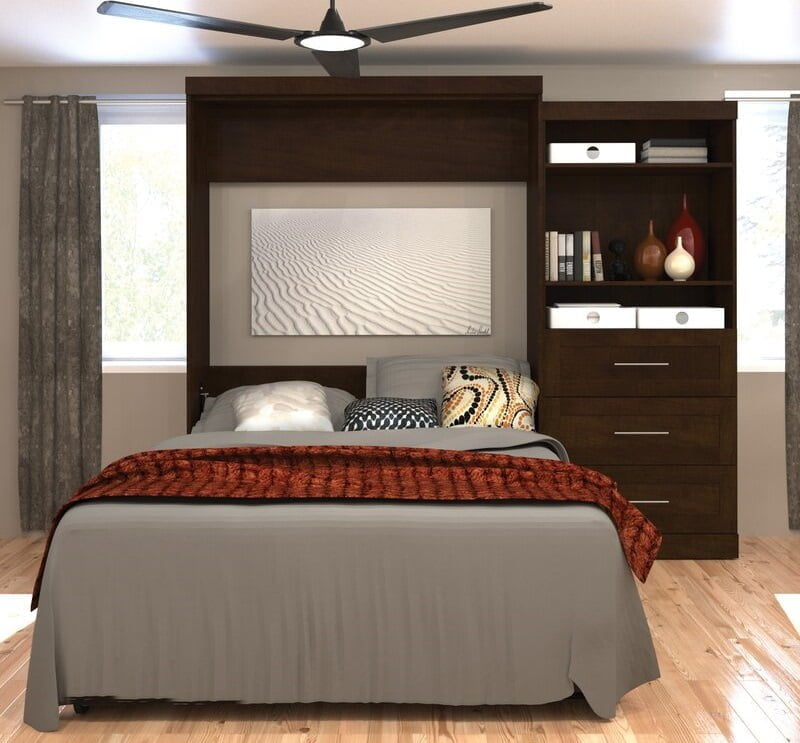 Pros:
Simple yet elegant design
Comfortable supports
Easy opening and closing
Cons:
Cheap wood frame
May be too tall for some rooms
Unclear instructions
A full-size murphy bed is ideal if you only have one guest room to offer your visitors. It may be enough to fit 2 or even 3 persons at a pinch. This product is a good example with a nice simple design with white paint that can match the type of interior. Just place your favorite pillows and comforters to add a splash of color. Prepare to spend a lot of time piecing this together with a friend or two.
Horizontal Murphy Bed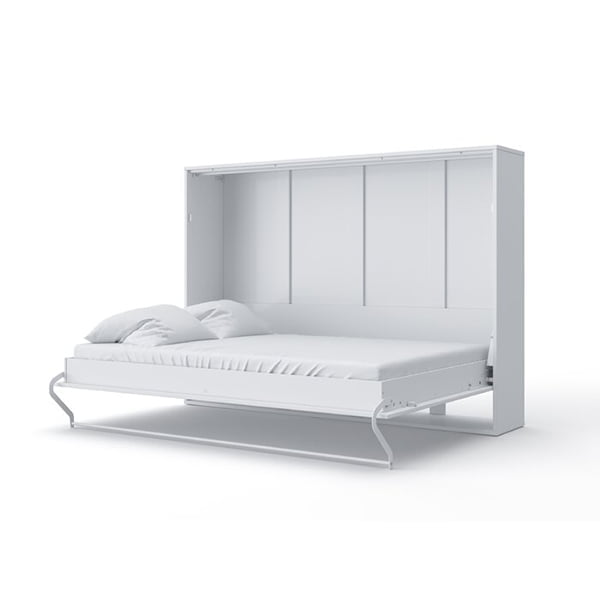 Pros:
Greater stability due to reduced height
Ease of use with one click opening
Minimal design with a high gloss front
Safety lock to avoid accidental opening
Cons:
Manufactured wood instead of solid wood
Assembly required
Most Murphy beds are built tall so that only their shortest side touches the floor. While this saves space, it also introduces a lot of instability. A horizontal murphy bed like this one from Orren Ellis allows owners to save space while having a more stable frame for safety and ease of use. The minimal design when closed makes the whole thing disappear into the walls.
Murphy Bed Chest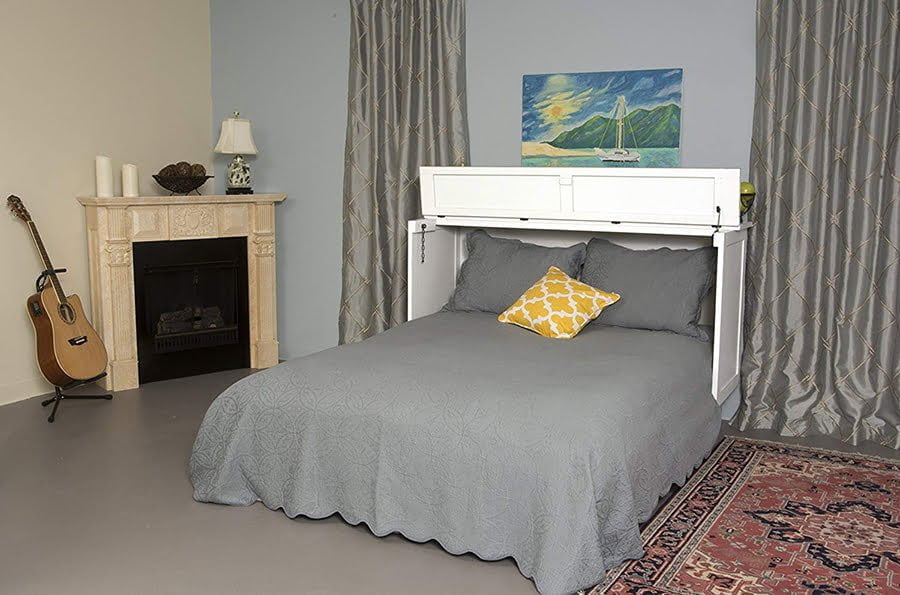 Pros:
Stylish front with dramatic moldings
Storage space for pillows and beddings
Small footprint to save floor space
Flip-top for more headroom
Cons:
If you want a hidden bed for a converted guest room, then a murphy bed chest can be a good idea. This product from Arason may be a bit pricy but it has the style, the features, and the materials to justify the cost. It has a small footprint so it can fit anywhere while still providing ample space for pillows and beddings. You won't have to worry about bumping your head as the top flips for more headroom.
Murphy Bunk Beds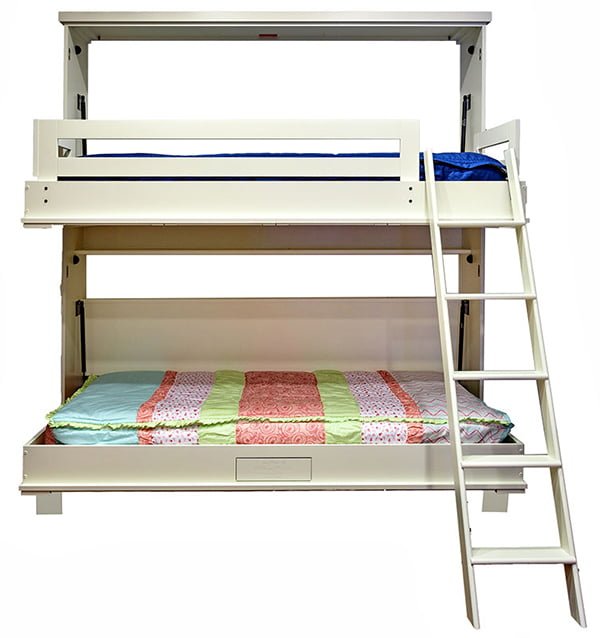 Pros:
Optimizes space by doubling capacity
Strong frame, ladder, and railings
Small footprint with 17″ depth
Cons:
Murphy bunk beds are great for tiny kids' rooms as there is ample space to play or study when they are all closed up. These are also great solutions when you are expecting a lot of visitors to come over frequently. This particular model features all-wood construction so it has sturdy frames, ladders, and rails for safety. You need tall walls with a height of almost 90″. The room must be at least 44″ to allow the projection to fully descend.
Murphy Bed Kit
Pros:
Cheaper than a full murphy bed
Lifetime warranty
Available in twin, full, and queen
DVD and printed instructions
Cons:
Requires considerable DIY experience
Murphy beds are convenient space-savers but they tend to come with a hefty price tag. If you don't have thousands of dollars for purchase, then consider getting a murphy bed kit instead. You will have everything you need to design and build your own except for the lumber and mattress. You can find detailed instructions inside. Note that this can still be an overwhelming project for those without DIY experience.
Liked this article? Here's what you can read next:
---
Disclosure: As an Amazon Associate we earn from qualifying purchases.