Last updated on April 2, 2022
A window in the bathroom must not be a nuisance. Here are the best blinds for bathrooms that save your natural light and privacy.
That best is this double layer shade (our editorial pick).
Blinds for bathroom windows should meet two of these criteria (it's a must):
They have to provide privacy — no neighbor should be able to peek into your bathroom.
They need to let the natural light in — otherwise, what's the use of the window in the bathroom?
While several types of window blinds meet these criteria, we think dual layer shades do the job in a classy way. You can keep all the light, get privacy, and you can still block the light when needed. They look very good too.
Other things you need to look into:
Blind slats have to be moisture resistant (so no wooden slats, unfortunately).
You need to measure the window and find the perfect match for the blinds.
Decide whether you want them mounted inside the window frame or on the outside (the latter will help you choose the size).
Consider vinyl shutters too.
What's Inside?
SEEYE Zebra Dual Layer Shade Blinds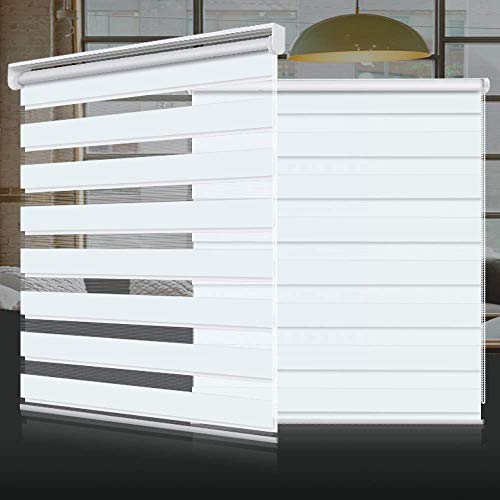 This is our editor's choice.
These window blinds are made of high-quality breathable fabric and provide privacy while still allowing light to enter the room. They are 100% high-quality polyester, good breathability, anti-static, dustproof, and durable. Besides, they provide privacy while still allowing light to enter the room so you can control any time that requires privacy.
The design is flawless. Even if you want the shade to fit inside the window frame but unable to find the size you need (only 14 sizes are available), you will be pleased by the look you achieve with these blinds. It's an inexpensive and easy-to-install window treatment.
Quick facts:
Polyester slats.
14 sizes for windows.
Inside or outside installation supported.
Semi-shading and full-shading.
Faux Wood Inside Mount Cordless Blinds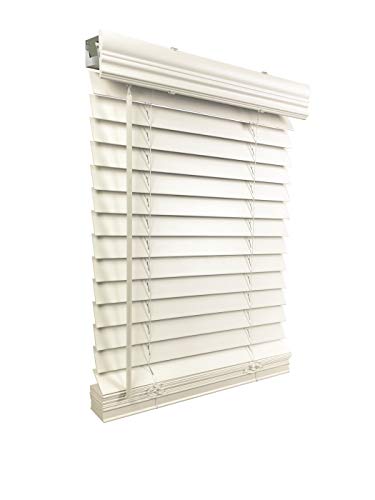 Installing and cleaning this blind are very easy. The width of the blind is 22.5 inches and its height is 36 inches. It fits windows that measure 23 inches wide and 36 inches high. It also has a 3.25-inch decorative valance at the front. It does not include corner valances, though. It features a 2-inch by 2.25-inch heavy duty steel headrail.
These blinds are ideal for looks and features. They feel quality and solid, but they are not bulky or flimsy made. You will like the horizontal tilt, and you'll be fascinated by the no-strings height change that remains in place no matter how you pull it.
Quick facts:
15 sizes are available for different sized windows.
Slats are made of PVC (wood look).
Inside mount.
Achim Home Furnishings Cordless Mini Blinds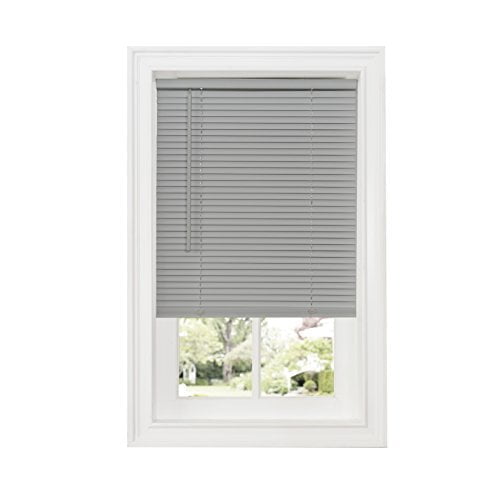 These stylish mini blinds have no cords to tangle. Child and pet safe, they resist warping, fading, and sagging. They're super easy to use. Just lift or lower the bottom bar to raise or lower the blinds! Includes a tilt wand to adjust the slats and control how much sunlight streams into the room—no need for brackets with their hidden mounting system. You can install them inside, outside, or on your ceiling.
Quick facts:
Inside, outside, or ceiling installation.
Cordless lifting.
16 width sizes available for different windows (64-inch height).
Lotus & Windoware Cordless Vinyl Blinds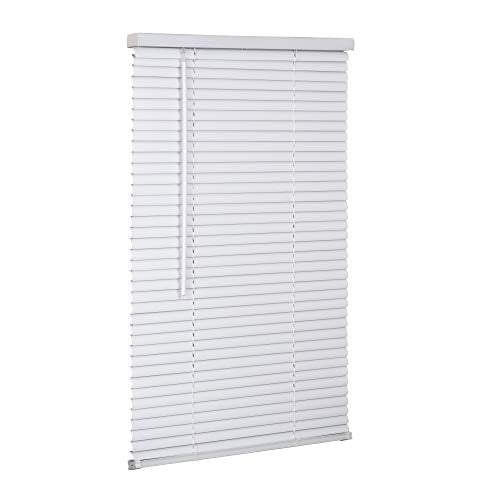 These are great vinyl blinds for the price, even though the reviews are mixed. It's all a matter of expectations. You can't expect a miraculous product for such a price. But it does the job. And the biggest pro of these blinds is the huge variety of sizes — there's no way you won't find the right size for your windows.
Quick facts:
Slats made of vinyl.
A huge variety of sizes (width and height).
Cordless control mechanism.
Can be mounted inside or outside of the window.
SEEYE Blackout Waterproof Fabric Window Roller Blinds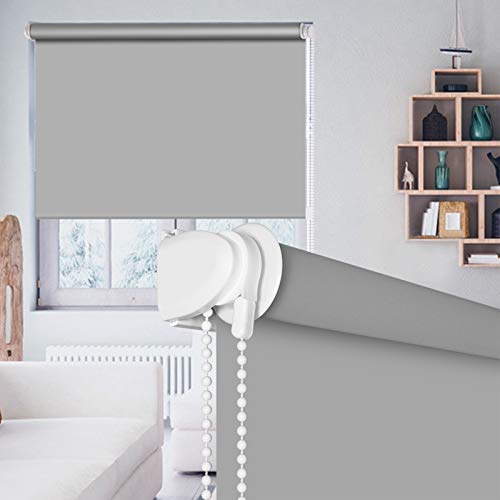 These blackout roller blinds are great if you want to keep your room dark. They're perfect for inside and outside installations, and feature four layers of blackout fabric, the white PVC coating on the front and back. They provide oil-resistance, UV-resistance, and are flame retardant. Cleaning is easy. Just wash with soap and water then scrub with a soft brush to return them to their original appearance.
Quick facts:
Polyester shade fabric.
String operated roller.
Provides total blackout.
Widths available from 20 to 44 inches at 79-inch height.
Mahogany Cordless Vinyl Venetian Blinds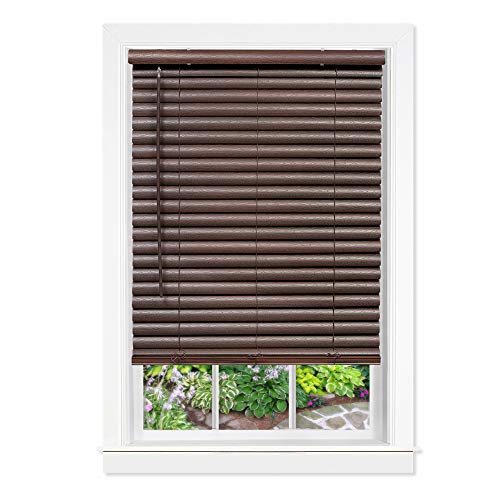 These venetian blinds don't have any cords to tangle. They are 2″ and vinyl. Also, they have a valance of 2″ that is removable. They won't chip, dent or fade. If you want, you can mount them inside your windows or outside your windows. It's up to you. Also, they are super easy to install! All the installation hardware is included with the purchase of these window treatments.
Quick facts:
Vinyl slats (Venetian style).
Cordless operation.
Widths from 23 inches to 48 inches at 64-inch height.
Inside or outside mount.
Three colors to choose from.
LUCKUP Blackout Roller Shades with Valance Cover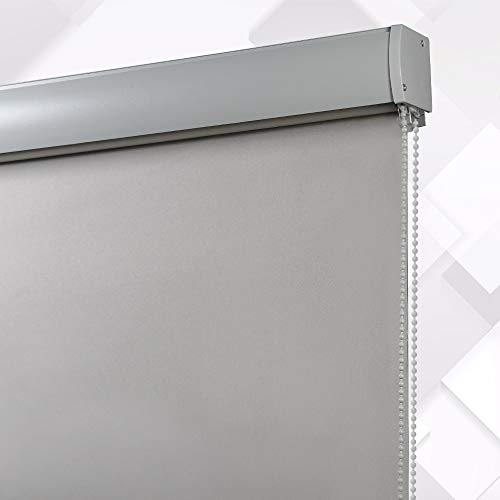 This roller blind is made of 100% waterproof polyester and has a thermal insulated coating, which works well in temperature and light control. The top of the pull-down shade is lined with aluminum which prevents interior damage and dust. An aluminum cap makes it easy to install the roller blind on your window.
Quick facts:
Waterproof shade made of polyester.
Width available in sizes 20 inches through 44 inches, and 72-inch height.
Inside or outside mounting.
Trim-at-Home Cordless Cellular Light Filtering Fabric Shade
This shade is easy to install. Trim, peel, and stick for a professional look that isn't time-consuming. Use a straight-edged kitchen knife to trim the fabric, then peel off the liner. Then stick it in place for an installation method that delivers both privacy and efficiency. The energy-efficient cellular fabric is functional: it gives you bright light and privacy.
Quick facts:
Max width of 36" that can be cut down to the required width. The height is 64" when fully extended.
The shade is made of cellular fabric.
Radiance Cordless Bamboo Roman Shade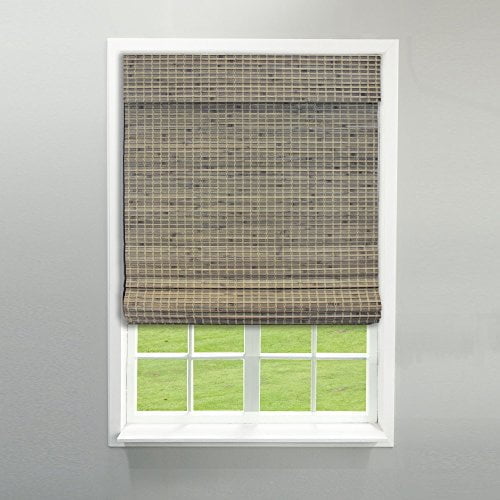 These roman blinds are woven with alternating 1/4 inch flatstick bamboo slats and 3/8 inch slats to create a light filtering and semi-private window treatment. This tightly woven bamboo blind allows for light and energy-efficient insulation, which also creates a semi-private area on your windows. If you desire even more privacy, attach a fabric privacy liner to the back of this bamboo shade.
Quick facts:
Slats made of bamboo.
Can be mounted inside or outside the window.
Needs modification for full privacy.
Different widths available at 64-inch height.
Thy Trading Bamboo Roll Up Window Blinds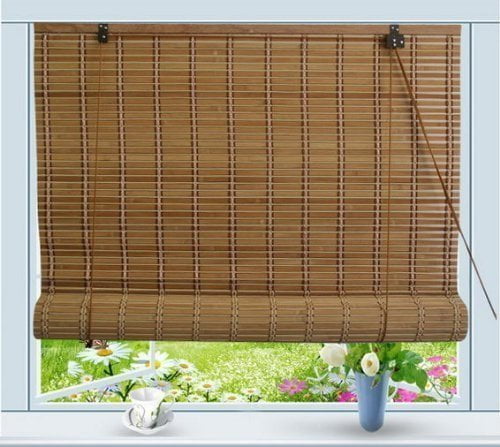 These bamboo blinds are made of natural material and have a low carbon footprint. They measure 24 inches wide and 72 inches tall (other sizes are available). They can either be mounted inside the window or outside.
Quick facts:
Bamboo slats.
72-inch height at varying width for your windows.
Can be mounted on the inside or the outside of the window.
FAQ
Do you need special blinds for bathroom?
You need moisture resistant (waterproof) blinds for the bathroom. Slats made of polyester are perfect for this and they can match any design.
What kind of blinds are easiest to clean?
Most blinds made of polyester are easy to clean (by wiping with cloth). Because they are resistant to moisture, you can easily wipe them with a damp cloth regularly.
What can I put on my bathroom window for privacy?
Blinds, translucent shades, window film are great for bathroom privacy and they can still let the natural light in.
Liked this article? Here's what you can read next:
---
Disclosure: As an Amazon Associate we earn from qualifying purchases.