Last updated on May 14, 2020
Looking to furnish your toddler's room with the best toddler table and chairs? These are the top picks that will make it easy for you and fun for your kids. Read on!
Anyone who has toddlers knows how important it is to accommodate their playtime and learning activities. It's important not only for their benefit but your peace of mind as well. So choosing the right furniture for the kids' room is essential.
The most important guidelines here are obvious. It has to be safe and children-proof first and foremost. But then it has to be functional and comfortable to create a pleasant experience for the little ones. Finally, it has to be fun visually and functionally so that children actually want to use it.
How to choose the right toddler table and chairs set?
You have to ask yourself these questions:
What's the purpose of the furniture set – playtime, crafts, learning, study? This will help you choose the features you want.
How much room space do you have for it? Look for a set that is compact, can be stacked away, or fold down if necessary.
Does it need to have built-in storage?
What's the design you're after? Do you want to make it vibrant, engaging, and playful, or minimalist and promoting sustainable values.
Now you should have a rough idea of what kind of a toddler furniture set you need. So now we're going to help you choose the exact model. The following are our top picks for the best toddler tables and chairs. They answer the above questions and more. We've used extensive research and experience to come up with the list. We know exactly what you're looking for. Finally, note that we get compensated by Amazon for qualified purchases (tagged #ad) at no expense to you.
Which set do you think your toddlers will like?
What's Inside?
Best Toddler Table and Chairs Set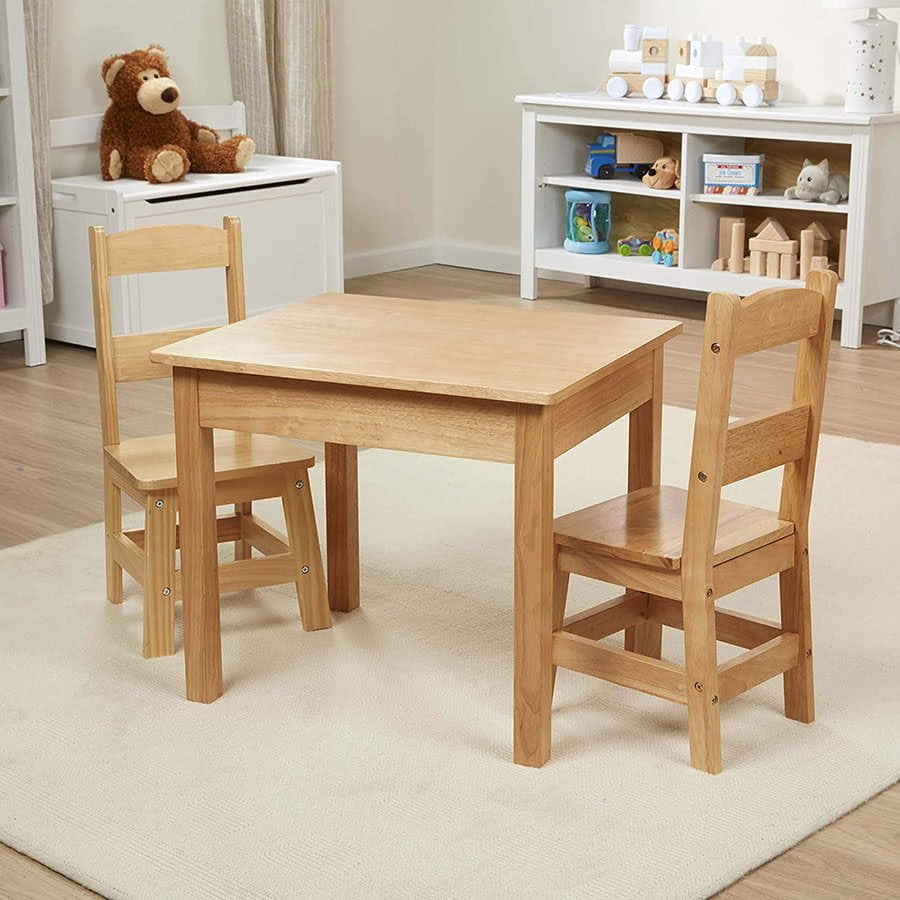 This set of chairs and a table is made of natural wood and has that adorable rustic look. Not only it's a comfortable furniture set, but it also promotes the idea of sustainable living to children.
Pros: they're sized just right for kids, but strong enough to hold adults; high-quality furniture; natural finish, smooth and no rough edges; easy to assemble; scratch-resistant.
Cons: doesn't have rubber grips on the table and chairs.
Kids Folding Table and Chairs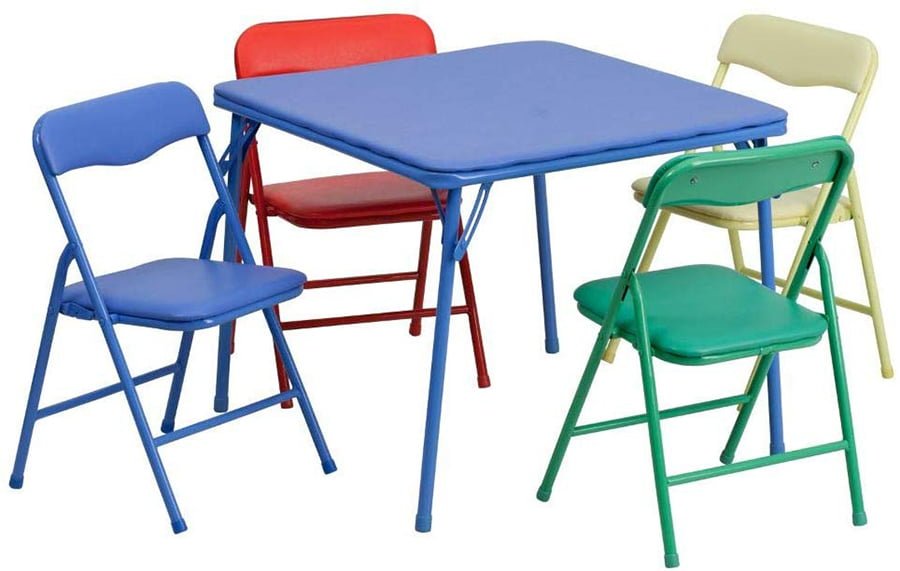 It's the right set when you need to accommodate a play date in your home. The vibrant colors will make it fun for toddlers. The folding table and chairs can be neatly put away when not in use.
Pros: lightweight design so that children can easily transfer from one place to another; it has easy to clean vinyl padded tabletop which is great for toddler use; very sturdy and it has safety locks; foldable tables and chairs.
Cons: assembly instructions not included; you need to push hard on the lever to release it.
Kids Art Table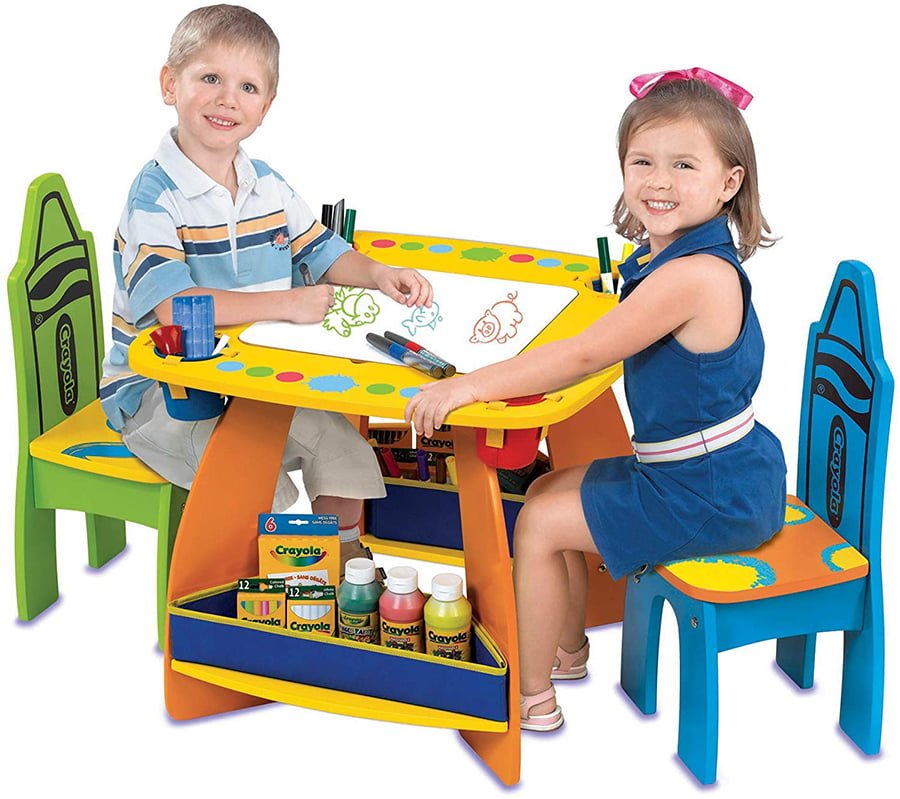 This is a furniture set that will inspire creativity in your kids. It offers comfortable seating and a fun setting for playtime.
Pros: has double-sided tabletop (chalk and whiteboard surfaces); plenty of storage beneath the table; great colors and design; good quality and easy to assemble.
Cons: chairs have a 50-pound weight limit per chair; has small parts (not suitable under 3 y/o).
Kids Activity Table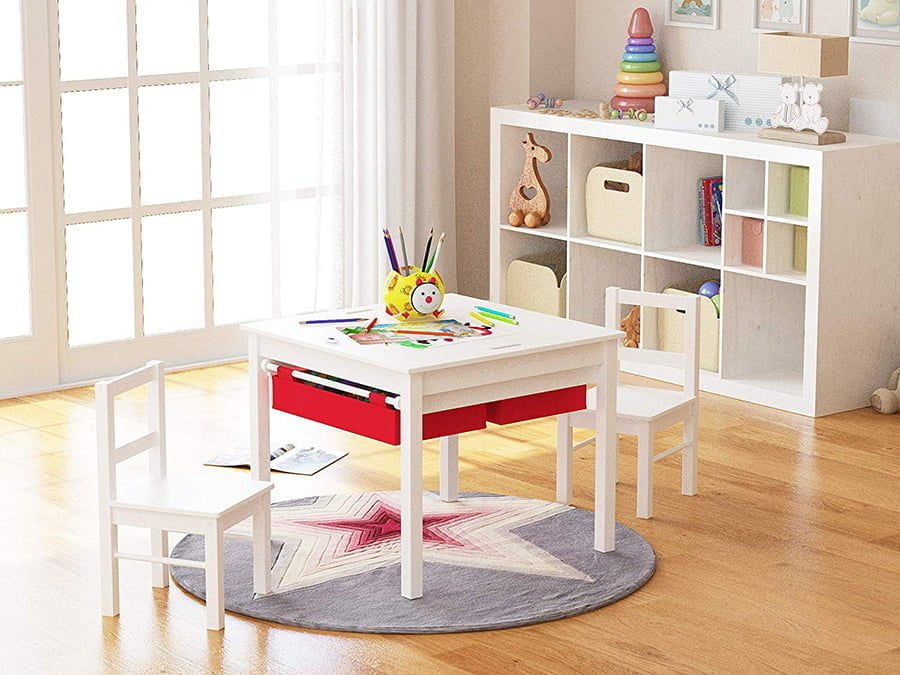 Such a table for toddler activities is a real playtime station. It has everything in one place for a fun time.
Pros: Double-Sided Playboard (construction playtime or smooth surface table); has storage beneath the table; legos fit on the lego tabletop; good quality product and very sturdy.
Cons: screws are not long enough for chair seats; instructions are not clear (quite hard to assemble).
Kids Play Table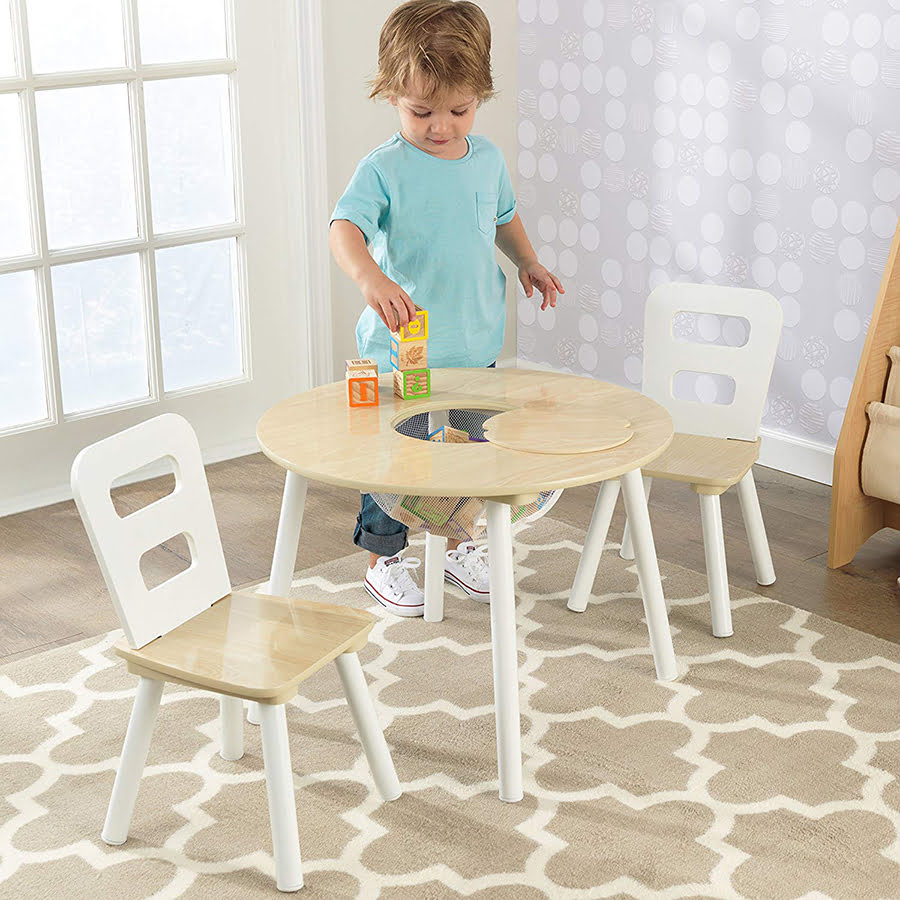 This is a simple yet playful set with a storage basket built into the table. It gives the kids a convenient surface to play.
Pros: built from sturdy wood and metal; has a hidden storage compartment; simple and very easy to assemble; perfect for toddlers; does not take up much space and easy to clean.
Cons: chair's bolts were getting loose overtime; may slide pretty easily on tile and hardwood.
Toddler Desk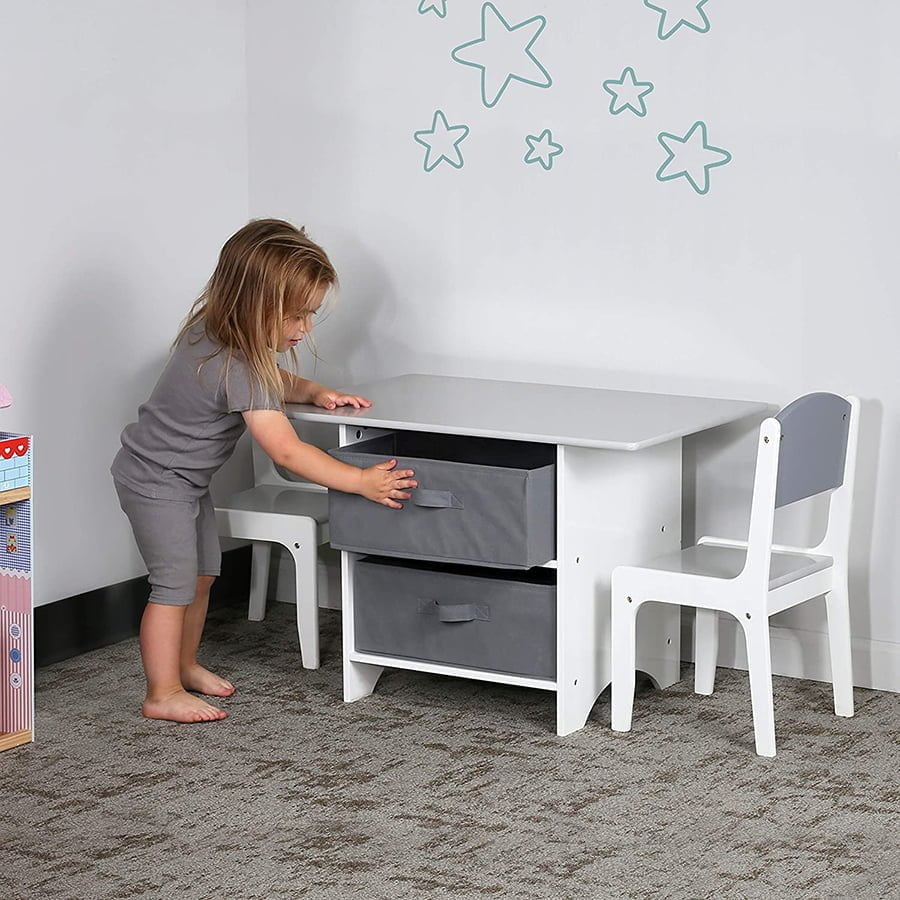 It's not only about the playtime but learning as well. The toddler desk is your kid's first step to the grown-up world.
Pros: built-in double storage underneath; two-tone scratch-resistant finish in white and grey; high-quality materials; durable construction and easy-wipe finish; great design in terms of appearance and safety.
Cons: instructions are not that clear; screws loosen a bit.
IKEA Kids Table and Chairs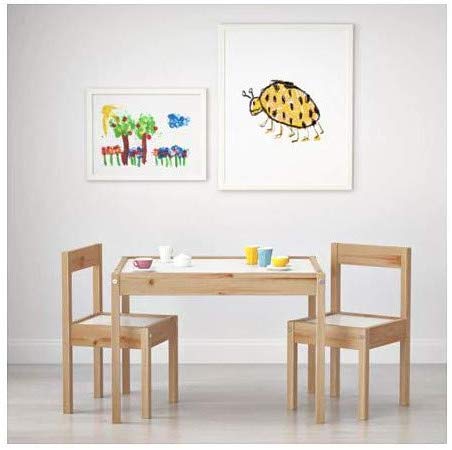 We love what IKEA has to offer in their children's line. This furniture set is Scandinavian minimalist ad your toddlers will love it.
Pros: sturdy product; great activity table; easy to assemble; the corners are not too sharp, no rough edges or splinters; easy to clean; perfect size, fit and perfect for toddlers.
Cons: lacks support braces running across the underside of the table and chairs for extra support.
Little Tikes Table and Chairs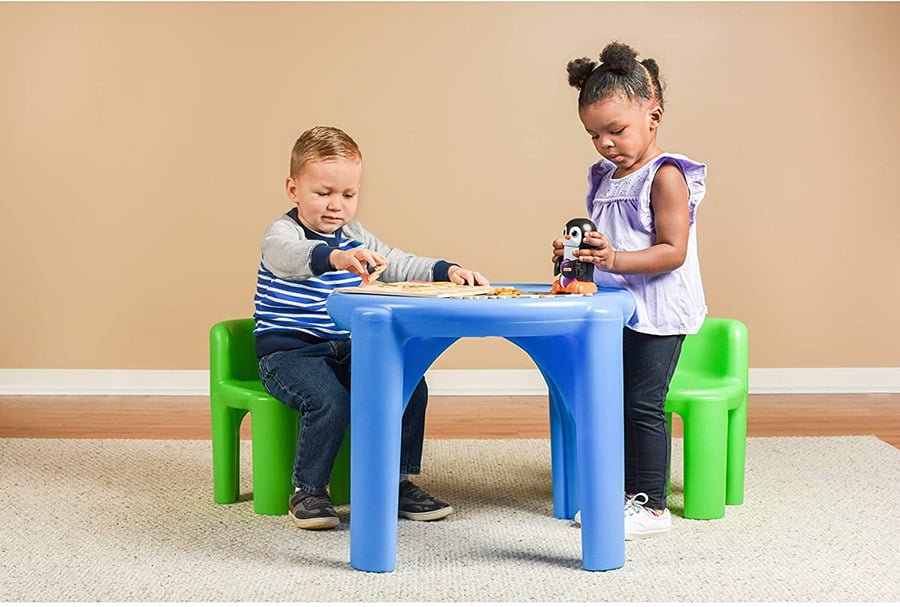 Little Tikes is another popular brand that offers playful furniture for toddlers. This is one of their best sets.
Pros: fully assembled; easy to clean surface; chairs nest perfectly beneath the table; doesn't stain or chip since it's plastic; build to last; kids can move the chairs around easily.
Cons: tip easily; the table is not flat.
Kids Craft Table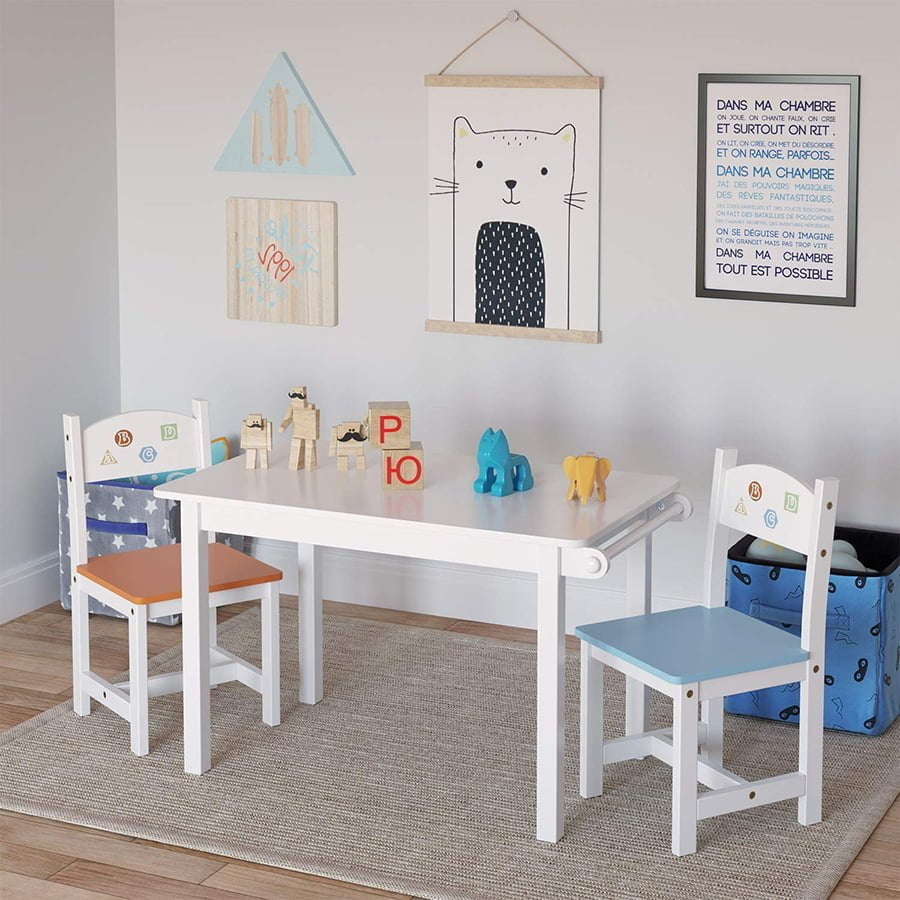 This crafts table is built to accommodate drawing and more. The drawing paper rack is a brilliant feature that your toddlers will love – they'll be at it for hours.
Pros: the height of the table and chairs is also suitable for adults; it has a drawing paper rack with a paper roll for painting from the table side; solid and lightweight design; curved-edge table; easy to assemble.
Cons: has small parts (needs additional adhesives to properly secure small parts).
Kids Study Table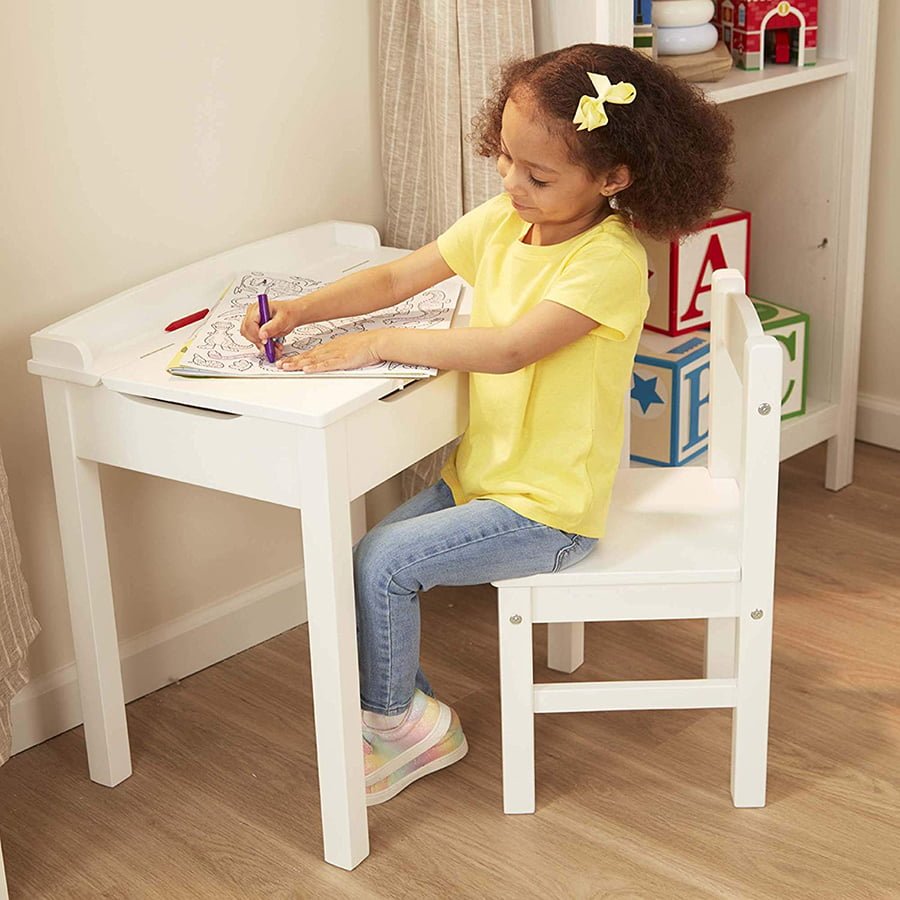 A compact desk with lift-top for your toddler's room. It's a great desk for his or her activities.
Pros: made from high-quality wood; holds up to 50lbs; the desk features a safety-hinged lid and reinforced legs; lid opens up to provide ample storage space; a great alternative to the plastic art desks.
Cons: has small parts (not for children under 3 y/o).
Liked this article? Here's what you can read next:
---
Disclosure: As an Amazon Associate we earn from qualifying purchases.