Last updated on April 6, 2023
If you don't want bar stools in your kitchen, try one of these alternative options that will work for you instead. Read on!
These days, it's not uncommon to see a couple of bar stools in a living room or kitchen, and this trend is expected to continue as the variety of bar stool designs available continues to grow.
You can enjoy a higher vantage point with a suitable bar stool while dining, drinking, or mingling. There is a wide variety of bar stool types, but you must not have them in your home if you don't want to.
It's not easy to find alternatives to bar stools. To sit comfortably at a counter, a stool or chair needs to be high enough. But if you don't want bar stools in your kitchen, here are some other ideas that might work.
Regular Stools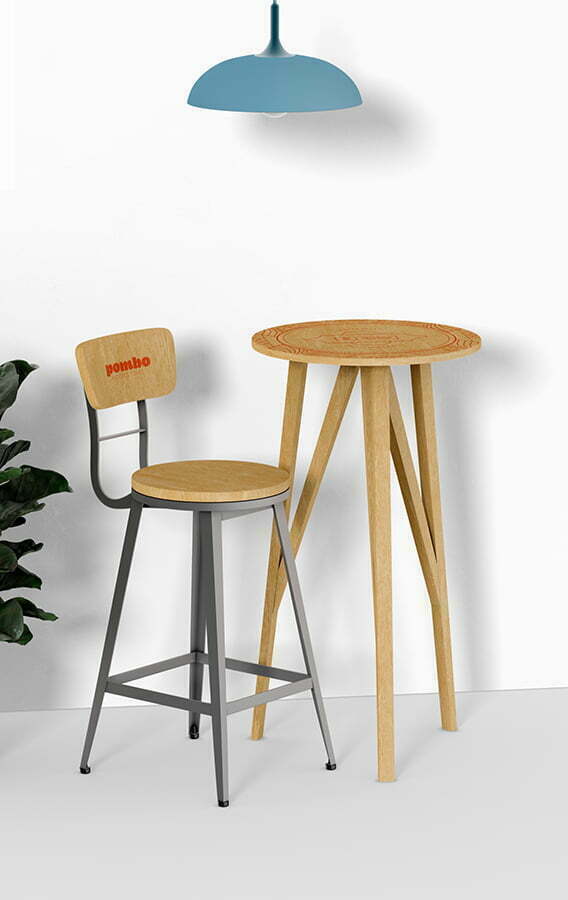 You could go for a more classic look by ensuring all of your furniture matches. Even though standard bar stools have some clear benefits, they also have apparent drawbacks. One reason is that they are tall. Most of the time, this is a problem for older or very young people who have trouble getting on and off the stools.
See how you can use regular stools instead. They may be too low for your countertops, but then again, they might be just right. Not everyone will find this idea useful, but it's the easy way out if it works for you.
Metal Stools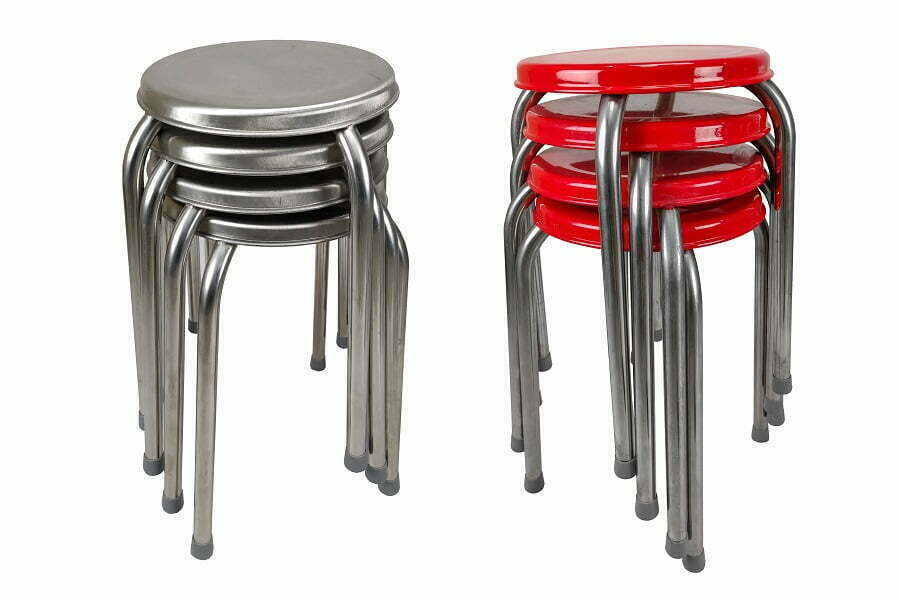 Metal stools are available in various styles, finishes, and colors, from black and white wrought iron to silver and black steel and aluminum.
The main drawback of metal furniture is that it is heavy. Sometimes it's cumbersome to transport because of how heavy it is.
It also absorbs heat. Metal patio furniture left in the sun can get so hot that it's uncomfortable to sit on.
However, if you choose smaller stackable stools, you can put them away when not needed. This is a great alternative to consider if you don't want stools standing around your home.
Garden Stools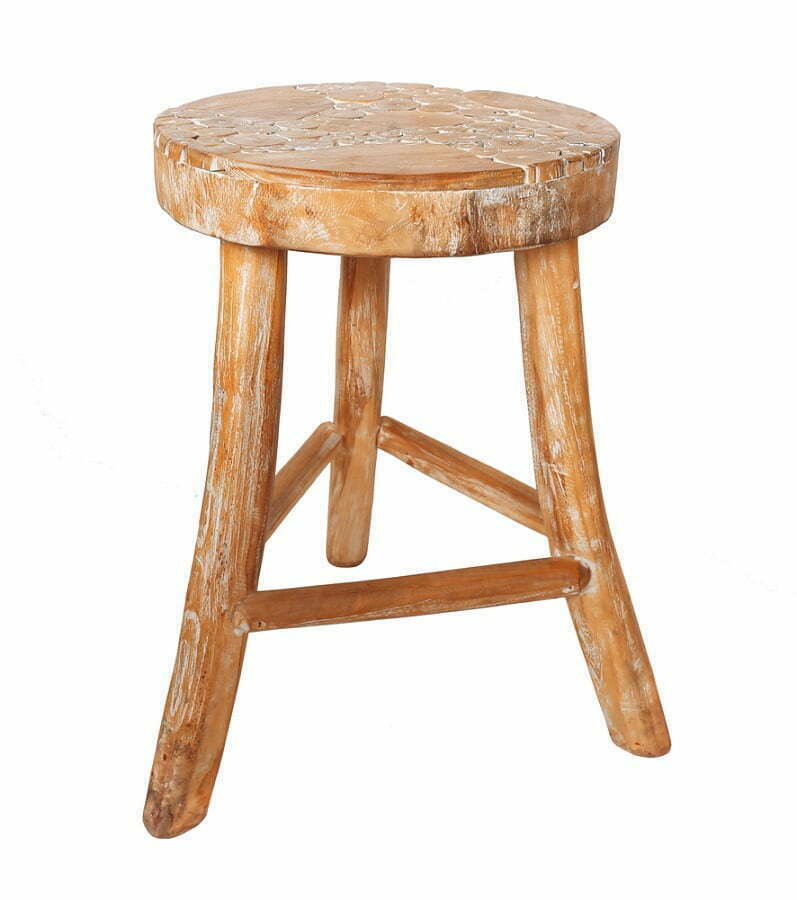 It's not typical to use garden stools in the kitchen or living room. They have an outdoorsy look as they are designed to be used in the garden. However, we think that garden stools can add a quirky rustic charm to interior decor.
These usually wooden stools are easy to move around and you can find them high enough for your kitchen bar.
One of the cons is that they can be bad for your floors (they are not designed to be used inside.) So make sure you add good furniture leg paddings before you bring the stools inside.
Dining Table Next to the Countertop
The problem with choosing chairs for high countertops is that it's hard to find chairs high enough other than the bar stools. So one solution might be a dining table placed next to the countertop.
Consider this setup as an extension to the countertop (or a kitchen island.) That way, you can use any regular chairs.
Tall Chairs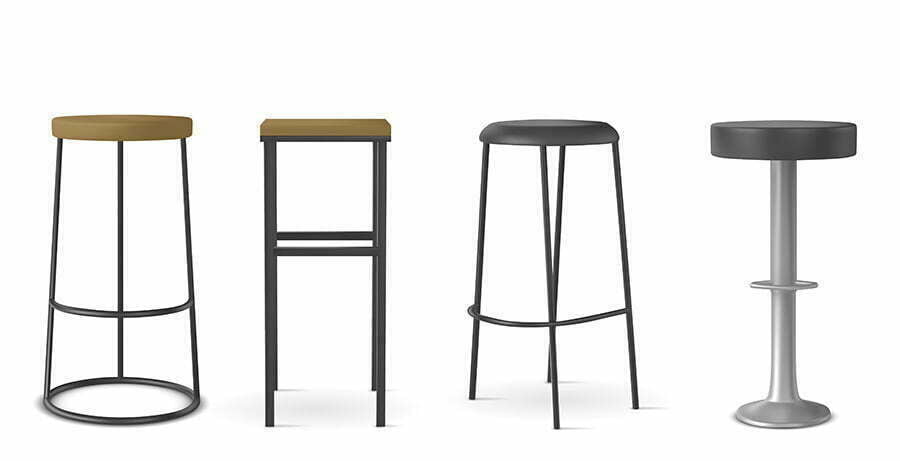 Most people are comfortable sitting on a 16 to 21 inches high chair, but they can be higher.
Because the pelvis and lumbar (lower back) are in a neutral position from sitting on a stool or saddle seat, the spine is free to curve naturally. The user's feet can rest comfortably on the floor, while their thighs and arms can be at a right angle to the table's surface.
Find chairs tall enough to be used at the bar countertop without compromising the seating posture. It can be challenging but very well possible.
Stool Made from a Wine Barrel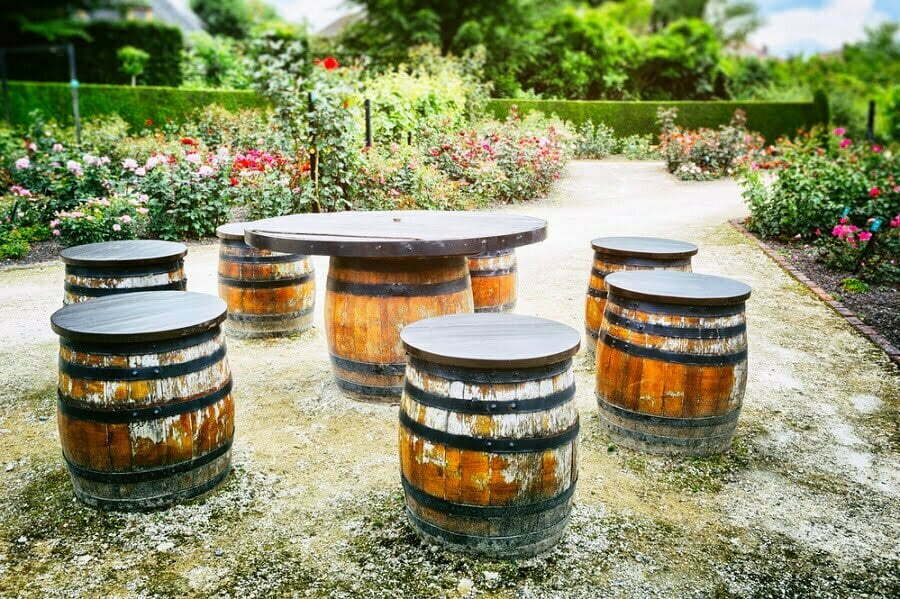 While these stools are bulky and more fitting outside, you can still make wine barrel stools and bring them inside if you have enough room.
Bar stools made from wine barrels can complement any decor. These bar stools all have one thing in common: they're made, at least in part, from recycled wine barrels.
A barrel stool is usually made by adding a padded seat on top of the barrel.
DIY Bar Stool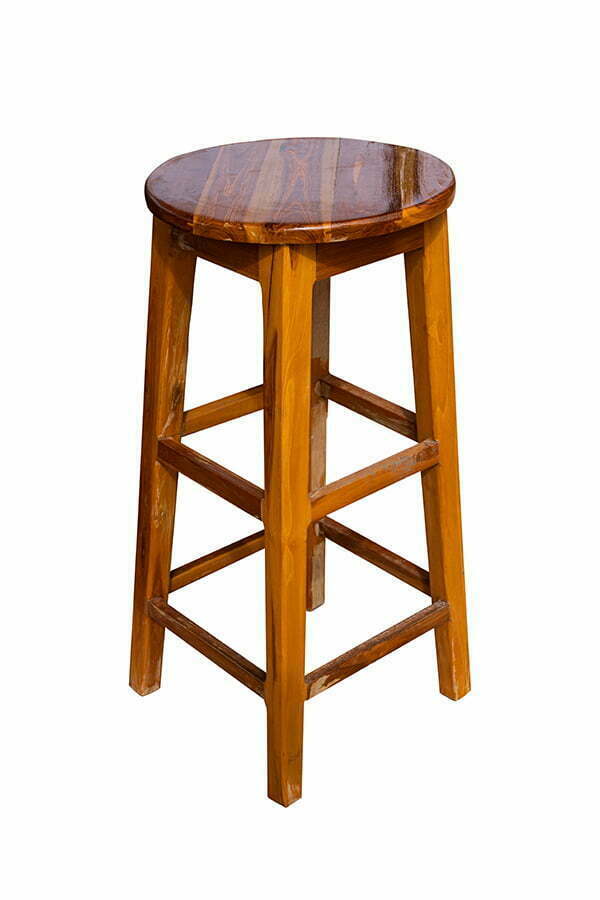 Given the high cost and lack of variety in prefabricated bar stools, we recommend at least considering constructing your one-of-a-kind seating.
The standard bar height of a kitchen island makes DIY bar stools a great complement. It's not the most straightforward choice but the most rewarding one.
FAQ
Can I sit comfortably on a bar stool?
It depends on the design of the stool. The key is finding the right bar stool that fits you.
How much do bar stools cost?
It depends on factors such as material, design, and craftsmanship; the price of a bar stool can range from $100 to more than $1,000. A good bar stool typically costs between $250 and $500.
Why are bar stools so high?
Bar stools are so high (24" to 33") because they have to accommodate people sitting comfortably at the bar or countertop. The latter is high enough to be used as a work surface while standing (cooking or tending a bar.)
Recap
Liked this article? Here's what you can read next: