Last updated on March 15, 2021
Here are the main 15 types of outdoor furniture. In this guide, we are focusing on the materials over design styles. Read on to learn all about it.
By now you've already noticed that we pay the most attention to the material for outdoor furniture. Yes, style is important (and we cover that too) but it's the material the outdoor furniture is made of that makes it possible to use outdoors.
Nowadays, merging the indoors and outdoors is so popular that we have to think about furnishing our outdoor space almost as much as we do interior. That's what's inspired this guide.
Before you jump into buying outdoor furniture, you need to consider a few important factors. The most important consideration is the type of space you have available. How much space do you have? Can you fit a bench, a table, and a few chairs, or do you need to consider other options?
The next thing to consider is whether you want to create an outdoor dining area or a seating area. If you're looking to create a dining area, you will need space for a table and chairs.
As a general rule, it's usually best to start with a matching outdoor table and chairs, but other pieces like a lounge chair, a decorative bench, or a footstool may be appropriate for some spaces. But that's just the start — outdoor rugs, patio lights, outdoor ceiling fans are often added to spruce up a patio or garden space. If you're into home projects, you can try your hand at making outdoor furniture for fun too.
Before we jump in, let us just disclose that our shopping links earn us a commission but cost you nothing extra.
Cast Aluminum Outdoor Furniture
Aluminum furniture provides several advantages: lightweight, rustproof, easy to clean, needs no painting or treatment. One disadvantage is that you must be mindful of not needing storage space for folding it up. However, with cushions to sit on, it can be just as comfortable. Aluminum is light-weight and durable, as well as being rust-proof and needing no paint or treatment. One disadvantage is that it cannot be folded up for easy storage when the weather doesn't permit outside sitting.
Wrought Iron Outdoor Furniture
Outdoor furniture made of wrought iron is strong and durable. It cannot be moved indoors as well, but it can be easily painted without hurting or denting the surface too much. One small concern when installing aluminum furniture outside is that you need to buy cushions for comfort from weather elements.
Galvanized Stainless Steel Outdoor Furniture
Steel is iron that has carbon mixed in it and is very strong but also can rust if not wet or coated with something. That's why galvanized steel is more popular for outdoor furniture.
Resin Outdoor Furniture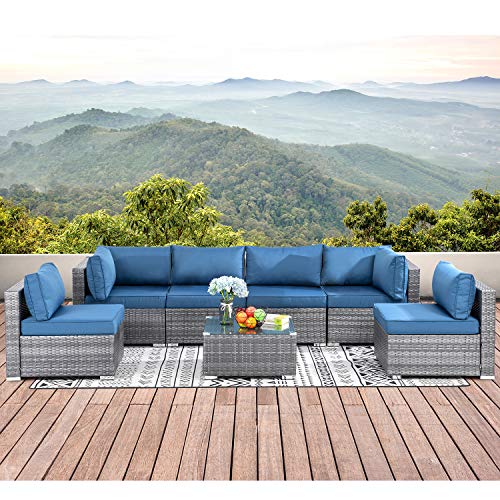 Recycled plastic (often poly wood) or resin outdoor furniture is made of a durable, weather-resistant material that can last for many years. Outdoor plastic furniture is lightweight and cheaper than other alternatives, but over time it may fade or lose its shine if left for a long period of time in direct sunlight. If you want chairs with cushions, outdoor plastic chairs are difficult to find as many kits have been designed without them; however, they are still comfortable without the addition of cushions.
Patio dining sets with stools and tables typically include 6-8 pieces though some smaller sets only include 4 pieces. Finally, depending on what type of chairs you're looking for, there are folding lawn chairs designed to be compact and allow people to sit down. Or comfy patio lounge chair, which offers framing in various colors and designs along with matching footrests perfect for sitting back and relaxing while reading.
Rattan Outdoor Furniture
Rattan pieces of furniture are inexpensive, lightweight, and sturdy; however, they are not weatherproof. So you have to move your rattan pieces indoors when not in use (especially if bad weather is expected).
Wicker Outdoor Furniture
Many people use the terms wicker and rattan interchangeable. That's mainly because wicker is the technique of making furniture and rattan as a material is often used for it. But unlike natural rattan, resin wicker can be made from resin as a more durable piece of furniture,
Wooden Outdoor Furniture
Wood furniture is the most complimenting type of garden furniture. It blends in with a garden setting, but it requires treatment with sealers regularly. It's irreplaceable if you're looking to create an outdoor kitchen. The best wood for an outdoor-garden is teak, cedar, cypress, or redwood.
Cushion Fabrics for Outdoor Furniture
People often want to buy new fabric cushions for their outdoor furniture to make it look fresh and clean. The price of these new covers can be the most expensive part of your furniture, so choose wisely and find out which ones will best suit your needs.
Consider using materials made for outdoor use resistant to moisture, mold, stains, and UV light. You should also bring your cushions indoors when they're not being used to keep them from growing any mold or fading in color like they would if left outside in the sunlight all day.
Outdoor Benches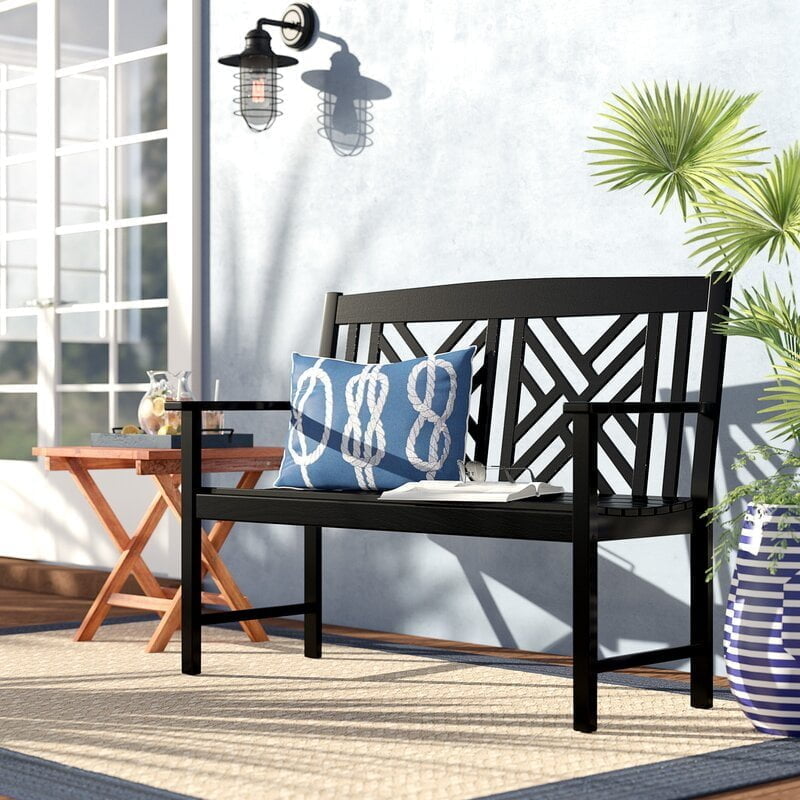 Check Out the Top 10 Best Outdoor Benches
A bench is garden furniture that is most popular in an informal and intimate setting. You can find benches in all types of materials. Often the most popular materials are wood, flat polyethylene weave, or cast iron. The bench can provide a very warm feeling to your garden if you have it there. There are also benches available with storage for those who want to make use of limited space.
Outdoor Chairs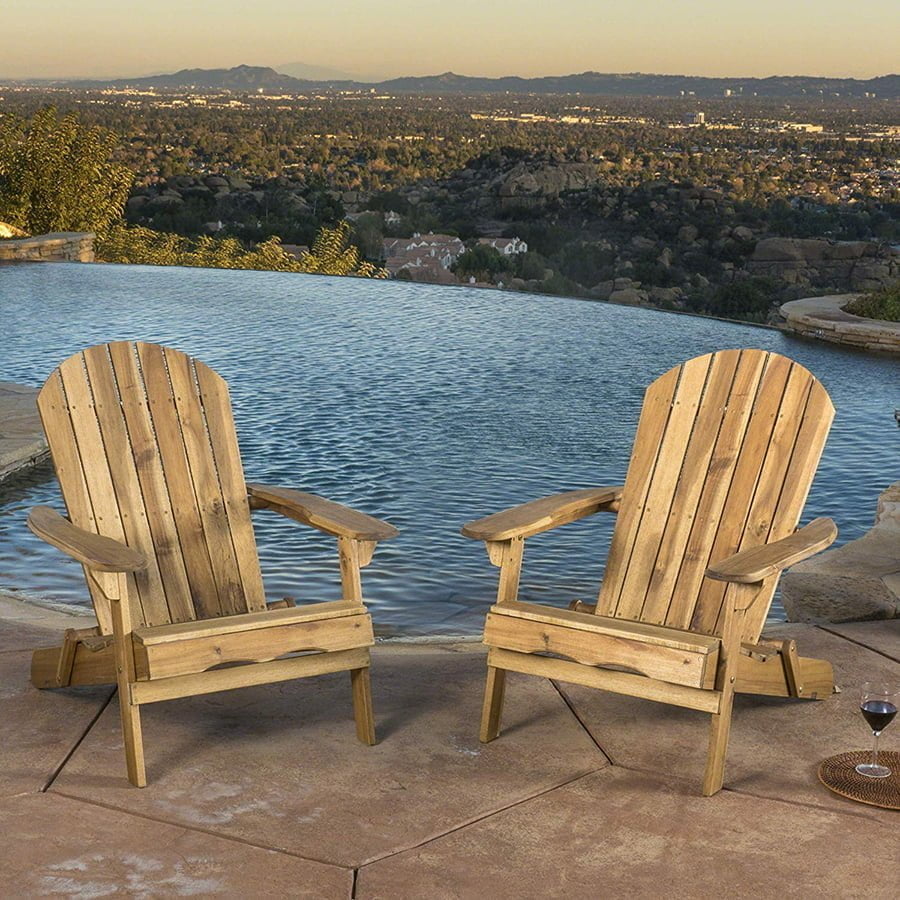 Check Out the Top 10 Best Adirondack Chairs
Garden chairs are an affordable option. You can choose wood, plastic, wicker or aluminum as per your budget and requirements. Two chairs will suffice for a small garden while four or six will be more appropriate for a larger one.
Adirondack chair is the most popular type of outdoor chair (besides the dining sets). It's the ideal design for lounging in the backyard or garden.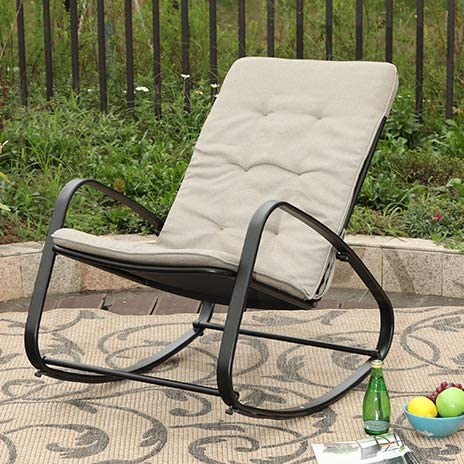 Check Out the Top 10 Best Outdoor Rocking Chairs
Another popular type is the outdoor rocking chair. It's commonly used on patios.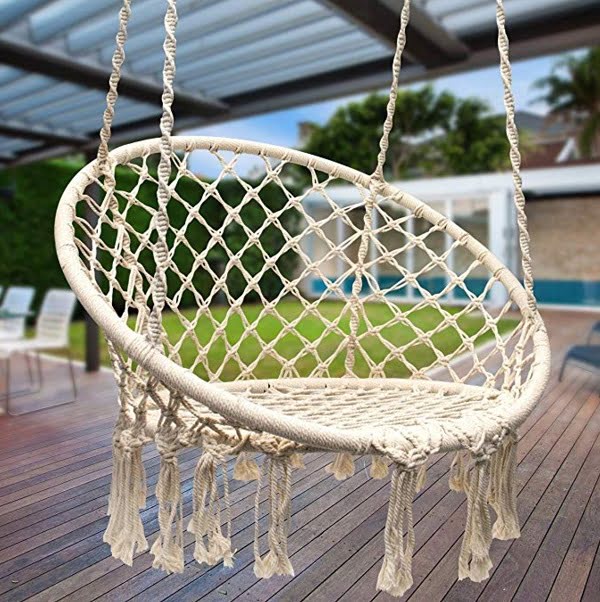 Check Out the Top 10 Best Swing Chairs
Hanging swing chairs are increasing in popularity thanks to their relaxed design. Who doesn't want to relax in their own hammock chair outdoors?
Outdoor Tables
To to give your garden a completed look, it is necessary that you pair your chairs to your table. The tables are multi-purposed like sitting for a meal or painting on them for many reasons. It's very similar to the theme of the chair: durable from damage by sun and water making its surface last longer.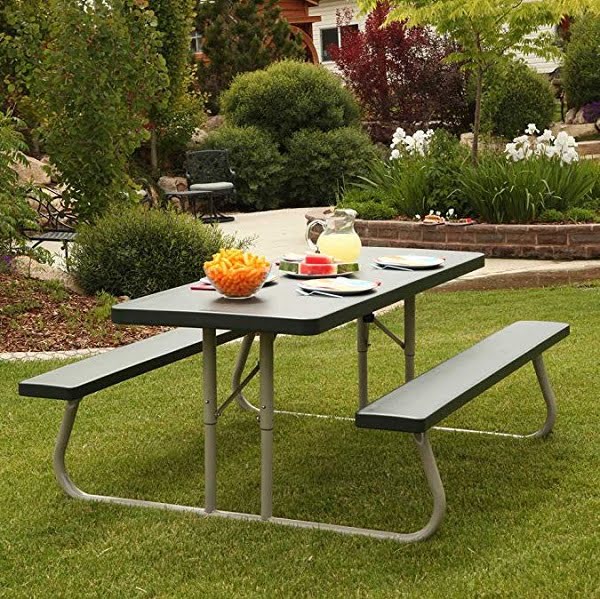 Check Out the Top 10 Best Picnic Tables
If you're looking for something more compact for a small backyard, a picnic table (that can include benches) is ideal. Some models are collapsible, so they can be stored away when not in use.
Patio Sofas
If you have a big garden, furniture sets for the outdoors may be the best option for your garden. They provide immense comfort as well as a chic and attractive look in your garden. Some may argue that outdoor furniture provides enormous comfort, an aesthetically pleasing look, and a convenient space to host large gatherings or social events.
Alongside this benefit, some disadvantages include damage from rust due to overexposure to water or other fluids sticking on surfaces, from weather elements such as rainwater or snow. In order to curb these problems, it is essential that furniture is covered from the sun's harmful UV rays. Some people who declare outdoor furniture their favorite includes families with children who spend much of their time playing outside.
Bistro Sets
People often use bistro sets in gardens. These consist of pub stools and a small round table. They can be made of many materials, including iron. Bistro sets often look super trendy and classy in any garden, making people's neighbours envious! A garden diner set is great for larger gardens.
Dining sets are made of wicker, resin-weave or metal and provide the perfect ambiance for an outdoor dinner or lunch with family and friends. It makes a garden look warm, inviting and cozy which is ideal when hosting an event outside. Dining sets require less maintenance than other sorts of tables but still need to be brought inside during winter months when not in use to avoid damage from the weather such as snowfall of rain frosting.
Gazebo and Pergola Furniture
Gazebos and pergolas are made for shade. They make a peaceful, shaded area in your property that you can walk around and enjoy the scenery. There must be a large space available for them to deploy, so they are perfect for bigger yards.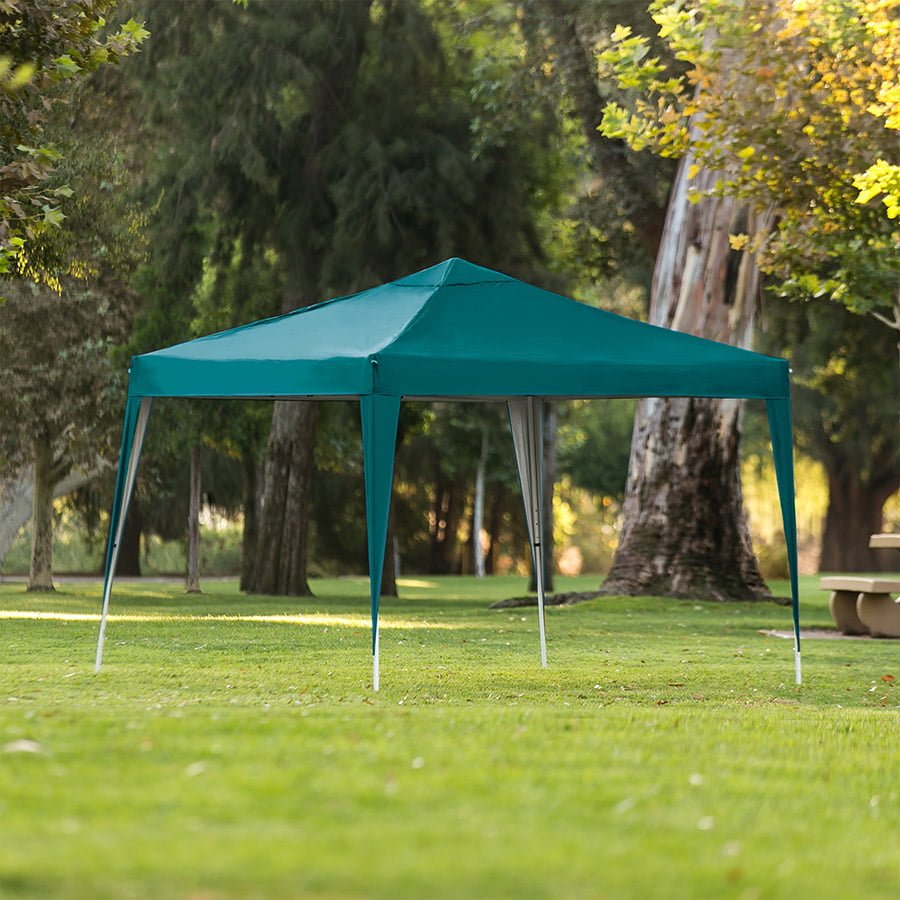 Check Out the Top 10 Best Pop Up Canopies
An alternative for a permanent pergola or gazebo is a pop up canopy. These structures are temporary and usually easy to install. You can use them for an occasional event outside.
Patio and Deck Bars
Many people enjoy having friends over to entertain or for special occasions, and having a patio bar set can offer some benefits. First, it gives them a place to store their drinks that is indoors and well-kept. Secondly, it provides more seating and comes with more comfortable stools. Finally, the furniture set may look better if you buy one with lovely lines like cherry or oak.
FAQ
What is the best type of outdoor furniture?
It's resin furniture if we're talking durability and ease of maintenance.
What is outside furniture called?
It may also be referred to as garden furniture, patio furniture, or deck furniture. Outdoor furniture is a fine term as well.
What type of patio furniture lasts the longest?
Wrought iron furniture is known to last decades. It's one of the oldest types of furniture and it's the most durable as well.
What is the most durable wood for outdoor furniture?
Teak furniture is one of the best types of wood for outdoor use. Cedar is also a good and widely used option.
What is the best month to buy patio furniture?
End of summer is the best time to buy patio furniture as that's when stores clear out their stock to make room for fall products. Look for great discounts then.
Recap
Liked this article? Here's what you can read next: