Last updated on April 11, 2020
Looking for a comfortable and durable outdoor rocking chair? Choose from our top-rated picks and rock your worries away. Read on!
A great rocking chair on your patio, deck, or in the backyard is just a comfortable way to chill out and relax in your own outdoor getaway. And no, rockers aren't just for the elderly. You have to try one and you'll never want a regular chair again. Forget Adirondacks!
There are a few different types of outdoor rocking chairs – they are mostly defined by the material and their use. But the best rockers have two things in common – they provide comfort and they rock! What's left is to find out the best option for you.
How to choose the best outdoor rocking chair?
No one knows you better than you, so here's what you need to think about:
How much of a weatherproof design should it be? How is the weather where you live? Mild climates will be fine for wooden chairs with padding but harsh weather conditions will require plastic or metal units.
Are you going to use it on the porch, deck, or lawn?
Are you going to bring it inside when unused?
Are you taking it with you camping?
While making our picks we've discovered some very common pitfalls that many chairs have. You need to know these.
What to look out for?
Some chairs are very low to the ground.
How much does it rock back?
The size of the seat.
All of the above points (positive and negative) are the basis of our buying guide that comes next. We've made our best picks closely following the criteria that we set out. So check these out for the refined selection. Also, note that we are compensated for qualifying purchases by Amazon at no expense to you (tagged #ad).
Which of these chairs will rock your world?
What's Inside?
Outdoor Rocking Chair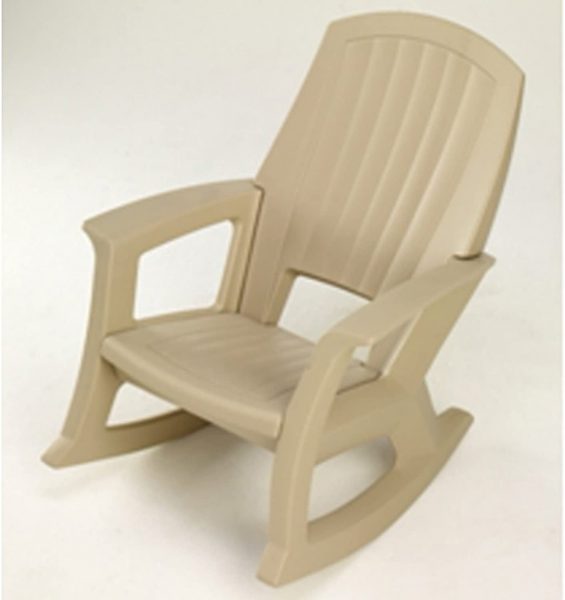 For the outdoor rocking chair essentials, you just need a weatherproof piece that does the job. And it does it well. This unit is also made of recycled plastic, so brownie points for that.
Pros: durable that can support up to 600 lbs; scratch and stain resistant; easy to clean; easy to assemble; solidly built; weatherproof; a comfortable rocking chair that larger people can comfortably fit in.
Cons: the chair is very low to the ground once assembled.
Folding Rocking Chair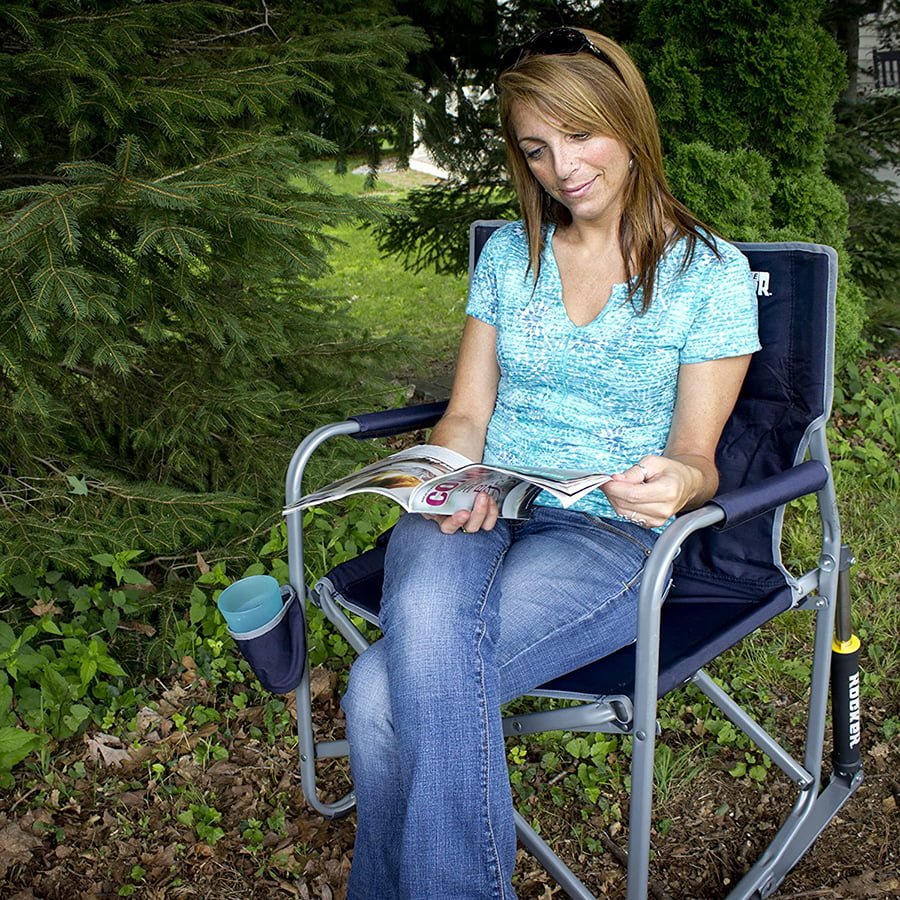 You can take a folding chair anywhere with you. Be it your backyard or camping with the family. The best part is that, yes, it is a rocking chair too.
Pros: great for camping, tailgating, fishing, and watching sports; lightweight but sturdy; it has padded armrest; easy to lean back and even rock back and forth.
Cons: the angle between the chair seat and back is too upright; the seat is a bit shallow.
Wooden Rocking Chairs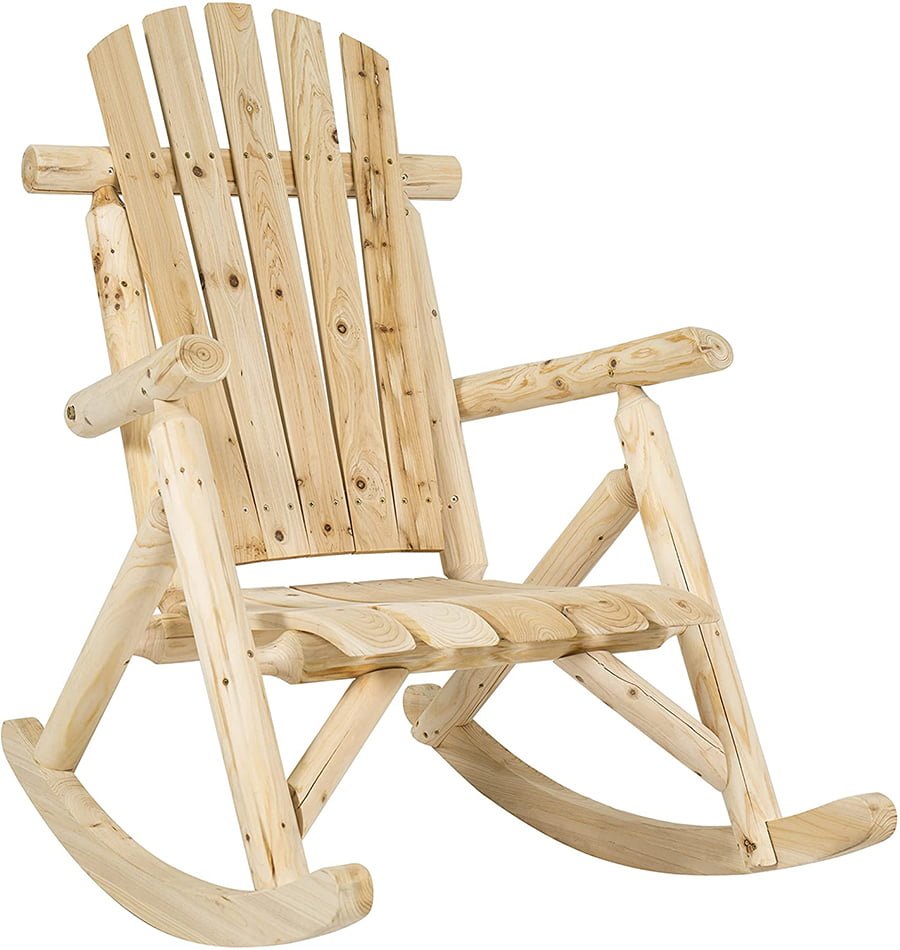 It's made of solid wood and it's weatherproof for outdoor use. The rustic appeal is really enticing. And you can use this chair unfinished (natural wood look) or finish it in the stain you want.
Pros: It has a rustic wooden design which is perfect for porch or garden; lightweight and portable; comfortable to sit; the wood is of good quality.
Cons: instructions are quite hard to understand; it comes unfinished.
Porch Rocking Chairs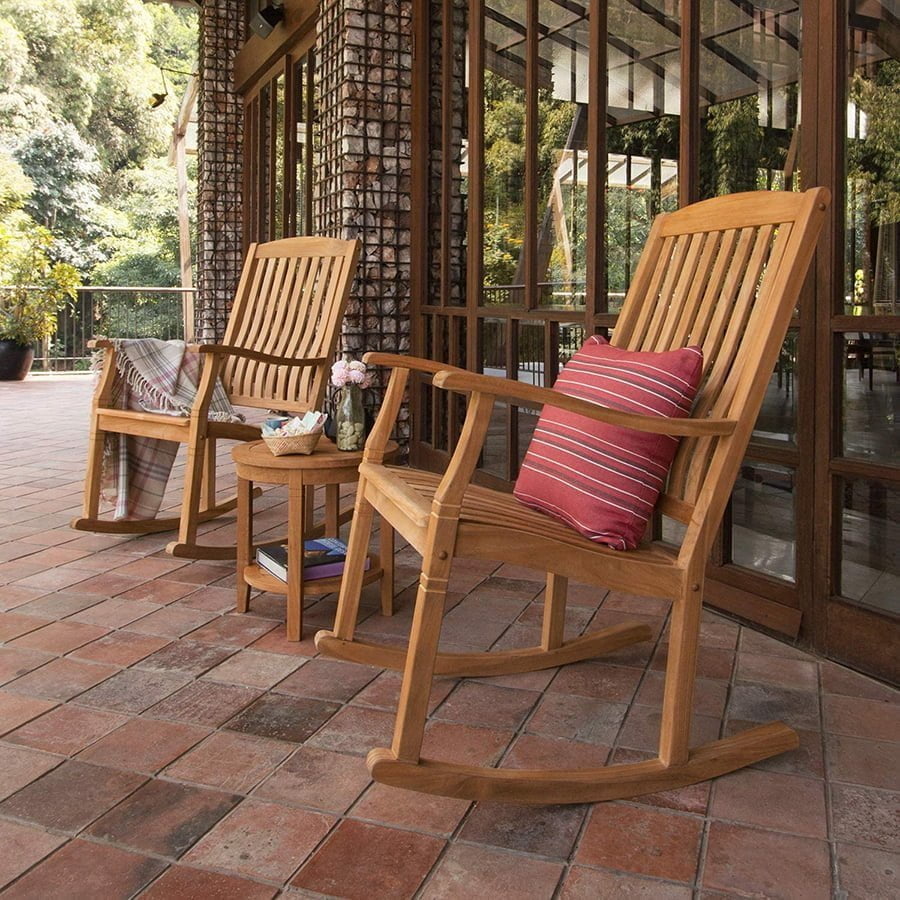 Does your porch need a pair of rocking chairs? These solid teak rockers will look good and feel good in your outdoor space.
Pros: very comfortable rocker, perfect for good posture and your back; the seat itself is large, it can easily accommodate heavyset users; easy to assemble; weatherproof.
Cons: only a natural teak unfinished chair design.
Camping Rocking Chair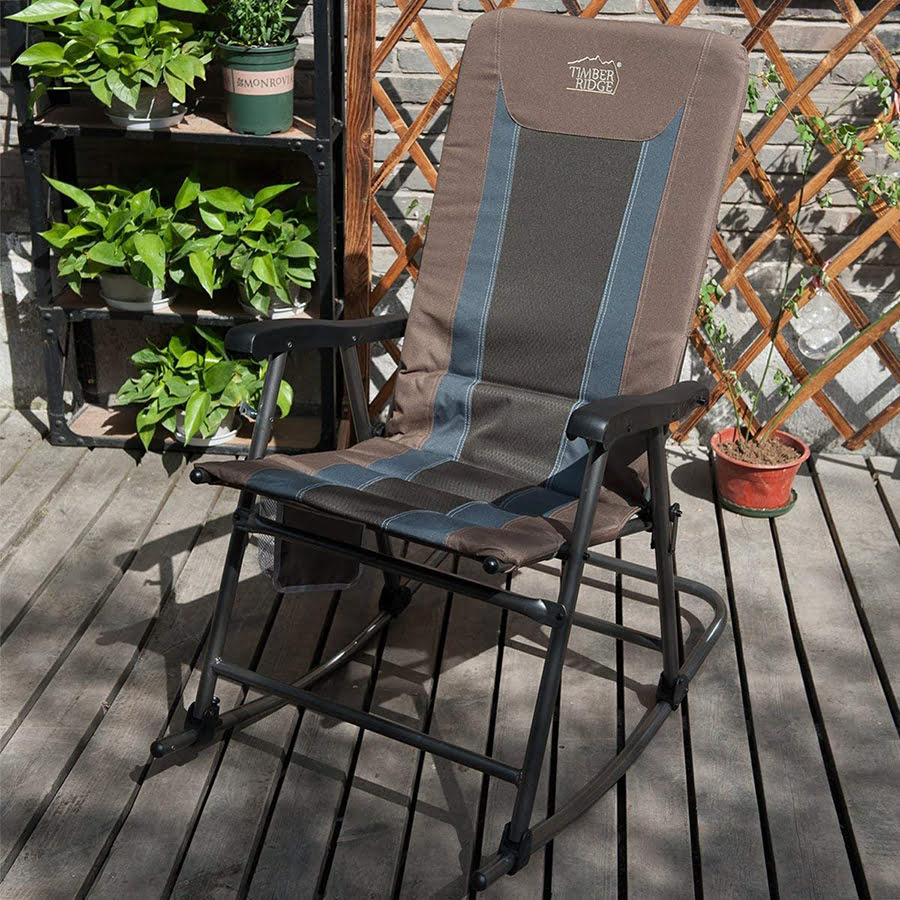 This camping chair is compact and comfortable. For that reason, it is a great piece of furniture even on your porch, deck, or your lawn.
Pros: this rocking chair is quick and easy to fold up and set up; it is lightweight for easy transportation and storage; a padded seat and backrest; has side a bag for storage, a cup holder, and other small necessities.
Cons: It does not recline; the seat is a bit narrow.
Outdoor Rocking Chair with Cushions
Cushions just make the chair that much more comfortable. It doesn't take away anything from an outdoor piece of furniture either. The cushions are removable and weatherproof.
Pros: it is made of sturdy wood and will withstand bad weather; it comes with a water-resistant cushion ensuring that your rocker lasts for years; it is well made.
Cons: the backs are not high like some other rockers.
Modern Rocking Chair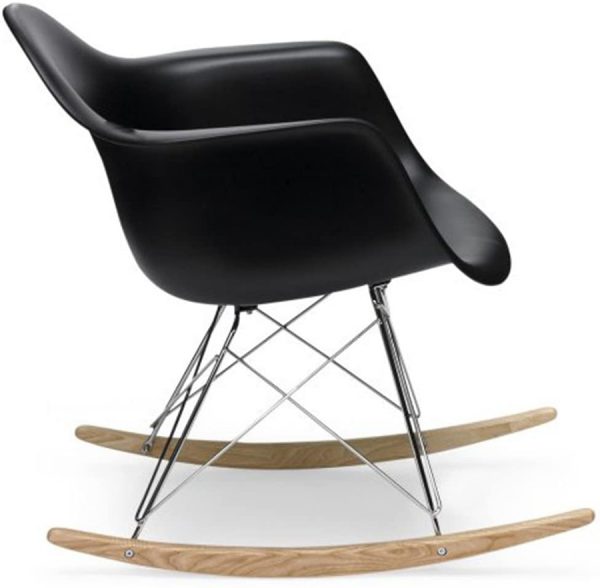 Modern rocking chairs come in many different designs. This piece is an accent outdoor just as well as indoors.
Pros: A heavy-duty molded plastic seat; completely smooth; upgraded bend resistant back support; easy to clean; easy to put together; it rocks completely quietly with no creaking, and the seat is so comfortable.
Cons: the seat is a bit small; lower to the ground;
Polywood Rocking Chair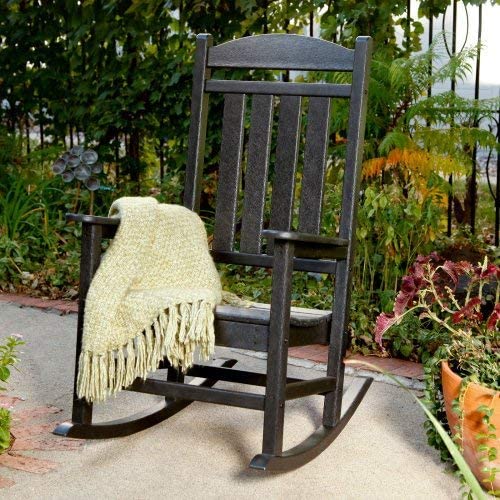 The Polywood option is weather-resistant and looks just like real wood. But the composite it's made of will last a lifetime.
Pros: it's resistant to stains and corrosive substances, and isn't prone to splinter, crack, chip, peel, or rot; contoured seat, wide arms, and slats that are easy on the back; sturdy enough to stay upright.
Cons: rocking motion is limited; the seat isn't very deep.
Upholstered Rocking Chair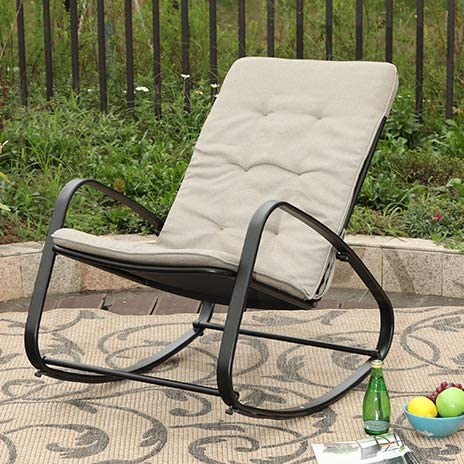 The upholstered (padded) seat and back of the chair will cushion your back for comfort. Most importantly, it's weatherproof so you can actually use it outdoors.
Pros: wear-resistant and dirt-proof; built to withstand any weather conditions; a traditional and elegant design with footrest bar; the padding has a pocket that slips over the chair as well as ties so it is very secure.
Cons: these rockers tilt too far back.
Metal Rocking Chair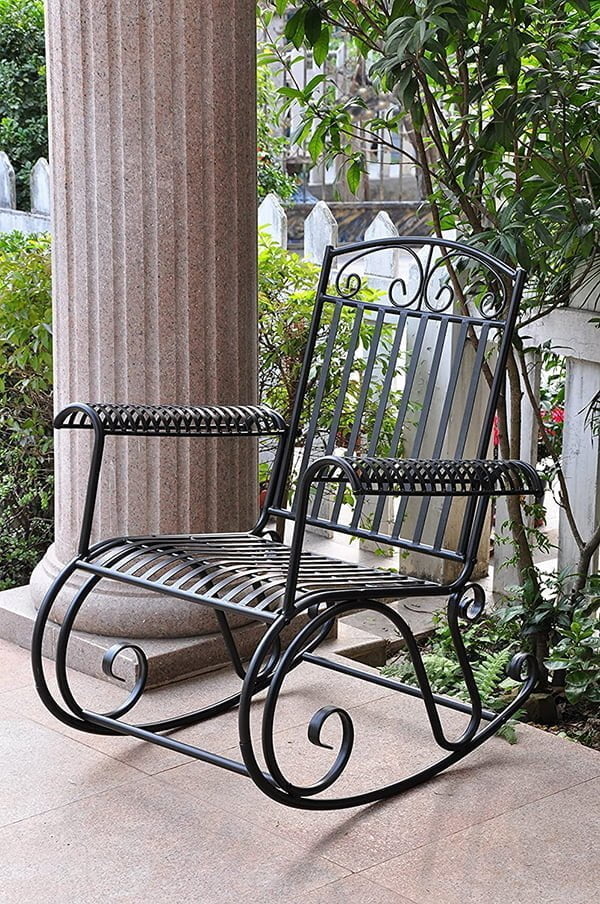 It's your very own iron throne and it rocks. The wrought iron is rust-resistant and will serve you a lifetime outdoors.
Pros: high back and deep-seated comfort; made from premium wrought iron; comfortable even without any cushions; visually attractive arms.
Cons: whenever it rains, it collects in the metal tubes and flows through holes that the plastic "cushions" are attached to the rocker.
Liked this article? Here's what you can read next:
---
Disclosure: As an Amazon Associate we earn from qualifying purchases.