Last updated on February 10, 2022
Ottoman coffee table or a cocktail ottoman? The difference is minuscule, but the purpose is the same. Here are your best ottomans to do the trick.
► Our top choice: this storage ottoman with trays.
I find little detail fascinating. Is it called an ottoman coffee table or a cocktail ottoman? It turns out there's a difference, albeit very small. You would call a cocktail ottoman a unit with high legs and a padded top. It looks more like a table than a footrest. Meanwhile, the ottoman coffee table is merely any ottoman that can double as a coffee table.
At the end of the day, they both serve the same purpose. Which is better? It depends on who you ask. But our editor's choice came down to compact design, stylish looks, and functionality (that's why it's a storage ottoman with beautiful added trays.)
So, a roomy ottoman can double as a coffee table. That way, you get a multifunctional piece of furniture that serves as a stool, a footrest, a table, and a storage unit. Talk about dollars well spent!
Some ottomans on our top list are so gorgeous that it breaks our hearts to choose just one of them. But rest assured, they all deserve to be the best. So if you like anything other than our number one pick, you can prove us wrong. We'll be happy about it.
So here are our picks for ottomans that can be used as coffee tables.
Storage Ottoman with Trays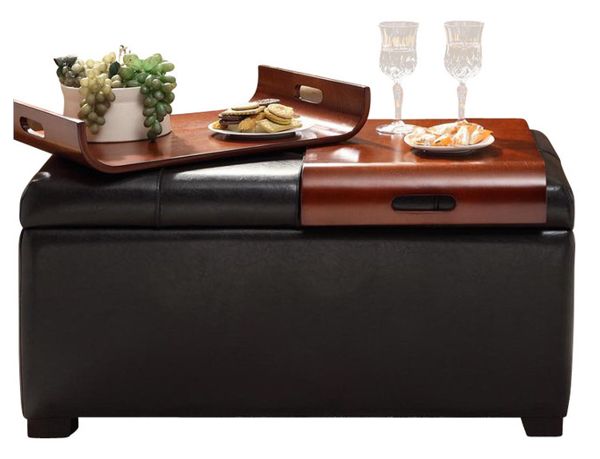 This is unit gets to be our number one pick for its compact design, stylish looks, and excellent function.
When it comes to coffee table units, this storage ottoman with trays continues to receive excellent customer reviews as well. This 4 ½ star item combines true comfort with a classic design. The hinged lid also offers maximum storage capacity, while the solid wood feet and curved wooden trays enable true versatility. This elegant yet functional piece correlates with any design scheme or seating plan. Here are some more benefits of this lavish unit:
Espresso color.
Wood trays are included.
Hinged lid for optimal convenience.
Faux leather, solid wood, and medium-density fiberboard.
Great customer reviews for its look, functionality, and quality.
Storage Ottoman with Reversible Tray Tops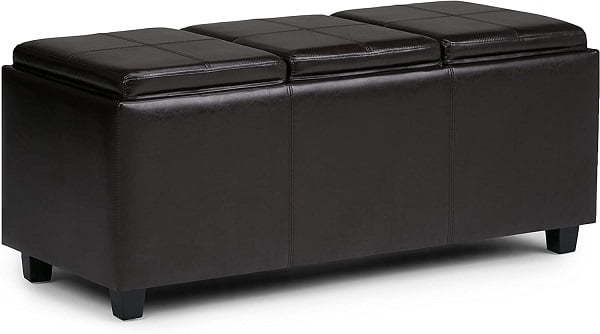 This ottoman features three reversible, convenient tray tops — along with contemporary design and faux leather finish. So you can turn this ottoman into a coffee table without fearing tumbling it over. With fine upholstery and durability, this leatherette truly adds a touch of class to any formal or casual living room. The wooden leg finishes are designed to correlate with modern, contemporary themes. However, this unit is perfect for all types of decor and is very cozy and comfortable.
Wide Square Ottoman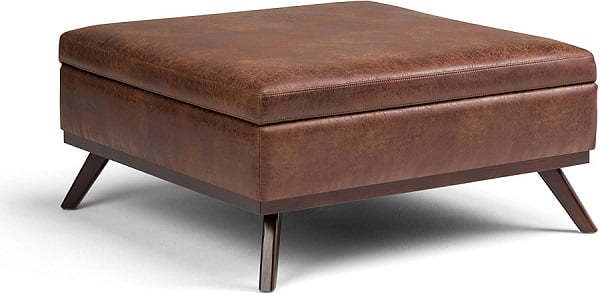 This ottoman looks like a mid-priced piece of furniture that can stand the test of time. It only takes about five minutes to set up (all you have to do is screw the legs on.) It is a pretty large and unwieldy box — the top is sturdy and wide enough to work as a table. Although there are a few imperfections, this unit is otherwise flawless. It's a good choice for the price and looks.
It is comfortable to sit or rest your feet on. The fabric looks cool, almost like suede. The top opens easily, and it provides some storage. If you have a sleeper sofa with this ottoman, you can put the linens in the storage.
4-tray Square Storage Ottoman
This unit features a solid wood frame and black-stained legs, whether for coffee, snack or just lounging and relaxing. It also has a faux leather cover, and this ottoman doubles up as a coffee table or serving tray when needed. Here are some essentials to this popular product:
Four large interior storage space for pillows and blankets.
Four lids that double up as serving trays for coffees, beverages, and snacks.
Dark stained sturdy wood frame design.
Faux leather in several color choices.
Tufted Ottoman Coffee Table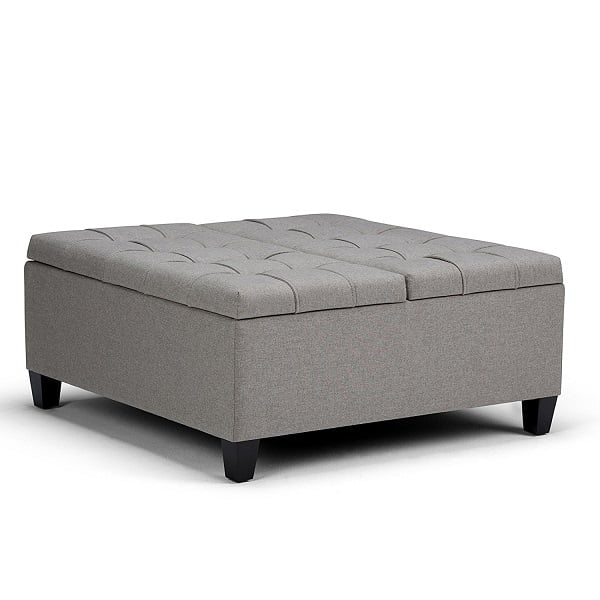 Simpli Home Harrison Coffee Table has received 4.5 stars on Amazon. This Dove Grey Ottoman unit is fabric-based with a linen polyester look. The unit also features solid engineered wood, along with tufted detailing. Many customers have praised this coffee table-ottoman for its extra-large storage compartments and child safety features. Similarly, the unit is designed to prevent lid slamming and is available in Dove Grey and other soothing colors. 
Mid-century Ottoman Coffee Table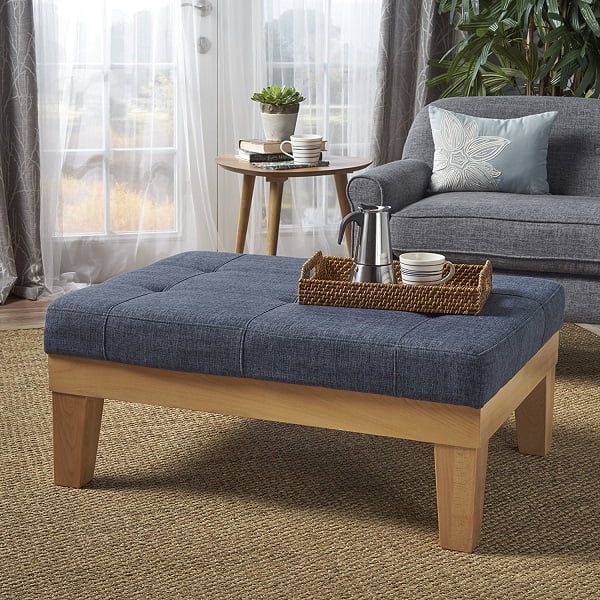 An ottoman coffee table with mid-century Danish-inspired designs. This particular unit is upholstered in a classy, dark blue fabric with contemporary and modern features. Amazon customers have given this product great reviews, especially its attractive beech legs and natural finishes. There will be some light assembly involved, but you are sure to be satisfied across the board. Whether for kicking your feet up to watch TV or reading your favorite novel, this unit has combined elements of comfort and stylish design into this lovely ottoman coffee table unit.
Round Storage Ottoman with Shelf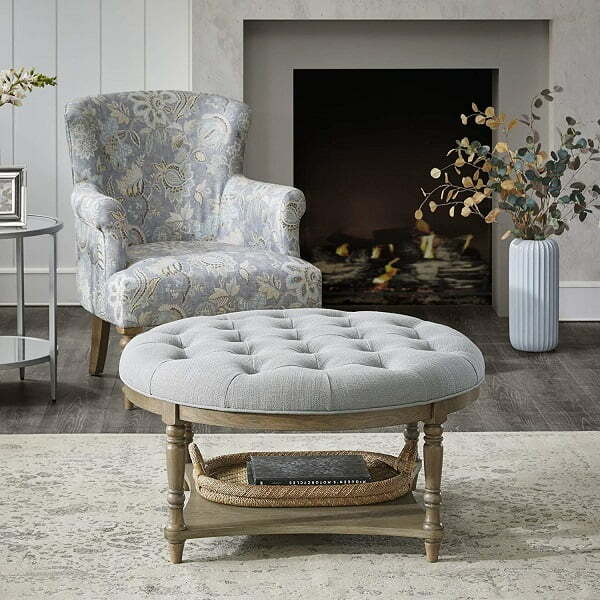 This round ottoman with a shelf features a quality top and more storage room with a shelf. The wood-based upholstery combines neutral gray fabric with polyester blends. At 36″ diameter and 19″ height, this unit is perfect for living rooms, dens, and practically anywhere you need to kick up your feet. If you are looking for the perfect ottoman to accentuate your living room furniture and decor, this product is guaranteed to meet your needs within time and budget.
Metal Frame Ottoman Coffee Table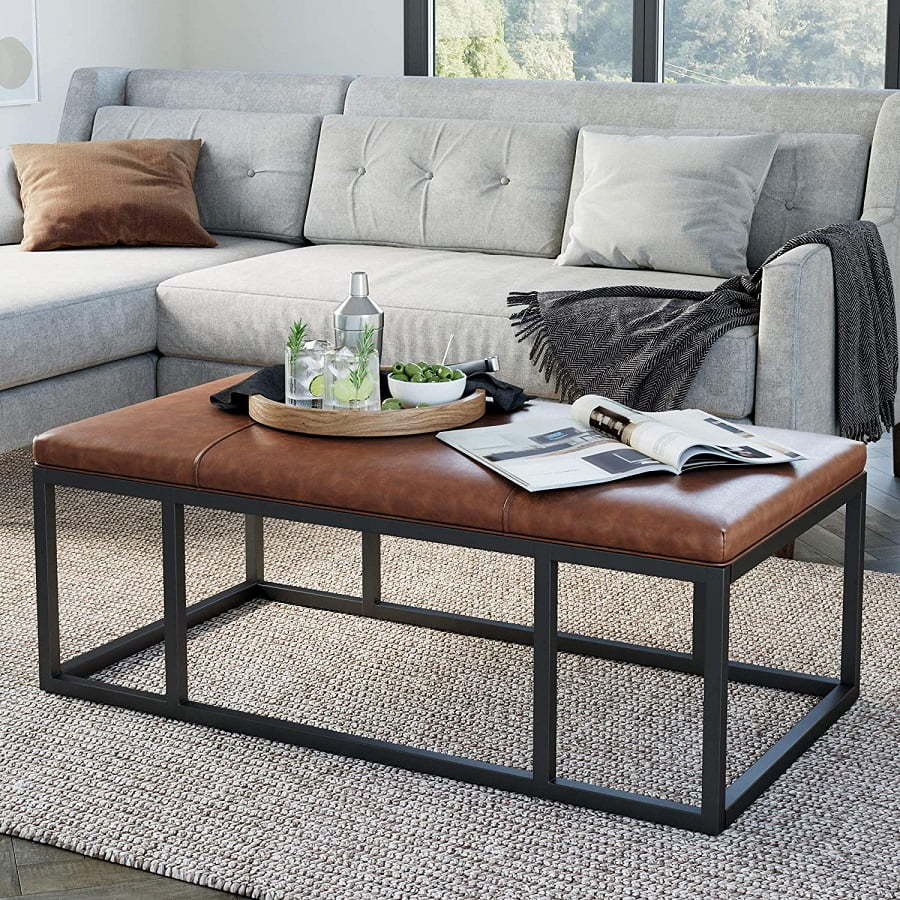 This is a good-looking cocktail ottoman and a great buy. This table is excellent, modern, and has a decent quality faux leather top on a dark metal frame, giving it a somewhat industrial look. It works as a footstool as well as a tabletop. And because it's a relatively large and firm surface, your trays won't fall off easily.
If you have small kids, they will climb all over it and retain its shape very well. By and large, the process for connecting parts is simple, although you don't want to try this with a regular screwdriver. Many fasteners are self-tapping, so it is easier to put together with a power tool.
Rustic Ottoman Coffee Table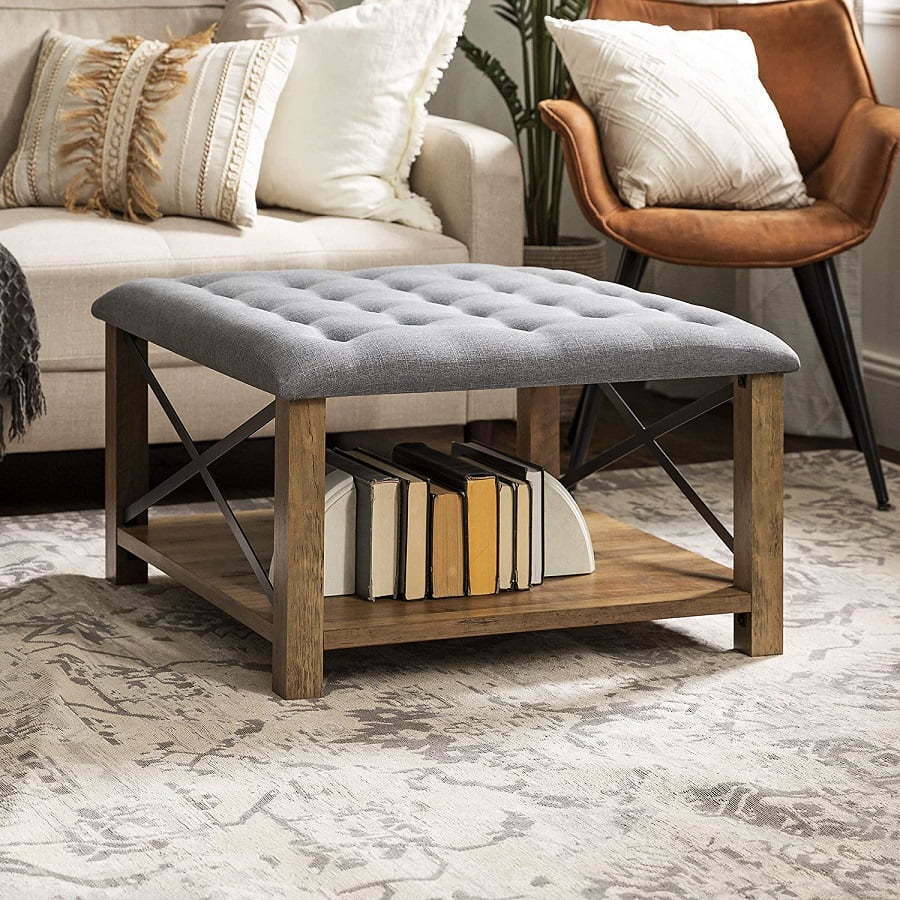 This lovely rustic style cocktail ottoman comes at half of the price of a similar style in a furniture store. It is excellent and very effective. Albeit it lacks on the sturdiness part — it is not recommended for larger adults to sit on it. Otherwise, it is a beautiful table.
There is sufficient space underneath for baskets, and there are metal "X" shapes that add an excellent touch. The top is a bit hard, and it isn't easy to assemble, but otherwise, it is a handsome table.
Button Tufted Bench Cocktail Ottoman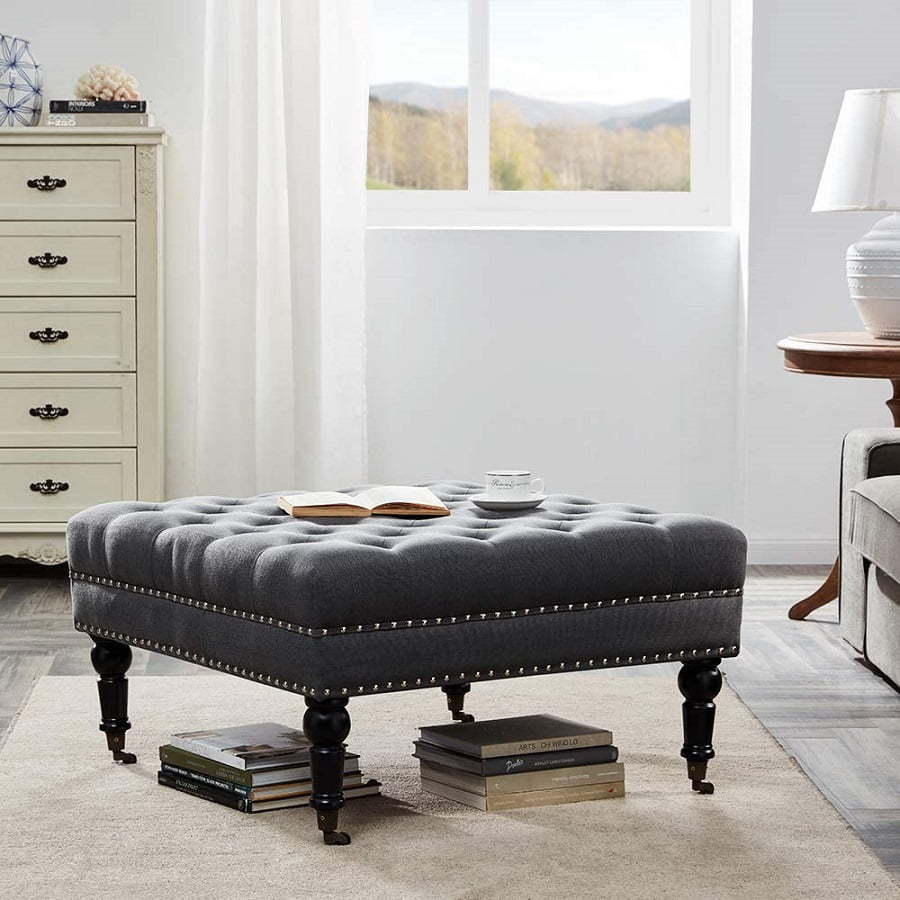 It's a fine cocktail ottoman with a button tufted top on a sturdy wooden frame and decorative legs (on caster wheels.) It has classic written all over it, so to speak. The main drawback is the absence of storage space (unless you consider putting things underneath it.
This unit works well with a corner sectional in a contemporary room, but it's not limited to that. The charcoal gray color is perfect (it's medium gray and has a hint of blue), and you can match the material precisely to your curtains to complete the look. The ottoman is okay for children. When they play on it, you need not be worried about them falling on a sharp coffee table.
The ottoman is rolled on wheels, so it can easily be moved for vacuuming the floor. However, if it's put on a carpet or rug, the wheels are a bit too small to move easily. So it takes a bit of an effort to pull it closer if needed. And because of that, the construction is a little shaky. Still a bargain for the price.
FAQ
Should I get a coffee table or ottoman?
Get an ottoman coffee table that combines the best of both worlds, and you don't have to choose one.
What can I use instead of a coffee table?
You can use an ottoman to balance a tray on its top securely. Any larger ottoman that's not too soft will work.
Recap
---
Disclosure: As an Amazon Associate we earn from qualifying purchases.
Liked this article? Here's what you can read next: