Last updated on January 16, 2021
Get something that's forever-classy, functional, and stylish, with a hint of nostalgia. That's a mid-century modern coffee table, and these are the best of them for 2020.
► Our top choice: Mid Century Nesting Coffee Tables
So you want to get a mid-century modern coffee table for its timeless style and functional design. Great choice, but what makes it the best? This is where you'll get the answer.
It comes down to this:
It has to feel mid-century modern. So it's practical, functional, and durable. These are the main qualities.
Then there's the price. The best doesn't necessarily mean the most expensive.
You want a coffee table to store some things, so it may provide you with storage space.
Distinguishing features that give you that nostalgic feel – tapered legs, rounded curves, natural materials.
And these few points will actually help you save money:
Watch out for loose and wobbly legs. They aren't practical and kill the mid-century wide altogether.
Mid-century modern can sometimes go overboard with the modern part, and it no longer feels the same.
The maintenance and scratch-resistance. It has to be practical and not seem like a disposable piece of furniture.
These are all of the things then went into our research of the best mid-century coffee tables and you'll see how we did in just a second.
Please be aware that we have provided you with shopping links for our picks and that we may get a commission for it. It's how this online business works and there's no cost for you.
So, these are the best:
What's Inside?
Mid Century Nesting Coffee Tables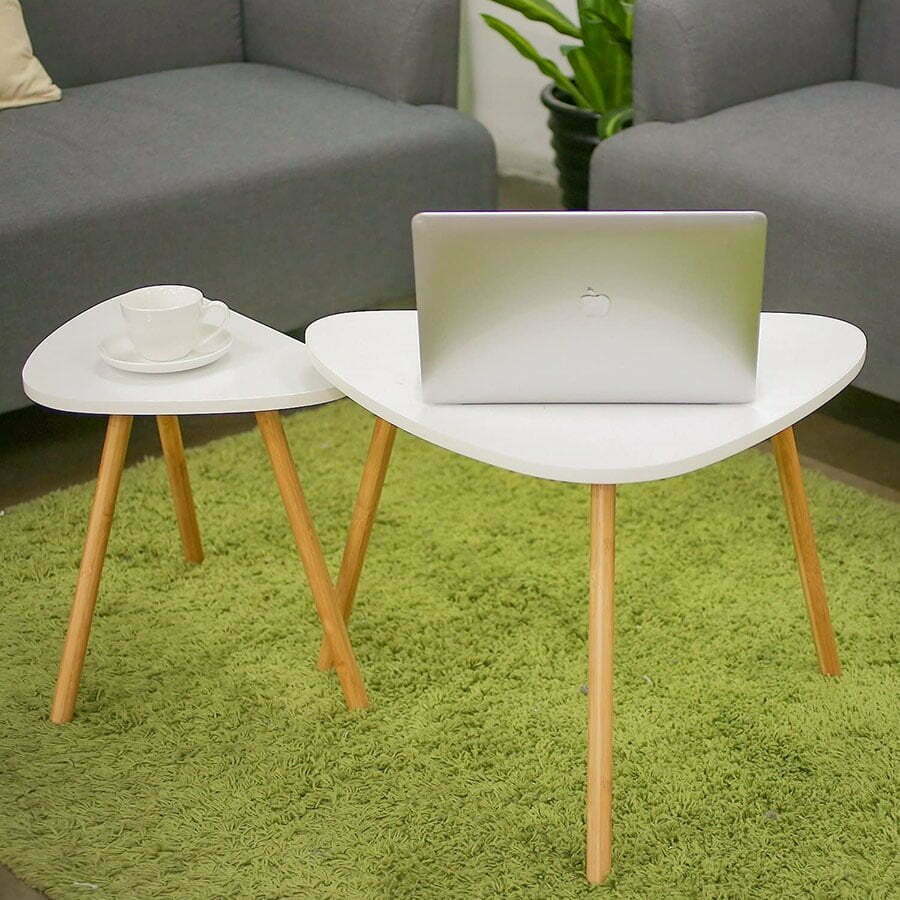 You get more than what you pay for with this very affordable nesting coffee table. Even though it's a bit flimsy, you can't really argue with the price as it is very affordable. It doesn't need much space, it's easy to clean, and it's portable. The two-part design is very functional as you can arrange them in several different ways and get a different style and feel each time.
Pros: Very affordable; lightweight; compact; space-saving; easy to clean; quick to assemble.
Cons: A bit flimsy; lower quality materials.
Mid Century Modern Wood Coffee Table with a Drawer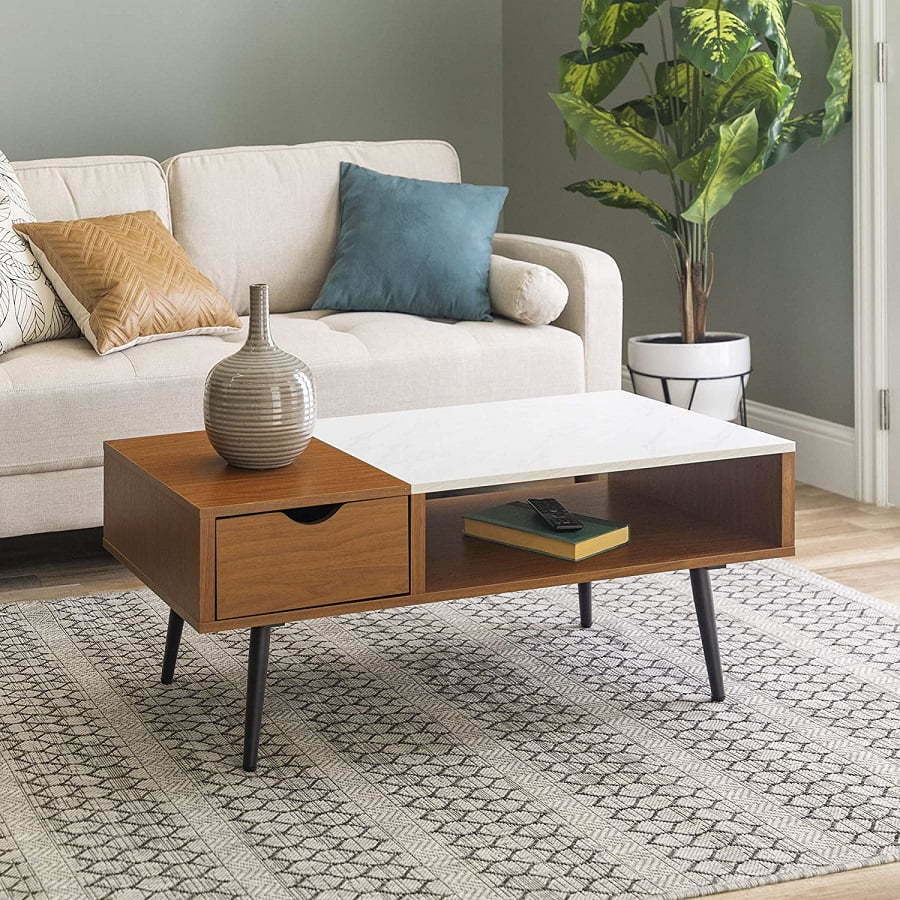 It certainly looks like a higher-end piece of furniture. The material is composite wood, but don't let it discourage you from getting it. It's very well built and very sturdy, it's not wobbling. It will take you no more than 2 hours to set up if you have experience putting things together yourself.
Pros: Extra storage; compact; easy to assemble; affordable; sturdy.
Cons: Heavier than it looks; drawers don't close smoothly; scratches easily.
Two-Tone Modern Coffee Table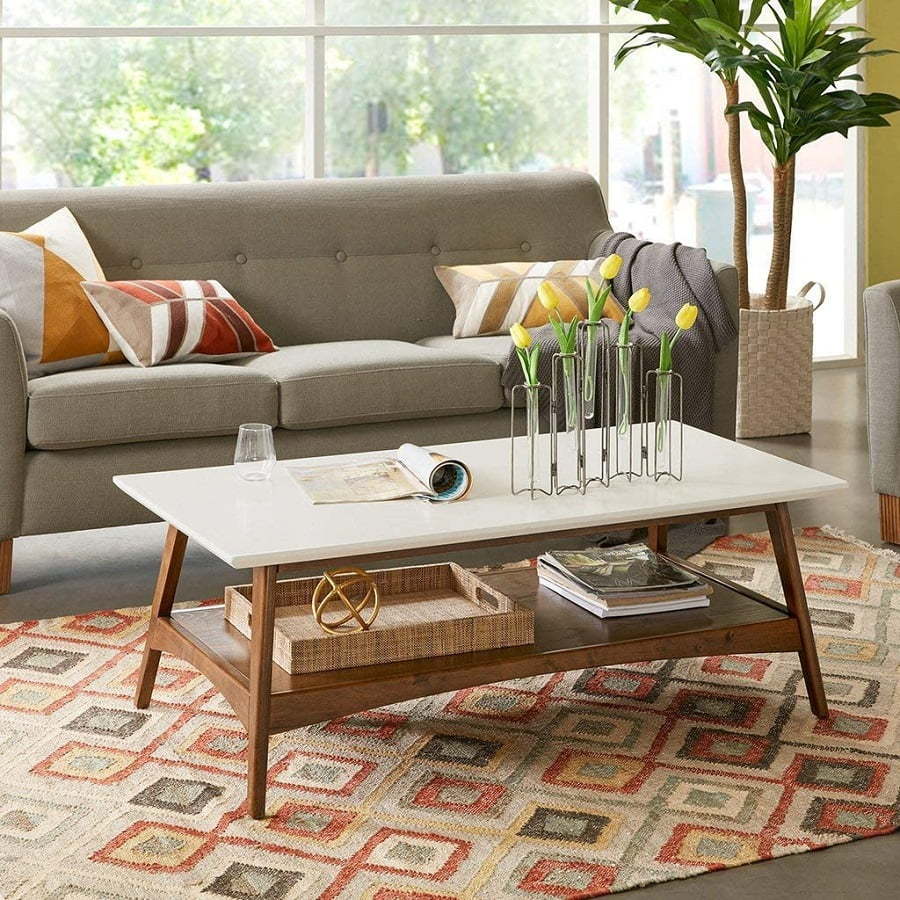 An affordable table that has an open shelf underneath for extra storage, this modern coffee table is so easy to assemble and can be cleaned easily with just a cloth. The price is good plus it's sturdy, however, it needs more space than it looks, and the tabletop scratches easily.
Pros: Extra storage; stain resistant; sturdy; easy to assemble; affordable.
Cons: Not lightweight; easily scratches; bigger than it looks.
Danish Modern Coffee Table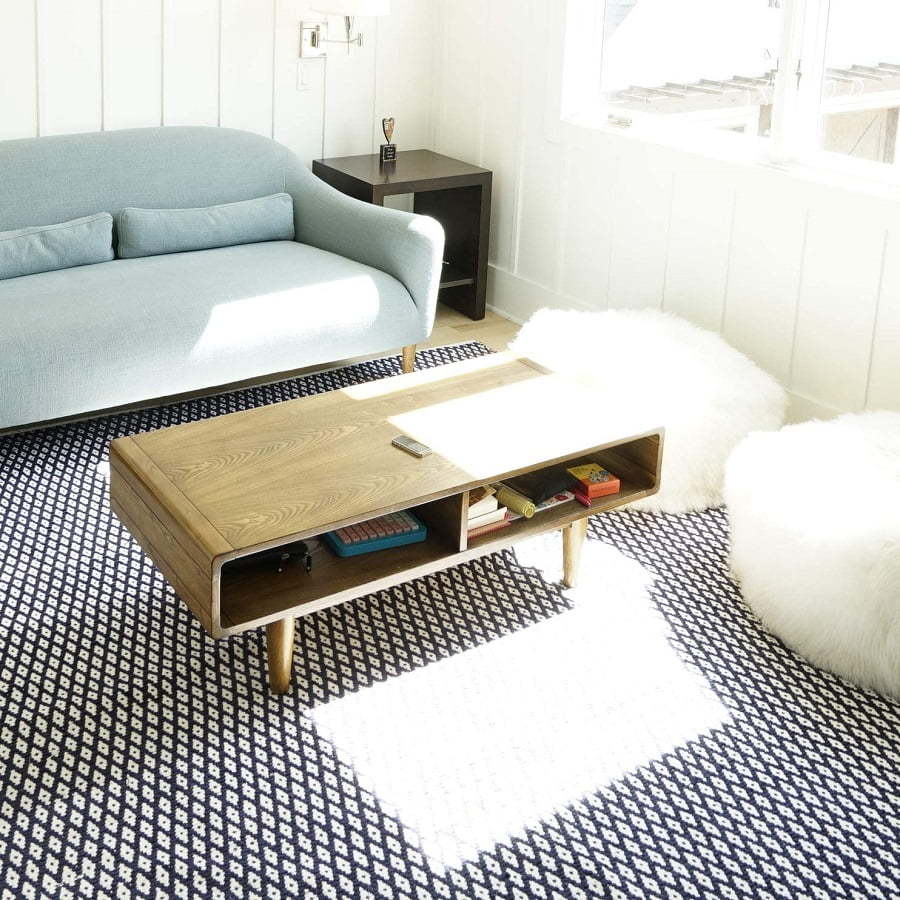 It is very heavy and well crafted, looks and feels much more expensive and easy to put together. It looks fantastic in any living room. It's a low coffee table, so make sure that you read those dimensions. The hue of the finish in the pictures is a little better than in real life, but not so wildly untrue.
Pros: Plenty of storage; well built; spacious on top; tapered legs.
Cons: A bit pricey; not portable.
Mid Century Modern Coffee Table Glass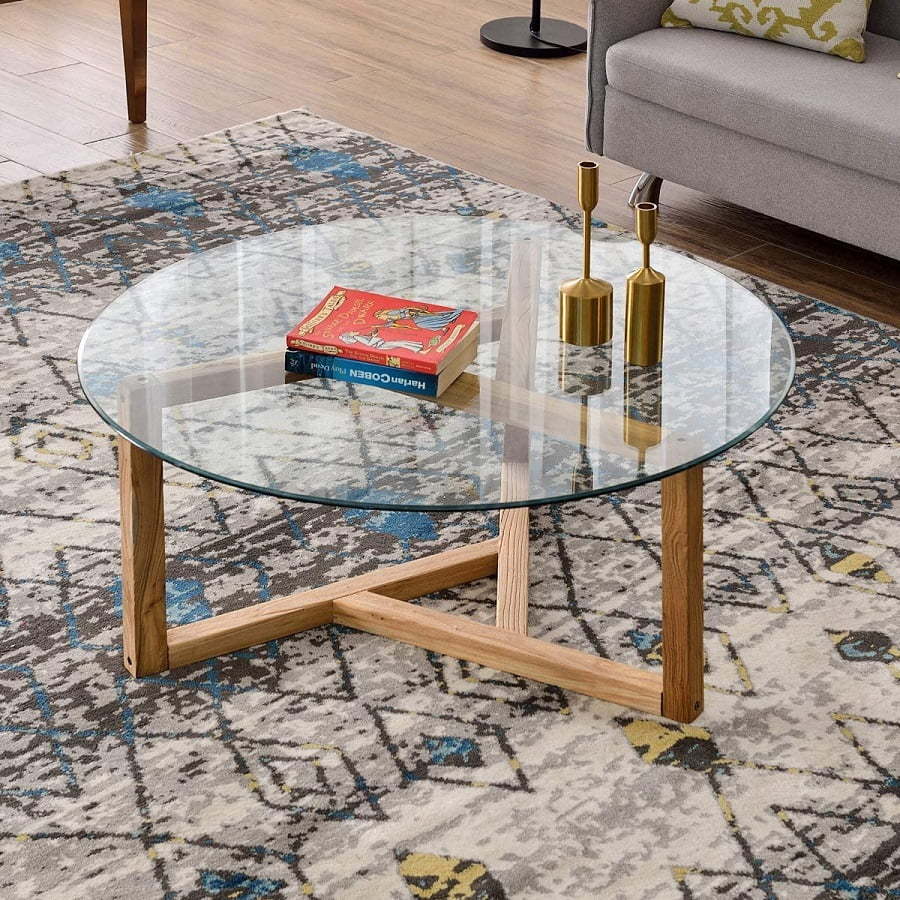 You'll be shocked by this table's size. It is bigger than it looks in the pictures, and it's worth it. It will bring handsome simplicity to your living area. f it's a little wobbly, try to tighten up the screws. The table is really easy to assemble too.
Pros: Affordable; portable; easy cleaning; stylish.
Cons: No storage; a bit wobbly.
White Mid Century Modern Coffee Table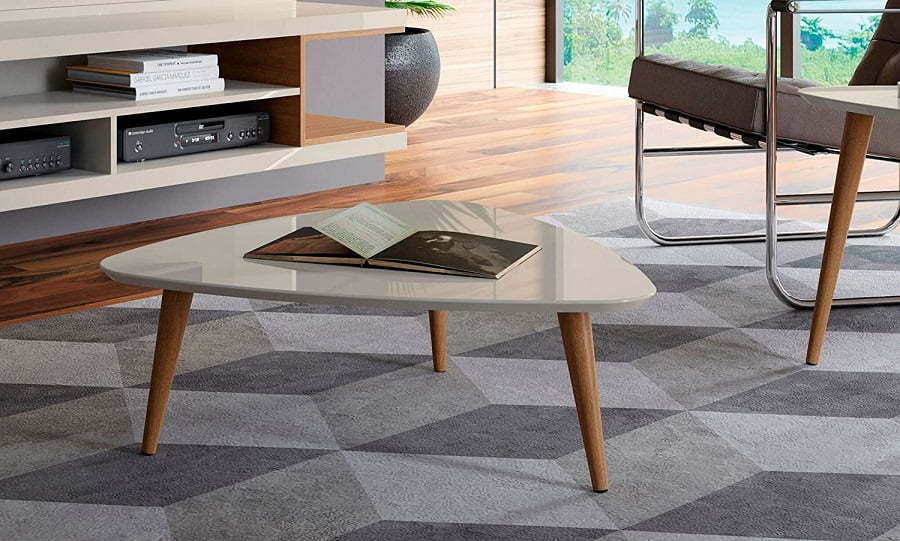 It's fairly low, about 12″ from the ground – a little lower than most coffee tables so it might be a little surprising. But it's really cheap and it's easy to put it together. It looks authentic and weighty. If you want to make your house look nostalgic, this is your table.
Pros: Affordable; portable; easy to assemble; needs very few space; sturdy.
Cons: Too low; no extra storage; wobbly.
Mid Century Oak Coffee Table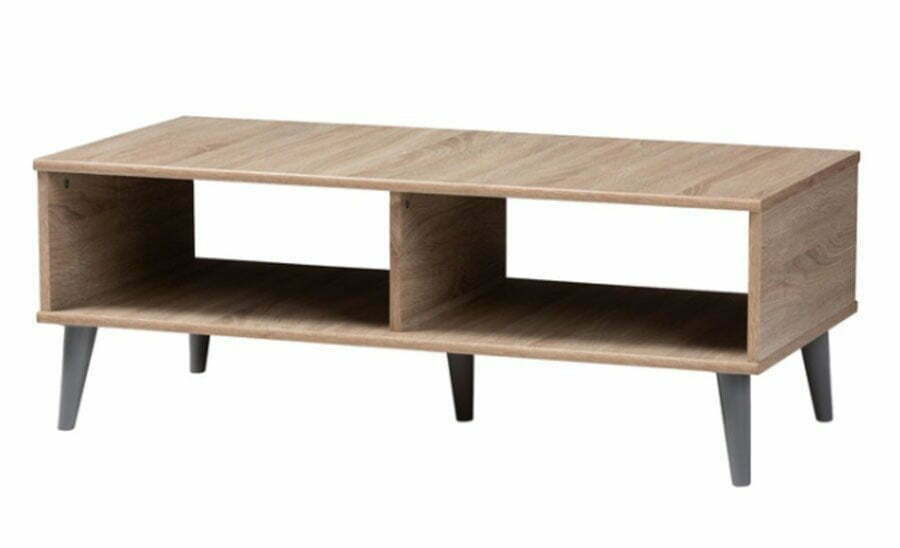 This table might look plain but it's very affordable and yet sturdy that's easy to clean and has plenty of storage underneath with its 2 open shelves. It is quite big so it needs extra space but the legs are tapered so it ain't wobbly or anything, it can get the job done.
Pros: Really cheap; extra storage; easy to clean; tapered legs; sturdy.
Cons: Not good looking; takes time to assemble; takes more space.
Mid Century Modern Kidney Shaped Coffee Table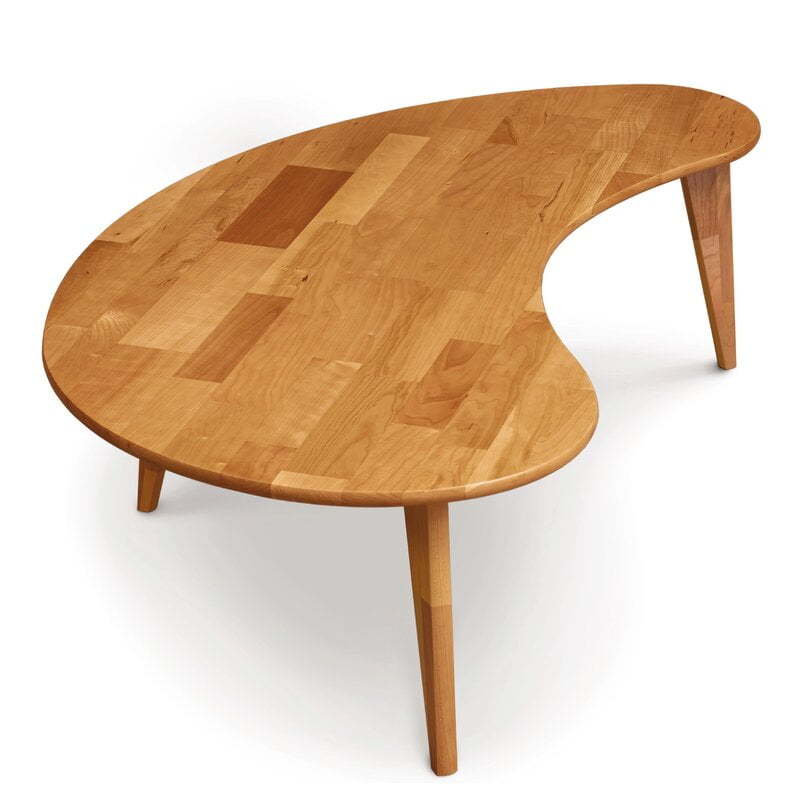 It's a rare case when images do not do this lovely piece justice. The design is very basic, modern, but the quality of the construction is incredible. It wonderfully suits any living room set.
Pros: Solid natural wood; each piece is unique.
Cons: Pricey.
Mid Century Coffee Table with a Shelf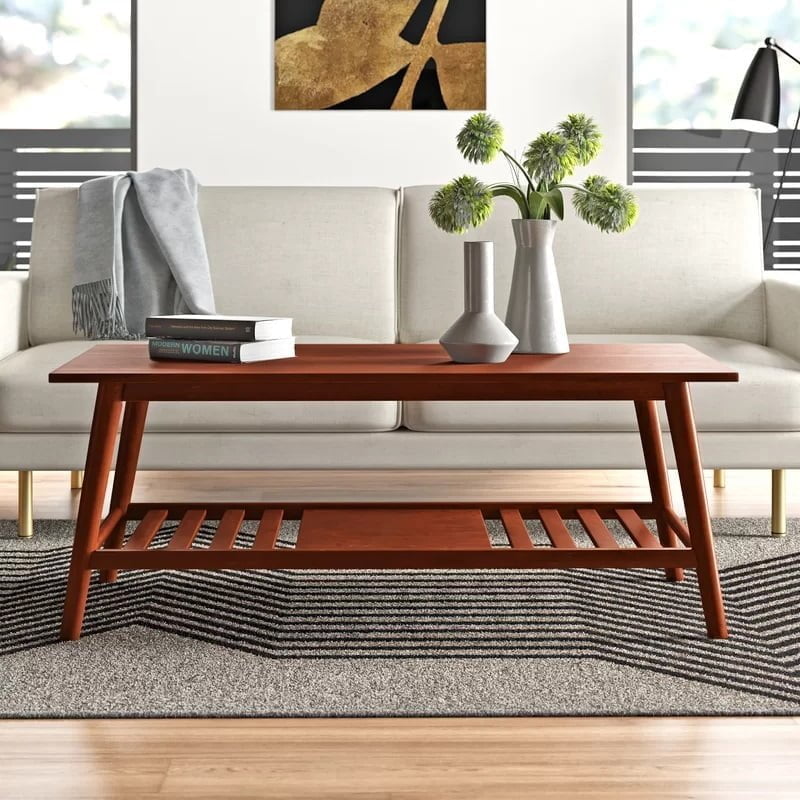 This sturdy table is made of eco-friendly materials so you're sure that it's totally safe for kids and pets. It scratches easily so taking care of it carefully is a must. It has extra storage underneath that is spacious for everyday items and assembling it is a breeze.
Pros: Affordable; eco-friendly; extra storage; easy to assemble; sturdy.
Cons: Wobbly; easy to peel.
Mid Century Oval Coffee Table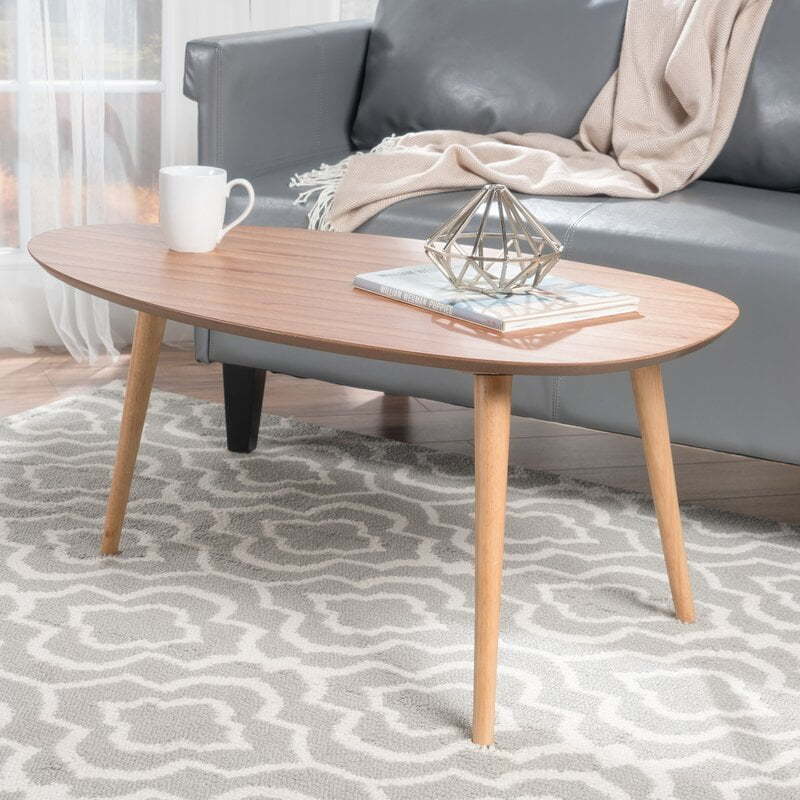 It's quite trendy and suits modern decor well. But 3-legged tables are known for their quick tipping and it might fall over when leaning on it to get up from the ground or to rest your feet on the table. If you want a table to be practical, go for 4 legs.
Pros: Affordable; easy to put together; portable.
Cons: Three legs aren't as stable; not that sturdy.
Liked this article? Here's what you can read next:
---
Disclosure: As an Amazon Associate we earn from qualifying purchases.