Last updated on September 30, 2020
Looking for the best marble coffee table? These are our top picks for genuine marble tables for 2020. Read on!
► Our top choice: Iola Round Marble Coffee Table
First of all, it's important to point out that you'll see many marble coffee tables online that aren't marble at all. They are often called a marble look, print, or faux marble tables. There's a huge difference. If you want a coffee table that's genuine marble, you have to look for one. Generally, they are more expensive.
Because this list is called the best, we are going to pick only genuine coffee tables. That's what "the best" means, after all (and that's what faux will never be.)
The main highlight of a marble coffee table is the unique appearance and classic luxe decor accent. It's not a very practical table, though (it's very high-maintenance), and you will use it mostly as a decor item rather than an actual table. Even though it's sealed (the sealant is one of the main features to look for), marble is still easily scratched or damaged by acidic drinks (or those containing alcohol).
Nevertheless, the cost is relatively low considering it's a luxury item. Even the best tables will run you a few hundred only.
How do we pick the best 10?
As much as we'd love to try genuine marble coffee tables, it's not practical. Consumer feedback is our go-to tool. We know how to find it and how to evaluate it for our product picks. So here we go.
We look for the finish and quality of the sealing.
The frame and legs have to be stylish yet sturdy.
Even marble tables can provide storage space.
Here are our picks. Each feature includes a shopping link and if it's tagged with #ad, we are likely to get paid for it (at no expense to you, of course.)
What's Inside?
White Marble Pedestal Coffee Table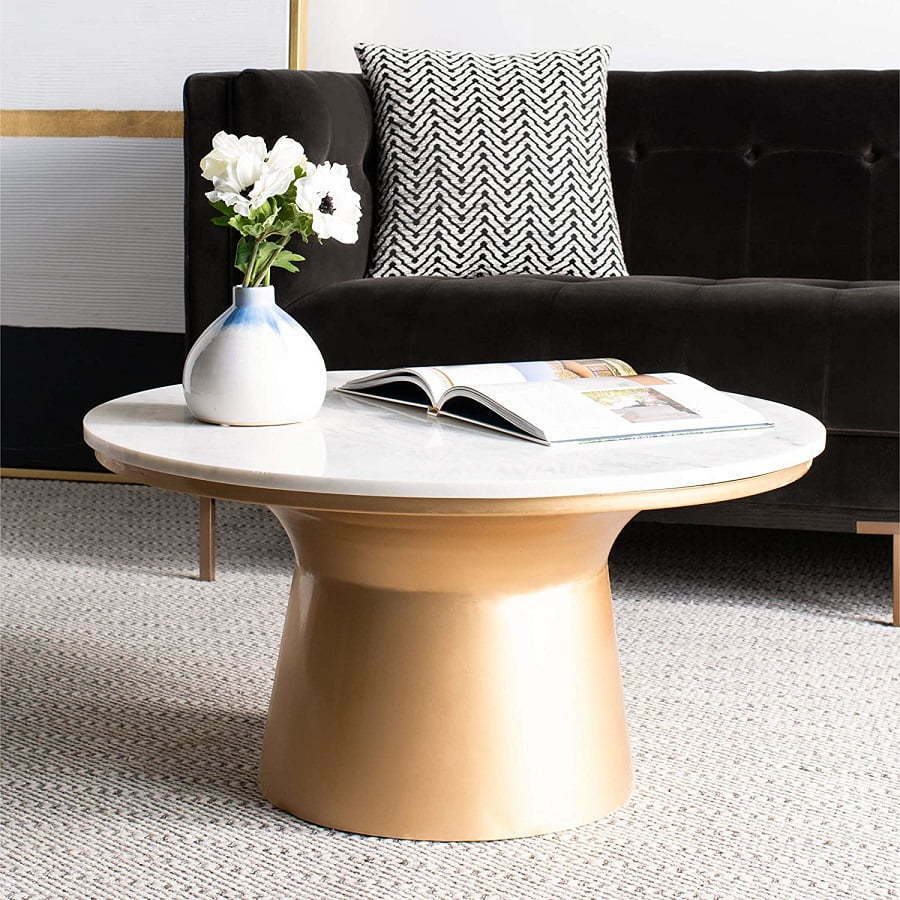 The metal pedestal frame makes a sturdy and stable base for the heavy marble top and gives it a polished look. Brass and white marble do look good together. The top is 30.5" wide at the height of 14.5".
Pros: Great looking accent; the pedestal makes a sturdy frame for a heavy top.
Cons: It's a small coffee table.
Mid-century Marble Black and White Coffee Table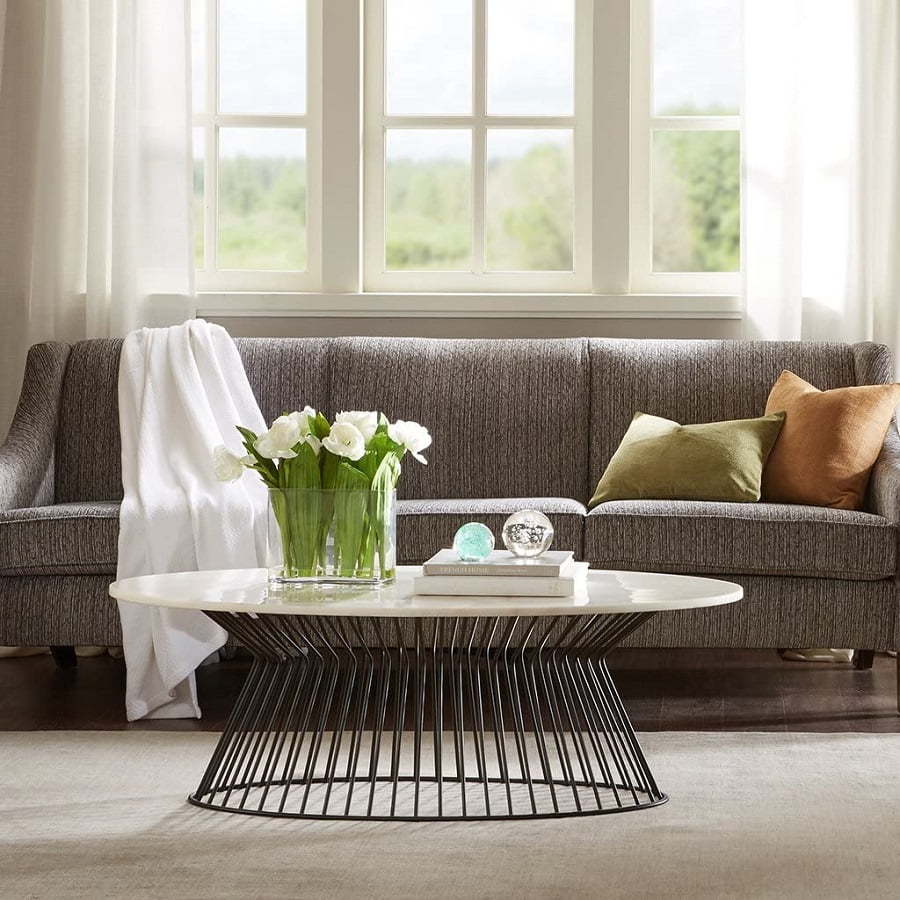 The black metal wired frame helps the beautiful and substantial marble top really stand out. And stands it well. The appeal of the hourglass shape and mid-century coffee table style is evident. At 48" wide it makes a medium-sized oval coffee table.
Pros: Sturdy and stable; mid-century style.
Cons: Metal frame makes it even heavier.
Round Marble Coffee Table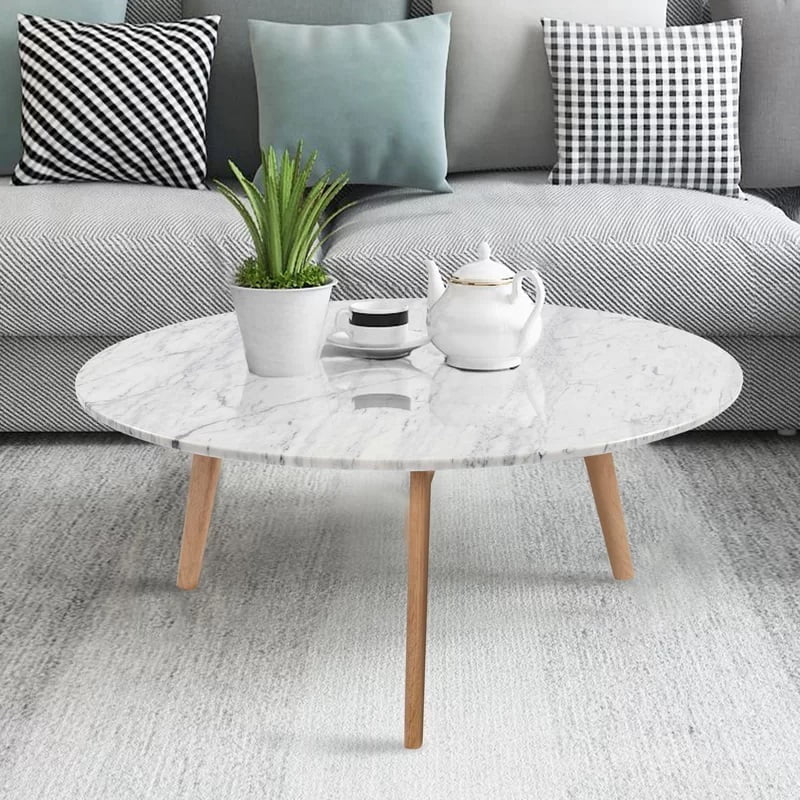 This compact table is actually heavier than it looks but setting it up is easy and it takes little space in your room for a great accent. The legs are interlocking and it's made of genuine marble so you are guaranteed that it's sturdy and can last a long time.
Pros: Interlocking legs; easy to set up; sturdy; compact.
Cons: A bit expensive; heavier than it looks; might be wobbly.
Marble Nesting Tables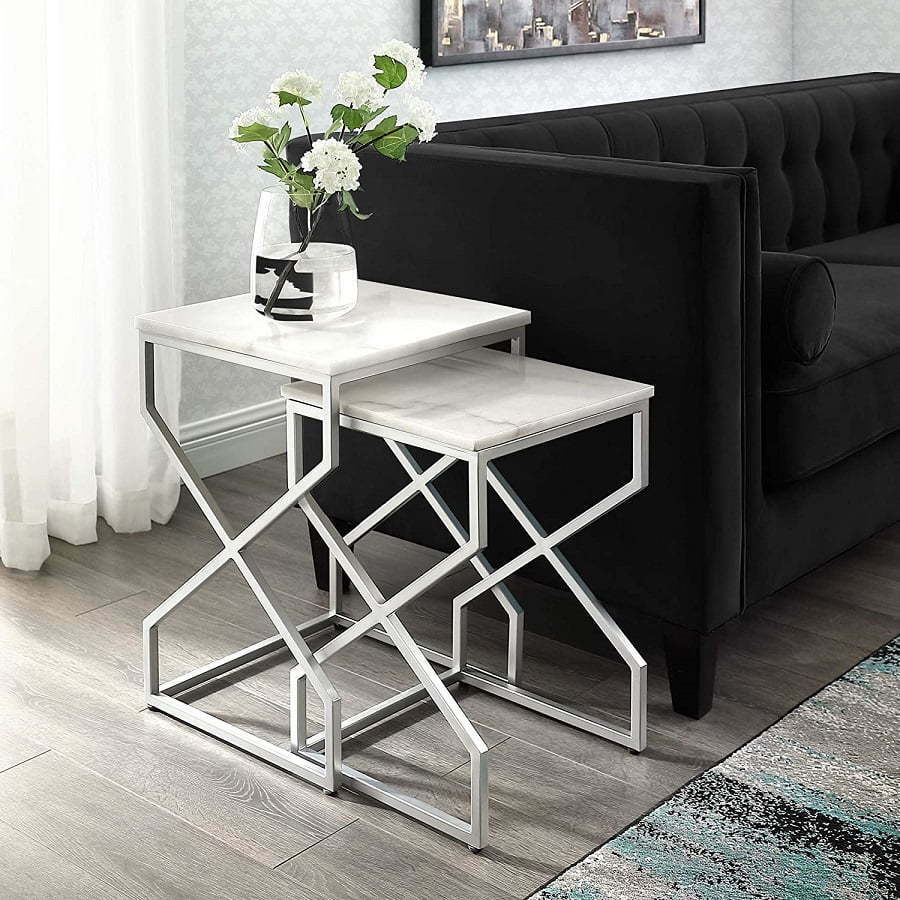 This intricate design is modern rather than classic yet genuine marble does its job. For small side tables these won't be as heavy. So the nesting shape of the frame is justified. The only caveat is that well, they are tiny.
Pros: Nesting tables; modern chromed legs; space-saving.
Cons: tiny side tables rather than a full featured coffee tables.
Square Marble Coffee Table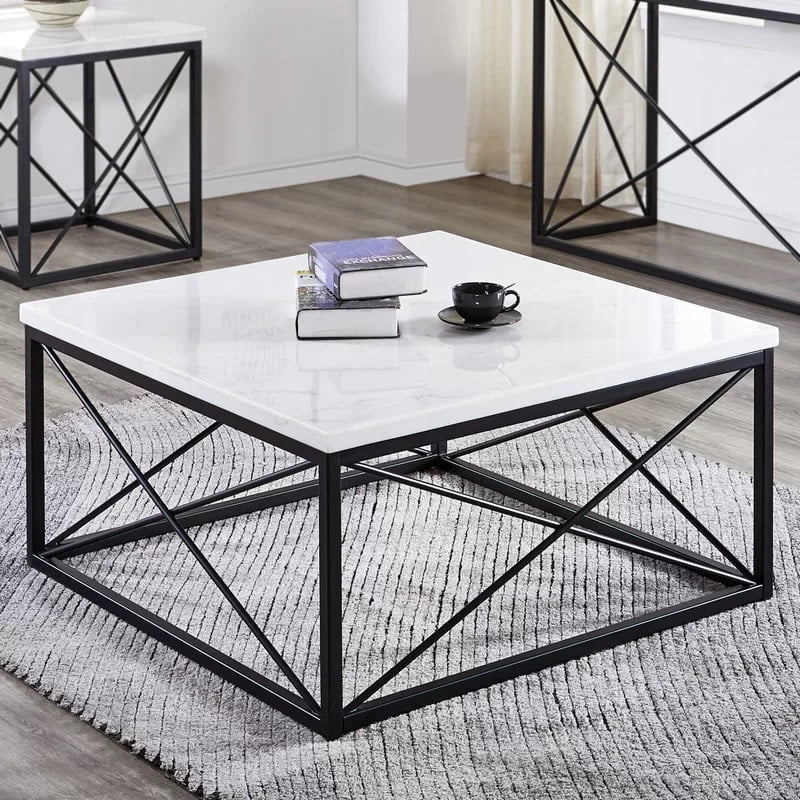 This is an affordable yet expensive-looking marble table with a powder-coated iron base that could be a lot heavier compared to others but doesn't take too much space in your room. It's made of genuine marble and has extra space underneath for everyday items.
Pros: Extra space underneath; really durable; expensive looking; takes less space.
Cons: Takes time to assemble; really heavy iron base.
Rectanglular Marble Coffee Table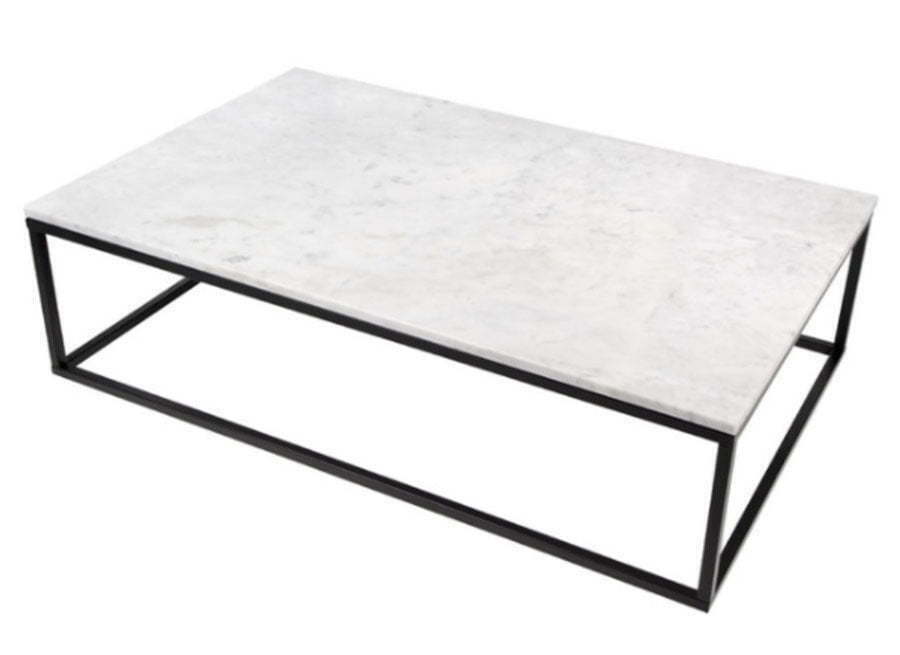 https://www.houzz.com/products/prairie-47×30-coffee-table-with-marble-top-prvw-vr~47177739
It's big and heavy but it has storage underneath for the extra space you need. It's the classic design for the rectangular coffee table.
Pros: Extra storage; high quality; sturdy.
Cons: Really expensive; heavy; takes time to assemble;
Black Marble Coffee Table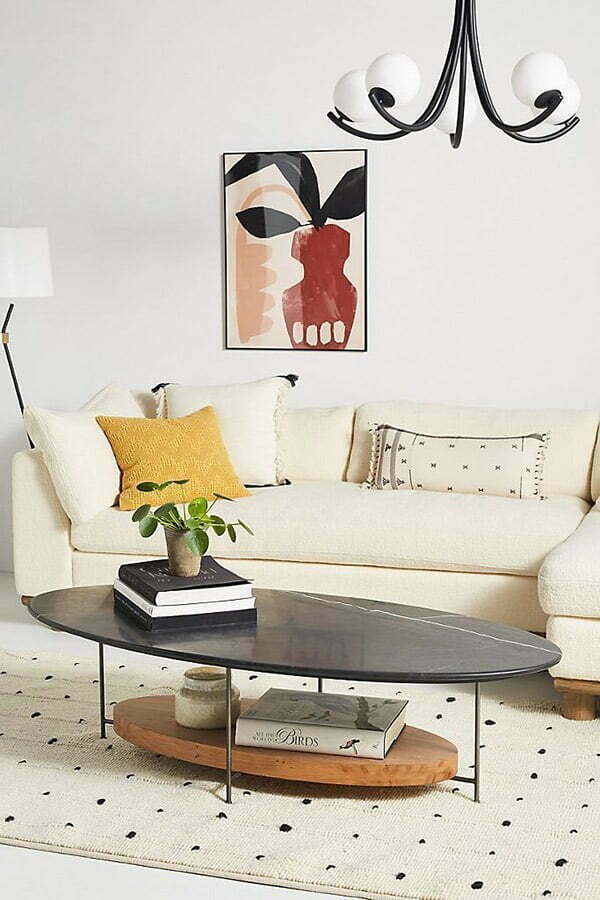 This heavy table is made of pure, beautiful black marble. Since it's black, scratches or markings show up easily but it is easy to clean and the top has plenty of space. It has an extra storage shelf underneath for items.
Pros: Extra storage; black marble; easy to clean; more spacious on top than it looks; assembling is easy.
Cons: Really expensive; heavy; scratches show easily.
Oval Marble Coffee Table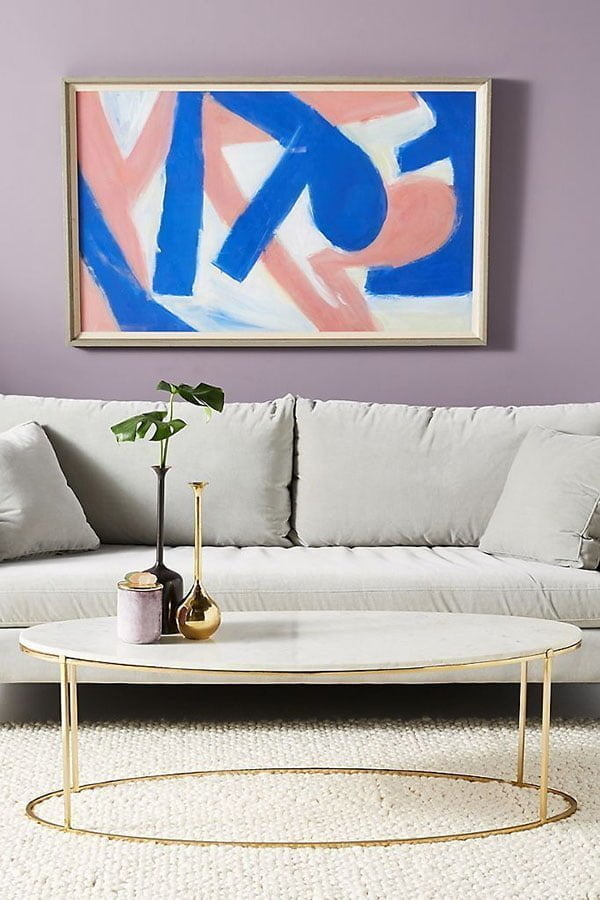 A table with grace and dignity, this furniture has floor protection so you won't have to worry about scratches. There's a really big extra space underneath, almost the size of the table. It's sturdy and assembles easily though cleaning it is a bit hard.
Pros: Floor protection; extra space underneath; assembles easily; sturdy; elegant looking.
Cons: Cleaning is a bit complicated; heavier than it looks; a bit pricey.
Antique Marble Top Coffee Table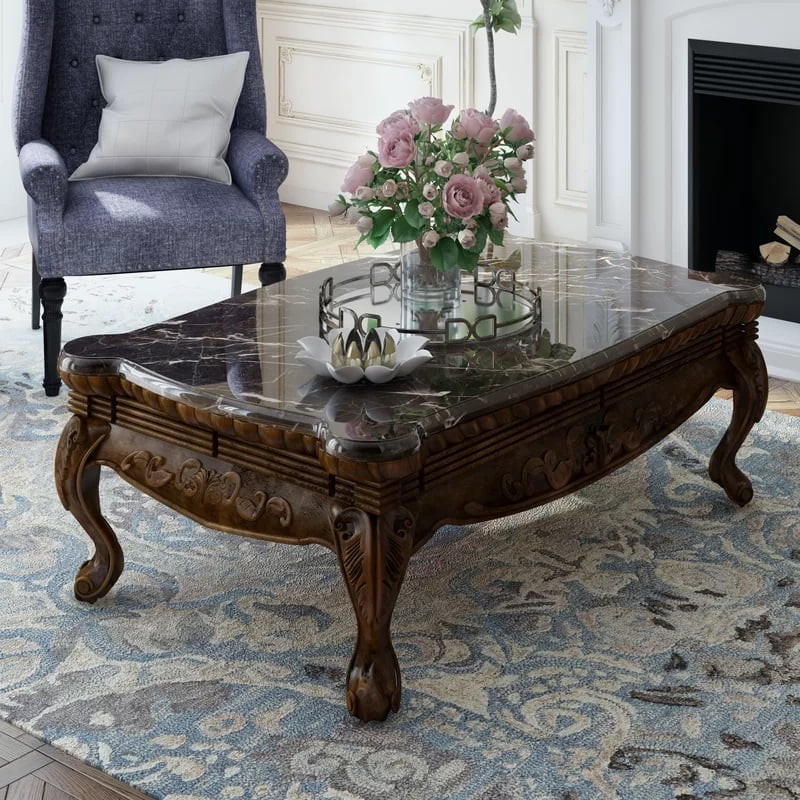 This table may seem small but it's actually really heavy and takes a lot of space (it's 54" wide). Nevertheless, it's sturdy and is made of excellent quality materials with beautiful ornate embellishments. It has a beautiful, vintage look, and assembling it is a breeze.
Pros: Sturdy; superb quality materials; stunning vintage look.
Cons: A bit pricey; very heavy; bulky.
Marble and Wood Coffee Table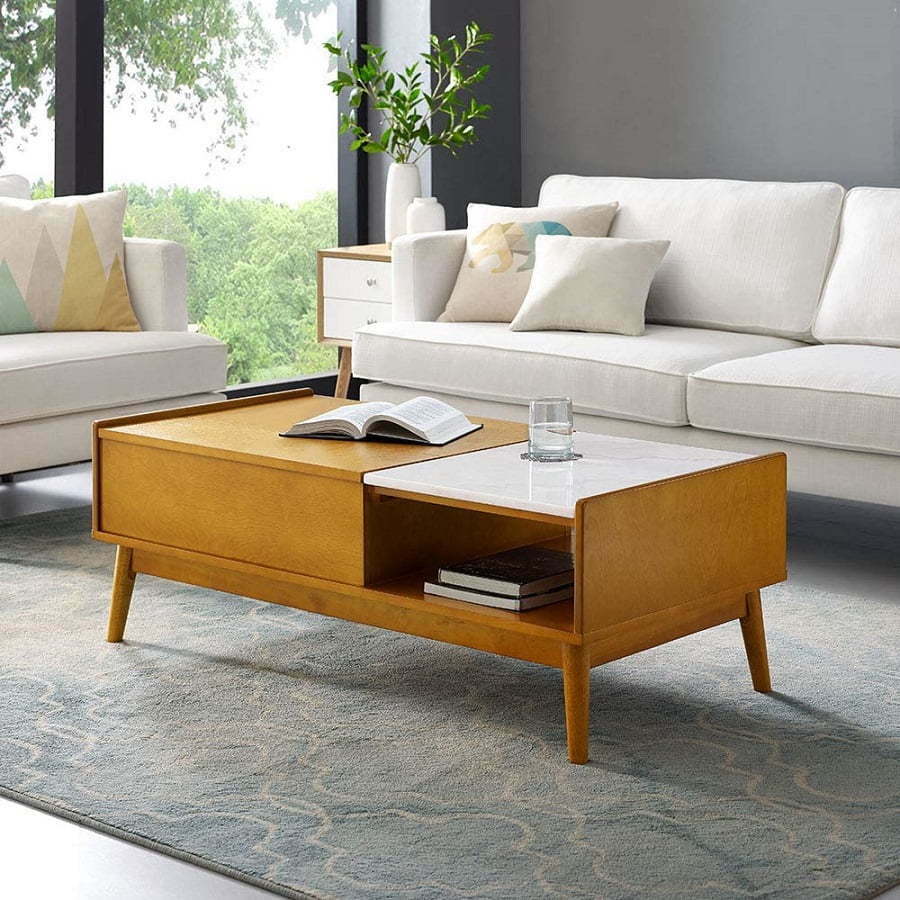 This table has only a leaf of marble and it's hard to say whether it's a benefit or drawback. On the one hand, it's still a great accent with functional and spacious table design. On the other hand, it's not fully marble with all the beauty it entails.
Pros: Plenty of extra storage; mid-century-look; much easier to maintain.
Cons: Just a leaf of marble.
Liked this article? Here's what you can read next:
---
Disclosure: As an Amazon Associate we earn from qualifying purchases.