Last updated on January 16, 2021
Looking for the best lift-top coffee table that's both, functional and visually attractive? Here are the top choices to consider in 2020. Read on!
Times are changing and coffee tables are offering more than the norm. They're not just for serving coffee and drinks anymore but for many other things. And nowadays, they're also judged not just on their function but their looks as well. So here are our top picks for lift-top coffee tables that would suit your taste.
Coffee tables usually are low styled tables designed to be in front of or beside sofas or upholstery chairs for support. But with our list, these modern tables are all lift-top to provide any kind of support you'll ever need.
Read on if you're searching for a nice, excellent coffee table to suit your needs.
But how do you choose the right lift top coffee table?
You might want to look for these features before buying one:
The storage – the best coffee tables with storage can really provide plenty of extra space for even bigger items and some tables even have drawers.
The design, because some may not look good in your living room.
Mobility, in case you need to move it.
Durability, you don't want a table that won't last long.
We find quite a few caveats while searching for products, so you need to be aware of those when choosing a coffee table as well.
These are the things to consider too:
Easy to assemble especially the bigger ones as they tend to be a bit difficult to build.
Consider also the height as some might be too low or too high.
Ready? Let's pick your ideal lift-top coffee table. We've found 10 that are great in many settings. For your convenience, we've included links to the products and some of them (#ad) will result in us being compensated for purchases. You are not charged extra for this.
Which one of the following will look great in your living room?
What's Inside?
Black Coffee Table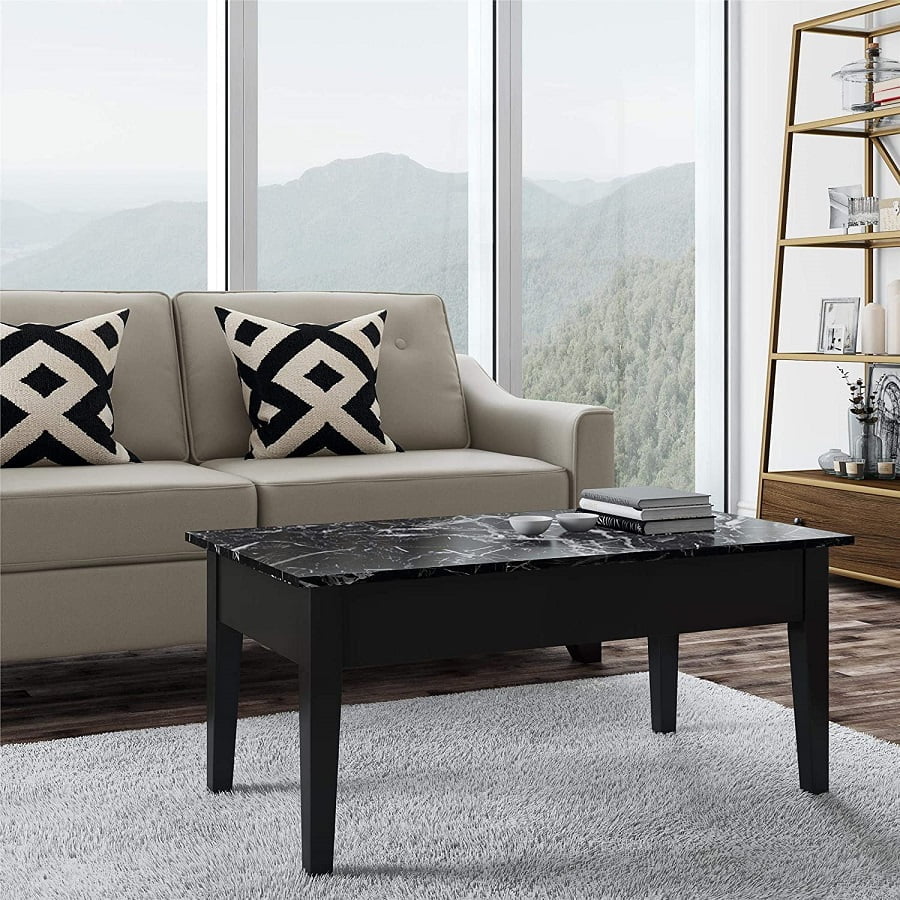 This coffee table is heavy however with all the features, you wouldn't mind it. It is made of solid wood and wood veneers and a top that can be lifted to surprise guests with hidden storage ready for use anytime.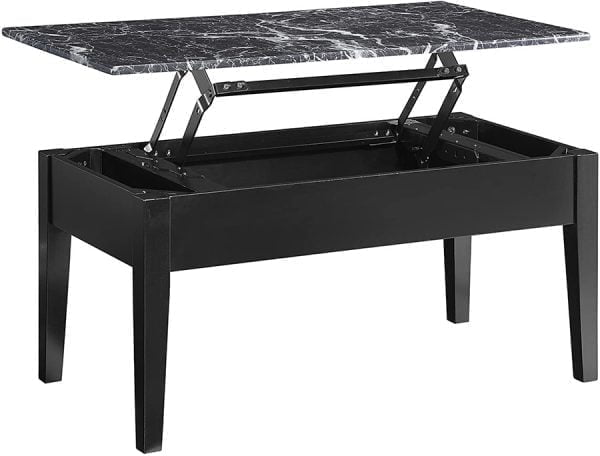 Pros: A modern design that will give your living room functional table space; has a hidden compartment for items that don't need to be displayed; smooth motion of the lifting mechanism that's is easy to handle; it has a (faux) marble surface on the top making it classy.
Cons: the table is a bit difficult to raise up and down because it is a bit heavy and it isn't easy to keep it in place in a raised position.
Coffee Table with Drawers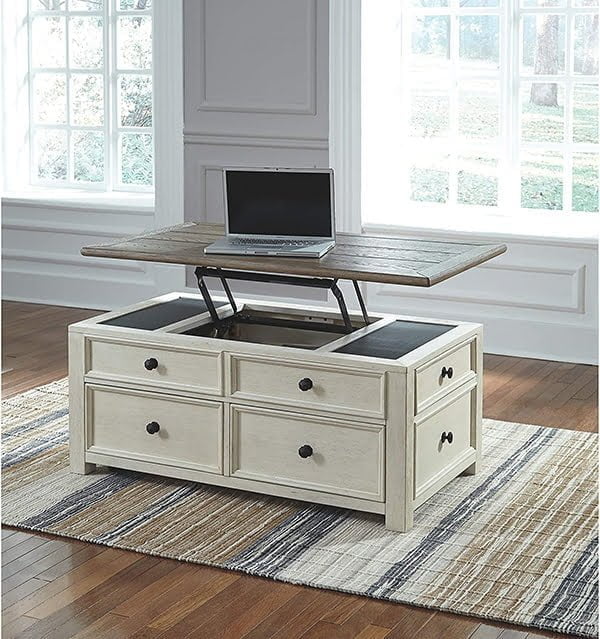 A handsome table that fits perfectly into any room. Cleaning is a breeze and comes with 4 drawers around. It can even transform into a work station with extra storage when the top is pulled up.
Pros: the top lifts up with ease; this coffee table is solid, has a perfect size, easy to clean, and durable with an attractive look for any living room; there are 4 functional drawers (2 in the front and 1 on each side); the casters roll easily across wood floors and carpet.
Cons: the drawer on the left side does not align well and a gap is present when the drawer is pushed in.
Round Coffee Table with Storage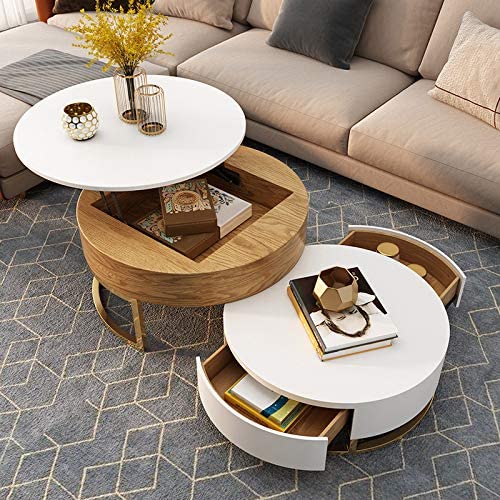 The perfect table for anything. It has a good balance best fit for eating, working, or even playing. It's composed of 2 tables that can be combined into one for space-saving with plenty of storage.
Pros: the lift top has the height for writing, reading or drinking; it has dual rotatable drawers and hidden storage; smooth rounded edges; it is made of manufactured wood and metal frame providing strong support.
Cons: it is a bit low to the ground.
Lift Top Coffee Table with Storage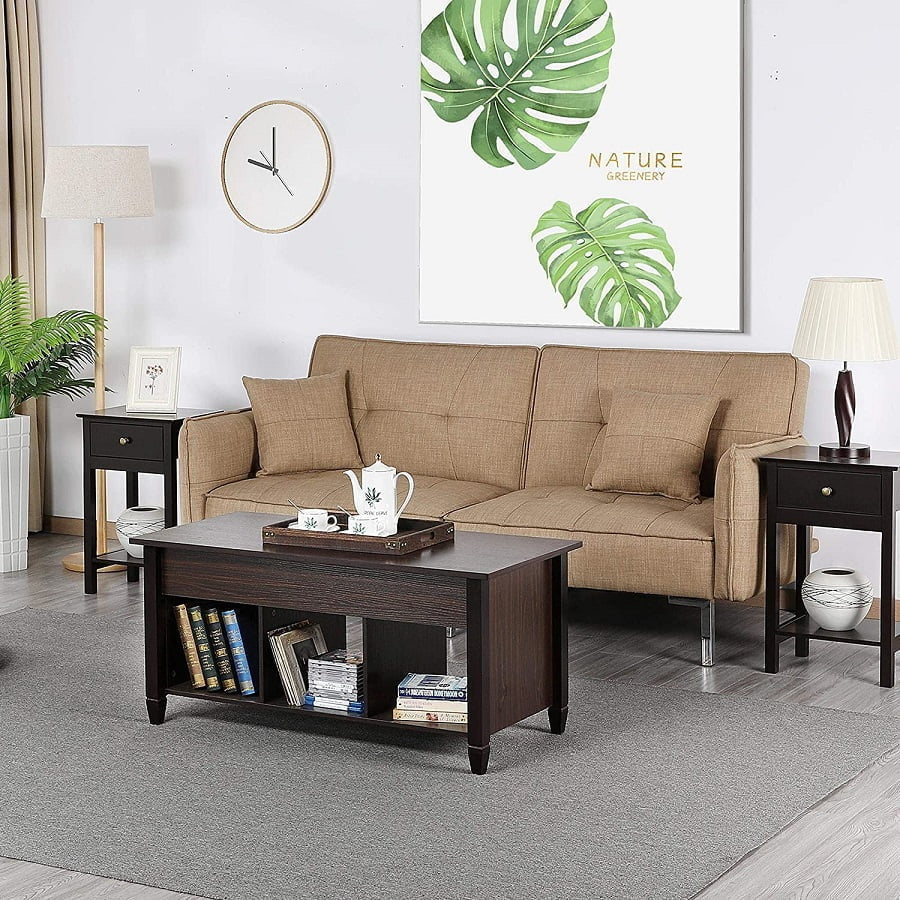 It's a bit difficult to set up this minimalist able but it can become a nice coffee table and work desk after. It has a hidden compartment for space-saving and extra storage beneath for commonly used items.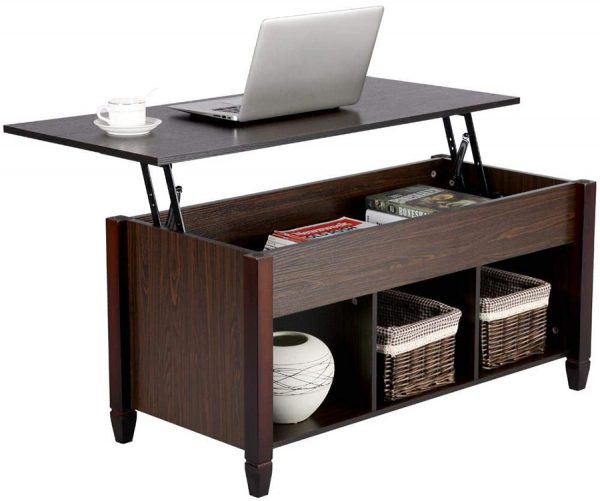 Pros: it serves as a nice coffee table and can also be used as a desk when sitting at the couch; it can easily lift up and forward to create a work surface; very durable because it is made of solid wood; there is a hidden compartment beneath the top.
Cons: assembly is quite hard because the pre-drilled holes did not always line up.
Double Lift Top Coffee Table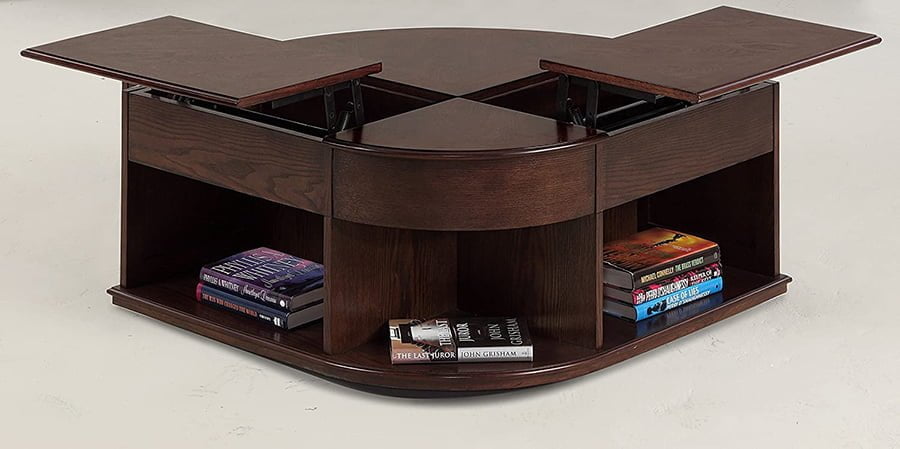 This one is what you call a sophisticated cocktail table so it may take more effort to assemble this. It has 2 tops that can be lifted that can provide more storage than average and other items can be displayed underneath. It moves easily so moving it from one room to another is a no problem at all.
Pros: a compact coffee table that is well made and perfect for a sectional sofa; pull up sections are a perfect height for working or eating at the table; the unit is mobile enough to easily move it; lift tops go up and down smoothly.

Cons: it takes some time to assemble.
Rectangle Lift Top Coffee Table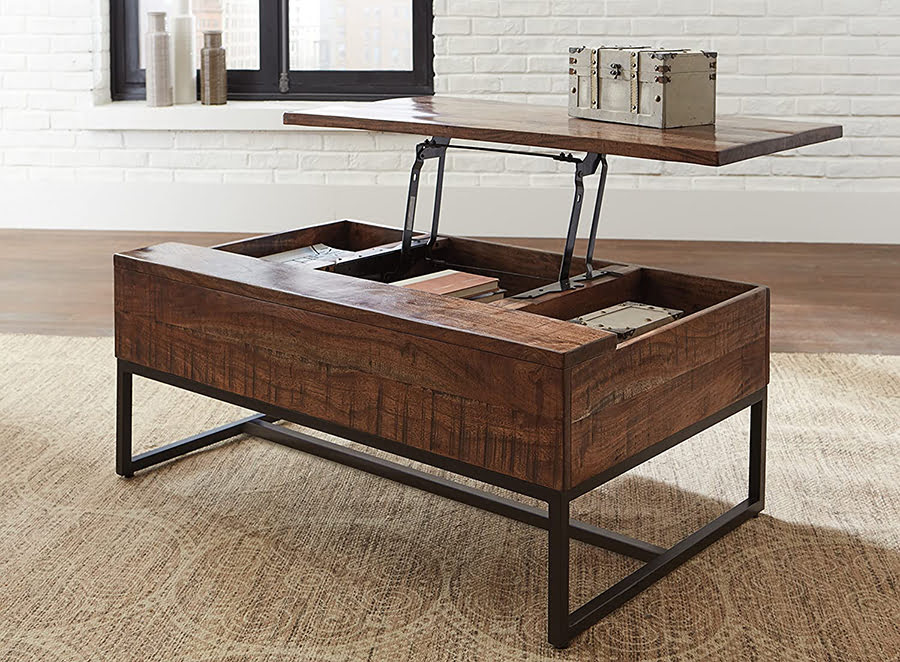 Clean, sharp-looking with sleek colors, this is how you can describe this signature design table. Made of mango wood and metal that has extra storage when top is lifted. Looks outstanding in the center of your living space.
Pros: the finish of the table brings out the beautiful color of the wood; very sturdy and well constructed with heavy-duty material; it has a storage space under the lift-top and it works smoothly; a sharp look of modern, clean lines, and sleek colors.
Cons: uneven tabletop surface and the top is so heavy it can be tough to lift it.
Solid Wood Lift Top Coffee Table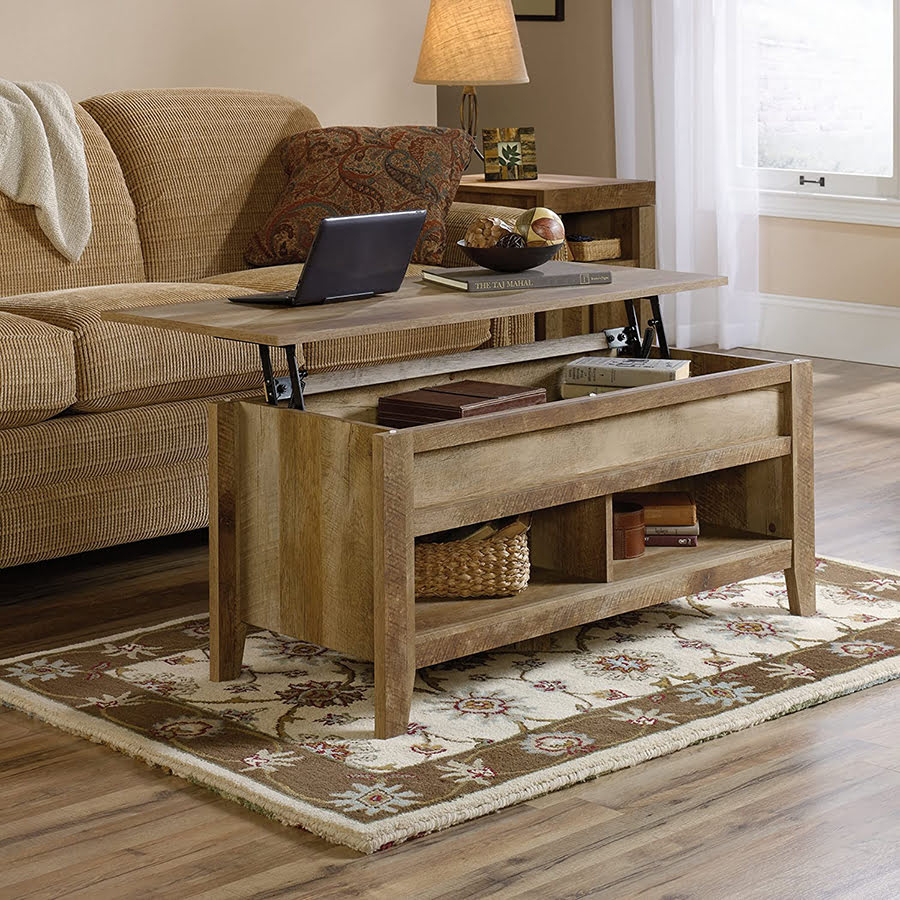 If it's about versatility, then this would be on top of the list. It has open shelves to display items and hidden storage for an extra compartment. It's easy to assemble, lift up top and affordable.
Pros: a very affordable coffee table; very sturdy, and heavy; the instructions are easy to follow; great size for small spaces; the veneer is beautiful and does not scratch easily.
Cons: locking cams don't lock in place; the edge of the table is also very sharp.
Small Lift Top Coffee Table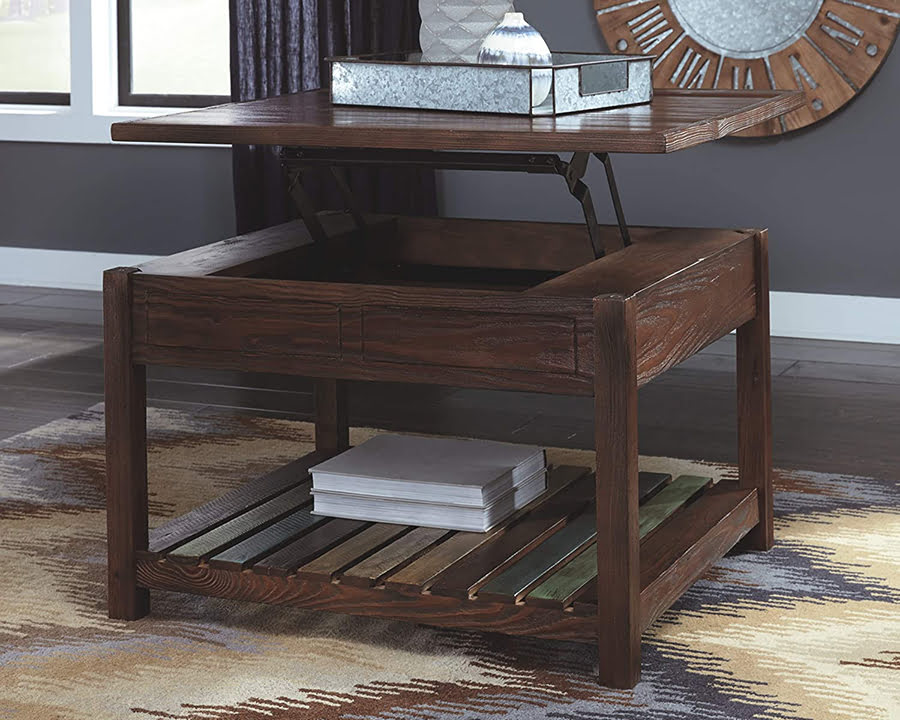 This one seems your standard looking table however it can fit any room, even small areas. It has a big open space underneath to fit bigger items and the top can be lifted.
Pros: perfect size for any smaller couch area; the top is modern and matte; the colored slats aren't that bright and they really look nice with the table; easy to assemble; has a very fine wood finish.
Cons: has a strong odor that took a full week to dissipate.
Hammered Metal Coffee Table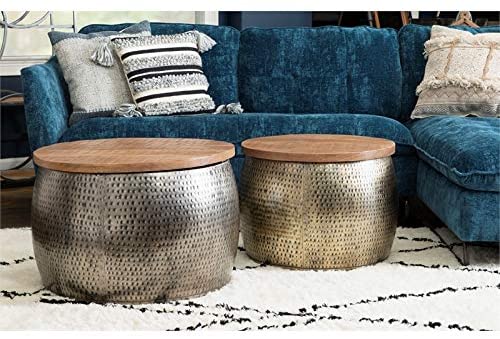 Twin tables with a metal base for durability are what these can provide. The mango wood top is removable with plenty of storage for small or bulky items. Perfect for home or office.
Pros: has a metal base and wood top; removable mango wood top; not that huge but still big and sophisticated; heavy wooden lid comes off to hide stuff inside; convenient yet distinctive, and versatile function to any home or office.
Cons: inaccurate color in the picture.
Big Coffee Table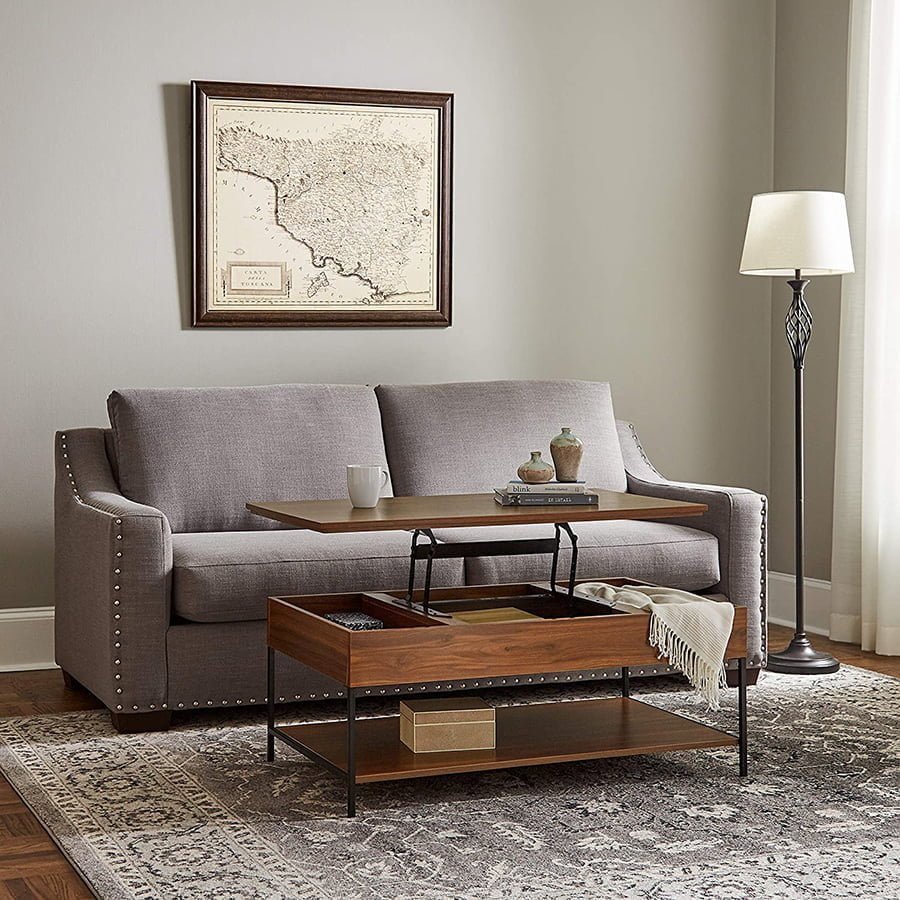 This table is heavy but offers plenty of storage when the top is lifted up and I mean really plenty. It even has more space underneath because of the open shelf. It blends with the modern times and is made of wood and metal.
Pros: it has a shelf on the bottom which adds extra display space; wood and the metal combo of straight lines blend with a modern or industrial look; the lift function is smooth; very sturdy and well put together.
Cons: it does require complete assembly; quite heavy because of the metal legs.
Liked this article? Here's what you can read next:
---
Disclosure: As an Amazon Associate we earn from qualifying purchases.