Last updated on January 31, 2021
Looking for the best bean bag chair for your lounge area or a reading nook? Here are our top-rated picks for 2020. Read on!
A bean bag chair is all about comfort and a little bit about decor. It's true that most bean bags can't offer much for interior design – the best you can expect is for it to look like a stylish poof. But when creating a lounge area or a nook, comfort wins anytime. Besides, you can decorate over and around it to make it blend in.
So when choosing a bean bag, all you care about is how comfortable it is. You have to drown in coziness every time you lounge in one of these bags. Still, there are some features that you can consider and choose – no one bean bag chair is alike. We'll help you with that.
How to choose the right bean bag chair?
These are the main features to consider:
Consider the size – some bean bags are small and accommodate just a single seat, but you can get sofa-sized units that you can nap in or share it.
Consider the filling – different kinds of foam filling will decide you soft it is and how long it remains so before refilling.
Can it be refilled at all?
Is the cover removable for easy cleaning?
Kid-friendliness.
What it will do to your decor?
These are all great features to consider and questions to ask yourself before choosing. And we've had these in mind when making our picks. So you know what went on our minds and this will make an easier choice for you. Do note that we may be compensated for qualifying purchases on Amazon (tagged #ad) at no expense to you.
Which bean bag chair do you think is the most comfortable?
What's Inside?
Big Joe Bean Bag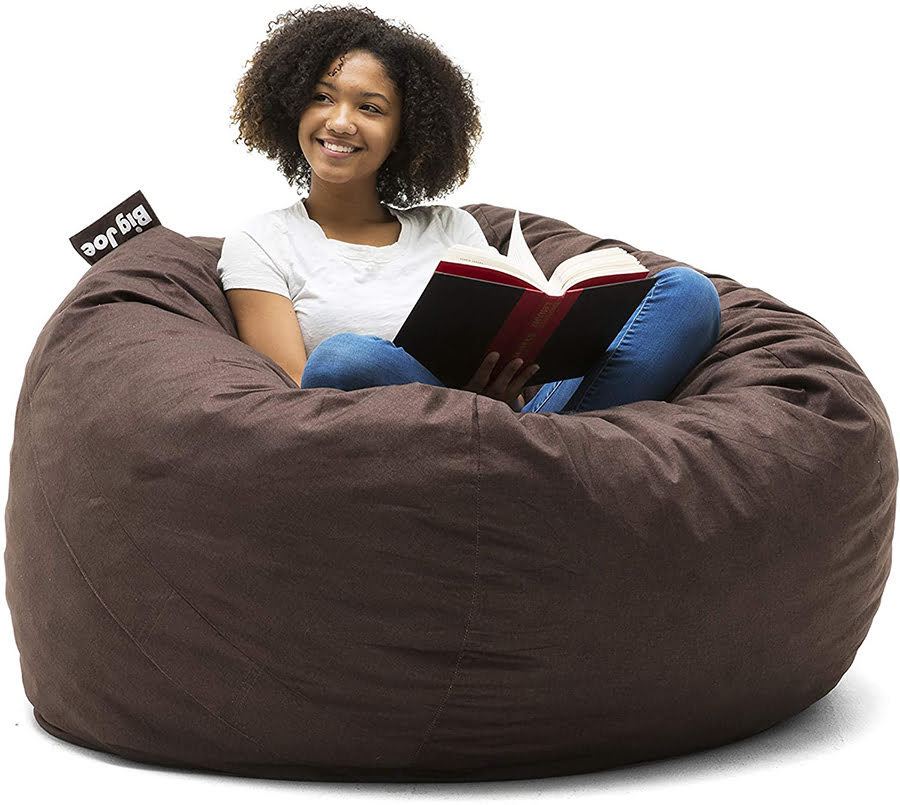 Big Joe is a big and comfy bean bag chair. It justifies its name. No wonder it's one of the most popular brands out there.
Pros: very comfortable; it is well constructed with the bag being made from a really nice, thick, and soft material; definitely a nap-worthy; no weird smell or hard foam pieces while sitting/laying on it; easy to re-fluff for lasting comfort.
Cons: it is quite heavy because of its size; the bean bag does not have enough stuffing in it.
Giant Bean Bag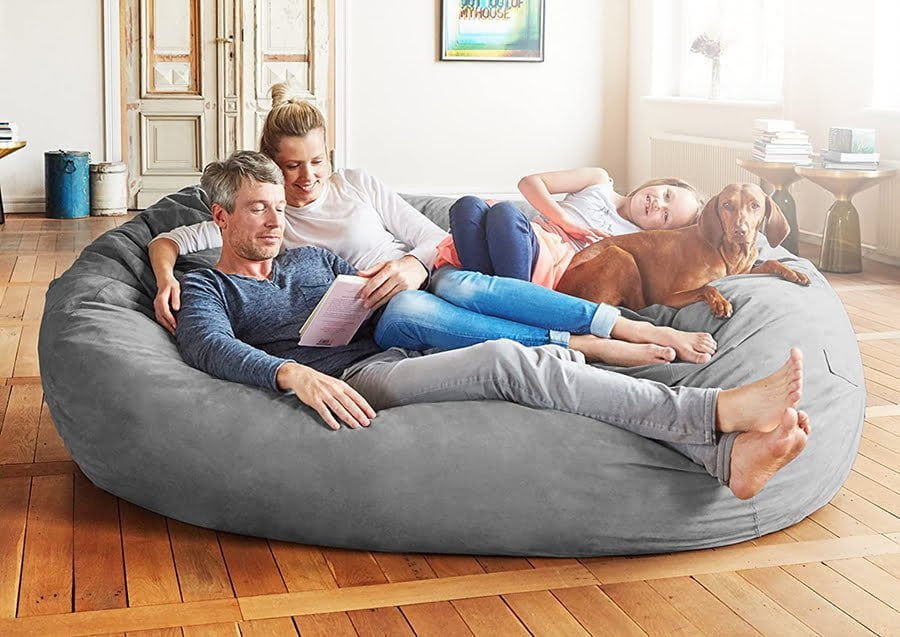 What's bigger than Big Joe? This bean bag is sofa-sized and will fit your entire family (plus the dog).
Pros: ultra-soft and Machine washable microsuede outer cover; inner covers are filled with high-class foam material without any plastic parts; easy to care; removable cover.
Cons: the bean bag is on the firmer side but it will get softer after a few days.
Christopher Knight Home Bean Bag
Christopher Night Home is a brand of high-quality designer furniture and that includes bean bags. This chair in faux fur design will look good in any living room.
Pros: soft to the touch and perfect for lying; material filled with polyurethane foam; has a modern-style color which is grey pebble pattern; this bean bag is great for any age and any room.
Cons: the foam flattens fast.
Adult Bean Bag Chair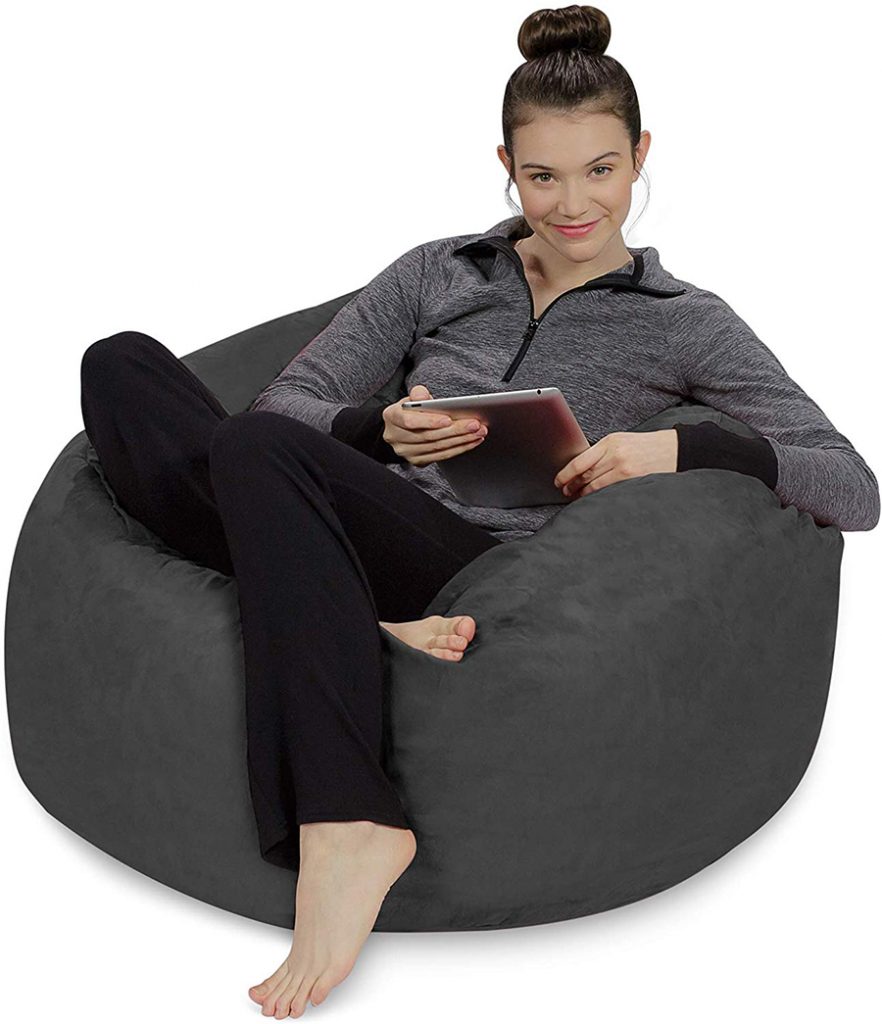 Sofa Sack is a big adult-size bean bag chair for your lounge nook. It's another popular brand to choose from.
Pros: a perfect complement to any decor; incredibly comfortable and highly functional; made with durable foam stuffing; double stitching for maximum strength; and comfy to sit in, supports the weight of an adult
Cons: difficult cases to unzip and unpack; difficult to shape it back to its original shape.
Bean Bag Chairs for Kids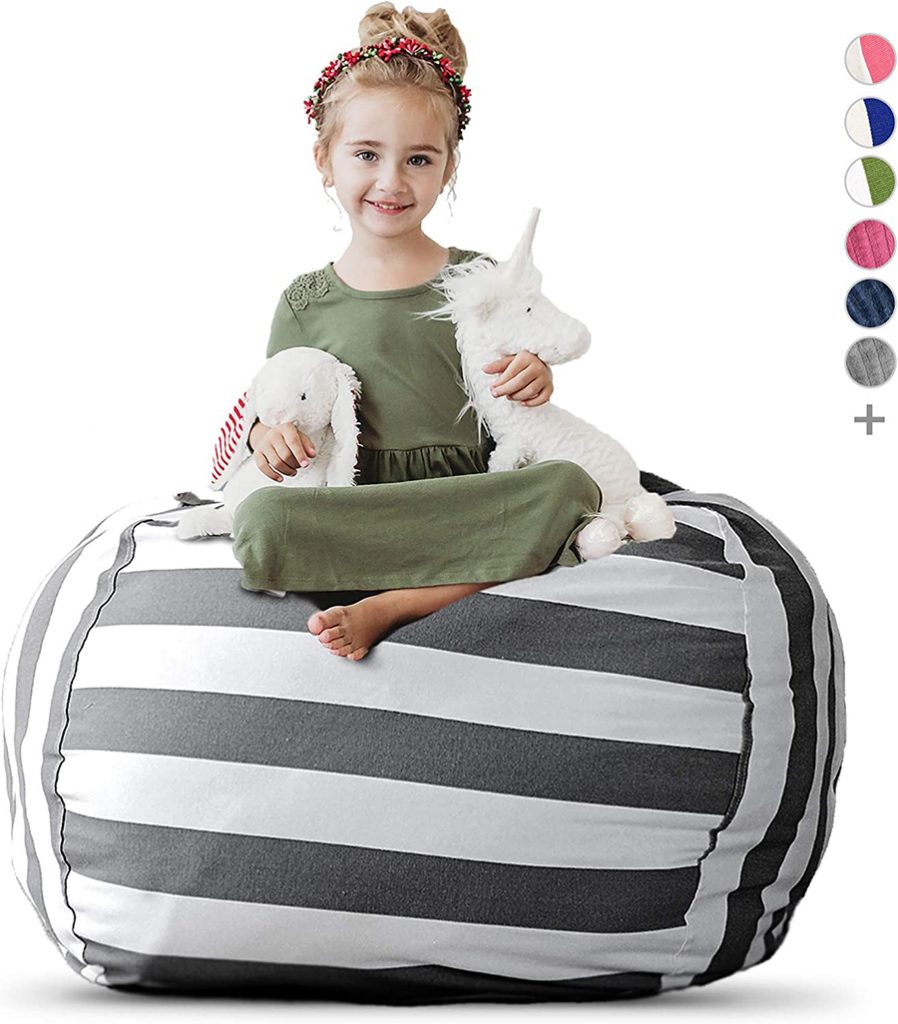 When it comes to kids' bean bags this model is made with practical design in mind. There's no kid that will actually sit in one for a long period of time just lounging around. The little daredevils are too active for that. So why not use it as stuffed animal storage? It's definitely lots of fun.
Pros: has a strong and soft material; a heavy-duty zipper; best storage for stuffed animals; and a functional stuffed animal bean bag chairs bring a playful twist to cleaning up together.
Cons: a little too big and bulky; more of a storage bag than a chair.
Bean Bag Couch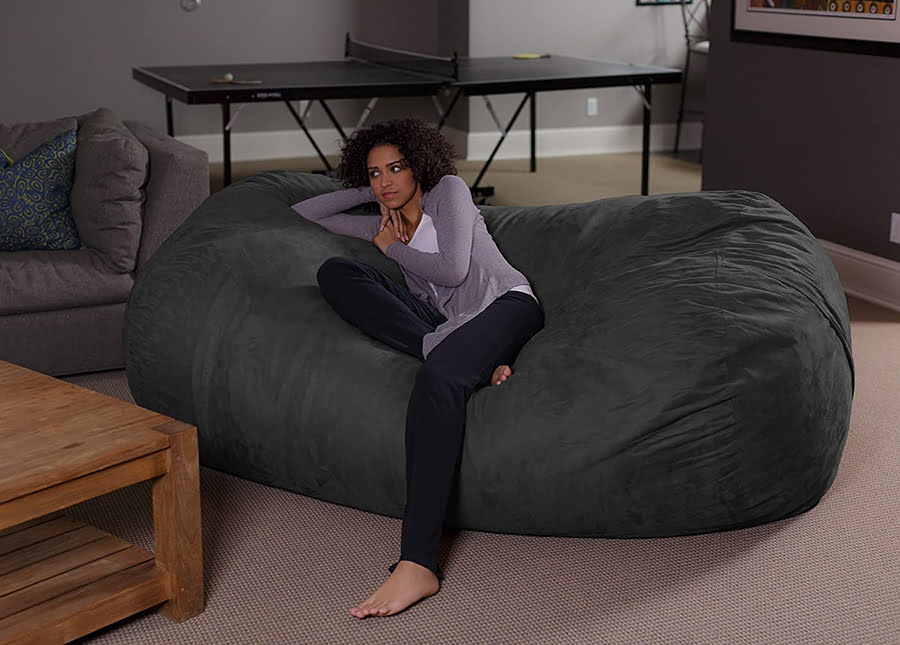 The best bean bag sofas come from Sofa Sack. They are big enough to be a couch and provide comfort for lounging.
Pros: Perfect bedroom accessory; simple and soft; made from high-quality memory foam; provide long-lasting support; simple enough to move around as needed.
Cons: it compresses quickly and does not recover on its own; cannot remove the cover to clean it.
Chill Sack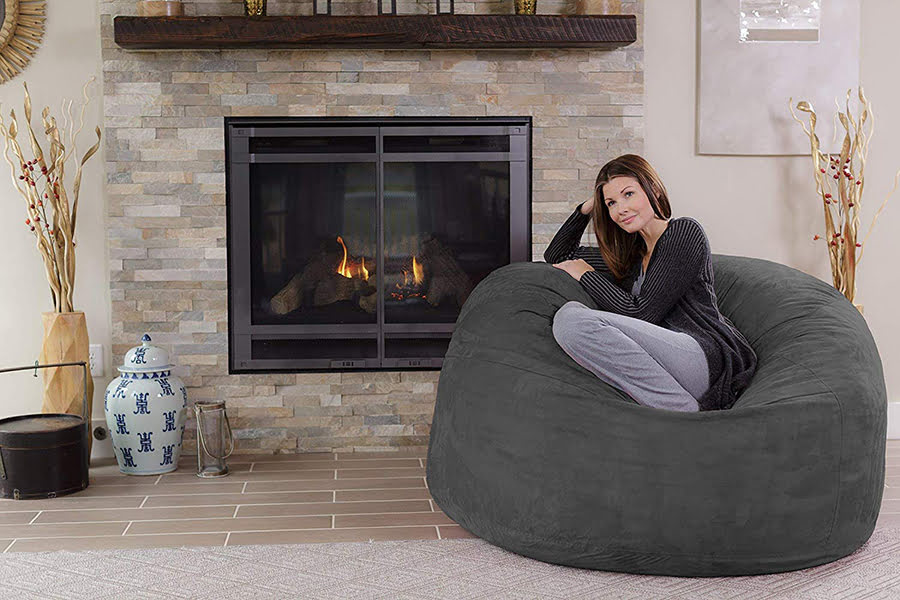 This 5-feet bean bag from Chill Sack is a great addition to a lounge area in your home. The memory foam stuffing helps to keep its ideal shape.
Pros: soft microfiber cover; stuffed with a shredded, soft, memory foam blend; highly durable to maintain shape; removable cover and a machine washable.
Cons: it has a chemical smell initially; needs a little more foam filling.
CordaRoy's Bean Bag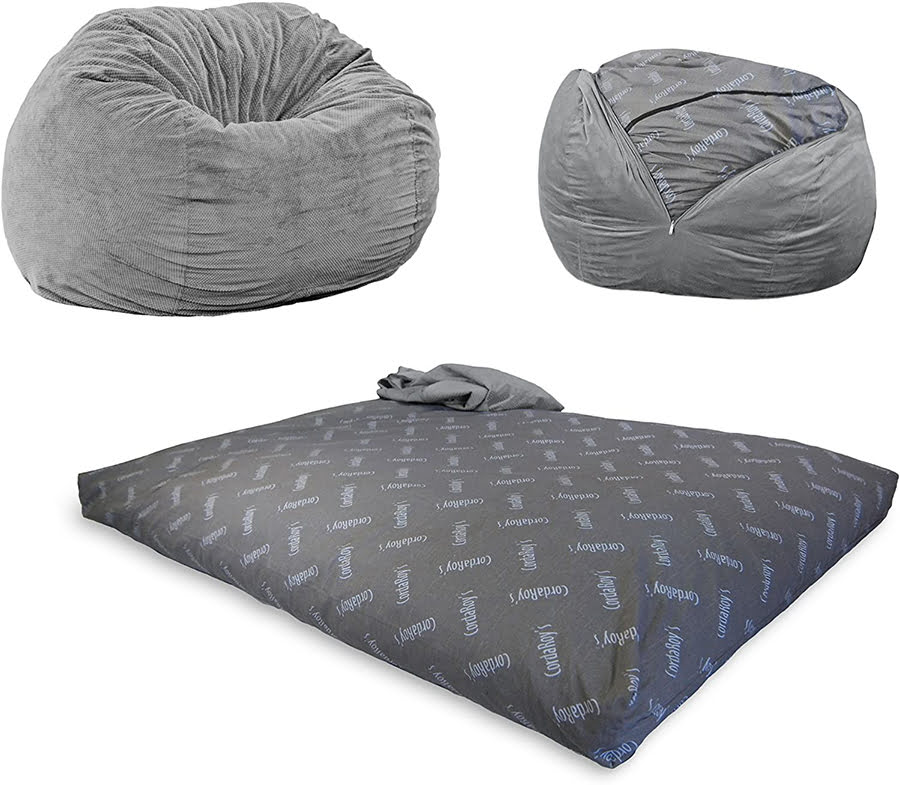 CordaRoy's bean bags are unique because they fold out into a bed. So you're not only getting a chair but a sleeper too. It's ideal for small spaces.
Pros: giant foam chair converts to a full-size bed; microfiber cover is soft-to-touch with a durable woven backing; it has a charcoal color that looks great with any decor style.
Cons: the inner lining may be different between the two bags if you're getting a pair; could use more stuffing inside.
Comfy Sacks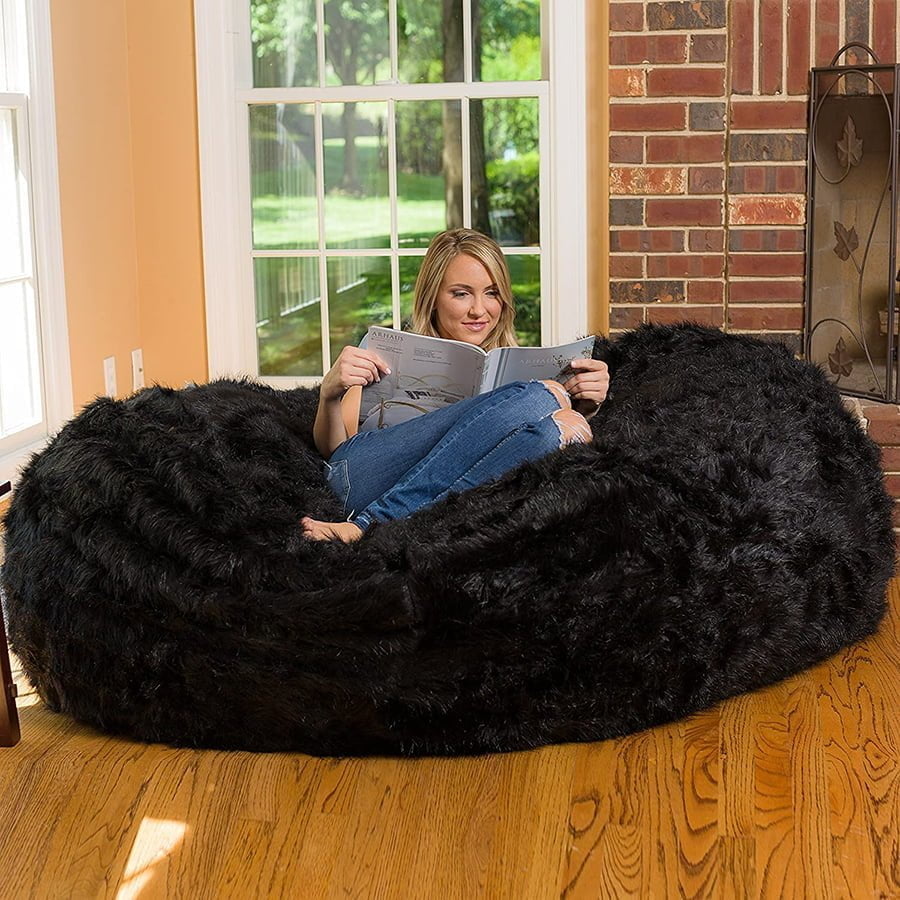 Comfy Sacks make bean bags that are, well, comfy. The memory foam filling will make it all yours.
Pros: removable and machine washable cover; many colors to choose from; durable inner liner with child safety zipper; comfortable and smooth.
Cons: foam inside is very hard to get spread out, it can be firm.
Jaxx Bean Bag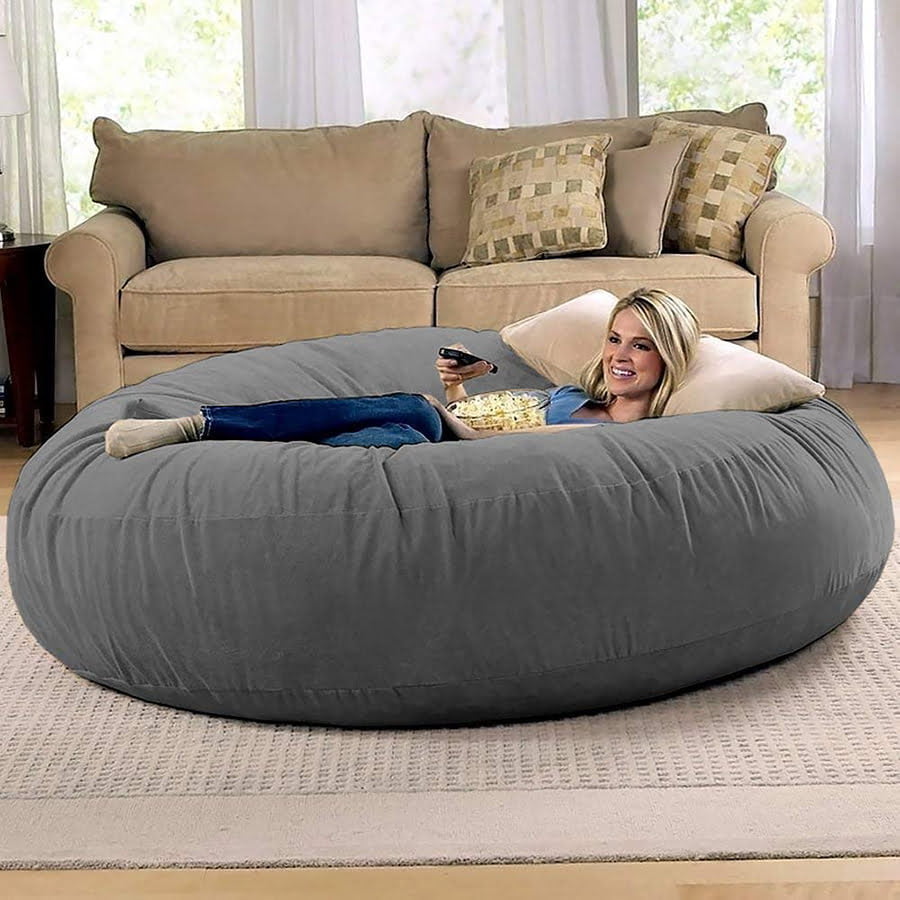 The main feature of Jaxx bean bags is that they wrap around you like a cocoon. You can drown in comfort as you snuggle up for a Netflix binge.
Pros: bean bag includes a protective inner-liner with childproof zipper; comfortable to sleep on and even study on, reading or working on a laptop; good quality and great durability; multi-functional and stylish.
Cons: the filling is a little on the low side; quite hard to assemble.
FAQ
How to clean a bean bag chair?
You can wish the cover in a washing machine if it's removable. If not, use a damp cloth to clean it.
How to refill a bean bag chair?
First, buy a new filler of your choice. Then locate an opening of your bean bag – usually, it's a double zipper at the bottom. Unzip it and add a funnel in the opening. Add the necessary amount of your new filler.
Liked this article? Here's what you can read next:
---
Disclosure: As an Amazon Associate we earn from qualifying purchases.