Last updated on March 20, 2020
Looking for the best Adirondack chairs for your outdoor space? These are some of the best chairs that are as comfortable as they look good. Here are our top picks!
When Thomas Lee had designed the original Adirondack chair in 1903 for his summer home (the chair gets the name from its location in the Adirondack mountains), he hadn't imagined his design would become the staple of outdoor loungers. But it has, and the chair is now a must-have for many.
What is an Adirondack chair?
We know the chair for its slanted seat and curved raked back. While it's originally wooden, it now takes many different forms. The back may not necessarily be curved or raked, but what characterizes the chair the most is the deeply slanted seat. Most people will go after the classic design, though.
So how do you pick the best Adirondack chair?
Consider these points:
Where is your outdoor space located? Will you use the chair on the patio or deck (covered), or out there on the lawn (uncovered)? How much of weather exposure will it get?
Do you prefer natural wood or more durable options for their durability (but less style)?
Are you going to put it away so it needs to be folding?
Do you prefer the classic design or you're open to modern styles?
These are good questions to ask yourself when choosing. And we are here to help you by giving the picks that are tailored to answer your questions. As usual, we've made the list knowing very well what our readers (that's you) are looking for so you're choosing from the right sources. Finally, we like to be transparent so be aware that we are compensated for qualifying purchases on Amazon (tagged #ad) at no expense to you.
These are our top picks.
What's Inside?
Plastic Adirondack Chairs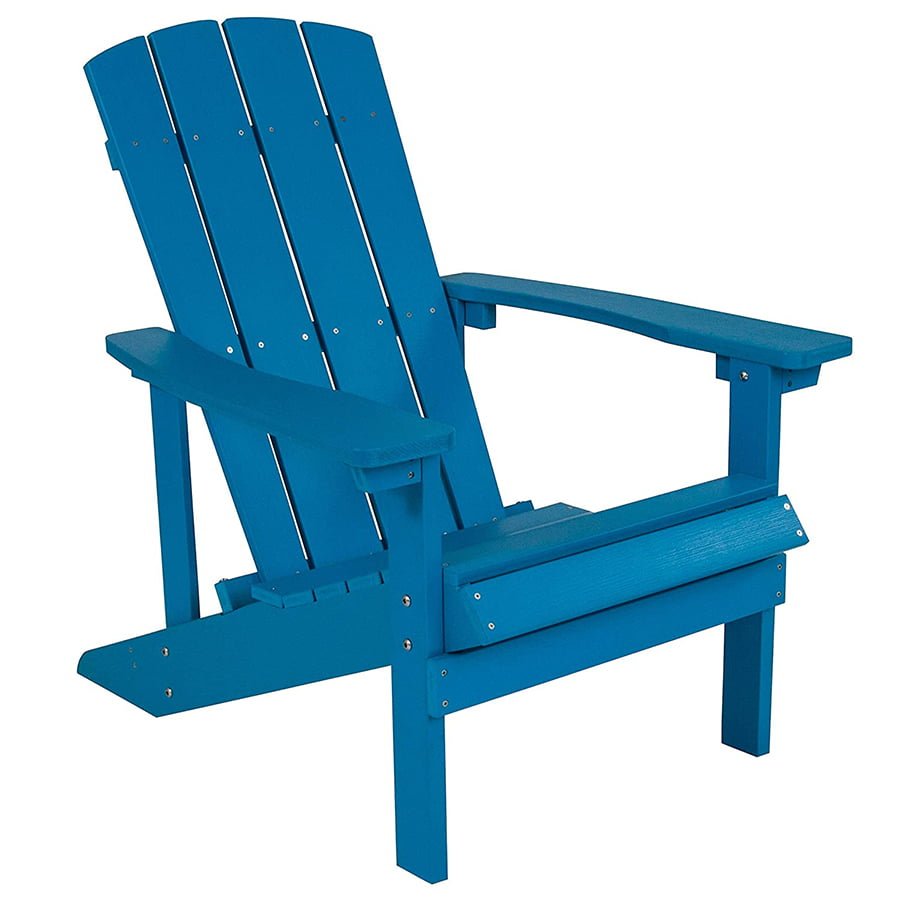 It's typical to see Adirondack chairs in wood however for more weatherproof material you might want to choose plastic. That doesn't mean it shouldn't look good. This chair has a faux wood look while being made of plastic.
Pros: has a wide back, slanted seat, and wide arms; it has a vertical lattice back; UV protected and designed for outdoor use; assembly is required but is easy to set up; a well-built chair at a great price.
Cons: this chair does not fold up; a lot of exposed screw heads.
Polywood Adirondack Chairs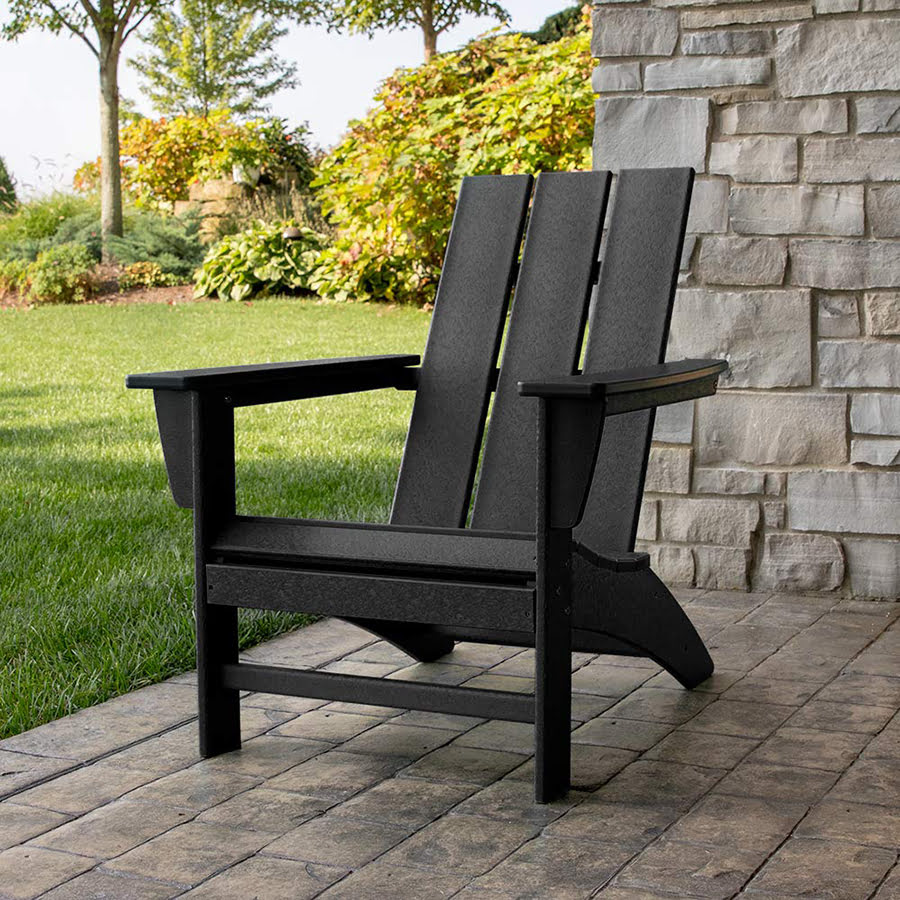 Polywood makes a durable material for a chair that is going to be used outside. It is engineered to be a lot more durable than natural wood.
Pros: it is made from genuine Polywood lumber; very easy to assemble; easy maintenance which requires no painting, waterproofing or staining; all-weather durability; fade-resistant color.
Cons: does not fold, it is a stationary chair; the seat is not super deep like some Adirondack chairs.
Resin Adirondack Chairs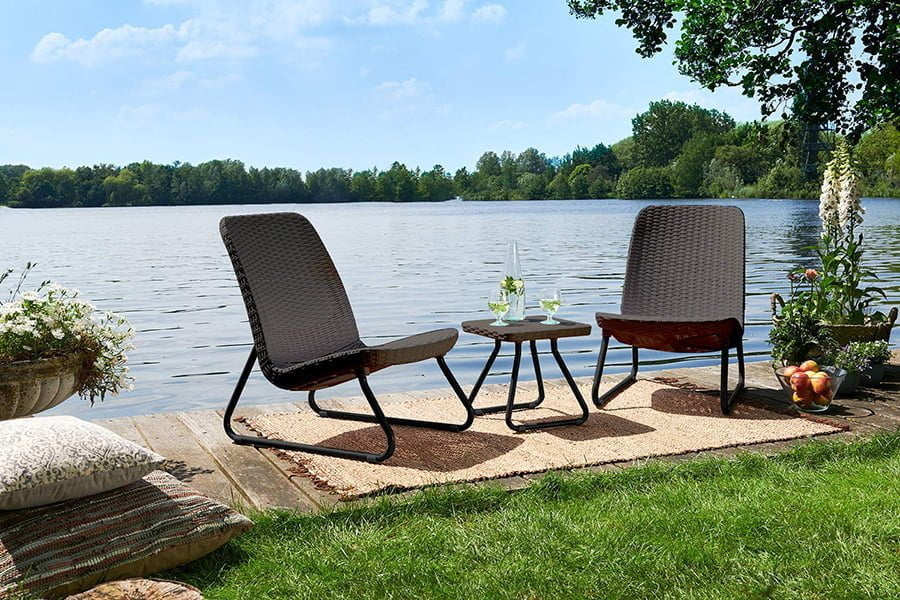 Resin is another durable material to check out for outdoor lounger chairs. It has that modern look too.
Pros: it has a lightweight design which allows you to easily move anywhere; made out of durable, rust-proof, all-weather polypropylene resin for exceptional durability; molded rattan design.
Cons: tabletop doesn't really match the look of the set; sits low to the ground.
Folding Adirondack Chair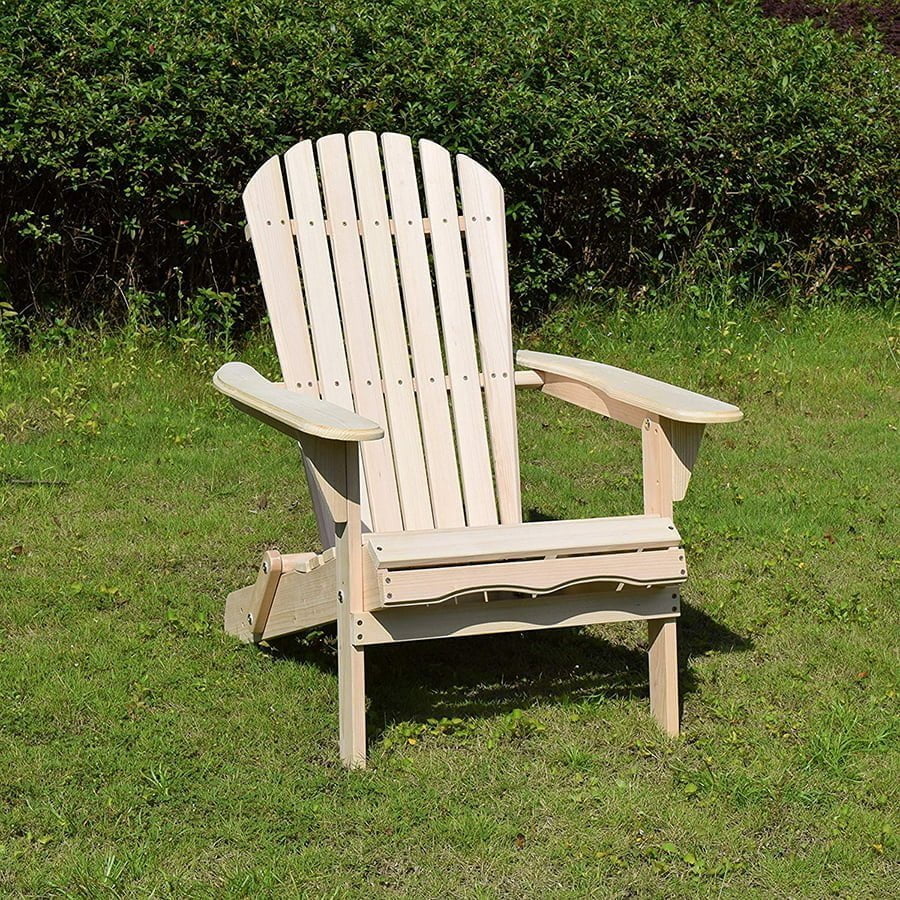 Not all Adirondack chairs fold but if you want to keep it compact when stowed away, you will want this functionality. This chair has a great wooden look too.
Pros: foldable chair for easy storage; made out of weather-resistant fir wood with a natural finish; lightweight and very easy to handle; can be painted or stained to match other patio furniture.
Cons: nearly flat which sits low to the ground; no locking mechanism.
Lifetime Adirondack Chair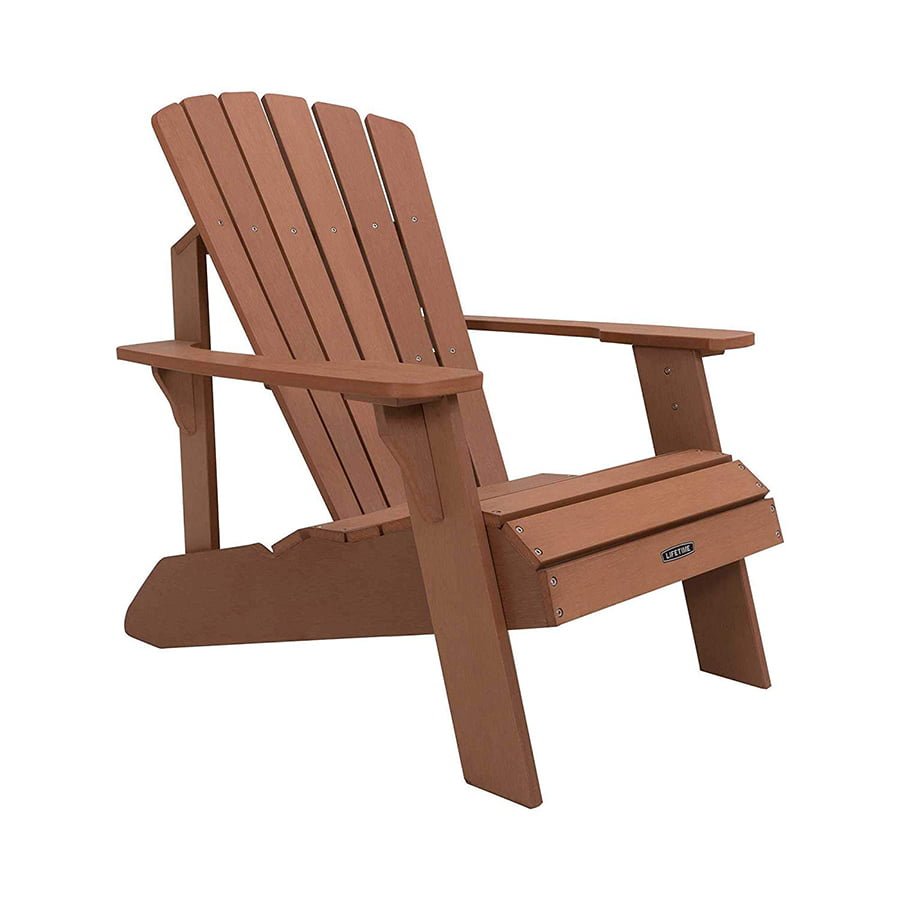 It may or may not last you a lifetime but this brand is popular among loungers. If you trust a popular brand then you might consider this chair.
Pros: rust-resistant finish (will not crack, chip or peel); UV Protected Polystrene; stain-resistant and easy to clean; stainless steel screws; looks great in porch and very comfortable.
Cons: assembly is a bit of a challenge.
Wood Adirondack Chairs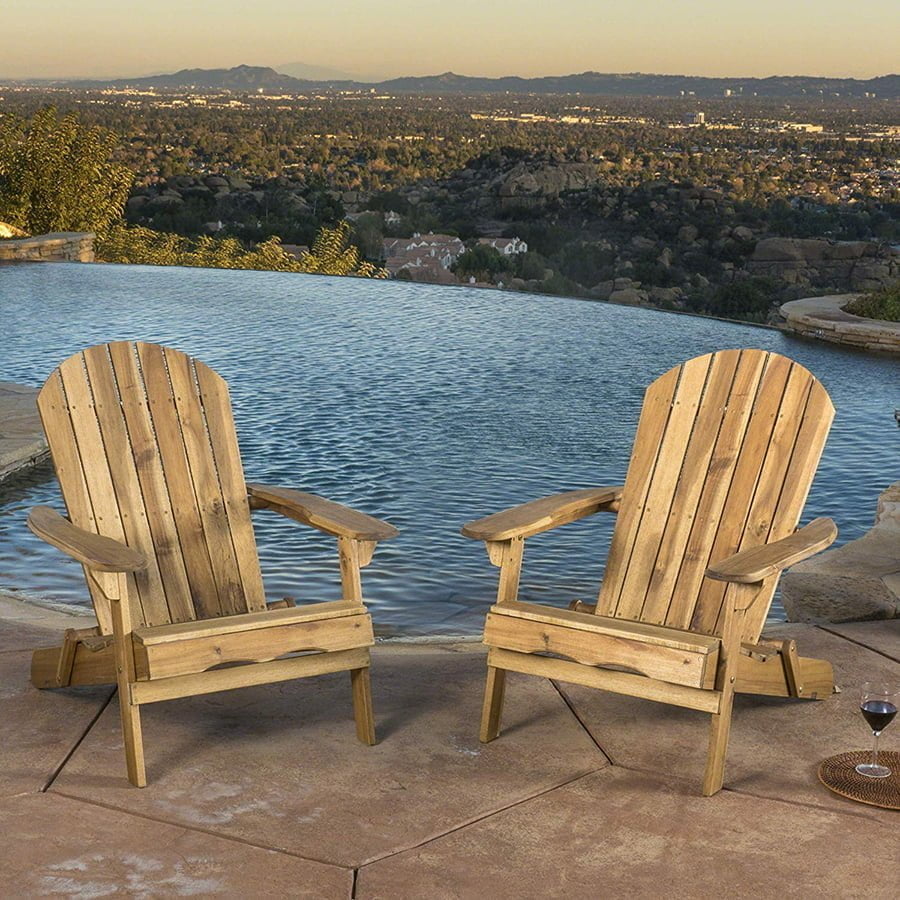 Wooden Adirondack chairs are classic even if the material isn't as weatherproof. However, there's nothing that a good wood finish and seal would help. The look is timelessly classic and you simply may want these chairs.
Pros: assembly is very easy; the wood is well-finished and the fasteners are of high quality; sturdy and good quality chairs with its reasonable price; these chairs are a great addition to any outdoor space.
Cons: includes only 1 chair, not a set of two.
Teak Adirondack Chairs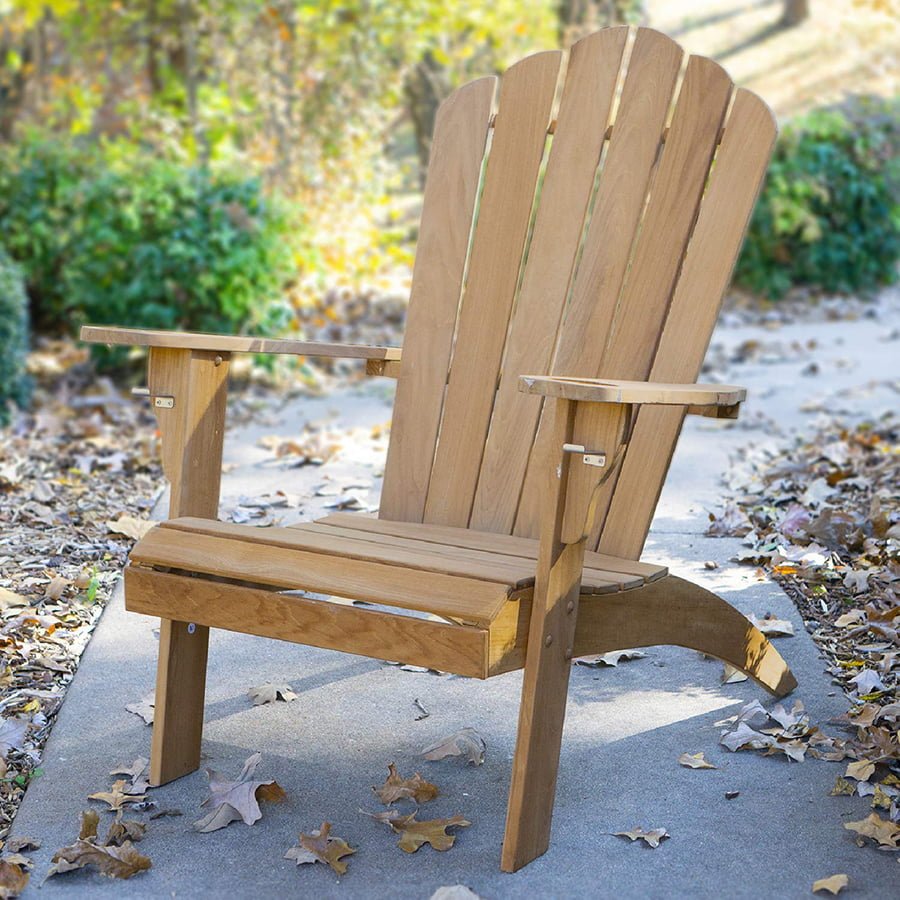 When it comes to the choice of wood some are better than others for outdoor chairs. Solid teak is one of the best materials for this type of chair.
Pros: crafted from the finest quality solid teak wood which is very durable; it holds up well against all weather; this chair has two cupholders; designed with wider and deeper seats; it delivers extra comfort.
Cons: pre-drilled mounting holes are too close to the edge of the wood.
Composite Adirondack Chairs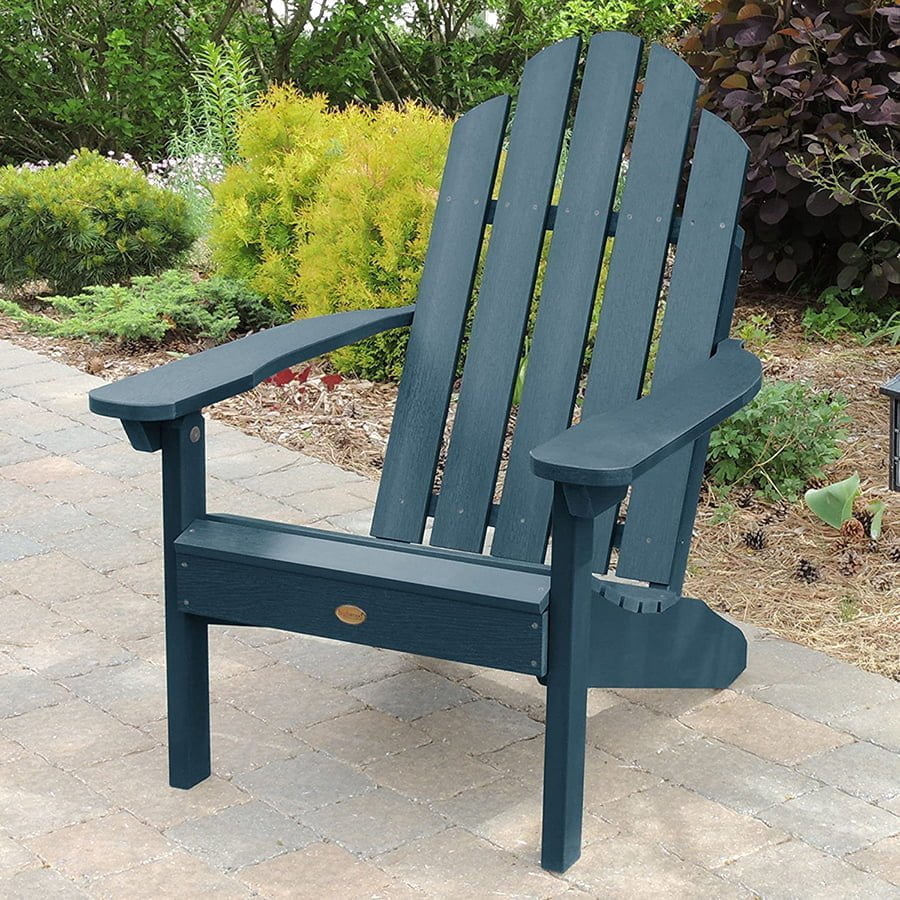 Composite materials will always be more durable than wood because they are built to last. They are a lot more attractive than polyester too.
Pros: built-in UV Protectors so that colors don't fade; it is the perfect assimilation of comfort and style; it has a natural wood color; comfortable and very sturdy; very high quality and quick and easy to assemble.
Cons: seat is too low (there's no way to adjust the seat).
Modern Adirondack Chairs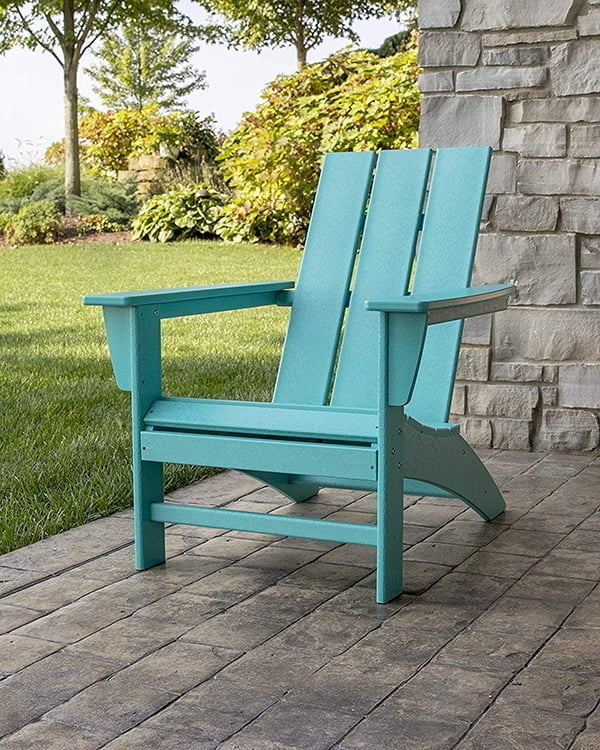 The classic look is well sought-for but consider the modern design options which bring more decor interest to your outdoor space.
Pros: all-weather durability; comfortably contoured seat; the waterfall front adds style and comfort; extremely durable and built to last; very easy to clean.
Cons: this chair does not fold up.
Tall Adirondack Chairs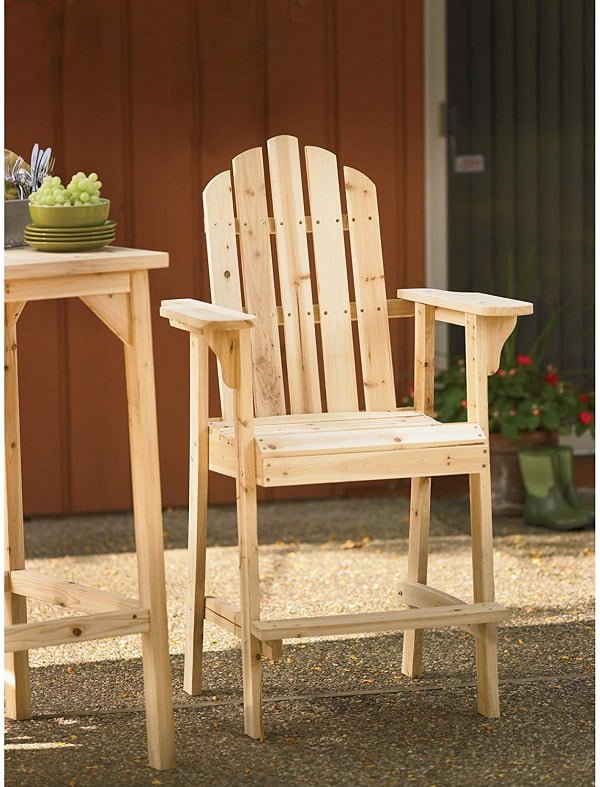 Most Adirondacks are low to the ground, it's in the nature of their lounger design. But you may want the look and some of the design benefits while having a tall chair that can be used at a standard table.
Pros: made of natural wood; unfinished design leaves you the option to choose a finish.
Cons: no wood finish; some edges are too sharp.
Liked this article? Here's what you can read next:
---
Disclosure: As an Amazon Associate we earn from qualifying purchases.