Last updated on September 23, 2023
Explore the serenity and charm of rural life as we delve into designing a cottagecore living room, where simplicity meets rustic elegance.
Dive into the enchanting world of cottagecore aesthetics, where you can transform your living room into a cozy countryside retreat without breaking the bank.
This article is packed with practical tips and creative ideas that will help you bring the serene, rustic charm of cottagecore to your space.
From selecting the perfect color palette, to sourcing vintage furniture, to adding the final touches with handmade accessories, every detail is covered.
So, get ready to create a living room that's not just visually appealing, but also a reflection of your love for nature and simplicity.
Shiplap Wall and Picture Gallery Behind TV and Lots of Plants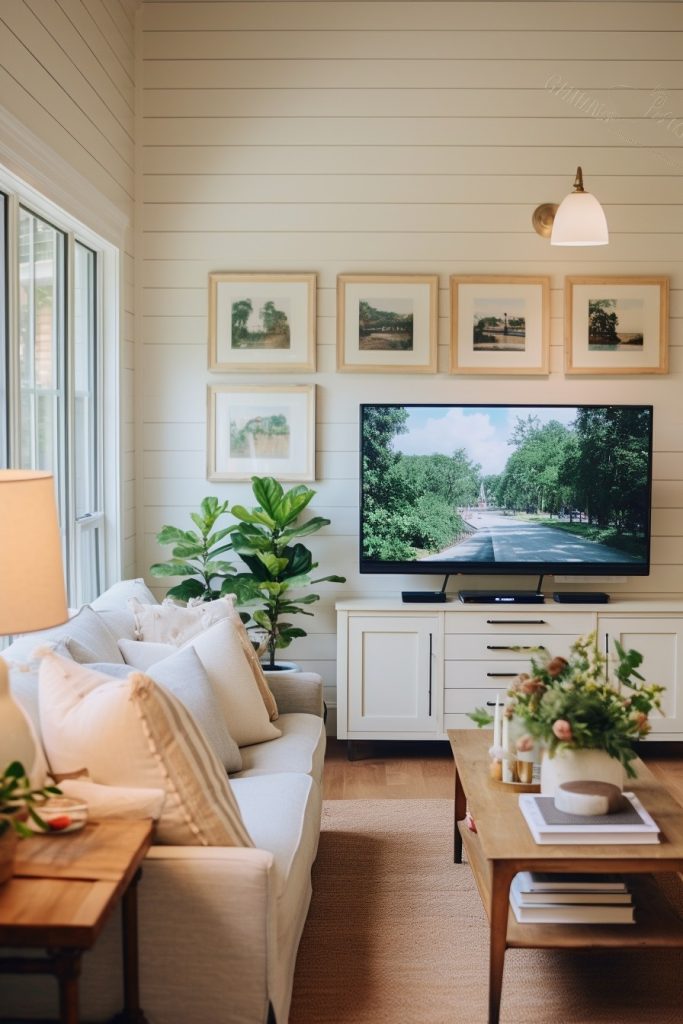 Adding a shiplap wall can instantaneously inject a cottagecore vibe into your living room. This style of wood paneling, originally used in shipbuilding due to its weather resistance, adds a rustic touch and a sense of texture to the space.
Consider designing a picture gallery around your TV with frames of varying sizes and styles. The TV then becomes part of the gallery wall and not merely an isolated screen. From family portraits to art prints and letters, anything can be framed to represent your unique journey.
Plants can bring lively energy to the room with their vitality and freshness. Emphasize on leafy green plants, ferns, English ivy, or even a fiddle leaf fig. Position them at different heights with the help of stands, floating shelves, or even hanging baskets. Not only do they compliment the shiplap wall and gallery, but they also work as natural air purifiers, making your space healthier and more inviting. Plan for sufficient sunlight or use plants that thrive in low light conditions.
Remember, a proportionate combination of each element is key. The beauty of your living room resides in the balance of these components, generating a serene and inviting cottagecore ambiance.
Cottagecore Jungle House Decor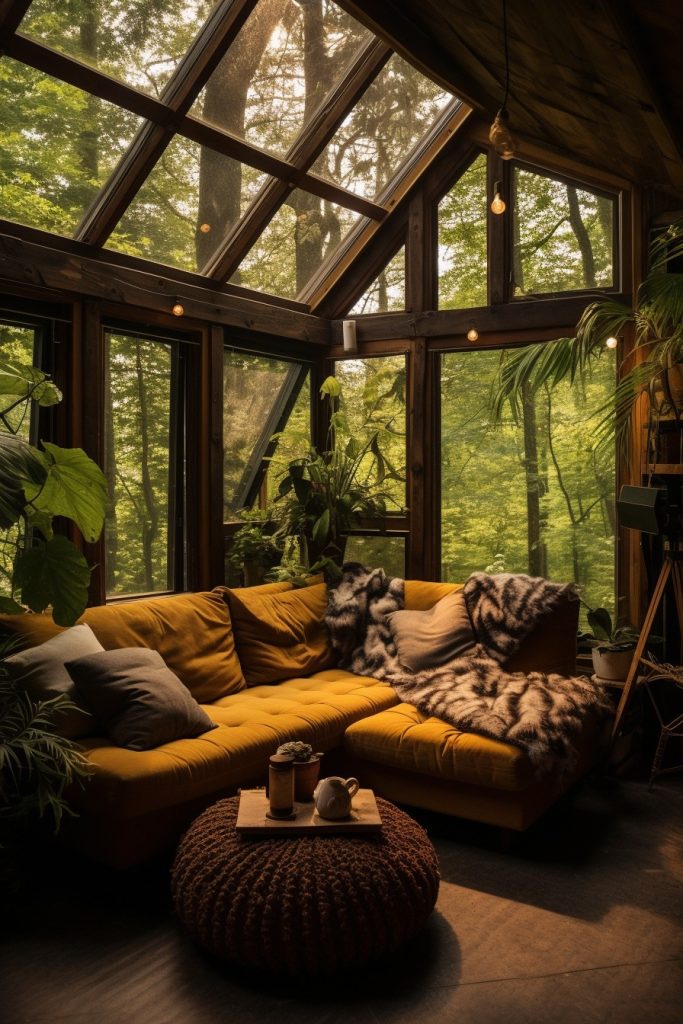 Drown in lush greenery with thriving house plants, like ferns, philodendrons, or succulents which bring life to any living space, enhancing the enchanting feel of a Cottagecore jungle.
Prioritize integrating eco-friendly materials such as bamboo, jute or cotton for throws, cushions, or mats to keep the organic essence alive.
A comfortable rattan armchair, a striking old-world map or botanical prints adorn the walls, adding an explorer's touch to your home.
Make sure to use ample natural light and earthy shades to maintain the blend of outdoors and indoors.
Balance these elements to design your very own urban jungle retreat that radiates tranquility and warmth.
Hygge Interior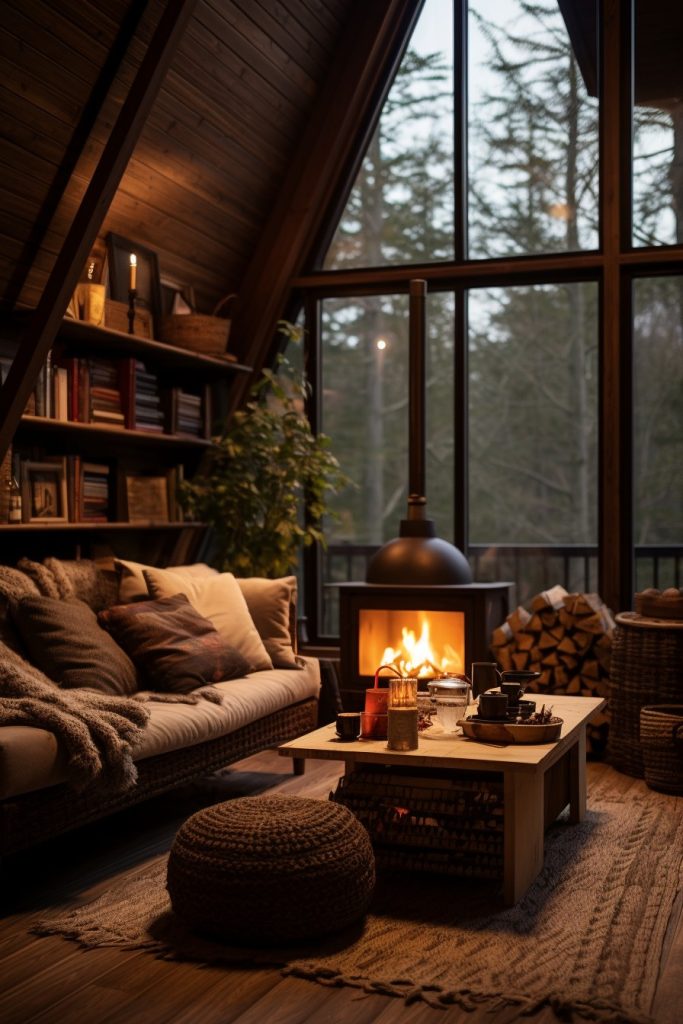 Embracing the Danish concept of 'Hygge' focuses on promoting a sense of comfort, coziness, and contentment. It's all about texture – think plush cushions, fuzzy blankets, and natural materials like wood and wool.
The color palette should gravitate towards calming neuter shades and soft pastels – perfect for crafting a relaxed, welcoming environment.
Amplify this aesthetic with a warm glow from table lamps, candles, or a roaring fire. For added charm, sprinkle around family photos in rustic frames.
Don't forget to introduce elements of nature like small-sized potted plants or art with leaf motifs to create a serene retreat.
Remember, Hygge is less about perfection and more about creating a space that feels inviting, homely and 'lived in'. This style proves that comfort and aesthetic appeal can effortlessly co-exist, even on a budget.
Vibrant Hues in Bohemian Design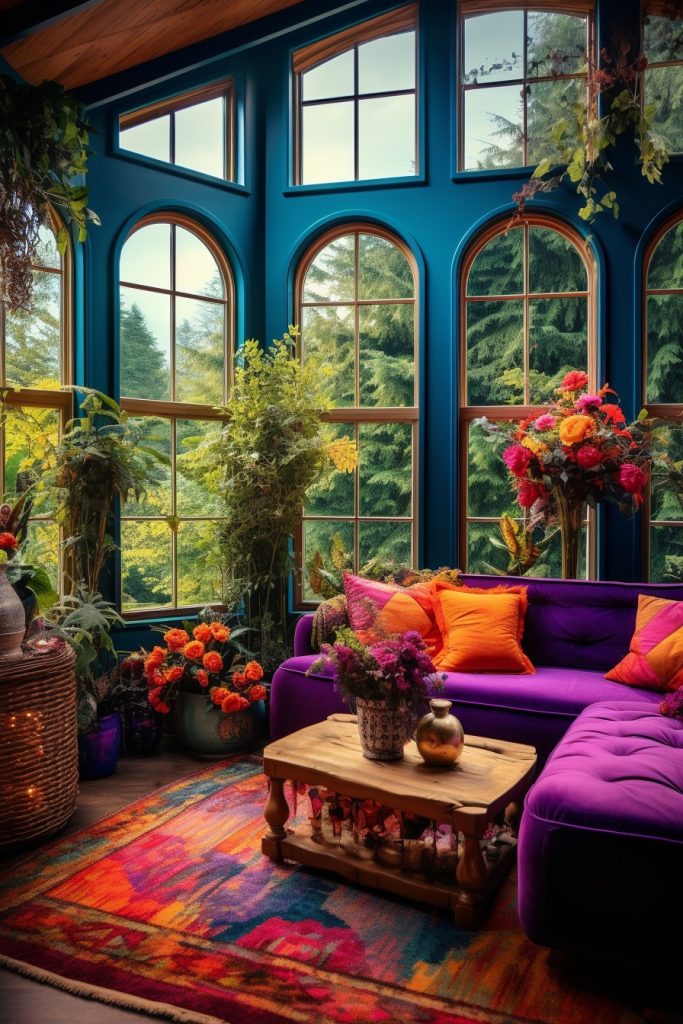 Embrace the freedom of bohemian design by intertwining vibrant hues with earthy tones to strike a mesmerizing contrast.
Think jewel tones like ruby reds, emerald greens, or sunset golds, paired with neutrals like white, beige, or light grey — a perfect, vivid representation of the boho theme.
Don't shy away from incorporating these bold colors in the form of pillows, mosaics, tapestries or rugs.
Remember, it's all about balance: offset your brighter colors with plenty of calming neutrals to create a relaxing yet stimulating space.
Hunker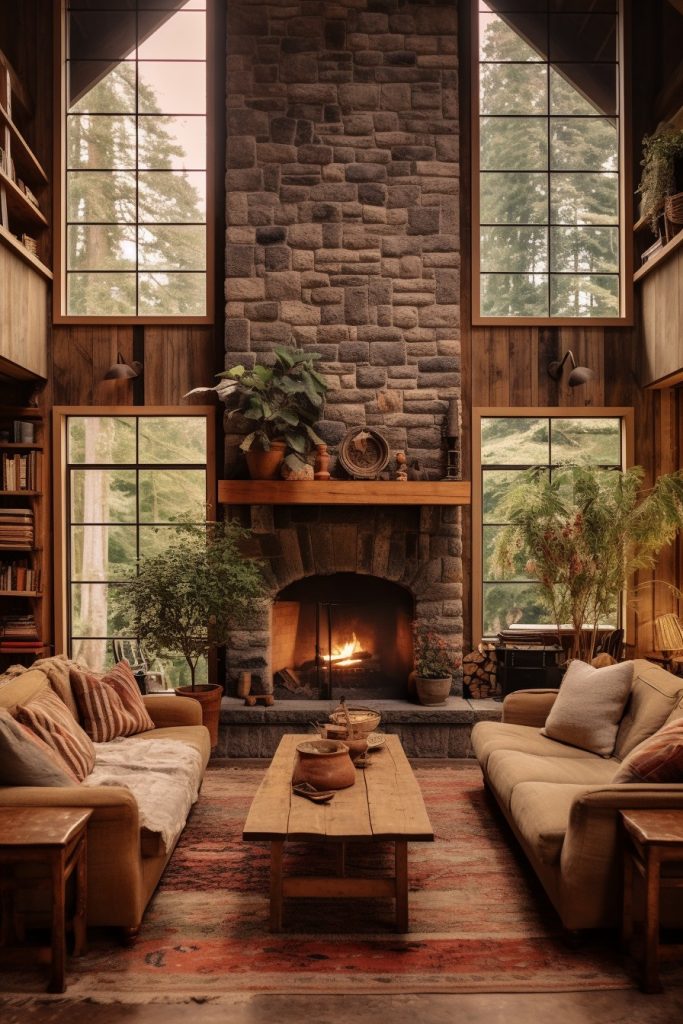 Hunker encapsulates the essence of cottagecore with its wholesome and comfortable style.
With an emphasis on functionality, thrifted finds, and natural materials, it delivers a sense of rustic charm.
Consider incorporating repurposed wooden furniture or a patchwork quilt.
A few vintage trinkets paired with a muted color palette, and you'll craft a cozy sanctuary that mirrors the warm appeal of rural life.
Remember, true hunker style embraces simplicity and sustainability at its core.
Boho Chic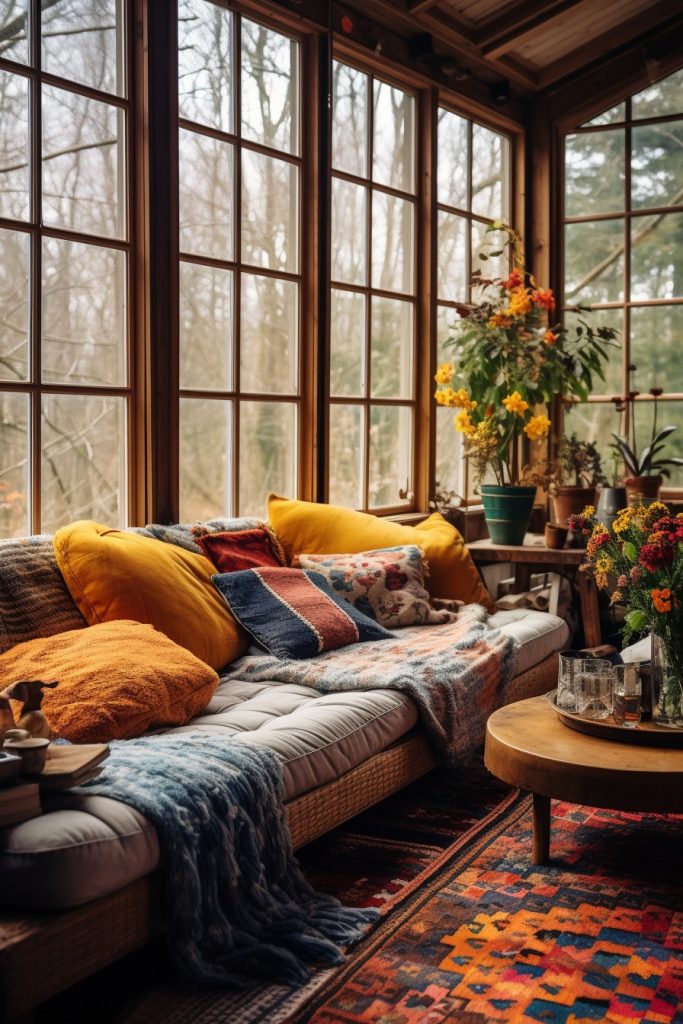 Pairing eclectic and diverse elements is a definitive trait of the Boho Chic style. Throw in an array of textures such as lace, linen or even faux fur. Incorporate vintage furniture and place an emphasis on natural elements. This could be through woven baskets or wooden accents.
Mix bold, bright patterns with soothing neutrals for that effortless, carefree vibe right in your living room. And remember, the key to pulling off this look is balancing the hectic mix of elements by focusing on a narrative that ties it all together.
Caledon Country House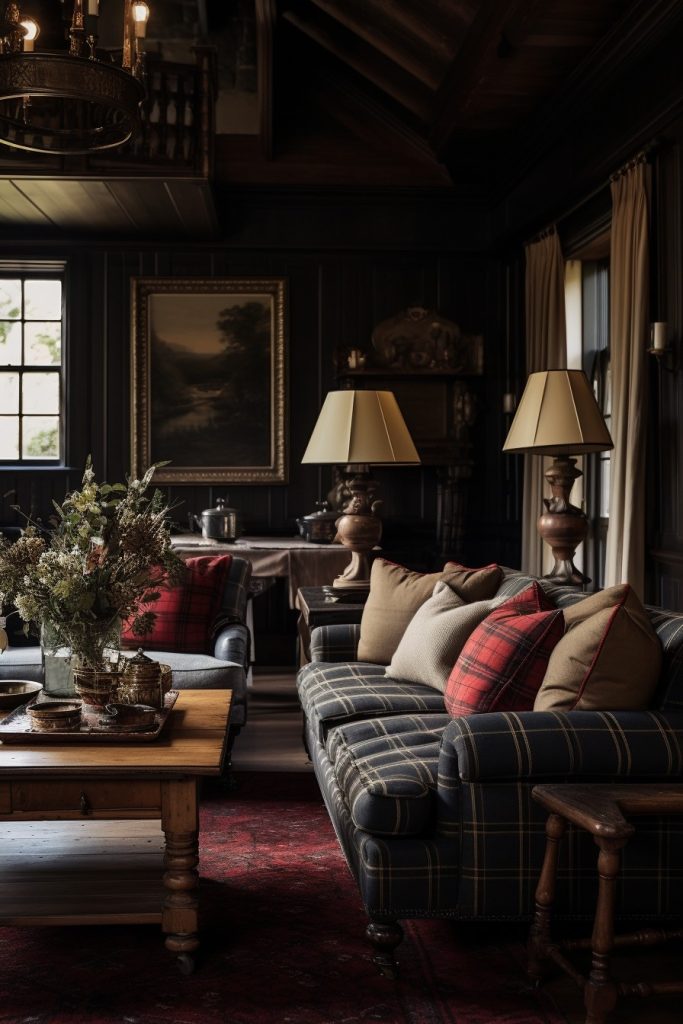 With its charming mix of comfort and elegance, the Caledon design allows you to capture the soothing ambiance of country living.
Drawing inspiration from rustic farmhouses, its features include old-world furniture pieces, cozy textiles, and earthy color palettes.
Imagine weathered wood tables paired with plush armchairs, throw blankets, and cushions in plaid or floral patterns.
Walls are often a creamy white palette to offer a fresh and open feel to the living space.
For a hint of green, indoor plants like ferns and fiddle leaf figs add a warm, welcoming touch.
This design style epitomizes the comfortable look with a romantic touch that is Caledon Country House.
Vintage Home Collection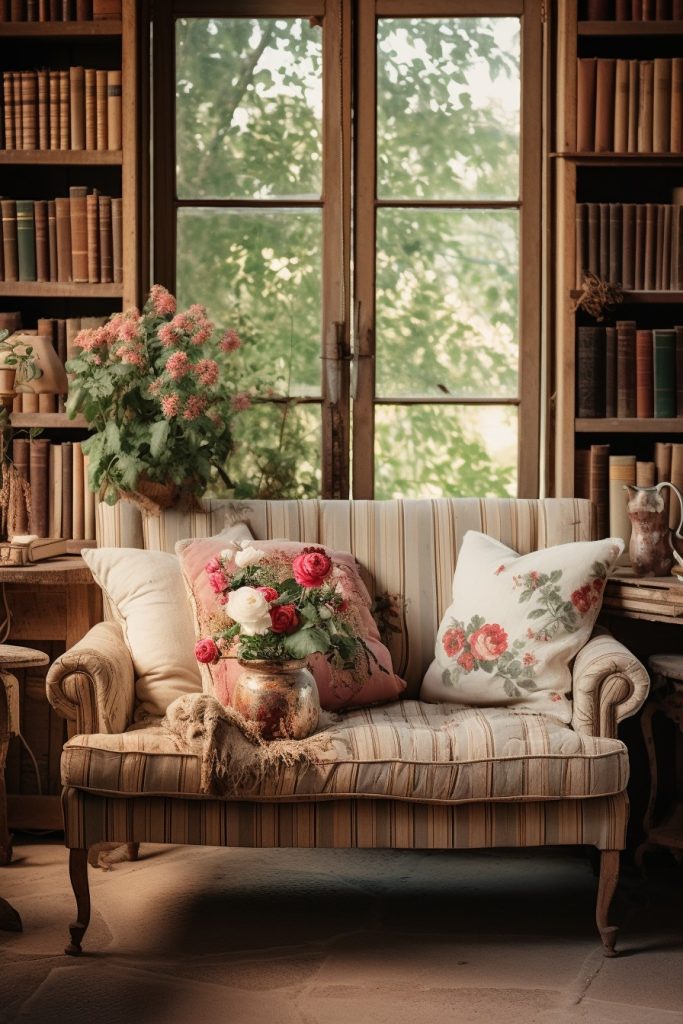 For a true Cottagecore ambiance, merging the old with the new is key. Opt for furniture and decor pieces that have a story to tell, creating a timeless feel. Antique markets, thrift shops, and even your grandparents' attic could be gold mines for finding vintage trinkets such as typewriters, rotary phones, or well-loved novels. Subtle wear and tear add character and avoid creating a space that feels overly curated. Remember – balance is crucial. Being strategic with incorporating modern elements ensures your living room doesn't feel like a museum. Keep things comfortable and functional; after all, your living room is for living.
Green Living Room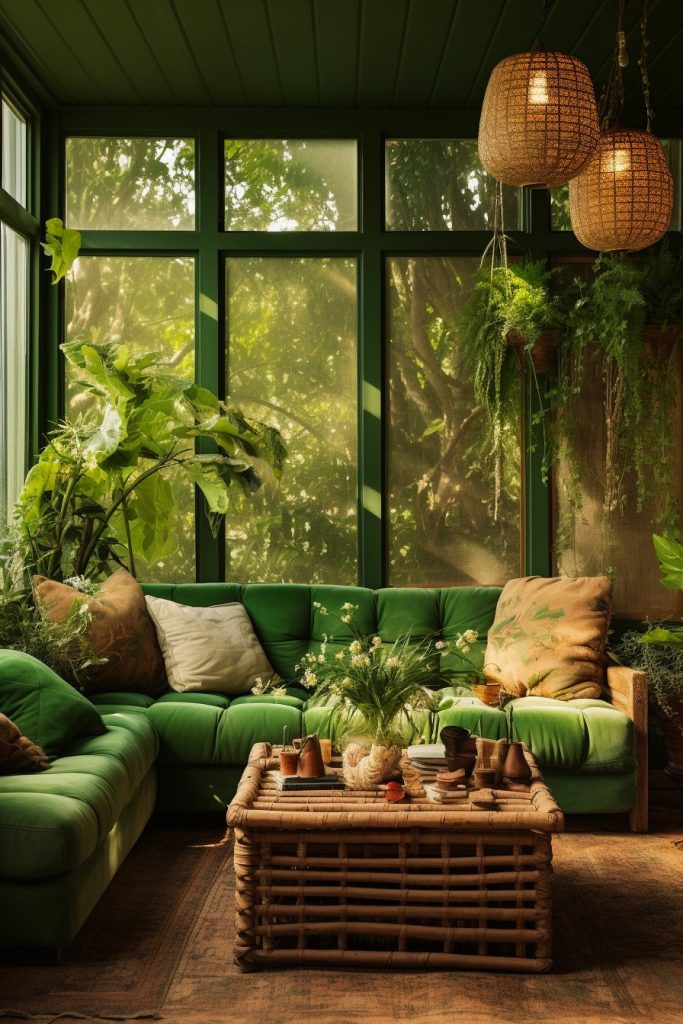 Harness the power of nature by infusing your space with varying shades of green. Mixing different tones from spearmint to forest can create a layered experience, providing depth to your living room.
Utilize plants to provide a touch of freshness; they help purify the air and introduce a relaxing atmosphere. Play around with fabrics, choosing soft furnishings like cushions and rugs in complementing colors. You can also consider a feature wall or wall art to tie the theme together for an inviting, vibrant room that speaks of tranquility and renewal.
Get adventurous with botanical prints on curtains or furniture upholstery. This color scheme flows with almost all seasons, keeping your living room ever appealing.
Fairycore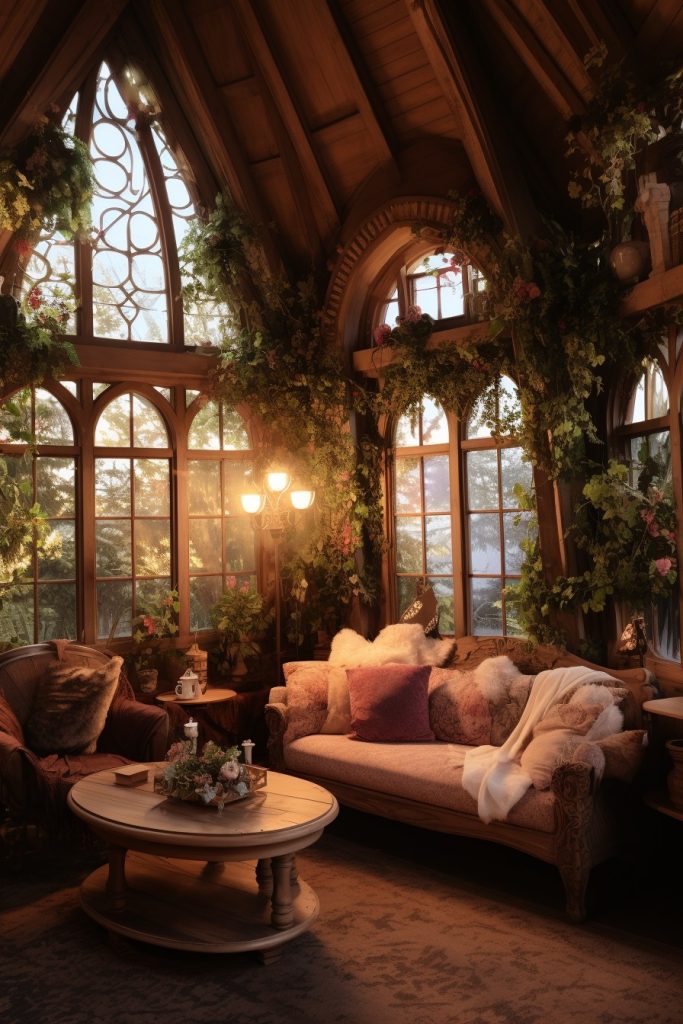 Brimming with enchantment, Fairycore is an aesthetic approach that draws inspiration from folklore and the ethereal world. It infuses magic into everyday decor through delicate pastel tones, nature-inspired textiles, rustic elements, and fairy tale motifs.
Design a theme around this aesthetic by selecting whimsical details – consider installing brass fixtures, selecting floral or celestial patterns for upholstery, and incorporating shabby chic furniture. Consider a spring-like color scheme with pale blues, greens, and pinks. Complete the look with fairy lights, lantern-style lighting, and antique treasures. With these elements, your living room can easily echo the romantic charm and simple tranquility found in the pages of a beloved fairy tale.
Beautiful Porch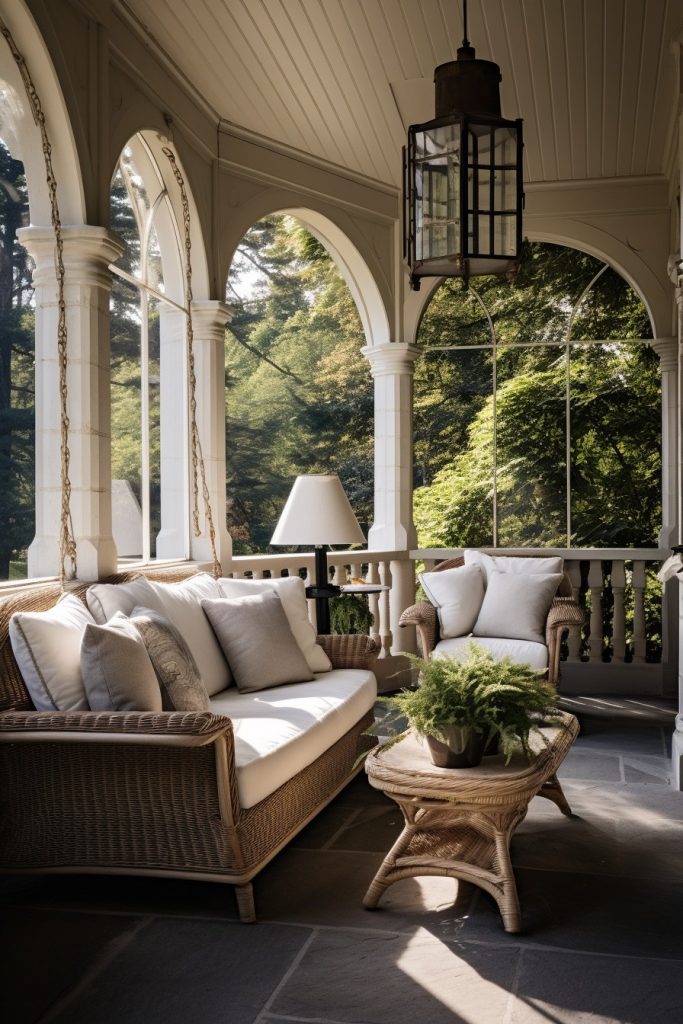 Creating an inviting, magnificent porch ties into the essence of Cottagecore by cherishing outdoor living spaces.
Start with simplistic and comfortable furniture such as wicker chairs or loveseats adorned with floral or plaid cushions.
Consider repurposed tables or vintage crates for versatility and extra charm.
Small, white-painted pots filled with colorful geraniums or daisies echo the delightful nature of the Cottagecore aesthetic.
Use string lights or lanterns to elicit a warm, cozy ambiance during evening chats or early morning sips of chai.
Accentuate the porch with a traditional wooden swing or hammock, perfect for peaceful afternoon naps.
Lastly, a faded, elegant rug and lace curtains add a touch of softness and femininity, truly embodying the Cottagecore concept.
Aesthetic Style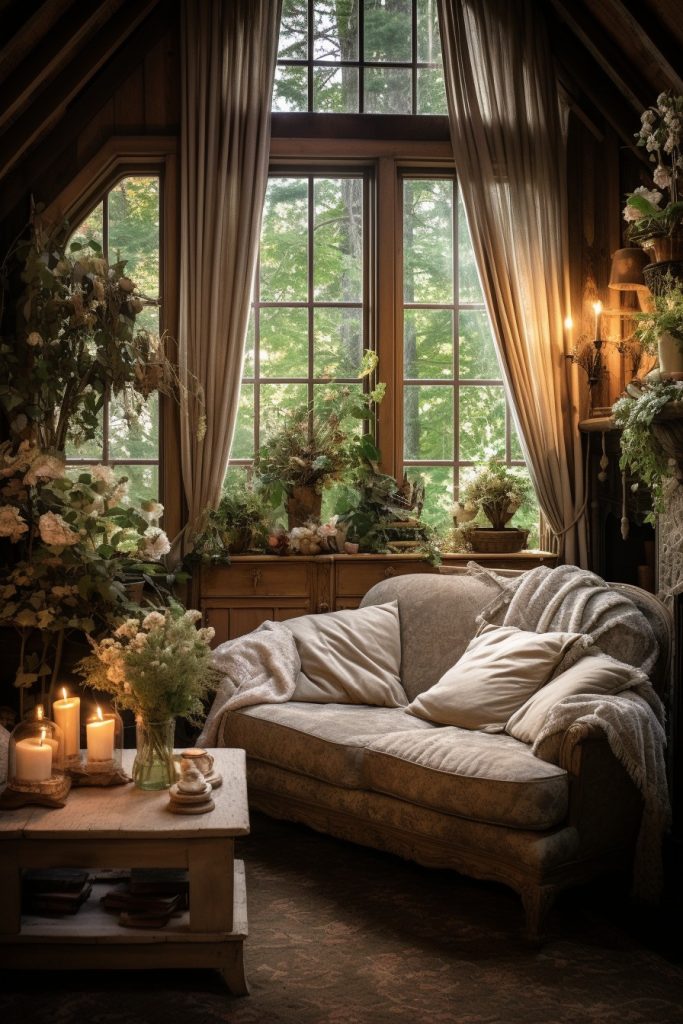 Embracing an aesthetic style in your cottagecore living room promises to infuse it with a distinctive personality. The charm lies in its fusion of elements that blend nature, nostalgia, and warmth.
Employ muted colors with a hint of rustic touches to evoke a dreamy and whimsical atmosphere. Layer textiles such as woven rugs, soft knits, and macrame elements for an idyllic appeal.
Include vintage furnishings adorned with floral or chintz prints, and don't shy away from a complementary mix of patterns. For a final touch, arrange an array of indoor plants that will provide a refreshing finish, enhancing the overall serene vibe.
With the right balance, your living room will resonate with a soothing ambiance, inviting you to sit back and enjoy the cottagecore aesthetic.
Whimsical Room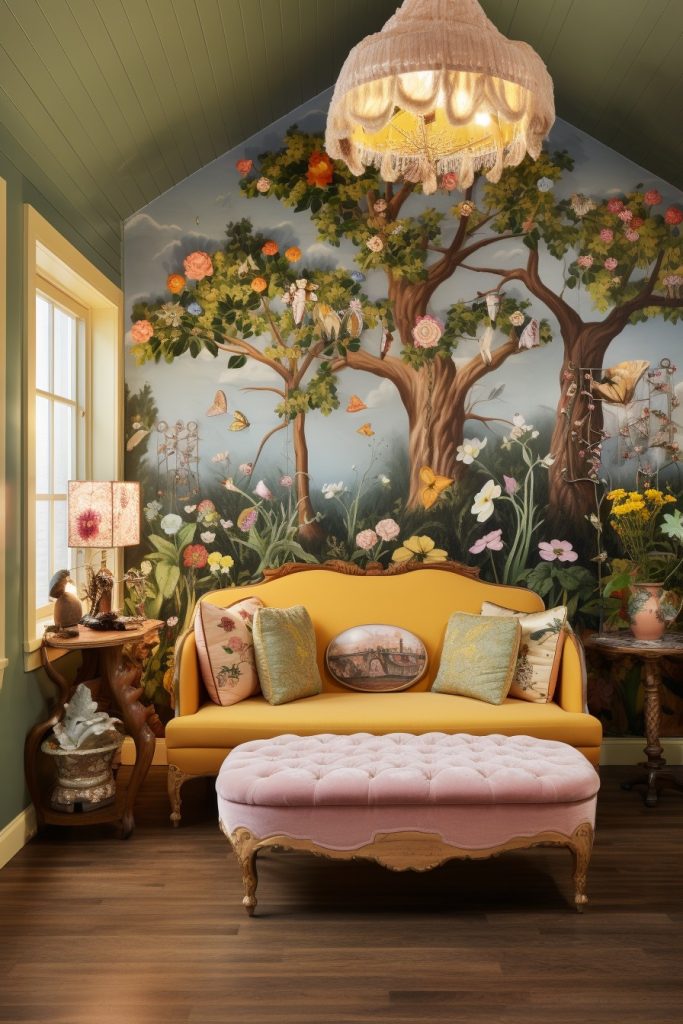 Investing in a rich tapestry of colors, from dusky pinks to sunny yellows, instantly infuses a casual, laid-back atmosphere, synonymous with the cottagecore aesthetic. Classic strains of floral prints on soft furnishings such as cushions, curtains, or rugs align perfectly with this theme.
Don't shy away from mismatched furniture; the diversity adds a peculiar charm. A vintage armoire or a hand-me-down coffee table can be the statement piece. Allowing for a little clutter, like favorite books on living room tables or displaying trinkets, aligns with the lived-in, whimsical feel.
Furthermore, nothing speaks of enchanting charm like fairy lights. They are both cost-effective and provide a gentle glow, transforming any space into a whimsical wonder. While remaining purposeful, the used objects should evoke a sense of nostalgia, romance, and front porch living.
Irish Country House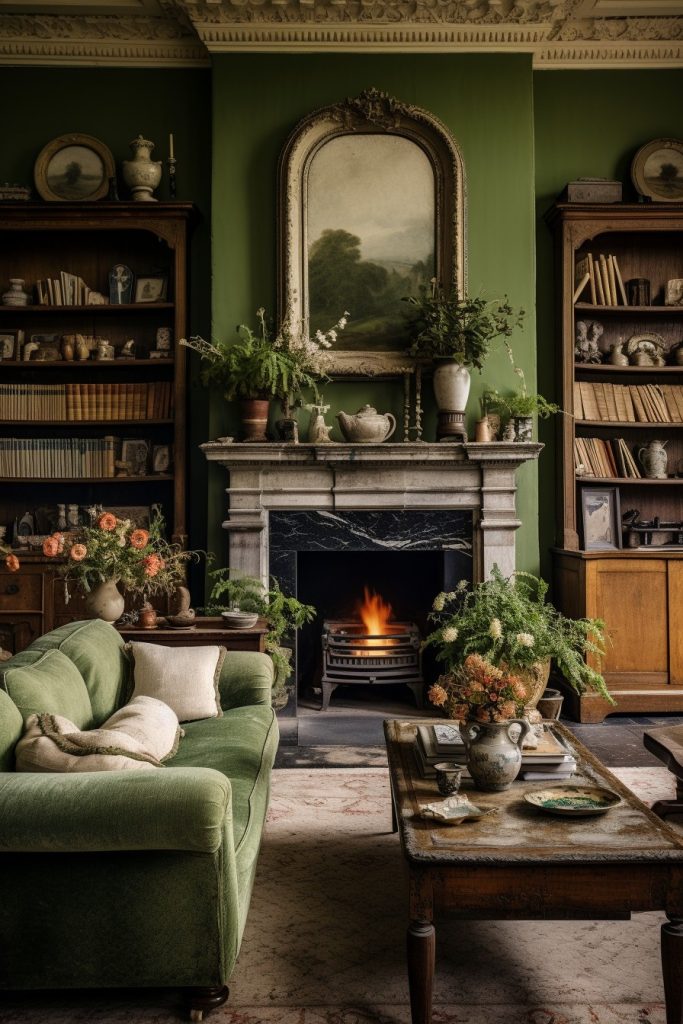 Drawing from old-world charm, an Irish Country House aesthetic is centered around vintage accents, substantial wood furniture pieces, and earthy color palettes.
Rustic accents, like weathered pots, woven baskets, and aged area rugs, add hefty layers of character.
The utilisation of stonework and thick wooden beams round out the architectural elements.
Maintain a plush, cosy vibe with comfortable seating, quaint throws, and an open fireplace.
This style is perfect for those wanting to marry traditional elegance with a feel of comforting homeliness.
Aesthetic Wallpaper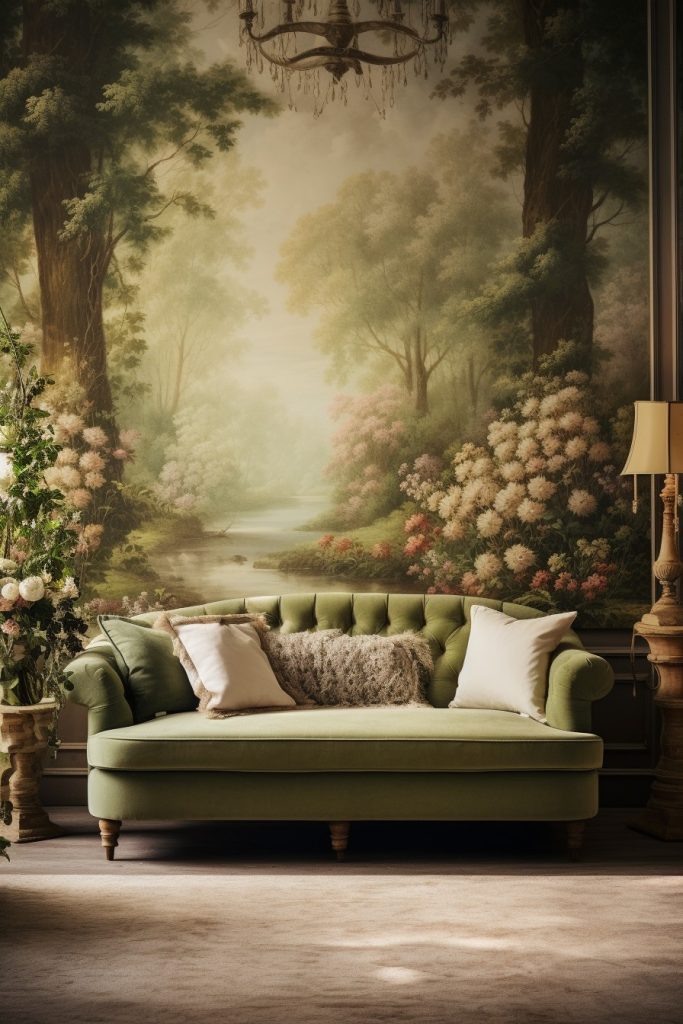 Selecting the right wallpaper can significantly enhance the overall cottagecore aesthetic of your living room. Opt for designs emphasizing themes of nature, tranquillity, and simplicity.
Florals, checks, and pastoral scenes are ideal for capturing the real essence of countryside charm. Consider soft, muted colors such as pastel shades of blue, pink, and green.
Add an additional layer of texture by choosing a wallpaper with a matte gloss finish. Yet, it's crucial to remember the balance, ensuring that the pattern isn't overwhelming other elements of the room.
Shelf Decor Styles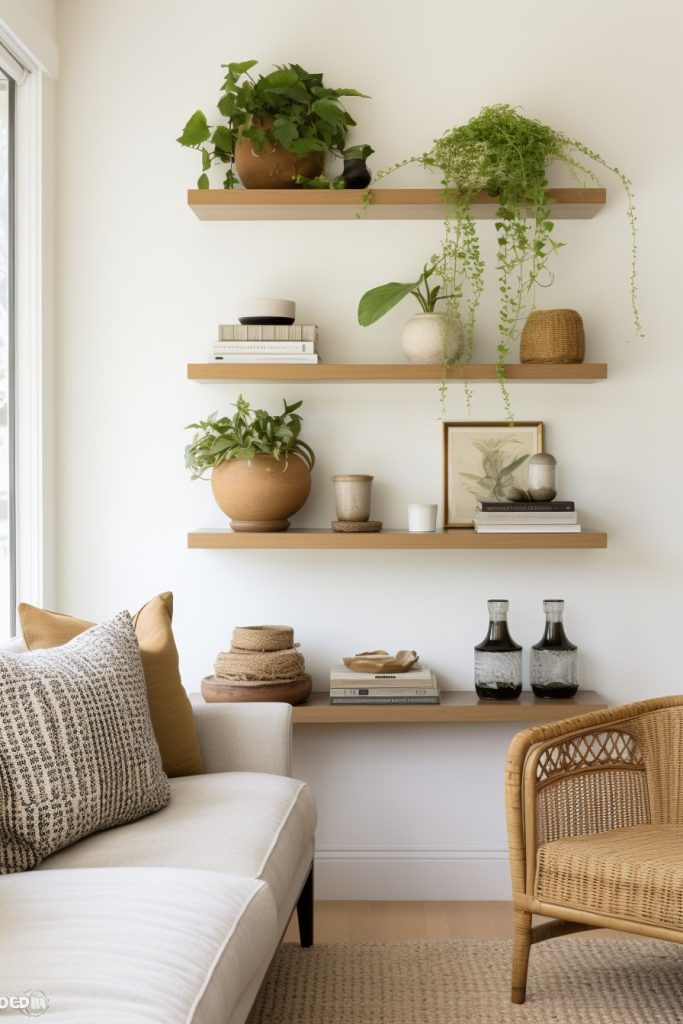 Capitalizing on shelf space can give your cottagecore living room an authentic, cozy touch. Start by choosing rustic wood or faux-aged metal shelves for a quaint, pastoral look. Placement is crucial – stagger them creatively on your walls.
Next, curate a collection of delicate trinkets and vintage books. Floral-patterned china, brass candlesticks, and dried flower arrangements are quintessential cottagecore elements. Don't neglect verticality – arrange items at different heights for a varied and pleasing aesthetic appeal.
Incorporate elements that add greenery. Indoor plants like English Ivy or Snake Plant add a natural touch and bring life into the room. Consider succulents for a low-maintenance option.
Finally, remember that less is often more in cottagecore decor. The aim is to create a warm, lived-in atmosphere, not to clutter the shelves with unnecessary items. Ensure each piece contributes to the overall aesthetic without overwhelming the space.
Eclectic Interior Design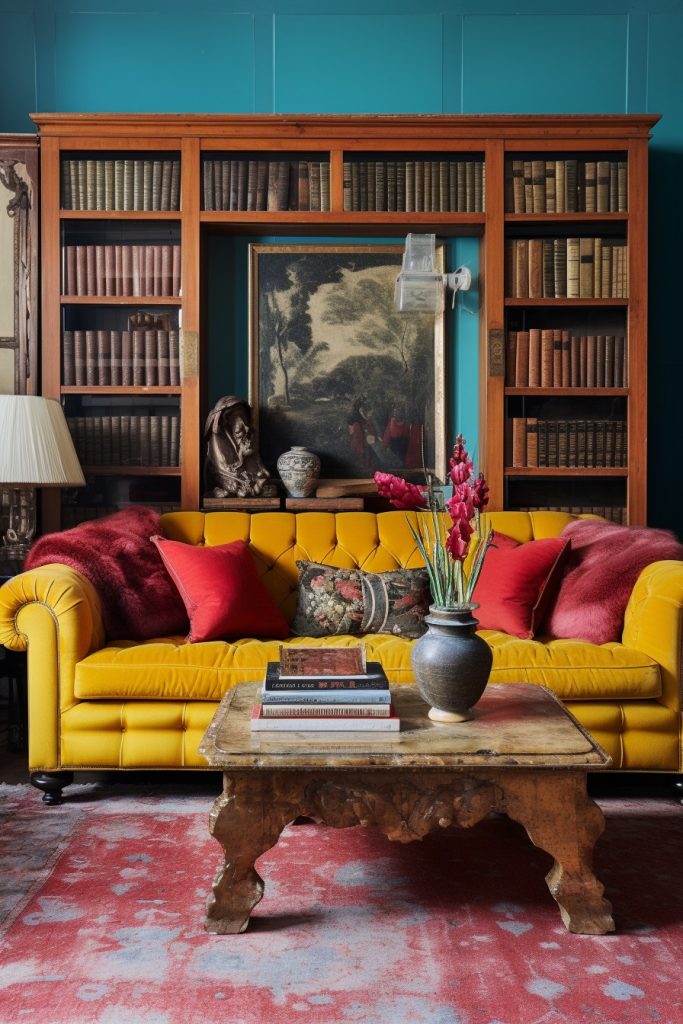 Going eclectic with interior design involves a mix-and-match methodology. It's about harmonizing distinct, sometimes contrasting elements like various styles, periods, colors, and patterns.
A color palette of earth tones and pastels forms the perfect base. Fill the room with vintage-style furniture that has a distressed or weather-beaten finish, topped with patterned cushions.
Hang frames with botanical prints on the walls and ornate mirrors with gilded edges. Add to the warmth with a faux fur rug and lots of indoor plants in terracotta pots.
This style embraces individuality, freedom, and whimsy – making it perfect for anyone looking to cultivate a unique living space.
Lavender House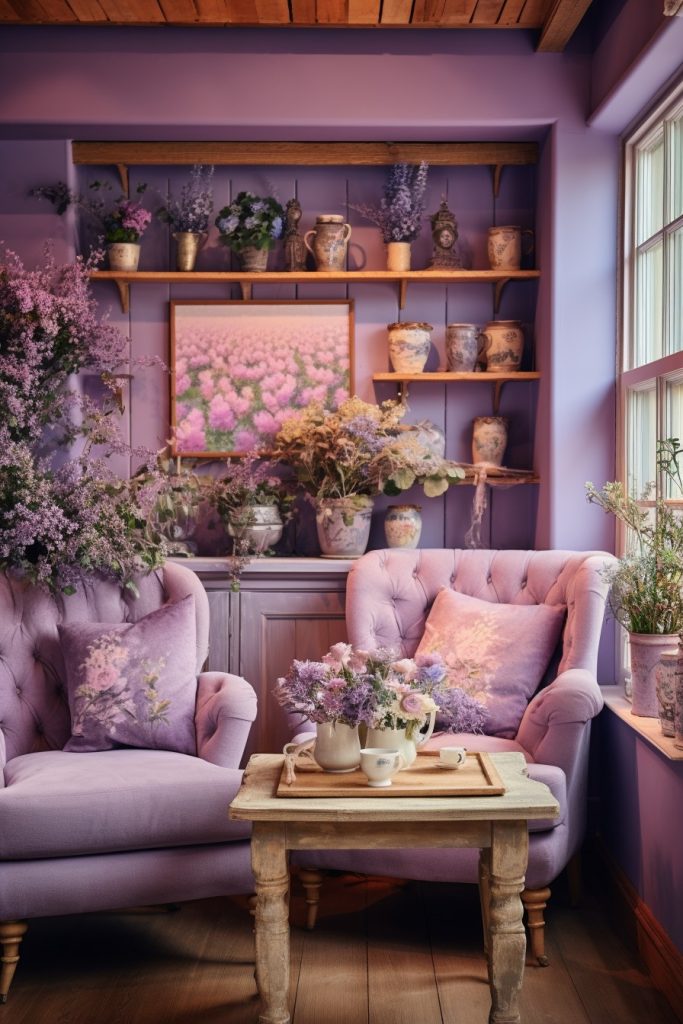 Incorporating the colors of lavender can offer a refreshing take on classic cottagecore aesthetics. Start with subtle accents like throw pillows and blankets or go bold with a lavender-hued couch centre stage.
Wall art showcasing fields of blooming lavender not only contributes to the color scheme but brings an element of nature inside. Meanwhile, dried lavender bunches can become an aromatic and visual treat.
The key is balance, ensuring the lavender tones blend seamlessly with other elements in the room, instead of overpowering them. Endeavor to create a coherent look which feels inviting, peaceful, and reminiscent of a countryside retreat.
Beautiful Autumn Decorations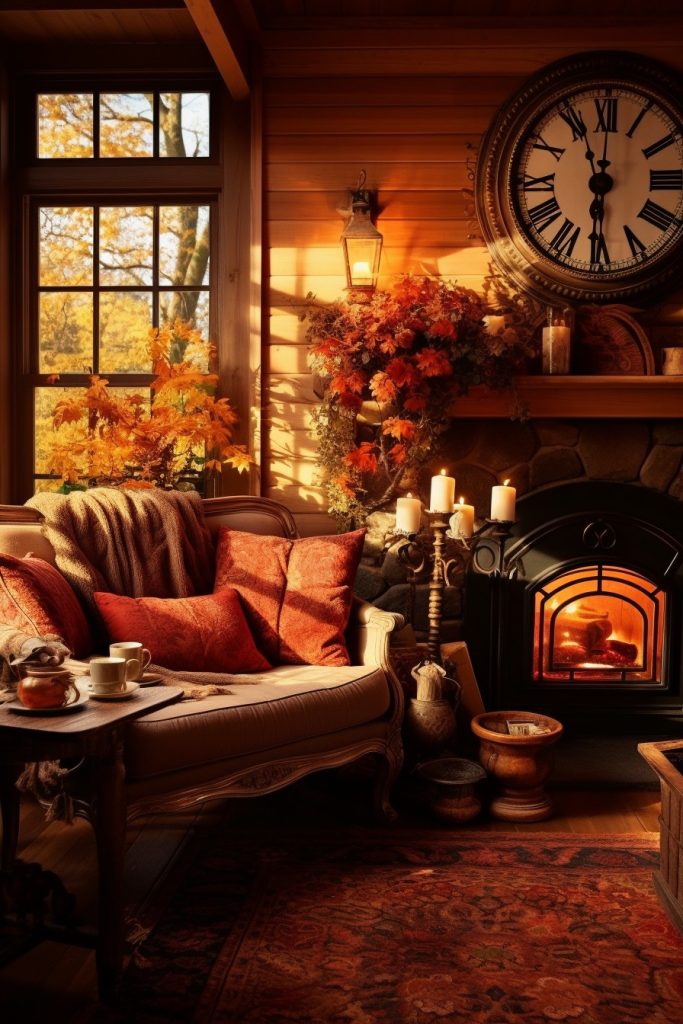 Embracing the change of seasons can greatly enhance your cottagecore living room, particularly during the vibrant autumn months. Consider incorporating a variety of fall hues through aspects such as throw blankets, cushion covers, or area rugs. Opt for rich, earthy colours that remind you of autumn leaves or golden sunsets.
Introduce nature through decorative items to elevate the fall atmosphere. Pine cones placed in a wooden bowl, vases filled with dried wheat or branches, or arrangements of faux autumn leaves can give a warm and comforting touch to the room.
Swap out lighter summer fabrics in favour of heavier curtains, carpeting, or upholstery material, in patterns reminiscent of the season. Tartan, houndstooth, or classic fall floral prints are ideal choices.
Lastly, aromatic candles give a subtle nod to the season. Scents like pumpkin spice, apple cinnamon, or even woodsmoke can impart a cosy, autumnal ambience to your living room.
Daisy Miss Rug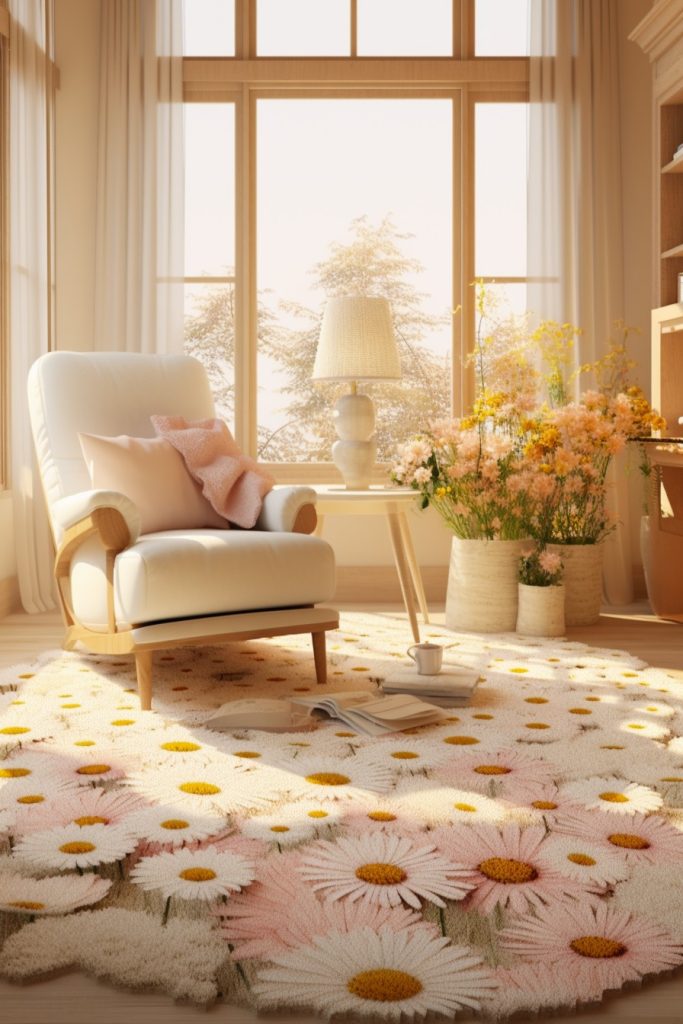 A Daisy Miss Rug completes any cottagecore living room with its charming appeal.
Embellished with distinct daisy patterns, it invokes a refreshing vibe synonymous with the countryside.
Captivating yet simple, this rug becomes the room's focal point while its muted colors beautifully balance other interior elements.
Be it layered with other rugs or spread as a standalone piece, the Daisy Miss Rug brings a cozy, whimsical feel to your living space.
Opt for sizes that fit your room proportionally, ensuring it caters both aesthetically and functionally.
Consider placement in high-traffic areas or under coffee tables for added depth and dimension.
Pro-tip: For a harmonious arrangement, match the rug with other daisy-themed accessories.
Enduring and easy-to-maintain, its rugged construction suits well for homes with kids and pets.
Recap
Liked this article? Here's what you can read next: