Last updated on September 21, 2023
Dive into the enchanting world of cottagecore as we embark on a creative journey to design an idyllic, rustic patio that brings nature closer to your home.
Embracing the cottagecore aesthetic for your patio doesn't have to break the bank. With a few clever DIY projects, thrift store finds, and some creative landscaping, you can transform your outdoor space into a charming, rural-inspired retreat.
This article will guide you through the process, offering tips on selecting the perfect vintage furniture, creating cozy corners with repurposed items, and cultivating a lush, cottage-style garden.
By the end, you'll have all the knowledge and inspiration you need to create your dream cottagecore patio on a budget.
Bohemian Decor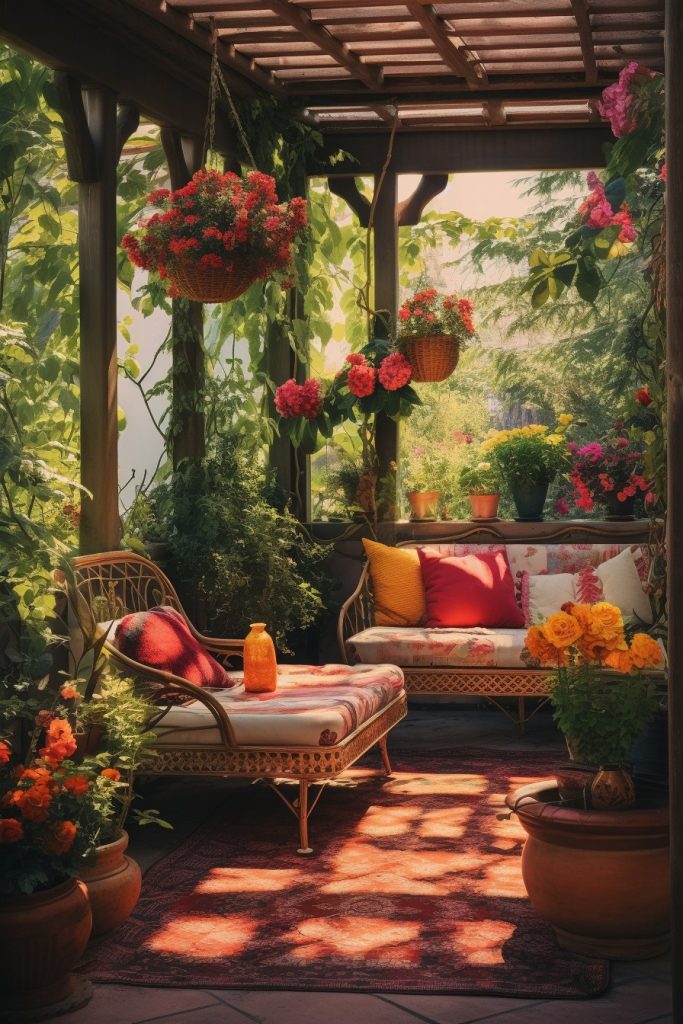 Embrace the essence of free-spirited aesthetics with untraditional, layer-rich, and comfort-focused Bohemian style.
Opt for an eclectic mix of colorful, ethnic, and vintage-inspired items.
Incorporate rattan or wicker furniture coupled with copious amounts of plants to create an indoor-outdoor feeling.
Mis-matched patterns can work really well against pleasant earth tones.
Remember, pillows, poufs, and macramé hangings are your allies here.
With Bohemian style, your patio becomes a warm, inviting nook that reflects a carefree, creative personality.
Committing to authenticity rather than uniformity is the key.
Multifunctional pieces can also aid to maintain a stress-free, calming environment.
With thoughtful placement and selection, achieve a harmonious chaos that perfectly balances comfort and visual intrigue.
Perfect Boho Vibe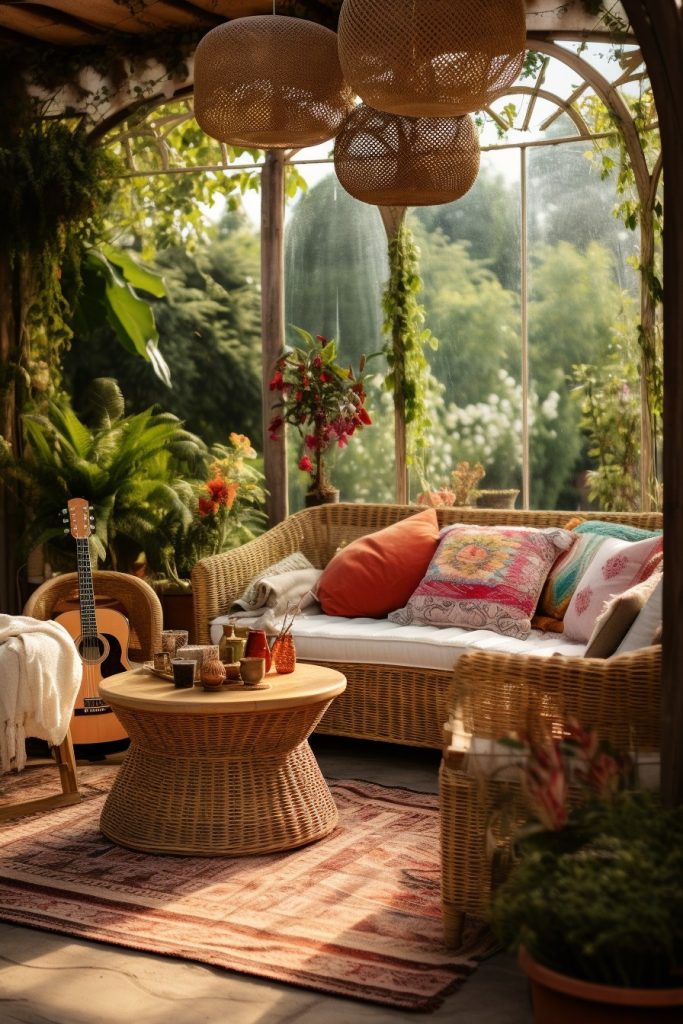 Incorporate natural materials like wood and wicker to encapsulate the boho look on your patio.
Layer rugs, throw blankets, and cushions to heighten the sense of comfort and relaxation.
Include a variety of lush, low-maintenance plants for a touch of greenery.
Hang up a macramé wall hanging or hammock to define the space.
Finally, use ambient light from tiki torches or string lights to complete the peaceful, laid-back atmosphere.
Find secondhand objects at thrift stores or flea markets to stay on budget while adding a personal, vintage touch.
Hippie Home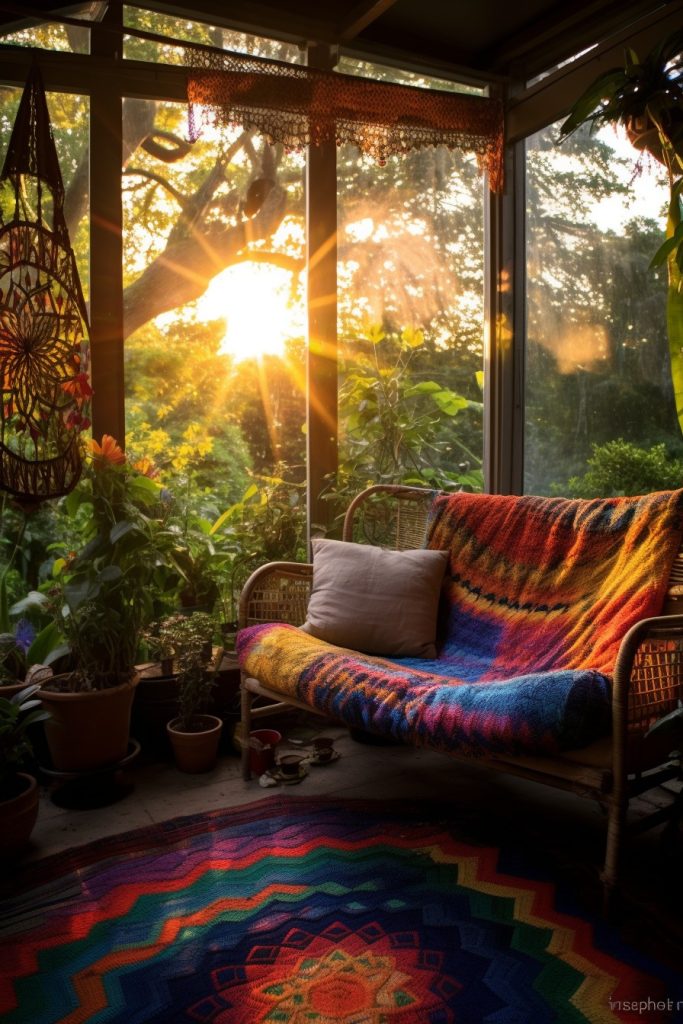 Incorporating a hippie-inspired touch to your patio can be a fun way to express your unique style.
Choose vibrant, earthy colors which define this aesthetic.
Think mandala prints, cool tapestries, and colorful floor pillows for comfortable seating.
Hang string lights around the patio for an inviting ambiance, add a few potted plants for a touch of nature, and don't shy away from showcasing your love of music and art with vintage posters.
Remember, the goal is to create an atmosphere that's as laid-back and undeniably charming as the era itself.
Cozy Earthy Space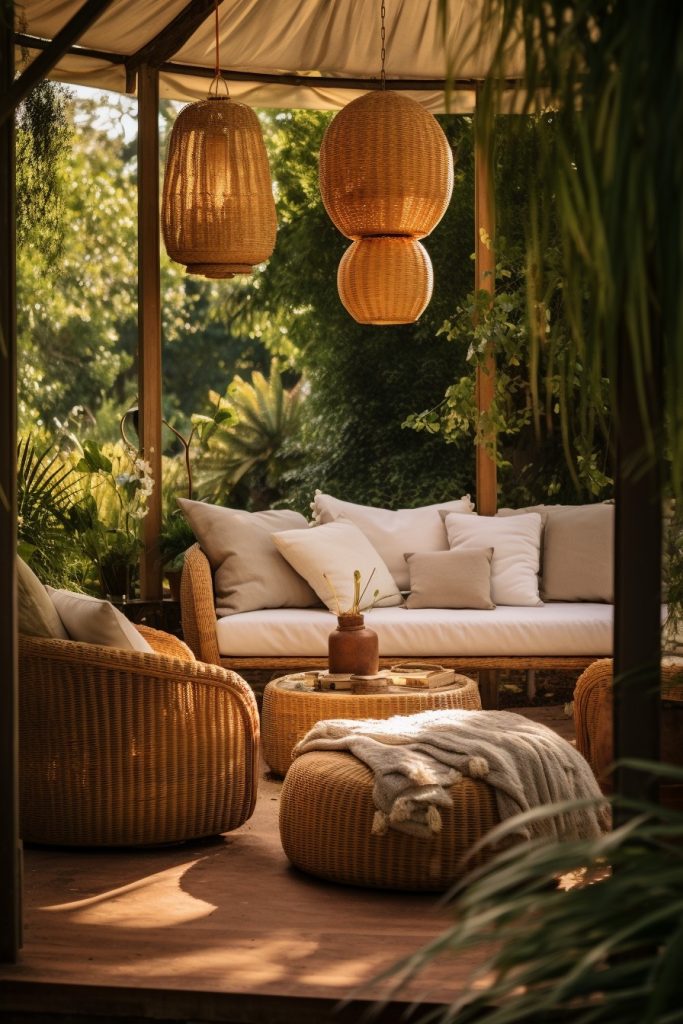 Introducing an earthy aura into your patio decor radiates comfort and natural charm. Start by incorporating an array of potted plants; ferns, succulents, and climbing ivy are great choices for their green hues and varying textures.
Opt for recycled wood furnishings to enhance the rustic cottagecore feel. A hammock or swing seat, paired with plush cushions in warm, neutral tones, creates the ideal spot for lounging.
Finalize the look with lanterns or fairy lights for a magical twilight atmosphere. This approach is not only chic but also sustainable and affordable. Focus on repurposing items; plants can be grown from seeds or cuttings, and furniture can be found second-hand. Be inventive and craft your unique, cozy, earthy patio.
Western Boho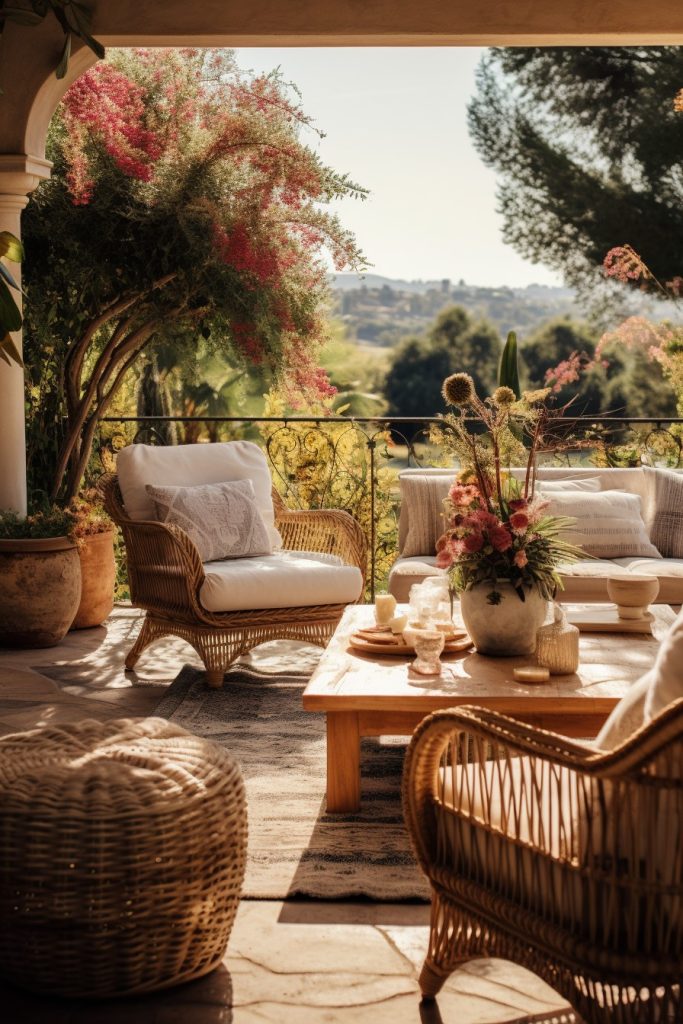 Incorporating elements of traditional Western decor, such as rich wood textures and rustic metal accents, with the light and free-spirited nature of Bohemian style can result in a beautifully unique outdoor space.
Opt for warm tones, vintage furniture, and natural materials like wicker or rattan.
An oversized macrame hammock, cacti and succulents in terracotta pots, or twinkling string lights can add a whimsical touch.
Remember, the aim is to balance the charismatic ruggedness of the West with the carefree allure of Boho aesthetic.
Bohemian Jungle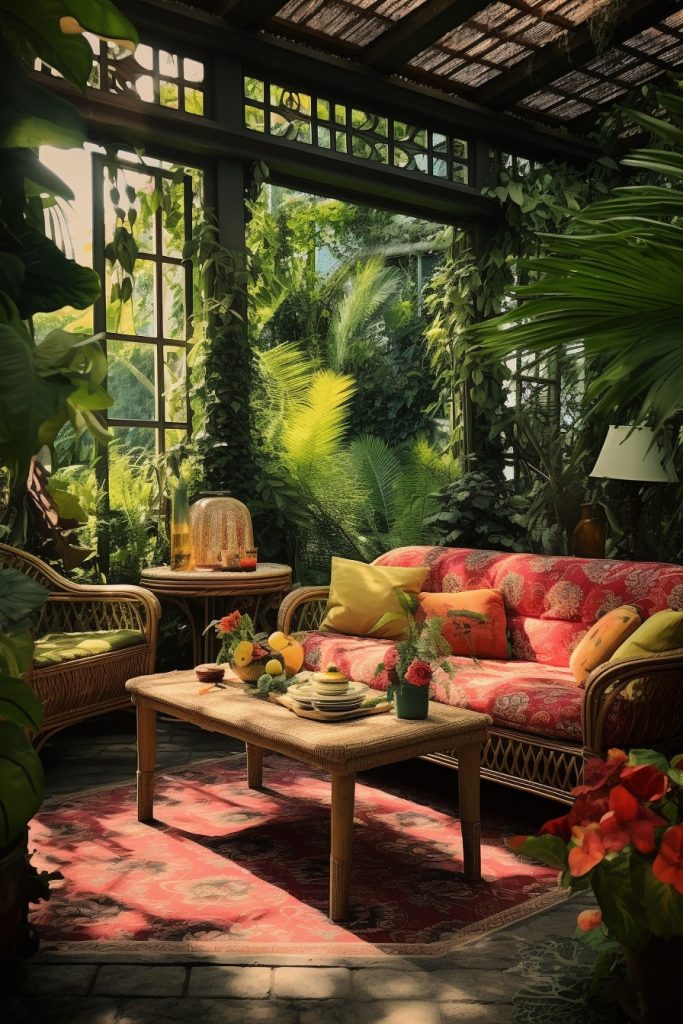 With an emphasis on abundant greenery and eclectic accessories, you can easily bring the outdoors in. Consider lush, leafy plants such as ferns and palms to create a verdant oasis.
Mix and match textiles and furnishings, like patterned cushions, tribal rugs, and rattan chairs, to infuse personal style and create a habitat that is inviting and cozy.
Don't shy away from experimenting with various textures and earthy tones. Ceramic pots, macrame hangers, and vintage lanterns can add the perfect finishing touches.
Remember, the bohemian jungle aesthetic seeks to blend comfort with an adventurous spirit, to emulate a charming forest retreat right in your patio.
Eclectic Twist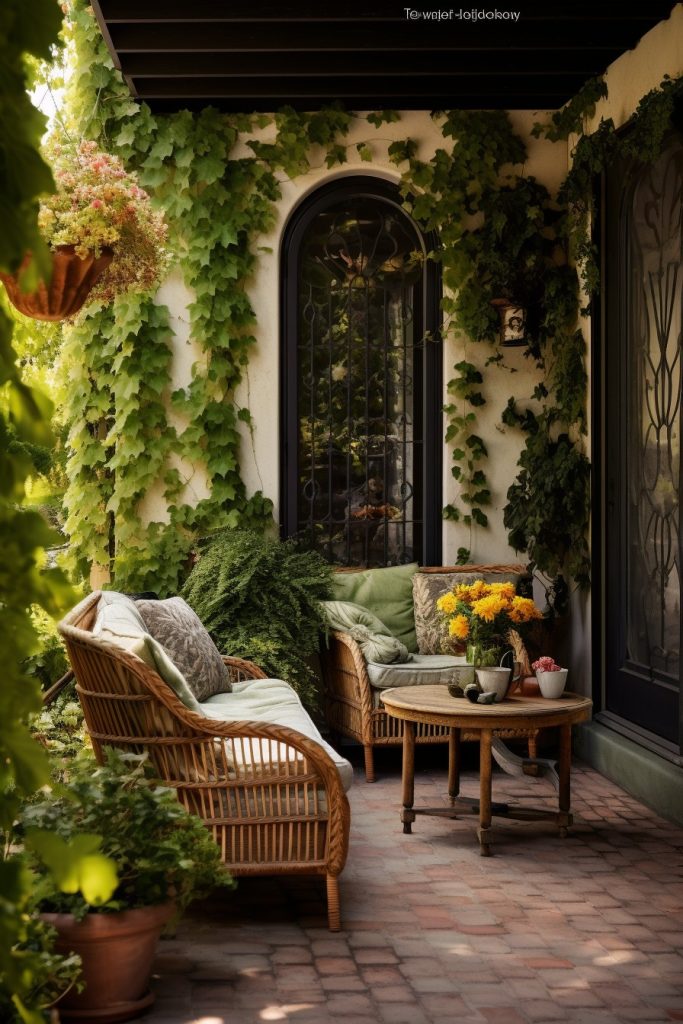 An Eclectic Twist can be achieved by combining furniture and accessories from various periods or styles. This idea promotes contrasting yet responsible consumption of decor items.
It's about finding balance in chaos, a mindful mishmash. Think of pairing an antique wrought-iron table with contemporary pastel-colored chairs and offsetting this combination with mismatched vintage dinnerware.
A hammock can also serve as a whimsical yet cozy seating option. Layering with different textures and patterns is key; play with cushions, throws, and rugs. An oddly-shaped mirror or unique planters can also add sparks of interest.
Despite its complexity, the eclectic patio, if arranged properly, can be a breathtaking sight and a conversation starter for your guests.
Cozy Maximalism Decor
Maximalism, contrary to popular belief, isn't about creating clutter but rather fostering a sense of abundance and warmth.
Opt for a plethora of plush pillows in different patterns and sizes, draped afghans, and mismatched but harmonious chairs around your patio table.
To keep the look from overpowering, choose items that share a common color scheme.
Hang an array of fairy lights or vintage lanterns to add to the ambiance, illuminating the space with a welcoming glow.
A tiered wrought-iron plant stand filled with variegated greens and rich florals can bring life and fresh air to your setting, promoting the prized cottagecore charm.
Remember, the goal is to create an indulgent yet cozy atmosphere that feels like a delightful hug every time you step into your patio.
Mosaic Art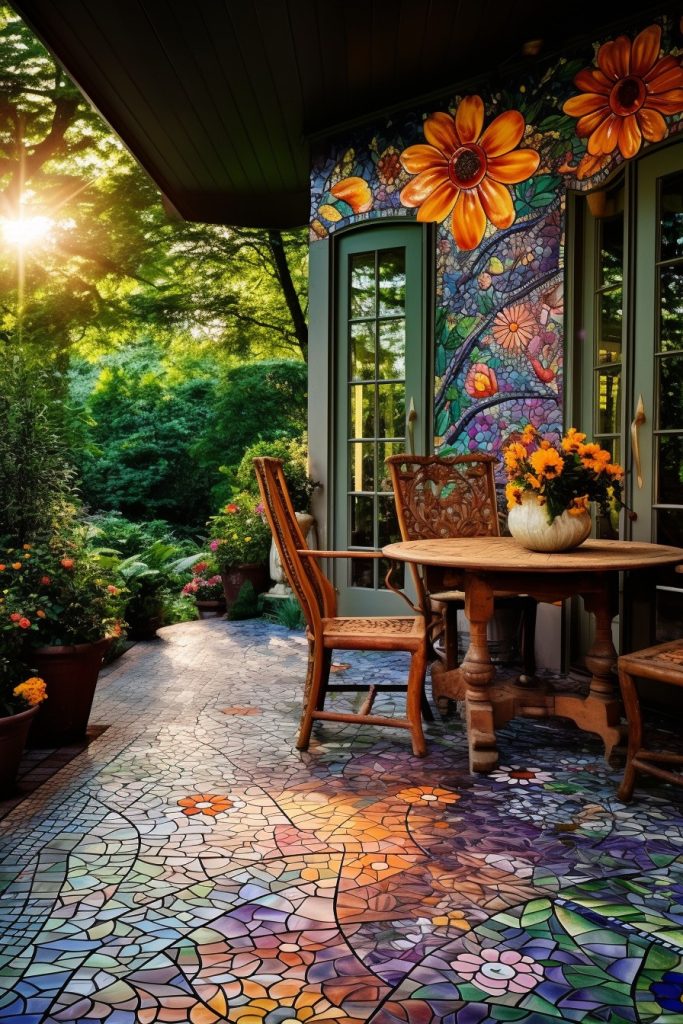 There's no denying the charm that mosaic art can impart. This art form interplays patterns and colors to create visually appealing designs.
For a patio, consider a mosaic table or wall hanging. You can either buy ready-made pieces or embark on a DIY project. Use an old table, break some colorful tiles, and get some grout – a beautiful mosaic table is just an afternoon away.
Add even more interest by integrating recycled materials into your design. It's visual bewitchery at its best, and every bit as functional.
Southwestern Tribal Rug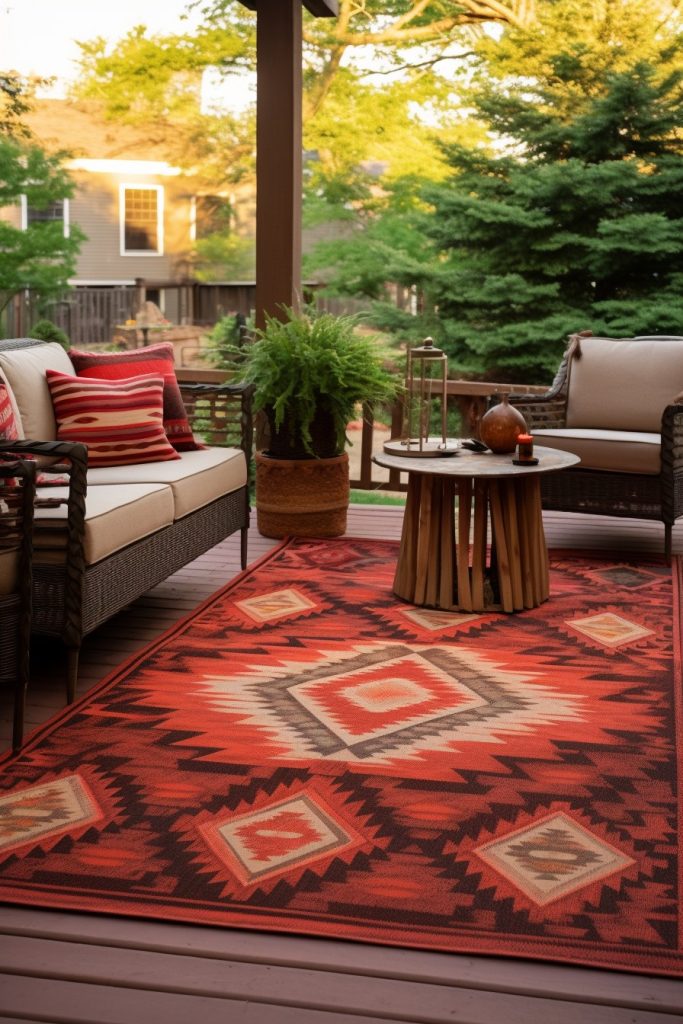 Integrating a Southwestern tribal rug into your patio design will add warmth, texture, and a hint of rustic charm. These rugs are ornate, with rich and earthy color palettes often depicting traditional tribal patterns. Made to withstand harsh weather conditions, they are typically durable, so ideal for outdoor areas.
Paired with woven furniture and pops of cacti or similar succulents, it effortlessly complements a Cottagecore aesthetic, infusing it with a slight Southwest edge. Be daring and make it the centerpiece of your patio or keep it simple, tucked aside. Regardless, it's a budget-friendly way to spice up your outdoor living space.
Geek Decoration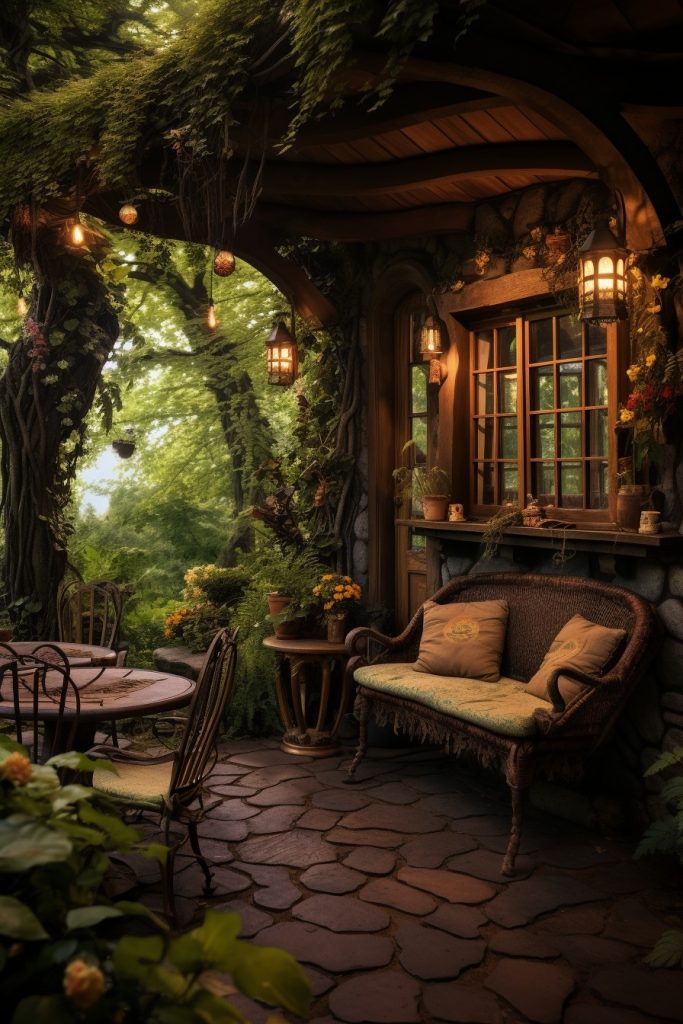 Indulge in a geeky outdoor vibe by incorporating pop culture into your patio. Unleash your imagination with a variety of decorations from your favorite fandoms. Action figures can double as plant guardians, while themed lanterns or fairy lights add a welcoming, mystical touch.
Reclaimed spaceship parts or repurposed comic book pages can transform an ordinary table into a conversation starter. Remember to stick to weather-resistant items or add a layer of protection to the more delicate pieces to ensure durability. It's all about showcasing your personal passions while maintaining functionality in your outdoor space.
Contrasting Secondary Colours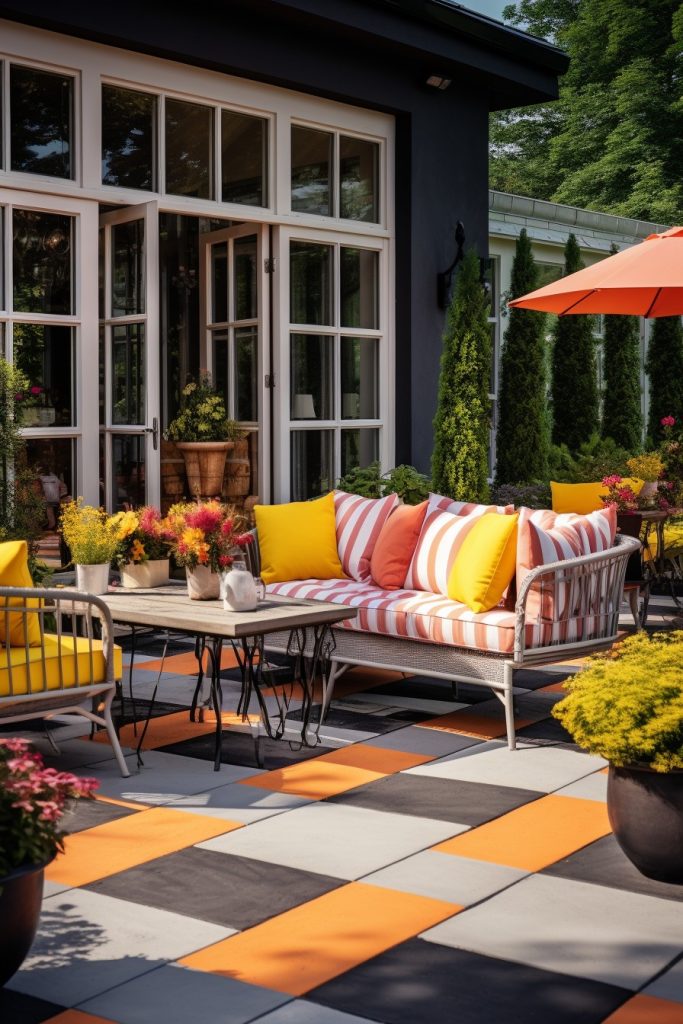 In the realm of patio design, the use of contrasting secondary colours offers an appealing visual element. This approach involves choosing hues like orange, green, and purple that sit directly opposite each other on the colour wheel. Incorporating these complementary colours into your Cottagecore patio design can produce a captivating effect.
One could combine leafy green plants with hints of red in roses or garden accents, creating a vibrant contrast that adds life to space. Incorporating a cool shade of purple with its opposite, a warm yellow, leaves a stimulating, yet pleasing impact on the viewer's eye. Furthermore, an orange cushion or lantern paired with blue accents can promote a balanced, harmonious ambience.
Remember, different shades and tints of the same colour can work to either strengthen or soften the contrast, should the chosen colours prove too strong. Ultimately, the use of contrasting secondary colours allows for a diverse and captivating Cottagecore patio design. It's all about finding the perfect balance for a pleasing visual experience.
Spring Home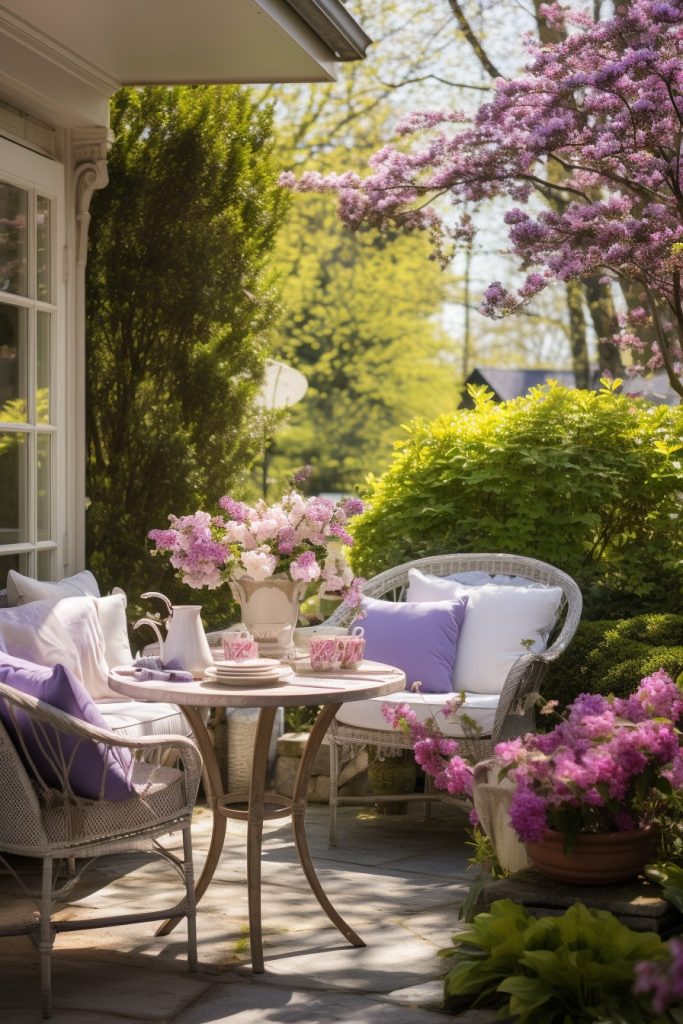 As winter's chill recedes, infuse freshness into your outdoor space. Opt for quaint patio furniture, soft pastels, or garden-inspired hues to echo the renewal occurring in nature.
Tea tables can serve dual purpose as spots for morning coffee or evening entertainment. Potted plants, especially those blossoming in spring, will give a lively atmosphere.
Add white lace tablecloths and pastel cushions for a touch of vintage charm. Try hanging suspensions of vernal flowers from overhead beams to create a captivating floral cascade.
White Outdoor Rugs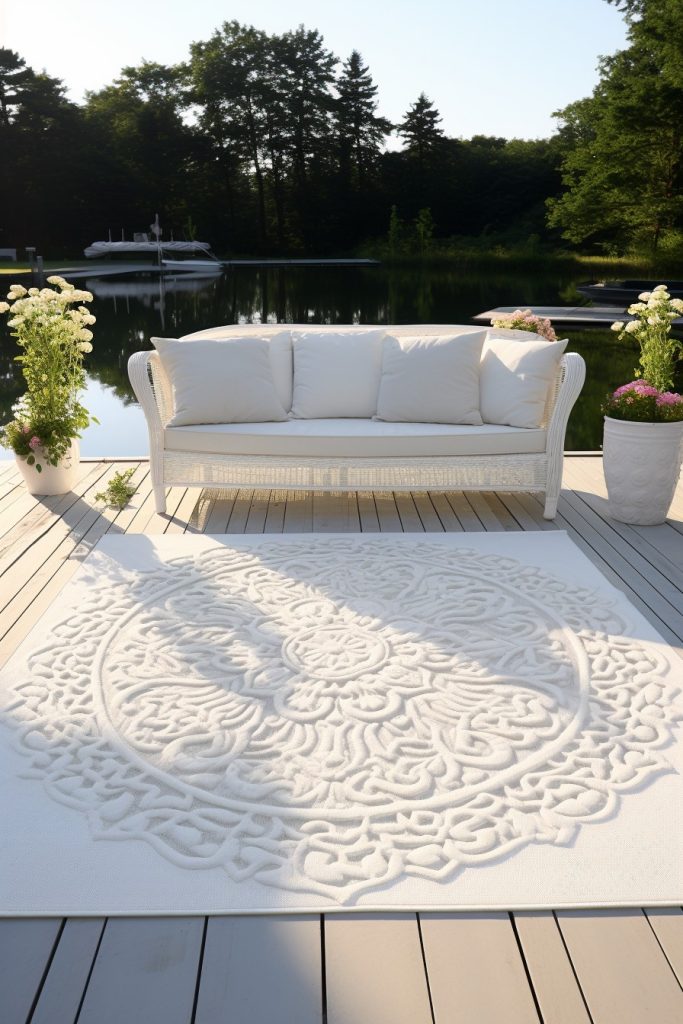 Selecting the perfect rug can add an element of surprise to your patio. Despite their susceptibility to dirt, white outdoor rugs provide a fresh, clean look that brilliantly complements the greenery of outdoor living spaces.
Opt for rugs with unique textures and patterns to infuse a touch of sophistication. Durability is key; ensure your choice is resistant to sun, rain, and heavy foot traffic. White rugs not only create a serene atmosphere but also enlarge the space visually.
Complement with pebbles or wooden planks for an inviting ambience, and remember, an effective treatment can help combat potential stains, preserving your rug and patio's aesthetic.
Traditional Coastal Scandinavian Elegance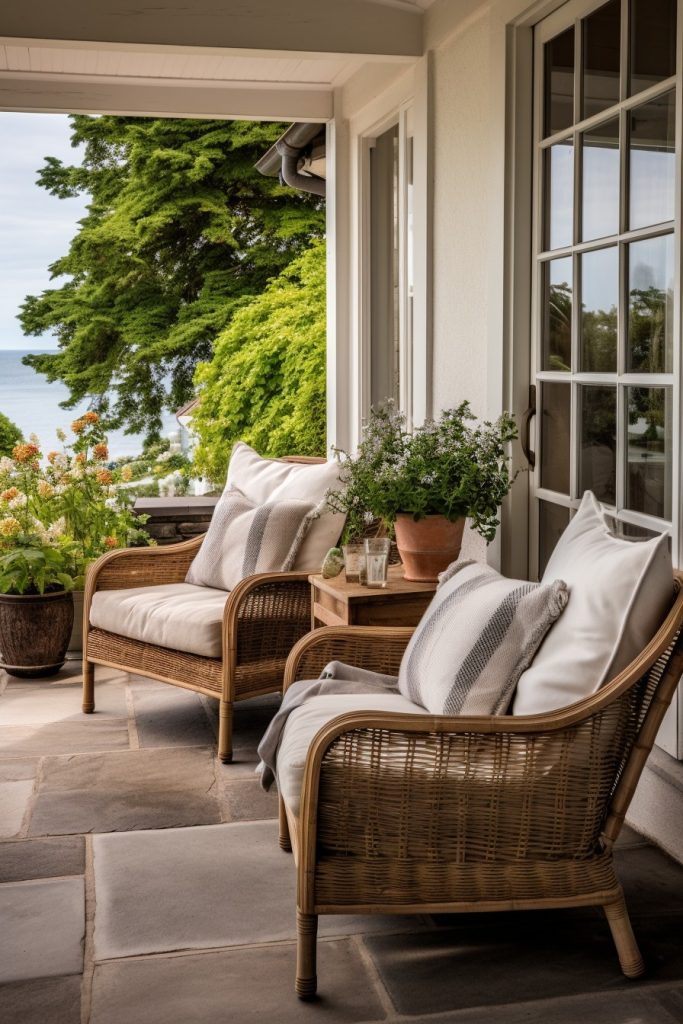 The clean, crisp design of Scandinavian elegance is effortlessly paired with coastal elements to create a resplendent aesthetic for a patio. Achieving this desirable look is about combining functionality with a minimalistic and natural approach.
Start with a palette involving soft hues, such as whites, blues, and greys, symbolizing the serenity of the beach and sea. Add handcrafted wooden furniture, a staple of Scandinavian design, to bring in warmth and tactility. Choose pieces that bear the raw, natural wood look, further embodying the minimalistic ideology.
Introduce textiles in earthy tones, such as cushions, rugs, and throws, to augment comfort. Opt for materials such as linen or wool to keep in sync with the Scandinavian theme.
Lastly, lighting plays a crucial role in this design. Lantern-style lights or string fairy lights entwine a magical element within the tranquil coastal and Scandinavian blend. Remember, it's not about cluttering the space with numerous elements, but rather letting each piece speak for itself.
Greenhouse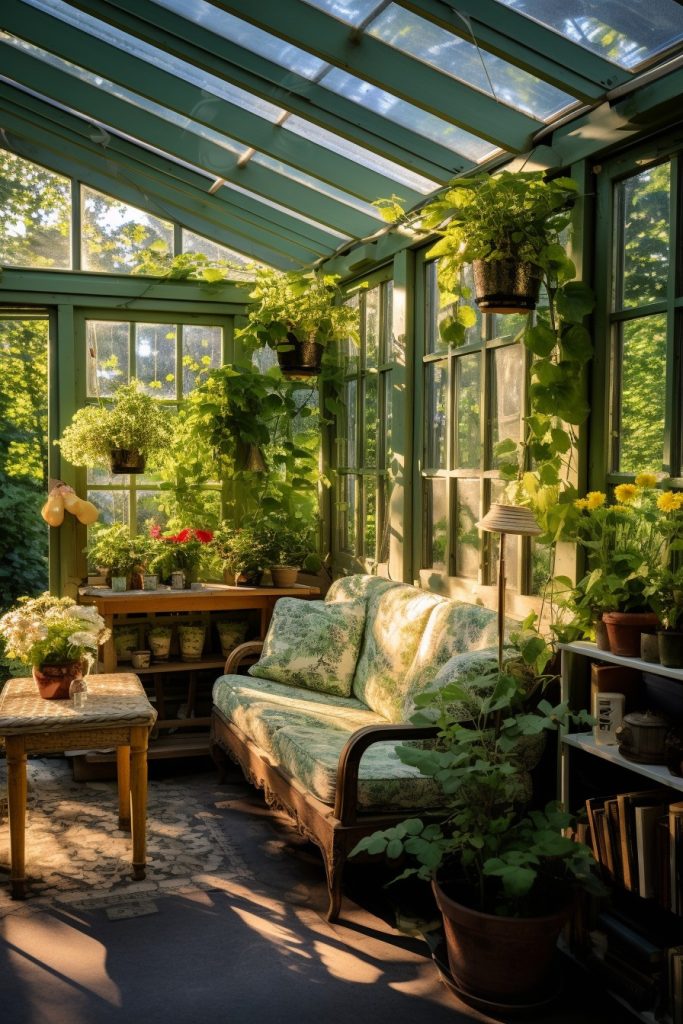 Incorporating a greenhouse into your cottagecore patio scene serves dual purposes. Not only does it provide a nurturing environment for your plants and herbs, but it also adds an appealing visual element. Choose a structure with vintage or rustic accents to adhere to the cozy, homesteached-inspired aesthetic.
Use the extra space for growing unique plant varieties or extend your growing seasons for year-round blossoms. Make sure to utilize shelving effectively within the greenhouse. Varying the heights for different plants adds depth and visual interest while optimizing the space. Don't forget to include much-needed tools and watering cans for a charming and handy touch.
Add a bench or a couple of chairs for a place to sit and enjoy the surroundings. After all, one of the key things about cottagecore is taking a moment to appreciate the beauty and simplicity of nature.
Oak Design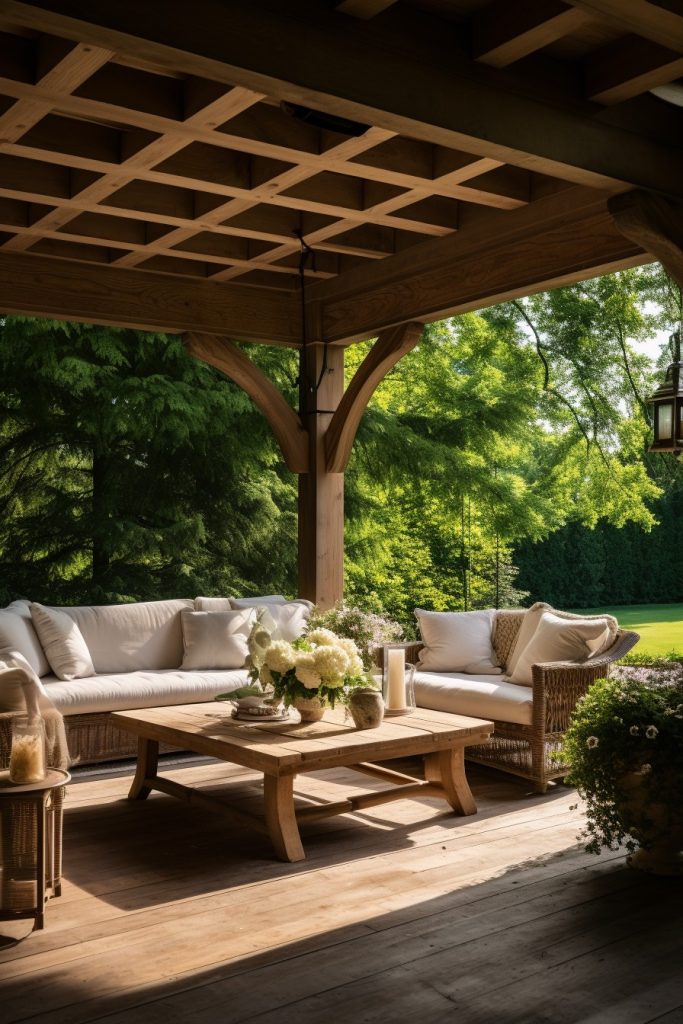 Incorporating oak elements into your patio design can bring a sense of calm and tranquility, reminiscent of traditional cottage settings. Opt for rustic oak furniture such as tables, chairs, or benches not only for their durability but also for their timeless aesthetic.
You may even utilize oak barrels for ingenious storage solutions or as unique planters for blooming flowers. Hanging oak shelves against the patio walls can provide additional space for displaying potted plants or decorative items.
Use an oak arbor or pergola to introduce structure and shade, enhancing the overall cottagecore aesthetic of the patio. Remember, proper treatment and care for these oak pieces is essential to maintain their natural beauty and longevity.
Cabins & Cottages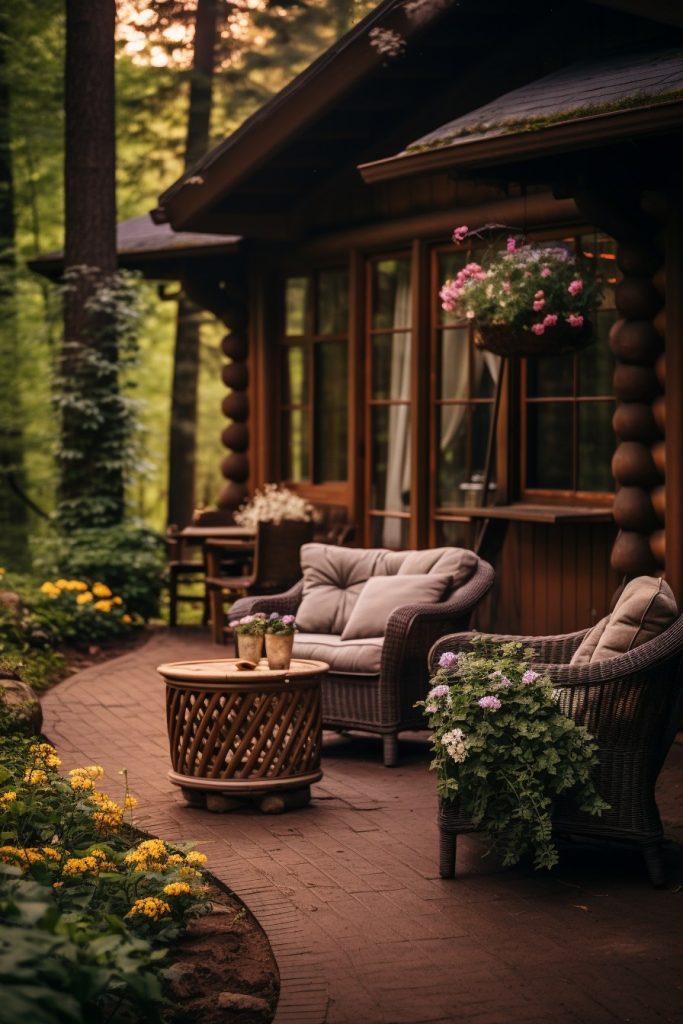 A tranquil atmosphere is intrinsically interwoven into the fabric of cabins and cottages. When recreating this feel for your patio, focus on natural materials.
Consider using wooden furniture, accented with cozy, outdoor-friendly pillows and throws in earth tones.
A fire pit can offer the perfect central piece, fostering a sense of gathering and warmth.
For lighting, hurricane lamps or fairy lights add a magical illumination to the outdoor space.
Finally, bring in plenty of potted plants for that necessary touch of green, both establishing connection with nature and enhancing the cozy factor.
Fall Blue Cottage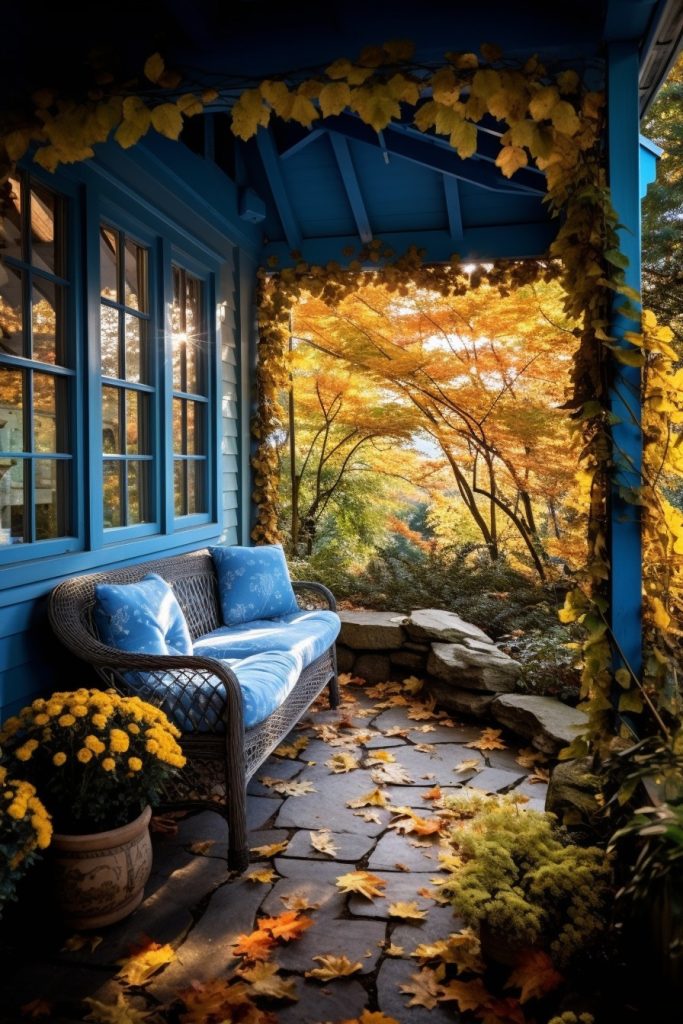 When speaking of Fall Blue Cottage decor, think of cozy, warm, and inviting. This design concept adds a dash of color to your patio with various shades of blue. Combine your choice of blue hues with autumnal oranges and yellows for a vibrant yet inviting space.
Consider blue-painted wicker furniture, earth-toned cushions, and rustic lanterns for an atmospheric touch. The addition of blue ceramic pots filled with seasonal flowers and plants further enhances the aesthetic. Remember to incorporate natural, rustic elements like straw baskets or raw wood accessories to maintain the cottage's connection with nature.
With these tips, a breathtaking fall-themed patio is within reach.
Boathouse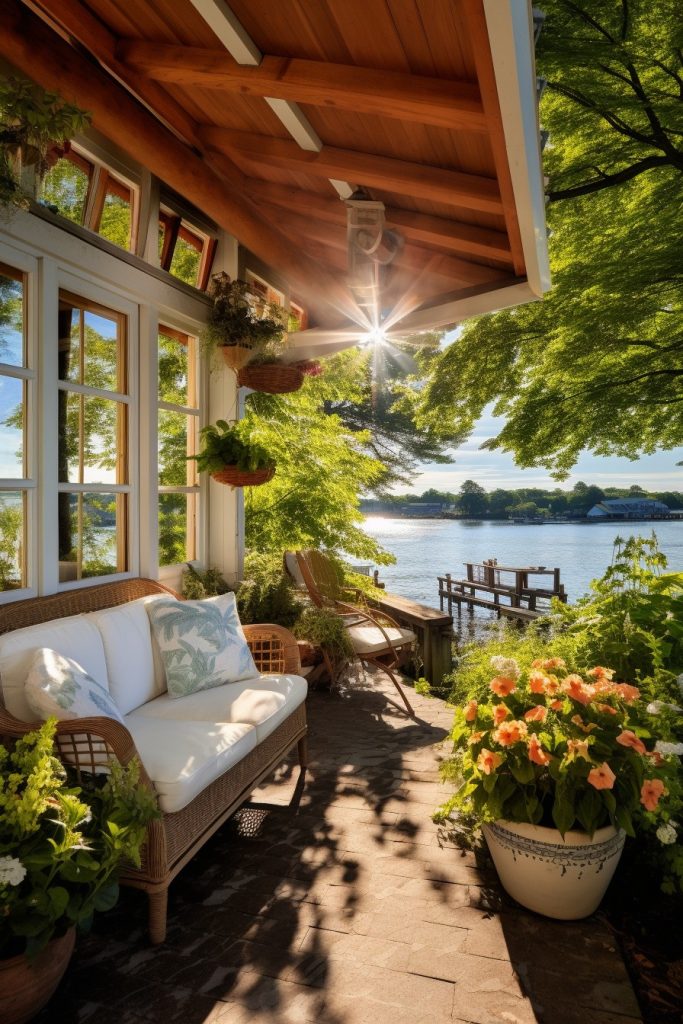 In true honor of the cottagecore aesthetic, transforming your patio into a mini boathouse can work wonders. Use pale, sun-bleached woods to craft seating or tables, giving that worn-by-the-sea effect. Authentic touches like maritime ropes, lanterns, or even vintage oars hung upon the walls, enhance the boathouse feel.
Don't forget to include cozy, plush cushions in subtle coastal hues for seating to bring comfort. Finally, including nautical-themed accessories or prints in the form of cushions or small pottery pieces can tie this look together. So, with a little creativity, you can easily bring the charm of a coastal retreat to your own backyard.
Recap
Liked this article? Here's what you can read next: