Last updated on November 15, 2023
These living room lighting ideas will help you design the lighting of a room like a pro. Let's pick the brain of the top designers.
It is common knowledge that lighting can make or break the way your home looks and feels. Indeed, a living room with low light can be hard on your eyes and feel intimidating. On the other hand, if it's too bright, it may feel cold and unwelcoming, exposing decor eyesores. Therefore getting it right is even more important than decorating the room in the first place.
We look at what some of the top designers think about it, and we use their advice to evaluate all the popular lighting ideas. You will learn how to choose every layer of lighting, dissect your room setup, and put it all together in a well-decorated and well-lit space. Read on!
Overhead Lighting
Overhead lighting is the most popular modern living room lighting solution, but it wasn't always so commonplace. Many mid-century houses built in 1940s through 1970s had no overhead fixtures in living rooms and even bedrooms. They only had power switches near the entrance, which controlled some of the power outlets. So, such a room would have several floor lamps, table lamps, sconces, and stands to create ambient lighting. This was a very popular setup.
Modern homes use layers of lighting which include ceiling lights, lamps (including lamp alternatives), and stands alike. Going back to overhead lighting, these are your options:
Ceiling light fixtures
Drop ceiling lights
Recessed lights
Chandeliers
Pendant lights
Indirect lighting
Ceiling fan lights
Decorative lights
As you can see, you have several options, and we will go over each of them in this article. There's a lot to be explored!
Recessed/Can Lighting in the Living Room
As we've mentioned, most mid-century houses in the USA don't have overhead lighting in living rooms. This is not the case in modern newly built homes. But why would someone not want ceiling lighting in the first place?
The pros of recessed lighting:
Fixtures built in the ceiling don't take visual space and are decor-neutral.
Overhead lighting provides the most light.
It can be easily complemented with other sources.
The cons of recessed lighting:
They have to be built-in during construction (or renovation). Because of this, it's not a cheap nor a quick solution.
Overhead light casts shadows on every object.
It doesn't create the mood.
Takeaway: Overhead lights were not preferred because of their inability to create mood lighting and the uncanny shadows they cast. But all of this is solved with multiple-height lighting sources and dimmers in modern design.
Living Room Chandelier
A chandelier is more than a source of light in a room. It's a decor feature. The modern chandelier has evolved from the candelabra as it got fancier over the centuries. Now we see it as a decor piece.
So adding such a piece to living room decor is going to make a focal point.
What are your options?
Crystal chandelier
Rectangle chandelier
Chain chandelier
Spiral chandelier
Orb chandelier
Floor chandelier
Hanging candle chandelier
Living Room Pendant Lights
Pendants are one of the main sources of lighting. Not all living rooms are large enough for a fancy chandelier. So if you need hanging ceiling lights (and you probably do), then adding a few pendants is the proper solution.
How do you feature pendants?
Over the couch
Over a side table
Over a dining table
In a corner
Overhead Lamp
Large floor lamps and long arm sconces are making their way to establish themselves as an overhead lighting solution. This option is ideal for living rooms that have a dining area (but not limited to it). Remember the houses with no ceiling fixtures? This is a much needed alternative.
Hanging Lamps for Living Room
Hanging lamps or pendants are making their way into the biggest lighting trends. It's the alternative to a chandelier and sometimes overhead lighting. But hanging lamps can be used in combination with other fixtures as well.
Track Lighting
Track lighting is a new trend in living room decor. Though the purpose of it is to create an array of spotlights and feature multiple objects at the same time (such as art pieces in art galleries), the trend is using track lights as overhead lighting.
Time will tell if it's here to stay or if it's just a temporary hype. For now, we're taking it as another decor idea.
Floor Chandelier Stand
Here's another alternative to the overhead chandelier. A tall stand will enable you to hang most chandeliers. Finally, you can get that design you always wanted even if your room has no ceiling fixture for it. This is ideal for renters too.
Lamps That Hang Over Couch
This type of directional (or task) lighting is very popular, indeed. Chances are you will have one in your living room too. It's an easy to use solution that's entirely free of commitment. Many times, a tall-enough lamp will work as an overhead light too.
Off Center Lighting Solutions
From a practical standpoint, a centered non-directional source of light works best to light up the room. But then there are cases where an off-center solution is a serious consideration. These include:
Different purpose living room areas (such as open plan kitchen, dining room, etc.)
Nooks and lounge areas
As a general rule, a fixture is centered to the area it is supposed to light up.
Living Room Ceiling Lights
You have many types of ceiling fixtures to choose from, and what you choose depends on the design of your ceiling. Here's what you need to consider according to each style.
High Ceiling Lighting
High ceilings require a chandelier or pendants. If there's another solution, nobody has come up with it yet. The reason? You can install recessed or flush mount fixtures on a high ceiling because it will not light up the room properly. Thus, low hanging fixtures are necessary.
The remaining layers of lighting (lamps, sconces, stands), work the same way as usual.
Vaulted Ceiling Lighting
Vaulted ceiling provides more ceiling space for lighting fixtures due to its sloped design. Hence, it's one of the instances where you can use more than one overhead lighting option.
What lighting options would work in a living room with vaulted (or sloped) ceiling:
Recessed lights
Flush mount lights
Hanging lights (pendants)
Chandeliers
Indirect lighting
As mentioned, you can easily mix and match them too. For instance, have recessed lighting, and one chandelier in the center (pictured above).
Cathedral Ceilings Lighting
The cathedral ceiling is the type of vaulted ceiling that features high vertical space and typical slanted form. What it means that it provides even more space for overhead lighting fixtures. Such a living room may feature:
Recessed lights
Flush mounts
Multiple chandeliers
Pendants
Mixing and matching the above options is very common.
Modern Ceiling Lights
Modern overhead solutions focus on creating a decor accent and statement. The purpose is no longer to just light up the room. It's to establish a centerpiece and focal point of the interior design.
So we see intricate designs of pendant lights, chandeliers, and embellished lights. A lot of attention goes to geometric detail and a callback to the good old art decor.
Matching Pendant Lights and Chandelier
One of the ways to use aesthetic lighting while improving your decor is using the mix and match technique. Being consistent with your fixtures is important to keep the interior theme. On the other hand, nothing adds charm as much as breaking the rules with mixing designs.
Experiment to get the look you want.
Plug in Hanging Chandelier
The alternative to installing a chandelier with electric wiring is to hang one that can be plugged in. It's a popular trend, especially in homes with no overhead lighting.
Unique Ceiling Lights
Make your ceiling fixtures count by introducing unique designs. This means you shouldn't be limited to recessed and flush mounts. Explore decor opportunities with accent pendants and statement chandeliers.
Living Room Ceiling Fans with Lights
Need more function for your new lighting setup? Consider a ceiling fan with lights if you live in a warm climate. This idea won't be as useful to those of us who have all four seasons. However, folks closer to the equator will appreciate the multi-purposed fixture.
Modern Living Room Decor
Lighting plays a big part in modern living room decor. So much so that it can make or break it. If you ask any interior designer, they will all say that lighting is the number one thing to consider when remodeling and decorating a room.
What do famous interior designers have to say?
According to Emily Henderson, a room needs at least two sources of lighting. These are – overhead, directional, ambient, and accent. You should have light coming from different heights, too.
Coco Kelley likes flush mount lighting as a universal solution for every room.
Meanwhile Nate Berkus wants to up the stakes and have three to five light sources in a room. The way to do that? Use a wide array of pendants, lamps, sconces, and other fixtures.
Takeaway: A modern living room needs ample of lighting and its decor depends on it, regardless of your style or the options you choose.
Small Living Room Lighting Ideas
A small living room can be defined any room that's less than 250 square feet. As a general rule, it needs less lighting too. What does this mean?
You may not be able to install a chandelier (nor want to).
A single lamp may establish enough mood lighting.
Long-arm sconce is a life-saving solution.
Recessed lights can be used even in tiny rooms.
Large Living Room Ideas
Large living rooms will almost always use recessed lighting. There's a good reason for that – a large room lighting needs to cover a lot of area. And using recessed lights is a practical and budget-friendly solution.
That doesn't mean you don't need other sources – you do (we've already established this). But you will hardly create good lighting with lamps and sconces alone.
Our favorite options and combos which besides recessed lighting have:
Strategically placed pendants (pictured above)
A centered chandelier
Chandelier and matching pendants
Lamps around couches, TV, fireplace, doors, windows
All of the above plus decorative mantel/display shelf lighting
Living Room Light Fixtures
Of the myriad types of lighting fixtures available, many of them can be used in the living room. They are:
Ceiling fixtures
Lamps
Wall sconces
Pendants
Chandeliers
Spotlight lamps
Tracking lights
Each of these types has their own options that are suitable to light a living room, so we will go through each in this article.
Room Lights for Decoration
While lighting in a room has a specific primary function, its secondary purpose is none the less important. One of the four types of lighting is decorative.
What can you decorate with lights?
Embellish ceiling
Feature display shelves and mantels
Decorate walls and corners
Improve decor vignettes
Shown above: a beautiful crystal chandelier that makes the focal point for the room. Also, in the background – a spotlight over a small console table, giving more weight to a small decor vignette.
Pretty Lighting
How to create pretty lighting:
Use multiple light sources at different heights
Choose fixtures with decorative value
Consider a statement chandelier
Shown above: the room has three light sources – chandelier, floor lamps, and candle sconces over the mantel. These create three layers respectively – overhead, ambient, and decorative lighting.
Cool Ceiling Lights
Do not forget the coolness factor. We describe is as decorative fixtures that follow the trends. What's hot now? Orb pendants that work as spotlights, as well as replace the chandelier in statement decor.
Pictured above: an array of pendants that create overhead lighting and a focal point in place of a chandelier. Also – directional light over the dining table.
Beautiful Accent Lamps
Improve your decor with beautiful lamps that serve not only as a light source but create an accent too. How? Look for unique designs, but also check out the thrift stores for vintage items that will add character to your home. Why does this work? This has long been a favorite interior designer technique.
LED Lights for Home Decoration
LED lights are pushing out the old incandescent bulbs as an energy-efficient alternative. But lighting up space isn't the only use for LED. They are ideal to create home decor. You can use them as:
Accent lighting
Holiday and party decor
Statement chandeliers and pendants
Wall art
Pictured above: an LED chandelier with a faux flame design.
Modern Chandelier for Living Room
Modern chandelier designs make a transition from the old-fashioned candelabra to orb-like pendants. A metallic finish is prevalent. However, good old art deco can still dominate the interior decor.
Lamps for Living Room
If it was the 1950s, you would use lamps to light up the entire room. Nowadays, they make another layer of lighting. Granted, it's an important one. Using the table and floor lamps, you can create that eye-level height layer of light or ambient light. With spotlight an overhead lamps, you can create directional lighting. It's safe to say that a lamp is the most versatile and available option.
You can choose from:
Table lamps
Floor lamps
Spotlight lamps
Overhead lamps
Hanging lamps
Fireplace lamps
Each type is well suited to light a living room, even (especially) if it has no ceiling fixtures.
Living Room Floor Lamps
Floor lamps are very versatile in that they don't require a surface to be installed. They are freestanding and thus can be positioned in any place. This makes them ideal to create ambient as well as directional lighting. The most common positioning includes:
Next to a sofa or a chair
In the corners
By a TV
By the doors
How high should a living room lamp be?
The heights vary as there are lamps of many different sizes. Usually, they fall into three ranges:
Short: around 4 feet.
Mid-range: 5-6 feet.
Tall: 6-8 feet.
So you need to decide on the purpose of your lamp before choosing its size. Short lamps will suit you as directional lights for reading. Mid-range lamps are ideal to create eye-level ambient lighting. And tall lamps can even be used to create overhead lighting.
Small Lights
Small lights serve one of two purposes – directional light or accent lighting. It's easy to imagine how to use small lights, and even easier to acquire them. But don't make the mistake of underestimating them – a well-positioned lamp, pendant, or a sconce can make the statement that your room needs.
Shown above: A small lamp by the couch serves as a reading light. At the same time, it's the black color accent that works as visual weight to the wall art.
Large Lights
Large lights require large rooms. Usually, we refer to a chandelier when we talk about something as large. Such a source can provide enough lighting for the entire room, even if it's larger than the average of 250 square feet.
Wall Mounted Plug in Lights
Wall-mounted plugin lights are the solution to wall sconces without electric installation. All you need for this fixture is a nearby power outlet and to hang it in your desired place.
They are gaining in popularity. The reason? Plugin lights are ideal for small spaces, apartments, and especially renters.
Mid-century Modern Floor Lamps
We've already mentioned that mid-century houses had no overhead lights. This meant ample use of floor and table lamps. Thus, the mid-century modern style takes a lot of inspiration from those days.
What does this mean? We have the rounded shapes, orbs, and thin bases, the metallic finish that makes an accent. These lamps have a wide range of sizes, and they can go as far as establishing overhead lighting (so to speak).
Shown above: a mid-century modern living room featuring furniture and a large lamp in this style. While the room has no ceiling fixtures, the lamp plays the part of overhead lighting.
Spot Light Lamp
Your spotlight lamp is the ideal solution to small directional lighting. You can use it in the living room to:
Light up a reading nook
Create by-the-couch lighting
Feature display shelves
Create behind the TV lighting
Hang it over a dining table
Sconce with Switch
Sconces with a with are no longer just for bedrooms. They are ideal in the living room's reading nooks, and lounge areas – wherever the spotlight is needed.
Floor Spot Light
A floor lamp with a spotlight is an easy solution to create a task light in any position of the room. This can be a reading light, a lounge area, a nook, a dining table, and other task areas.
Fireplace Mantel Lighting
Mantel lighting can benefit from accent lights. If you have a fireplace in your living room, you absolutely must make a feature of it. The right lighting will work magic in your interior design.
What works?
Small pendants
Wall sconces
Candle lamps
LED lighting
Small lamps
Indirect Lighting Ideas
Indirect lighting is the type of lighting that spreads across a large surface area instead of coming from a single point of light. They are usually installed as LED lights in the tray ceiling or in the ceiling to wall corners. Its main purpose is to create ambient or mood lighting. Use it in the living room to:
Complement recessed lighting
Feature wall decor
Bookcase Lighting Fixtures
This category of accent lighting is good for any room with a small library for bookshelves. You can install a small light on a smaller bookcase too. An important thing to note here is that such lighting can double-purpose as task light too (for a quick read).
Mood Lighting Lamps
Lamps (table and floor) are ideal to create mood lighting. No wonder they were the go-to solution in most mid-century homes. The most important thing when creating mood lighting using them is to choose warm-enough light bulbs.
Corner Light Fixture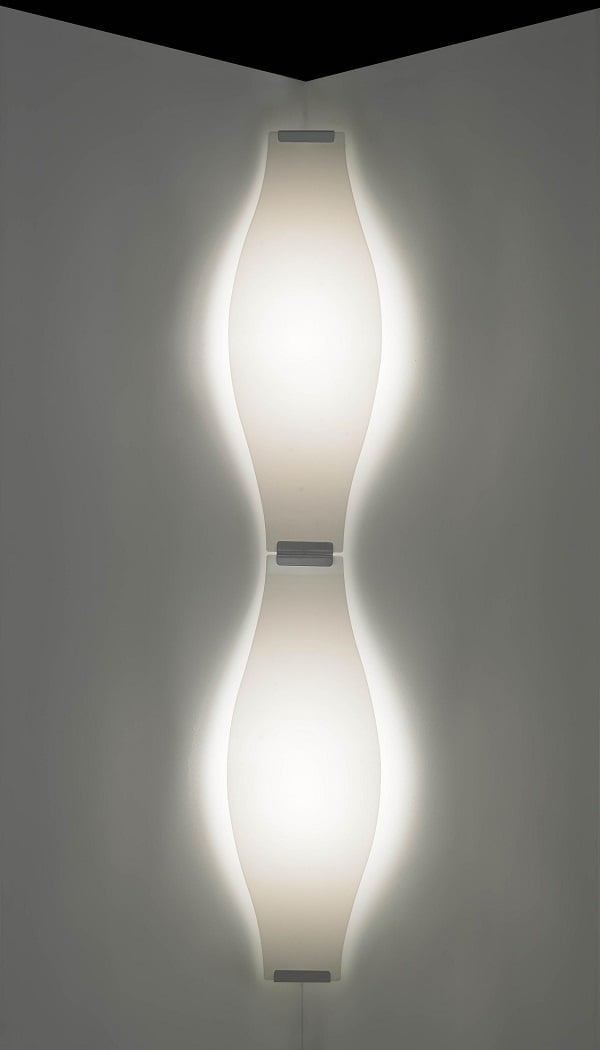 Decorating corners of a room is a great way to soften the edges and even make space look bigger. Adding corner light fixtures is also a great way to achieve the same effect.
Living Room Light Stand
Lights stands are the alternative to floor lamps. The main difference is that instead of a lamp fixture you get a freestanding frame to hang any lamp or pendant (or even a chandelier) in any place of the room. This gives you more decorative leeway.
Floor Can Lights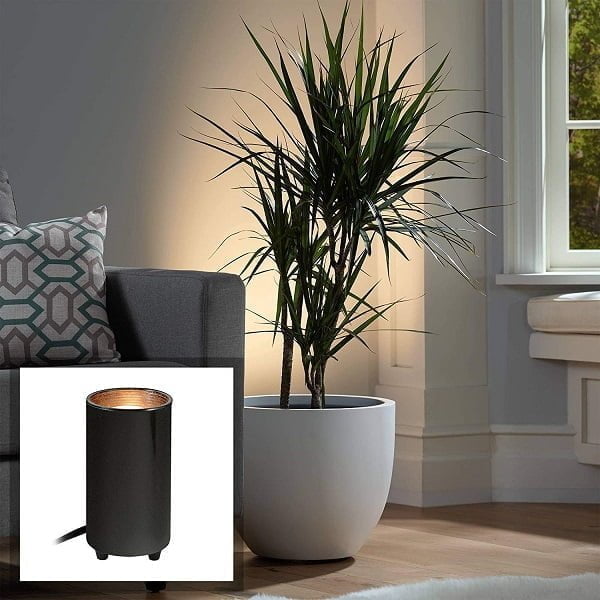 We're used to talking about can lights that are built into the ceiling (i.e. recessed lights), but we rarely think about floor can lights. This option is ideal to direct light up from the floor. This way you can feature objects standing on the floor, such as art and houseplants.
Fireplace Lamps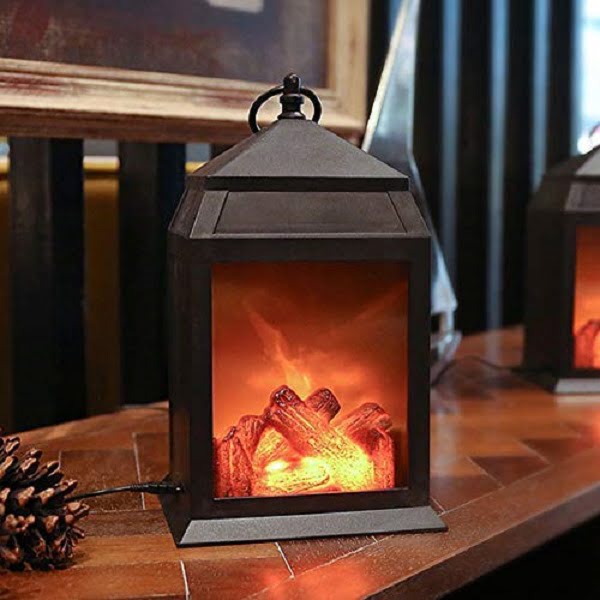 First of all, what is a fireplace lamp? It's an LED lamp that's designed to look like burning wood in a fireplace. Such a faux fire look is used to create a cozy vibe in a home that brings nostalgia and childhood memories. Fireplace lamps usually come as a feature of a space heater, so it has a practical function as well.
Lit Up Table
Thinking beyond the ceiling, wall, table, and floor lamps, there are more options where you can use lighting for decorative value. One such option is the lit-up table.
Pictured above: a resin-filled, LED lit-up accent table.
Coffee Table with LED Lights
Want a feature in your living room that will engage your guests and spark conversation? An LED-lit coffee table is a unique way to do it.
Modern Lamps for Living Room
What does modern design have to offer for living room lamps? We definitely love the whimsical accents the detail it brings to decor.
Shown above: decorative hanging lamps replacing a chandelier on a high ceiling.
Best Light Bulbs for Living Room
The choice of the right light bulb is key to good room lighting. Indeed, you can set up the multiple layers, choose all the right fixtures, match your decor perfectly. But if you don't complement that with the right light bulbs, your efforts will not be rewarded as much as they should.
How do you choose the light bulbs for your living room?
First of all, the choice will depend on the purpose of lighting. We've established that as overhead, ambient, directional, and accent. So the type of light bulb will depend on which category it fall under.
Overhead – choose bright halogen or LED light bulbs.
Ambient – choose soft compact fluorescent bulbs or LED lights.
Directional (task) – choose bright halogen or LED bulbs.
Accent – the most likely choice is LED.
Next, let's talk about brightness. It is measured in lumens, and in a nutshell, this measure decides how soft or bright the light is. For living rooms (average 250 feet square size) the ideal range is 1,000 to 3,000 lumens in total (all lights in a room combined). Further, it depends on the purpose of each light:
Overhead: 1,000+ lumens
Ambient: 200+ lumens
Directional: 98+ lumens
Accent: 45+ lumens
Keep in mind that you will use multiple light sources and their emitted brightness will be combined. It's also only a loose guide only to give you an idea of what to look for. Each room will be different depending on its size, furnishing, windows, and natural light.
DIY Ceiling Lights
We know that we have a lot of readers who are very much into DIY project. So a project for DIY lights is a must-have on our list. Here some things to consider before making your own lighting:
You can upgrade most ceiling light fixtures for your decor needs.
Use DIY lighting fixture kits to make it easier and safer (especially if you don't know anything about electric installation)
DIY chandeliers are just as easy to make but they have a lot more decor value.
IKEA Lampshade Hack
Do you like to DIY? Accent lighting fixtures cost a pretty penny, so anything you can do to shave the costs is always welcome in a household. You can do that by creating fun lampshades from various IKEA items.
Shown above: an idea and tutorial from IKEA Hackers to make a shade from toilet bristles.
IKEA Pendant Lights Hack
You didn't think we'd leave you with just one IKEA hack, did you? Here's another one, and we're dying for it. Make trendy low-hanging pendant lights from drinking glasses. This one is, again, from the IKEA Hackers.
DIY Lighting Ideas
DIY lighting ideas enable you to create unique lighting solutions for your home. And we're talking not only about making your own designs of conventional fixtures, but creating something entirely unique. How about a book that is a lamp?
Black Light Room Setup
There aren't many uses for blacklight (unless you're working on a 70s interior theme). However, if you're setting up a party and you want to feature it – here's how to do it.
Wall Lighting Ideas
Wall lighting may have two purposes – accent decor, and ambient/task lighting with sconces.
Behind TV Lighting
Putting lights behind the TV serves a decorative purpose but also a practical one. This indirect light (usually implemented with LED lights) provides a softly lit background to the TV screen making it easier on the eyes.
How can you create lighting behind the TV:
Install a panel with LED lights.
LED strip.
Floor lamps on both sides of the unit.
Wall sconces around the unit.
How to Hang Lights in Room
Whether you're decorating your home for the Holidays, a party, or just want to add some boho accent and spice things up, the question is one. How do you hang the lights properly?
Plan first – make a sketch.
Think about emphasizing a frame or corners. This can be a mantel, a doorway, a bookcase, or a wall.
Consider using battery-powered lights so you are free to hang them anywhere.
Use alternatives to nails to hang string lights, such as self-adhesive hooks.
FAQ
How many lamps should you have in your living room?
You should have at least 3-5 light sources in a living room. So if there's some type of ceiling light, 2-4 lamps are ideal.
How much does it cost to install overhead lighting?
Overhead lighting costs $100 to $200 to install.
Where to place lamps in living room?
Depending on the purpose of lamps (task lighting, mood, or decorative), they can be placed in the corners, by the couch, by the door, or near the TV.
How tall should living room lamps be?
The lamps may be 4 to 8 feet tall, depending on their purpose.
How to place overhead lighting?
Recessed lights are spread evenly to cover the entire area of the room. Meanwhile, a single fixture (such as a chandelier) is usually centered to the room or the area it should light up.
Recap
Liked this article? Here's what you can read next: