Last updated on February 4, 2022
Looking for the best TV wall mount for your flat screen? Here are the top 10 best overall TV mounts that will provide you with full flexibility.
We hear you — which one is the BEST? It's this heavy-duty full-motion TV wall mount.
Say what you want, but there's no reason why the TV should stand on a table in this day and age. Ever since the first flat-screen came out, it begs for a wall-mounted setup as an alternative to the stand. Otherwise, you're just wasting space and depriving yourself of the ideal viewing experience.
How many times have you felt neck or eye stress during binge-watching? It's not because you've spent 5 hours watching the TV (well, only partly), but mainly because of the wrong TV positioning.
That's why we always recommend getting a tilting mount at the very least, or better yet, a full-motion mount. In some cases, like hanging the TV in the corner, you won't be able to do it without a full-motion mount at all.
And yes, fixed mounts provide a flush look, but you won't be able to adjust the viewing angle, and that's game-changing. The only caveat with full-motion mounts is when you have drywall, and no wall studs, so mount it on. The best tilt mounts will allow you to hang a TV on drywall up to a certain weight limit. And you will still be able to adjust the viewing angle.
With full-motion mounts, you will be able to hang the TV anywhere, at any angle, and you will be able to adjust it for the optimal viewing angle, eliminate glare, and level it perfectly.
Finally, you must note that all mounts use the VESA mounting standard. This is simply a drill hole pattern that allows you to attach the bracket to a TV of any size. While most mounts are universal, mismatches occasionally happen, so you need to check if the mount of your choice matches your TV.
Here's your best TV wall mount (full-motion) and a few runner-ups if you care to explore. These include shopping links (they earn us a commission at no expense to you.)
What's Inside?
Heavy-Duty Full Motion TV Wall Mount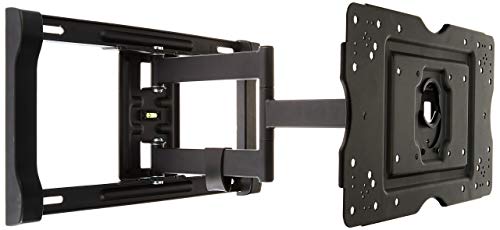 This is our editor's choice for the best TV wall mount.
Safely and securely mount your 32 to 80-inch TV with this universal TV wall mount. The articulating arm design extends up to 19.9 inches from the wall, allowing you to position your TV how you please. With 15 degrees of tilt, you can quickly achieve the optimal viewing angle. Made of heavy-duty aluminum and steel for reliable strength, this TV mount can hold up to 130 pounds of weight.
Quick facts:
Full range of motion heavy-duty bracket.
Supports TV sizes 32" to 80".
Up to 15-degree tilt.
Made of reinforced aluminum.
Several configuration options for different size TVs are available.
Studless TV Wall Mount for Drywall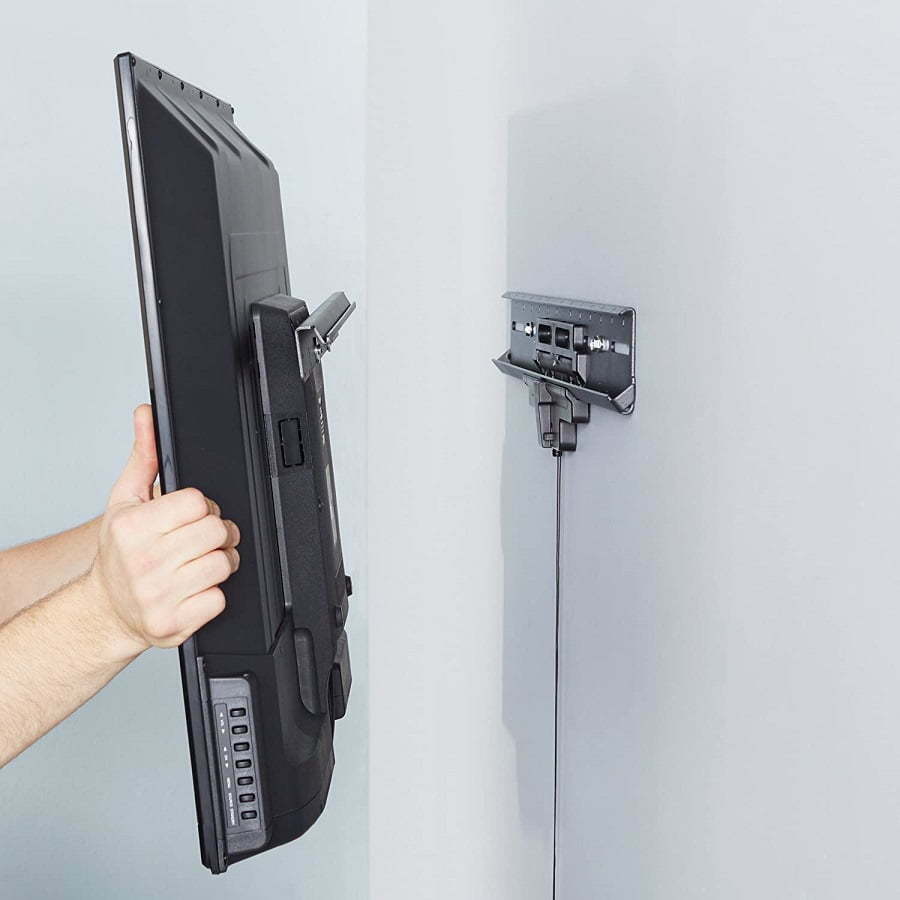 This no-stud wall mount can hold 32- to 80-inch TVs. Its low profile won't extend more than an inch from your wall, and it can tilt up to 5 degrees. This reliable mount is made of strong steel and holds up to 150 pounds on drywall (using drywall anchors) or 200 pounds on studs, brick, or concrete.
Quick facts:
Studless tilting bracket.
Works on drywall (up to 150 lbs)
Supports TVs up to 80 inches (200 lbs on studs, concrete, or brick wall)
Pipishell Low Profile Tilt TV Wall Mount Bracket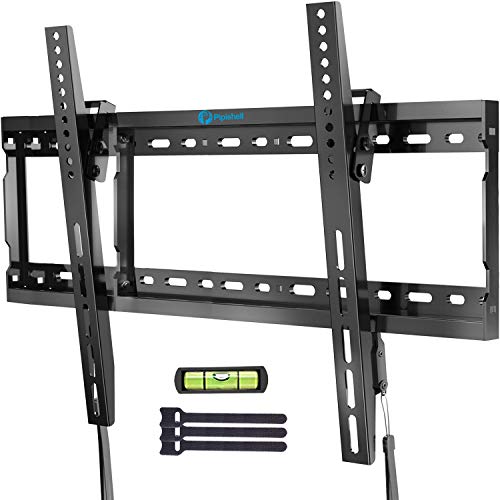 To save space in your living room and home, the wall mount TV bracket is fixed 1.5" from the wall. The mount's built-in tilt feature allows you to tilt downward at 7° so that you can choose the healthiest and most comfortable viewing position while reducing glare and neck and eye strain. It also has an open wall plate design allowing it to be mounted directly over electrical outlets for a clean installation.
Quick facts:
Tilting low profile bracket.
Supports TVs 37" to 70" and 132 lbs.
Tilts up to 7 degrees.
Mounting Dream TV Mount with Sliding Design
This wall mount extends, tilts, swivels, and collapses. Longer arms with 19 inches of extension give you optimal positioning. VESA mechanism is compatible with all major TV brands. A clever design allows the TV to shift left, right, or center. Made from heavy-duty stainless steel and supports TVs up to 70 inches.
Quick facts:
Sliding and tilting design.
Durable stainless steel construction.
Supports TVs at 24" to 70".
Full Motion TV Wall Mount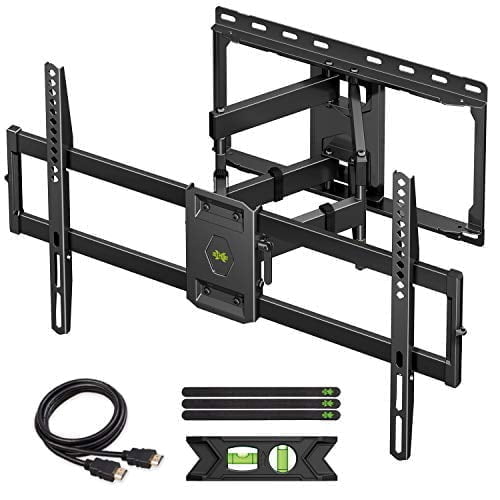 This TV mount is suitable for most TVs from 47" to 84". It includes a +5° and -15° tilt, 45° swivel, 3° adjustment that allows for perfect leveling of your TV. The dual articulating arms provide flexibility and a better view based on the seat location in the room. This wall mount saves space by pulling out to 16" and retracting back to 2.4".
Quick facts:
Full motion bracket design.
Supports TVs from 47" to 84".
Supports weight up to 132 lbs.
ECHOGEAR Full Motion TV Wall Mount For Big TVs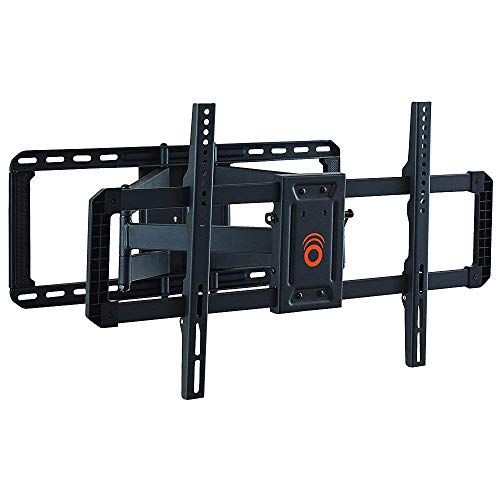 This full-motion TV mount supports TVs as large as 125 lbs or 86". You can pull your TV out of the wall 22″ inches (and back to 2.4") and make it a point in any direction you'd like with 130º of smooth swivel. This mount is compatible with all major TV brands, including Samsung, LG, Vizio, Sony.
Quick facts:
Full motion TV bracket.
Supports TVs up to 86" and 125 lbs.
Made of heavy-gauge steel.
Everstone Full Motion TV Wall Mount With Height Adjustment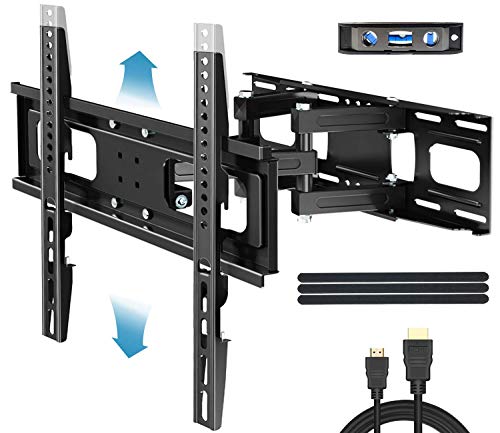 This TV wall mount has two hook height modes to adjust TV height easily. Dual arms can hold up to 121 lbs. This wall mount can be put in walls with studs between 8″ and 16″ or on a concrete wall. It tilts the TV up by 3° and can go down by 15° and swivels the TV left or right by up to 180°.
Quick facts:
Full motion bracket (tilt, swivel, and height adjustment).
Supports TVs 32" to 65".
Made of alloy steel.
Pipishell TV Wall Mount Bracket with Full Motion Dual Swivel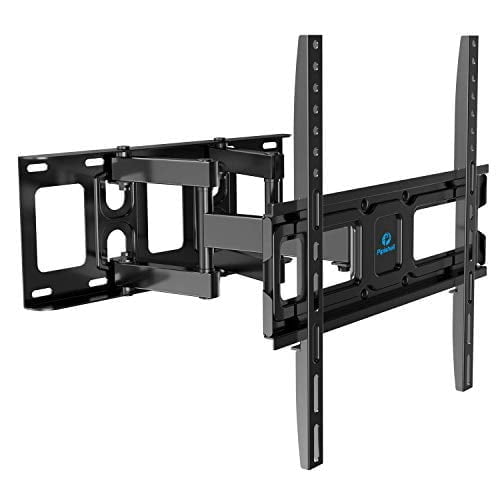 You can trust this TV mount to keep your TV in place. This sophisticated piece of engineering is tested to hold up to four times the amount it's supposed to carry, so you can be sure it will hold your TV when fully extended. Plus, it provides a sturdy wall panel that will give you confidence that your TV will stay put. It's compatible with TVs up to 55 inches with VESA mounting holes (up to 400 x 400 mm), and its maximum weight capacity is 99 lbs.
Quick facts:
Full-motion dual-arm bracket.
Supports TVs up to 55" and 99 lbs.
Made of alloy steel.
Advanced Full Tilt Extension TV Wall Mount Bracket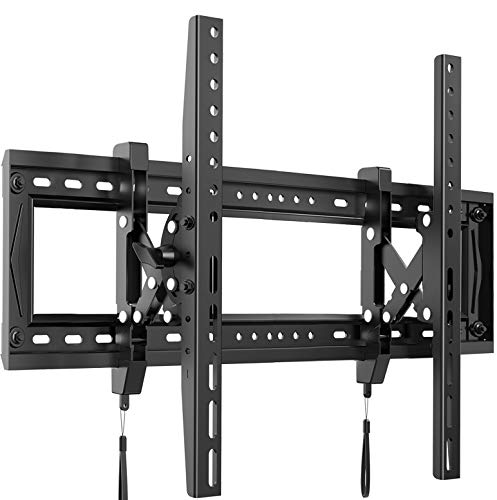 Big TVs installed on traditional tilting mounts often hit the wall, causing a tilt limitation. This large TV mount extends 2.4 to 5.2 inches to save space and gives you easy access to cables that are impossible to reach when the TV is tilted all the way back. The mount can be tilted 8 degrees to eliminate screen glare on any TV, no matter how big they are.
Quick facts:
Full tilt bracket.
Supports TVs up to 90" and 165lbs.
Tilt up to 8 degrees.
Perlegear Full Motion TV Wall Mount Bracket
TV wall mounts are constructed from high-quality steel materials and fit most 37-75″ TVs weighing up to 132 lbs, like Samsung, Sony, Panasonic, Thomson, Toshiba, Sharp, LG, Philips, JVC, etc. These solid TV brackets feature a compatible faceplate that fits VESA patterns from 200×100 mm to 600×400 mm.
Quick facts:
Full-motion bracket.
Supports TVs from 37" to 75" and 132lbs.
Made of alloy steel.
FAQ
Do TV mounts ruin walls?
You need to drill holes in a wall to hang a TV mount, which doesn't go unaffected. But if done correctly, you are left with just a few holes in the wall. Later on, if the mount is removed, the holes may be filled with a filler and painted over. This may become an issue only if the wall has wallpaper or mural.
Should a wall-mounted TV be tilted?
A wall-mounted TV should be tilted to find the correct viewing angle. It is almost impossible to find one correct angle with a fixed mount because it doesn't allow you to adjust it after the installation is complete.
Are full motion wall mounts good?
Yes, the full-motion wall mounts are excellent for their flexibility. Using a full-motion mount, you can mount any TV anywhere on the wall (including corners).
Do TV wall mounts leave big holes?
If you install them properly, TV wall mounts leave only small holes.
Is there a way to mount a TV without drilling holes?
It is always recommended to drill holes and properly attach a TV mount to the wall for safety. Alternatives such as command strips are not designed to hold a lot of weight and may not hold the TV properly. If you can't drill holes, consider a hybrid TV stand that's essentially a bare-bones frame that lifts the TV to the required height.
Can you mount a 65 inch TV on drywall?
65-inch TV weights too much to be mounted on drywall. Most mounting products will indicate this. So you need to find the wall studs to mount such a big TV unit on drywall.
How do you hide the cords on a wall-mounted TV?
The easiest way to hide the cords on a wall-mounted TV is to install the mount on a power outlet. Most mounting brackets support this setup. However, such a power outlet should be planned at the required height for the TV from the beginning if it's not available (lower to the ground), use cable management products that cover bundled cords from the view.
Liked this article? Here's what you can read next:
---
Disclosure: As an Amazon Associate we earn from qualifying purchases.