Last updated on March 14, 2021
Looking for the best outdoor bench for your patio, porch, or garden? We've got you covered with our best picks. Read on!
Sometimes, you just want to sit back and relax or read a book outside while breathing some fresh air. And what a better way to do that than sitting on your favorite outdoor bench?
Nowadays, outdoor benches aren't just for relaxing, some can be used for fun and recreational activities, while others use them for a picnic. We've made a list of the best outdoor benches for you to choose from only the best out there.
How to choose the best outdoor bench?
Here are some questions you need to ask yourself first before buying a new bench:
Is it built to last? Your outdoor bench can be your buddy for years to come so taking a closer look at its longevity is a great idea.
Portability – is the bench easy to carry or move around?
The functionality – some benches can be converted into tables but most of them require a set of two to fully maximize their benefits.
We did, however, find that most of the outdoor benches have certain drawbacks. These are very common so you should be well aware of them.
These things might make you change your mind:
The odor – believe it or not, this is important because if it has a strong chemical smell, chances are you won't enjoy relaxing on it.
How long does it take to assemble – some are easy while others may take longer.
Make sure it fits your size need. The worst thing to get is a bench that's too narrow or too tall.
Want to see some great picks? We have the top ten benches next. These are based on extensive research and unique data available only to our site. Let's check them out. Please note that we might get compensated for some purchases (this is indicated by #ad) at no expense to you.
Which one of the following will you have in your outdoor space?
What's Inside?
Best Porch Bench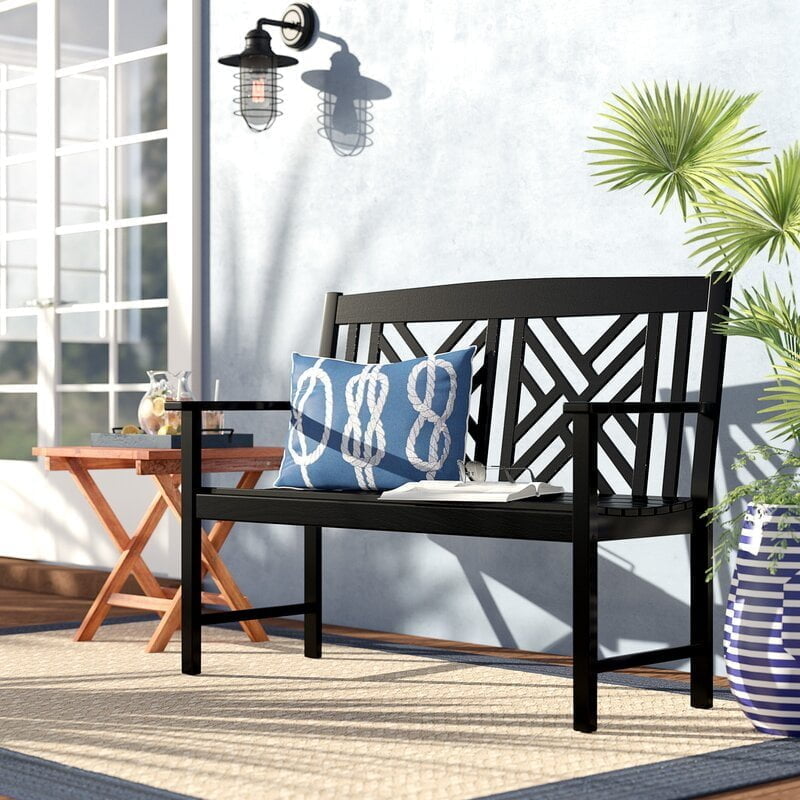 A nice traditional bench with a hint coastal visual touch to have on your porch. It's simple but comfortable to sit on. The eucalyptus wood makes it durable and weather-resistant. Overall, it's a lovely piece to look forward to relaxing on at the end of the day. And it looks good in your outdoor space decor.
Pros: made from durable and weather-resistant eucalyptus hardwood; comfortable to sit on – it can comfortably accommodate two adults; very lightweight so you can move it easily.
Cons: liquids leave streaks on the surface; paint finish isn't as durable.
Best Patio Bench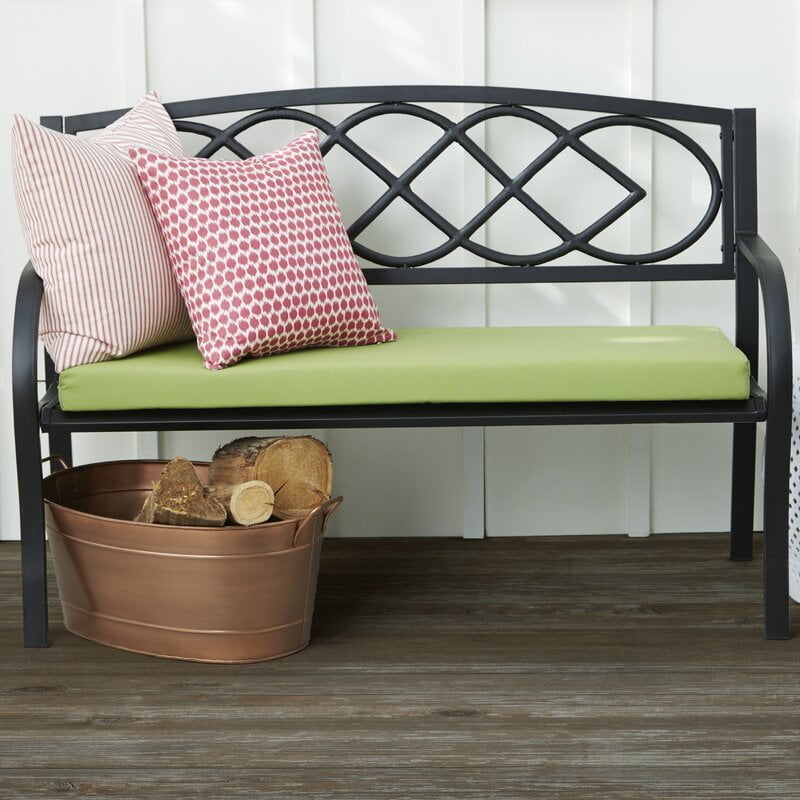 We've chosen a cast iron bench for the best patio bench for two reasons. First of all, it will withstand any kind of elements (it's important as many patios aren't covered.) Secondly, the Celtic Knot backrest pattern is visually attractive and interesting. Weatherproof cushions are needed for comfort.
Pros: heavy-duty durable cast iron frame; classic and attractive; can be used in uncovered spaces; easy to assemble and feels sturdy.
Cons: not entirely cast-iron (parts are tubular); top-heavy so it might tip over.
Outdoor Bench with Storage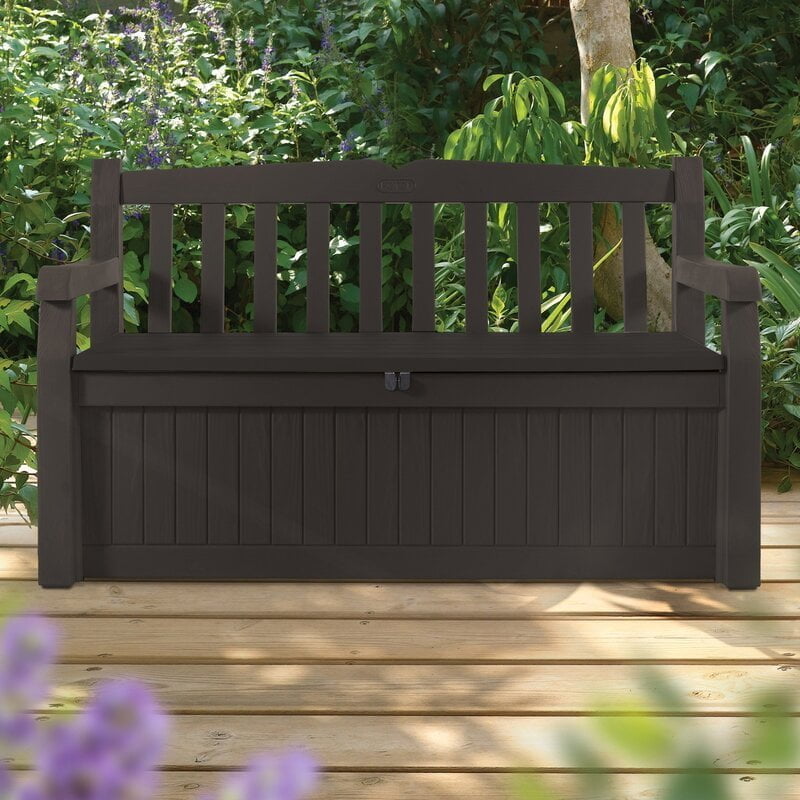 Most outdoor benches don't come with storage space. This is that rare kind of a bench that has extra hidden storage underneath that can accommodate up to 70 gallons. This stylish furniture is polypropylene constructed that prevents rusting, peeling, and denting.
Pros: hidden storage underneath the seat; made from durable, UV-protected resin; everything matched up fairly well and it had very easy instructions.
Cons: no lateral supports mid-way through the bench at the bottom to keep it from bowing out.
Metal Garden Bench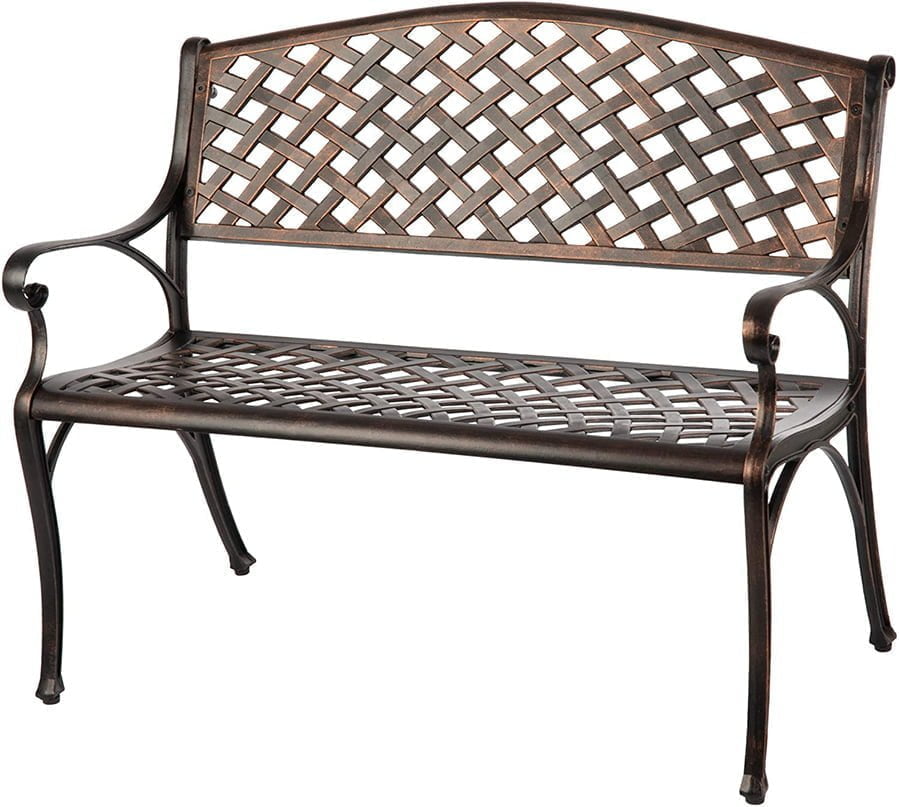 A short bench with an antique bronze finish, lightweight and mobile with adjustable legs, this item is easy to assemble and doesn't need maintenance. It is very well constructed and can accommodate up to 225 lbs.
Pros: attractive antique bronze finish which is perfect accent to any patio; lightweight and easy to move around yet very sturdy; bench legs are adjustable at their base.
Cons: main screws easily rust.
Teak Bench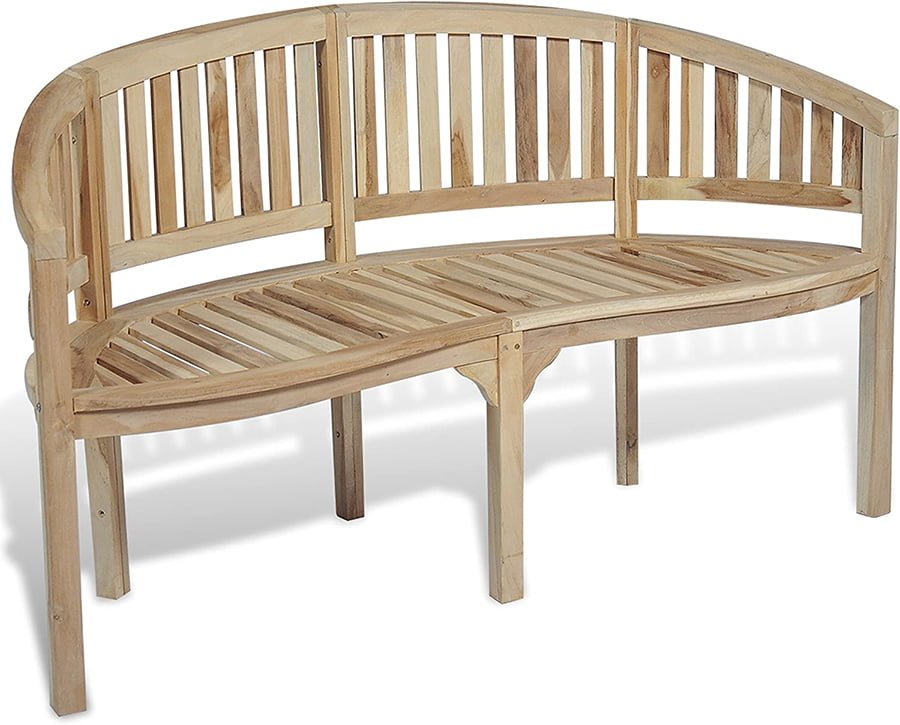 This is a natural-looking, banana-shaped bench made up of fine sanded teak hardwood that will look stunning in the garden or on the patio. It's long-lasting and requires minimal maintenance.
Pros: made from teak hardwood known for its strength and weather resistance; the polished surface is easy to clean with a damp cloth; with ample seating space for three people.
Cons: wood dust.
Best Outdoor Wooden Bench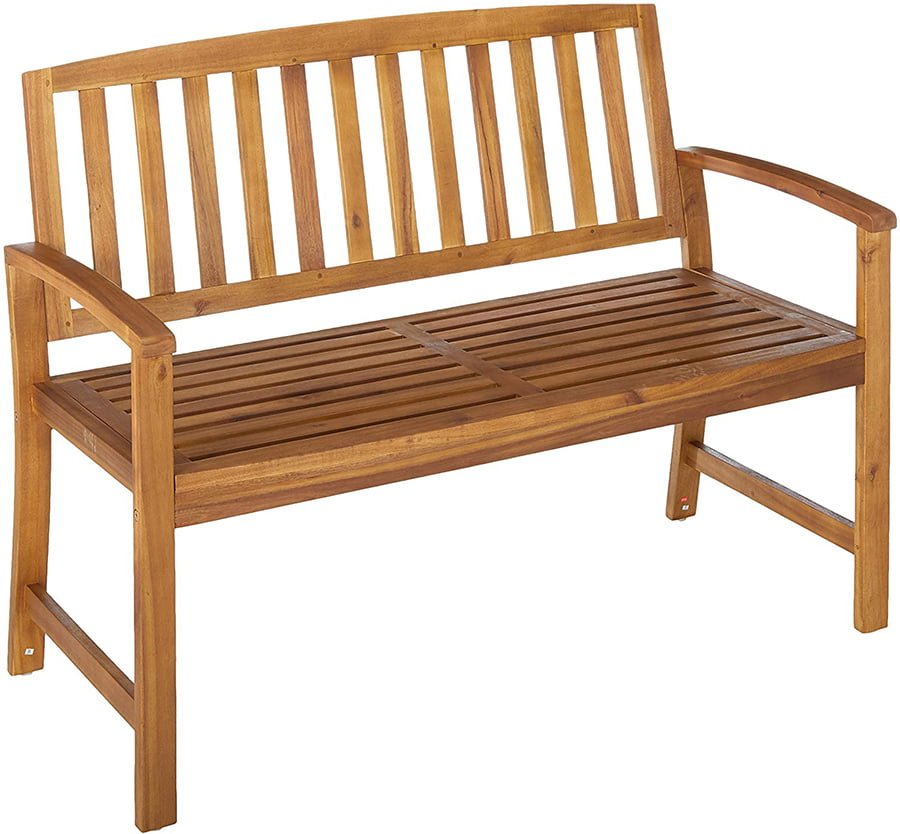 Both sturdy and beautiful, you can fully enjoy the sounds of nature on this masterpiece. You'll love this for many years to come. This bench has an unpleasant smell at first that will fade away eventually.
Pros: made from durable Acacia wood; all the pre-drilled holes and the two dowels lined up perfectly; well-constructed bench.
Cons: has a strong smell at first.
Plastic Outdoor Bench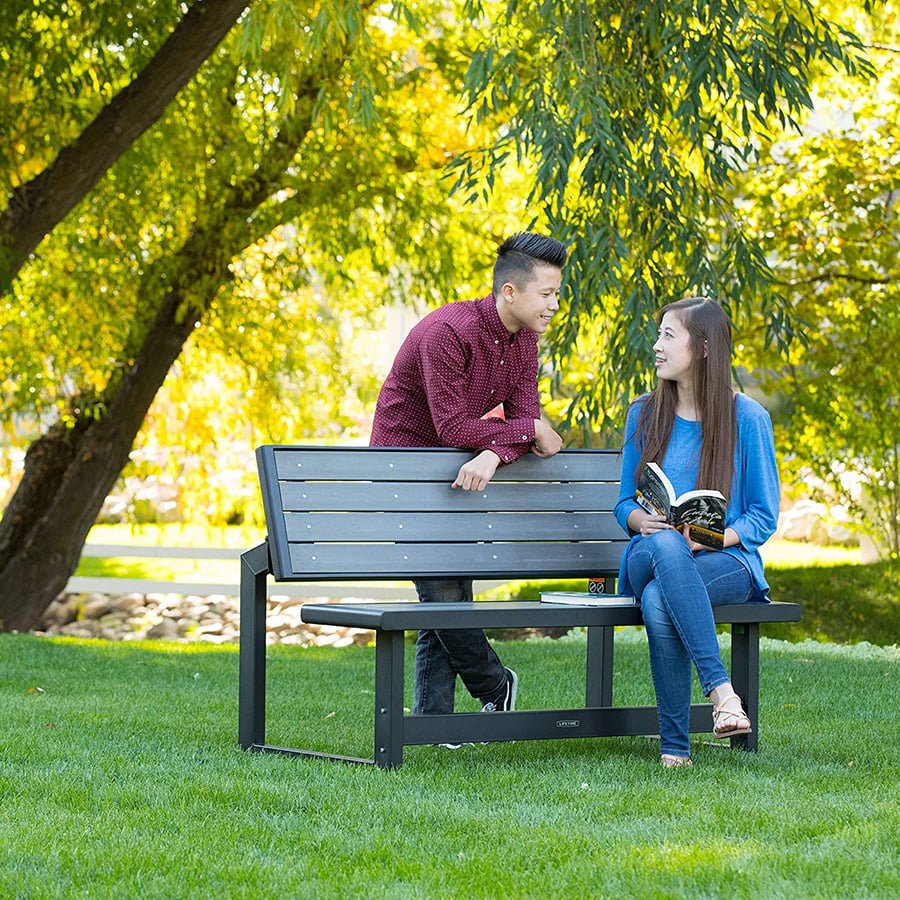 Here is a unique bench that can convert from bench to table with ease. Polystyrene slats can quickly drain the water out of it. Having an extra one of these can make a full-size picnic table.
Pros: converts from bench to table; steel frame in a powder-coated, rust-resistant finish; adjustment mechanism for the tilt; sturdy and easily holds six adults at once.
Cons: slightly tall – people with short legs find it uncomfortable to sit.
Small Outdoor Bench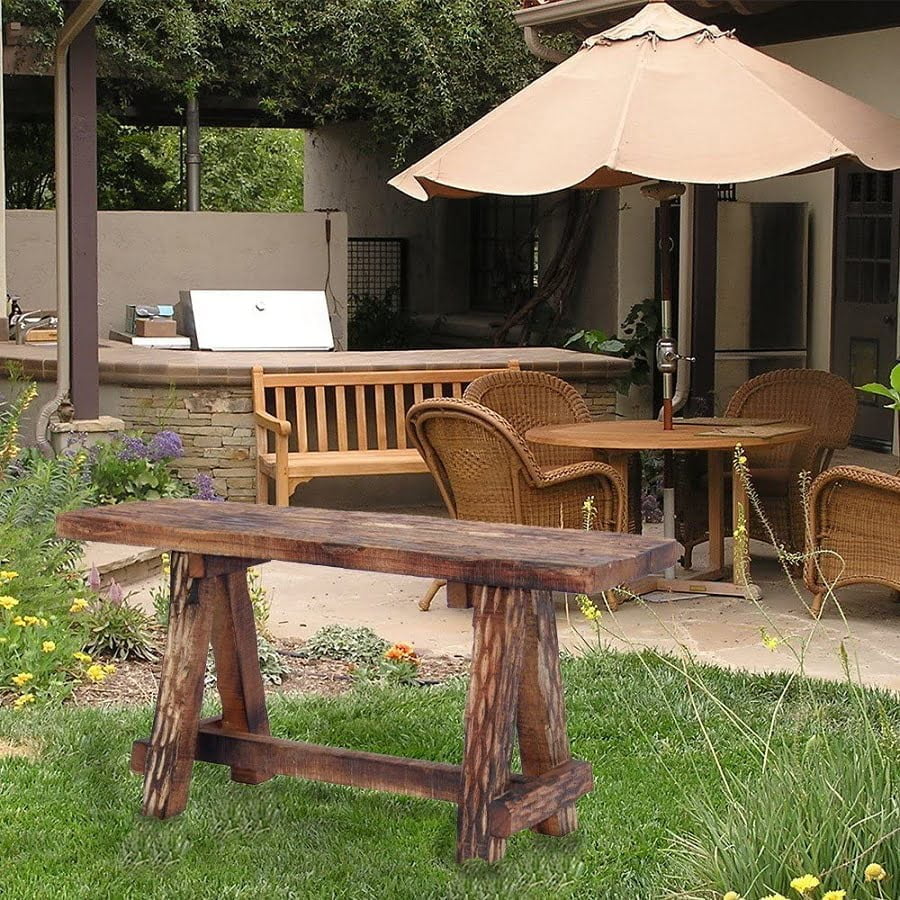 A very simple small bench with retro etching that is very portable. It's made of Acacia hardwood in cappuccino brown finish. It includes a footrest for more relaxing and comfortable sitting.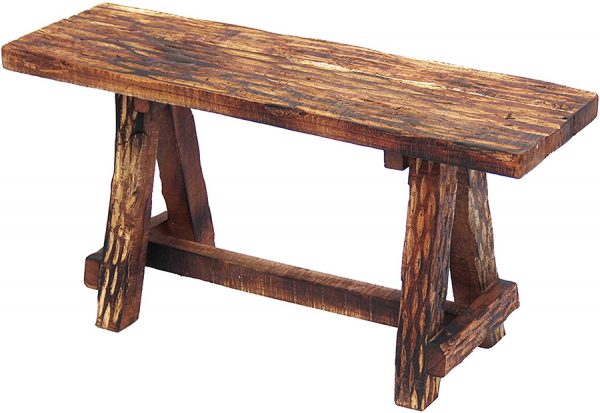 Pros: design makes it blend with any decor theme either conventional or contemporary; acacia wood makes it sturdy; a footrest.
Cons: may have uneven legs.
Curved Outdoor Bench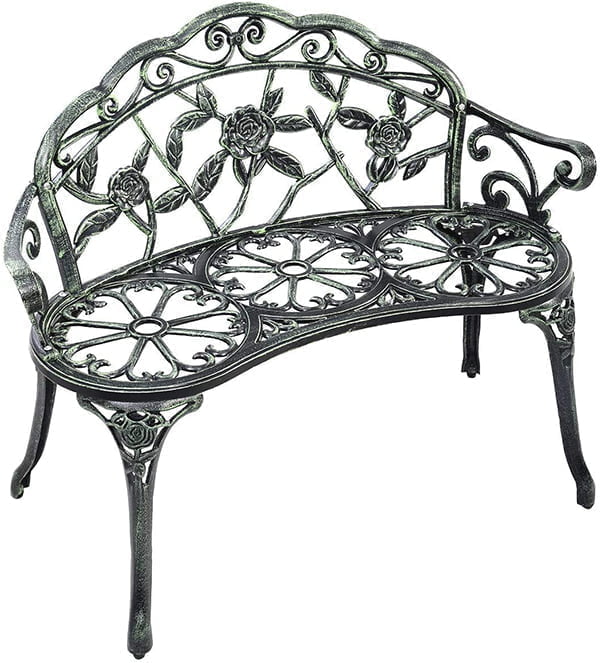 How about an antique but classic looking bench that's made of aluminum and iron? This piece of furniture has slanted legs to better distribute weight, foot pads to protect it from the ground and armrests for more comfort.
Pros: made of cast iron and aluminum; lightweight yet durable; fairly easy to assemble; feels very sturdy.
Cons: assembly instructions a bit unclear.
Resin Garden Bench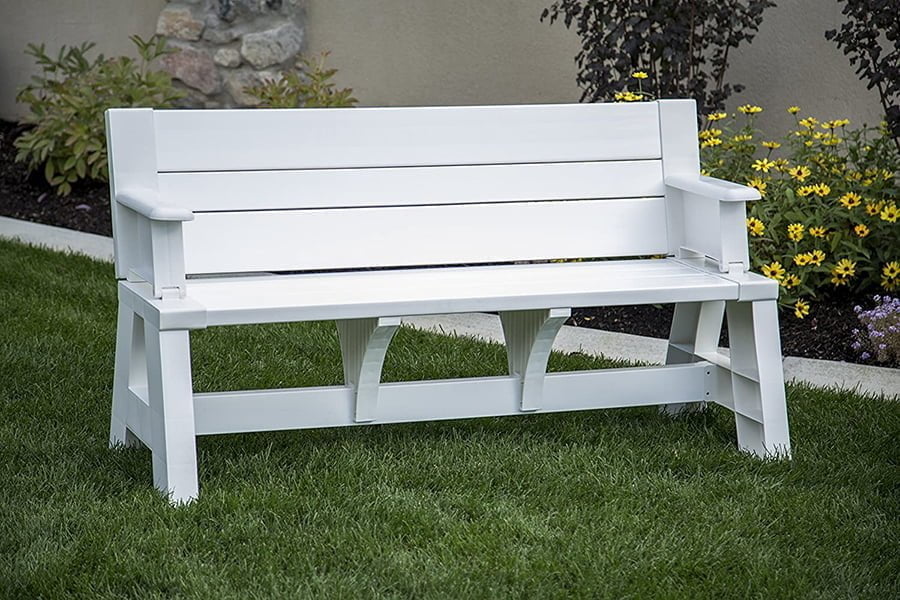 This piece of furniture is simple and elegant looking. It's quick to build, perfect for indoors and outdoors and can make a complete table if two benches were combined.
Pros: quick and easy assembly; can be a single-sided table, or joint with another unit to make a full double-sided table; lightweight and easy to move.
Cons: a bit narrow to get into the bench when it is set in the table mode.
Liked this article? Here's what you can read next:
---
Disclosure: As an Amazon Associate we earn from qualifying purchases.