Last updated on April 3, 2021
Want to add a classy, luxurious accent to your home or snuggle up in a comfy faux fur blanket? Here are the top 10 best-rated faux fur blankets you can get in 2021.
We choose the softest faux fur blanket as the best.
Fur has always been an item of luxury. Anywhere you see it in the interior design, it speaks volumes about the classy and luxe decor. As a material, it has a high-impact texture and has qualities that make it extra comfortable as a blanket. But there are ethical issues about using real fur. That's why faux fur blankets have become all the hype as an alternative to the real thing.
A faux fur blanket has almost all the benefits of real fur (especially when it comes to home decor) and none of the drawbacks. It's just as soft and comfy, but it doesn't shed, and it's easier to clean. It looks just as stylish and luxurious, but you don't harm animals to get it. And compared to real fur, the faux option has a wider variety of color and pattern choices. The only thing faux fur lacks is the ability to let the air through while maintaining the temperature (but that is less so obvious with high-quality products.)
You can use a faux fur blanket to snuggle up on a couch to read a book or watch TV. Or you can use it as a bedspread and make your bedroom look like a 5-star hotel room. And you can drape it over a chair for that high-impact decor accent. You may want to use a fur blanket as a photoshoot prop too.
In any case, you can enjoy the great benefits of fur and at a fraction of the cost of the real thing. All you have to do is choose the right faux fur blanket. And that's where we make it easy for you. We've made a list of the top 10 best faux fur blankets of 2021, so you don't have to wade through hundreds of options available.
Which one will you choose?
Note that the shopping links earn us a commission at no cost to you.
What's Inside?
The Softest Faux Fur Blanket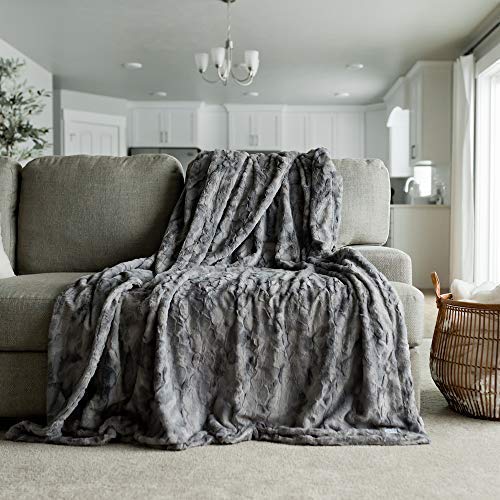 The Graced soft faux fur throw blanket is ideally quilted in a double-sided design that allows you to use any side and delight in ultra-plush softness regardless of the side you choose. It makes a good statement piece that seamlessly blends into just about any room décor and that's largely because of its gorgeous design. It is massive and designed to ensure that you can snuggle up comfortably and enjoy its warmth. This will make a great gift for yourself or anyone who loves warming up when it is cold and love to snuggle in bed or on the couch.
Pros: This large blanket makes it easy for individuals to wrap themselves up for ultimate comfort and warmth. It is high in quality and made from durable materials.
Cons: It is a bit on the heavy side.
White Throw Faux Fur Blanket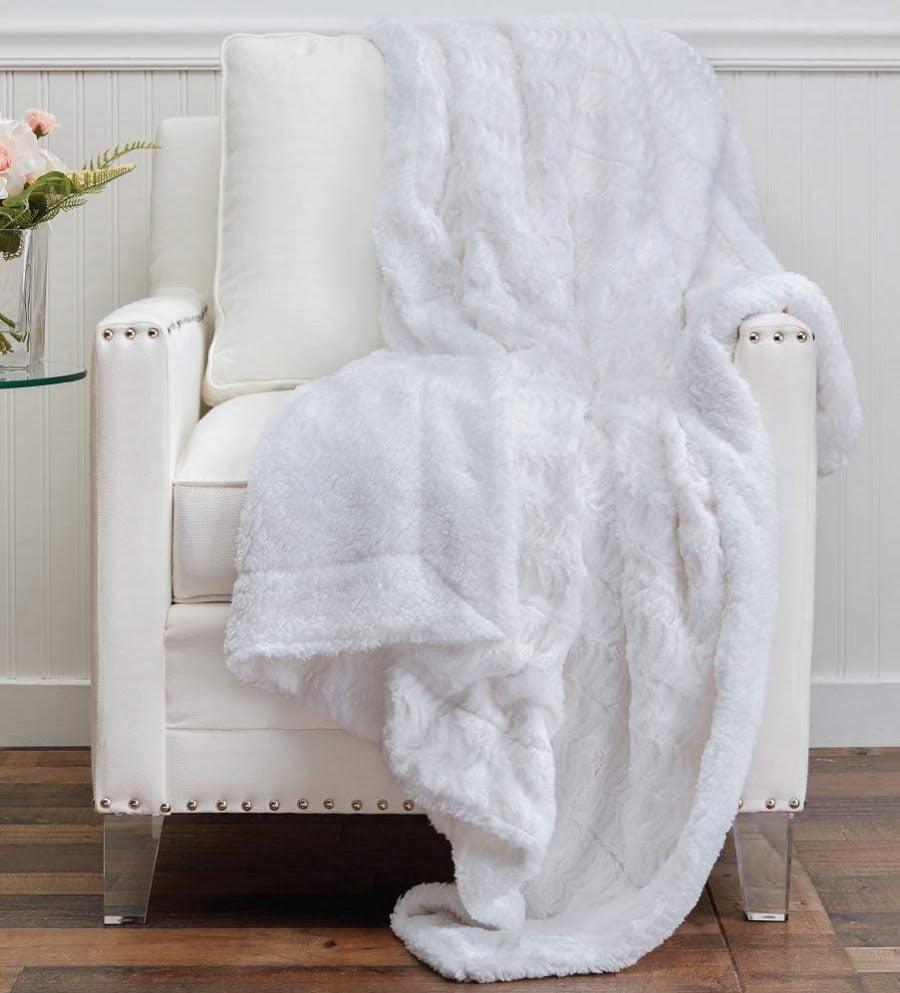 With its plush and thick Sherpa underside, this white faux fur blanket provides an abundance of softness and comfort that many users appreciate. Additionally, the Connecticut Home Company has been renowned for the exceptional quality of their knitting. This blanket is hypoallergenic wrinkle-resistant and it is quite easy to handle. It is quite affordable as well.
Pros: It is warm, cozy and soft; It is easy to wash and maintain.
Cons: After several washes, it begins to lose its glamor.
Aqua Throw Blanket
This blanket from the Connection Home Company is carefully constructed of soft, brushed and thick faux fur on its top side. It also has a Sherpa underside that is plush and thick, giving it a double side of softness. In addition, this blanket will not shed or pill like some others that are available on the market.
Pros: It is cozy and thick while remaining lightweight; well-constructed and delivers warmth and comfort.
Cons: It does not seem to stand up well to overly frequent washing.
Realistic Grey Faux Fur Blanket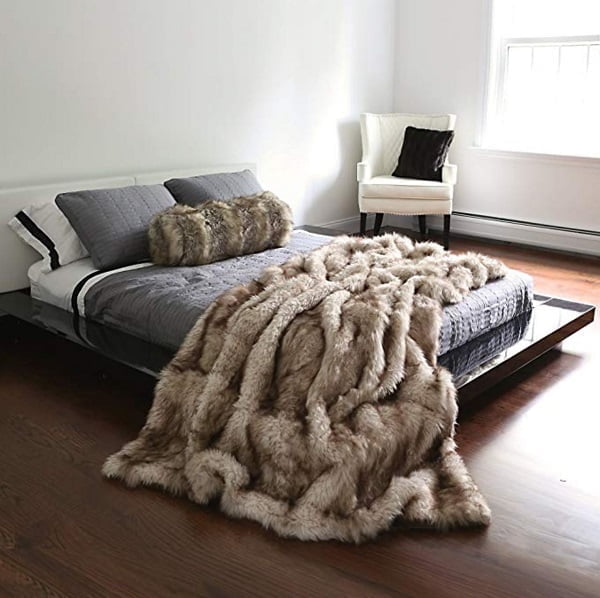 This faux fur blanket looks and feels very real. It's thick, soft and realistically heavy, the fur hair feels real between your fingers, and it folds down naturally when thrown on a piece of furniture. Thus it makes a luxurious decor accent and a comfy blanket – nobody will believe you've paid so little to get it.
It's made of acrylic fiber, and the blanket is lined with faux rabbit fur. That's what makes it fall so nicely and feel so comfy. It is quite delicate, though, so you'll be able to machine wash it gently in cold water only.
You can choose this blanket in several different colors and patterns resembling authentic fur of real animals (without any harm done to them.) There are three different sizes to meet your needs too.
Pros: This fur blanket is very realistic, plush and cozy. It's a real luxury item to have at home.
Cons: Not as soft.
Pink Decorative Throw Blanket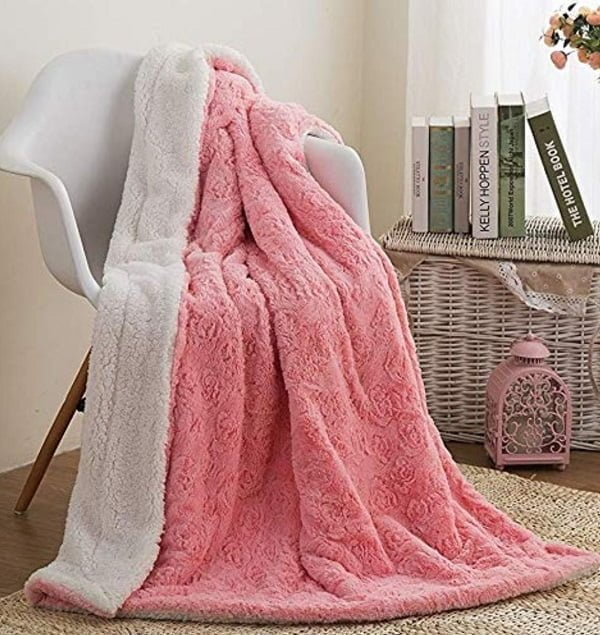 If you're one for shabby chic decor, this pink faux fur blanket in a rosy pattern is a striking accent for the style. If pinks is what you're looking for, this blanket will do nicely. It's very soft, reasonably warm and very light. That doesn't make it very realistic (nor does the pattern) but it doesn't hurt the comfort and the look.
The bright pink will work as a decor accent in any eclectic room, girls room, or anywhere you want to make a high-impact luxurious decor accent. As a unique blanket, it will work as a great gift too.
Pros: It's an interesting pink faux fur blanket in a pattern that makes a high-impact decor item.
Cons: Not as soft.
Black Faux Fur Blanket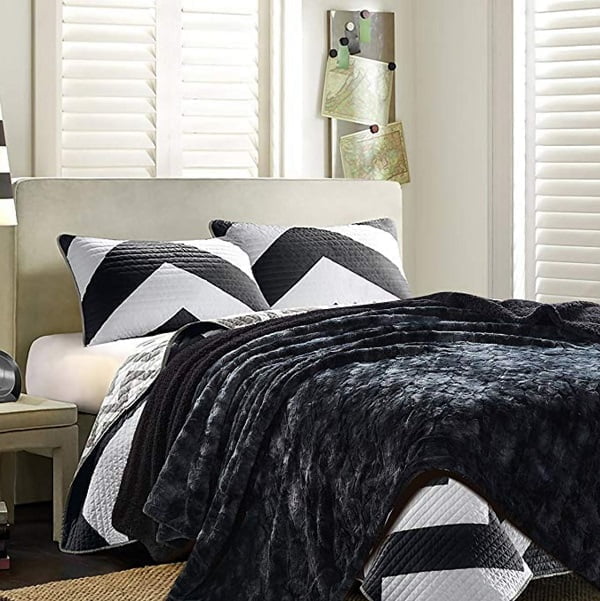 While we list this faux fur blanket as black here, it does come in a wide variety of color – there's no problem in finding the right fit for your decor. This high-grade fiber faux fur is an Amazon's Choice for a good reason. The 3,500 positive customer reviews have caught our attention, and we did not get disappointed. It's a very affordable blanket that feels good just as it looks good.
You'll be able to use it just as you would use a real fur blanket. That is to snuggle up and use it as a decor piece when unused. A touch of luxury will bring out the best of your decor in the living room and the bedroom (pro tip: try using it in the bathroom too.)
As mentioned, you can choose from several different colors, and you can choose from a few standard sizes – from a small throw blanket to a king size bed cover. The blanket is thick and soft enough to be comfy and warm. It washes easily, and you can even tumble dry it at low temperatures. As the faux fur doesn't shed, it makes a convenient blanket that your whole family will love (including your beloved pets.)
Why it's good: We love to snuggle up and feel the embrace of luxury – that's what this faux fur blanket can offer.
King Size Faux Fur Blanket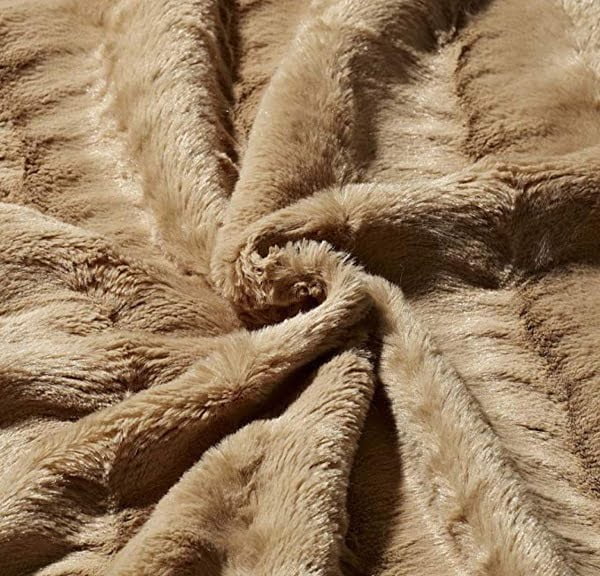 Looking for a full spread in faux fur for your king size bed? This king size blanket will do the trick, and it will lie on your bed nicely to give it a luxurious effect. Indeed, your master bedroom will look hotel-grade with this decor accent.
The faux fur blanket is made of high-grade fiber, it doesn't shed, feels soft and comfy and it looks very stylish. It's easy to wash and dry too (make sure you're gentle with it.) You can choose from a few different colors and sizes also.
Why it's good: It's a high-quality faux fur blanket in king size. It's a great product with a ton of positive customer reviews.
Shaggy Queen Size Faux Fur Blanket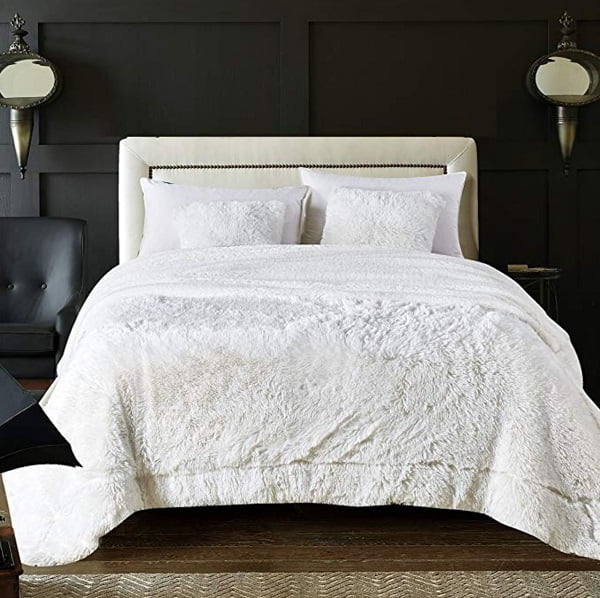 If you want to spread an extra fluffy faux fur blanket over your queen size bed, this item will do the trick. It's thick, soft, and comfy. So you'll enjoy cuddling up in it, not only spreading it over your bed. It will make a classy, luxurious accent in the bedroom at a meager price.
Why it's good: It's a very affordable queen size faux fur blanket and a high-quality product.
Wolf Throw Blanket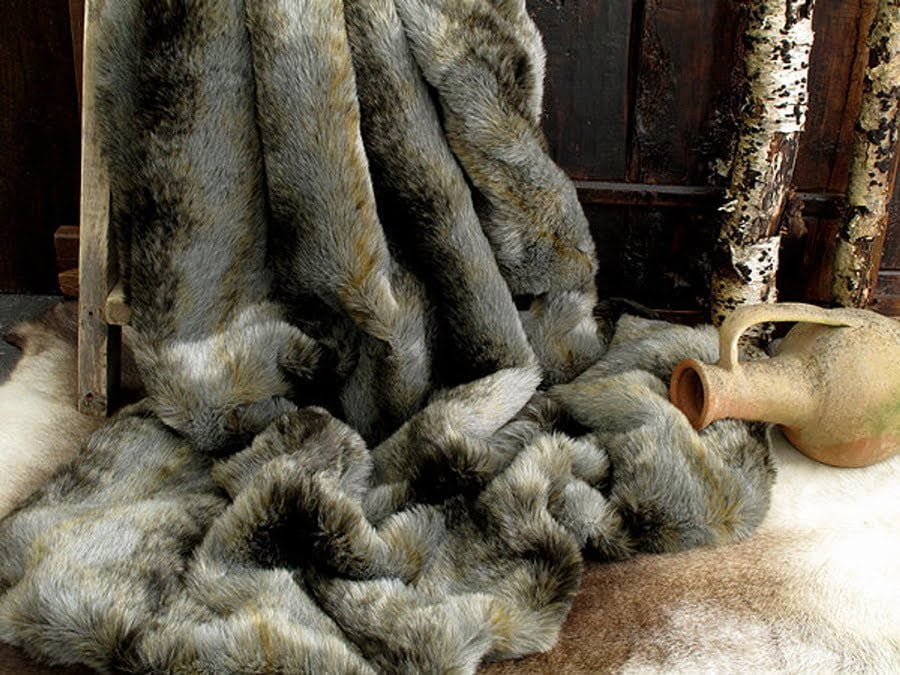 Grey Wolf faux fur throw is among the designs that was introduced by the company many years ago when they initially started to produce faux fur throws. Ever since, this throw has never lost its popularity. Its price range makes it affordable for the majority of situations and it has graced a number of hotel rooms. It is made of a rich mixture of earthy colors. The capacity to wash the smaller throws by hand or machine makes this design quite popular with pet owners; therefore, it also makes for a remarkable pet blanket.
Pros: It can be washed by machine or hand for easy cleaning. Its design is timeless.
Cons: the price.
Black and White Blanket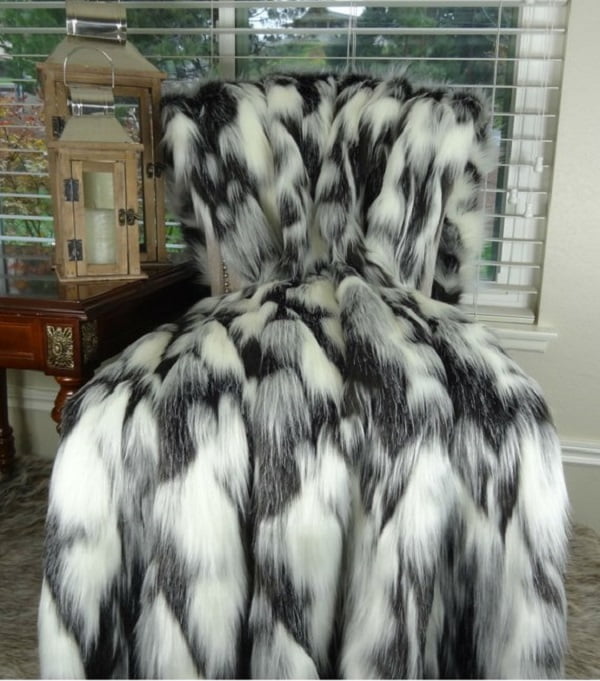 Black and white patterns are always classy and combined with the faux fur texture they make a luxurious decor feature. You deserve this item in your home. It comes in several standard sizes, and it will meet all your needs. The blanket is as comfy as you'd expect a fur blanket to be.
Why it's good: If you like the pattern and want a high-quality handmade product, this faux fur blanket will be a great choice.
Liked this article? Here's what you can read next:
---
Disclosure: As an Amazon Associate we earn from qualifying purchases.