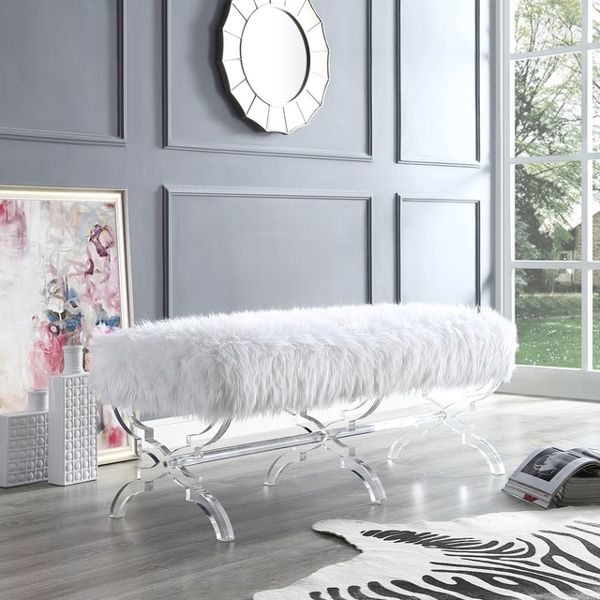 Looking for the best bench for your home? Here are the best benches in every category and every room of the house.
When it comes to furniture, a bench is one of the most versatile pieces that can be used just about anywhere. Indeed, it can be placed in any room inside the house or outside. Some types of benches can even be used as tables. So choosing the best bench can actually pose quite a challenge.
This is another of our excellent guides to the best pieces of furniture to make a choice as easy for you as possible. We've used extensive research to pick the best benches of all types, and we lay it down here in an easy to read fashion. As usual, we've made our top picks and gave you our reasons behind these choices.
How to Use this Guide
There are tons of benches to choose from, but it helps if you can narrow down to a specific type of bench that you want. Use the table of contents below to go straight to the best choices based on your needs.
Table of Contents
---
Best Storage Benches
Storage benches are great because they give you not only seating space but hidden storage as well. This type of a bench can be used in the bedroom or the entryway (but not limited to that!). This is our top pick for the best storage bench.
Madison Park Shandra Storage Bench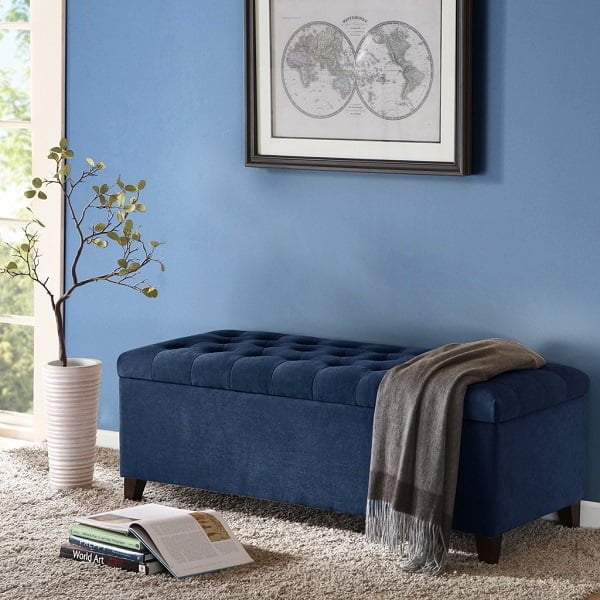 If you are looking for a bench that is both functional and comfortable this product should be at the top of your list of considerations. The unit features outstanding button tufting that gives it a unique appeal. The bench is covered in quality fabric that remains in good shape regardless of the frequency of use. Its cushion is quite soft meaning that anyone that sits on the bench will enjoy comfort irrespective of the number of minutes or hours they remain seated. The storage space is quite large making it possible for you to organize your house.
Why it's out top pick? It's as stylish as it's functional. You get a big bench with lots of room for storage. The tufted look is classy which will work in most decor cases. It's a high quality product with mainly positive reviews. You can choose the color too! And it's available on Amazon at a very affordable price.
And here are our two runner ups for the top pick that you can consider as well.
Leighton Linen Tufted Storage Bench
This is a multipurpose unit that features a beautiful linen fabric covering all parts except its legs. It also has silver nail head trim that gives it an extra look of elegance. Tufted high-density foam allows you to enjoy comfort while seated on this bench. Solid birch legs make this product quite sturdy and allow just about anyone to be seated without exerting excessive pressure. The bench has a concealed storage area with an adjustable safety lid. The unit is designed in such a way that it can be used as a seat in the living room or footrest in the bedroom. Available at Houzz.com.
Clinton Leather Tufted Storage Bench
This product features iron legs that make it quite sturdy and capable of supporting a lot of weight. It has a backrest for extra comfort and protection of the spinal cord. With high-density foam and leather covering on the seat, it is easy to understand why it is considered one of the most comfortable benches in the market today. It has a hidden storage space that can be ideal for organizing items that need to be kept safe. You can use the bench as an entryway landing or put it in your dining room. Available at Houzz.com.
Back to Top
---
Best Outdoor and Garden Benches
When it comes to choosing furniture for the outdoors (porch, backyard or garden), there are a whole lot of different criteria to consider. The best outdoor bench needs to be sturdy, weather damage resistant and, of course, stylish. Here's our top pick for the best outdoor bench.
Eastwood Cast Aluminum Outdoor Garden Bench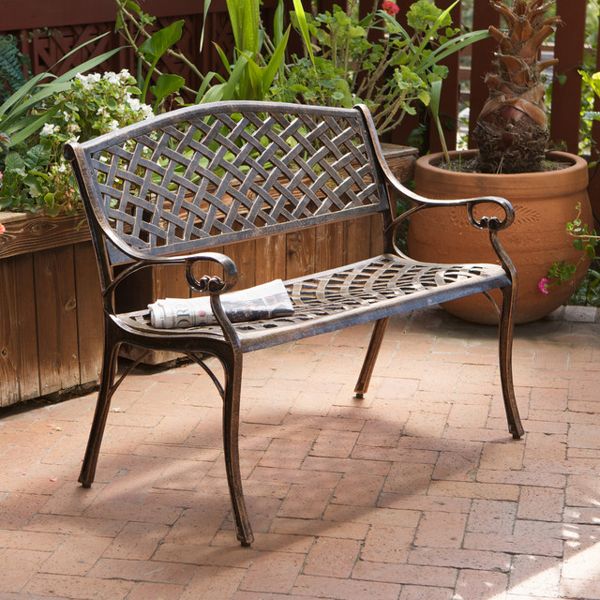 Exuding remarkable elegance, this garden bench is as beautiful as it is functional. This bench is durable and made out of heavy duty cast aluminum, which makes it a fantastic addition to any patio or other outdoor spaces. It is also low maintenance, finished in antique copper, and its design has a cross-hatch pattern that makes it interesting to look at. The bench has a comfortable and slanted backrest, with a stable base designed to provide many years of enjoyment. This garden bench is a sure way to add some class to your outdoor space.
Why it's our top pick? It's a very sturdy and durable bench – perfect for any weather. The quality is great and it will last you long. But its design is what sells it to us. Finally, it comes at a very affordable price at Houzz.
Not convinced? Here are the runner ups for the best outdoor bench.
Eucalyptus Wood Garden Bench
This outdoor bench is built out of FSC-certified eucalyptus wood, which makes it quite sturdy and sustainable. The garden bench is without visible hardware or seams and is quite substantial, making it both functional and visually appealing. To achieve this attractive, low-maintenance product, the bench had to undergo some extensive finishing. Also, the seat of the bench can be folded up and locked, which makes it easy to stow away. Even though eucalyptus is naturally weather resistant, it is highly recommended that this bench is stored a cool and dry covered area when it is not being used. Available on Amazon.com.
Outsunny Cast Iron Antique Outdoor Bench
This antique rose style garden bench provides a great place to sit while delighting in the great outdoors. It is made of lightweight yet durable cast iron metal, which makes it sturdy yet adequately comfortable to relax on. The metal seat provides optimal support, while its green iron color provides an antique look that will effortlessly and stylishly fit into just about any outdoor décor. Assembly is required for this beautiful garden bench; however, the package includes all the necessary hardware and instructions that will make this outdoor seat sturdy and usable. Available on Houzz.com.
Back to Top
---
Best Dining Benches
Dining room benches are great when it comes to hosting groups of guests. They're great for everyday use too, in fact, providing very flexible seating. And with the farmhouse style that's so trendy these days, you cannot create one at home without a dining bench. Here's our pick for the best one.
Ashley Berringer Dining Bench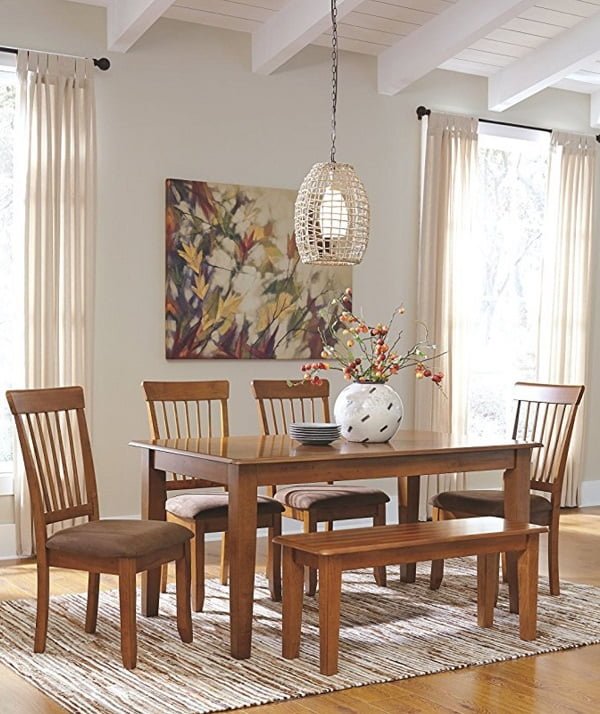 This Ashley Furniture Berringer dining bench features a rustic and warm stained finish that will help create an intimate dining space. Its simplistic and rustic design will work with most dining sets, and a dining bench is a perfect way to add additional seating around a large dining table. Ideal for seating two people, this bench is ideal alongside a dining table, in an entryway, or an eat-in kitchen. Measuring 42.5″W x 14″D x 17.75″H, this dining bench will add some simple charm and functionality to any space it calls home.
Why it's our top choice? Simplicity is its forte. Rustic finish makes it a great cozy accent, so it's best used with a dining room set of a similar style. The low price of this piece is what make it a no-brainer, and tons of 5-star reviews only make it better. Available on Amazon.
Of course, if you need more choices, here are our runner ups for the best dining bench.
Basics Hopkins AnySize Table
With the Hopkins low table any-size table kit, this piece can be transformed into a bench, small table, side table or coffee table of up to eight feet. Constructed from durable, low-maintenance resin, this table bench is easy to care for and keep clean. In a warm neutral sand color, this bench will blend in with almost any decor style. This dining bench is the perfect way to add an extra surface or some added seating to a dining room. Assembly couldn't be more straightforward, and with the customizable size feature, this bench could not be more functional or practical. Available on Amazon.com.
Acme Furniture Country Style Dining Chair House Bench
This country-style dining bench would be the perfect addition to that oh-so-popular farmhouse style space. Its thick spindle legs, natural finish, and solid-wood construction make it as decorative as it is stable and practical. The dining bench can seat two people comfortably and is ideal alongside a rustic dining table, in an entryway, or anywhere some additional seating is needed. Measuring 47″L x 14″W x 18″T, this bench could be the ideal addition to numerous spaces around the home. Its neutral and natural finish make it easy to blend in with any color palette. Available on Amazon.com.
Back to Top
---
Best Shower Benches
A shower bench is a very particular type of bench. Its placement is in the shower or bathroom, and it should provide seating as well as double as accessory storage (ideally). Unlike other benches, it has to be water resistant and small too. This is our top pick for the best shower bench.
Bamboo Spa Shower Bench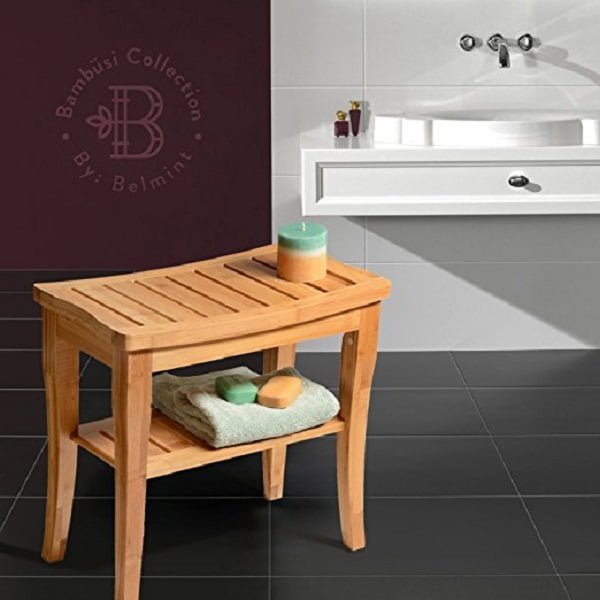 This bench is made from solid, top-quality bamboo material, which makes it antibacterial and waterproof. This bamboo shower bench seat is tremendously attractive and will bring function and visual appeal to your shower. It has a built-in storage shelf that is designed to conveniently accommodate and give easy access to your wet towels, spa accessories, and other shower tools.
Designed with practicality and versatility in mind, this shower bench can also be used outdoors on the lawn or deck, as garden décor, and in your recreational vehicle. Additionally, it can be used as a bathtub storage organizer and bathroom furniture.
Why it's our to pick? There's something about bamboo furniture in the bathroom and how it helps turn your bathroom decor into spa. It's also a high quality product with stellar reviews at a very low price. Finally, it's available on Amazon for quick and easy ordering.
Want more? Here are our runner ups for the best shower benches.
Redmon Genine Corner Shower Bench
This shower bench is made from 100 percent authentic teak wood, which is very smooth and believed to be one of the most durable and beautiful woods known. Teak is also a water-friendly wood, and this is an indication that you will be able to enjoy the beauty and quality of this bench for many years.
It arrives assembled in excellent packaging that prevents any damage to the bench. However, for many individuals, the middle legs had to be adjusted to compensate for the slant that is typical near the drain in some showers. Available on Amazon.com.
Teak Shower Bench
This beautiful teak shower seat can also double as a pool bench. It is constructed with a combination of stainless steel and solid teak to withstand damp and humid weather conditions. Crafted and manufactured of top-quality teak wood, its materials are harvested in an environmentally-friendly manner, which is great for those who strive to be kinder to the planet. The bench is designed to be used in the shower and provides a remarkable sitting place for steam rooms or saunas as well. It can also be used as an ottoman and end table. Available on Houzz.com.
Back to Top
---
Best Mudroom and Entryway Benches
The entry way or mudroom decor is so important because that's how you greet your guests. So the mudroom or entryway bench should also be as functional as it should be pleasant to the eye. It should provide storage and seating as well as bring your decor together. Here are the top picks for this kind of benches.
Simpli Home Warm Shaker Solid Wood Entryway Storage Bench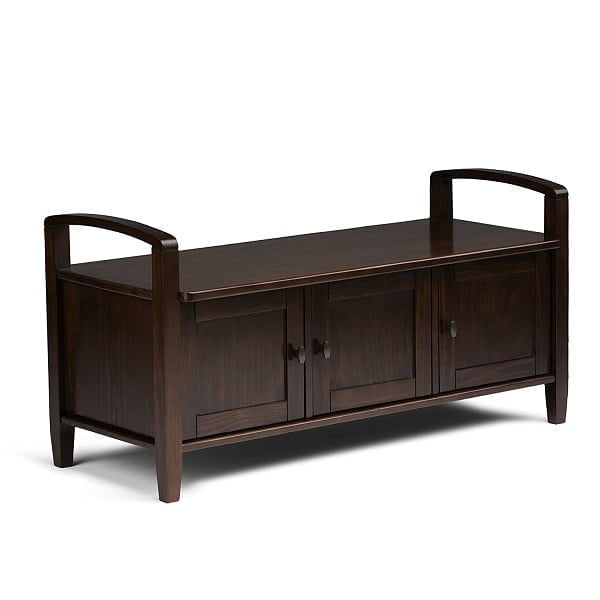 This Simpli Home Shaker entryway storage bench would make the perfect addition to a mudroom needing ample storage. Available in tobacco brown, honey brown, or distressed grey, the storage bench compliment most decors. Constructed from solid pine with three shaker-style doors, this storage bench will breathe some warmth and character into any space it calls home. Measuring 44 x 18 x 22 inches, this mudroom bench is the perfect way to make a decorative splash while adding storage and a practical seating surface.
Why it's our top pick? It's adorable! It also ticks all of our quality requirements (it's made of solid wood!). You'll love its practical design and good looks, as well as the choice of colors (which isn't big but covers most basic decor needs). The price is fairly affordable too, so we'd gladly pick it up over on Amazon.
Don't agree with our choice? Here are the runner ups for the best mudroom/entryway bench which are good choices as well.
Simpli Home Draper Mid Century Entryway Storage Bench
This mid-century Simpli Home storage bench has a warm teak brown finish with clean lines and the bonus of storage. The cushioned seat surfact provides the perfect place to perch while putting on and removing shoes. The splayed legs invoke that vintage spirit while the drawer is an ideal place to keep things out of sight. Made from high-quality rubber wood, this mudroom bench will be the piece with longevity and stability. The bench also comes in a dark auburn-brown option, and the cushion is upholstered in a durable grey polyester fabric easy to wipe clean. Measuring 48 x 17.9 x 22.4 inches, this mudroom bench is the perfect way to add some storage and seating to your entryway. Available on Amazon.com.
Biarritz Portal Bench
The Biarritz Portal bench comes in three color options: white, black, and tobacco brown. The bench has a deep storage area for keeping things tucked away and out of sight. The bead board style finish adds some visual interest and character. Constructed from solid plantation grown pine and engineered woods and measuring 48 x 17 x 25.5 inches, this storage bench provides an ample sturdy seating area with the added benefit of storage and decorative appeal. Available on Houzz.com.
Back to Top
---
Best Shoe Storage Benches
Do you own a shoe rack? Do you need some extra storage space for them? Here's your chance to hit two birds with one stone and get a new shoe storage bench. This is our top pick.
Furrino Boyate Shoe Storage Bench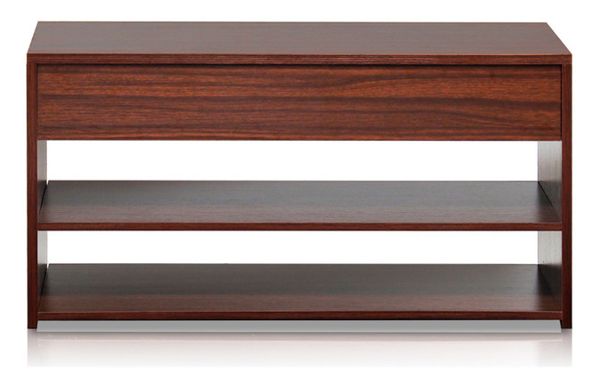 For those who are searching for a shoe storage bench that looks more like furniture than a seat, this may be the perfect compromise. You can have an elegant piece of wood furniture that looks great by itself, but it also contains two spacious shelves underneath to store shoes and features a well-reinforced top part that is the perfect place to rest while you are changing out of your muddy things. Its table-like surface means that it is also an excellent place to set things while you are preparing to come in or go out. No need to worry about staining the upholstery, wipe and go.
Why it's our top pick? It's more than a shoe rack and more than just a bench. The stylish classic appearance of this piece can serve many functions. You can use it in the entryway (most likely) as well as in other rooms. The sturdy top surface can be used for seating or a table for Decor vignettes! It's quite affordable too. Available at Houzz.
Need more choices? Here are the runner ups for the best shoe storage benches.
Haotian Storage Bench with 3 Drawers and Padded Seat Cushion
A mud room is just a little airlock between your lovely home inside and the wet, dirty world that lurks outside. Given this dynamic, it seems logical that you will need to be changing clothes to some degree in that room–, particularly shoes. This little combination storage bin and bench is the perfect accessory to facilitate such a task. Not only does it provide a sturdy bench to sit on while you change out of your dirty shoes, but it also has three handy storage drawers underneath where you can put dry socks, shoes, and anything else you may need to make the change in comfort. Available on Amazon.com.
Ramzi Wood Shoe Rack Bench 2 Shelves
For those who are in the market for something a little less formal looking, this well-constructed shoe storage bench offers a plethora of fashionable options that include selecting from four distinct colors– white, black, red, or espresso. One of those is certain to match up superbly with the rest of your room décor and household theme. Two shelves underneath provide you with plenty of space to keep your footwear conveniently close at hand yet also neatly arranged and stored where it won't clutter up the room. Available on Houzz.com.
Back to Top
---
Best Upholstered and Tufted Benches
Upholstered benches are truly classic, and it's no wonder you'd want one in your home. They can provide you with storage space if necessary as well, but an elegant slim style is such an eye candy at the same time. Here are our top picks for the best-upholstered benches.
Ashley Upholstered Bench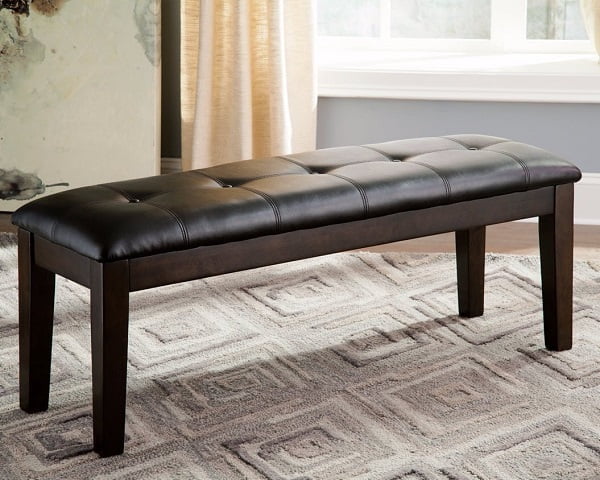 This upholstered bench is made out of wood in a dark brown finish. Vinyl faux leather upholstery is used to wrap the cushioned seat. It has fresh touches but is classically designed with attractive, feel-good materials and luxurious finishes. The bench adds beauty and function as it provides seating for three small children or 2 adults. The bench is 50 inches long, and from the floor to the top of the cushion, it is 18 inches high, providing the ideal height and length. The bench is also sturdy, looks more costly than it is and easy to assemble.
Why it's our top pick? Simplicity and classic wins again. While it's advertised as a dining room bench, it can be used just about anywhere, from the entryway to the bedroom. We love the look and quality of the product. Tons of 5-star reviews don't lie as well. Available on Amazon.
Need more choices for the best upholstered and tufted benches? Here are the runner ups for our top pick.
Hannah Button-Tufted Storage Bench
With its hinged lid, this beautifully upholstered bench plays the role of providing both additional seating and hidden storage. It is the perfect storage place for items like cushions, linens, and toys; therefore adding even more functionality. With its comfortable finish, this bench brings a modern or contemporary flair to any space in which it is placed. It sits on top of four solid chunky feet made out of rubberwood. This provides a strong foundation for this upholstered sitting and storage furniture piece. It can serve as a beautiful accent piece for the living room or as a bed bench. Available on Houzz.com.
SOFAB Napier Napa Bench
The SOFAB Napier Napa Bench has the clean, simplistic lines of the mid-century design. Perfect for a more modern or minimalistic space, the SOFAB end of bed bench provides ample surface space for any bedroom. Measuring 58.25″L x 17.25″D x 22.25″H, the SOFAB bench will be perfectly to scale at the base of any sized bed. The upholstered bench features a dark charcoal velour fabric for a touch of drama, while also being practical enough to hide fabric stains easily. Few things help create a focal point in a bedroom like framing out the bed with a practical and aesthetically-pleasing bench like the SOFAB Napier Napa bench. Available on Amazon.com.
Back to Top
---
Best Storage Ottoman Benches
Ottoman and storage bench together is a winning combination for many reasons. First of all, the look is classic, and it can go in bedrooms just as well as in living rooms. So here are our top picks for this type of benches.
Seville Foldable Storage Bench and Ottoman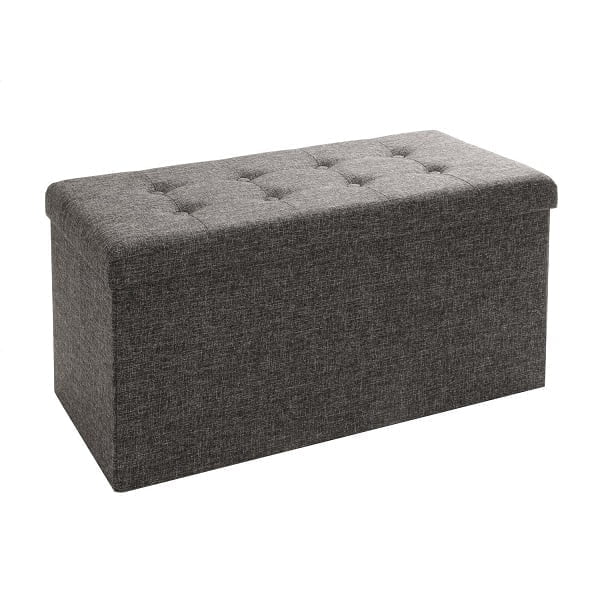 This small ottoman bench can fit into any space. If you need something that had storage options and that you could also sit on – this is it. This ottoman serves both purposes nicely. The only drawback (which isn't a huge deal) is that the top comes entirely off. Would be nice if you could prop it up to grab blankets or whatever and then quickly close it again.
Why it's our top choice? It's classic and an all time favorite. While it's cheap, it's sturdy enough to serve as seating. And while it's small, you can easily pick up a few of these and arrange them in your living room for extra seating as well as storage. Available on Amazon.
And here are our runner ups for the best ottoman storage bench if you still need more options to consider.
Belleze Leather Storage Ottoman
We were looking for an ottoman for our living room. I didn't need something that had storage in it but glad I got this. It works great as an ottoman to put your feet up or sit on, and it's also really nice to be able to put our extra blankets and pillows in it. It's also a beautiful looking ottoman with the leather. People think I paid way more for it than I did. The other thing I like about this is that it's a good weight. It's not so heaving that you can't pull it toward you with your foot when you're too lazy to get up off the couch but heavy enough where it doesn't get pushed away when you put your feet up. Available on Amazon.com.
Skyler Leather Storage Bench
We got this ottoman for our bedroom for the end of our bed to store blankets in and also have a place to sit. At first, I thought that the leather material wouldn't be very comfortable to sit on, but it's very smooth. The extra storage is nice because we always have extra blankets and pillows that aren't in use when it's warmer outside. It's nice to be able to throw them into the ottoman instead of walking downstairs to the linen closet. It's also a pretty solid piece of furniture. Usually, when you buy inexpensive things, they tend to feel shaky. Available on Houzz.com.
Back to Top
---
Best End of Bed Benches
Need a bench in your bedroom at the end of the bed? It's the perfect option for bedrooms that have enough space for an extra piece of furniture. The right bench will give you extra storage and space to keep the throw on clothes. Here is our top pick.
Zinus Faux Leather Bedroom Bench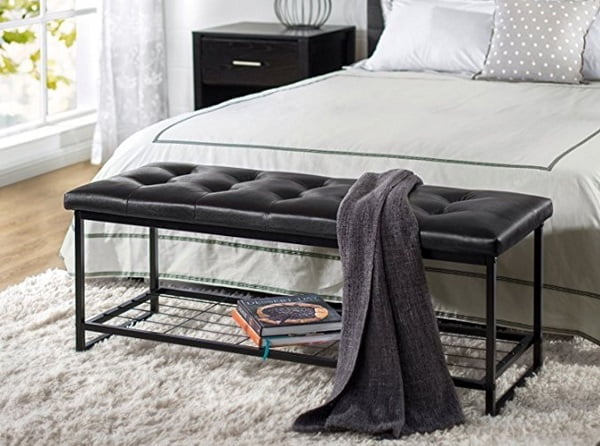 The Zinus faux leather bench is sleek and modern. The black faux leather gives it a punch of drama and could not be easier to keep clean. This bench is multi-functional as its simplistic and clean lines make it perfect for use in bedrooms, offices, hallways, anywhere little additional seating is appreciated. This piece and boasts a durable and sturdy design with an extra shelf for storage. If you want to add a modern feel to space, you will be more than pleased with this bench.
Why it's our top choice? While this bench is versatile in ts use and it can be used just about anywhere around your home, we've chosen it as the best end of bed bench. It has the perfect height for most beds and even though it does not feature box storage, it does have a storage shelf. That's more than enough to keep a few spare blankets and do it in style. Add tons of 5-star reviews to that and you get your perfect bench for the bedroom available on Amazon.
Still not convinced? Here are our other considerations for the best end of bed benches.
Pulaski Selma Upholstered End of Bed Bench
The transitional model, usefulness, and versatility of this upholstered bench make it a great fit for different spaces around the home. It is neatly and handsomely tailored with wooden legs and welted edges. It is trimmed in the antique brass finished nail heads, which make for a look that will effortlessly blend in with just about any interior décor and design. The bench beautifully functions at the foot of a bed and is remarkable for sitting while fitting on shoes. It is also an excellent option for providing additional seating in any space in the house.
Pulaski Kenneth Storage Bed Bench
The Pulaski Kenneth storage bed in slate grey has a lift top on hinges for ample storage within. The modern design is complimented by the silver nailhead trim, and the crisp polyester fabric is dark enough to conceal minor stains and easy to clean. Measuring 42″L x 13″W x 12″H, the Pulaski Kenneth storage bed bench is the ideal size to have at the end of a bed, or anywhere else ample storage and a cushy seating surface is needed.
Back to Top
---
Best Corner Benches
Want to furnish those empty corners in your home? A corner bench is a perfect choice. And here are our top picks for this type of bench.
Whitaker Corner Bench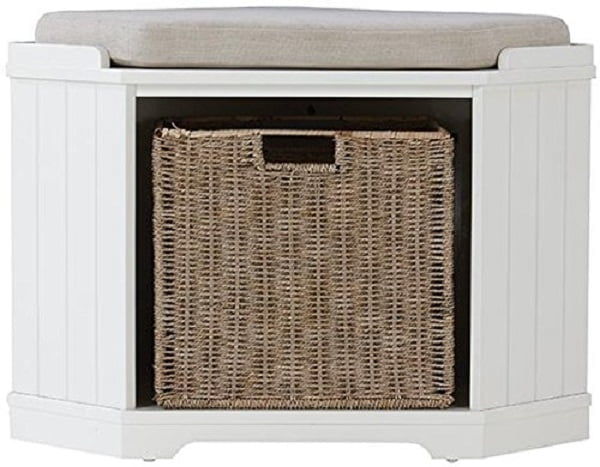 The Whitaker corner bench is compact and straightforward. The storage within comes with a woven sea grass basket to keep a few things hidden. The bench, although small, has some lovely accents; the beaded-board panels and scoop toe-kick are complemented by a sleek painted finish that is available in white or black. Measuring 20″H x 28.25″ W x 20″ D, this small corner bench will slide easily into most corners and provides a nice comfy seat for one with some hidden storage beneath. The beige polyester-blend seat cushion is durable and easy to wipe clean. Ideal for small entryways, offices, or bedroom spaces, the Whitaker corner bench is a unique piece that can warm up the area and fill in an otherwise waster corner.
Why it's our top choice? It's small, compact and classy. There's no corner where it would not fit. And it manages to provide a storage box in its limited frame as well. Top that with a very affordable price on Amazon and you have a winner.
This isn't your perfect option? Check out two more benches that we have seriously considered for the best pick.
Walker Corner Bench
Corner benches are the most practical use of those corner spaces that often go unused and wasted. The Walker corner bench provides a soft seating surface with its plush upholstered pillow and has two cabinet doors concealing storage behind. Its white and neutral finish would make it blend with most décor styles. Measuring 20″H x 30″W x 30″D, it will slide easily into most corner spaces. Available on Amazon.com.
Kings Brand Furniture Brushed Copper Corner Bench with Coat Rack
The Kings Brand Furniture entryway storage bench with coat rack has a brushed copper metal finish that adds a touch of opulence and sophistication to a hallway or entryway. Perfect for tucking into a corner, the upholstered seat provides a cushy place to perch, while the coat rack above provides guests with a place to hang their coats and hats. The shelf underneath the bench also provides a nice touch of open storage. Measuring 26″W x 19″D x 70.5″H, this is an impressive piece that will liven up any corner it is added to. Available on Amazon.com.
Back to Top
---
Best Vanity Benches
Need a stylish bench for your vanity/makeup desk? We've got you covered. Here are the top picks for this type of bench.
Uttermost Karline Natural Linen Hand Carved Vanity Bench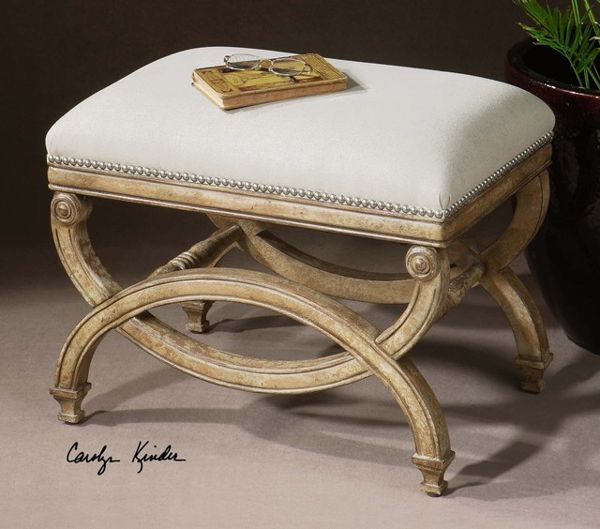 This particular bench is designed using hand carved mahogany frame which is strong enough to withstand rugged use. The frame has an antiqued almond finish which adds to the elegance of the piece. Its width measures 24 inches meaning that it can only accommodate one individual at a time. To give it a beautiful look the bench is designed using a combination of upholstered linen and cotton. The fabric cover is accented by the use of brass nail heads. It is worth noting that a stain resistant fabric protector is included to guarantee that you never have to worry about dirt or stains getting stuck on your bench.
Why it's our top choice? Because you deserve it. This small hand carved bench is simply gorgeous and it will become the accent piece of any decor. It's a very sturdy quality product too making it an easy choice. The price is a bit steep, but did we mention it's absolutely gorgeous? Available at Houzz.
Not your kind of bench? Check out these runner ups for the best vanity bench.
Curve Chrome Vanity Bench
This bench presents you with the ideal place to get ready for your day. It features a stainless steel frame which is why it can support people of different weights. Its tarnish-resistant finish ensures that it looks brand new over a long period. It's a low maintenance product that requires occasional cleaning with a clean piece of cloth. Its cushion is made of high-density material that guarantees you will be comfortable while seated. The white vinyl upholstery makes the unit stand out regardless of the room in which it is situated. Available on Amazon.com.
HOMCOM Linen Upholstered Rolled Arm Vanity Accent Bench
This product is constructed using quality hardwood that ensures you will have it in your house for a long time. It features a plush foam-padded cushion that allows you to enjoy ultimate comfort regardless of the duration of time that you remain seated. The bench has four strong legs that can support the weight of up to two adults. It is beautified by a soft linen fabric that gives it an appeal that is hard to resist. Available on Amazon.com.
Back to Top
---
Best Leather Benches
Leather as a material in home decor implies classic luxury. If you want to add some luxe to the look of your home, you have to go for the leather (even if faux). And these are our picks for the best leather benches.
Haddigan Upholstered Dining Room Bench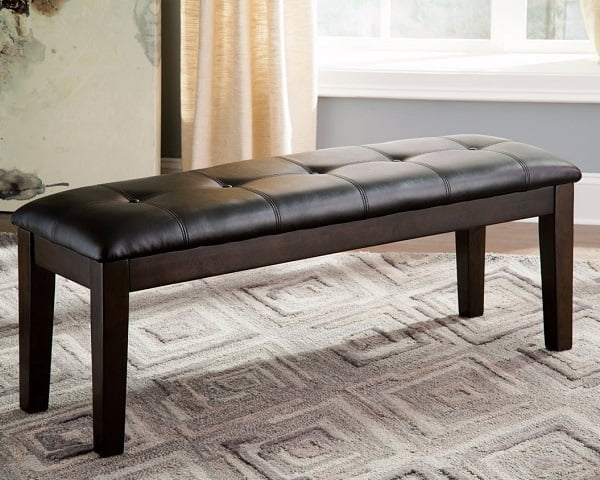 Hardly any bench in the market can match the beauty and elegance of this particular product. It is made of a quality wooden material that not only ensures it is sturdy enough to withstand weight but also makes it quite durable. Button tufting gives it the extra appeal that makes it a good fit in just about any dining room. It features quality cushion that makes it comfortable for just about anyone that sits on it. Faux leather completes the bench's beautiful design. The bench is 50 inches long meaning it can fit two adults or three kids.
Why it's our top choice? We've picked this bench for the best tufted bench as well. And since it's upholstered with faux leather, we'll go with it for this pick as well. It's just that good looking and quality made. Available on Amazon for a very affordable price.
And here are the runner ups for this top pick that you can also consider.
Auguste Faux Leather Bench
This particular bench features a stainless steel frame that ensures it remains upright regardless of the weight of the individual seat. Saddle leather strapping is used to fasten the frame in such a way that it does not experience any movements that may compromise its sturdiness. A tufted black Naugahyde cushion placed over the bench allows individuals to enjoy ultimate comfort regardless of the duration of time they spend while seated. The bench is 59 inches in length meaning that it can comfortably accommodate two grown ups or three children. The faux leather covering this bench gives it that unique appeal that can make any room look classy. Available on Houzz.com.
James Brown Tufted Leather Armed Storage Ottoman Bench
This bench is designed using top quality wood making it quite durable and sturdy. The entire exterior part of the bench except the legs is covered in quality faux leather giving it the elegance that can transform any room into a welcoming space. Its cushion is made of high-density foam that gives it a soft feel while remaining in good shape for longer. The bench features a concealed storage space in the middle allowing you to store things such as magazines, books, and phone chargers. Available on Amazon.com.
Back to Top
---
Best White Benches
A piece of furniture of a specific color is sometimes all you need. If you're looking for a white bench, we've made a short list with the best option in this colors. Here's our top pick.
Golden Caroline Sheepskin Bench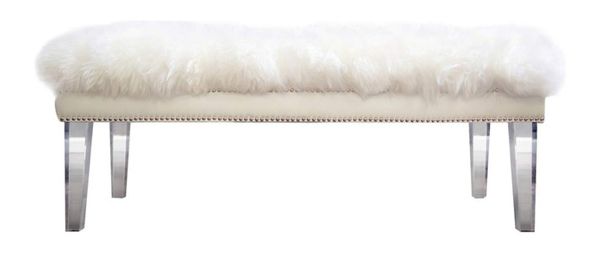 The Golden Caroline Sheepskin white bench, with its genuine sheepskin seat, silver nailhead trim, leather border, and shiny lucite legs is luxury and decadence at its finest. Ideal in a bedroom space needing a soft-looking accent piece to warm up the room, this bench adds a contemporary look and feel and will be a conversation-starter. Measuring 49″W x 19.3″D x 19″H, this bench can also be used as an ottoman in a living room space. Designed with luxury and opulence in mind, the Golden Caroline sheepskin bench is a unique piece that can elevate an area from drab to fab in a New York minute.
Why it's our top choice? It's a unique piece of furniture that will become the focal point of any minimalist decor. You get a lot more than a simple white piece of furniture for an affordable price. Available at Houzz.com.
Need more options? Here are two other great white benches to consider.
Milan Lillian White Bench
The Milan Lillian white bench has clean, simple lines making it ideal for a contemporary space. The white upholstered seat surface is firm and provides comfortable and plush seating, and the chrome legs add that modern and sleek look and feel. Measuring 48.23″W x 17.32″D x 18.7″H, the Milan Lillian bench is ideal at the end of a bed, in a dining room, kitchen, hallway, or entryway. With its neutral and clean color palette, this bench would compliment the most design and décor styles. Available on Amazon.com.
AC Pacific White Crystal Tufted Bench
If you are looking for a white bench to add some sophistication and style to your space, the AC Pacific tufted bench is for you. The tufted design and flashy crystal legs add a touch of opulence while the hinged top hiding storage beneath also provides practicality. The padded upholstered top makes it a comfortable surface for additional seating, and its soft feminine look makes it ideal for a bedroom space. Measuring 38″W x 16″D x 17″H, this piece would be ideal at the foot of a bed or in a decadent living room space. Available on Amazon.com.
Back to Top
---
Best Kitchen Benches
A kitchen bench can be a great solution for your seating needs if you have a small dining area. Get yourself a flexible seating area that can accommodate your family or guests. These are our top picks for this kind of benches.
Merax Stylish Dining Table Bench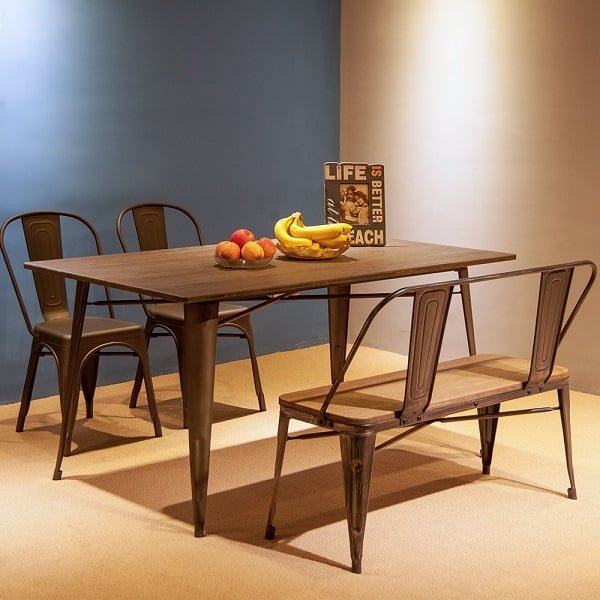 The Merax dining table bench, with a thick wooden seat and backrest and legs made of metal, is a genuinely original-looking piece. Distressed to perfection, this kitchen bench will appeal to those with an eye for vintage finds and old-world charm. Measuring 40″L x 15″D x 18″H, the Merax dining table bench is an ideal bench for those wanting a little back support while they sit. The wood seat panel is available in a light and dark stain, and the bench has soft rubber feet so it can quickly be moved around without damaging any floors.
Why it's our top pick? This bench is very stylish and compact while it provides seating for two. The antique industrial style is gorgeous and makes a statement and it's perfect if you're going for the modern farmhouse look. It's sturdy and easy to assemble too. Available on Amazon.
Still not convinced? Check out our runner ups for the best kitchen benches.
Durham French Country Bleached Oak Dining Bench
The Durham French Country dining bench is a timeless piece that will appeal to those with an appreciation for antiques. Made from reclaimed oak, this dining bench is as practical as it is pleasing to the eye. Measuring 18″H x 72″W x 14″D, this bench is ideal in a dining room, at the foot of a bed, or along a narrow hallway space. Able to comfortably seat three people, the Durham French Country dining bench will add rustic charm and character at its finest to any area in the home. Available on Houzz.com.
Canela Bench
The Canela Bench is a simple and clean design with chunky spindle legs and a warm dark stain finish. Made from solid pine and measures 55″W x 14″D x 17.5″L, this bench was designed to be able to perfectly slide under the dining table so it will be safe and out of the way when not in use. Simplistic in its design and warm in its cinnamon finish, this piece would be perfect in a dining room or kitchen space. Able to comfortably seat three people, the Canela bench adds a nice pop of rustic charm while adding some functional seating to space. Available on Houzz.com.
Back to Top
---
Best X Benches
The X frame gives a bench a sturdy build and a classy look at the same time. It's a great type of bench to choose if you care to make a statement in your home decor. So here are our top choices for this type of bench.
Cortesi Home Zio X Bench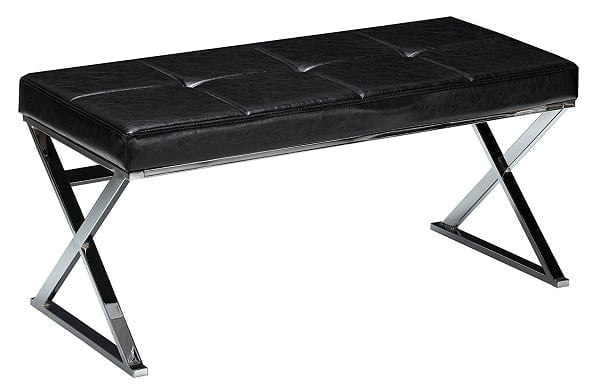 The Cortesi Home Zio is a solid metal bench with black leather upholstery; the leather feels more like vinyl. The chrome finish metal looks good and helps the bench fit seamlessly into both commercial and residential spaces. Wide enough to seat two people abreast, this bench works as a bedroom bench and also as a bench you would typically keep near an entryway. This well-made, sturdy bench is also easy to assemble. If you recently bought entire furniture set for your bedroom but somehow missed out on a bench or found the bench you were initially been eyeing a bit too expensive, this beautiful looking Cortesi bench would fill in that space quite nicely.
Why it's our top choice? It's simple, modern and stylish. A bench like this is surprisingly hard to find. So having it found on Amazon and at an affordable price with great reviews, we have to pick this bench as the top choice.
Need more choices? Here are the runner ups for the best X frame bench.
Diana Velvet X-Leg Bench
The Diana Velvet bench is perhaps the most elegant and modern bench of its kind. The light gray, foam-cushioned sophistication that wraps the entire bench makes it fit into a living room, entryway or bedroom. This elegant accent piece is not just about aesthetics but is quite practical too, thanks to its built quality and the materials used such as birch and plywood. You may use this easy-to-assemble bench as a standalone piece of furniture or let it blend seamlessly with your primary furniture to concoct a cozy and dynamic interior space. Available on Houzz.com.
Enzo Faux Fur X-Leg Bench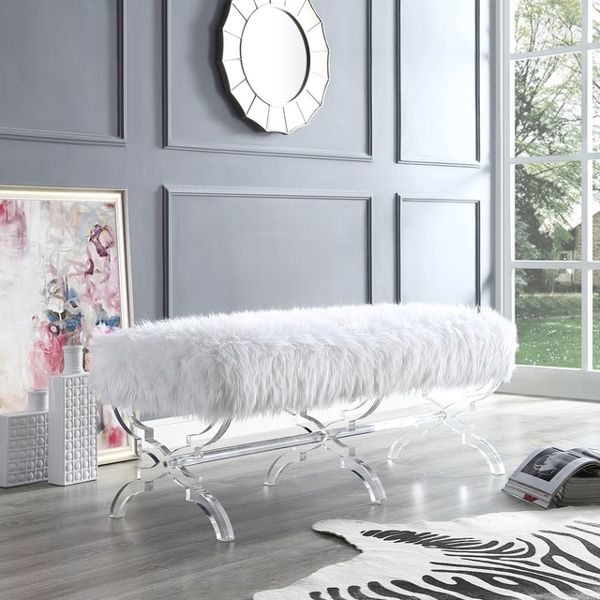 The Enzo Faux bench is another piece of modern furniture featuring faux fur upholstery. Made with a high-density foam seat and sturdy acrylic base, this functional yet elegant piece of furniture blends into different environments or a range of decor. The translucent legs are sturdy and also look quite glamorous. People with a modern and luxurious home environment would certainly appreciate the looks of this bench. The best part of the bench is its multi-functionality, which means you can use the bench as the coffee table, bench, ottoman, dressing chair or vanity chair. Available on Houzz.com.
Back to Top
---
Best Rustic Benches
If you're going for a cozy and warm look, a rustic bench that is (or looks like) a handcrafted item is a great option. Here's our top pick for this kind of a bench.
Rustic Wood and Pipe Bench by DecorDudeDesigns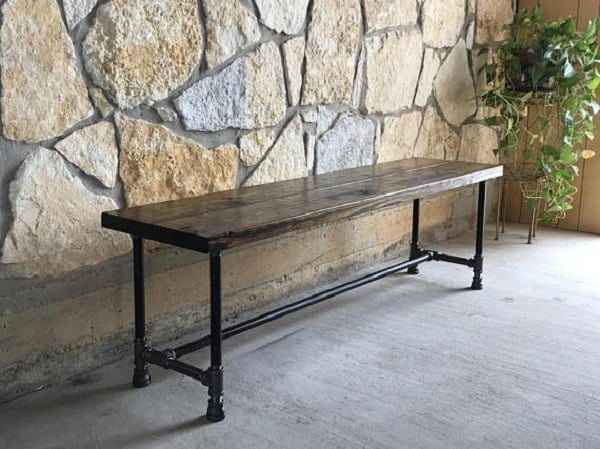 This bench is the perfect way to add a rustic industrial vibe into space. The wood is hand-picked pine, and the legs are made from 3/4″ black iron steel pipe for stability and support. This DecorDudeDesigns bench is handmade so the size can be customizable to fit your space and can be constructed in six sizes. The warm wood seat contrasts the cool iron legs for a finish that is both rustic and modern.
Why it's our top pick? We believe that a rustic bench has to be handmade. So it has to come from Etsy. This bench is exactly what you think of when you think about a rustic bench. Available at this Etsy shop.
That's not what you're looking for? Check out these two runner ups for the best rustic benches as well.
Farmhouse Storage Bench be AverStDesignCo
This rustic storage bench is the perfect way to bring some functional storage and seating into space. The wood has that weathered look that is all the rage in home décor, and the bench is made from reclaimed cedar wood planks. The alternating stains add some visual interest and warmth to the piece. This rustic bench measures 40″l x 19″w x 16″h and as it is handmade can be customizable with any color you choose. Few things are more practical than a large farmhouse storage bench that offers hidden storage perfect for blankets, toys, or for anything you want to keep out of sigh. It has a hinged lid and is the ideal way to breathe some rustic country charm into space. Available on Etsy.com.
Modesto Reclaimed Wood Bench
The Modesto reclaimed wood bench is the ultimate in simplicity and functionality. The warm dark wood stain blends perfectly with the dark black metal wrap-around legs. The bench measures 48″W x 14″d x 18″h so would be a perfect fit in smaller spaces like an entryway or at the foot of a bed for extra surface space. The clean, minimalist lines of the Modesto bench make it the ideal addition to a space that marries both rustic charm and simple modernity. Available on Houzz.com.
Back to Top
---
Best Modern Benches
Need to complete your modern home decor look with a new bench? These modern benches are exactly what you need. Here's our top pick.
Woven Velvet Upholstered Modern Bench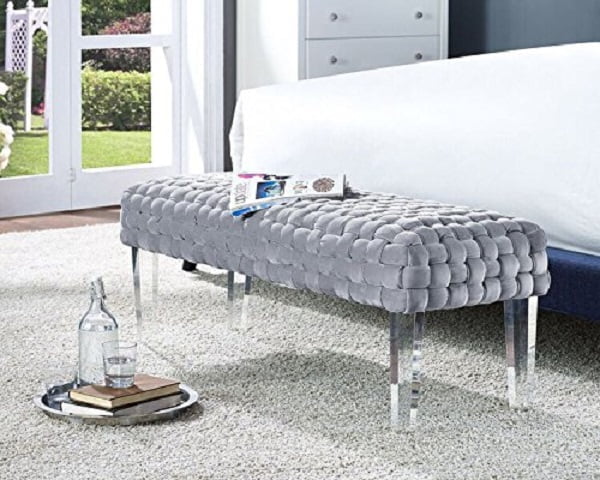 This bench is designed for individuals that appreciate exceptional work of art. Luxurious velvet upholstery gives it a unique look that is set to upgrade any room. Strong acrylic legs allow the bench to support people of any weight range without damage. Its solid kiln dried wood frame ensures the bench remains durable regardless of the number of times it is used. It measures 48.8 inches in width meaning it can seat two grown ups or three children. This bench can be put in just about any room including the dining, bedroom or patio space.
Why it's our top pick? We appreciate lucite furniture in modern decor very much. The acrylic legs of this bench look very modern and the woven velvet upholstered seating makes it a great accent bench. It's overall handcrafted quality made product. Available on Amazon at a surprisingly low price.
Need more modern bench options? Check out these great runner ups we've also considered.
America Luxury Large Metal Bench
This bench features straight lines and a sleek looking design that makes it stand out in just about any room it is situated in. The bench is built using quality stainless steel that is sure to keep the bench stable for an extended period regardless of the number of times it is used. The bench is quite easy to maintain because all you have to do is wipe it with a soft piece of cloth. It measures 59 inches in width which is quite roomy and can accommodate about four children. Available on Houzz.com.
Custom Modern Farmhouse Bench
These products can take on just about any design you desire. The most commonly used materials for construction include wood and stainless steel. Both of these materials ensure the durability of the product. Because the benches are custom designed they do not conform to any particular measurement. You can place an order for a bench that can fit two or more adults depending on what you need. The benches are unique meaning that you will not find a replica of your bench anywhere else. The benches are available on Etsy.com.
Back to Top
---
Best Small Benches
Need just a small beautiful bench to add to your space? You can accomplish a lot when it comes to home decor with a stylish small bench. Check out our top picks.
Sustainable Monkey Pod Wood Wave Bench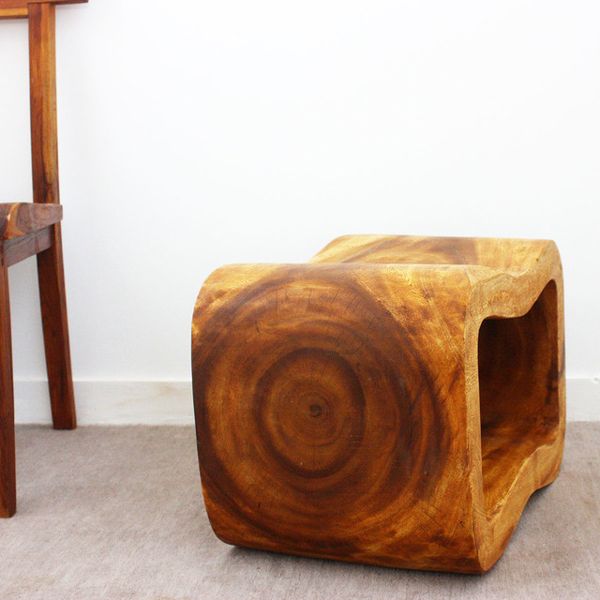 The sustainable Monkey Pod wave bench in livos oak oil finish is a stunning piece that is bound to start plenty of conversations. Its warm honey finish and wavy lines make it fluid and unique, practical and friendly. If you want to bring a touch of nature into the home, this Monkey Pod wood wave bench is the way to do it. A truly unique piece that makes a perfect small bench at 24″ L x 13.5″ W x 15″ H. This eco-friendly piece will add visual pop to any space it graces.
Why it's our top choice? It's more of a piece of art than furniture. For a very small bench you get seating and some storage. But most importantly you get an eco-friendly statement piece of furniture. Available on Houzz.com.
Don't feel like it's your choice of the best small bench? Check out these other great options that we've also considered.
SONGMICS Small Entryway Shoe Rack Bench
The SONGMICS small entryway shoe rack bench with a padded seat and storage shelf is the perfect small bench to add to an entry way. It comes in brown or a natural finish and is an eco-friendly and durable choice as the frame is made from 100-percent bamboo. The painted surface is easy to care for and keep clean. The bench can hold up to three pairs of shoes, but the versatility of this small bench would make it the perfect addition to numerous places in the house. Measuring 23 5/8″L x 12 5/8″W x 16 1/2″H, the bench will easily compliment any small space needing some additional seating. Available on Amazon.
DesignsByIsobel Small Farmhouse Bench
Few styles are enjoying more of a revival in the world of home décor than the farmhouse style. This small farmhouse bench captures the elements of country charm with its warm stained finish and simple design. Handcrafted by DesignsByIsobel, the bench measures 30″L x 9″W x 16″T but can be made to order and customized in a variety of sizes and colors to compliment your décor. Use this bench as a small seat or surface to display some farmhouse items like a pillow and plant. Available on Etsy.com.
Back to Top
---
Best Wooden Benches
Want to add some wood to your home decor? A bench is a great way to do it functionally. So here are your top choice for the best wooden benches.
SONGMICS Three-Tier Bamboo Shoe Rack Bench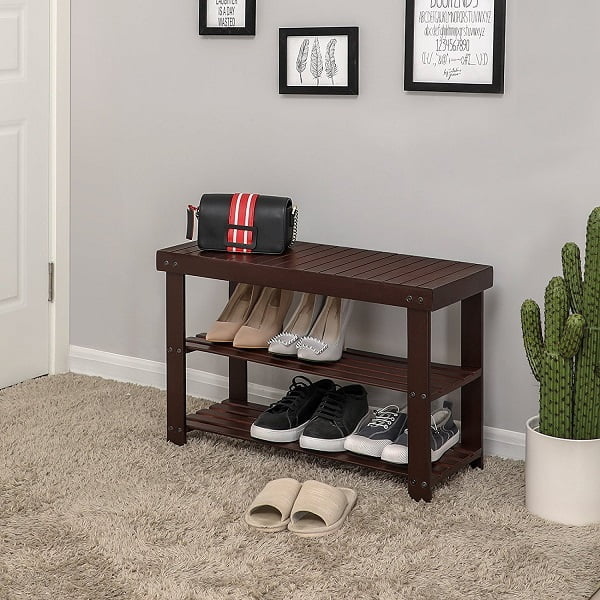 Benches come in all shapes, sizes, and purposes. The SONGMICS three-tier bamboo shoe rack combines the functionality of a small bench with two shelves for storing shoes or other items. Made from bamboo, not only is this wooden bench exceptionally durable, it is constructed from a sustainable product that is eco-friendly. It is available in brown, black, or natural bamboo color to suit any décor. Each shelf can hold up to four pairs of shoes and measuring at 27 1/2″L x 11 1/8″W x 17 3/4″H, this wooden shoe rack bench could be useful in numerous areas of the home.
Why it's our top choice? Made of bamboo and available in a wood finish of your choice it's a very sturdy and roomy storage bench. While it's advertised as an entryway shoe rack bench, you can use it just about anywhere in your home. At the same time it's a very affordable option available on Amazon.
Need more options? Check out our runner-ups for the best wooden bench.
Safavieh Noah 2-Drawer Wooden Storage Bench
The Safavieh Noah 2-drawer wooden storage bench features an antique pewter base in Medoak. Two oversized wicker baskets tuck in under the seat to provide hidden storage for those items you want tucked out of sight. The dark antique pewter makes a nice contrast to the warm lighter wood seat panel above. Measuring 33″ W X 15.7″ D X 20″H, the Safavieh Noah storage bench is an ideal addition to any entryway, mudroom, or space where a little seating and storage is needed.
Mission Wood Storage Bench
The Mission wood storage bench with flip-top is constructed from oak wood with a warm cherry stain. The bench comes in three sizes: 3′, 4′, and 5′. This handcrafted bench represents Amish craftsmanship to its finest. The hinges for the flip-top are made with child safety in mind with a soft close feature to avoid pinching fingers. The cherry stain accentuates the wood grain for a natural and rustic look. The Mission wood storage bench would be a perfect accent piece that is both functional and lovely to look at. This piece would liven up an entryway, hallway, or bedroom space with its warm wood-grain finish.
Back to Top
---
Best Settee Benches
Settee benches come to mind when you're looking for something comfortable and classy to add to your space. And these are our top picks for this kind of benches.
Zoey Linen Settee With Silver Nailheads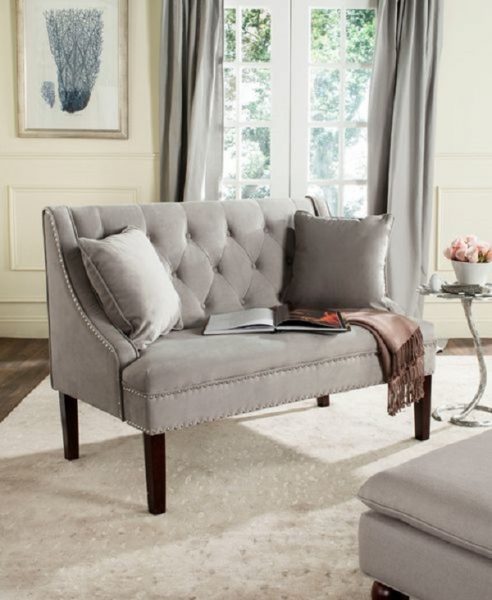 The Zoey Linen Settee Bench with Silver Nailheads is ideal for any room in the home. Inspired by contemporary styles and Victorian designs, this elegant unit features light beige upholstery with luxurious nailhead trim and tufted button details. This exquisite settee seats two and features a sturdy, durable wood frame. Whether for formal living rooms or contemporary dens, this settee captures the true allure and essence of comfort and coziness. With the lightweight and mobile features, the Zoey Linen settee is guaranteed to enhance and accentuate any room's decor.
Why it's our top choice? It's a high quality product that combines great look and a comfortable design. By putting it in your home you're adding instant class to your decor. Available at Houzz.
Need more options to choose from? Check out the runner-ups for the best settee benches.
Belleze Mid-Century Settee with Tufted Button Upholstery
The Belleze Button Tufted Mid-Century Settee Bench is synonymous with real class and comfort. This lavish and elegant settee features high-density foam for optimal support and coziness. With decorative fully turned front legs finished in antique glaze and classic walnut, this unit accentuates any formal or regular living room decor. Designed with a blend of contemporary and traditional features, this unique sofa bench seamlessly integrates with any theme or style. The unit comfortably seats three and continues to soar in global popularity. Available on Amazon.com.
English Style Vintage Button Tufted Settee Bench
The English Style Vintage Settee is perfect for unwinding after a long day at the office. This elegant unit comfortably seats two and is known for its durability and strength. With high-density foam padding for the seat and back, you are guaranteed maximum comfort and support. The settee is also fitted with fully turned legs finished in classic walnut and antique glazed. Whether for reading, watching TV, or simply relaxing — this amazing loveseat sofa will meet all your needs within time and budget. The unit is also lightweight, mobile and can be placed anywhere — in any room. With a streamlined, centralized appearance, the English Style settee captures a Victorian — majestic look with today's contemporary designs. Available on Amazon.com.
Back to Top
---
Disclosure: We are a participant in the Amazon Services LLC Associates, Houzz Inc., Etsy Inc. affiliate advertising programs designed to provide a means for us to earn fees by linking to Amazon.com, Houzz.com, Etsy.com and affiliated sites.