What makes you happy? We're not asking just to be nice, thinking about what really makes you happy is the way to go to create great home decor that you like yourself. There's no point on spending your hard earned money on things that albeit beautiful aren't really what makes you tick.
Check out the following 18 cheerful ideas that will hopefully inspire you to look for those decor decisions that will finally make you happy.
Start with Small Changes
Breaking the status quo makes people happy. You don't have to take on a full remodeling project to make your home a happier place, even if you just rearrange the furniture it will brighten you up. The key here is making small changes from time to time.
Decorate with Vintage Toys
Don't just sell or give away old toys that your kids aren't playing with anymore (or your own toys form childhood). Toys, especially vintage, can make great decorative accessories for a playful look. Make the child in you happy.
Add Yellow
Yellow as a color has a psychological effect of making you feel happy so consider adding some accents in this color. You don't have to paint the entire walls yellow, but if you can get a piece of furniture or just add some yellow accessories around the house it will have a positive impact.
Keep the Clutter Away
A cluttered home is an unhappy home. Organize your stuff so that you don't have random items lying around your house. Read about how to organize small things and other ideas for storage.
Reveal the Geek in You
Many of us have a geeky side and like to indulge in geeky things, if you do too, make it a feature of your home decor.
Keep Seating Neutral
Bulky and busy pattern furniture make the room look heavy. Keep it light and neutral for a brighter mood.
Create a Nook
You don't even have to commit to build a window sill nook or a built-in reading nook. Even if you just push a couch or a bed to the wall and throw some pillows on for seating, a cozy little corner to crawl up into with a good book can be a big mood booster.
Add Happy and Motivational Art
This one's pretty obvious but it must be mentioned. Some things motivate you and make you happy, so make sure you see those things every day in your home. It can be family photos, uplifting pictures, motivational quotes, cheerful posters – whatever they are, make use of them.
Let the Light In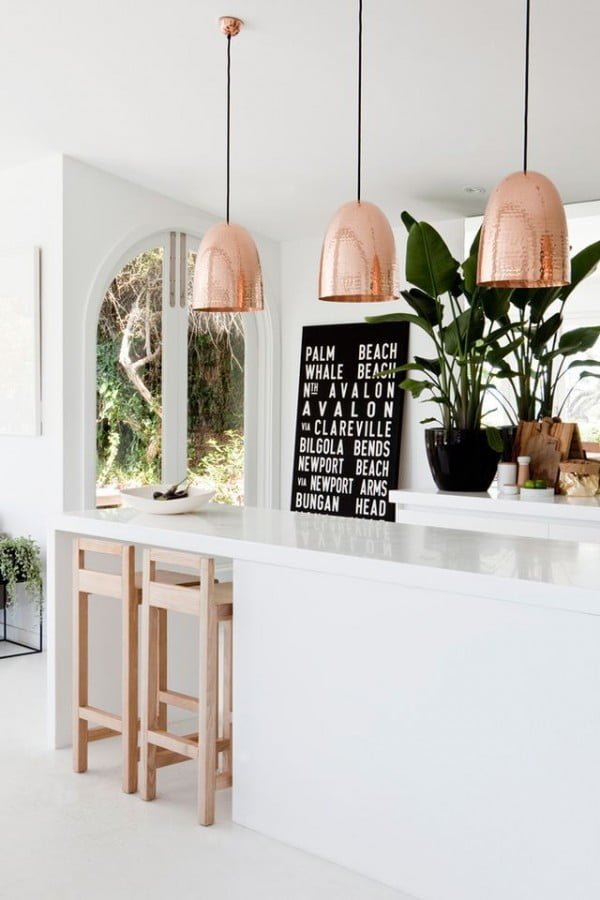 More light means more happiness. So take full advantage of your windows, let in as much natural light as possible, use mirrors to distribute it around the room. Take care of your lighting, update your light fixtures and use shade lamps to create the perfect lighting.
Make Your Home Personal
Your home will make you happy only if it's your personal space. Learn how to make it personal and original.
Bring the Nature In
Live plants and flowers bring the spirit up so get some pods with greenery and flowers to liven your place up.
Use White
Bright colors, especially white, lift the mood up and make everything look lighter. Consider painting the walls white especially if the space lacks natural lighting.
Use Wallpaper for an Accent
You don't have to wallpaper the entire room (and probably shouldn't) but you can create an accent wall, a kitchen backsplash or even a bookcase backboard with wallpaper to set the mood.
Add More Colors
Yes, more bright cheerful colors make the place look happier, and you don't have to commit to paint, it can be just small accessories like throw pillows that bring color to your home.
A Greeting Front Door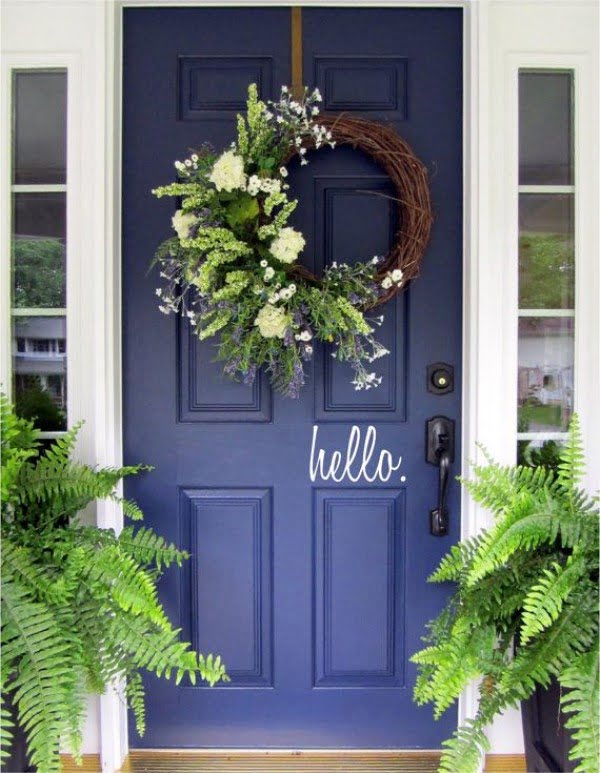 The front door is the first thing your guests see so you can use an accent color or even vinyl decals like in this example to set an uplifting mood even before entering the house.
Use Functional Accessories
Accessorizing is a big part of home decor but take it a step further and use accessories with double purpose, like this dog statue used as a hat rack. This whimsical and surprising accent is a real mood setter.
Use More Shiny Gold
You can use more shiny objects around the house to make it more fun, a gold spray paint is ans easy way to do it.
Make the Curtains Count
You can quickly and affordably transform the space with the right curtains. We even have a number of ideas of curtain styling for you to choose from.
Pin this article now – read later: