Who doesn't want to have a masterpiece for their interior design? No doubt, everyone of us is doing their best to make their home as beautiful, unique and personal as possible. And sure, if you have a lot of money to spend on it, it's not that difficult to do. Just hire an interior designer and let the work.
But for the rest of us, anything that is inexpensive but makes wonderful decor features is a real blessing. So today we've made a list of 10 ways how to make your home look just a little bit more like a real masterpiece without spending a ton of money.
Use Bar Trays for a Relaxed Look
Give your living room a more relaxed look by including bottles, crystal containers and other bar items on the tabletop tray.
Remove the Doors of the Top Cabinets
If your cabinets do not feature glass doors, remove the doors from the top cabinets to leave the shelves open. Arrange the dishes and other items for display on these shelves. It will give the space a more open look and will make a great decor feature.
Paint Lamp Shades
Get cheap lamp shades and paint them. You can use an accent color or some pattern to get a unique accent piece at little cost.
Install Sconce Spotlights
The right lighting can transform the decor completely, of course it doesn't always come cheap. Add spotlights over display cabinets or tabletops with sconces as an inexpensive but effective lighting alternative.
Put Decor Pieces in Unusual Places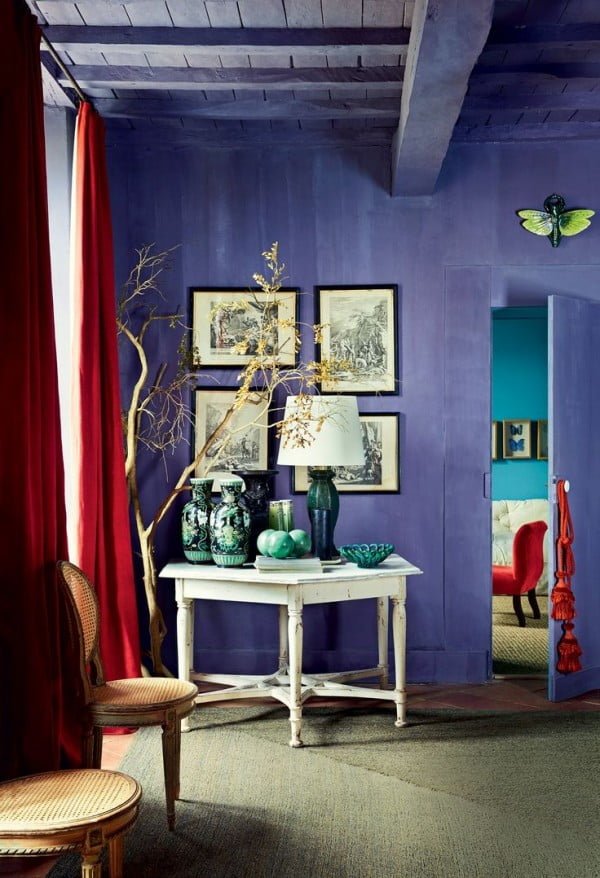 Break a rule, hang wall art off center or over the door, give a decor piece a new purpose. In the room pictured above, wall art is hung unusually low to be a part of a layered vignette.
Wallpaper the Back of a Bookshelf
It's easy to add wallpaper to the backboard of a bookshelf and it makes a great accent, adds depth and pattern to the decor.
Embellish Curtains and Their Rods
Use gold spray paint or gold leaf to embellish the curtains and curtain rods for an unusual accent.
Add a Faux Fireplace
The fireplace, when there is one, makes the focal point of the room. But even if you don't have one, you can fake it and put some candles in it, as well as make use of the decorative mantel.
Put Stained Glass Bottles in Windows
Stained glass makes a remarkable decor feature, but a rare home has the luxury of stained glass windows. You can achieve a similar effect if you collect and put bottles on display in your windows.
Contrast Live Plants with the Colors of Your Home Decor
Big things come from simple ideas and while fresh plants always make home decor just a little better, take it a step further and find a place where it would make a contrast in color. These white blossoms really pop against a black background of the wall.
Pin this article now – read later: