Spring is the time to update your home and it can be both, exciting and stressful. It's always exciting to change things up, buy new things and update the look, but it can be expensive too.
With that in mind, today we want to show you how you can do some rather simple upgrades to your home decor that will not cost a fortune. Let's bring back the fun in re-decorating.
Accent Paint
Not ready to commit to fully repainting the room? Try painting a smaller wall or a fragment in an accent color – it's an easy and inexpensive way to make a statement.
Accent Tiling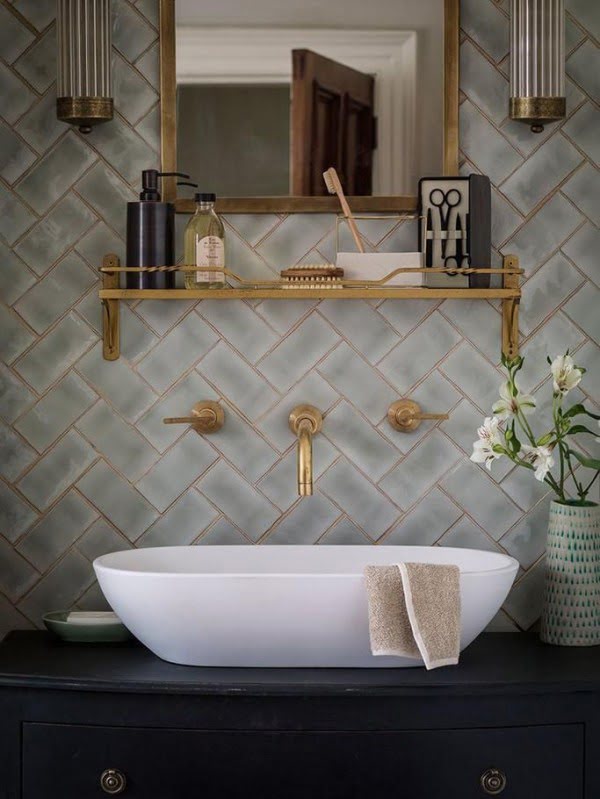 Similarly, you can tile just a fragment of a wall (such as the vanity area) as a budget tiling option. Try trendy patterns like herringbone to make an accent.
Make a Pretty Headboard
Most interior designers save by skipping on a fancy headboard, but you can easily and cheaply prettify it by throwing a pattern fabric over it. Try global folk patterns which are trendy this year, or go with more subtle patterns in subdued tones.
Customize Decor Pieces
If you choose decor pieces that are easy to customize you can create unique features at a fraction of cost. For example, cube shelves can be painted and arranged to your liking.
Group Mismatched Pieces in Threes
If you shop in thrift stores or online to save money, you will pick up some great pieces but they won't likely match. The same will happen by buying and collecting things over time. The trick is to group these pieces in threes – that will make the arrangement look intentional.
Shop for Vintage Pieces in Thrift Stores and Online
Vintage pieces have great decor value and you can pick them up cheaply in thrift stores or online, so try to regularly check them out and you'll collect some great stuff to use in your home decor over time.
Customize IKEA Curtains
Save on fancy curtains by painting simple cookie-cutter IKEA curtains in a style you want. Check out the tutorial.
Oversize Floral Arrangements
A trick that is used by interior designers over and over again to make a decor statement at very little additional cost is to use a bigger vase and create an oversize floral arrangement.
Matte Faucets
Replacing old faucets in the kitchen and/or bathroom is a simple DIY job. Try matte finish for a trendy new look this year.
Go for a Walk
Take a walk in a park and gather some seasonal accents for your home for free. Pick up some plant springs and blossoms for those fresh floral arrangements.
Pin this article now – read later: