Last updated on October 25, 2023
A shade on a patio is a much-needed addition, but a good old umbrella is not the best decorative choice. Here are the alternatives that might work better.
A patio umbrella is a go-to choice when it comes to creating shade on an open patio. The drawback is that you need an umbrella base large enough to create outdoor shade for the entire patio. And then you have the umbrella poles sticking out as an eye sore.
That's not a pretty setup. And if you want to create an aesthetically appealing outdoor space, you don't want a 9-foot umbrella being the focal point of your outdoor decor.
Are there alternatives? You bet. Use one of the following options that fit your patio best.
Tiki Roof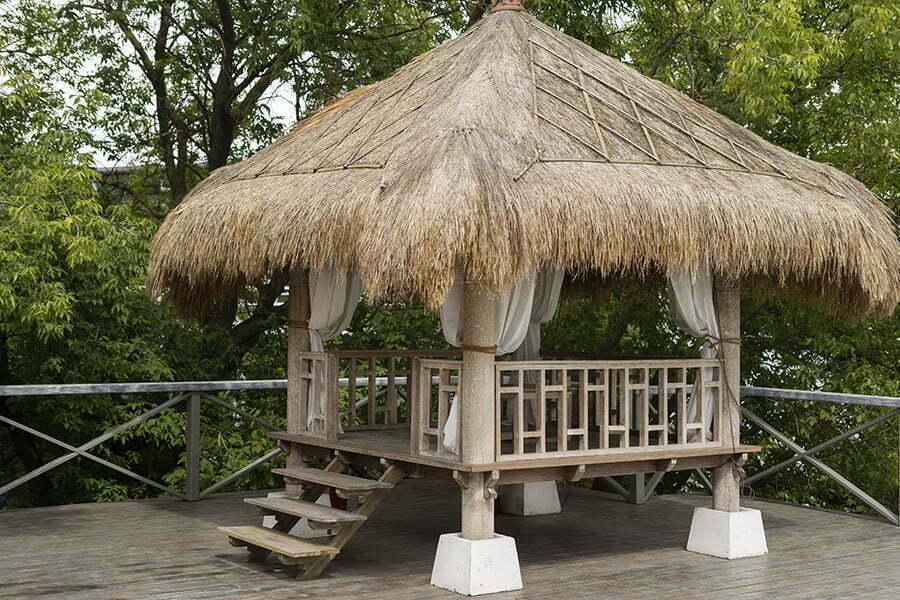 Tiki is a fantastic construction that can give any structure a one-of-a-kind appearance. It creates plenty of shade, is strong enough to withstand high winds, may endure for up to 60 years with regular maintenance, and gives your building a classic, eye-catching appearance.
Leaks are perhaps the most noticeable and typical issue with tiki roofs. These may originate anywhere on the top, including the crest, valleys, and corners. It costs $100 to $150.
Canopy of Vines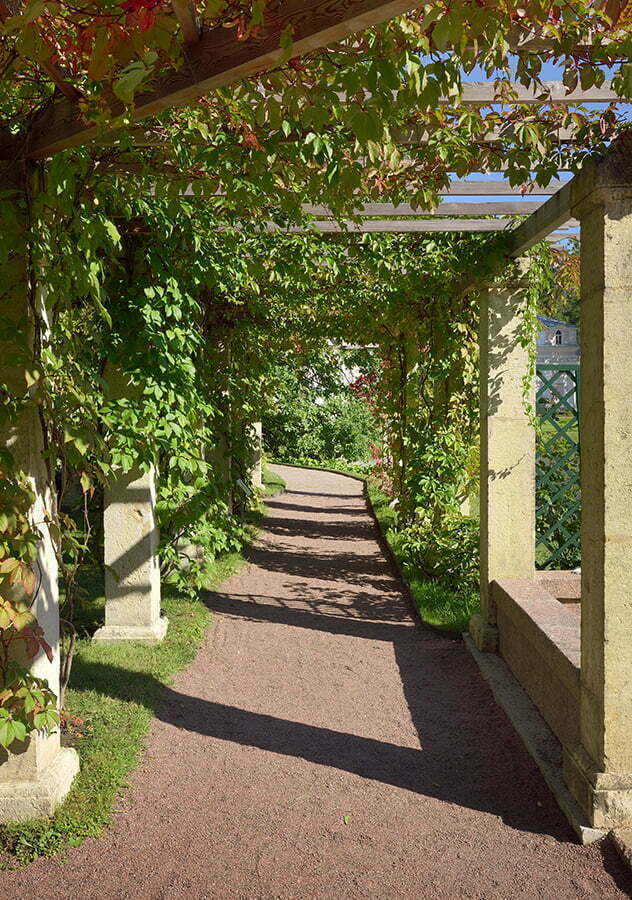 A canopy of vines insulates your home's interior from street noise. Some types can block a window or entrance, while others may stretch others on a trellis to prevent noise and prying eyes.
Hanging plants increase a home's beauty and shade its walls from the sun. By blocking the sun's rays from entering the structure, you may lessen the need for costly and ecologically detrimental air conditioning.
Building a trellis on your patio can create shade with vine plants over time.
Outdoor Curtains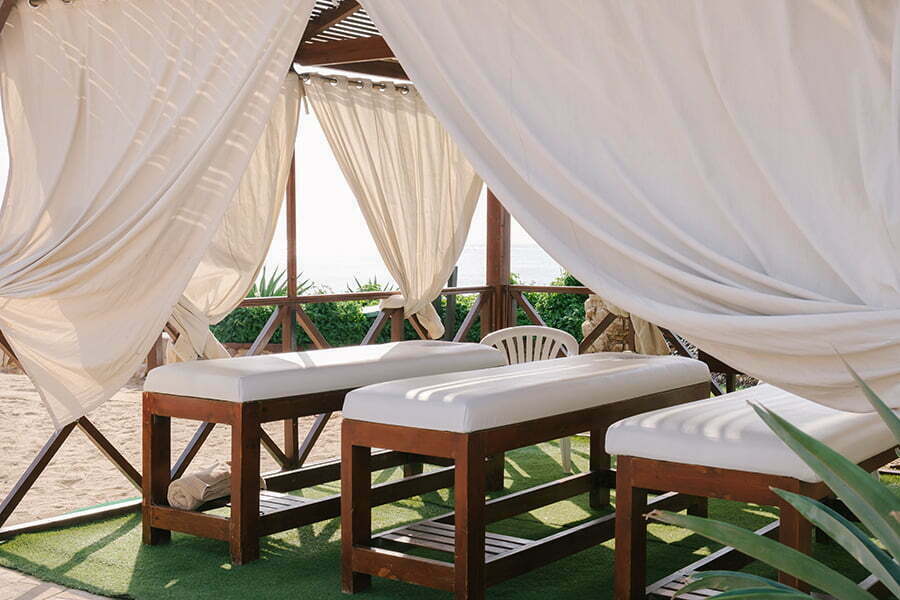 A patio or deck may be made even more attractive with the help of outdoor curtains. Outdoor curtain use is on the rise. Exposure to weather may quickly deteriorate patio furniture.
Protecting your patio set with outdoor curtains from the elements can help it last longer and look better for a more extended period.
They will become wet and need to be hung such that water or snow may flow down them from above, such as over windowsills, so they aren't the best choice if you live in a region with much rain. Due to constant exposure to the elements, air, and dust, outdoor curtains quickly get soiled and worn.
The cost might be anything from $10 to $50.
Outdoor Privacy Screen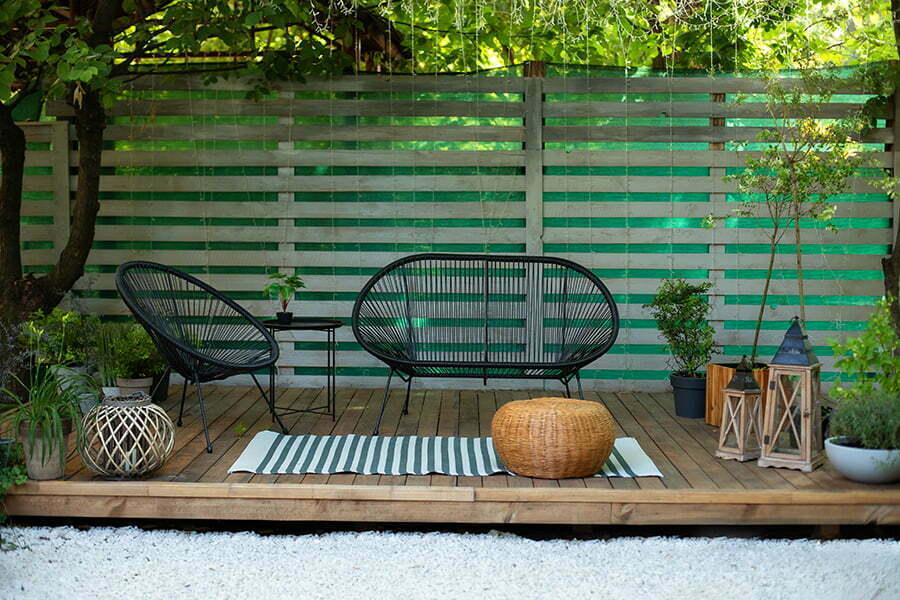 Outdoor privacy screens allow you to spend more time outdoors without being bothered by the elements. A working screen may deter insects and other pests from entering your yard.
An outdoor privacy screen lets you keep prying your eyes out without sacrificing access to natural light.
After investing in an outdoor privacy screen, it is in your best interest to keep it free of dust, pollen, and other forms of debris.
A power cleaning once or twice a year might be helpful. If you want to keep enjoying the advantages of utilizing the screen, you should fix any rips as soon as possible.
The typical cost of a privacy screen for your patio or deck will be between $75 and $100.
Custom Canopy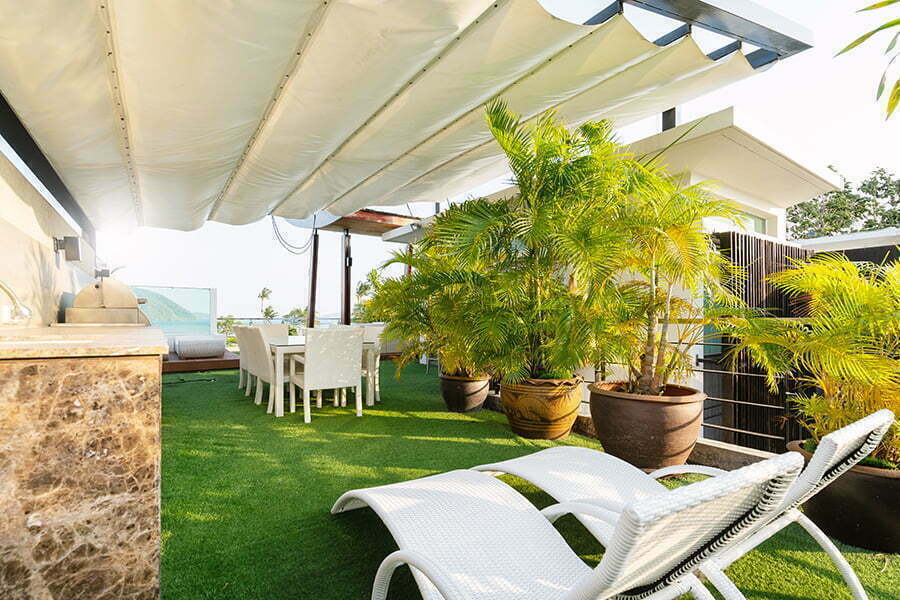 A custom canopy will allow you to choose the size and style that will operate most effectively over your patio. Because custom canopies are often more compact and lighter than equivalents readily available for purchase, it may reduce the shipping cost.
Roof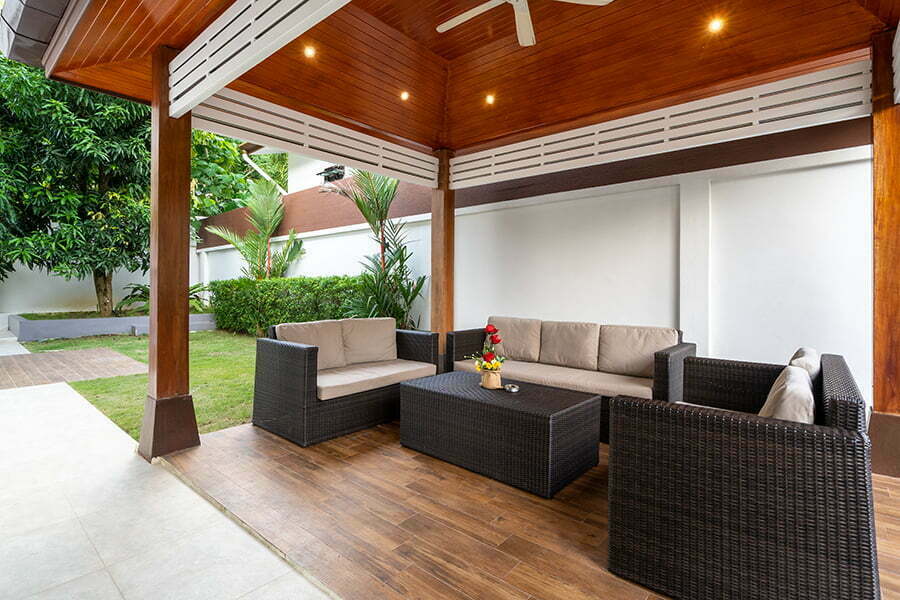 Because of the roof, time spent on the patio will always feel more luxurious. You might be able to build a big enough shelter to keep the wind, rain, and sun's hot rays out.
Building a small roof over your deck will take much work. Contact a professional. Both the time commitment and financial outlay are significant.
The price tag range might be anything from $5,000 to $11,000.
Trees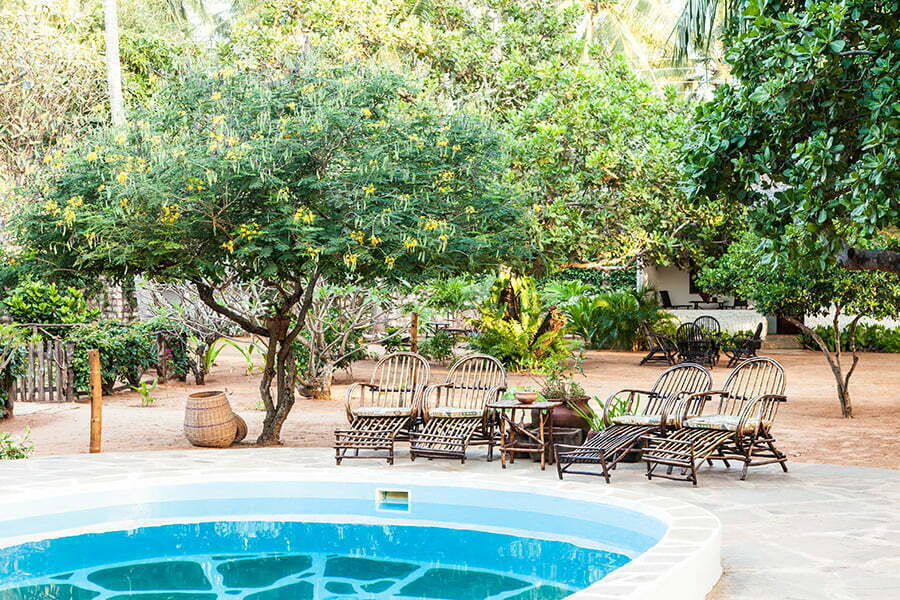 Trees are an excellent alternative to patio umbrellas since they are both natural and non-polluting. You won't need to do preliminary work with trees already established in your yard.
It improves aesthetics, offers sufficient natural shade, and facilitates the development of a cooler outdoor area.
Planting trees is a long-term commitment since it might be many years before those trees are mature enough to cast a visible shadow.
Transplanting established trees is doable but time-consuming. Instead, we should hire a tree service to come in and plant established trees in our yard. Reduces the necessary effort, time, and materials.
A single small tree may cost between $150 and $300 to grow (depending on its size and type). It usually costs between $60 and $140 to plant a small tree, making the total cost for planting five trees anywhere between $300 and $700.
Sail Shades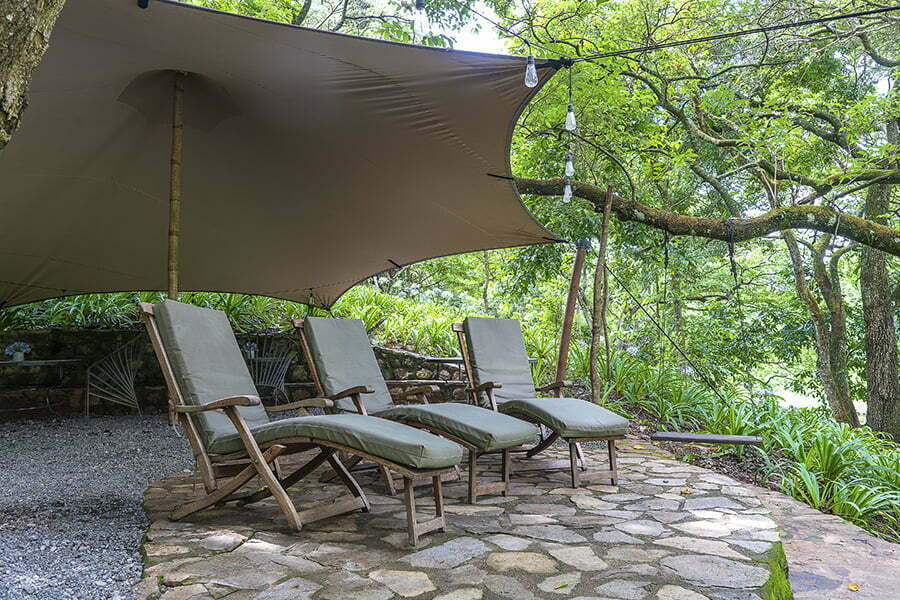 In the past, shade sails were also considered practical makeshift dwelling on the go. This alternative to a traditional patio umbrella is worth investigating because of its many advantages over its more basic counterpart.
Easy to install since it won't be necessary to purchase additional equipment for installation. It provides appropriate protection, is inexpensive, may prove a wise investment, and may be convenient in any design scheme.
While sail shades provide several advantages, they are not a practical choice for protecting oneself from the elements during a storm. Light rain, though, is bearable.
Gazebo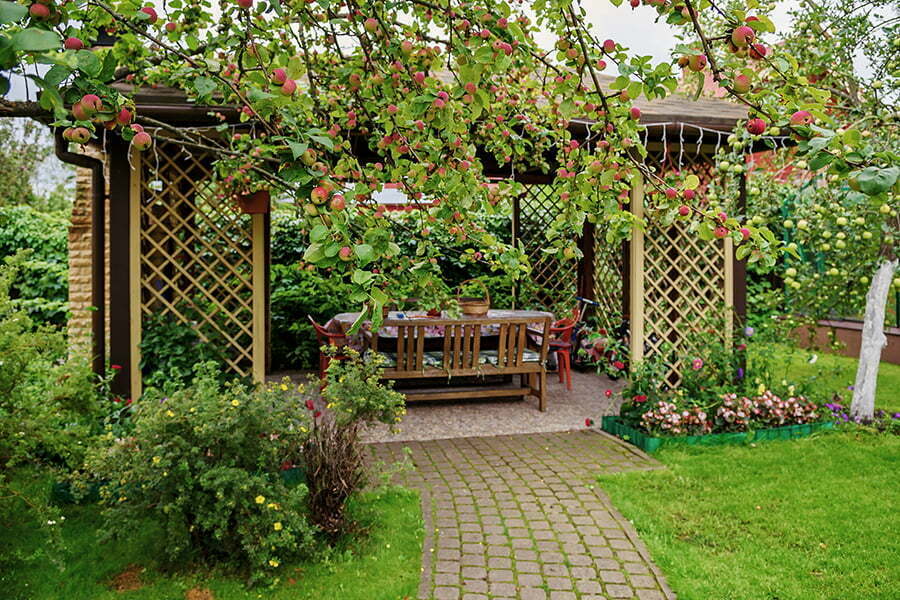 A gazebo is a complete outdoor structure with a roof. Putting one together would be more challenging and time-consuming, so you should hire an expert.
Even though it has certain features with a pergola, this structure is closer to a pavilion in terms of layout and construction. Check the dimensions of your yard and patio to ensure they can accommodate the installation.
This alternative has a more traditional and rustic appearance than a patio awning. To construct a gazebo from scratch that can survive elements like wind and rain, you'll need materials and some knowledge of carpentry.
If you can avoid it, have someone else construct it. A contractor may build a gazebo for an average cost of $5,000 to $10,000.
Pergola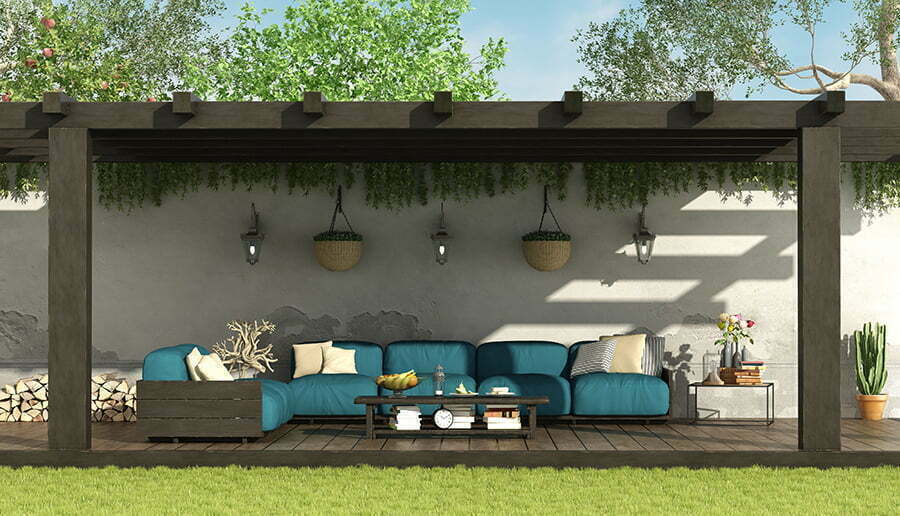 A pergola is like a gazebo in some ways, but it's not a little building, so it's not as imposing.
While selecting a pergola, ensure your expectations are realistic, not those of a gazebo. Despite some similarities, this patio umbrella option is far less complicated.
A typical pergola cost ranges between $2,000 and $6,000 or between $20 and $60 per square foot.
Roof Overhang
There is the possibility of constructing a small roof over the patio area of your house, but this is an extra expense. It will involve more work compared to other options, but the benefits will be more confident.
Creating a DIY patio may not be the best choice if you want to spend much time on it, but it will be worth it if you spend more time enjoying your patio.
Between $500 to $2,000 is the average price to install a roof overhang. The labor cost ranges from $6 per linear foot to $20 per foot.
Sun Shade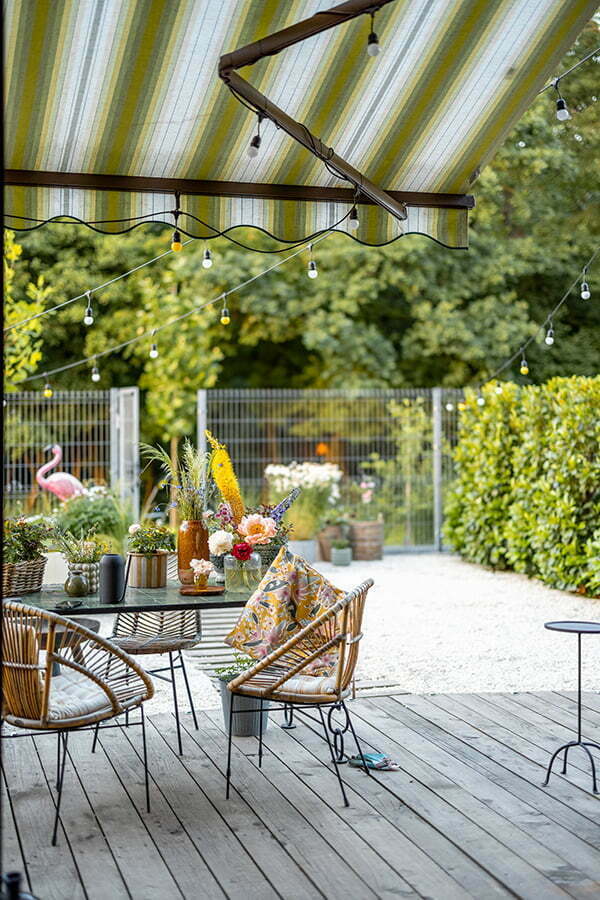 Sunshades prevent overheating and save money on cooling costs by casting a cool shade over an area, saving money on lights by maximizing the use of a renewable energy source, sunshine.
Usually, you may expect to pay between $100 and $500.
Pavilion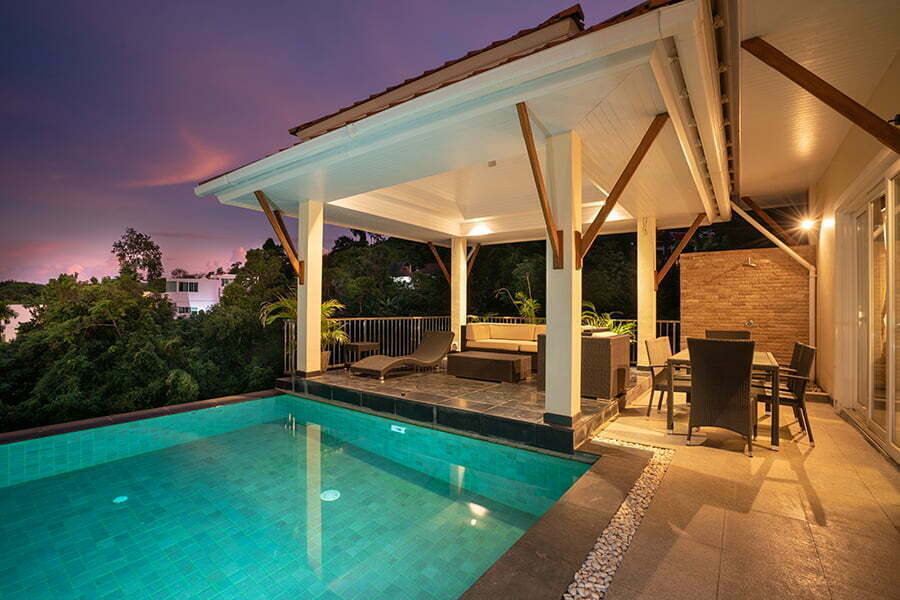 Advantages of a pavilion include a variety of sizes, forms, and roof designs and greater shelter from the elements, including sun and rain but not so much wind.
Some drawbacks are that fixed pavilions are usually more expensive than mobile options because of the need to install shades or shutters to protect the inside from the sun and rain.
Hanging Plants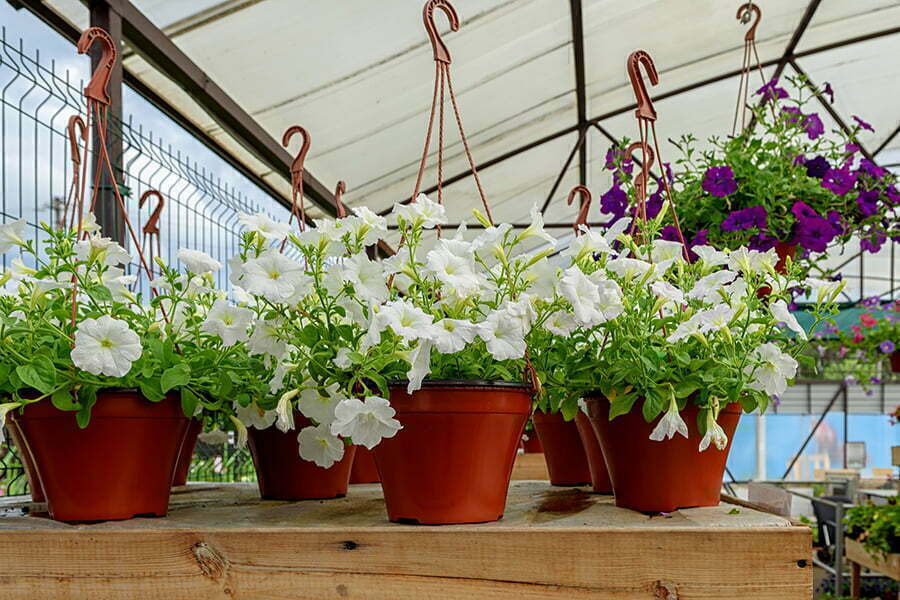 A hanging plant or wall rack plant seems a more natural way to create shade. Having a quiet, peaceful retreat to go to may help reduce stress, as can the calming effects of aromatherapy and other environmental factors.
Plants thrive in brighter conditions, need little attention, can be placed almost anywhere, are practically maintenance-free, and take up almost little space. They not only make people feel better but also help keep the air pure.
Awning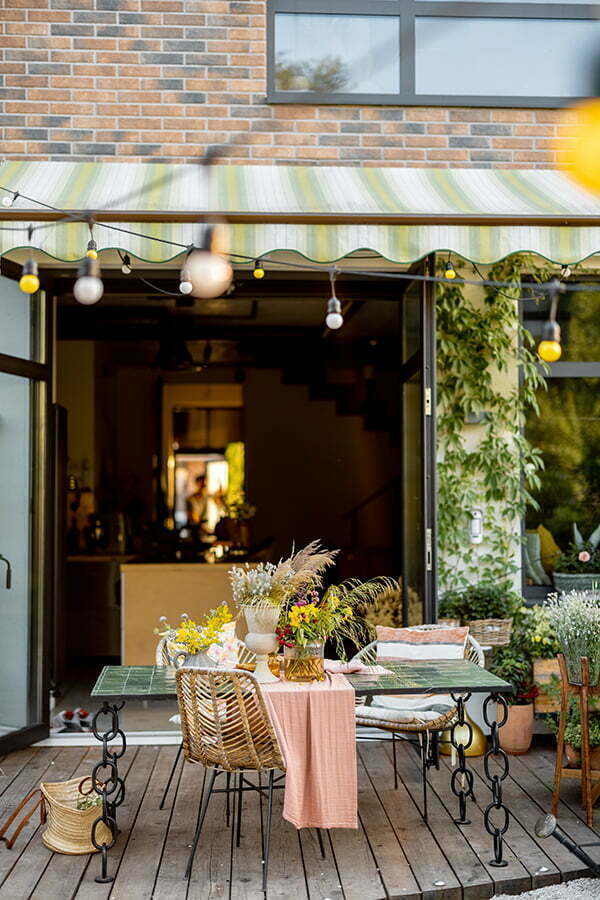 The sun and heat may damage outdoor and interior furnishings, but a retractable patio awning is a great solution. That's a lot more time to spend in your favorite recliner.
An awning can be crank operated, much like an umbrella. Then you can lift it anytime you want more sunshine rather than shade.
Roofs like this may help prevent your patio's surface material from fading in the sun. You may save costs and your carbon impact with the aid of a well-placed awning.
Due to the construction of awnings, they might not survive severe weather, although they can handle mild rain.
You can make a simple DIY awning yourself as a home project.
Trellis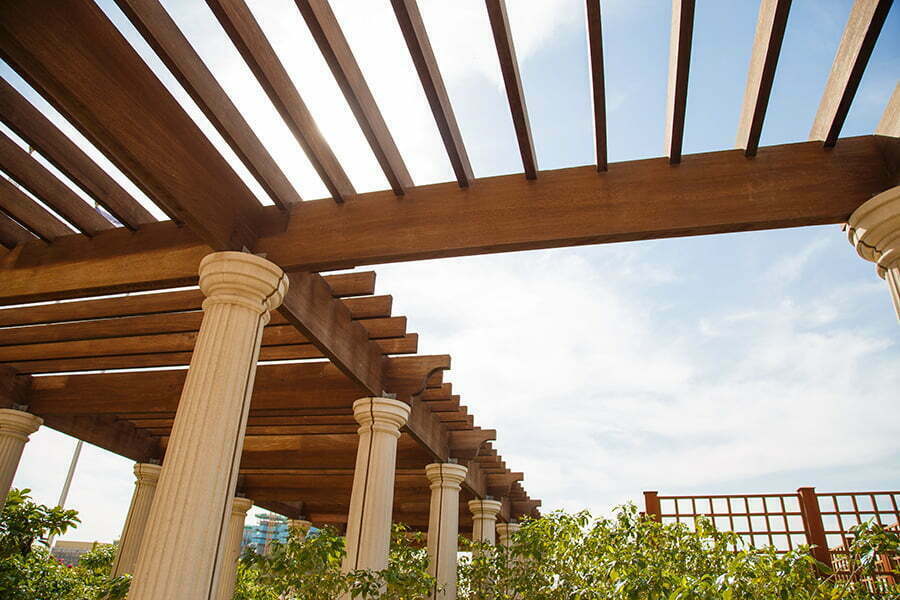 A trellis' advantages include controlled sunshine exposure, simplified plant pollination by beneficial insects, and a more pleasant bird environment.
It aids in preventing fungal infections, improves air quality, reduces pests, and frees up the garden area. Depending on the density of the growing plants, trellises may provide plenty of shade.
Depending on your backyard, this may not be a problem, but it might be a giant downside if you live in a busy neighborhood. The price of a trellis is around $200 per linear foot, including installation, although the range is from $60 to $350.
Loggia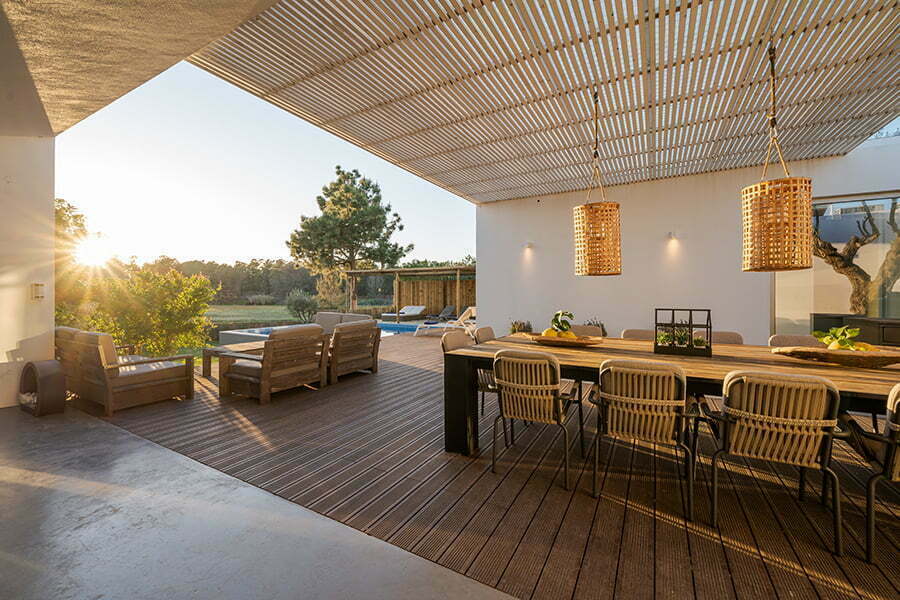 The loggia is a great place to get some work done since it has plenty of natural light but is still set off from the main building, making it a peaceful and undisturbed space.
They can keep the elements at bay, including the sun, wind, and rain. The side was visible outside with a railing, glass, or both. Downsides include restricted access and a small footprint.
Depending on your contractor's rates, you may be looking at $60-$70 per square foot or $20-$40 per hour.
FAQ
What is the cheapest way to cover a patio?
One solution is to construct a basic wooden structure and cover it with a tarp or canvas for little cost. It is a fantastic low-cost option for creating an attractive and functional covered patio. If you're on a tight budget, you can also use recycled materials.
What is the best material for a sunshade?
Polyester becomes an extraordinarily long-lasting substance impervious to moisture and corrosion when coated with vinyl. Also, it could be more corrosion-resistant than comparable woven materials.
Recap
Liked this article? Here's what you can read next: