Last updated on July 3, 2023
A patio is a great outdoor space in any dwelling, but what if you can't have one? Here are the alternatives to transform your outdoor space.
Patios have many advantages, and they can be paved in a variety of materials (wood, brick, concrete, etc.). But it's not always an option. The downside is that they take up a large area of your yard that you may or may not be able to use.
On the other hand, several alternatives may address the drawbacks of a full patio. We are going to discuss them here.
Though most of these options have their drawbacks when compared to patios, they are the only alternative in many cases.
Let's begin.
Balcony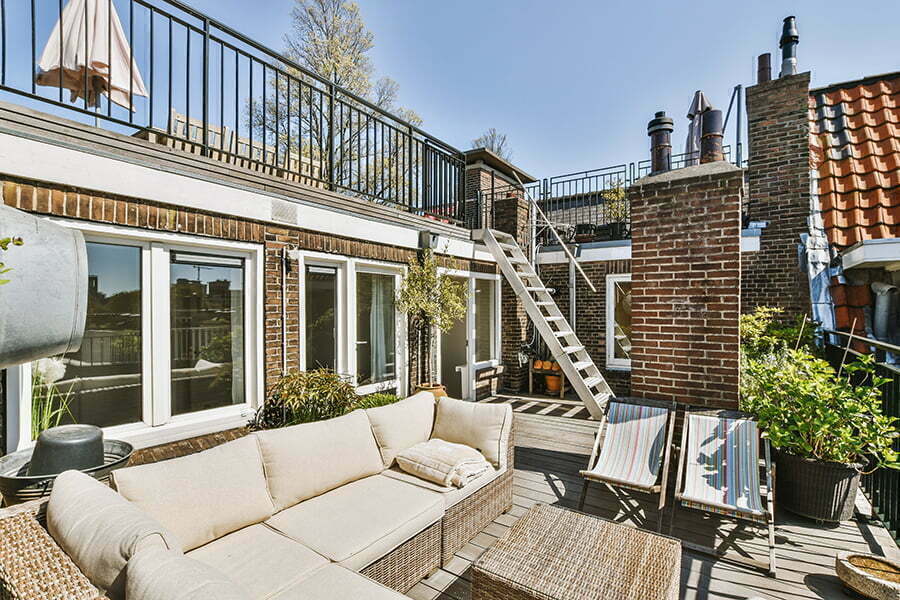 A balcony gives you a safe place to hang out. It is located above the ground floor, so you don't have to worry about animals or other people bothering you.
Balconies also provide great panoramic views. They are very private and great places to hang clothes out to dry without the neighbors seeing them.
On the downside, because they are small, they are not usually used for parties. Some kids and pets might not be safe on balconies if they don't realize how dangerous it is to be so high up.
The balcony's size depends on how the platform can be extended away from the home's wall, but it's usually not a large area. If you don't build your home or building with a balcony in mind, it can be costly to add one later.
Because of how they are made, you must be careful about what you put on your balcony. Heavy things like a grill can cause problems and even make the balcony less safe.
Backyard Garden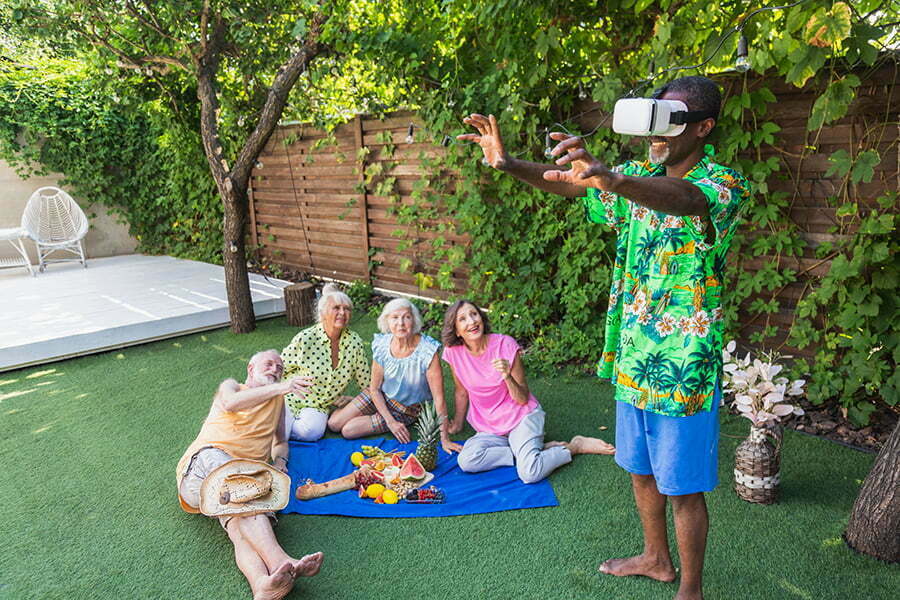 Having a backyard garden is the cheapest way to create an outdoor space without a patio. If you need flooring other than lawn grass, you can fill the area with gravel or mulch.
You can also construct a small deck with interlocking tiles. You can take it apart in winter and put it back for the summer season.
Don't forget to fill your garden with plants. A trellis will create a privacy screen. You can also build a small gazebo or put up a patio umbrella alternative for shade.
Combining a few astute gardening methods and ideas is all it takes to make the most of your area. Vertical gardening, raised bed gardening, and container gardening are all options for your backyard garden.
Put up a tiny fountain or some pretty wind chimes to complement your greenery.
Deck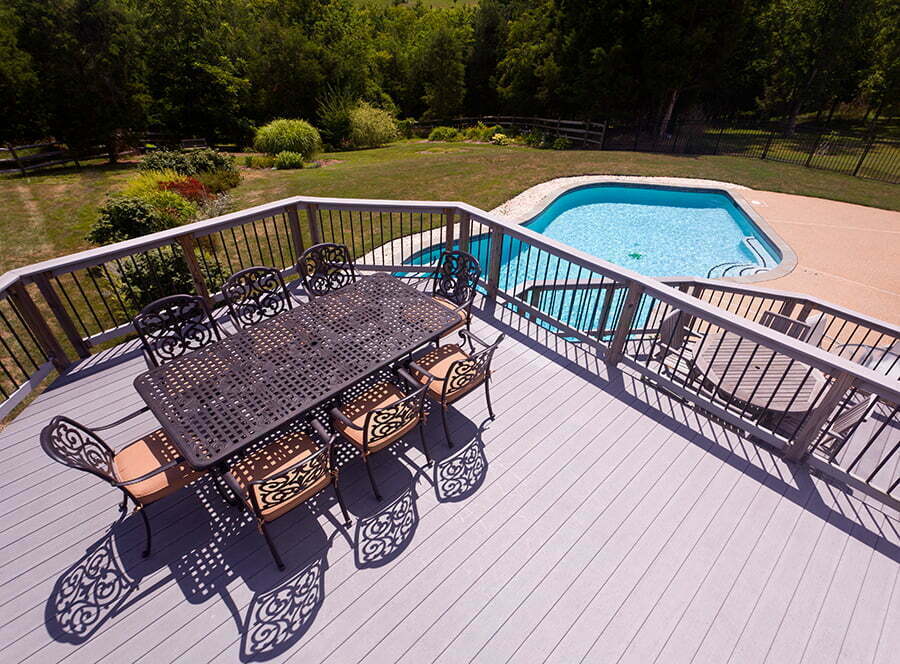 A deck is a flat structure you build near your house or pool that can hold your weight and furniture. Decks are usually wooden but not limited to it. Decks are typically built on posts and piers or floor joists.
Decks can be any size you want, and you can add to them later if you want to make them bigger. It makes it easy to change the way your home and deck look. Decks are built above ground level, so they typically have rails too.
On the downside, most of the time, they don't have roofs, so you and your things will be exposed to the weather. Wooden decks need to be fixed often as they are prone to wear and tear.
Because of how it's built, it's common to need a professional to help you plan and build your deck. Decks can be dangerous if they aren't built right.
Gazebo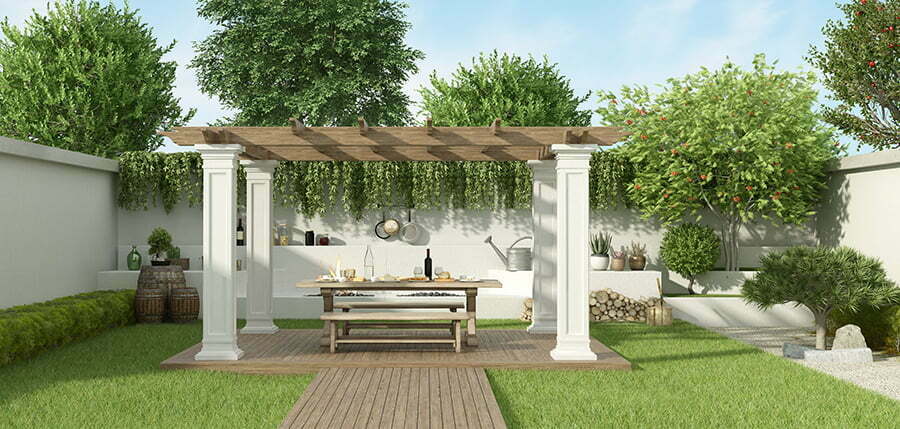 A gazebo is a detached pavilion-type structure built in a backyard. It has a roof but no walls, thus it protects you from the rain but not the wind.
You can build this structure as small as you need to fit in your outdoor space.
Building a gazebo is a simple and fast method to raise the market value of your home. The pavilion will stay clean and dry with the floor and roof.
It is possible to install electrical wiring in a gazebo, enabling you to enjoy your backyard gazebo far into the night. Putting up the optional roll-up screens will give your gazebo much more seclusion.
Significantly, but properly constructed, they can withstand even the worst climates.
Choosing a gazebo that's too big for your yard will seem out of place. Because they will be there permanently, you should check the location thoroughly before breaking ground.
Veranda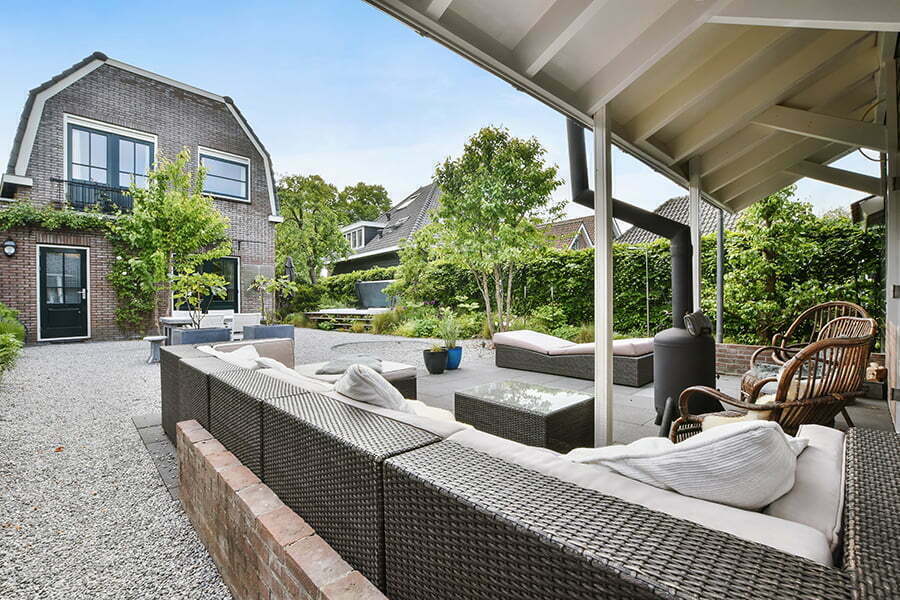 Air circulates freely on verandas. They usually wrap around the side of the house, maybe semi-enclosed by a railing. People often use the term porch to refer to a veranda.
Both porches and patios are found outside the house. However, verandas often do not have a roof and are built at ground level.
A veranda gives you the feeling of being outside while providing shelter from the elements. Enclosing them allows for year-round use of the area.
If they are covered, you may spend more time outdoors and keep more things on your veranda without worrying about the weather.
The veranda may be in superb condition due to its low maintenance requirements. The value of your property might increase if you build a spacious veranda.
On the downside, because of their low height above ground, verandas are prone to collecting dirt and grime quickly.
Setting up a veranda might be challenging, and paying a professional to accomplish it will add to your costs.
Pergola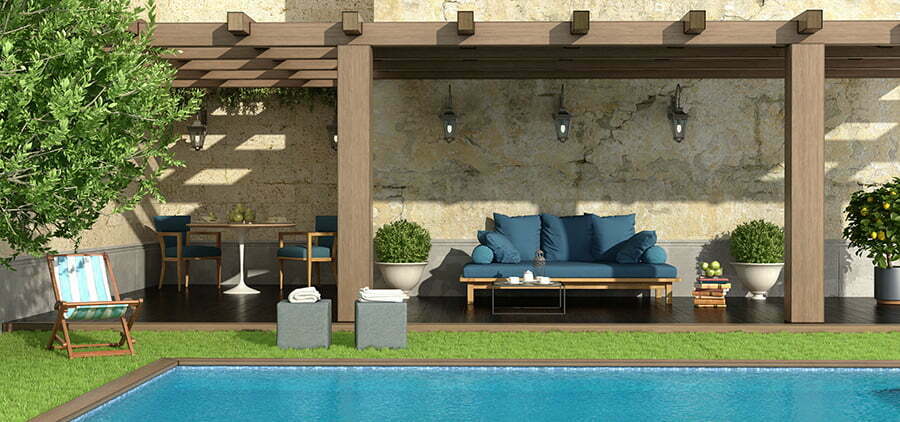 These garden elements may provide shade and shelter, or you can train climbing plants to utilize them to supply an aesthetic interest to your yard. You won't have to worry about getting a too-big-or-too-small shed since it can be built from various materials and scaled to suit your yard.
A pergoal is simple to construct and provides welcome shelter in your yard. If done well and constructed from durable materials, they may increase the value of your home.
Your pergola won't block the wind and will let it freely through. It may use them to restrict your yard, provide a private relaxing spot, or even connect your garage to your house.
On the downside, the ground under a pergola can get muddy quickly without a raised floor. Wooden pergolas need regular maintenance to sustain their lovely look and long life.
There is nowhere to take shelter if it starts to rain or hail, making it impossible to enjoy the time under the pergola when the weather is poor.
Porch
A porch refers to a covered outdoor space integral to a house or other structure. They usually stand on the street in front of the design. Even though the porch is an outside addition, it may be weatherproof by adding screens or walls.
With a roof over your head, you may relax on the porch without worrying about the weather ruining your goods or getting wet yourself. Since the porch floor is shielded from the weather, it will need less maintenance.
The porch may be used for a more significant portion of the year if it is enclosed and protected from insects. You may increase the value of your property by having a porch built by experts.
Because of the added roof, it should hire a skilled contractor to build your porch. Prices for porches are often higher than those for comparable features.
After the fact, the cost and effort required to install a porch make it more practical to create one simultaneously as the house. The amount of space available in front of the house and the ease with which it may extend the roof will often determine the size of the porch.
Pool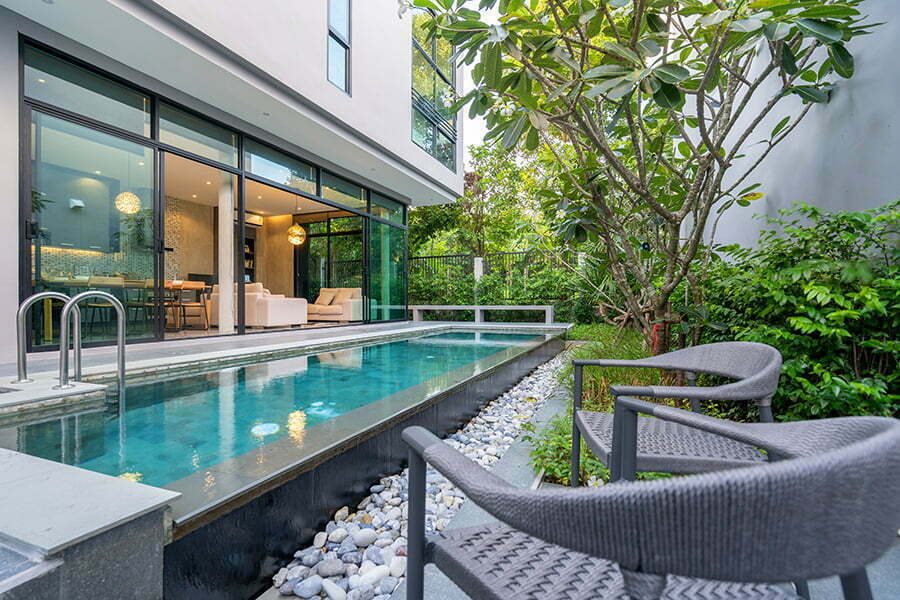 In reality, a swimming pool is another helpful feature for any home rather than a status symbol. They use the outside space as if it were an extension of their living quarters, a place to relax and enjoy the sunshine.
When the weather is warm, a swimming pool is an excellent location for people of all ages to congregate. You and your visitors will have more room and options to enjoy the pool if you add a terrace around it either during the building or afterward.
You may have larger gatherings without worrying about ruining the grass because of guests' increased foot traffic if more of your lawn is easily accessible.
Outdoor Kitchen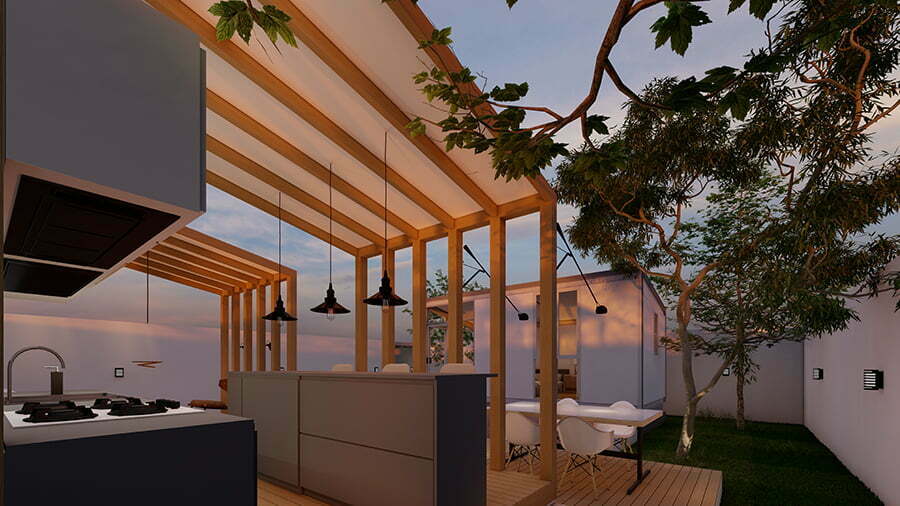 It's a happy coincidence that patio designs are trending in the same direction as outdoor kitchens.
Some flooring materials are more suited for this purpose than others, so check with your supplier before purchasing flooring for your patio.
With the addition of an outside kitchen, you might have twice as many people helping out in the kitchen, bar, grilling, and cleaning. Having more people around isn't always bad as long as the outdoor kitchen is well-designed.
Outdoor Fireplace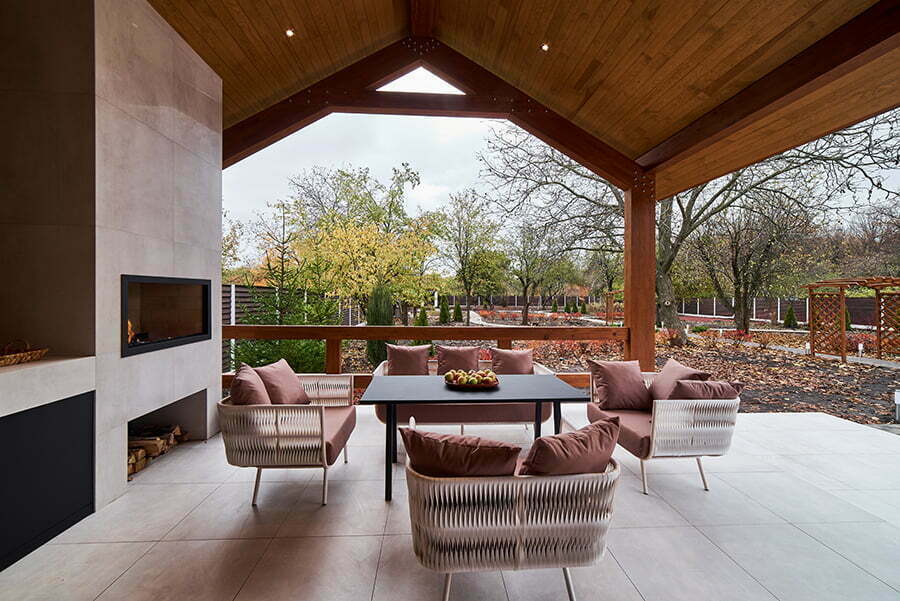 A fireplace makes for a stunning focal point. As a decorative focal point, it can draw eyes to the outdoor area and encourage you to spend more time there.
Fire has always had a special place in the hearts of humans. They represent coming together, keeping life going, and looking out for one another.
You may make your home more appealing and increase your privacy by installing an outdoor fireplace as part of your landscaping.
Even in regions with lengthy winters, outdoor fireplaces are increasingly popular despite their higher price tag. It may also adjust an outdoor fireplace for windier conditions.
When using an outdoor fireplace, smoke will be drawn up the chimney and away from the sitting area. It may build your outdoor fireplace to fit into a much smaller space of your patio or deck than a fire pit, and you can give it a unique look by having it built to your specifications.
These days, fire pits are a must in every garden, as people want to spend more time outside, regardless of the temperature. Create a chosen layout and integrate it into the patio paving so that it is a perfect size and form for your outside space.
FAQ
What is the cheapest option for a patio?
Instead of a patio, a backyard garden is the cheapest option and is better for the environment. For the flooring, you can use mulch instead of grass.
How do you make an inexpensive patio?
The cheapest way to build a patio is to fill the space with gravel or decomposed granite and add a small number of mulch, pavers, or interlocking tiles under your outdoor furniture.
What's an eco-friendly alternative to a garden patio?
Filling an area in your backyard with gravel or mulch is a cheap and eco-friendly alternative to a garden patio.
Recap
Liked this article? Here's what you can read next: