Last updated on November 22, 2021
Cuddle up in one of the best throw blankets and make 2021 cozier. Read on to find our best-of list for the humble throw.
Hands off, which one is the best? We choose this faux fur throw.
The humble throw deserves more attention than it gets. It's not just a blanket you cuddle up on the couch to keep yourself warm and cozy. The right choice of a beautiful throw makes a decor accent that every living room or bed-scape needs. That's why they make great gifts too for any occasion.
While it's true that all blankets made of natural materials provide a ton of value (and it's a good place to splurge), there are many benefits in high-quality polyester microfiber trows (especially if it's the decor accent you're after). If you're after function, you may as well consider an electric heated blanket.
So this list is made of our favorite throw blankets that we love. We have included shopping links where to find them. We earn a commission from this by providing you with convenience at no extra cost.
What's Inside?
Everlasting Comfort Faux Fur Throw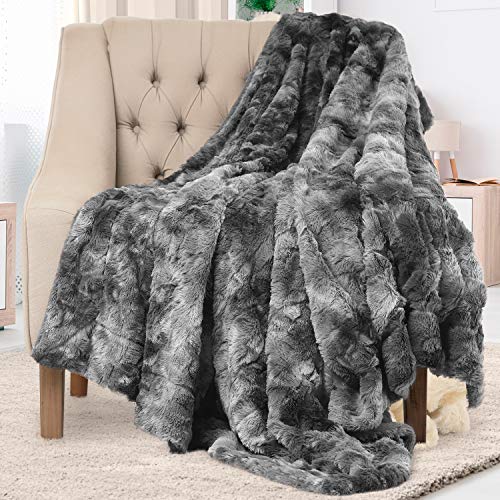 This is our editor's choice because it looks and feel that good.
The Everlasting Comfort Throw Blanket is nice. Really nice. You might consider it a luxury throw blanket. It is made of slip-resistant faux fur and has a simple design with one side in animal print and the opposite in solid colors, giving it two distinct looks. Users can use the blanket at home, for relaxation or comfort, for napping, reading, and meditation. The fabric is so soft allowing you to comfortably rest in it anywhere without moving away from it (you will not wish to.)
This throw blanket is great for cuddling up on the couch in winter, making a warm space underneath it for your lap. It can be used outside as a sort of "Wall of Winter" to keep you warm on a cold day. The fur fabric of the blanket is soft and thick and machine washable.
Quick facts:
Made of polyester microfiber.
Sized 50"x60".
8 different colors.
Reversible design.
Washing machine and dryer-safe.
Bedsure Sherpa Fleece Blanket Throw Size Grey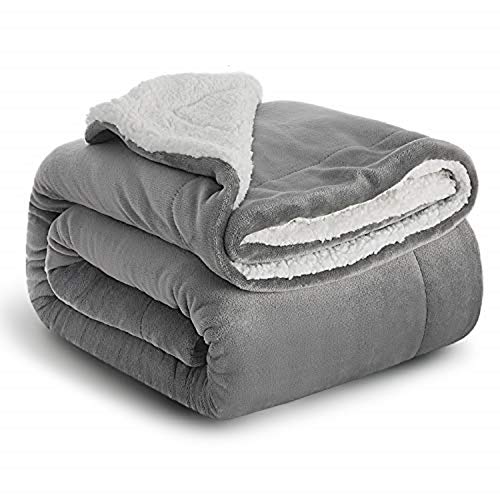 The product material consists of fleece on one side and sherpa fabric on the other. This design allows you to have two texture options when using the blanket depending on what you want — either smooth and fluffy or soft and fuzzy. The color scheme consists of an elegant chic color, which will complement any room in a home with sophisticated tastes.
This blanket can be used indoors and outside. It could be used as a cover on top of your bed and couch or as decoration for the walls and furniture of the house.
Quick facts:
Made of polyester microfiber.
Sizes from 30×40 to 108×90 inches.
Comes in 28 colors.
Lomao Sherpa Fuzzy Soft Fleece Blanket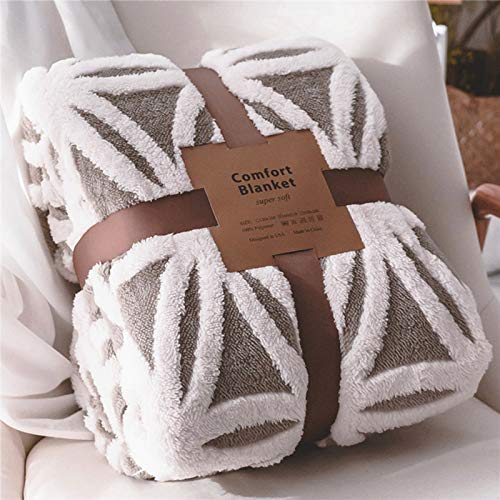 You can use it around the house, watching TV, reading a book, snuggling or cuddling. It is an elegant soft blanket and I would enjoy giving it as a gift for any occasion. When you wash it in the washing machine it does not get ruined even after lots of times.
This is a jersey-faced blanket made of a soft, gentle to the touch material and is about 46 inches by 60 inches in size. For outdoor use it can be tossed at the campsite for just enough extra warmth and protection from windy temperature changes. It would work as an extra layer inside on the bed during chilly nights easing you into restful sleep but also like a family topper on an apartment couch when reading with kids enjoying movies or readying for bed.
Quick facts:
Made of polyester sherpa fleece.
Sizes 51×63 to 90×90 inches.
12 colors.
Machine washable.
Decorative Extra Soft Fuzzy Faux Fur Throw Blanket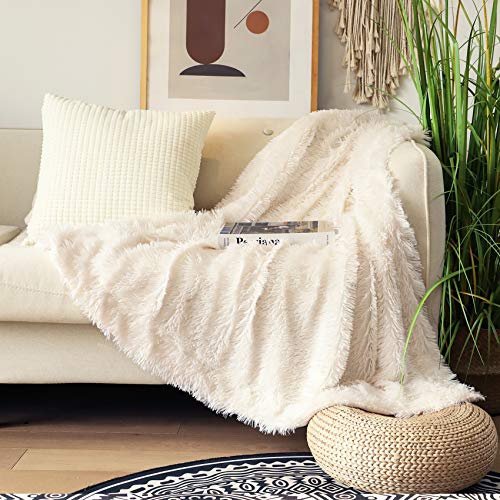 This is a soft, fluffy faux-fur fabric. It has a reversible design — one side is furry, and the other is velvet fleece. It is suitable for spring through autumn. Great for snuggling up on the couch or under your feet when it's chilly.
This is a blanket that is made of 100% polyester microfiber dyed fabric. The colors are beautiful. It's made to really keep you warm and snuggly, perfect for cuddling up on a couch, in bed, or anywhere in between. You don't have to wash it before you use it.
Quick facts:
Made of polyester microfiber.
5 colors available.
Sizes 50×60 to 78×90 inches.
Mashine-washable.
Bedsure Knit Woven Throw Blanket for the Couch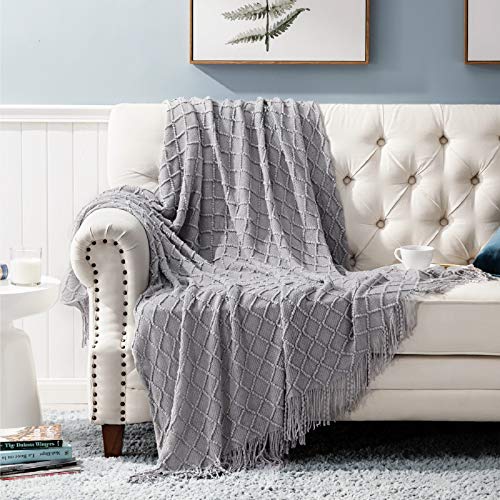 Use this throw blanket when I sitting on the couch. It is made out of a softer acrylic that is thinner than wool which allows it to work for all seasons because it has more flexibility and strength. The knitted pattern is classy and has fringe details.
Quick facts:
Made of soft acrylic.
Comes in 12 colors.
Available in 2 sizes: 50"x60" and 60"x80".
Weighs only 1.06 lbs.
The Connecticut Home Company Shag Throw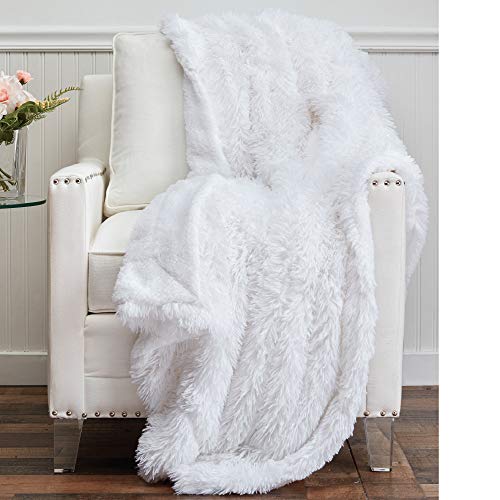 This is a soft blanket made of shag material on one side and sherpa on the other. It is big and handy for multiple uses such as snuggle up with friends or family, accommodates for meditation, or as part of your bedspread styling-chic decor. The material is easy to wash in a washing machine.
The blanket has a generous, large size of 65'' by 50''. This would be perfect for many purposes, such as snuggling up with a good book, sipping hot tea, or dressing up your bed. It is best for winter days or evenings because it keeps you warm and cozy. It can be draped over furniture or a bed, but be careful not to pull hard on the fuzzy part because that could cause the fabric to separate.
Quick facts:
Made of shag sherpa (polyester).
Comes in 52 colors.
Sizes 50"x65" to 90"x108".
Easy to clean.
LOMAO Flannel Blanket with Pompom Fringe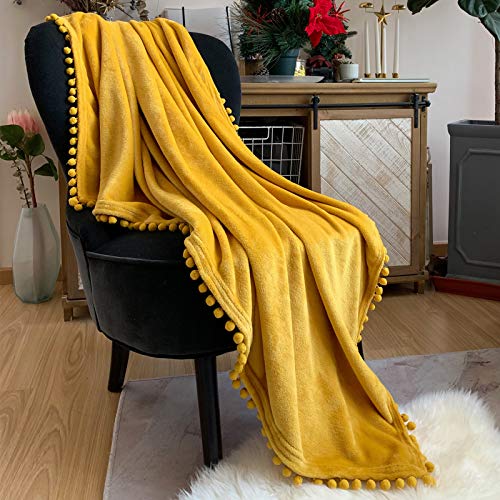 You can use this blanket around the house in the winter and outside on cool days. It is made of polyester, which is soft, durable, and economical. It comes in several colors, and pompoms on the fringes. A large size (measuring 51″x63″) will keep both you and your pets cozy without taking up too much space.
Quick facts:
Made of microfiber.
Comes in 16 colors.
Sizes 51"x63" to 90"x90".
Longhui Bedding Acrylic Cable Knit Sherpa Throw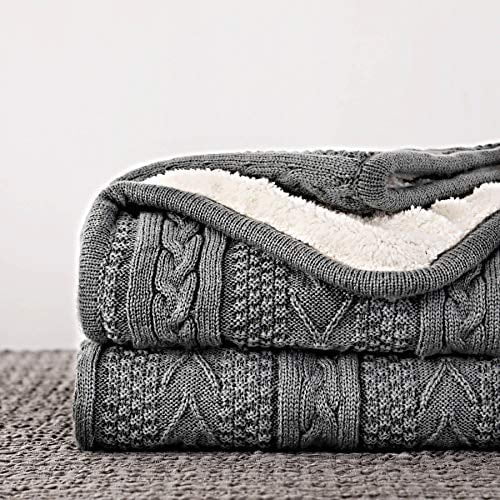 This throw blanket is made of soft acrylic and sherpa fleece, giving it a knit effect with double-sided film so that you can use one side as you please. You can use the sherpa fleece side for cold weather to keep you warmer, while you could use the cable knit side for decoration purposes on your bed or couch. Washing it without having to dry clean it as keeping something like this clean would be difficult for someone without being able to machine wash it.
It is huge and measures 60″ x 80″. You can use it as an extra layer of cozy warmth before you settle in for binge-watching your favorite show or movie or to relax inside or outside.
Quick facts:
Made of acrylic and sherpa.
Comes in two sizes: 50×63 and 60×80 inches.
7 colors.
Machine-washable.
Maxkare Electric Heated Throw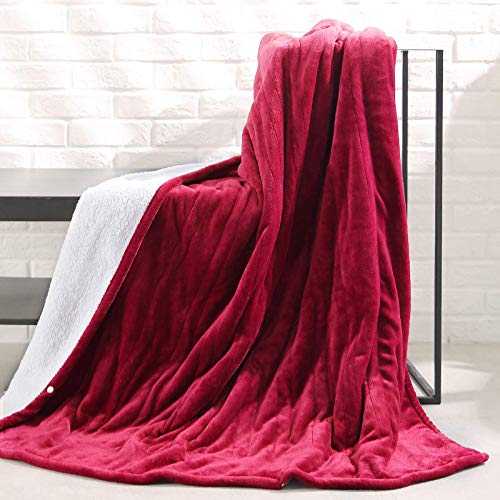 This throw has two sides: the soft, cloth side and the fuzzy, plush side. There are 3 levels of heat for you to choose from. If continuously used for more than 4 hours, it will automatically shut off.
A heated throw is designed to provide you with warmth and comfort. It is made of a polyester mix yarn and a fleece lining. It has a sherpa side and could be great for camping, holiday travel, or game day watching.
Quick facts:
Electric heating.
Sized 50"x60".
Machine-washable.
Large Chunky Knit Blanket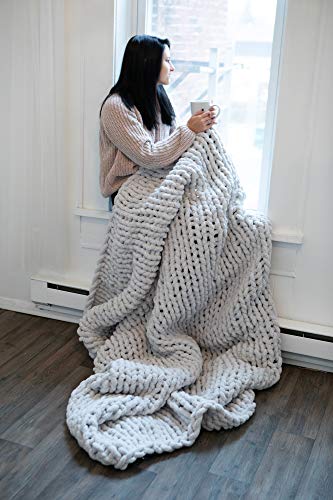 This is a large gray chunky knit throw blanket. You can use this throw blanket in most areas of the home. It can also make a great gift on different occasions, such as a wedding, housewarming gift. It is hand-knit (and machine washable) for utmost softness and warmth with tightly knitted yarns, so it will not shed. It is hypoallergenic and durable since it resists abrasion.
This light gray throw blanket is made from the fiber with tight knitted loops that make it softer and warmer. Chenille fiber does not scratch or feel uncomfortable like wool yarns do. This large blanket is long in length for your feet to feel plenty of warmth during winter months and has a bulky knit pattern that makes it stand out among my other
Quick facts:
Made of Chenille yarn.
Hand-knit.
Machine-washable (on gentle cycle).
FAQ
What is the best material for a throw blanket?
We consider polyester microfiber to be the best material for a throw blanket. Yes, natural materials like cotton or wool have their pros, but something as practical as a throw should be more durable and machine-washable — features that microfiber provides. And it's still very soft to the touch.
How do I choose a throw blanket?
Choosing a throw blanket depends on how you're going to use it. If you prefer function over decor value — choose a warm sherpa fleece blanket in a solid color. If it's going to sit thrown over a couch more often, choose a lighter blanket in a nice pattern and accent color.
What is the difference between throw and blanket?
The difference between a throw and a blanket is merely the size. A throw is 50"x60" or smaller. And oversize throw is 60"x70". Anything larger is a blanket.
Liked this article? Here's what you can read next:
---
Disclosure: As an Amazon Associate we earn from qualifying purchases.