Last updated on December 20, 2020
Looking for a standing workspace solution? Choose the best standing desk converter. Here are the top-rated picks to choose from. Read on!
You have to be aware of the benefits of the standing workspace position to be looking for a way to convert your desk. Indeed, spending a workday in a sitting position does damage to your health. So being able to do your work while standing up is a positive change in your workflow. All you need is a good sit-stand desk or better yet a way to convert your current one (as well as the best standing desk mat to go with it.)
Luckily there are solutions for that. Sit-to-stand desk converters range from simple platforms that elevate your monitor to full desktops that provide an adjustable height surface. All you have to do is find the right match for your needs.
How do you choose the right standing desk converter?
Consider your requirements:
Are you doing to be switching from sitting to standing positions often?
Do you work on a computer or laptop?
How many monitors do you use?
Do you want to take the converter with you (portable)?
Do you need electric adjusting features?
While making our picks we have noticed some potential problems that a lot of converters have. You need to be aware of these.
What do you need to look out for?
Stability from tipping over.
Surface area to fit the size of your gadgets.
The effort needed to lift up manual converters.
The weight of the converter and if your desk can support it.
These are all great aspects to know about choosing a standing desk converter (and what they are in the first place). The next step is to check out the picks that we have for you. Note that we may be compensated for purchases on Amazon at no expense to you (via #ad).
Which of these products will save your workspace?
What's Inside?
Standing Desk Converter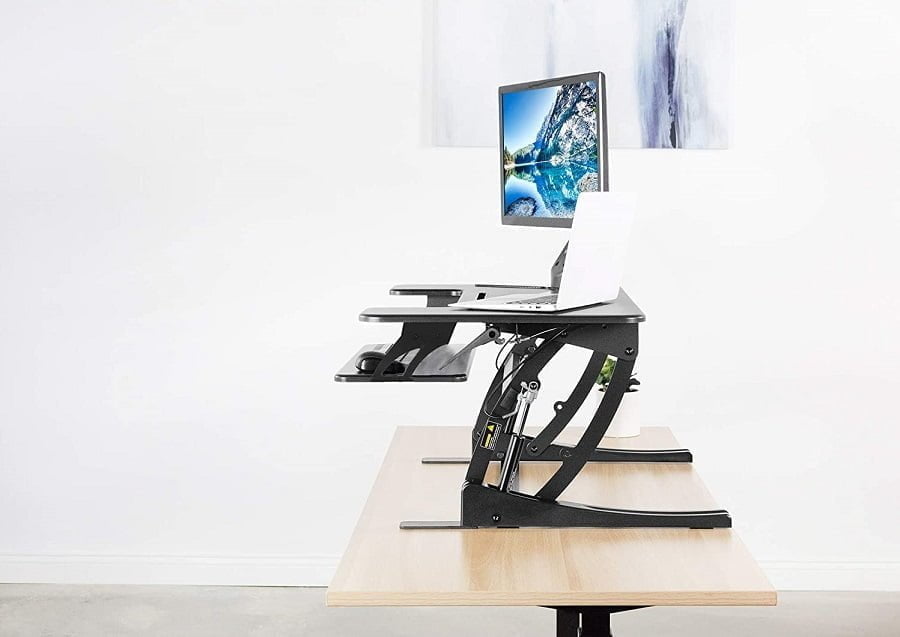 The quickest way to convert a desk to a standing position is to use a monitor riser. This includes the keyword or a laptop surface as well.
Pros: the keyboard tray is removable; goes from sitting to standing in one smooth motion with dual gas spring; very minimal assembly; spacious work area: raising and lowering the desk is easy and does not require much force.
Cons: there isn't support to keep it from tipping over when it is lifted.
Sit Stand Desk Converter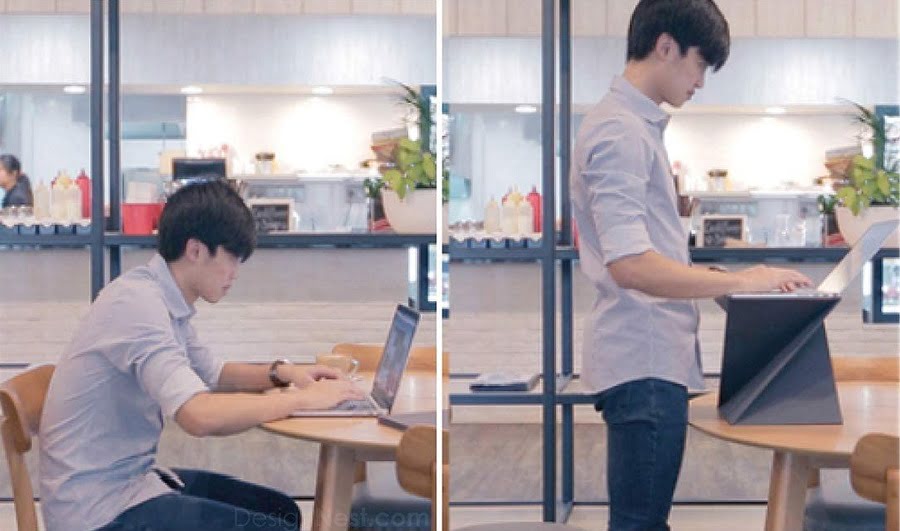 A simple sit to stand converter should be easy to pop it up and move from one position to another. Levit8 is a great example of such a smart design.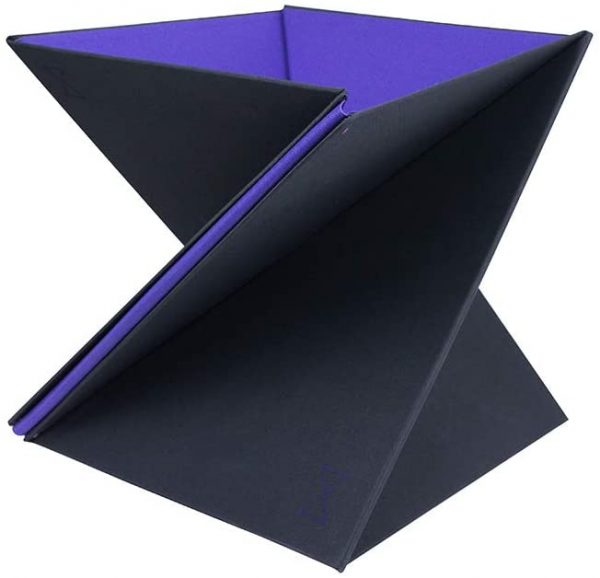 Pros: has no parts and no assembly needed; slim, lightweight and durable; it can be easily transformed from a flat to raised surface in seconds; multi-functional – it can be a storage desk organizer or a stand to showcase your presentations.
Cons: not that wide; the directions are confusing and took a while to figure out how to get it to open.
Adjustable Standing Desk Converter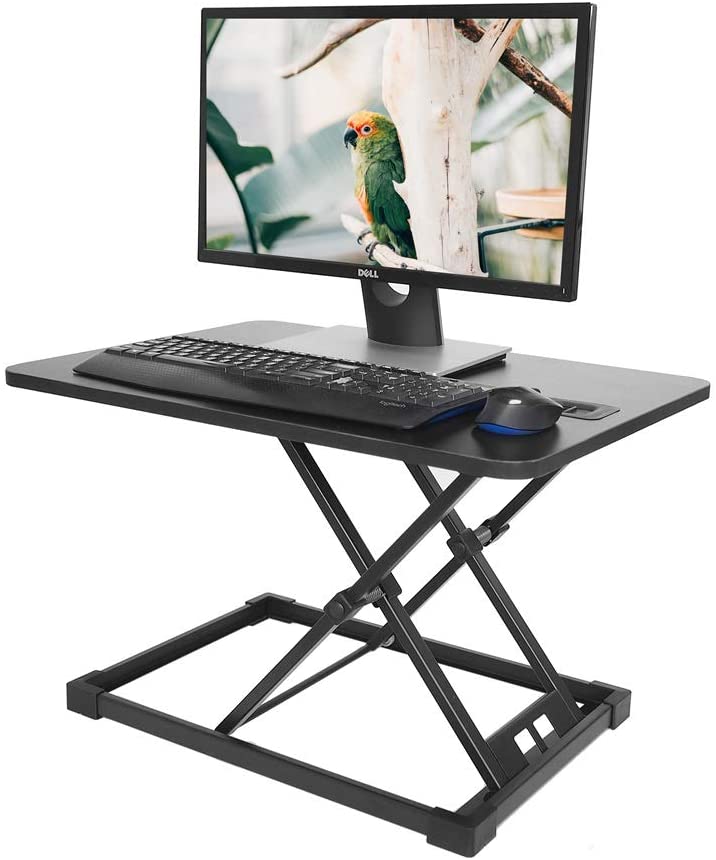 When converting your workspace to a standing position, adjusting the height is important to get the ideal setup. This adjustable converter will provide you an easy way to do it.
Pros: adjustable height standing desk workstation allows you to work sitting or standing; no assemble required; it saves more space; has a safety lock on the base; easy to adjust; it is well built and functions well.
Cons: it does take a little effort to lift it up; too small to hold large monitors.
Standing Desk Platform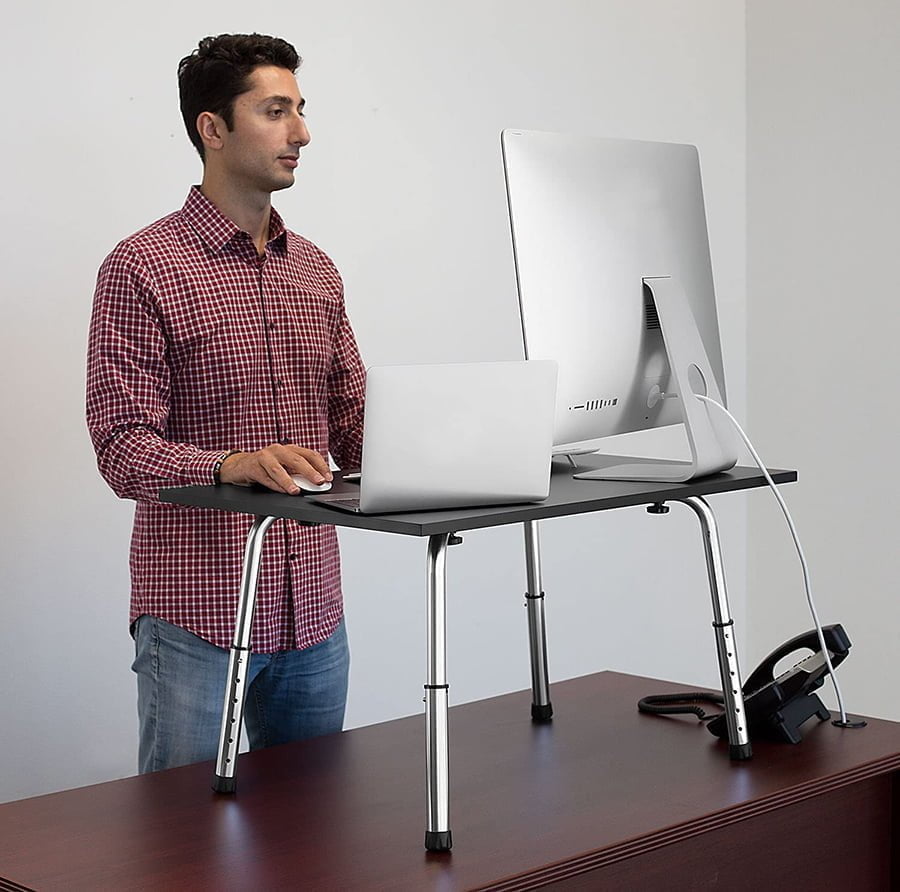 A standing desk platform is simply a large raised surface that elevates the monitor, the keyboard, or the laptop. This product is one of the best in this category.
Pros: can adjust the legs to elevate the tabletop to the height that suits your needs the best; portable and very lightweight; has a 44lbs capacity and it features rubber feet to keep it from sliding; very sturdy and just the right size platform.
Cons: it is not very easy to adjust the length of the legs.
Standing Desk Topper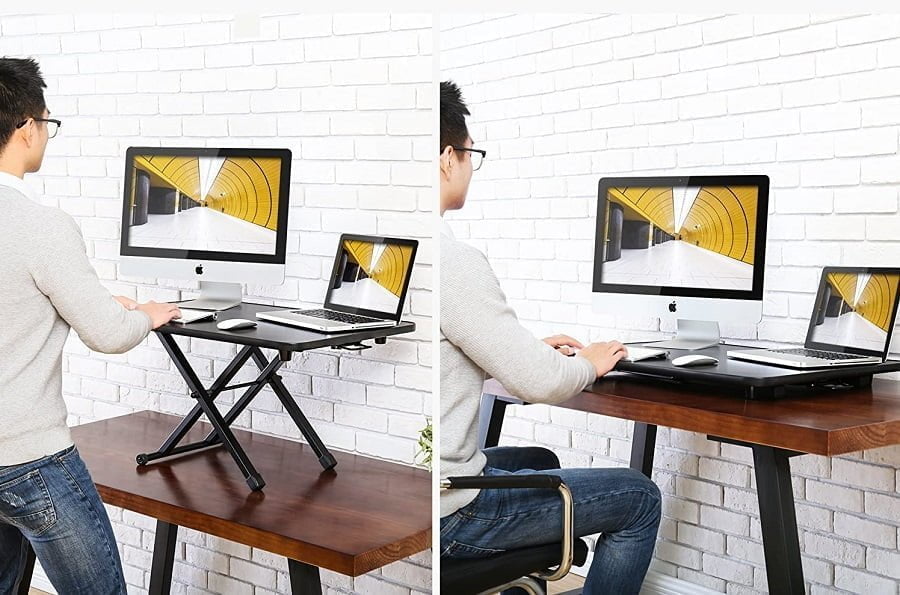 A desk topper, much like all converters, is a simple platform that raises your monitor or laptop. It provides an easy transition to either position.
Pros: the table topper has a rounded edge design; a sturdy steel frame with lift power; the lift offers smooth and easy height adjustment; it has a large surface.
Cons: it's not good for travel or quick transitions.
Standing Desk Add On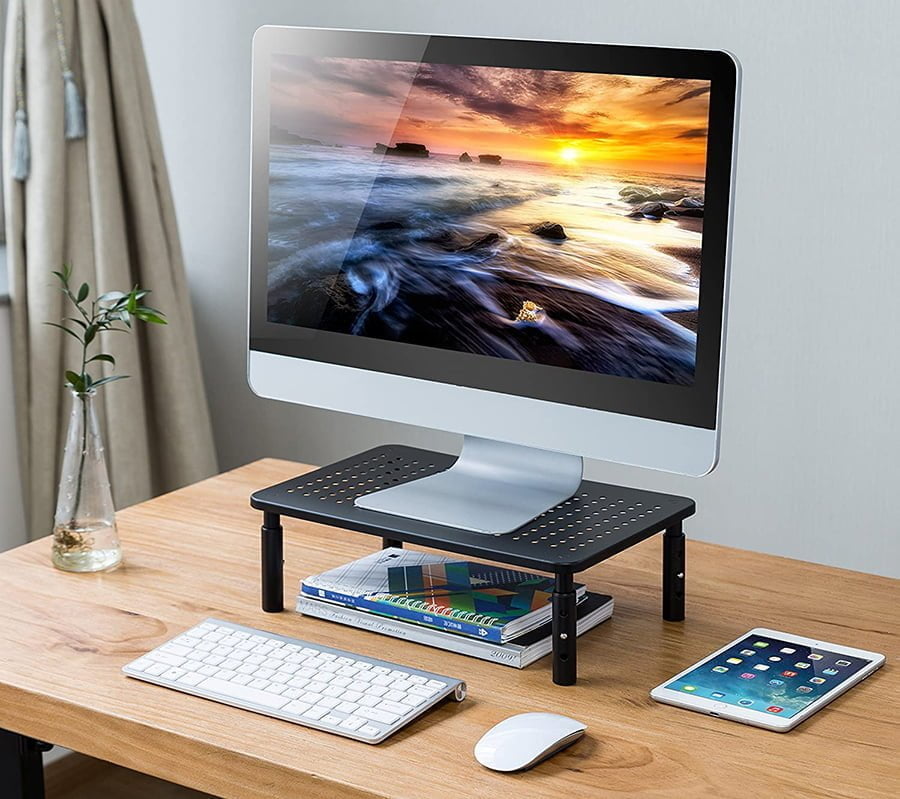 An addon is the most simple converter of them all. Short of a stack of books, it's a small surface that gives adjustable elevation to the monitor on your desk.
Pros: it keeps your monitor rock steady; very easy to assemble; has rubber skids on the bottom to hold the stand steady; lightweight; perfect for up to 20-27 inch monitors; it doesn't take up much space.
Cons: it's a little wobbly and a bit small for the size.
Best Desk Riser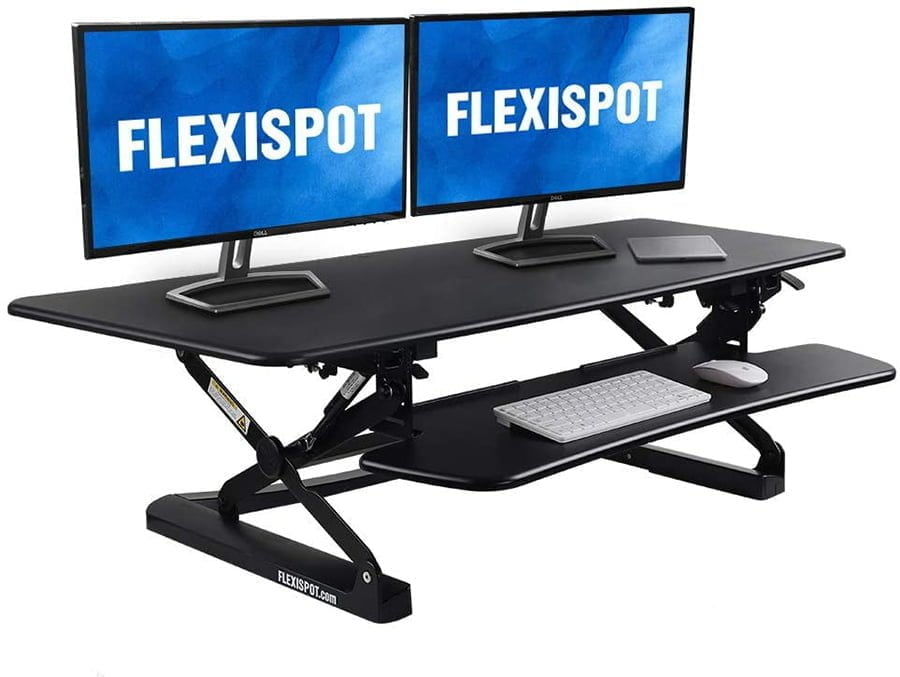 A desk riser is like a second tabletop that can be adjusted to the required height for standing or sitting. It provides space for multiple monitors and keyboard among other things.
Pros: the main upper table is huge; very smooth and easy to adjust; it lowers or rises vertically; a quick release keyboard tray; zero shaking or vibration when using it.
Cons: the keyboard tray is small; not enough room for a full-size keyboard and a mouse pad.
Electric Desk Riser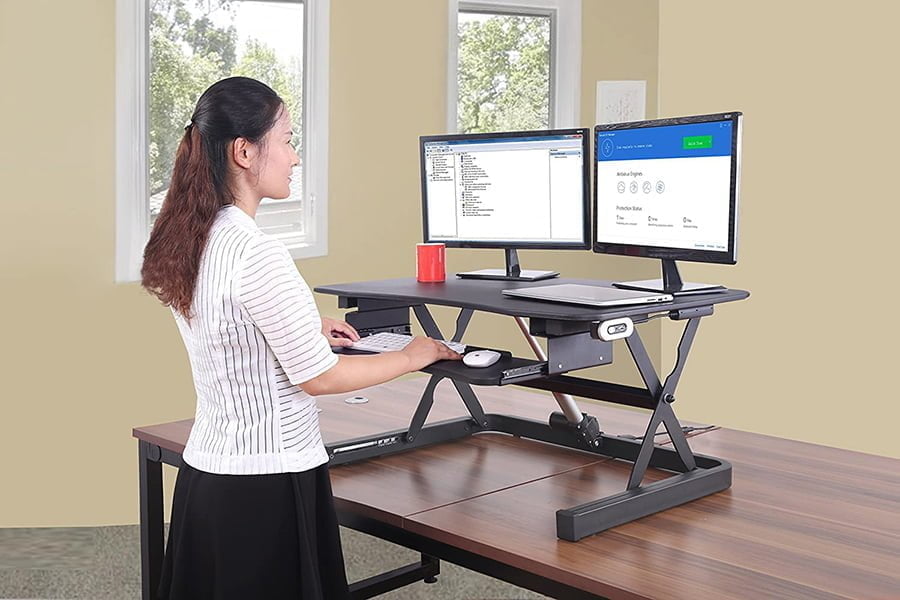 If you need more convenience and functionality, an electrically adjustable converter is your choice. It works at a push of a button so the transition is quick and seamless.
Pros: adjusts via UP/DOWN switch; it has a convenient power indicator and one USB Port for charging electronic devices; has a retractable keyboard tray; has a large workspace.
Cons: it's fairly heavy so make sure your desk can handle the weight of this riser.
Standing Desk Converter Kit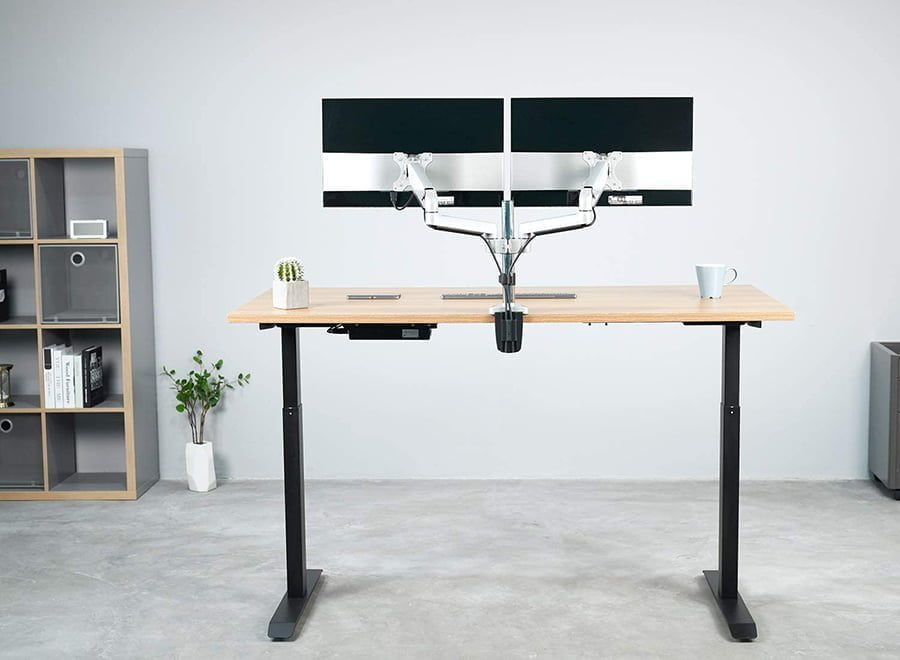 If you're into DIY projects at all, you can use a kit in the form of a stand-up frame and convert a desk yourself. It's not complicated at all – pretty much an assembly of parts.
Pros: motorized desk switching between sitting and standing; has smooth transition; durable sit-stand desk and frame; a very high-quality frame for its price.
Cons: assembly is a bit difficult.
Convertible Standing Desk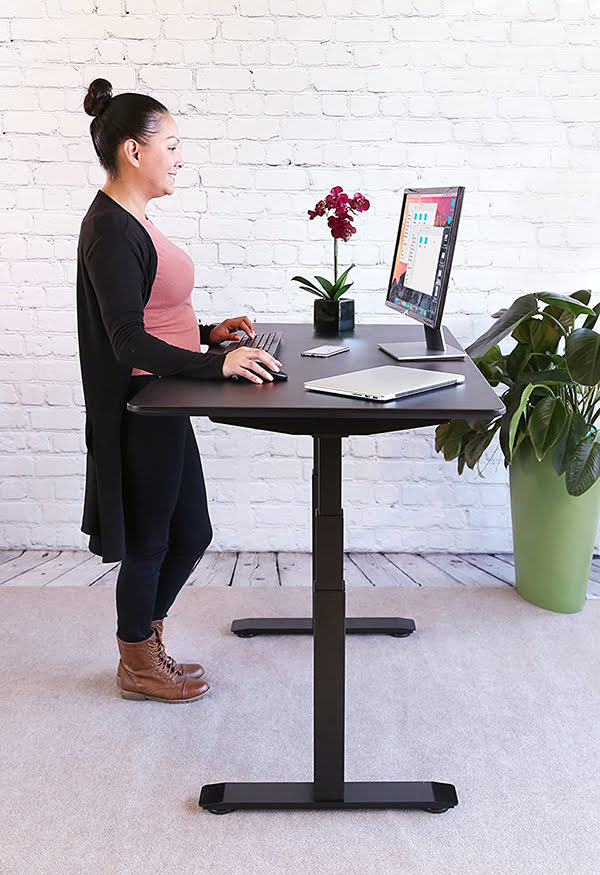 It's not just a converter anymore, but an entire standing desk. It's very minimalistic and takes little space covering the basic essentials.
Pros: easy to assemble; has a push-button controller with 4 memory settings; can adjust the screw-in leveling feet; tabletop has a curved edge; it is very sturdy and solid.
Cons: no pre-drilled holes to accept the controller, despite what the instructions indicate.
Liked this article? Here's what you can read next:
---
Disclosure: As an Amazon Associate we earn from qualifying purchases.