Last updated on June 21, 2022
Looking for the best shoe rack to solve all your shoes related problems? Perhaps you need more than one. These are our picks for the best units. Read on!
We can go on and on about storing shoes at home, and in fact, we have written extensively about shoe storage solutions and even shoe rack alternatives. We have covered a lot of makeshift and do-it-yourself ways to keep shoes tidy. Now we will try to find the best products that will provide you with the most efficient storage solution for the bang for your buck.
As there are many places where you can store and showcase your shoe collection at home, there are just as many best-fit solutions. Whether you keep them in the entryway, the bedroom, or put them on display in the living room, you will find the shoe rack that does the job. The key is using the right rack for its purpose. Just as there are so many of them to choose from, it's easy to get lost.
How do you choose the right shoe rack?
Decide:
What room or area of your home you will put it?
Is it going to be closed or open?
How much storage space do you need (how many pairs of shoes do you own)?
Do you have enough room for it?
Who will use it (the whole family, guests, or is it for a single person)? What are their needs (or shoe needs?)
What are your decor considerations?
Can you decide? Check out the following picks for ideas.
We've picked these shoe racks knowing well what a typical reader of our site is looking for. There are millions of you every year, so you have many different needs. That's why this list has 20 options to meet all of them. We've used a data-driven and testing-based research to come up with only the best options so you can choose from the very best. Finally, do note that we do earn from qualified purchases (marked #ad) at no expense to you. This helps us improve our research and create great articles.
So which one of the following will store all your pairs of shoes and showcase your shoe collection?
What's Inside?
Shoe Shelf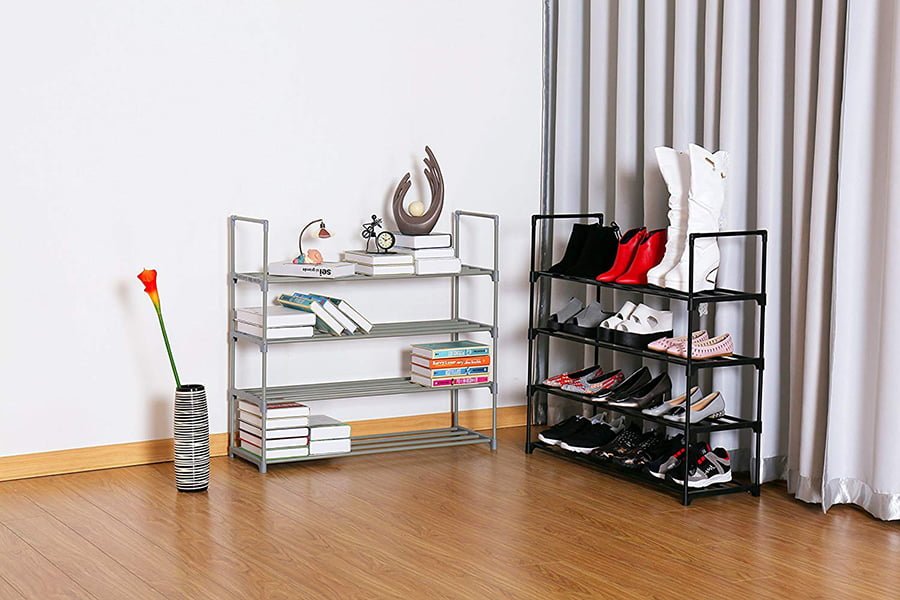 If you want simple and functional, then this shoe shelf is a good option. Assembly is required but that should not be a problem since anyone can finish it in a few minutes. Parts are light yet sturdy. The whole unit can carry 20 pairs of shoes with 5 pairs on each level. Unfortunately, there is minimal space between each tier such that boots and high heels can only be placed at the very top.
Pros:
Sturdy metal rack
Four levels
High carrying capacity
Easy to assemble
Can be used as bookshelf
Cons:
Some plastic parts
Not for tall shoes
Over-the-Door Shoe Organizer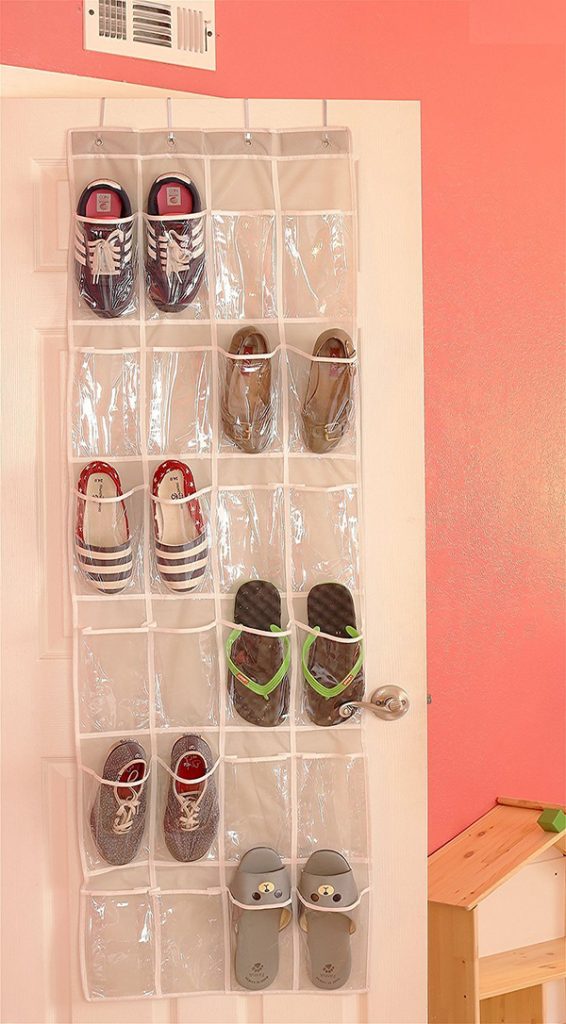 If your floor space is limited, then look into maximizing your vertical spaces. The back of your door provides a large area that you can exploit for storage. Consider getting an over-the-door shoe organizer to utilize this space in a snap. Just hang this sheet and insert your shoes in each pocket. This works well for trainers and sandals but not tall and bulky shoes. The hooks have trouble with heavy load.
Pros:
No floor space needed
No assembly required
Simple to use
Protects from dust
Cons:
Limited to thin shoes
Flimsy hooks
Wall-mounted Shoe Rack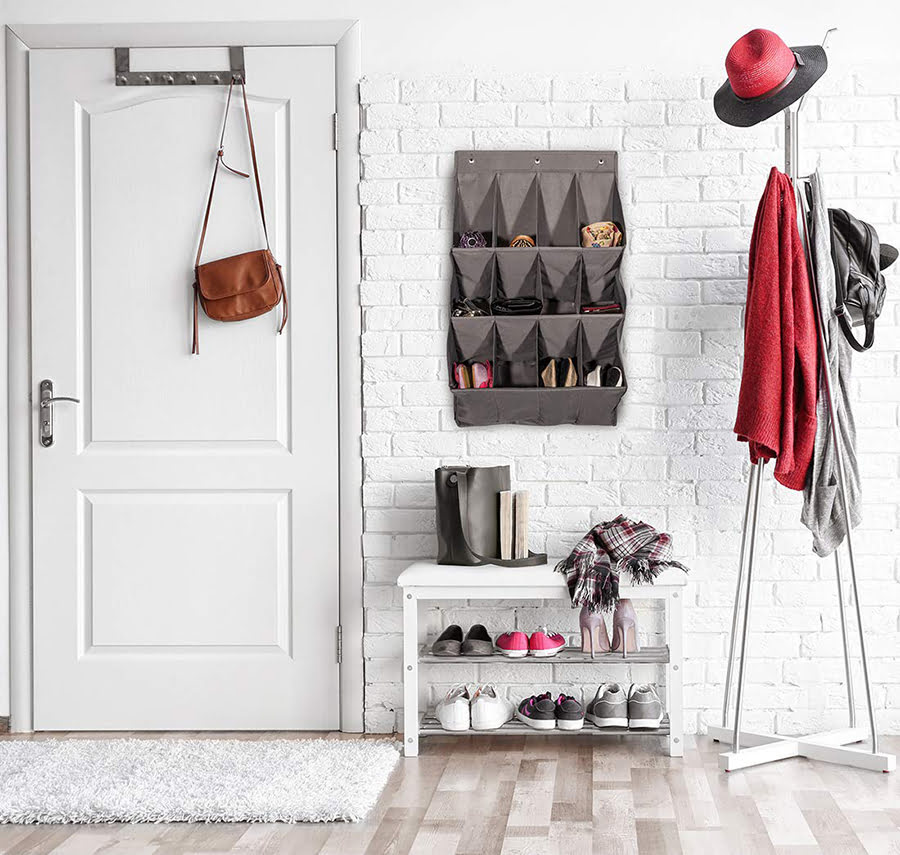 Here is another solution that uses vertical space. This wall mounted shoe storage unit has an elegant design with a dark gray color and the geometric lines. The larger pockets can accommodate thicker shoes or a pair of sandals. Toys, accessories, and other items can be placed here as well for an instant organizer. There are only 12 pockets so it's more for personal use.
Pros:
Elegant design
Room for thick shoes
No assembly needed
Easy to clean
Cons:
Short with limited capacity
Closet Shoe Rack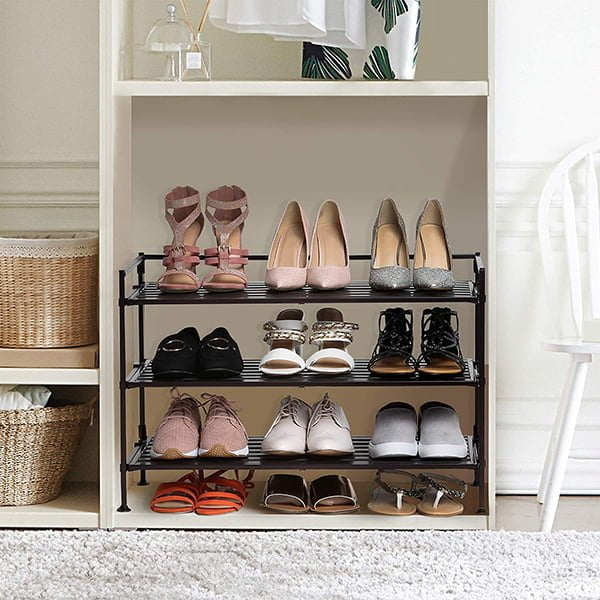 If your closet has lots of empty space underneath the hanging clothes, then it's time to put this to work with closet shoe storage. This product has the perfect height for it while providing three solid layers of storage. Installation is a breeze and the unit is sturdy, but you won't be able to place high heels on the lower levels. It is also limited to three pairs per level, although you can squeeze an extra 3 pairs of sandals between the floor and the bottom tier.
Pros:
Stackable shelf
Easy to assemble
Solid and sturdy
Cons:
Wooden Shoe Rack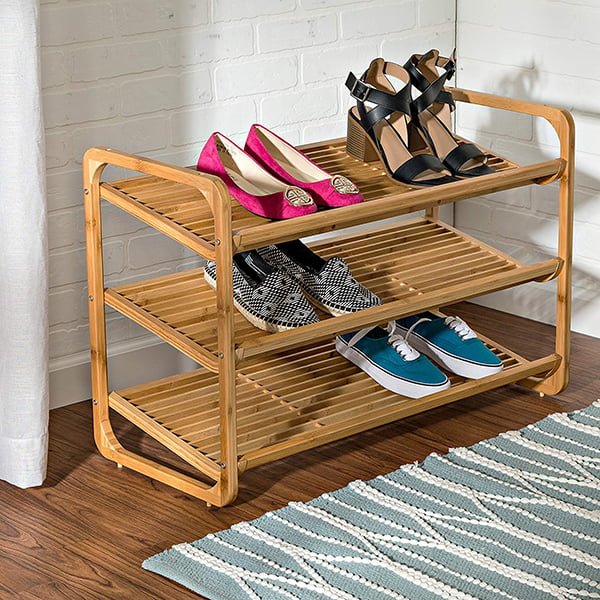 Most shoe racks are best left hidden because they aren't particularly nice to look at. This one is different as the wooden design is quite charming even in its simplicity. It uses bamboo which is considered as a sustainable material thanks to its fast growth rate — a sure selling point for eco-conscious consumers. However, this wooden shoe storage unit is not stackable so height is fixed. Quality control issues also hound buyers with some units being better made than others.
Pros:
Beautiful design
Sustainable material
Moisture resistant
Easy to assemble
Cons:
Not stackable
Quality control issues
Shoe Stand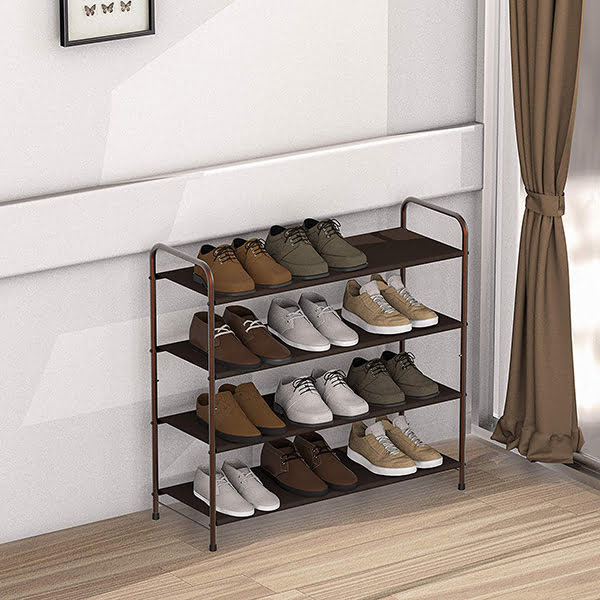 If you don't have much time to do market research, then just go with the masses and you'll probably end up with a decent shoe stand. This is the best-seller in the product category. It may not win design awards but it is able to blend functionality, looks, and price at just the right amounts to be compelling. Just note that the layers are made from fabric which can sag and tear when carrying heavy shoes.
Pros:
Best-selling rack
Metal frame
Large capacity
Easy to assemble
Cons:
Flimsy fabric layers
Sagging shelves
Shoe Holder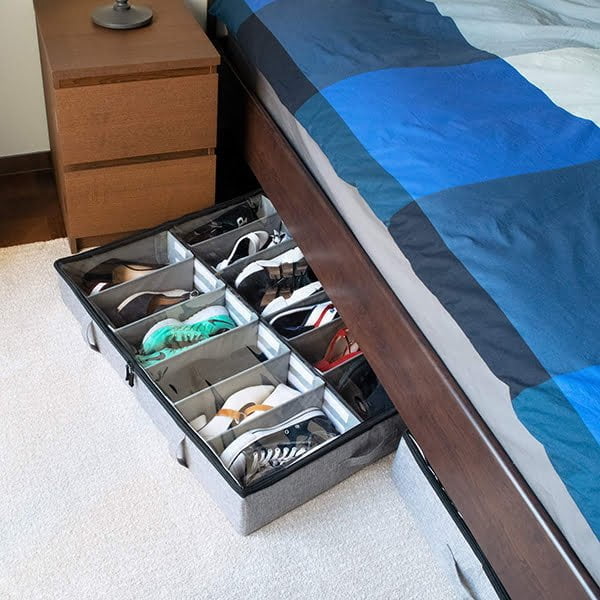 The trick to making it all fit is to optimize unused spaces like the area under the bed. This shoe holder slides right in thanks to a low height and. Just push or pull the handles when moving it around. You might want to reinforce these as they could come off with force. The pockets have adjustable size but the normal configuration is designed to fit 12 pairs. A clear dust covers zips up to protect the contents.
Pros:
Maximizes bed space
Adjustable dividers
Excellent organizer
Dust cover
Cons:
Small pockets
Poor quality handles
Small Shoe Rack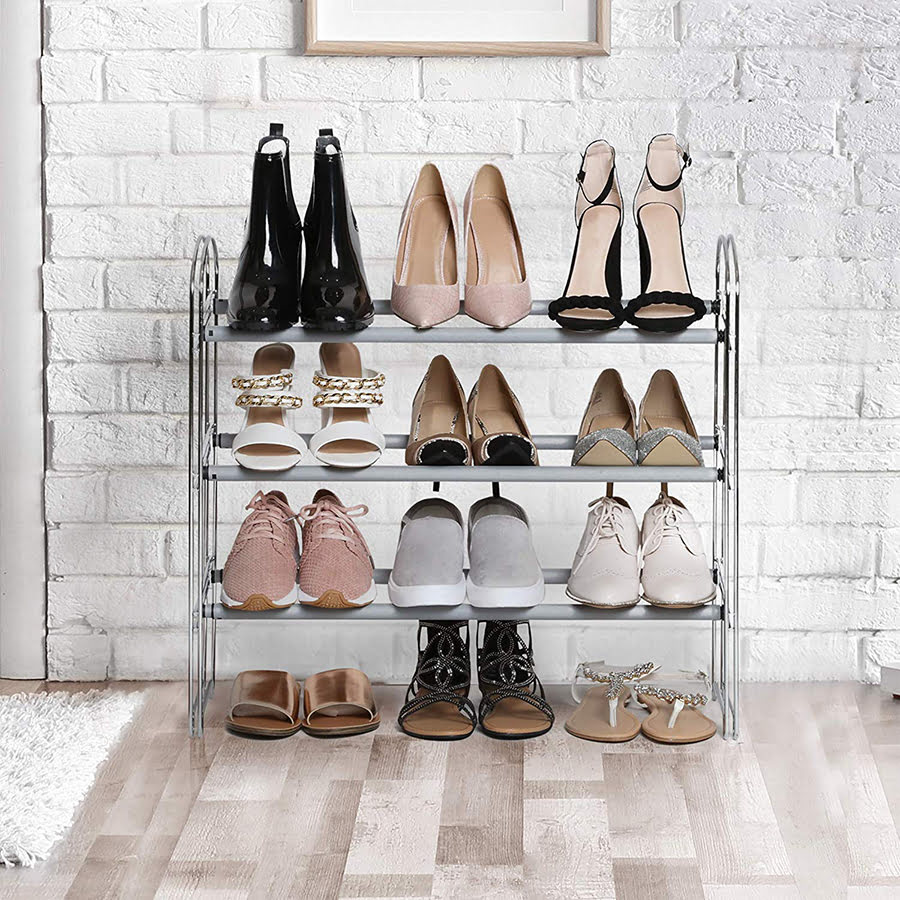 In a world of generic shoe racks, it's nice to se some manufacturers put some effort into styling. This one is a small show rack that can be placed in a home or in a store. The chrome accents make it look classy without going over the top. While other products are stackable, this one is expandable horizontally. It can hold up to 21 pairs of shoes at max extension. However, the open layers might present problems for kid's shoes. It also makes this small show rack unsuitable for displaying trinkets and books.
Pros:
Good looks
Low price
Expandable
21 pair capacity
Cons:
Stackable Shoe Rack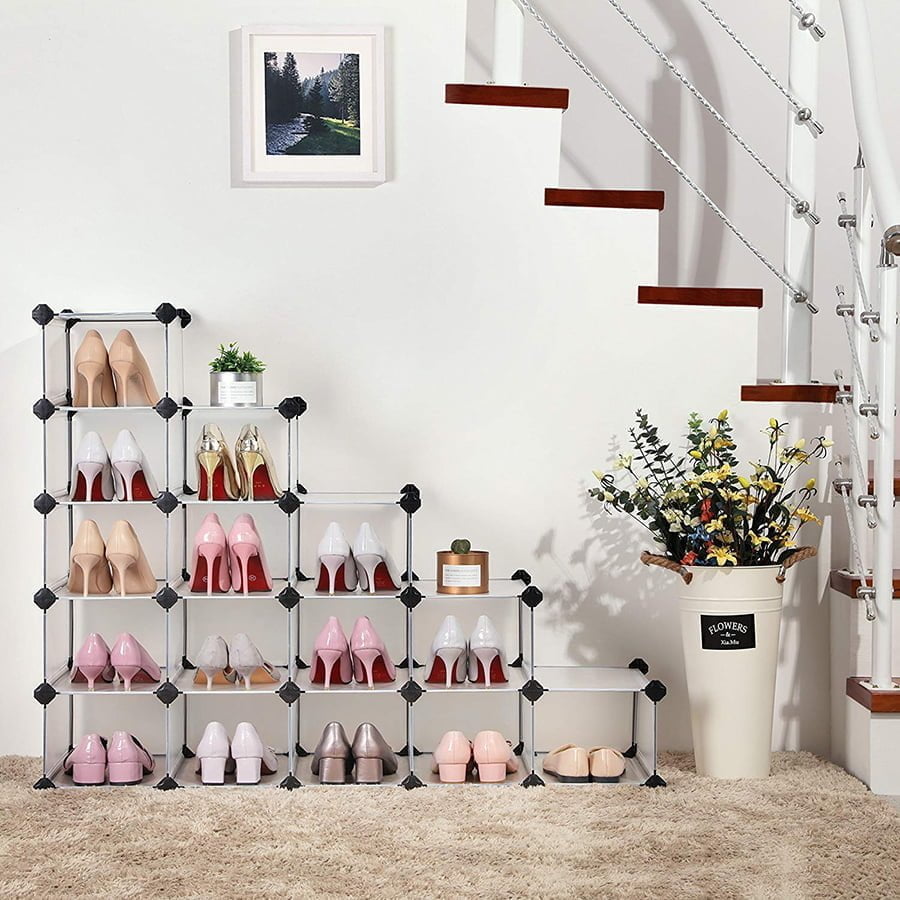 If you want versatile shoe storage, then it is hard to find something better than this 16-cube modular unit. You can stack the boxes however you want to fit the shape of your closet, your entryway, or your living room. The boxes protect items from dust. Since it's translucent, you can find your entire shoe collection quickly despite the enclosure. This stackable shoe storage organizer is a bit pricy but some might say that it's worth every penny.
Pros:
Translucent material
Protective boxes
Stackable and expandable
Versatile organizer
Cons:
Difficult assembly
Sags with heavy load
More expensive than average
Bamboo Shoe Rack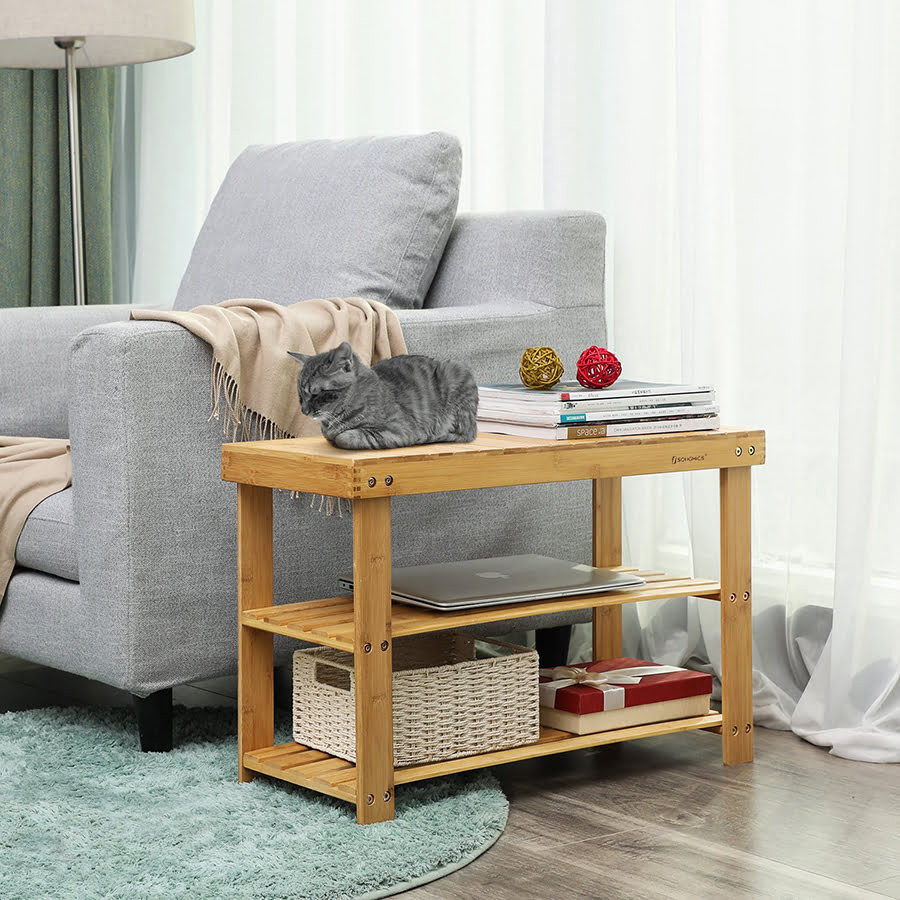 Most shoe racks follow a certain configuration with few differences between options. It's a relief to see some manufacturers trying to offer something distinctive such as this bamboo shoe rack. This three-tier storage unit is solid and durable. It can carry high loads without sagging at the middle. The use of a sustainable material is always a plus. It comes in its natural bamboo color, as well as black, grey, brown, and walnut. On the downside, it can only hold 5 pairs of shoes underneath plus 3 more at the top.
Pros:
Sustainable material
Solid build
Traditional charm
Several color options
High weight capacity
Cons:
Vertical Narrow Shoe Rack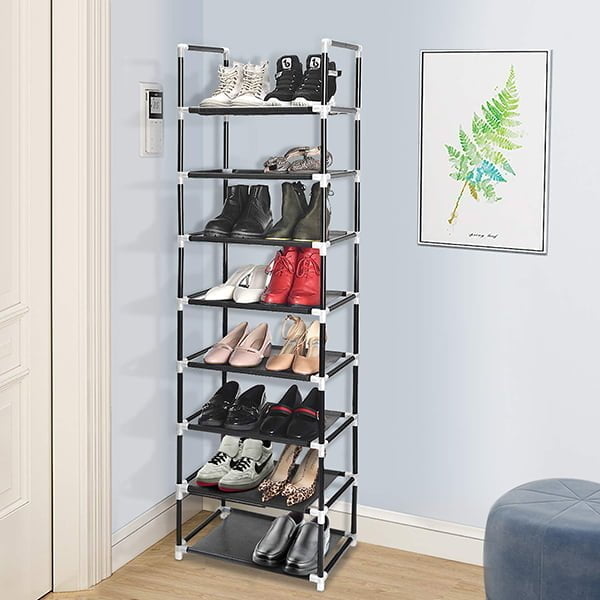 If your floor is already packed, then get a vertical narrow shoe storage unit. The small footprint means that it saves space while the tall profile gives you tons of storage. This product is popular as it has 8 tiers with two pairs per tier. The price is quite low at under $20. Unfortunately, it looks cheap as well. It's best to hide it in the closet or the garage. It can't hold heavy boots and other loads so be mindful of what you put on this shelf.
Pros:
Space saver
Lightweight
8 tiers
Low cost
Cons:
Not for heavy loads
Looks cheap
No instructions
Shoe Cubbies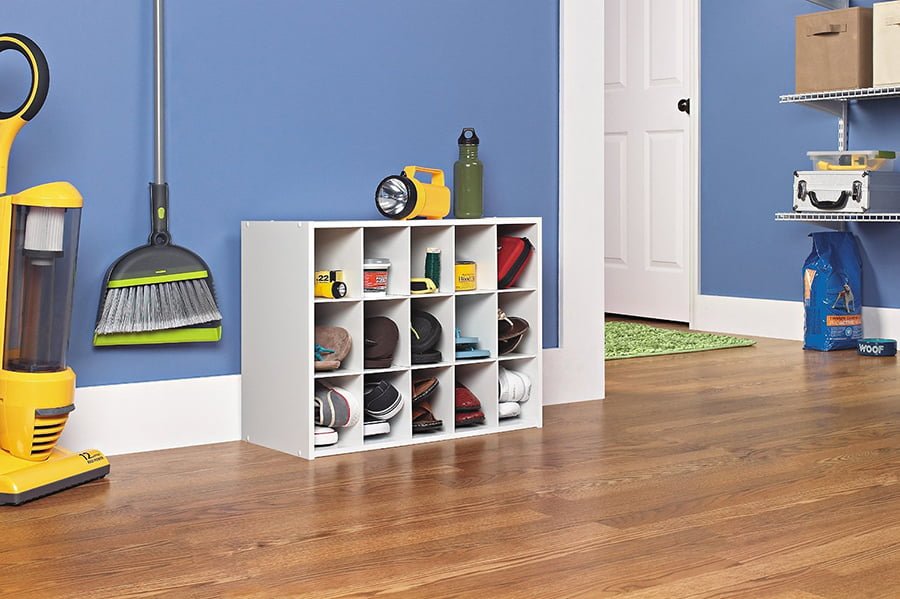 Shoe cubbies can house pairs of footwear or any other small items. This unit has 15 of them which should be enough for most. The minimalist design should also appeal to a lot of people. However, the compartments can be too small to fit large pairs of shoes. Adults may have to place one piece instead of one pair in each of these. The dividers are also thin and easy to break. If you have big feet, then look elsewhere.
Pros:
Stackable organizer
Modern minimalist look
15 compartments
Cons:
Small cubbies
Very thin dividers
Metal Shoe Rack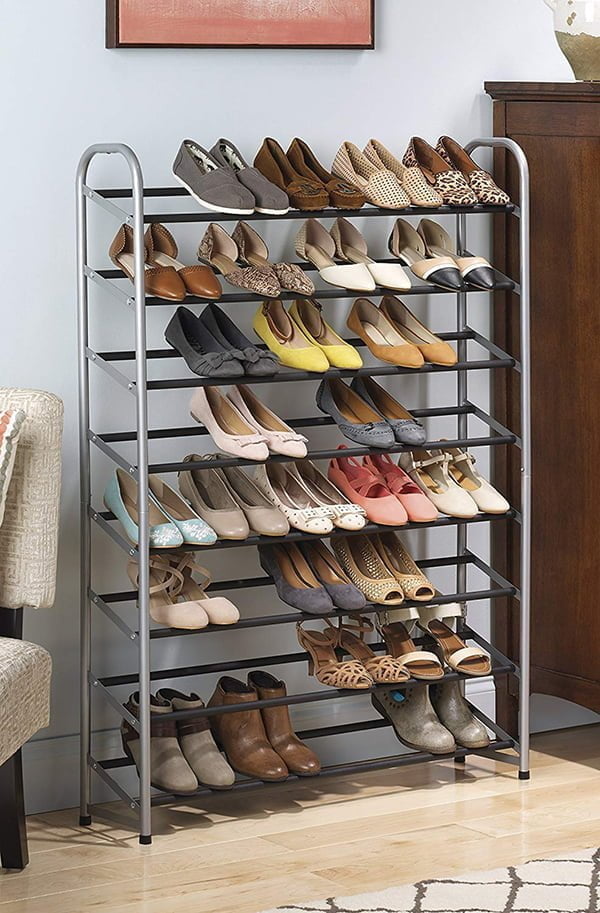 If you own a lot of high heels, then this style is perfect. The shoes can anchor on the back tube while the incline allows the upper to be seen better. There are 8 tiers with each being able to carry 5 pairs of slender shoes. If you have bigger feet, then expect to fit less. This metal shoe storage unit is adequate but it may wobble when bumped. Place this out of the way to reduce accidents and protect from dust.
Pros:
Sloping racks
Non-slip tubes
Metal frame
Up to 40 pairs
Cons:
No dust protection
Unit wobbles
Double-deck Shoe Rack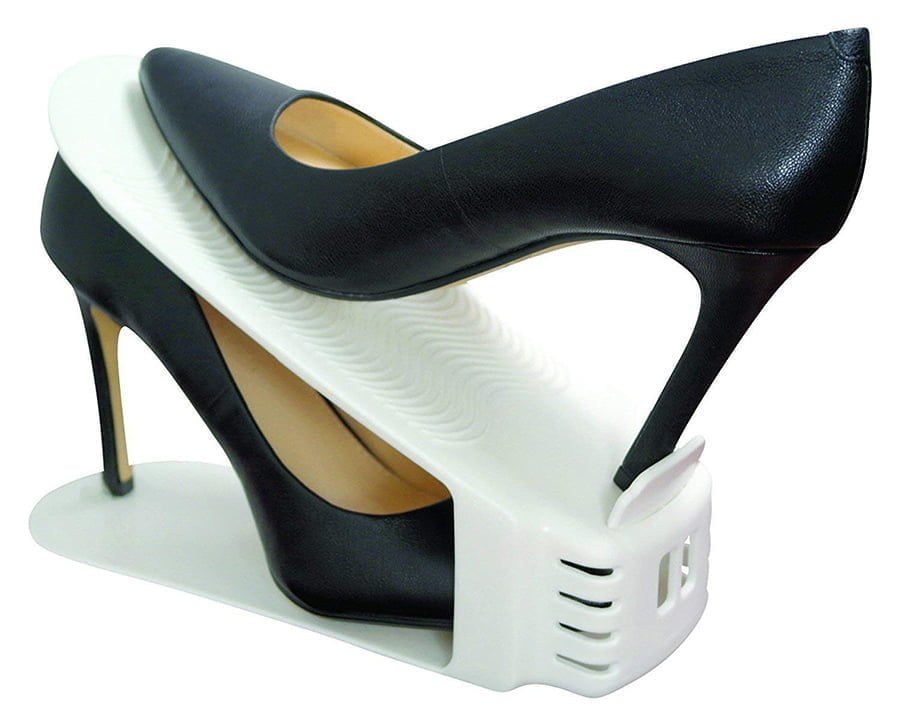 This product effectively doubles the storage space of existing shelves by allowing shoes to be stacked. A double-deck shoe storage is a good solution if you have no more space to squeeze in more furniture. You simply optimize what you already have thanks to a design that allows one shoe to stay at the bottom while the other sits above it. This is great for flat shoes but not so much for heels and wedges as the latter tends to fall off.
Pros:
Doubles storage space
Keeps pairs together
No assembly required
Versatile solution
Cons:
Not so good for heels and wedges
The stop might be too short
Lacking friction to prevent slippage
Rotating Shoe Rack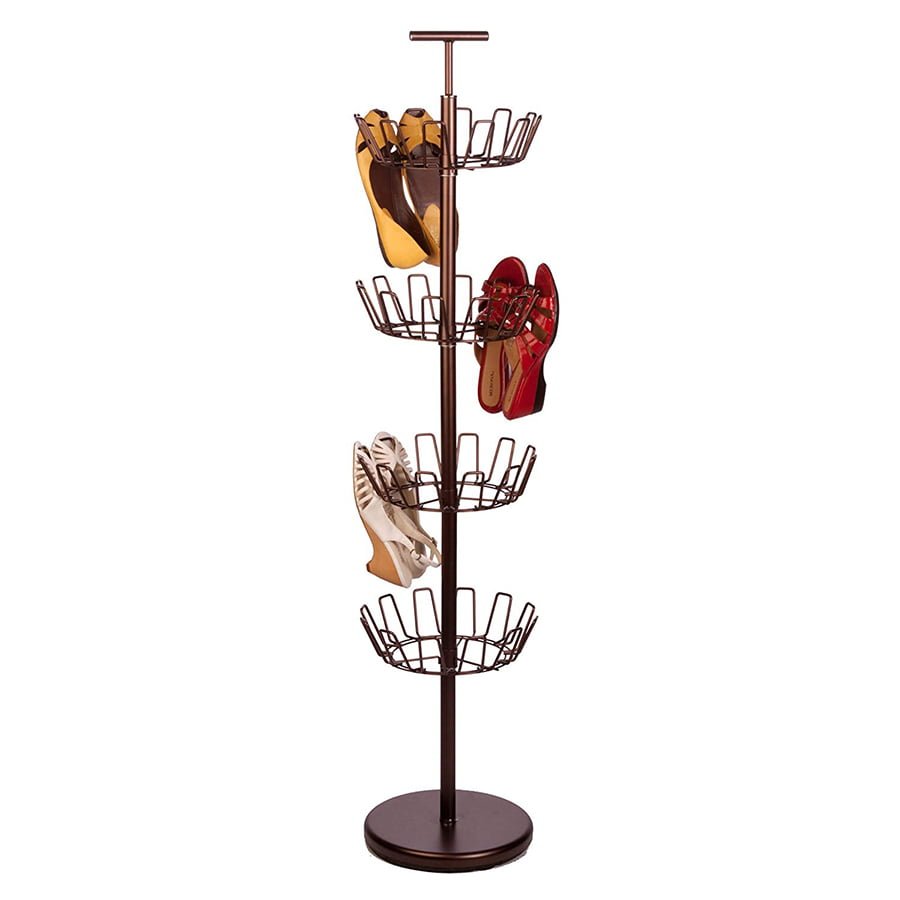 Lazy Susans are incredibly useful in kitchen cabinets and dining tables. The same concept has been applied in creating a rotating shoe rack. This product has a sturdy base and 4 spinning layers which are removable. It looks a lot like a trees with shoes as the hanging fruits. It can hold up to 24 pairs of shoes, unless yours is wider than average. It can also hold caps and other items. The tiny footprint makes it easy to tuck away in corners.
Pros:
Tiny footprint
High capacity
Good accessibility
Cons:
Outdoor Shoe Rack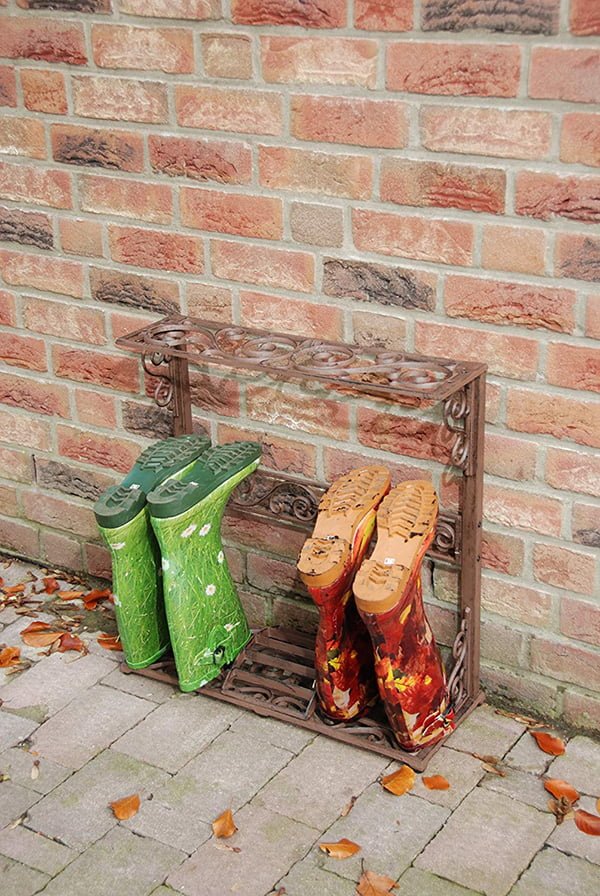 Most of the storage units on the market cater to regular shoes like flats and trainers. This product, on the other hand, is squarely aimed at tall boots. The cast iron material makes it a viable outdoor shoe storage option. It can hold up to two pairs per tier with ample space in between. There is a scraper in the middle so you can quickly remove dirt and mud. The top can also hold items that you may want to leave outside like an umbrella or a raincoat.
Pros:
Dirt scraper
Classic design
Cast iron material
Sturdy construction
Cons:
Only four pairs can fit
Heavy unit
Rolling Shoe Rack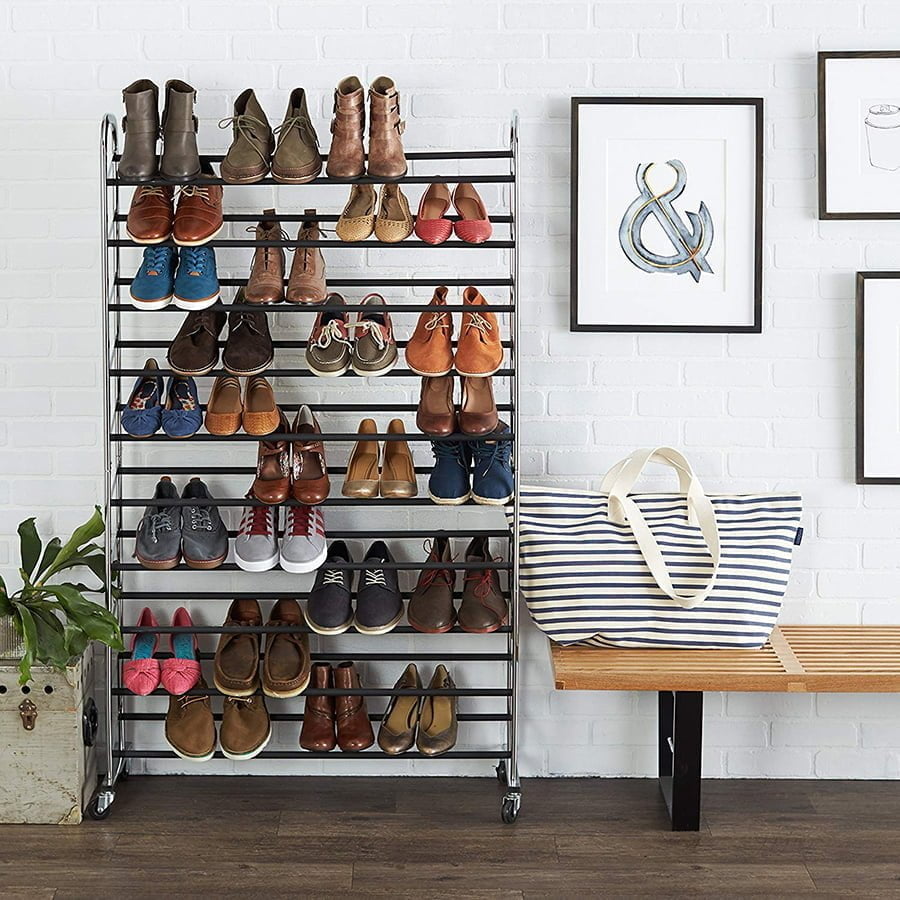 Pros:
Built-in wheels
50-pair capacity
Crossbar for stability
Sturdy rack
Cons:
You may not always want your storage units in one place. This is a rolling shoe storage organizer that allows portability while providing tons of storage. The manufacturer says it can fit 50 pairs although this would depend on the size. If you have larger feet, you must always expect to fit less. The low profile may prevent things from getting inside. It is quite stable and a crossbar has been placed at the back for additional rigidity.
Shoe Rack with Bench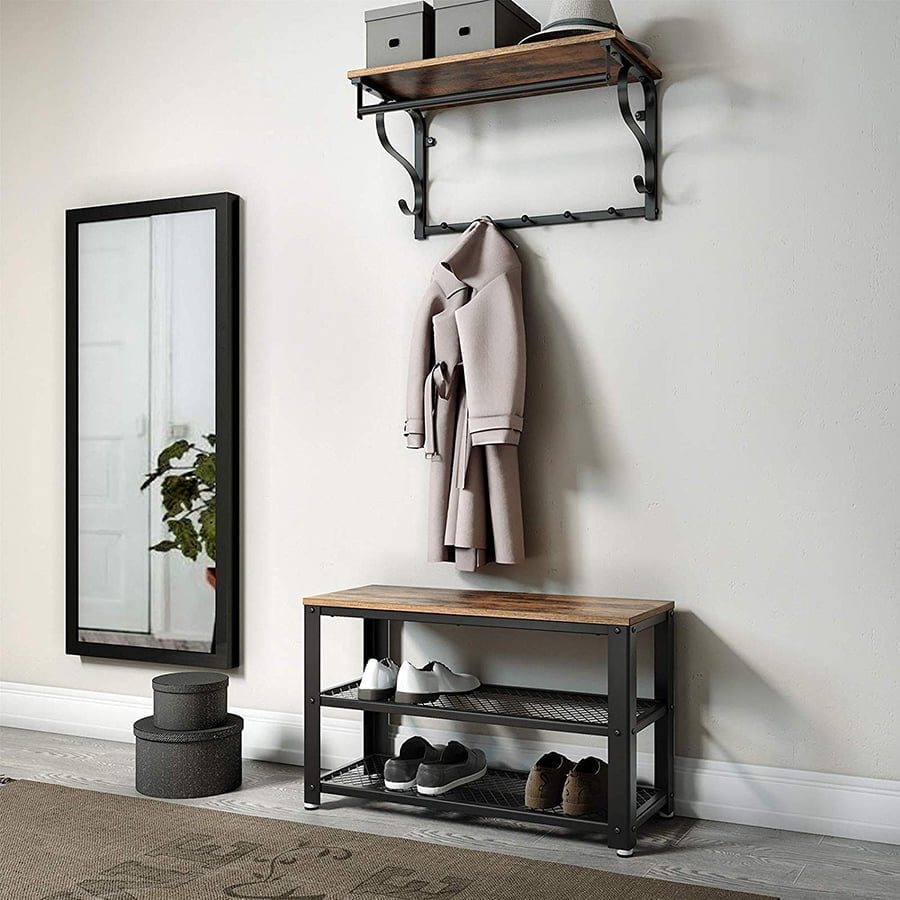 If you like the industrial look, then consider this shoe storage bench. Such a piece of multifunctional furniture would be welcome in many homes. This should prove to be a great addition to an entryway or living room. The wooden panel at the top is sturdy enough for seating, but can also be temporary storage of bags and trinkets. The layers underneath have grills so that wet soles can dry fast. On the downside, it is priced much higher than most racks.
Pros:
Doubles as seating
Cool industrial design
Mesh panels allow ventilation
Up to 3 pairs per tier
Cons:
Mid-century Shoe Rack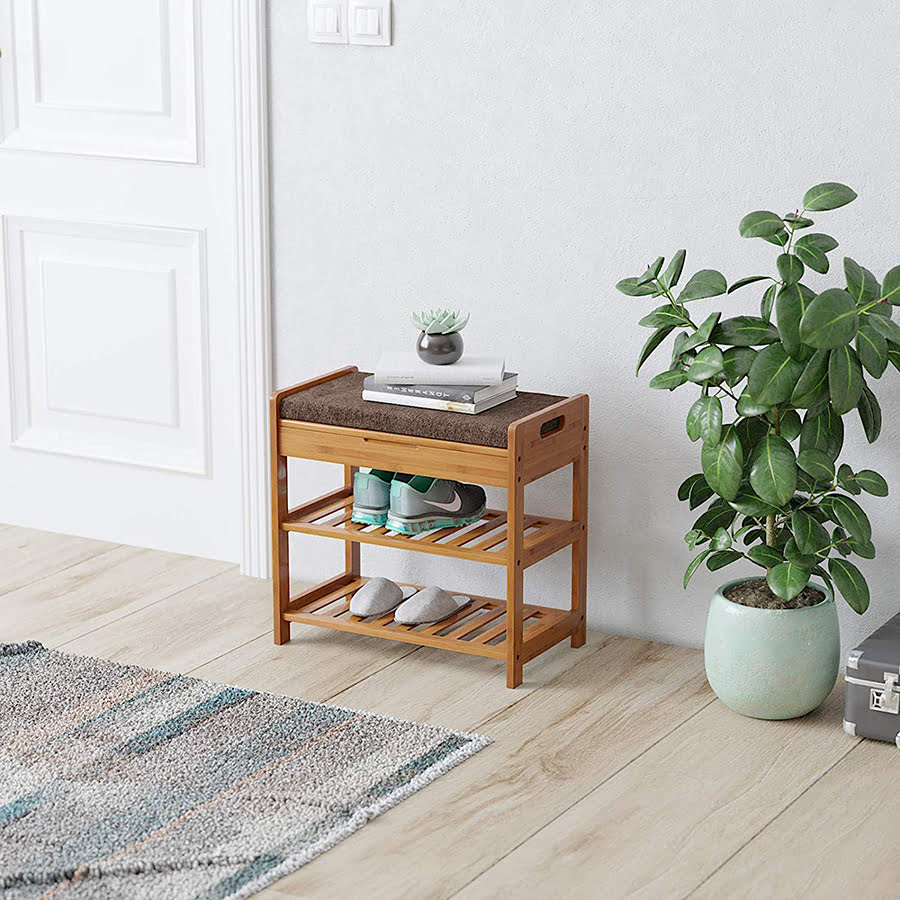 Here is another rack that provides seating, allowing people to put on and take off their footwear in a more comfortable position. This mid-century shoe storage unit even has a cushioned seat up top. The material is bamboo which is beautiful and sustainable. There are handles on both sides to make repositioning easy. It looks good and it feels sturdy but the price is a bit steep.
Pros:
The load capacity of 260lbs
Easy to assemble
Sustainable material
Doubles as seating
Cons:
Only two pairs of men's shoes per tier
Costs higher than average
Shoe Rack with Doors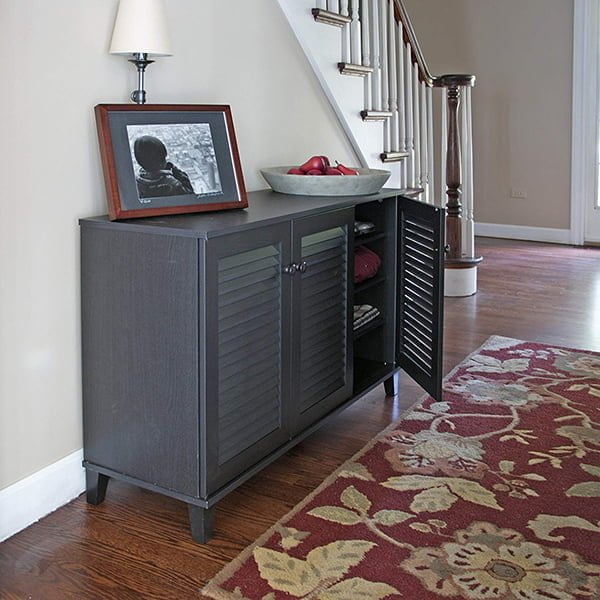 A shoe storage organizer with doors hides everything away from sight so you can have the unit in prominent areas without worrying about eyesores. This cabinet is a great buy if you want good looks and high functionality in one package. The doors protect the shoes from dust. The tiers are quite close together so you won't be able to store tall shoes unless you are willing to stick them inside sideways. Installation is harder than most so allow lots of time for assembly.
Pros:
Classic design
Dust protection
Hinged doors
Five tiers
Cons:
Not for tall shoes
Difficult installation
Liked this article? Here's what you can read next:
---
Disclosure: As an Amazon Associate we earn from qualifying purchases.