Last updated on January 18, 2021
Looking to add more storage or display space on your walls? These best floating shelves will help you do that in a whim.
Curious to see our #1 pick right away? It's these wooden shelves.
Floating shelves are a brilliant solution for many reasons. It's a functional way to store things in your home while taking up minimal space. So it's especially useful in small homes. Need to keep things higher from kids? That's where wall-mount shelves help you too.
There's not home in modern interior design that wouldn't make use of floating shelves. And we have a lot of ideas on this blog too. So what are the best shelves to use to implement these ideas?
How to choose the best floating shelves?
Answer these questions to find out:
Where are they going to store?
Where are you going to install them?
What is their purpose in your home decor?
While picking the best products in this category we have considered what you as our reader have been looking for over the years. There are many of you so you have different interests but some trends always emerge. Using this data we've based our research on wall-mount shelf options.
Note that shopping links tagged with #ad earn our site a commission. It doesn't cost you extra.
Here's the top 10. Which would you pick?
Floating Bookshelf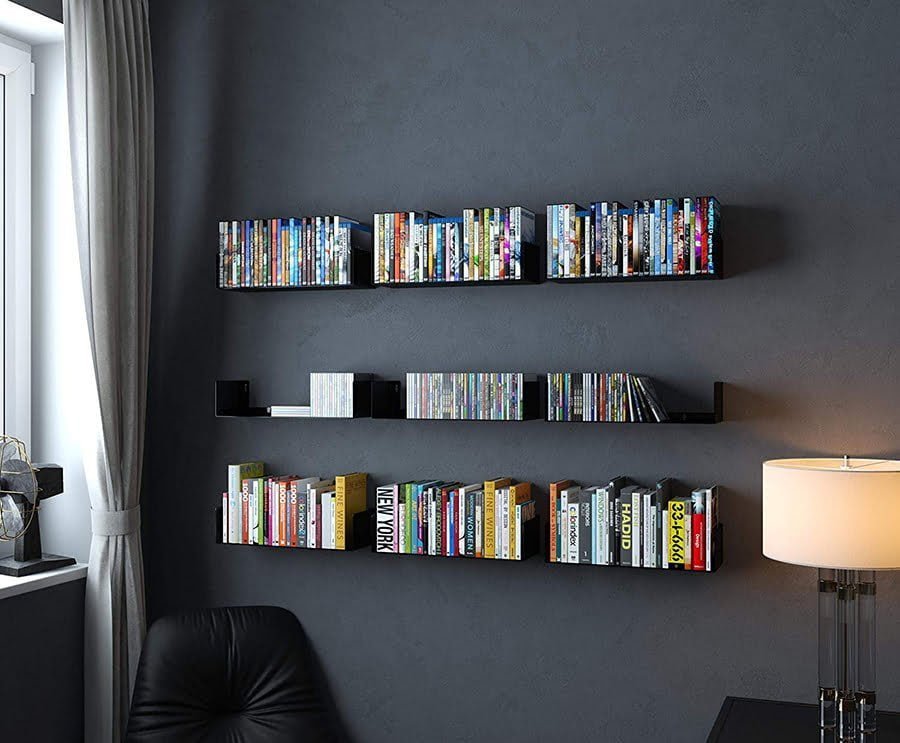 These Wallniture floating bookshelves would help you organize your collection of books. Alternatively, you may also use these well-made shelves in your kitchen or bathroom to store spices or toiletries, respectively. If you find it hard to keep toys out of access to your kids, this floating bookshelf can place them at a height your kids would have difficulty reaching.
If you employ multiples of these, you could strategically arrange your books and other items to look like a collage. Also, damages to your walls can be elegantly hidden. Kindly note that these shelves, although well-built, will not hold all the weight in the world. Therefore, don't burden them too much, or they'll come crashing down.
Pros: spacious and looks good; affordable.
Cons: can hold rather limited weight.
Floating Rustic Wood Shelf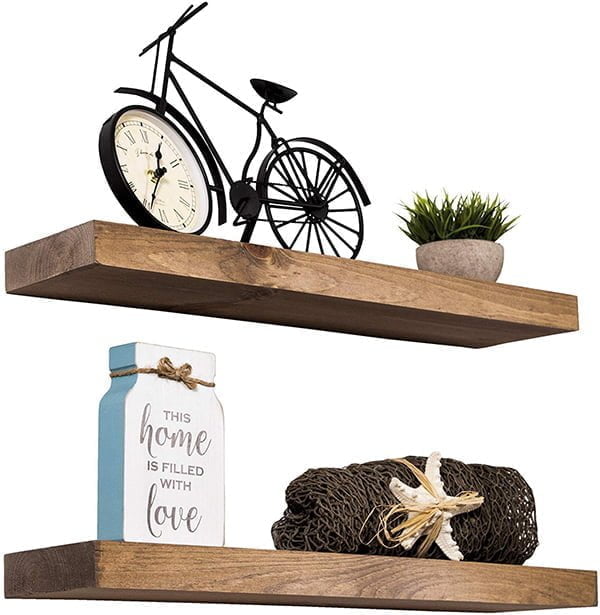 You're seeing our #1 editor's pick for the best floating shelves.
This rustic-looking, modern wood shelf from the house of Imperative Decor can be fitted into pretty much any space – be it your bedroom, bathroom, kitchen, or office. These shelves are ideal for showcasing things, such as photos, trophies, plants, and even books. They do not work great as a storage shelf, however.
Thanks to the simple design, installing the shelf is pretty straightforward. Though they look a bit too simplistic, these aren't your average local hardware boards. They have been hand-made with care with an in-house stain. The stain, at times, may arrive wet in the box. Just give it some time to dry and you should be good to go.
Pros: handmade and compact.
Cons: may arrive in a wet stain; anchors have room for improvement.
Floating Kitchen Shelf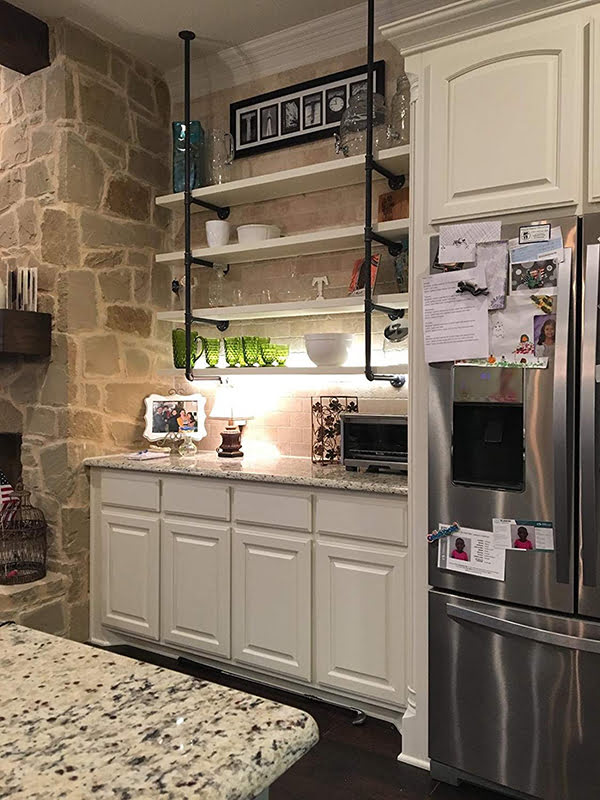 This practical floating shelf by WGX Design For You is a great solution for storing items in any room in your house. You can even use it in your office or commercial space, such as a bar or café. Thanks to the added strength and stability offered by the iron pipes, adding extra shelving space should be effortless and easy.
The materials used are lightweight but don't think that impacts the whole assembly's sturdiness. Also, since the materials are already finished, you'll not have to degrease, paint and clean them. Having said that, people who are extremely particular about looks may find the piping arrangement, not the most elegant.
Pros: sturdy and affordable.
Cons: might be tricky to install.
Floating Shelf with Drawer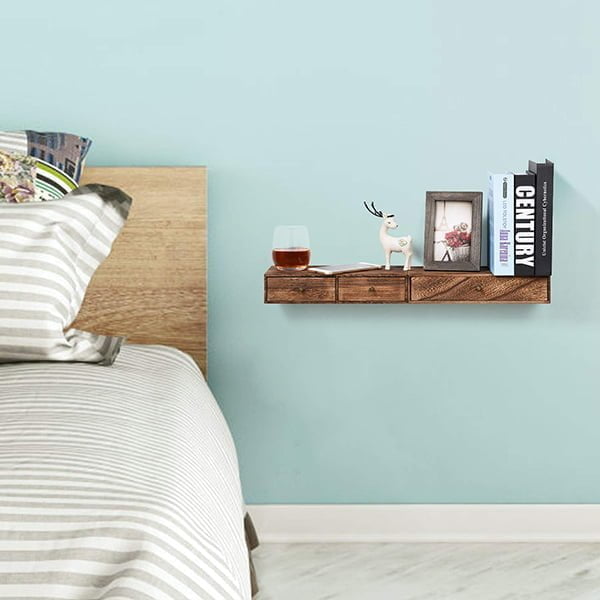 Made out of solid wood, this drawer-equipped floating shelf from Emfogo adds a rustic, yet elegant touch to pretty much any space. The two drawers let you store your keys, phone, notepads, DVDs, pens, etc. And since it's floating (like every other shelf on this list), you are also freeing up some invaluable floor real estate.
The shelf's compact design makes it your ideal bedroom nightstand or bedside shelf. It can also be your desktop organizer. The shelf is strong, cute, and ideal for stashing all your small items. The negatives are that they could be a bit too small for certain storage requirements. Also, they do not come finished out of the box.
Pros: multi-functional.
Cons: as a storage unit it's not very spacious.
Small Wall Shelf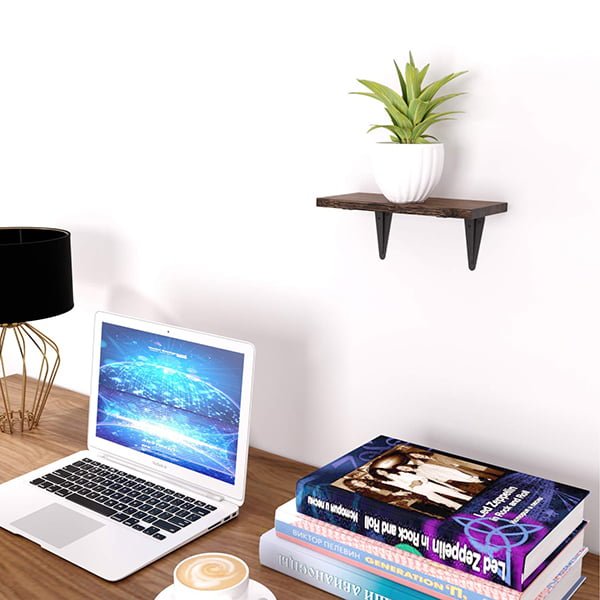 This small wall shelf by BAMFOX is made of 100 percent natural bamboo and comes with metal brackets. You should, therefore, not have to worry much about it wearing and deforming with use or time. And because it's a bamboo, this shelf is a lot more dust-resistant compared to shelves made of wood.
The materials give it unnoticeable simplicity and also a sense of ecology. The lines are smooth and nicely designed. Not to mention, bamboo offers increased load capacity. Kindly note the shelf is on the smaller side. It may not even completely cover the base of your laptop.
Pros: made of sustainable bamboo, it's a sturdy and affordable design.
Cons: the size – make sure it's small as you need.
Long Floating Shelf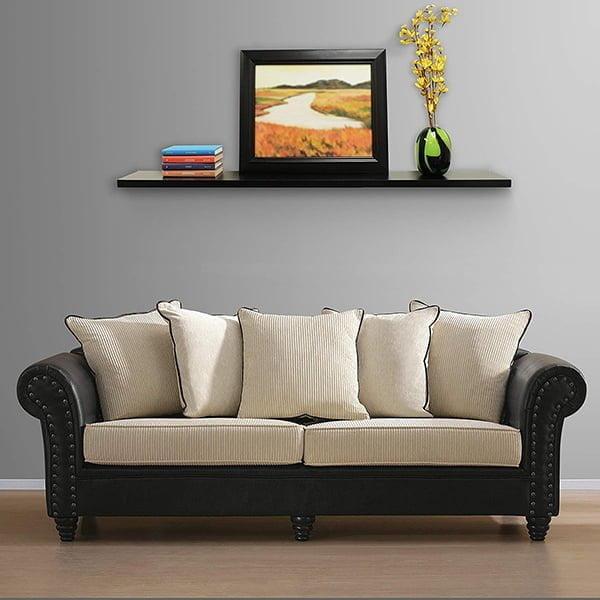 This heavy-duty shelf from InPlace Shelving, as the name suggests, is an elongated floating shelf. Its form is unlike most other floating shelves you would come across. It is stylish, easy-to-install, and is made of durable MDF (medium-density fibreboard) material, which conforms to CARB (California Air Resources Board) standards.
The shelf comes in different lengths and widths so that you can buy one that fits your requirements. Buy multiple of these shelves if you have a lot of empty wall space in your house. The anchors that come in the box are not the most reliable, however. Buy some separately for a sturdier installation.
Pros: choices of length; sturdy.
Cons: you might need better anchors.
Picture Shelf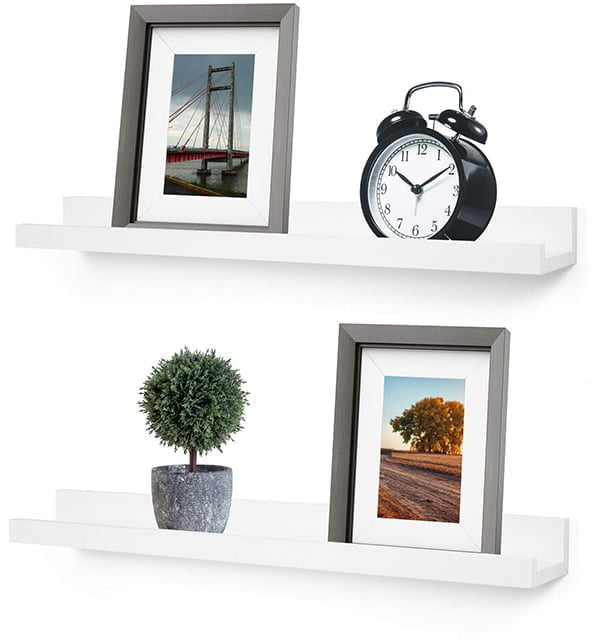 These picture shelves from Greenco would fit better in a contemporary space than pretty much any other shelf on this list, thanks to the white finish. The ledge floating shelves are made of high-quality, durable MDF material.
The shelves could be used for showcasing photo frames, displaying decorative goods, or storing your kids' favorite figurines, toys, books, etc. The modern design is eye-popping and blends with any modern décor. The shelves are longer than regular shelves. However, the anchor screws bundled in the package aren't the best.
Pros: a nice modern design that blends in the decor.
Cons: anchors.
Heavy Duty Floating Shelf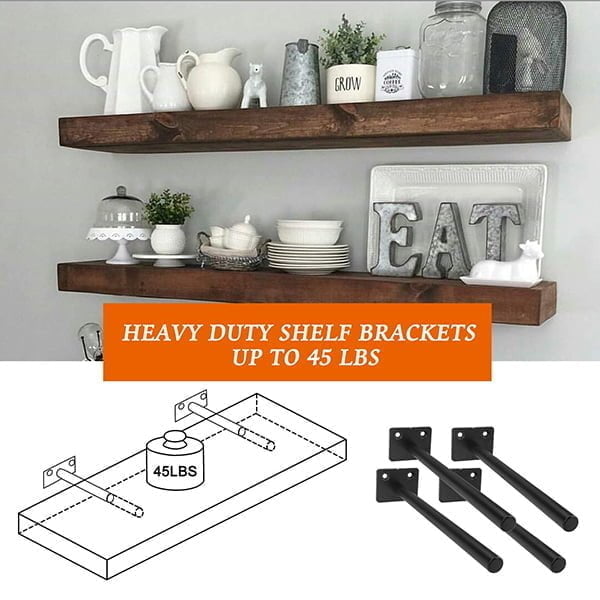 This TechKen heavy-duty floating shelf has perhaps the maximum load capacity of all shelves on this list, thanks to the metal rods that are part of the assembly. Kindly note the metal rods are designed to not be visible. If you think these rods could mar the entire look of the shelf, then you need not worry.
Also, the robust build and heavy-duty load capacity mean you could use the floating shelf even in your farmhouse. The metal brackets, however, are a bit on the longer side and they may present certain stability issues.
Pros: very sturdy and can hold the weight; nice farmhouse rustic decor appeal.
Cons: brackets are a bit too long for stability.
Corner Floating Shelf
This Greenco floating shelf set is a five-tier wall mount shelf for the corners of a room. Made from MDF laminate, the espresso finish would work with any décor. These are also easy to mount. You get all the necessary installation hardware in the box. These corner shelves work great within homes, offices, and even dorm rooms.
They are a lot more decorative than functional. These shelves would certainly hold your odd books and decorative pieces. But don't put them under too much burden since they could bend fairly easily.
Pros: will fit in any corner.
Cons: not too sturdy (works best as display shelves.)
Invisible Shelf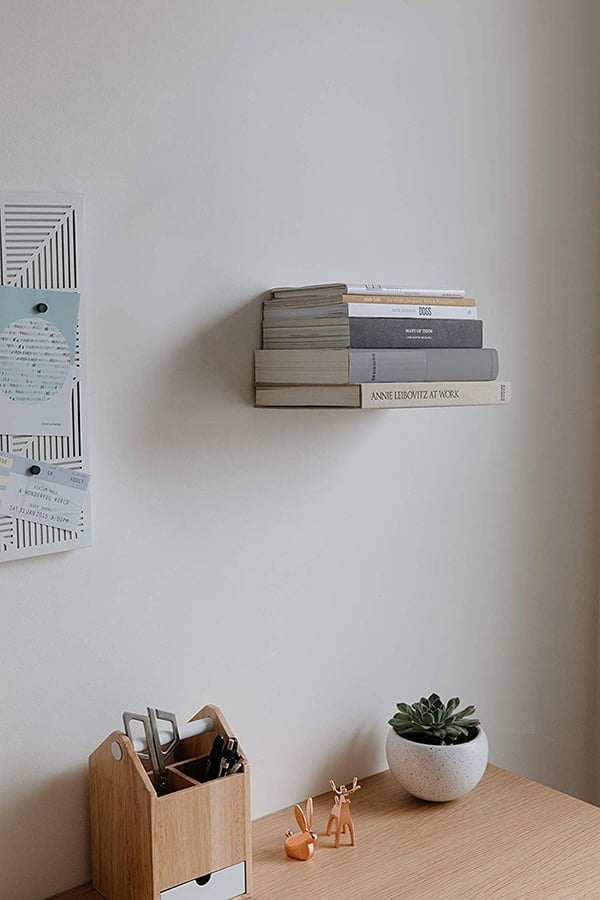 This unique and innovative shelf from Umbra completely transforms the way you display and store your books. The 'invisible' design of these shelves makes them ideal for awkward walls and small spaces. In other words, if your wall doesn't have room for a traditional floating shelf, you would find this Umbra product a great option. Not to mention, these L-shaped shelves are made to the highest quality. Just make sure you do not place wide and relatively heavy objects on them.
Pros: genius decor solution.
Cons: it might not fit all hardcover books.
Recap
---
Disclosure: As an Amazon Associate we earn from qualifying purchases.
Liked this article? Here's what you can read next: