Last updated on April 9, 2020
Looking for the ideal lamp for your bedside? It's key in designing a serene bedroom environment. So here are the best bedside lamps to choose from in 2020.
Lighting is essential in any room. The bedroom is special in a way that you will be sleeping by the bedside lamp if you place one on the nightstand. This brings entirely different requirements for the lamp as opposed to other table lamps around the house. After all, your comfort is the main goal of this choice. Of course, the decor doesn't play the last part either.
There's no surprise that we can find a wide array of table lamps for bedrooms. From modern high-tech solutions to classic decorative choices. You can get the combination of the two as well. So the choice of the right bedside lamp isn't easy.
How to choose the best bedside lamp?
Here's our suggested thought process:
Start by considering the size and positioning of your nightstand. Bigger nightstands that are placed further away from the bed will need a bigger lamp. Small nightstands or wall mounted shelves (as well as built into the bed frame) will only need a small dim lamp.
What other lighting fixtures and lamps are present in the room?
What is your bedroom decor style, especially the style of your nightstand?
Is there a power outlet nearby or will you need a wireless solution?
We've picked the best bedside lamps for all of the above situations and more. Our research process is extensive, using a ton of data available to our site. Lastly, we are compensated by Amazon for qualifying purchases (at no expense to you) which ensures quality of our work. The links that are subject to this are marked #ad.
Want to create a truly cozy and serene environment for yourself and your spouse in the bedroom (or perhaps for your kids)? The following lamps are the way to go.
What's Inside?
Touch Lamp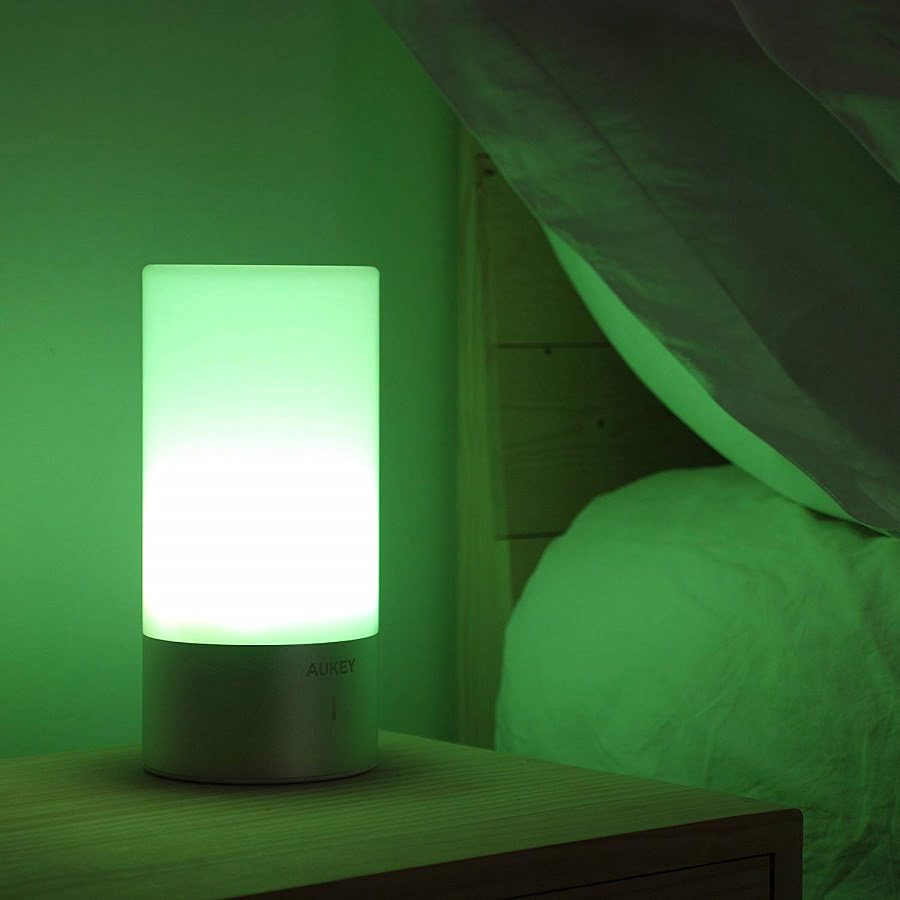 When you are looking for a modern lamp that can complement your home and office elegantly, then nothing works better than Aukey bedside Dimmable light. The best place to keep this lamp is your bedside. However, it will make a significant style impact on your living room's coffee table.
The beauty of this lamp is the color spectrum that you can control through its 360-degree touch control base. You can tap on it and pick a color you like. You can change intensity from soft to moderate and then bright depending on your light requirement. For example, you can choose soft light to make your room atmosphere romantic at night. Planning to read a book? Bright light is there to deliver a comfy reading experience.
Pros: 3 different light brightness levels; efficient touch control; easy to use.
Cons: Highly-sensitive touch control; it's irritating to go through all brightness cycles to turn off light; when it's off, the lamp is like a bright bare bulb, so it interferes with the field of vision.
Small Table Lamp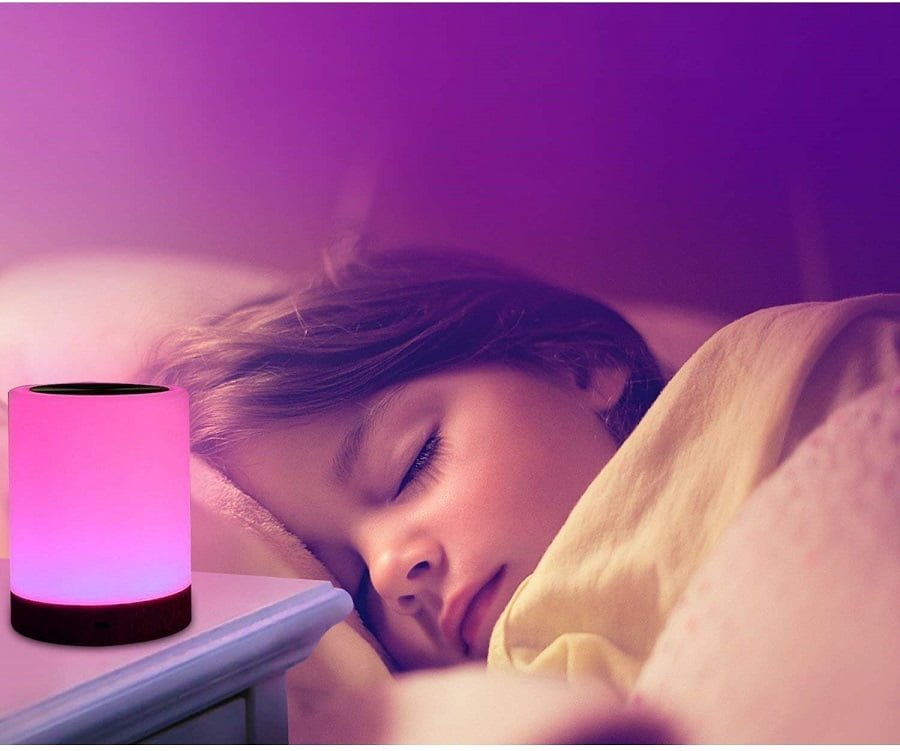 Whether you are searching for the soothing light for your baby nursery or have a plan to set something charming in your living space, this small table lamp is a perfect style addition. No need to pass through a cycle of colors to turn this lamp on or on. Just press for a couple of seconds and this action would do that magic for you. Although you can set different shades on this lamp, certainly the best feature is its white light; since it unlocks four levels of brightness control for you.
Pros: Easy to use On/off Mode; cute look; inexpensive; multi-purpose.
Cons: plastic bottom brings a cheap feel.
Unique Lamp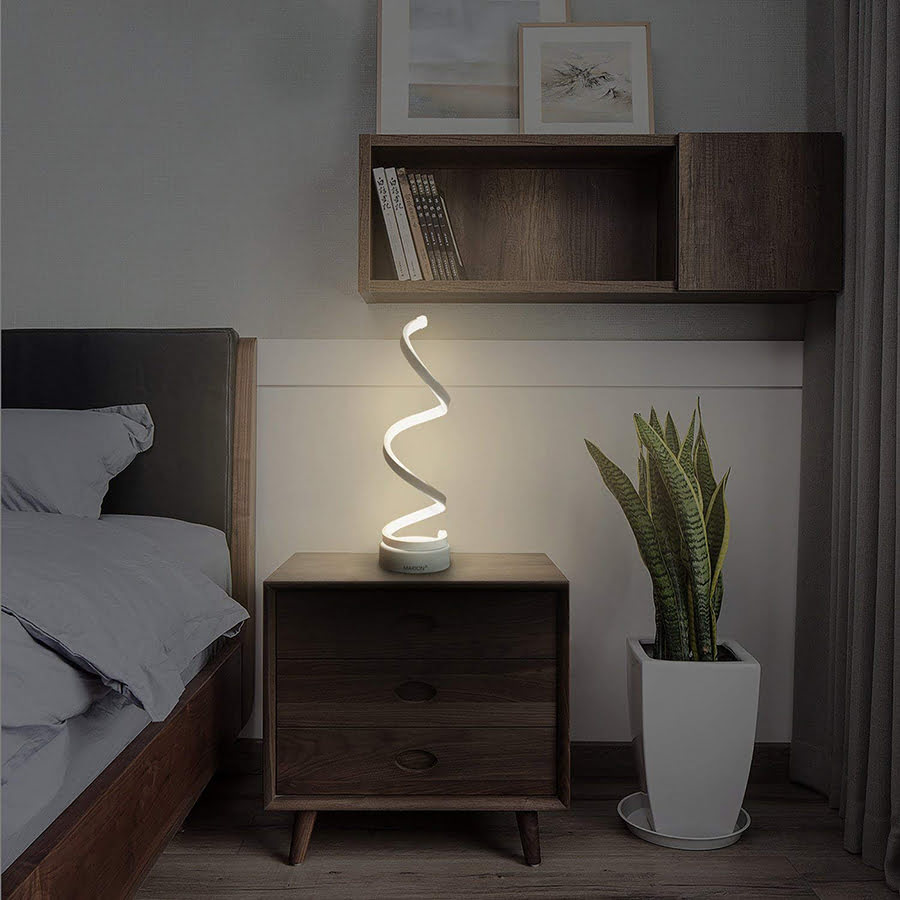 When you have a plan to add a statement piece that can make others praise your taste, you can think of this cool-looking sculpture lamp. It is made of acrylic and aluminum materials, so it lasts longer. An exquisite painting finish is used to give this decorative lamp a cool aesthetic touch.
If you are a person who wants to add an element of decor into his living space while keeping his energy bill under control, then this LED lamp seems like the right choice. There are three-level color settings from white to soft yellow to bright white. It lacks a dimmer, so you can't dim bright white light. This stylish looking lamp can rest beautifully either on a nightstand of the bedroom or a side table in an office.
Pros: LED Energy saving; unique design, stylish look; On/Off switch.
Cons: Cable is short; no light dimmer available; gets hot easily; can't use for long hours.
Nightstand Lamp
It is among the best bedside lamps you can get. It's simple, crisp, and modern design makes it a perfect addition to a contemporary bedroom, living room, nursery, or office. This charming accent item comes with a sterling silver base and a drum-shaped lampshade. The assembly is quick and easy; no need to go through a lot of steps. It offers adequate light when you want to read a book on your bed. Turning it off is quick and straightforward. You can use it with an LED bulb that offers the right level of brightness in an energy-efficient manner.
Pros: Elegant modern look; easy to assemble; brings phone charging outlet.
Cons: Delicate, not designed for everyday use; the shade is not attached to the lamp.
Lamp with USB Port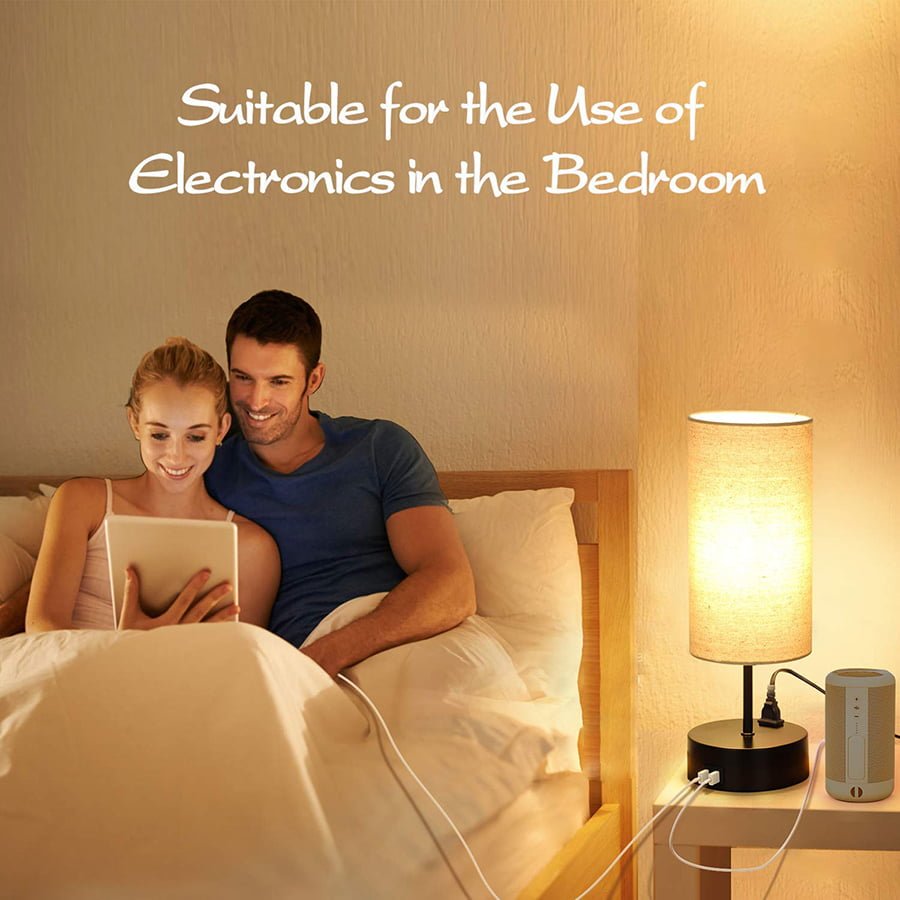 The 3-way dimmable touch lamp brings elements of minimalistic design and practicality into your life. You are not getting just a lamp but also 2 USB ports that are ready to charge your electronic devices. This feature proves quite useful as it lets you quickly charge back your smart devices such as a tablet or mobile phone.
The lamp comes up with an LED bulb, which allows you to save 90 percent more energy than an incandescent bulb. It is among the most durable bedside lamps as the manufacturer used a sturdy black metal base with a linen-fabric shade. When it comes to brightness settings, you can pick three different levels,
Pros: multi-functional; 2 USB ports; contemporary look; good quality; practical design.
Cons: It's not bright enough for reading activity; the USB port doesn't offer fast charging.
Reading Lamp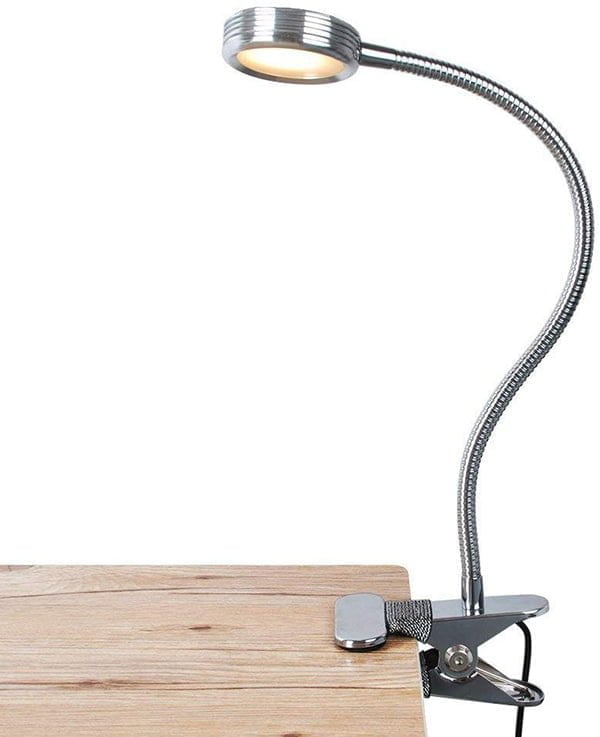 No one can compete well with LEPOWER Clip-on, the reading lamp that is designed by keeping the customer's comfort in mind. Other lamps light brings a flickering effect, a major cause of eye fatigue. However, the LEPOWER reading lamp is one of those bedside lamps that render non-flickering light, so you never experience eye-fatigue while reading a book under it. The light holder and arm are 360 degrees adjustable so that you can set an angle based on your comfort level.
You can set its sturdy clip on your bed headboard, so you can have the right amount of lighting whenever you need it. Two switches let you control two color temperature and on/off functions.
Pros: Quick customer service; space saver; 2-different color temperature choices; efficient reading light; suitable for a study desk, table, headboard, and dormitory.
Cons: USB plug doesn't fit properly, resulting in a loose connection; the bendable neck is not very stiff.
End Table with Lamp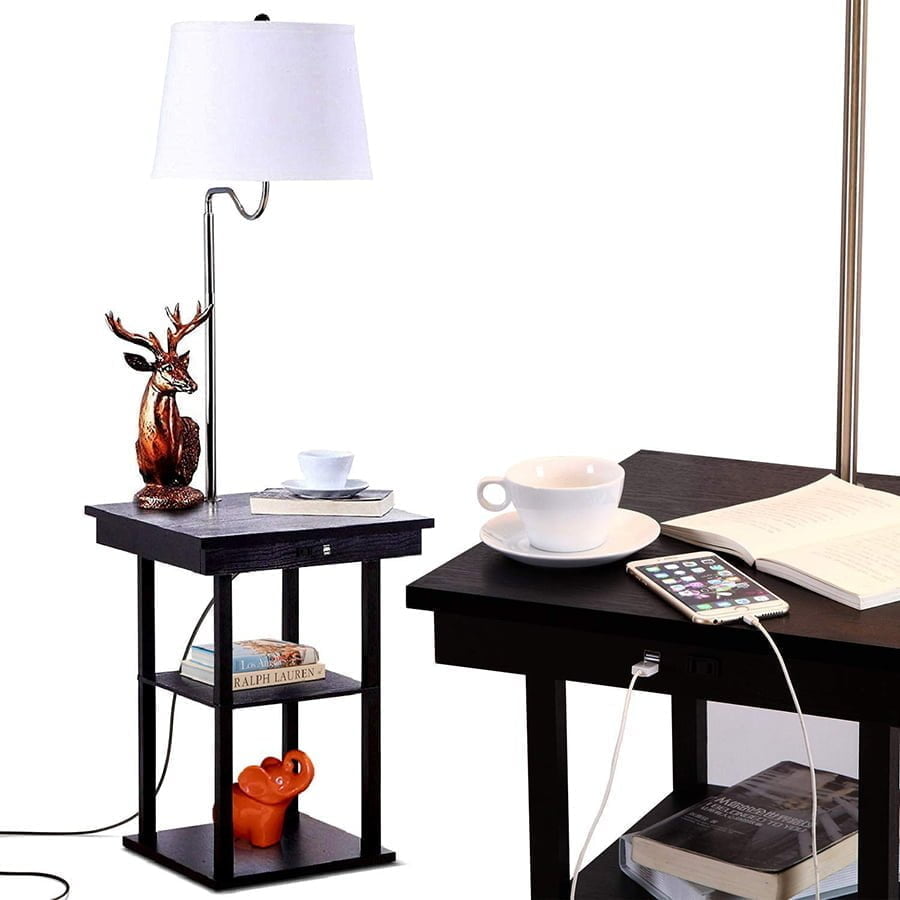 Are you ready to get the best value for your money? It's time to check one of the best bedside lamps. It's not just the lamp, but it's the smart lamp that provides room to your Alexa and Kindle through its sturdy and well-constructed end table. It unlocks some shelves that let you keep your books at an accessible place. When it comes to putting all things together, it won't be tricky as you get a manual with clear instructions.
Pros: smart design; quick and easy assembly; sturdy table.
Cons: doesn't provide enough light, uses a small watt bulb.
Wall Mounted Lamp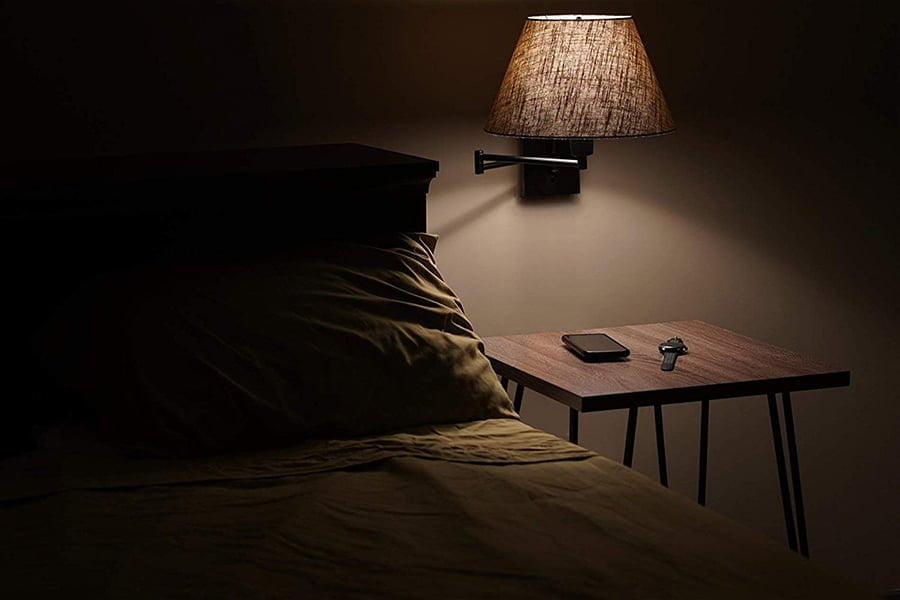 You can instantly light up your space with this beautiful lamp that instills transitional style into any room you set it. There is an adjustable arm that lets you change the lamp angle according to your needs. This sturdy bedside Lamp is designed with a black metal base, and an empire shaped latte mocha lampshade. You have three color choices to choose from; when it comes to the lampshade.
Pros: easy to install; classy appeal; offers efficient light for your needs.
Cons: shade doesn't fit well, requires a bit of effort from your side; short power knob makes on-off function somehow difficult.
Dimmable Lamp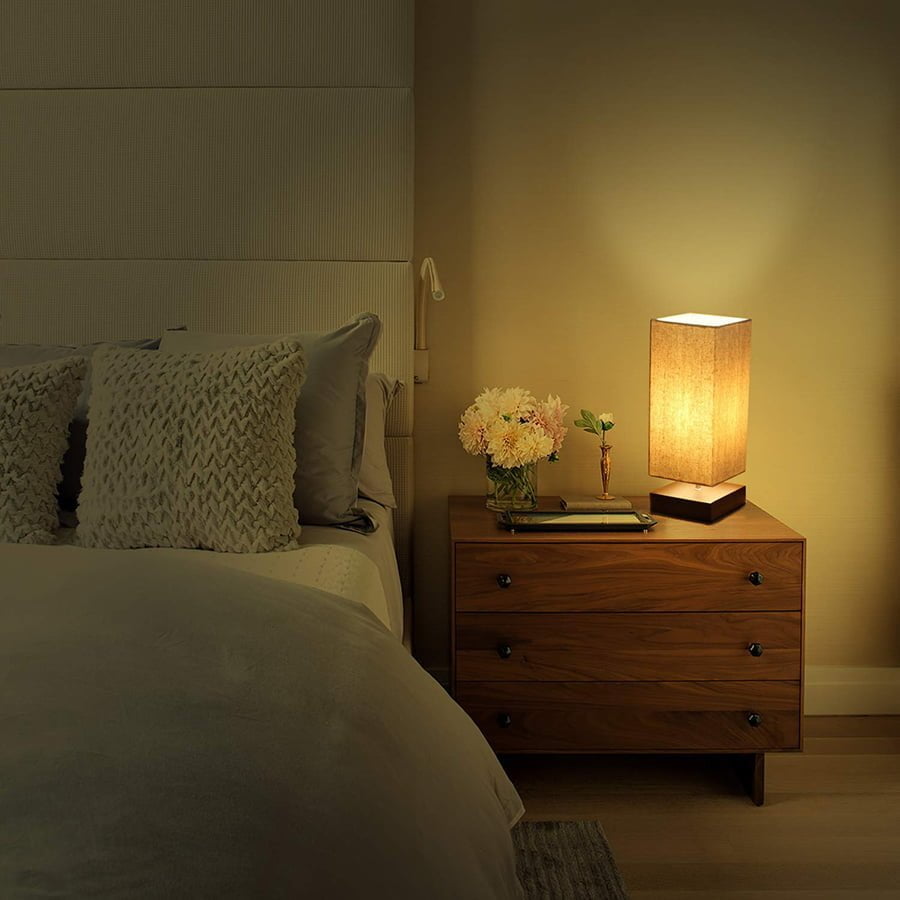 If you are struggling to find a bedside lamp that should be soft on your eyes, then you can take a sigh of relief by looking at this affordable touch-control table lamp. Its user-friendly design lets you hover over the right amount of light with a simple tap. The double-layered linen offers bright, not blind lighting. It can well serve your lighting needs during nursing. It's energy-efficient LED bulb keeps flicking, buzzing, and heat away.
Pros: energy-efficient flick-free LED light; easy to use; 4-different brightness options; modern look and appearance; easy to use touch-control.
Cons: Doesn't offer adequate light for reading; fragile.
Cordless Table Lamp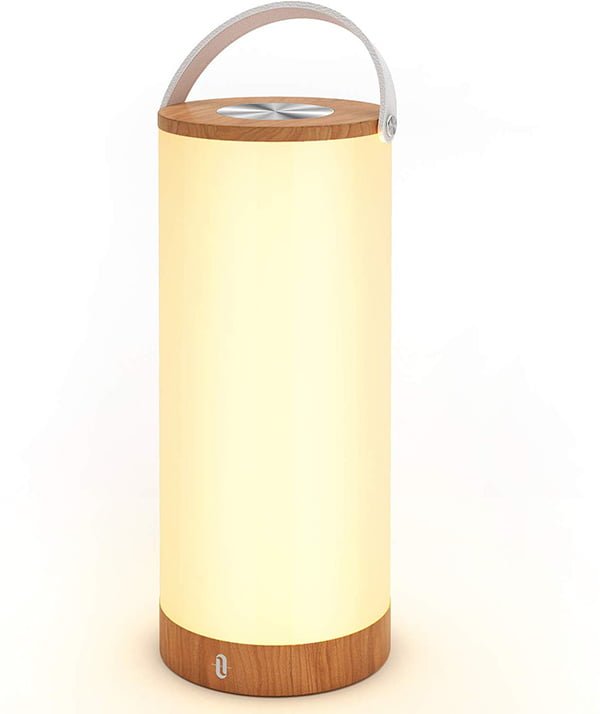 If you need a light-weight, portable, and safe-to-use indoor lamp, then you should stop looking around because this cordless table lamp perfectly matches all your requirements. This lamp diffuses light at 360 degrees in the room to create a soothing and pleasant environment. You can charge it quickly with a standard USB cable, so loading it on the go won't be difficult. You can use it in your baby nursery, on a trip, and in any other room. It fits everywhere and once charged fully battery lasts for more than 6-10 hours.
Pros: Portable; suitable for multiple uses; great light with a warm glow; soft on the eyes.
Cons: On/Off mechanism doesn't work great; not the sturdiest lamp solution.
Liked this article? Here's what you can read next:
---
Disclosure: As an Amazon Associate we earn from qualifying purchases.