Last updated on January 31, 2021
A floor level sofa is a sofa with no legs. This low profile piece of furniture provides a relaxed, informal design that fits any living space.
It also means that a floor sofa is significantly cheaper than the regular counterpart. Due to its size and build, this type of unit can work as a sleeper as well.
It's amazing to what lengths people can go in pursuit of a decent cheaper sofa alternative. Back in college, we poor bachelors used an old car back seat as a sofa. Talk about being cheap. But it worked!
You don't have to resort to repurposed furniture (unless you want to). A good low-profile couch is much easier to find and it even looks good.
Other benefits of floor sofas:
They are safer for children.
They are easier to move.
These small units take less space.
This option is much cheaper and easier to get.
You can make a floor sofa yourself from floor cushions.
They work well with lots of throw pillows.
They create a relaxed vibe ideal for lounges.
These units are modern and stylish.
As a versatile piece of furniture, it fits into any room as well. So here are the options for how you can use this sofa in any place.
Note: some examples in this article include shopping links which means that we receive a commission for purchases. There's no additional cost to you.
Types of Floor Sofa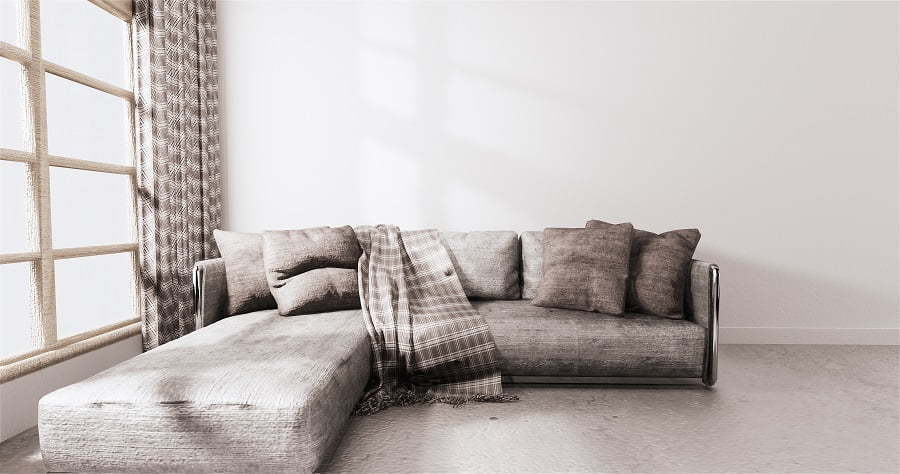 As there are many designs of this remarkable piece of furniture, we can define several types of it. Here's our shortlist:
Sectional
Just like the regular counterpart, the floor level version can come in sections. It's the largest size available, and it can have different configurations to meet your layout requirements.
Arabic style
The Arabic (or Moroccan) style is the traditional floor level sofa style. It can provide a unique statement to a room design. Usually, this type of unit comes with a backrest and arms.
Futon (Japanese) style
The Japanese version usually consists of nothing more than a foldable mattress. It's nothing more than a play on the traditional futon that gives you more than a sleeping space.
Bean Bag
The bean bag is a modern piece of furniture that has many incredible benefits. Sofas can be made in this style, and naturally, they are floor-level. They are easy to move, and many people swear by their comfort.
Floor Chair
It can be as small as the size of a chair. Such a little unit fits in playrooms, tiny areas, and nooks.
Floor Lounger
Most lounge areas can't exist without a lounger. A low-profile unit only adds to the relaxing effect. It's a cheap and easy way to create space in any larger living room as well.
Modular Sofa
Just like the traditional counterpart, it can be modular as well. If you take several larger floor cushions, you can make a modular sofa yourself. It's that simple.
Floor Sofa with Arms
It can mimic the traditional couch and include the arms on the sides. This design style works if you're after a more conventional look.
Floor sofa with Back Support
Most floor sofas will have back support only because it adds comfort. But it's not a mandatory feature for this unit.
Sleeper
Many people choose the sofa because it can be converted into a sleeper. It's a favorite feature with floor-level units — it's an easy and cheap way to create sleeping space for your guests.
On top of that, just as any sofa, it can be made with different materials (fabric, leather, velvet, polyester, etc.)
Floor Sofa for the Living Room
The living room is the most common room for this type of sofa. It's a great alternative to the traditional sofa. Or it can be used to create another lounge area in a larger room. These variations of floor level sofas are ideal for living rooms:
Sectional
Modular
Arabic style
Futon style
Although naturally, any unit really works in a living room area.
Floor Sofa for the Lounge
Just like the living room, the sofa defines a lounge area. In most cases, this unit is all it takes to create a full-featured lounge. Any floor sofa will do as long as it fits the space.
Floor Sofa for the Playroom
As mentioned, this sofa is safer for children — therefore it can be used in a playroom. Look for smaller and even lower profile units to use in a playroom. Floor cushions, floor chairs, and bean bag sofas will work ideally for this purpose.
Floor Sofa for the Balcony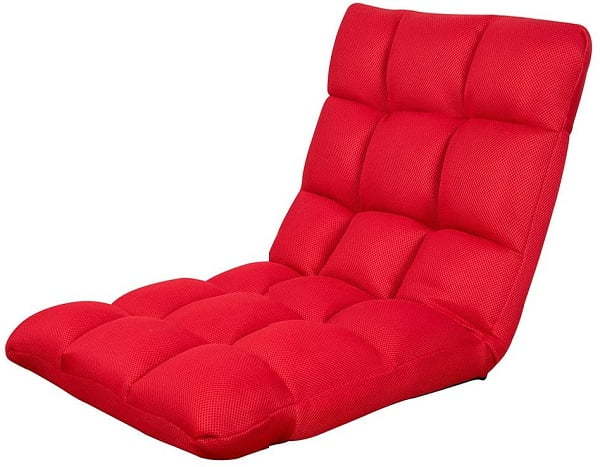 The balcony is a unique place to use a sofa, but this kind of unit works well in this space as well. You may not be able to place any other type of couch on most balconies.
For this purpose, smaller floor sofas work. Ideally, it would have to be waterproof as most balconies aren't very well covered against the weather. Bean bags are quite popular for this.
Floor Sofa for Gaming
Casual gaming is huge for floor sofas. You'll not accommodate a hardcore gamer with a couch (they need an ergonomic desk and chair for high performance), but it's ideal for a casual night with a console.
Small to medium-sized sofas are great for gaming. Some models are even advertised to be designed for this purpose.
Where to Buy a Floor Sofa
Most furniture stores carry some type of floor sofas — you can get them there. Online stores aren't an exception, so you will find them on Amazon, Wayfair, West Elm, etc. If you want the best floor sofas, you will most likely find them online.
Recap
Liked this article? Here's what you can read next: