Last updated on November 26, 2023
Want to start DIY welding at home? Here are the ideal welding projects to consider. Read on!
Welding projects are an excellent way to bring creative and practical ideas to life for your home or workplace. There are some great no-weld options to try out, but they're limited and much more time consuming to complete. If you're handy with a welder or willing to give it a try, there are endless projects you can build, and completing it with welds as opposed to bolts makes them quick and easy to finish.
Wooden projects can also look great, and often tying wood into metalwork can finish it off just right, but unlike metal, wood has many limitations. You can form metal into any shape imaginable, and there are plenty of scrap-metal projects that reuse old scrap steel that would otherwise be thrown out as junk. Turning them into works of art is a fun alternative. 
If you haven't tried welding, getting your own machine that's designed for home and hobbyist use from Amazon costs a similar price to a standard wood saw. You can then dive into some of these easy-to-build projects that can transform your home and make your life easier. 
Horseshoe Bowl
Horseshoes are a favorite welding project when it comes to reusing scrap metal. They can become some of the most beautiful welding projects with a bit of creativity, and they often require very little work. This is a simple bowl that's ideal for decorating a room and holding stuff like fruit or larger items.
It only takes a few small welds between each horseshoe; a bit of cleaning and this beautiful project will be done in no time.
Wine Bottle Holder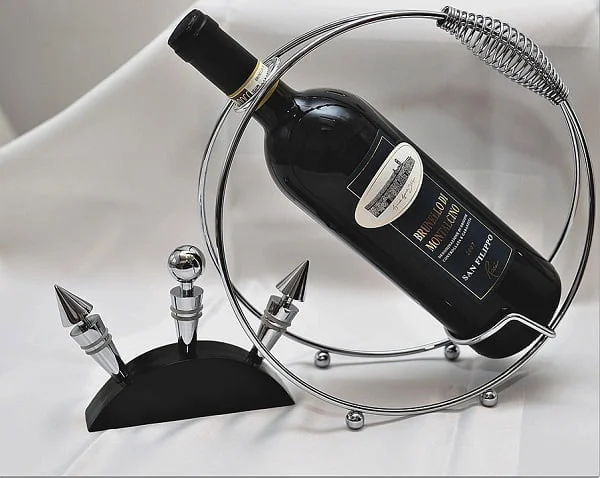 There's often chain lying around the house or scrap pieces that are easy to pick up for next to nothing. If you can find some, you can turn them into gorgeous bottle holders for some of the welding projects that will impress your friends and neighbors. 
It should take less than half an hour to make even if you're learning how to weld. Its clever design makes it look like an illusion, but it's incredibly stable and holds any kind of bottle securely. 
Slab Bench
Get ahold of a solid slab of timber and you can make a simple yet strong bench like this one. It only requires two small frames that are easy to fabricate and then clamping it onto the ends of a wooden slab.
It doesn't use much steel, but it's very strong with a decent piece of timber for the seat. It's handy because it can easily be packed up and stored away if you only need it occasionally. 
Glowing Flower
Cutlery is another type of scrap metal that is found in abundance. It's something that's easy to find in a thrift store, or you may even have some old pieces lying around your home.
You can create a gorgeous flower feature in your garden with very little effort by following this design. Some of the best-looking welding projects don't require much work, but they look outstanding due to the creative design behind them. This makes it easy to build and requires very little time to complete. This is one of those welding projects. 
Simple Bird with Cutlery
If you want to get even more creative with your welding projects, you can try your hand at making a bird like this. There is a bit more work involved with this type of welding projects bending and shaping some items, but it doesn't take much time to complete.
There are lots of different cutlery designs to follow, but this is one of the best. 
Triangular Brazier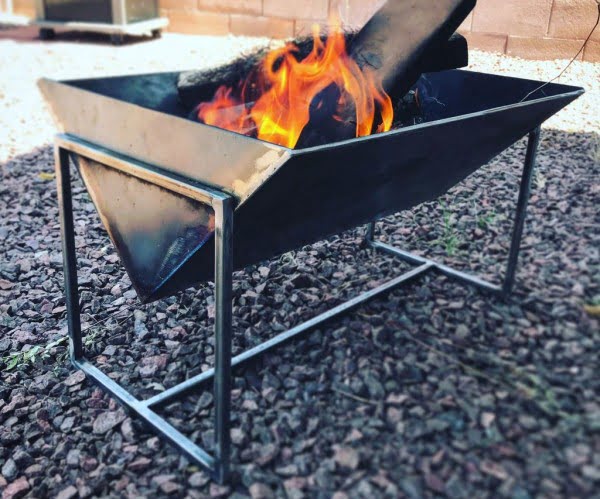 Braziers are a handy feature to have in your backyard, whether you like to have parties or enjoy family time outside. These welding projects always create a unique and memorable environment, especially when it's cold and dark. 
This is one of the easiest yet tidy-looking braziers to build. It's a good size to light a decent fire without taking up much space, and there are not too many welds needed to complete it, unlike other brazier designs.
Small Garden Trellis Ark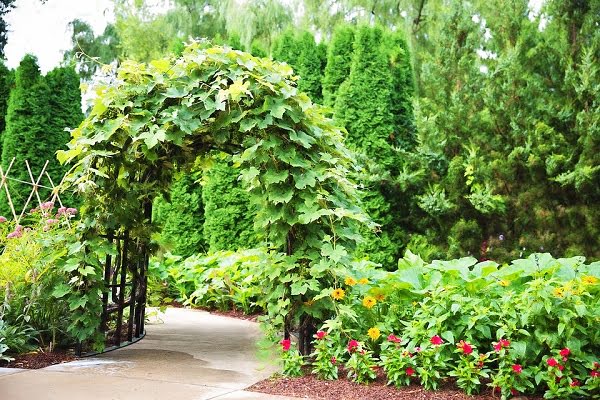 Trellises are a necessity for most keen gardeners, and while there are many different designs to choose from; a simple ark frame like this is very effective and looks great.
It doesn't require spending much money on gear and it's strong enough to hold any vine that would grow in your garden. You can also increase or decrease its size without much thought to make it exactly right for your particular garden with these welding projects.
Shelving Brackets
Shelving brackets are a common-place item in DIY stores, but they aren't always the right size or strength for what you need. Needless to say, there's nothing like building your own.
This set of brackets is simple to make, and it's easily customizable for your particular shelving needs. With a bit of paint, they turn out really well and are incredibly strong with their structural design.
Tapered Bar Stool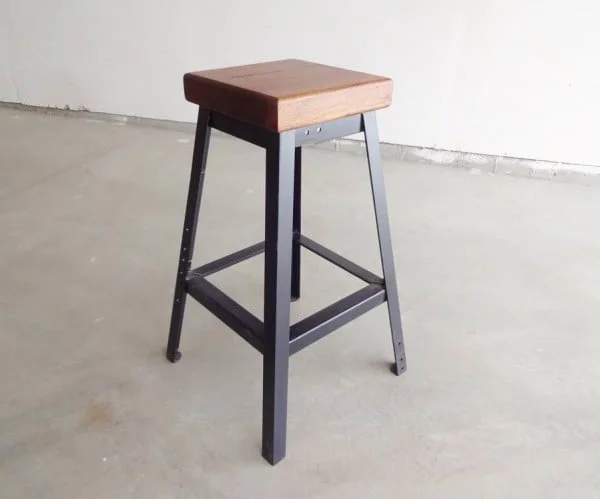 This is another one of the welding projects that use angle iron to create a stunning yet strong stool. It's one of the easiest metals to build with as it links together well, has great strength without excessive weight, and can be made to look good like this.
Paired Block Table Set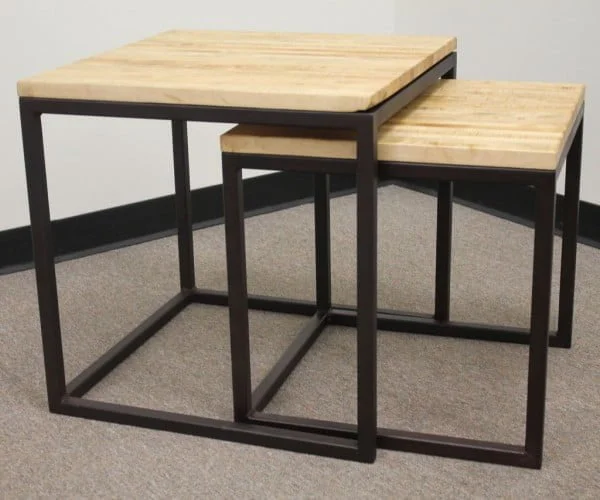 This block table set comes in a handy pair that fits together to maximize space while providing enough seating or tables. It's not quite as strong as a traditional table or stool design, but it's plenty strong for any typical indoor use and easy to build.
Lamp from Steel Nuts
If you have a lot of nuts lying around as many people do, this lamp is a great idea to fabricate. It's a simple design that takes very little thought to build, especially when following the tutorial. It's also a great way to build up weld confidence, as there's plenty of small, non-critical welds to do, giving you good practice.
Modern Outdoor Table
This is one of the welding projects that look stunning but difficult to build. However, it's much easier to fabricate than you would think. It has a modern style, and if you can find some tidy wood to finish it off, like the thin multi-colored strips that have been used here, it will look incredible.
Deluxe Dog Waterer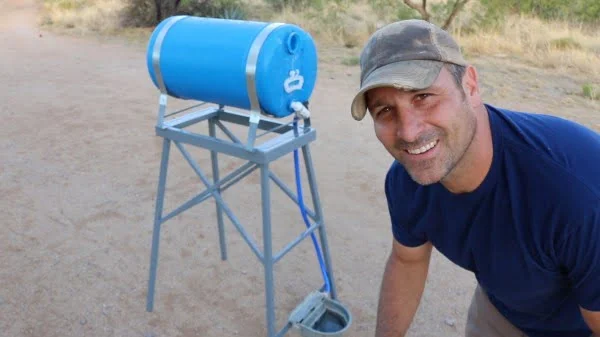 If you feel like it's time to pamper your dog, then you can save yourself the hassle of daily water duty by building this deluxe dog waterer. It doesn't take much welding to complete and is very effective for its purpose. 
If a smaller cat or hamster version seems more desirable, simply half or quarter the measurements and you'll have just what you need.
Stunning Outdoor Light
This design doesn't require too much welding; it's a project for those who are the jack–of–all–trades, and it's one of the most stunning on our list. If you have a good workspace in your home, making this light would be a satisfying project to undertake.
Candle Lamp Tree
This is a simple minimalist candle lamp tree that's one of the easiest beginner welding projects. It looks stunning for a household decoration all year round and some like it for a modern Christmas tree. It can be painted whatever color best suits your home, and it's a unique way to lighten a dining room or entranceway.
Giant Spider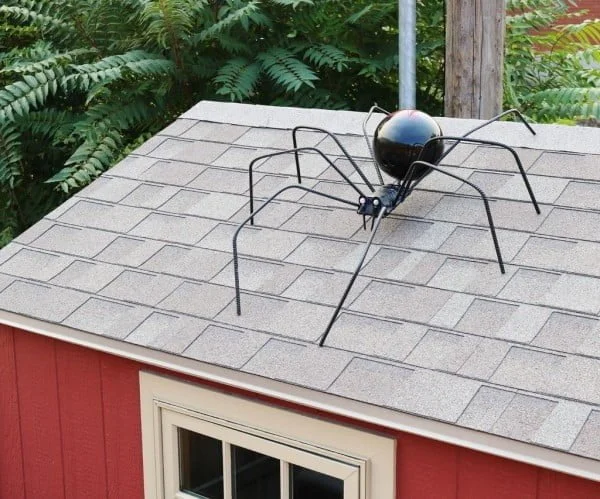 If Halloween is coming up soon, this is a great project for decorating your roof or backyard. In spite of how it looks, it's simple to make, and the spider back is made from a five-dollar second-hand bowling ball you can pick up at your local thrift store.
Simple Wood Burning Rocket Stove
This is one of the more difficult welding projects on our list, but it's still a favorite for many campers or homestead owners. It's a simple two-chamber design on feet with a stove rack to cook your food or boil water.
These welding projects are all great for beginners to dive into or people who want to fabricate something over a weekend. These types of jobs are useful, especially because they come with easy to follow plans or video guides. You can jump in and complete them quickly without dragging a project out for weeks or starting something and being too busy to finish it.
As you start to build one, it's good to follow all the instructions given; but remember, there is flexibility in building these types of projects. So, modify them however you like, and they will still be just as good. Nothing is set in concrete; have fun with it and be sure to leave a comment describing which ones you have built.
Recap
Liked this article? Here's what you can read next: