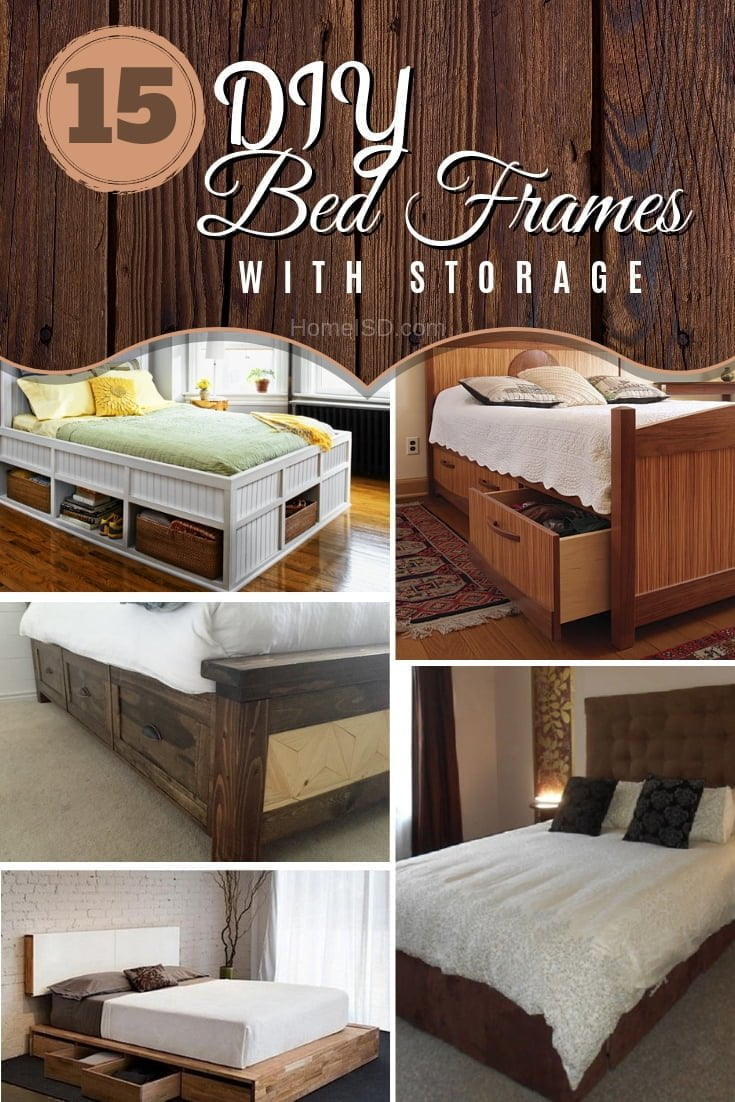 Last Updated on
Solve all your bedroom storage problems with one of these DIY bed frames with storage. You have 15 project ideas with easy tutorials to choose from.
There's no reason why you would not want to use the space under the bed for storage. It has all the benefits and none of the drawbacks. All you need is some imagination and craftiness to turn a regular bed into a bed with storage or to build a bed frame from scratch.
Whatever you choose to do, we are here to help. Here are 15 detailed tutorials with plans and instructions for one purpose – to build a bed with storage. Select the bed style you like the most and let's get crafting!
Mid-Century Bed Frame with Storage
Build a bed frame with ample under the bed storage in the mid-century style. It's a lovely home project with an extensive tutorial.
Twin Storage Bed
You can build this twin bed with lots of storage for under $200. Follow the tutorial for plans and to see how it's done.
Raised Platform Bed Frame with Storage
This raised platform bed has a huge storage space for everything you might need to store in a bedroom. The tutorial is great to follow too.
Ikea Hack Bed Frame
This project is straightforward. IKEA furniture lends itself for easy hacks. And you can get this bed with storage easy.
DIY Twin Bed with Storage Drawers
Check out how to build this beautiful twin bed with big storage drawers. This tutorial has everything you need to do this project.
How to Build Storage Into Any Bed
Stop wasting that space under the bed and use it for storage. These plans show you how to build storage into any regular bed frame.
Use Vertical Shelving Units for a Storage-Friendly Bedframe
Another great IKEA hack which will make building a bed with storage a breeze. Check it out.
DIY Bed Frame with Storage Down Under
Simple and easy – that's what this project is all about. Here's how you can build your bed frame with storage too.
DIY Bed With Storage
Another great tutorial for a twin bed with storage drawers. Check out the tutorial for details and instructions.
DIY Wooden Storage Bed Frame
This is quite a unique wooden bed frame built from IKEA furniture. Check out the tutorial for more details.
Bed Storage Base
A good base with storage for the bed is all you might need. This tutorial will give you a good idea for the project.
Farmhouse Storage Bed
Farmhouse style is all the rage, and you can use it to build your bed with storage. It looks amazing. And this tutorial will make it easy.
Wooden Platform Bed with Storage
Making a platform bed with storage from wood is relatively easy. Check out these plans and the tutorial to get guidance.
Twin Farmhouse Bed with Storage Drawers
These plans include both, the twin size and full-size version of this beautiful farmhouse bed with storage drawers. Check it out.
Queen Sized Murphy Bed
A murphy bed takes a bed with storage to the next level. It's a shelving unit during the day but a bed at night. You can build one yourself using these plans.