Last updated on February 1, 2021
Looking for the best massage chair to add to your home spa and lounge experience? We've made a list of the top-rated products of 2021. Check these out!
► Our top choice: this Zero Gravity Massage Chair.
Massage chairs have come a long way from traditional to electric and from small to bulky. Having one is how you can get a massage with full relaxation and comfort that can only be offered in a spa.
Most of the chairs come at hefty prices, though, but still, you can find cheaper options as well. The best of the chairs offer plenty of massage variations, heating, and adjustment features.
Since massage chairs come with a price tag not to be coughed at, you have to think your choice through.
How to choose the right massage chair?
Types of massage are the most important feature to look for. These vary from full body massage to massaging parts of your body (such as head and shoulders, legs, back, etc.)
The heating feature is important as it has been installed in all high-end massage chairs. It gives you additional comfort when using it.
Portability is important too because some massage chairs are small enough to be used almost anywhere (even inside a car.)
Extra functionality includes a Bluetooth connection for audio, a storage pouch, or a USB port for charging.
Comfort is by far the most important quality of a massage chair so check out the reviews (we have summed them up too.)
But you also have to consider common caveats that many chairs have (especially cheaper options):
The chemical smell is not good for kids or the elderly, or people with allergies.
Ease of assembling – though most of them are ready-made, some products need assembly, which might be difficult for some people.
The value for money – you don't want a costly chair when there's an affordable option that can provide the same satisfying experience.
What's Inside?
Zero Gravity Massage Chair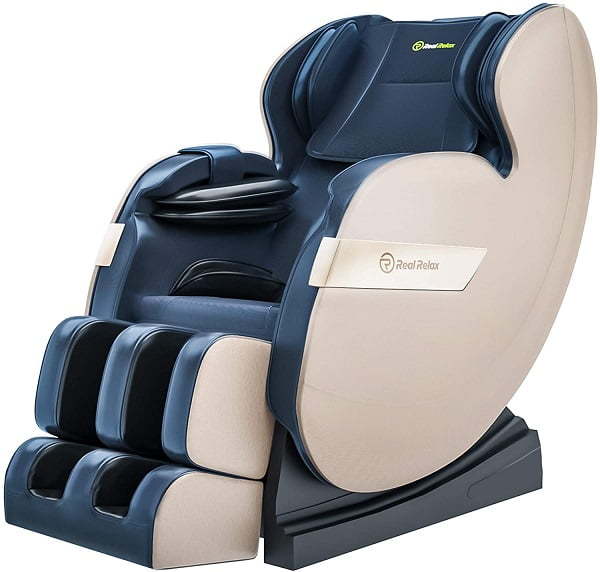 This might be a rather expensive massage chair but it offers cutting edge technology features that let you specifically point which part of your body can massage using the remote. It reclines totally and simulates the techniques of expert massage professionals. In short – we love it!
Pros: Remote control; high quality materials; innovative technology; total recline.
Cons: rather expensive; heavy; occupies big space.
Full Body Massage Chair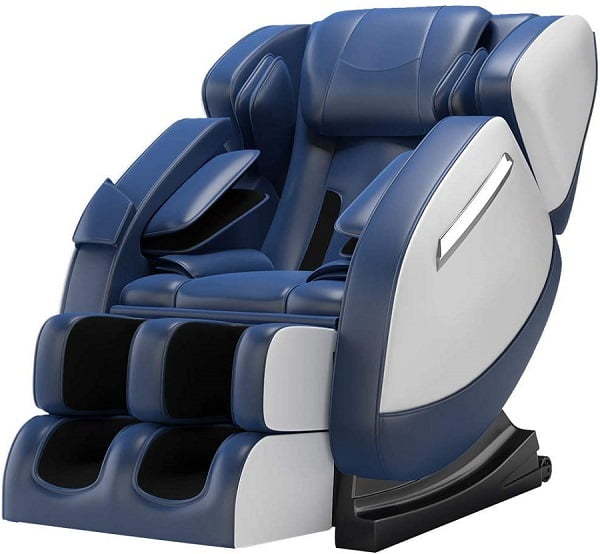 It is expensive (but all chairs with this feature set are) but the zero gravity design and heated massager makes up for everything. We love it that it's so comfy but not at all bulky.
This chair may be made of faux leather material but you wouldn't really care if we talk about the features. It has a power recline combined with a heating feature and foot massage rollers for full relaxation. It doesn't need assembly and has fingertip controls for easy operating.
Pros: Power recline; heating feature; unique looking; no assembly needed; foot rollers; air massage.
Cons: A bit pricey; faux leather.
Shiatsu Massage Chair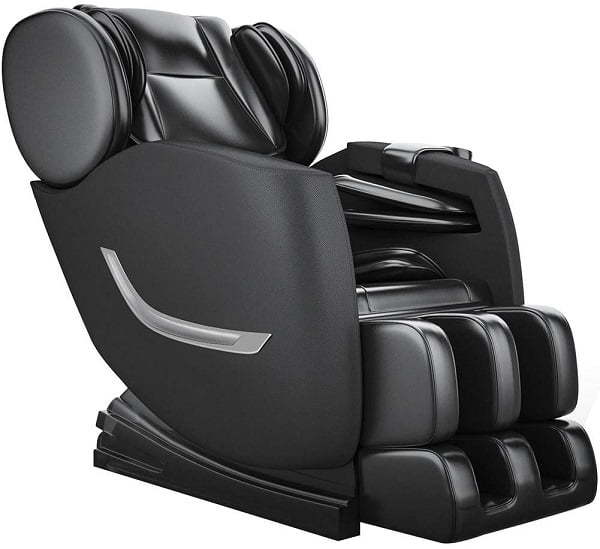 Your fully functional shiatsu massage chair. It can't be used as a regular chair because it's really heavy and not portable. However, it does have a remote control and heating feature for easy use and great relaxation. It also has a Bluetooth speaker for music.
Pros: Affordable; heating feature; remote control; width adjustment; bluetooth connection for audio.
Cons: Pricey; heavy.
Massage Recliner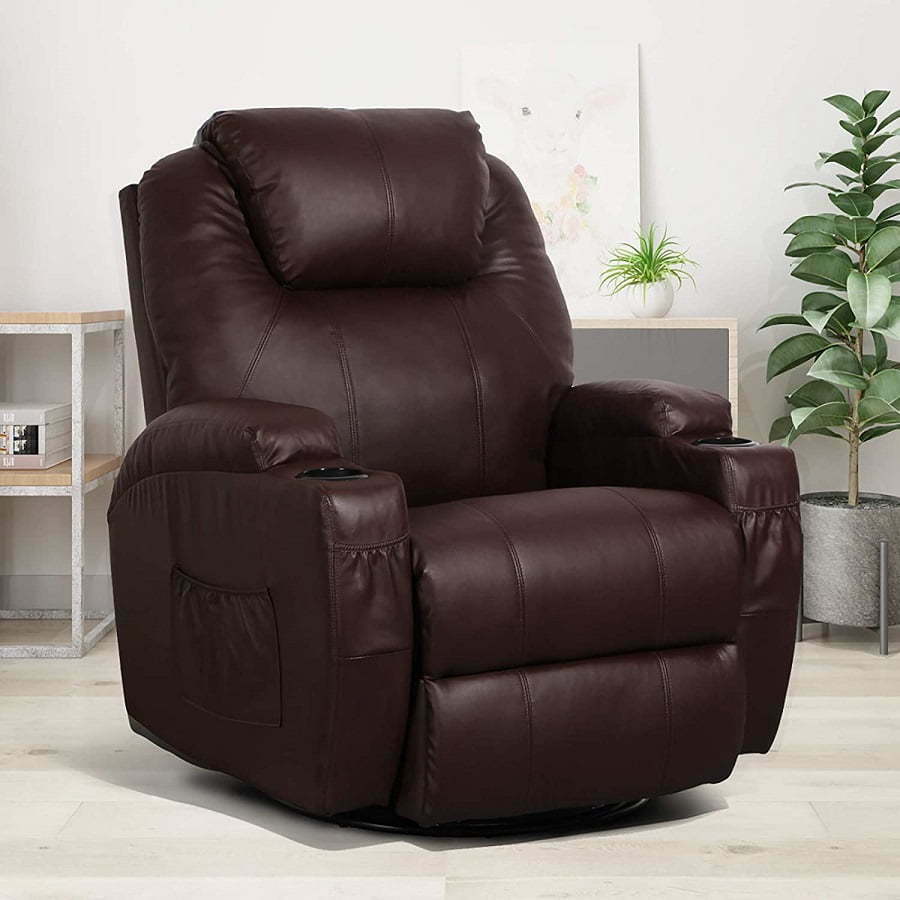 This very affordable massage chair might be flimsy so taking extra care of it is a must to make it long last. It's easy to assemble and has a remote control as well for ease of use. It has cup holders on both sides and a heating feature to improve relaxation.
Pros: Very affordable; remote control; heating feature; cup holders; easy to assemble.
Cons: Faux leather.
Massage Office Chair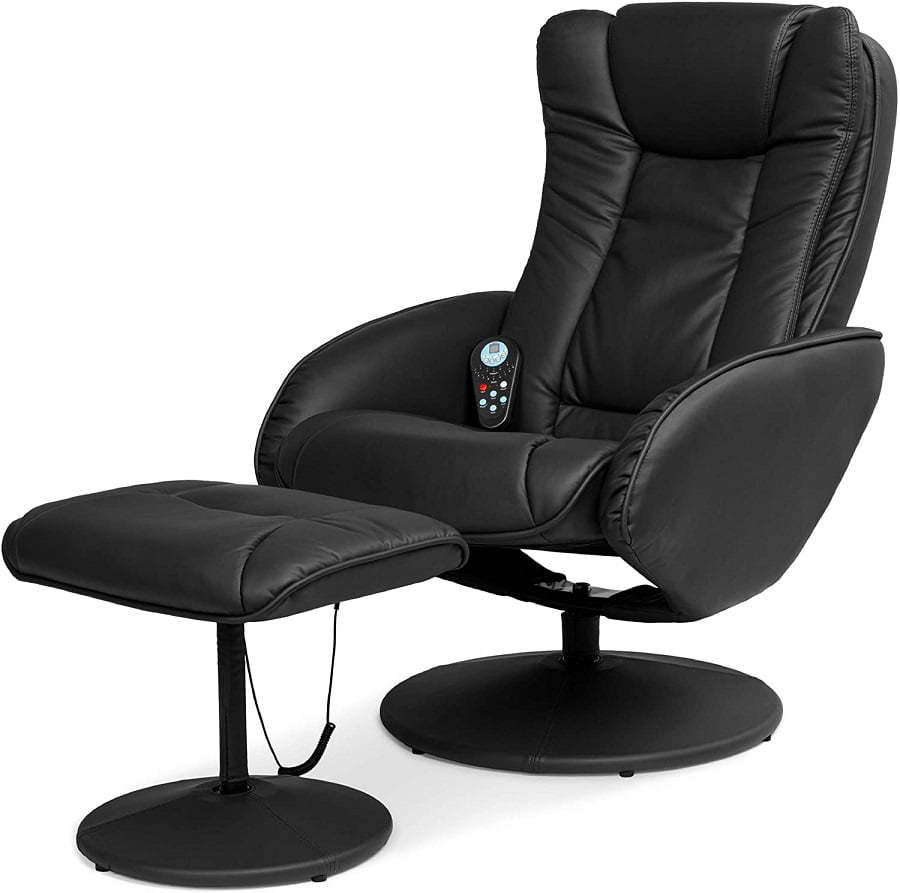 This is an excellent product even though it's not durable and kind of confusing to use in the beginning. It's really affordable yet it still has the heating feature for the lumbar and remote control for navigation. It even has side pockets to tuck away books or magazines in case you want to read during your massage session.
Pros: Very affordable; storage pouch; remote; heated; portable and compact.
Cons: Faux leather; no height adjustment; might be too snug for larger people.
Heated Massage Chair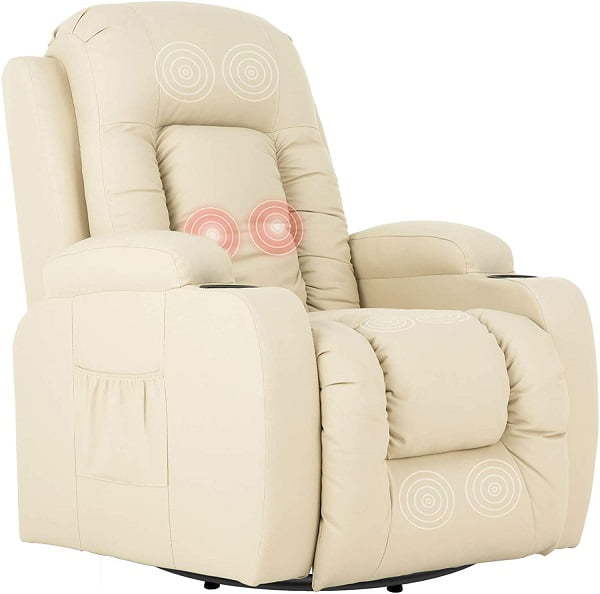 It may not lock in the position when reclining but this affordable massage chair is upholstered with durable materials making it easy to clean in case of spills or dirt. It has a heating feature plus remote control for using its different massage options. Overall, a great affordable option.
Pros: Power recline; heating; remote control; waterproof; easy to clean.
Cons: Doesn't lock in recline position, so you have to kick it back every time.
Back Massage Chair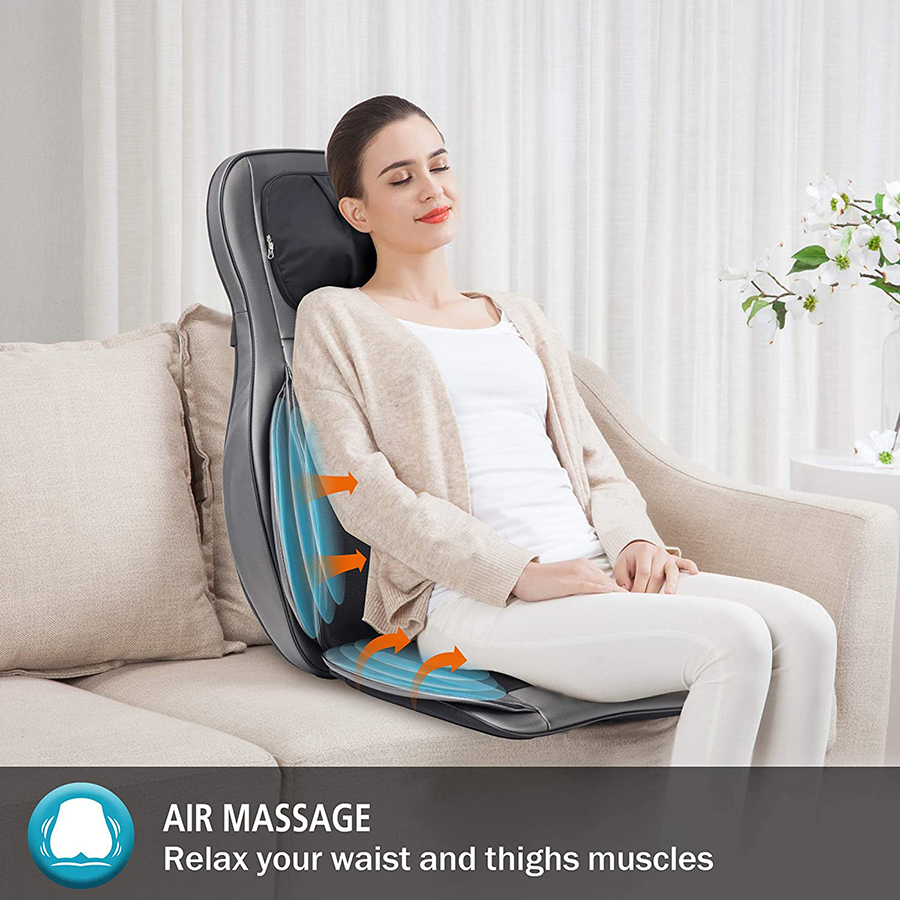 A one of a kind massage chair – it is unique because it can be placed on different types of chairs making it very versatile and portable. It gives plenty of different massage types and has heating as well. The buttons don't work properly sometimes though and make an irritating noise.
Pros: Affordable; really portable; heat; full massage; versatile.
Cons: No remote control; buttons work poorly; makes noise.
Small Massage Chair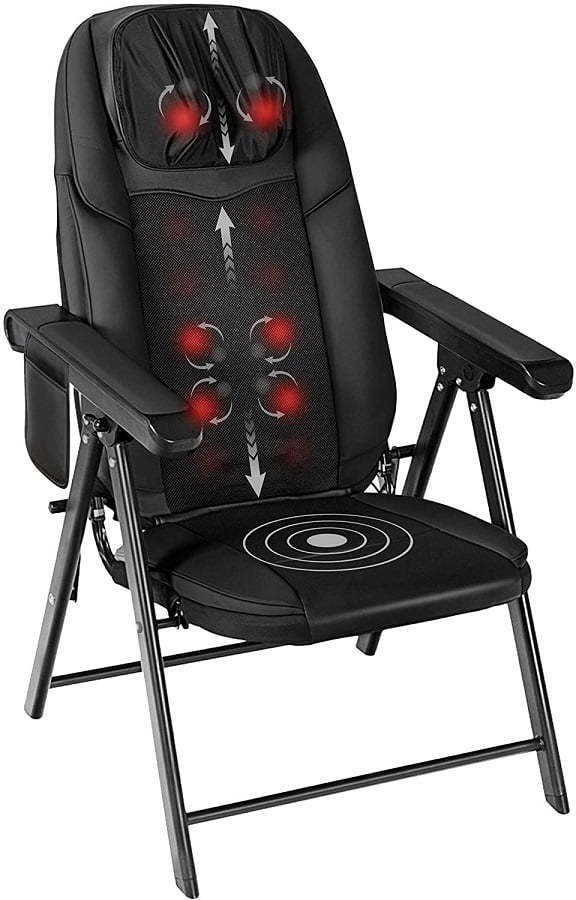 This massage chair is foldable, so it's the most compact option you can have and still enjoy the shiatsu features. It provides full body massage features as well as heating and vibration. That's a lot you can have with a folding chair.
Pros: Heating feature; sturdy; easy to assemble; folding; portable.
Cons: Not as comfortable as full chair options; heavy for a folding chair.
Massage Chair Pad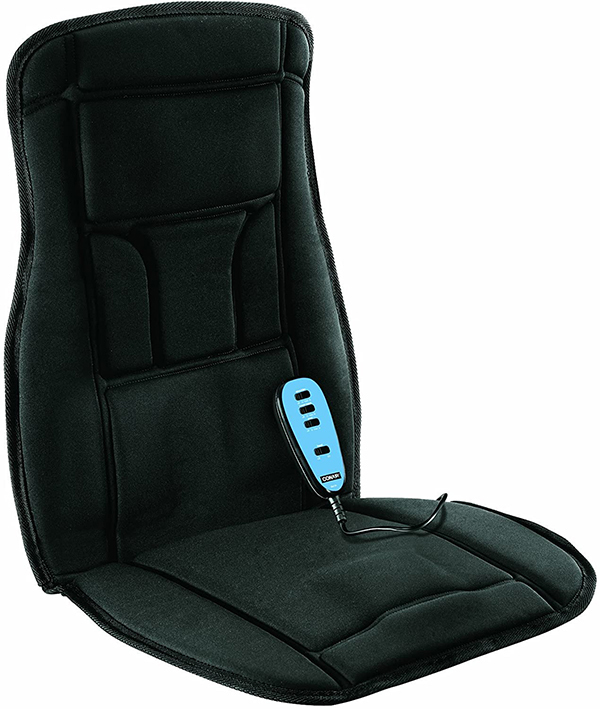 If you're looking for a quick and light massage, and you're not a big-framed person, this is the most affordable option to get started. It's not even a chair. It's just a chair pad that straps on the frame. You get what you pay for, but for an entry-level, you don't need to spend a lot of money to test it out.
Pros: Very cheap; heated massaging; very portable; remote control; strapping system.
Cons: Just a pad; not built for big-framed people; light massage.
Massage Computer Chair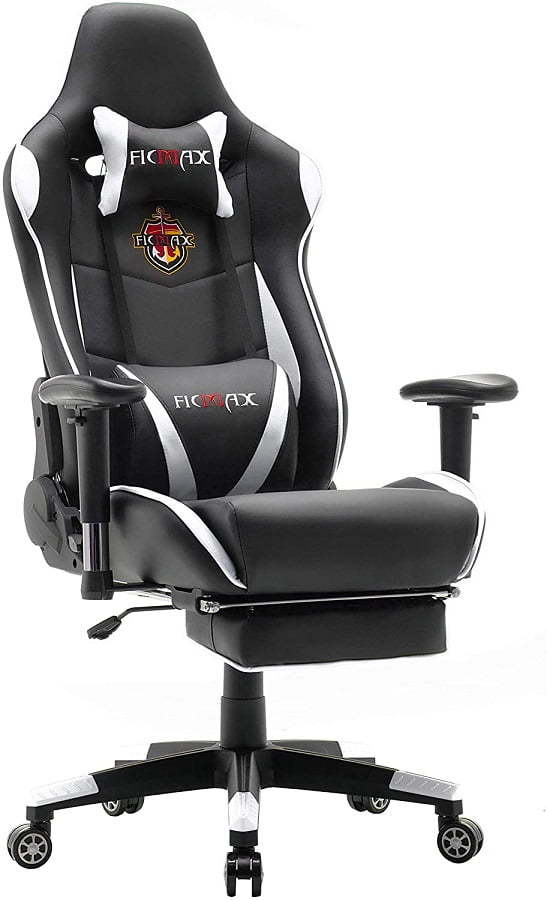 Overall, you'll be very pleased with this massage chair. It's comfortable, can be positioned in any way you like, and it feels sturdy and well made. However, the cushions for the head and lower back are not as supple as they could be, and the instructions could use a bit more detail.
Pros: Inexpensive; full tilt mechanism; mobile.
Cons: Lumbar massage only; faux leather.
FAQ
Are massage chairs worth buying?
There's no doubt that the massage provided by high-end massage chairs helps relieve stress levels and sore muscles. So if it's important to you, and you don't want to spend money on massage therapist services, a chair is a worthy investment.
How much does a good massage chair cost?
High-end massage chairs cost $1,000 and more. But you will find perfectly functional models for less — massaging recliners, for instance, cost less than $400.
Why do massage chairs squeeze your legs?
Just as a therapist would put pressure on your legs with their hands, a full-featured massage chair has air pillows that are inflated and deflated to simulate the same massaging technique.
Liked this article? Here's what you can read next:
---
Disclosure: As an Amazon Associate we earn from qualifying purchases.