Last updated on April 6, 2021
Looking for an area rug that would suit your beautiful hardwood floor? Not all options are good for the wood. So here are the best area rugs for hardwood floors in 2020.
Having a hardwood floor is an interior design and decor blessing. Any designer will tell you that. And it's a sin to cover it in carpets. You shouldn't be doing that. But you can use a beautiful area rug to go with your hardwood. In many cases, it's a great way to protect it from heavy foot traffic, dirt, spills, so you'll have to mop it less.
However, not all rugs are good for hardwood floors and you need to know that. Choosing one doesn't come down only to decorative choices. You have to carefully consider the material and make of the rug to protect your floor properly. We're covering all these things in this article.
How do you choose the right rug for hardwood floors?
These are the most important things to look for:
Natural materials are best suited for hardwood (such as wool, cotton, jute, bamboo.)
Make sure the rug is labeled by the manufacturer as not leaving paint or residue on the floor. Natural materials help avoid that.
Consider non-slip rugs because natural wood tends to be slippery for small rugs. Natural rugger or felt padding is best suited for this.
What is the new rug going to do to your floor decor-wise? Hardwood is a feature alone, so a neutral rug is a good choice. However, don't be afraid to experiment with accent colors which can play a dramatic part.
The price – if you're not picky you can get area rugs for under $10!
Want to know what rugs tick all the boxes? We've made the top 10 picks using extensive research. We know very well what rug ideas our readers (you) are interested in so the following list is also made taking that into account. Finally, we have to let you know that we might get compensated by Amazon for purchases made through links tagged with #ad (at no expense to you). And we even might buy a cup of coffee for it.
So here they are, the best rugs for your beautiful hardware floors.
What's Inside?
Non-Slip Rug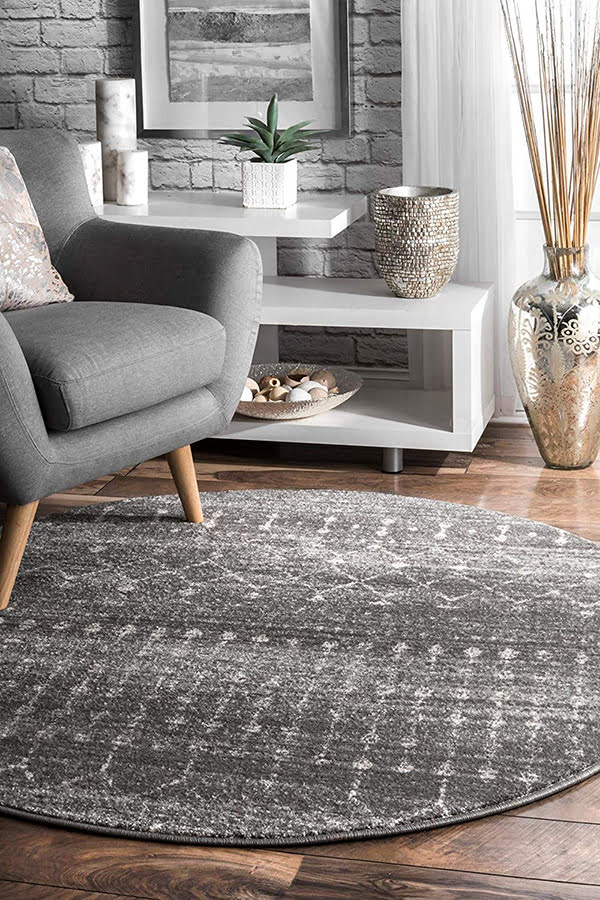 A non-slip rug like this one from nuLOOM reduces the risk of injuries. This one has a beautiful dark grey pattern and stain-resistant material. It's great for pets and easy to clean.
Pros: durable materials; stylish Moroccan-inspired design; versatile neutral color; easy to clean.
Cons: small size; smudged pattern; rough feel; creases out of the box.
Rubber Backed Rug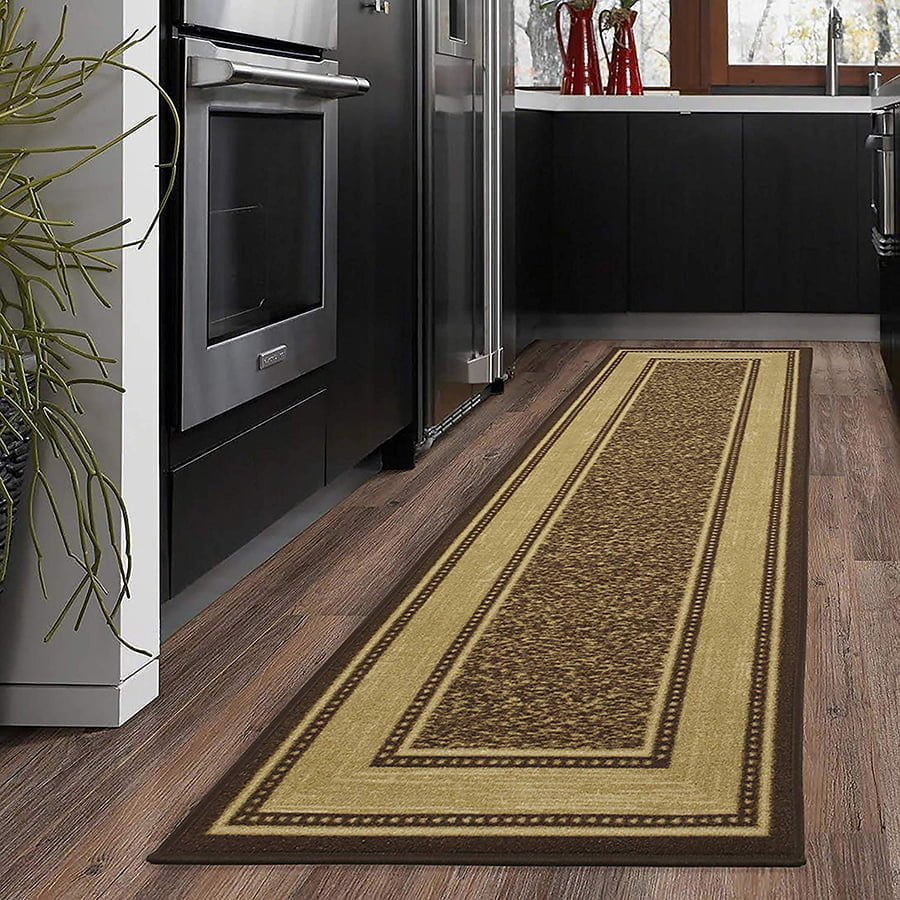 This modern rubber backed rug from Ottomanson features a rich chocolate brown color that looks great on hardwood floors. The long and narrow version is perfect for entryways, hallways, and slim rooms. Other shapes are also available.
Pros: exceptional durability; classic styling; stays put despite heavy traffic; stain-resistant; affordable price.
Cons: not very thick; muted colors; may get damaged after many washes.
Safavieh Shag Rug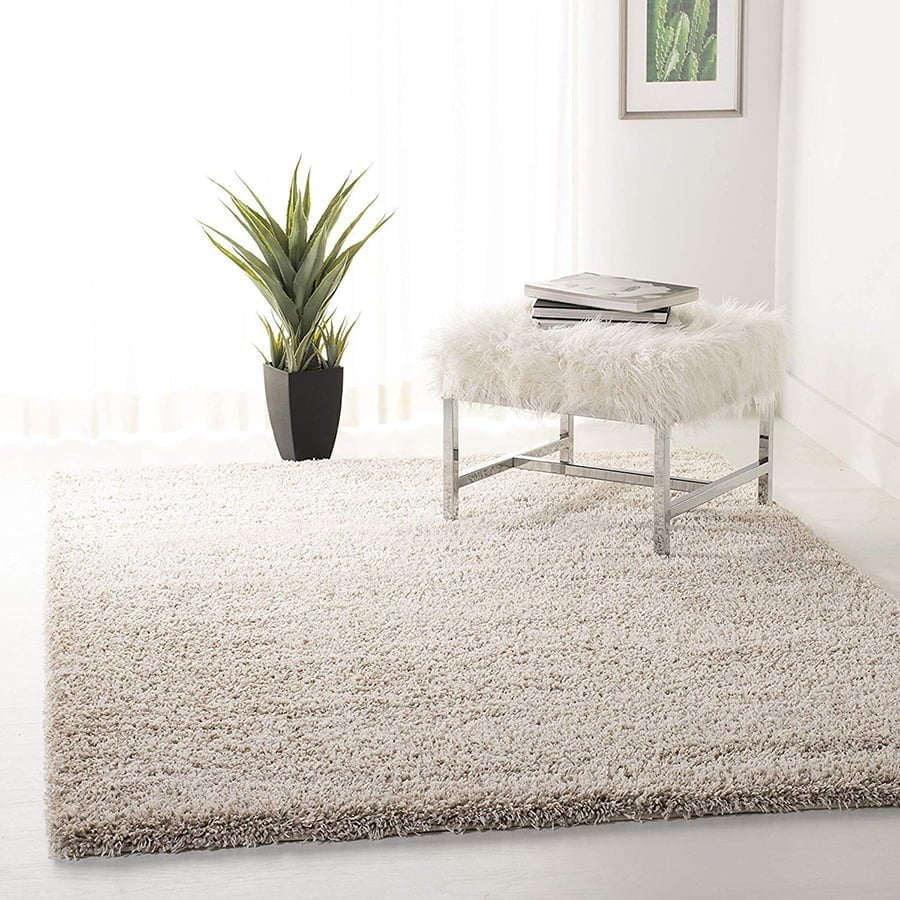 This Safavieh shag rug has ultra-plush fabric that feels amazing underfoot with a pile height of 2 inches. It looks beautiful and casual but it is also durable thanks to special manufacturing techniques.
Pros: Trusted brand; plush feel; excellent construction; non-shedding; flexible neutral color.
Cons: not true white; inaccurate sizing; slight chemical smell out of the box; no refund for price fluctuations.
Memory Foam Rug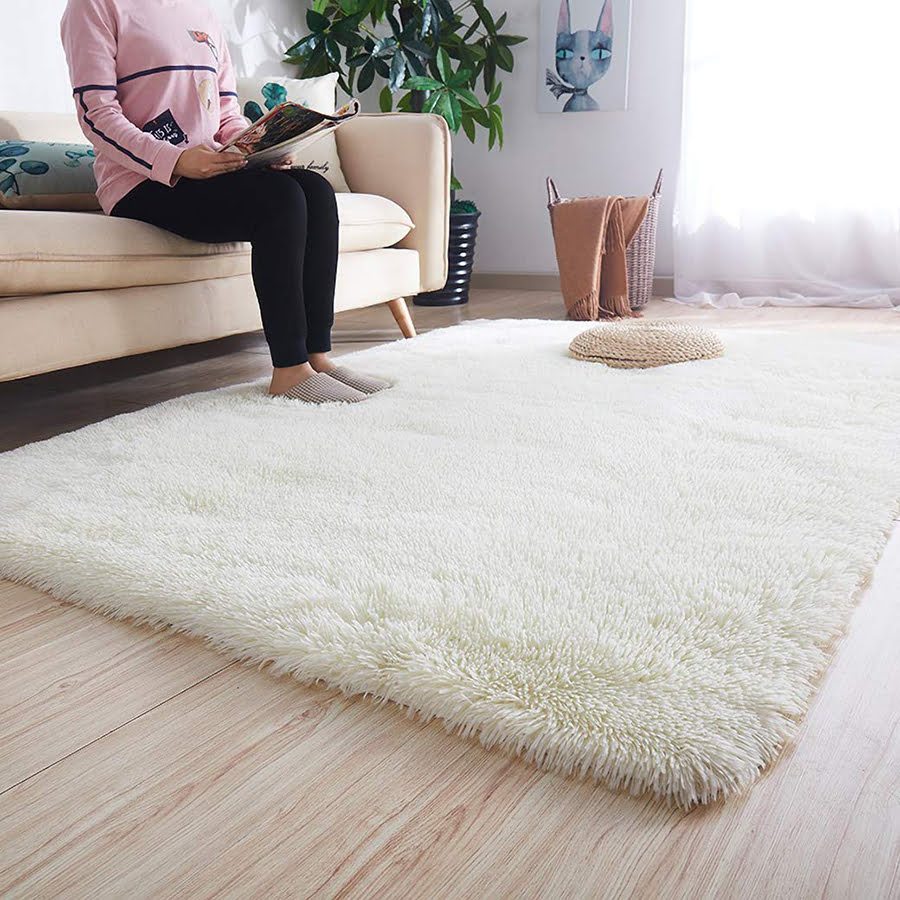 Most people like their rugs soft. This one goes the extra mile by adding a middle layer of memory foam while the surface has a shaggy feel and the bottom has anti-slip dots. It has drawn mixed reactions so tread carefully before buying.
Pros: Soft shaggy rug; contracted style; easy to clean; versatile placement; memory foam interior.
Cons: Looks different in real life; thinner than expected; not as cushioned; a slight deviation from posted size.
Waterproof Rug
Sometimes function is more important than aesthetics as in the case of rugs meant for kitchens and other work areas. This waterproof rug from iDesign uses bamboo to get the job done while being eco-conscious. Fortunately, it's not hard on the eyes either.
Pros: Non-skid backing; sustainable material; waterproof rug; good large size.
Cons: leaves a residue on linoleum floors; lacks natural feel; a bit slippery when wet.
Thick Rug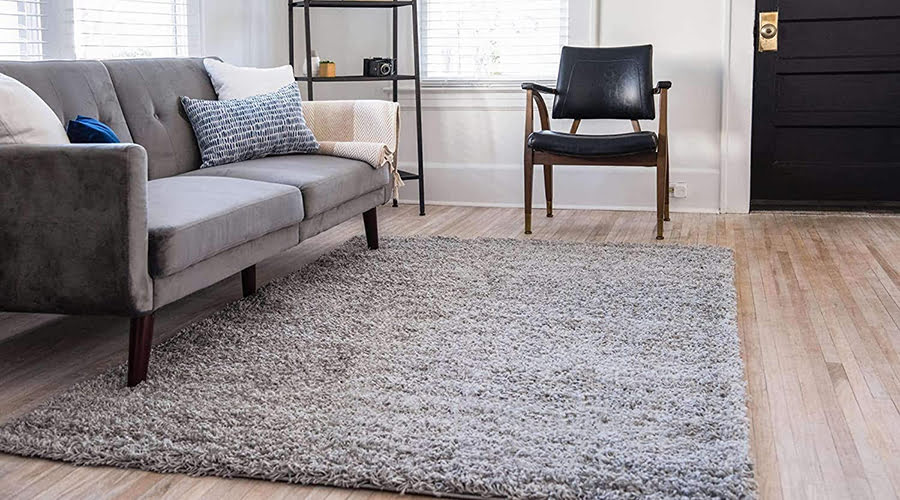 If you want a thick rug, then consider this solid shag from Unique Loom. It is advertised as being 1.5 inches thick which feels adequate as it provides a soft feel. Despite using synthetic fiber, it is not coarse or scratchy.
Pros: affordable area rug; good quality; no smell; lays flat; quite soft.
Cons: dull color; sizing is off; slightly uneven; dark spots; leaves residue.
Jute Backing Rug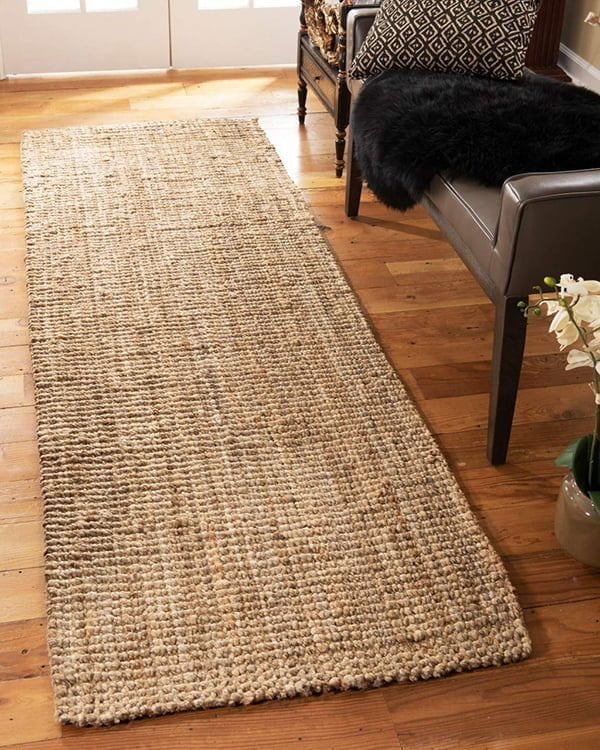 Natural fibers have their unique appeal. This jute backing rug has plenty of fans because of the material which adds warmth and texture to rooms. They can blend with any interior décor styling. At around $60, they won't break the bank.
Pros: natural material; hand-crafted rug; excellent packaging; heavy feel; ease of cleaning; affordable price.
Cons: leaks fibers; moves around a bit; smelly upon opening; might not be to everyone's taste.
Entrance Rug for Hardwood Floors
The front of the door is a high traffic area. It makes sense to use an entrance rug for hardwood floors such as this doormat from DEXI. It has a modern geometric pattern and durable materials. Maintenance is easy.
Pros: it's machine washable; dirt-resistant; absorbent material to keep the area dry; decent looks.
Cons: slips on tiles and laminate floors; there are more visually pleasing competitors.
Felt Rug Pad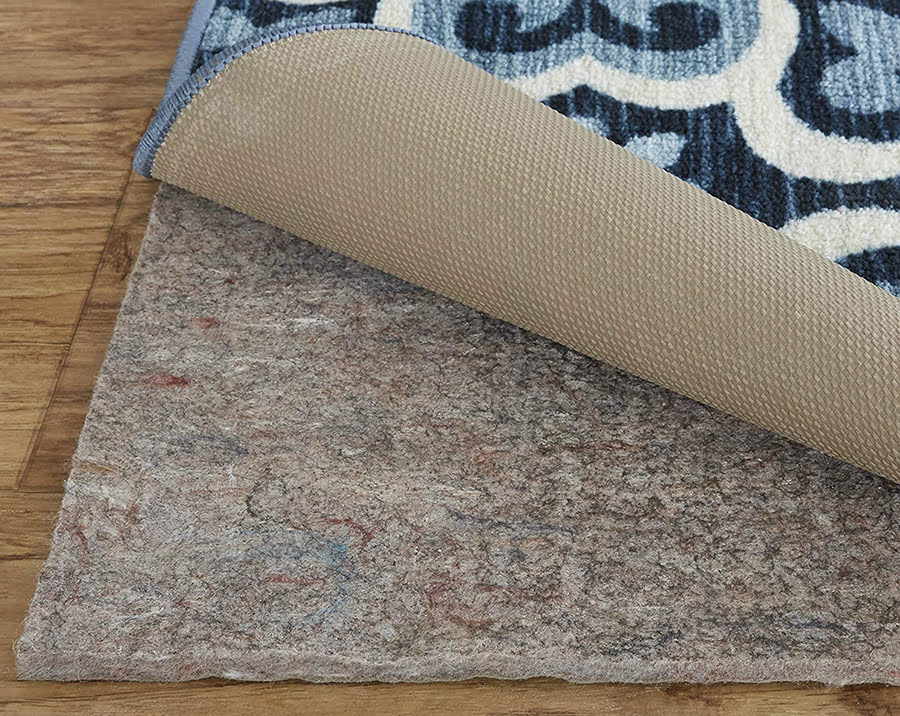 Making open-loop carpets result in a lot of wasted cutoffs. These are often gathered to create felt material for use in cheaper rugs. This felt rug pad from Mohawk Home is a non-slip option that is good for all surfaces, including hardwood floors.
Pros: made from recycled material; rubber backing keeps rug in place; dual surface; Made in USA.
Cons: unprotected in packaging; strong chemical smell; not very softю
Rug Gripper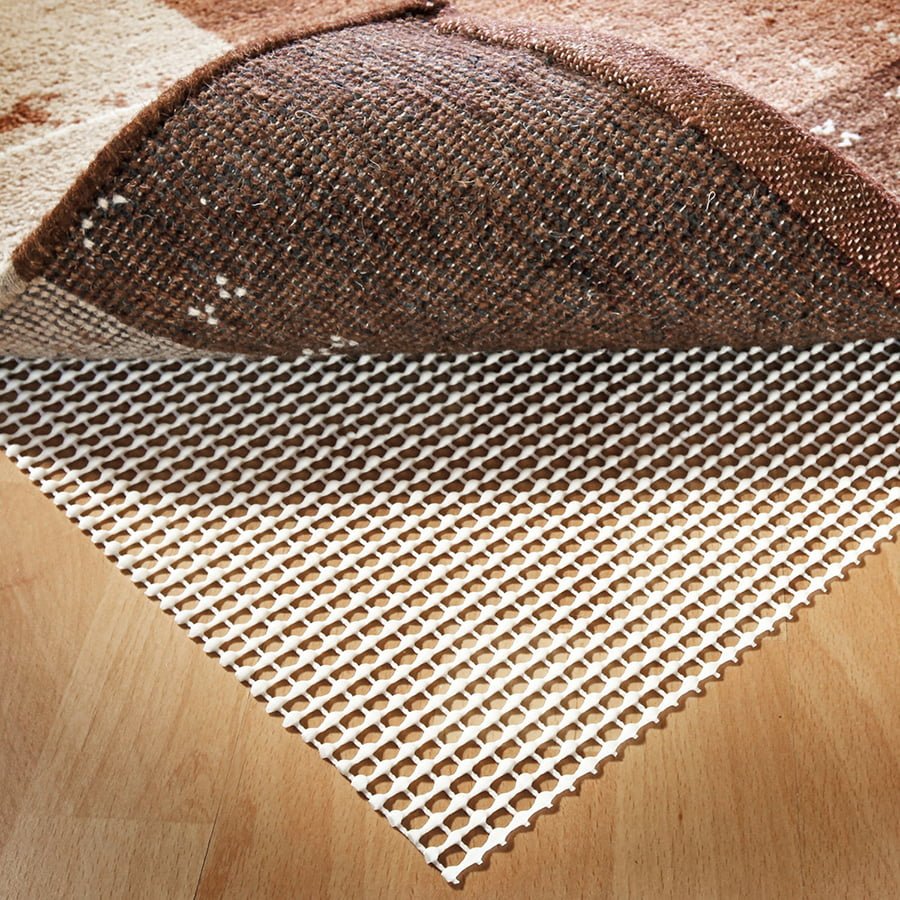 This area rug gripper pad by Mayshine protects hard floors and adds cushioning underneath. Most of all, they make sure that rugs stay put even as people walk to and fro. The open grid construction keeps rugs breathable.
Pros: pre-cut sizes; enhances breathability; protects hardwood; excellent anti-slip pad.
Cons: bad smell needs to air out; a thin profile doesn't provide much cushion.
Liked this article? Here's what you can read next:
---
Disclosure: As an Amazon Associate we earn from qualifying purchases.