Last updated on April 6, 2023
Driveway gates are great for security and increasing your home's value. Here are gate options and alternatives you can use.
Actual driveway gate alternatives are hard to come by. There's not much you can do to close the driveway otherwise, other than maybe a simple chain. And that doesn't add any beauty to your home. But then again, you have many options for a gate.
Don't worry — we've compiled a list of gate options and alternatives for your home. You can go for solar-powered options that may be expensive but will save you money in the long run. DIY gates, on the other hand, don't cost much but provide the same security and beauty.
If you're still looking for other options, check out the list below.
Chain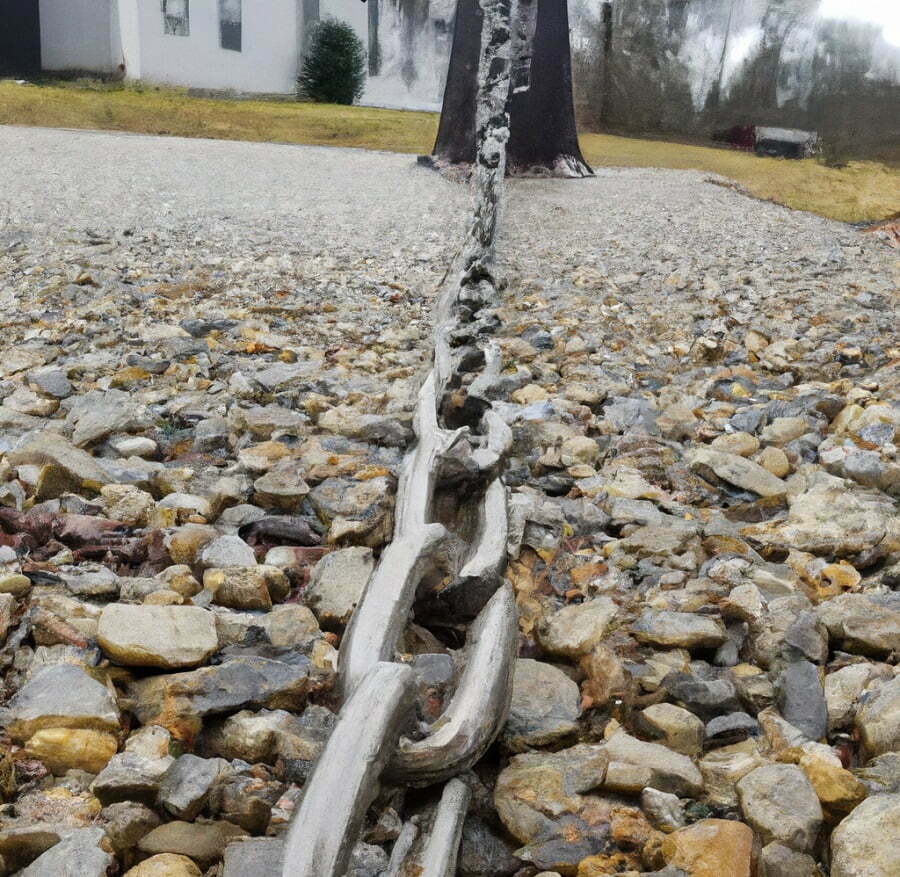 The most straightforward and affordable driveway gate is a chain placed across the entrance of your driveway. This will prevent drivers from using your driveway for parking or turning. In addition, the chain will indicate to any driver that this is private property so that nobody can access the driveway.
You will need two posts on each side of the driveway and a chain across it. The chain should be fixed on one end, while the other should have a hook to secure the chain to the other post.
If you want to take this idea further, you can build a gate with an automated chain lifting mechanism. You can do this by adding a small motor to one of the posts that would lift one end of the chain up and down. You can even control it with remote control.
Don't you like the look of a simple chain across your driveway? Use your creativity to paint it in different colors and add some curb appeal that way.
Steel Electric Gates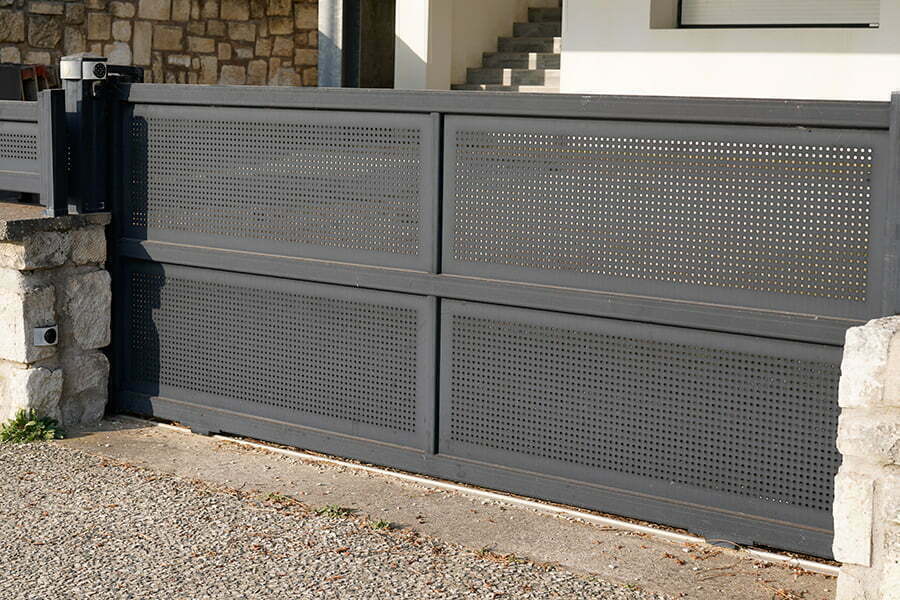 If you have a fence around your property and want to secure the driveway, consider installing a steel electric gate as a popular choice. This is a motorized steel gate that either swings or slides open at the push of a button. Some electric gates are remote-controlled, so you can open the gate from your car using your smartphone or a particular device.
Aluminum Electric Gates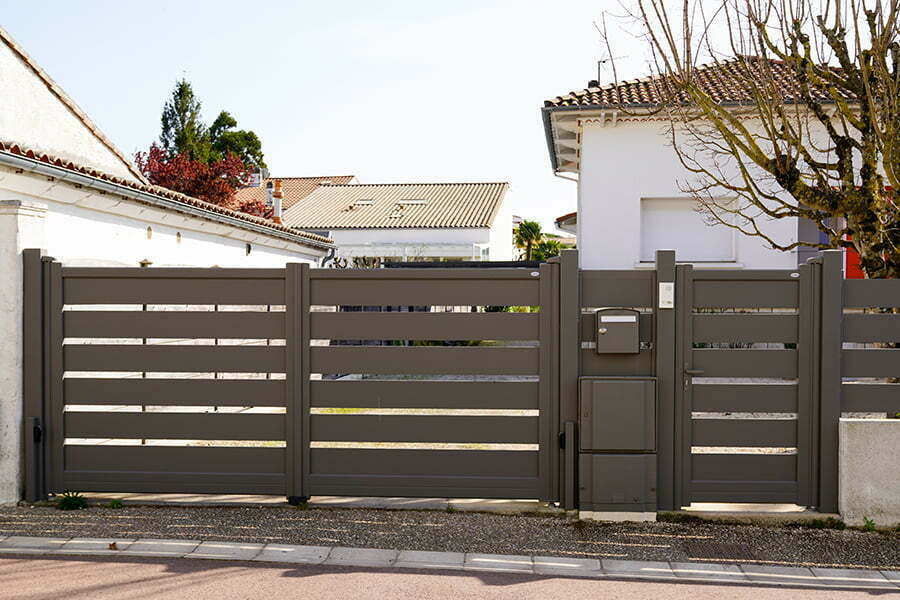 Aluminum is a lightweight metal that can be used to make electric gates. The lightweight is good news for you because it reduces wear and tears for the motor and bearings. In addition, metal gates can have different coatings to enhance the gate's appearance.
Vinyl Electric Gates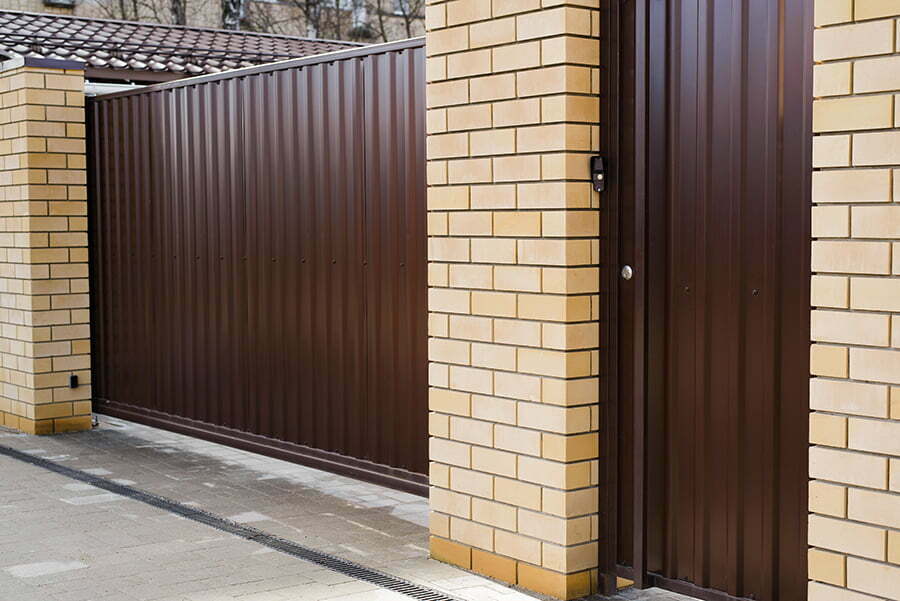 Vinyl is a lightweight synthetic material used to make automatic gates. It is light in weight and much cheaper than metallic gates.
Wooden Gates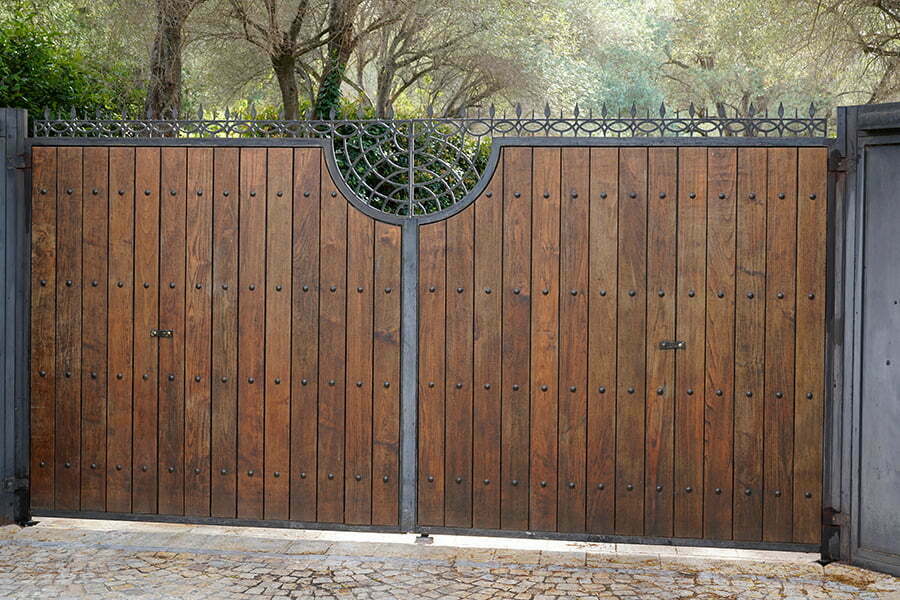 The wooden gate is one of the oldest types of gates still in use today. These gates come in various designs so that you can have low-lying gates for white picket fences and hedges. If you want a large, solid wooden gate, you can also order a suitable one to match your needs.
Wrought Iron Gates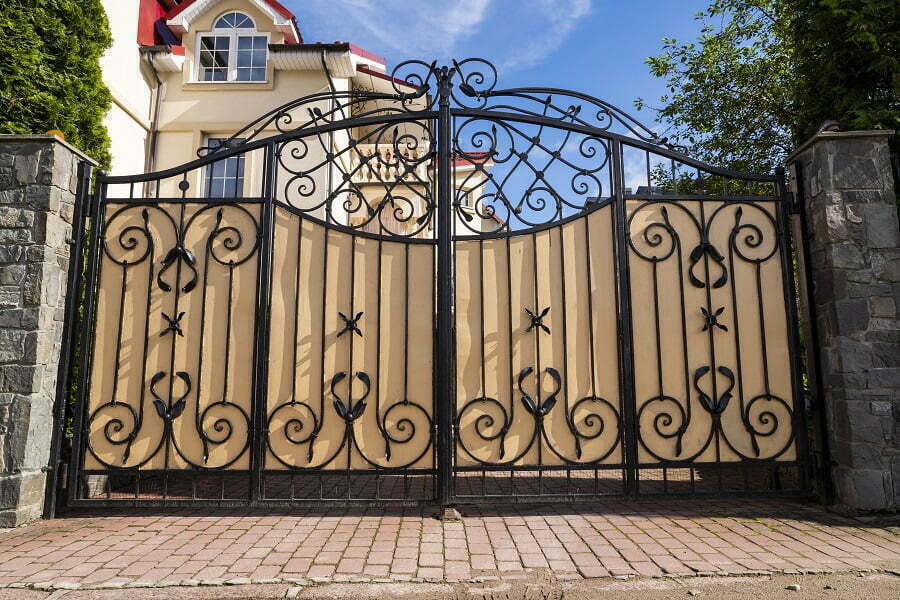 A wrought iron gate can add a unique flair to your property. These gates can have an intricate design or a simple design. Since iron rusts when exposed to moisture and air, painting must be done regularly to ensure the metal is not exposed.
Curving Sliding Gate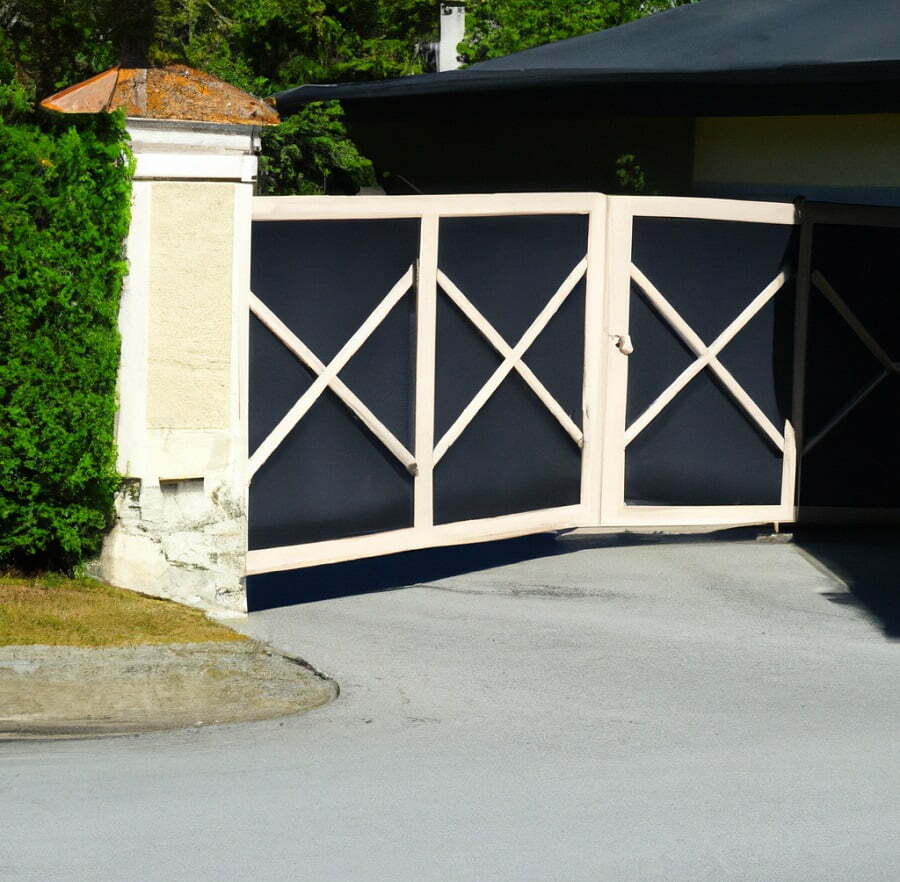 The curving sliding gate will be a great option if you have limited space that forces you to install a gate on a corner—this type of gate curves or bends and slides along the wall differently. Stone gates may even be curved and slide on a curved path.
Vertical Pivot or Lift Gates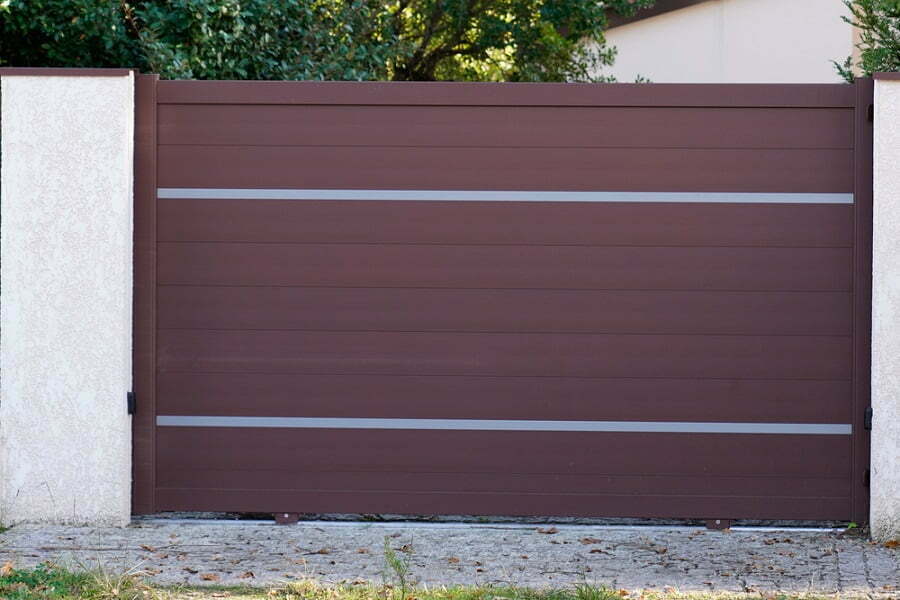 Consider installing a vertical pivot or lift gate if you have a short driveway and an enclosed garage. This can be made of metal or wood. This is an inexpensive option, but some intricate designs may cost thousands of dollars.
Sliding Gates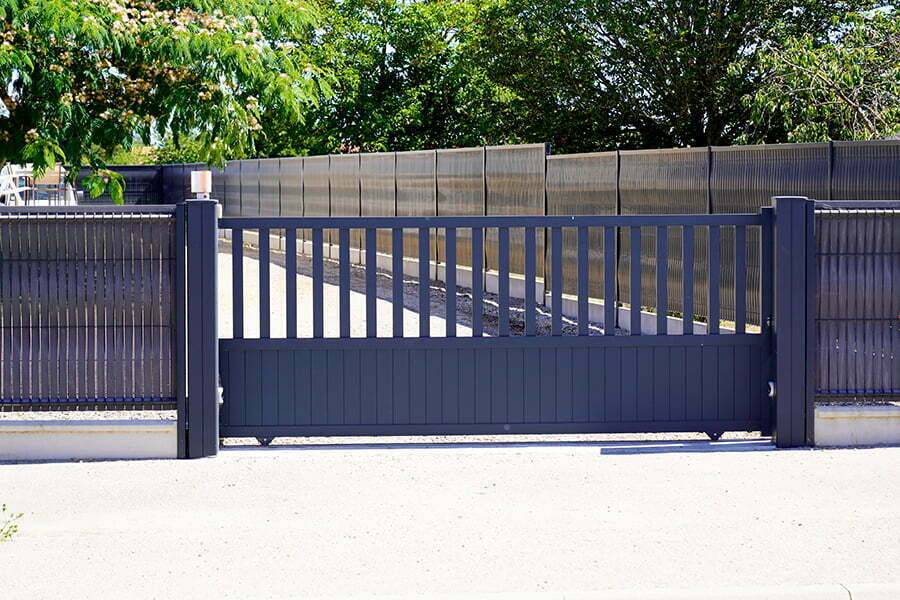 These gates can be made of wood or metal. They can also be automated or manually opened. Whatever the case, a track must be mounted on the ground and wheels installed below the sliding gate.
Bi-Fold Swing Gates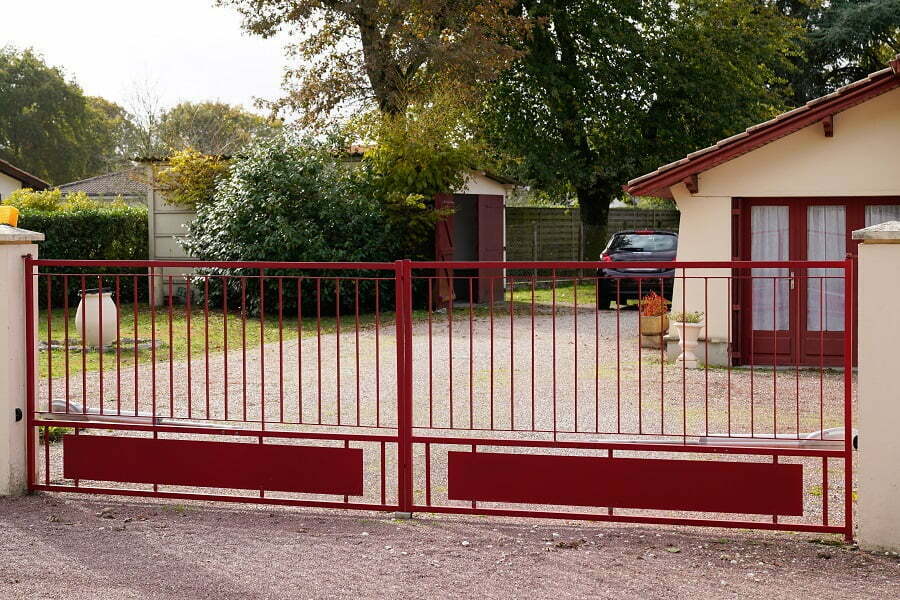 Bi-fold swing gates are similar to french doors. They are two halves that open and close simultaneously, just like french doors. However, they are more expensive to install than standard swing gates.
Rolling Driveway Gates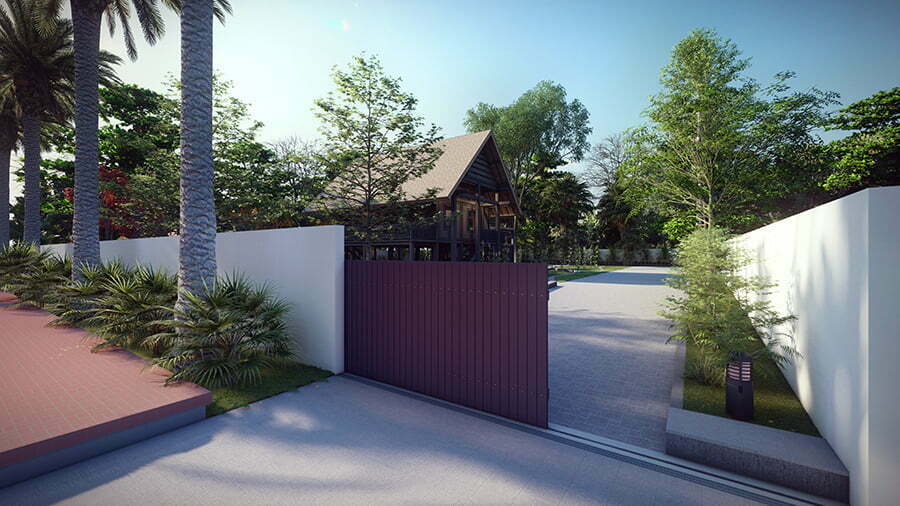 A rolling driveway gate is a sliding gate that rests on wheels, which roll on the ground to open and close the gate. The shutter is the same size as the gate opening, and its full weight rests on the rollers or wheels.
Solar Gates for Driveways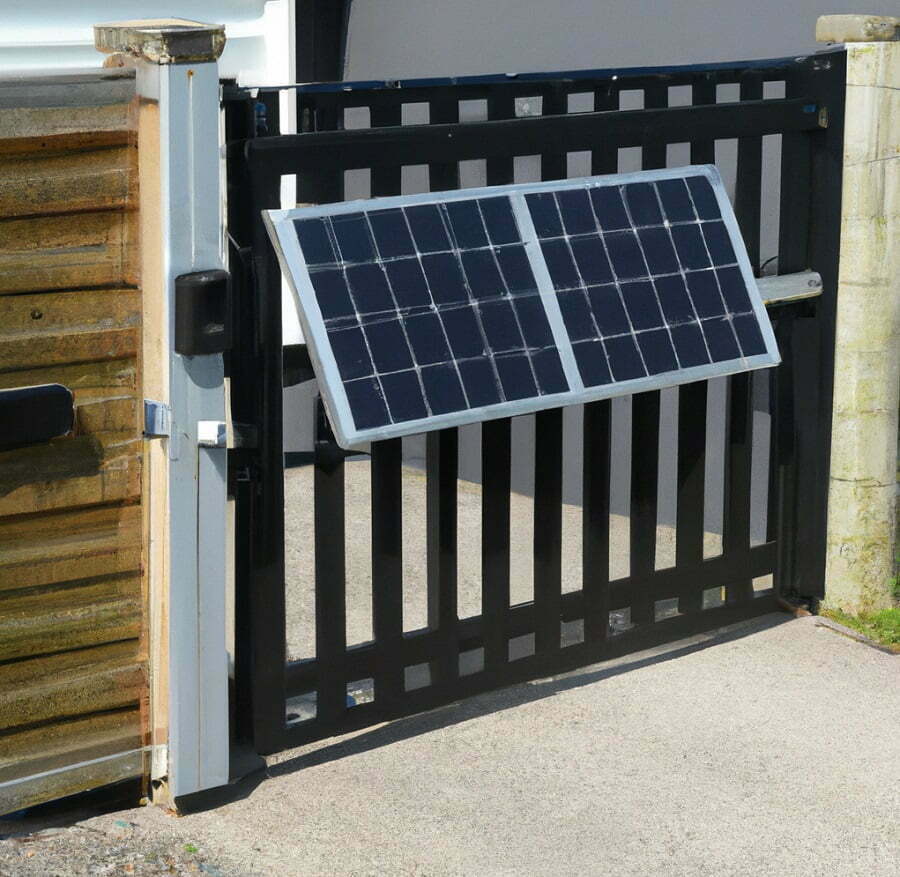 These are automated gates powered by solar panels instead of electrical energy from the grid. A solar power system is installed near the entrance to power the automated gate opening system.
Metal Driveway Gates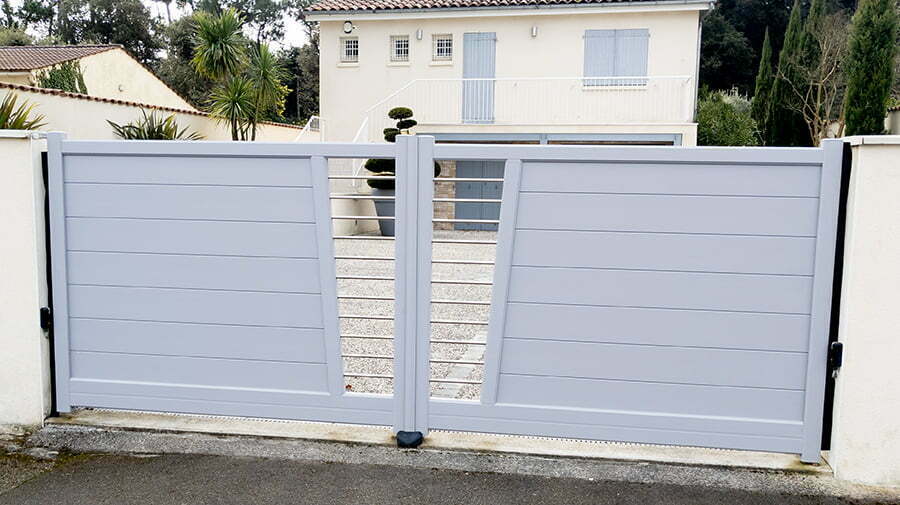 Most driveways gates are made of metal. The most commonly used metals are aluminum, steel, and wrought iron. These metals are strong and durable, which makes them appealing.
Custom Metal Driveway Gates
Driveway gates can be customized to suit the needs of the property owner. The size, design, opening mechanism, and decoration on a gate can all be adjusted to suit user needs.
PVC Pipe Gate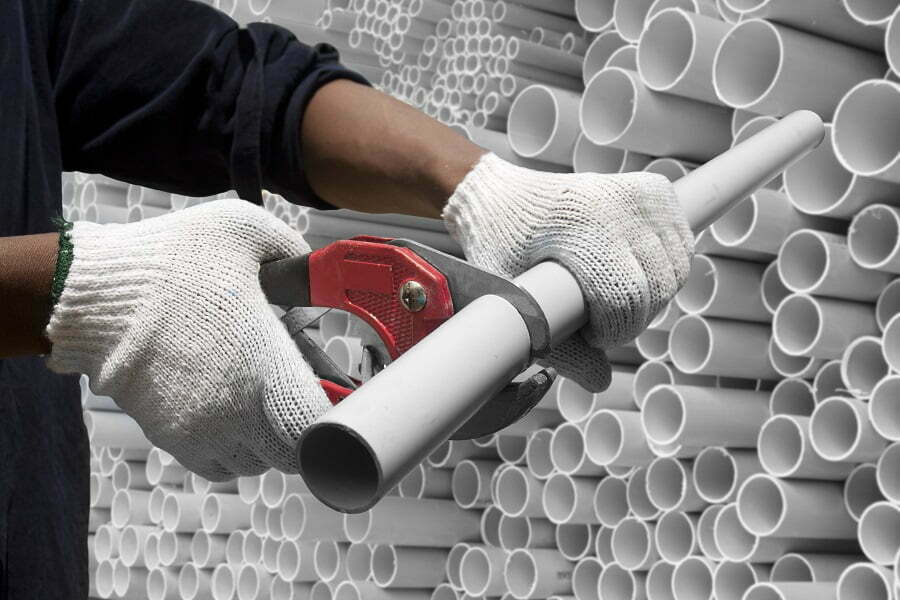 If you're looking for a cheap, lightweight, and durable gate for your driveway, consider installing a PVC pipe gate. This type of gate is also easy to repair and is resistant to the elements.
Cantilever Sliding Gate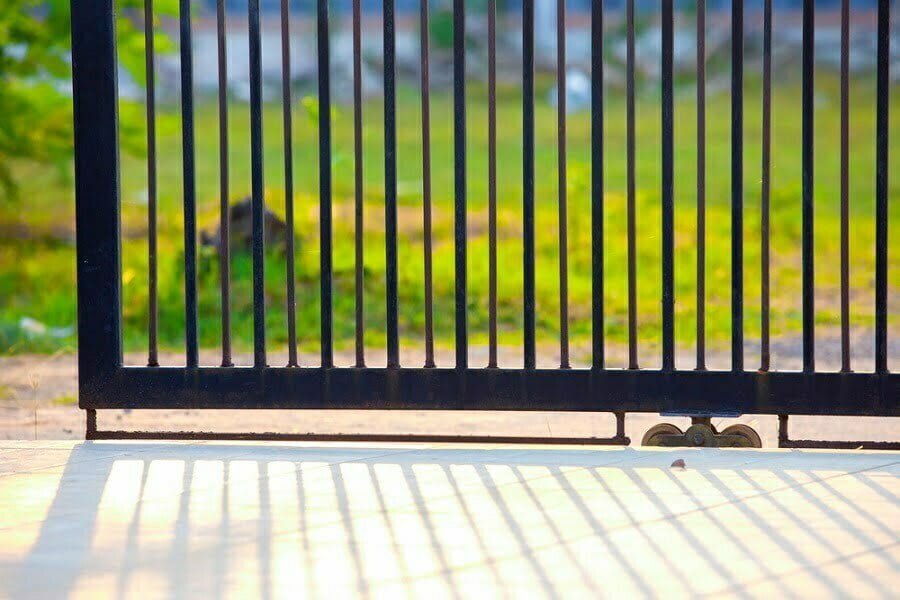 Many people wrongly assume that cantilevers and roller gates are the same. However, cantilever gates differ from roller gates in that they are longer (usually 50%) than the gate opening size. In addition, rollers are hidden along the wall so that no rollers can be seen at the gate's beginning.
Big Panels Driveway Gate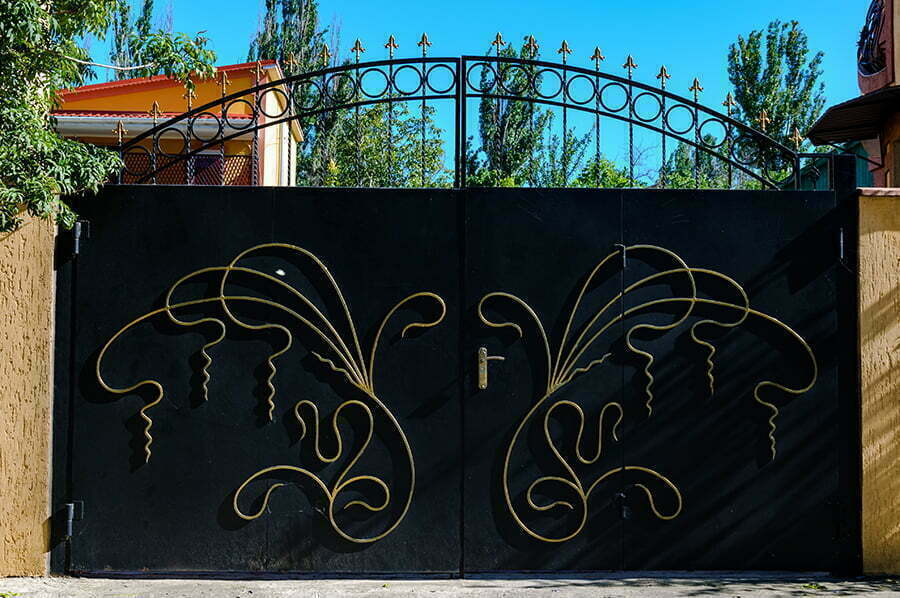 If you want a gate that enhances security and privacy, consider installing a large panels driveway gate. This can be costly, but the elegance it brings is worth it. The panels can be made of metal or wood, or both.
Mid-Century Wooden Driveway Gate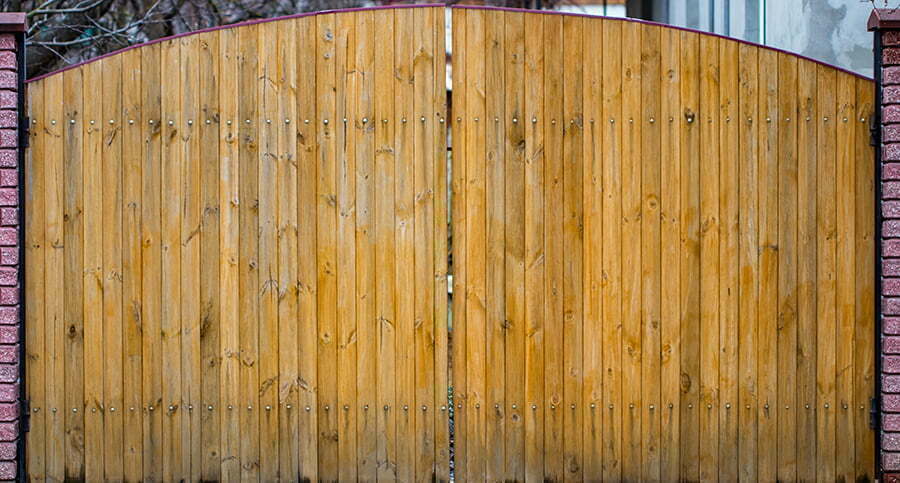 When you want to secure your driveway and add to the outdoor decor of your property, you'll have unlimited options. A wooden mid-century driveway gate will meet most of your needs.
Japanese Style Wood Gate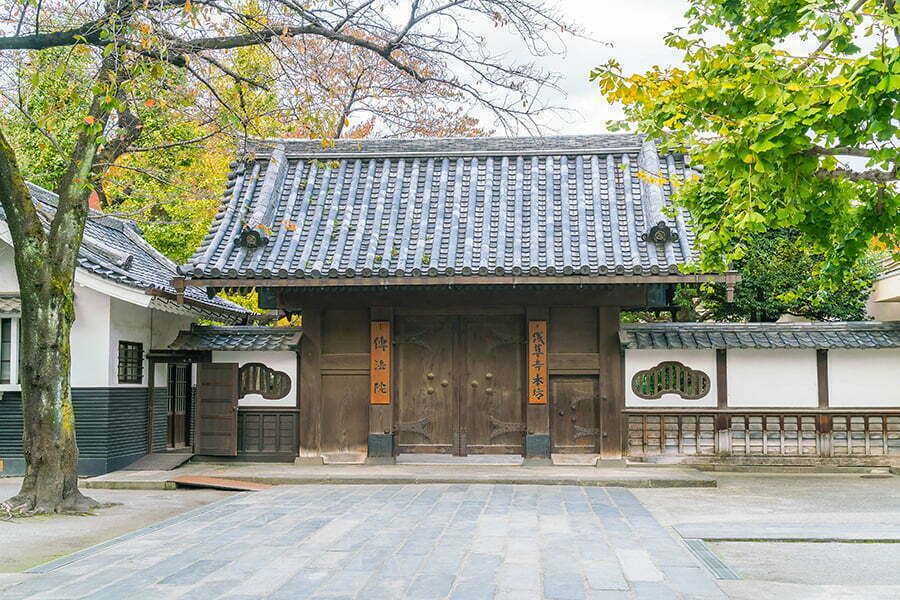 Wooden gates do not have to be simple or boring. With the Japanese-style wood gate, you can add some extra charm to your driveway. They come in various designs, so choose one that best matches your needs.
Timber Slat Fence and Gate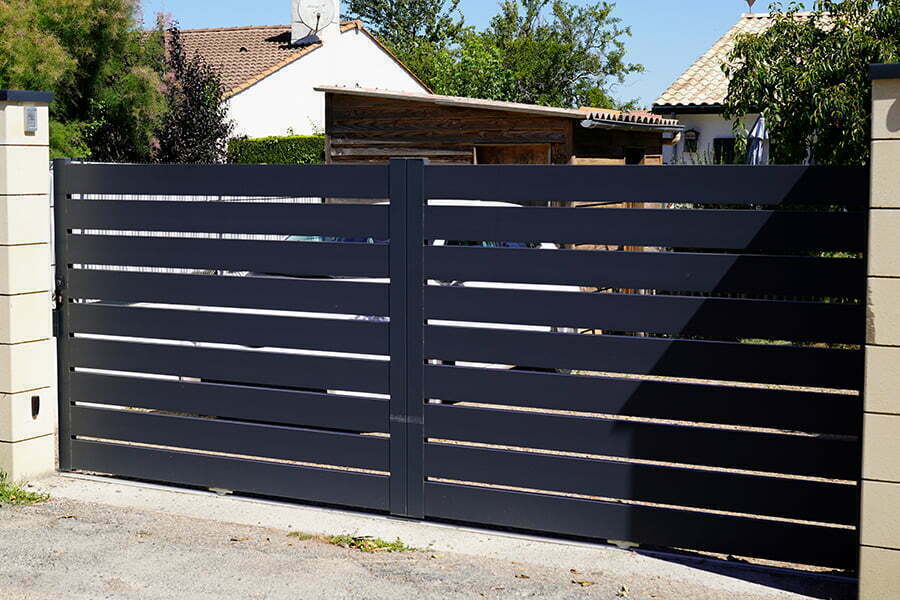 Consider installing a timber slat fence and gate to secure your compound and enhance privacy and exterior decor. The slats can be vertical or horizontal. Whatever the case, you can paint the slats or apply varnish to enhance the aesthetic value of the fence and gate.
Oak Driveway Gate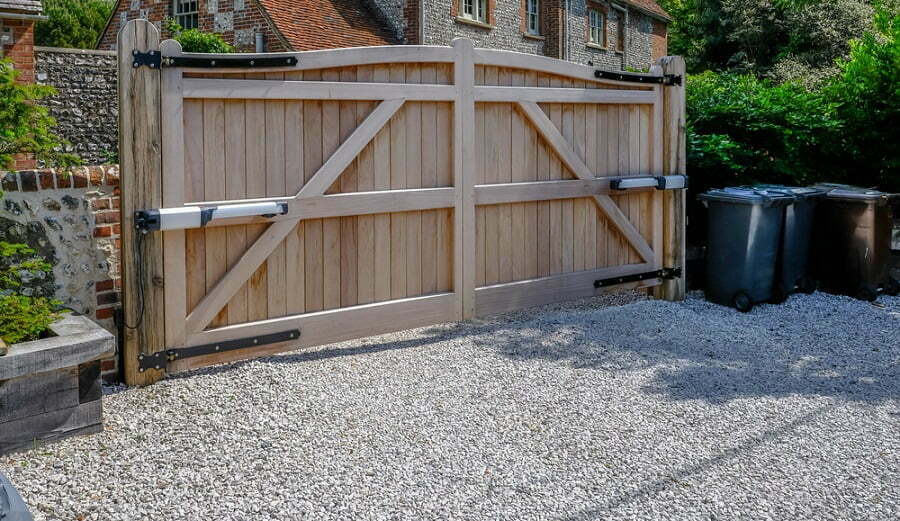 If you have a limited budget, you can install a wooden gate made of softwood, such as pine or cypress. However, if you want a durable wooden gate that looks great, a hardwood gate will suit you best. For this reason, you can decide to install an Oakwood driveway gate.
Rustic Driveway Gate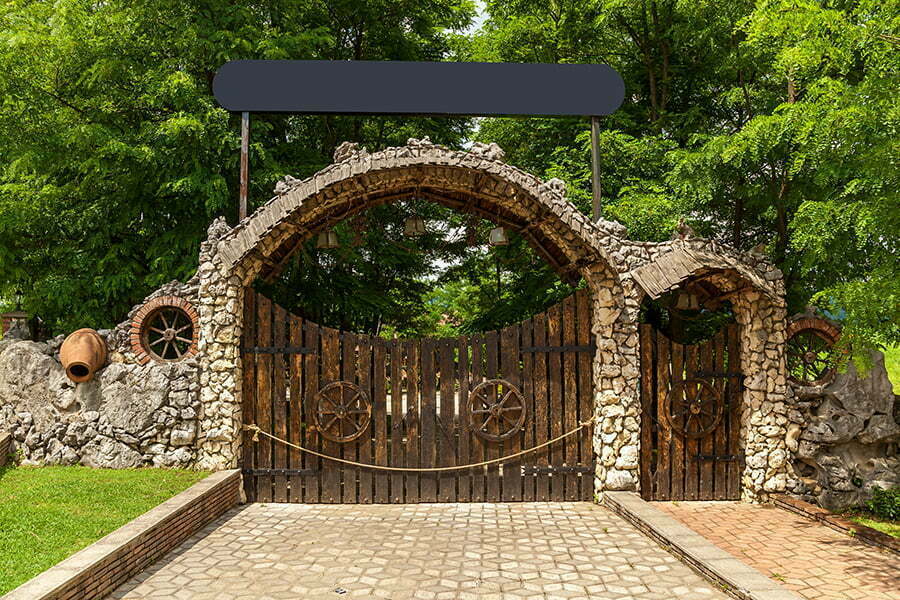 If you want a simple yet stylish driveway gate, be sure to install a rustic driveway gate. A rustic gate made of wood and metal will serve the purpose. Rustic driveway gates are cheap but can function just as well as others.
Tuscan Driveway Gate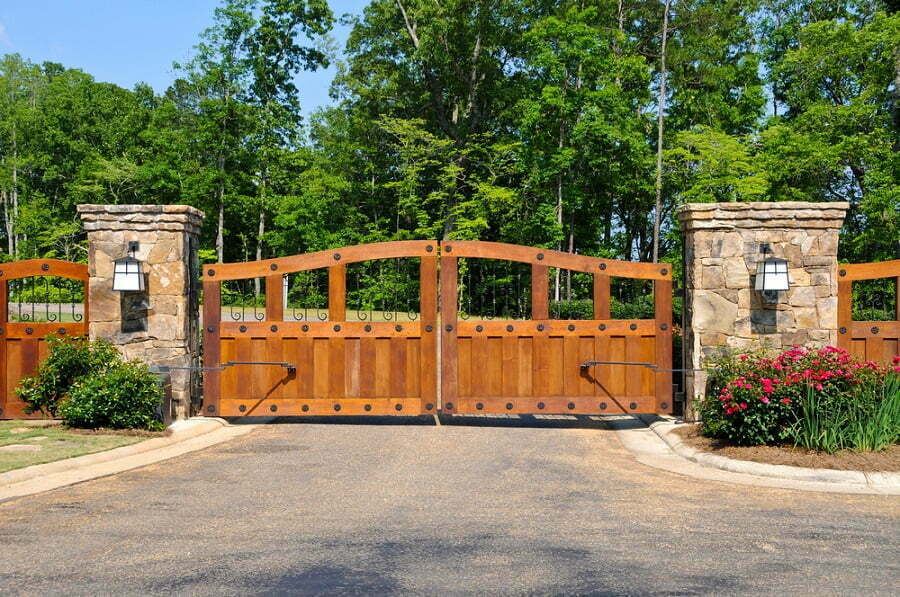 A Tuscan-style driveway gate is made of both metal and wood. It is supported on the sides by natural stone columns. Both the metal and wood are painted or finished to give the gate a sunbaked look.
Tuscan driveway gates are rustic, so they can be an excellent alternative to rustic driveway gates. Please note that these gates offer a lot of strength and durability.
Wood Panel Gate with Steel Frames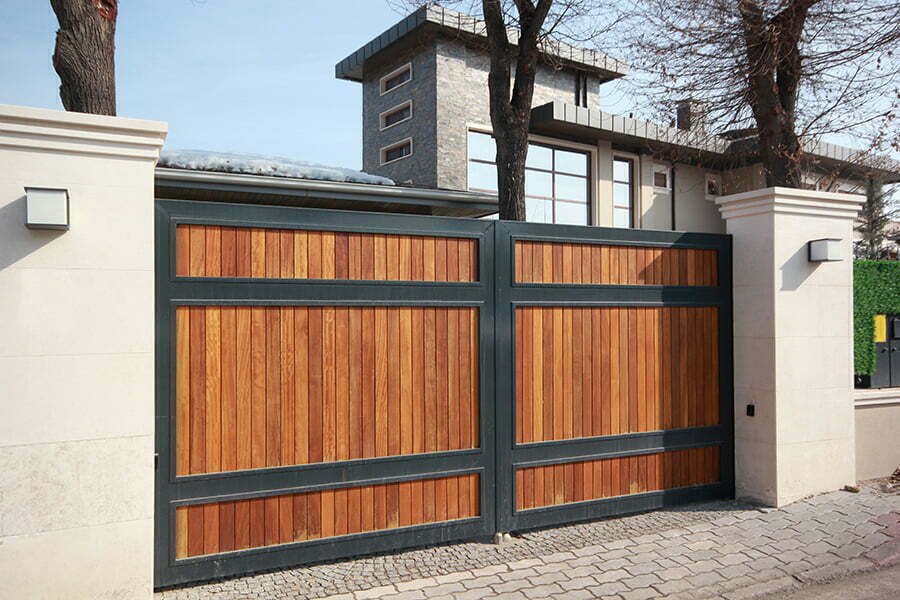 As the name suggests, these are gates made of steel framing and wooden panels. The gate frame is designed first, and wood panels are secured within the frame with metal rivets, bolts, and nuts. This allows you to have the best of both worlds.
The steel framing provides the strength and durability of metal. On the other hand, the wooden panels provide the versatility and style of timber. These driveway gates come in various designs, so you may want to shop around before placing your order.
FAQ
What is the cost of a driveway gate?
Driveway gates cost anywhere from $800 to $4,000+ depending on your select type. You should also factor in the installation costs. Automatic gates cost a lot more than their manual counterparts.
How long does it take to install a driveway gate?
Depending on the size and complexity of the project, it could take anywhere between two hours to several days. If you're looking for a quick fix, then you might want to opt for a DIY project. Otherwise, hiring a professional installer would be ideal.
Recap
Liked this article? Here's what you can read next: