Last updated on September 28, 2023
Here's how to build a driveway gate from scratch. We cover several ideas for different types of gates. Read on!
So your property has a driveway surrounded by a fence, but the entry is a simple gap. Or perhaps it's an ugly AF gate that you want to chop up for firewood? It's time to make a new gate the DIY way.
In this well-illustrated article (including videos) we cover several ways to build a driveway gate. From double swing gates to rolling gates on wheels. From gates with a simple latch to homemade automatic openers. You can make your driveway as fancy as you want or leave it as simple as a weekend project.
Come on now, the gate won't build itself!
How to Build a Driveway Gate
Building a driveway gate is a project that requires advanced woodworking skills. So if you're going to do this project, you have to hone in on our skillset. We would not recommend taking on such a project if you're only a beginner.
Before even starting to cut the wood, you need to make sure you plan your design from the get-go. Consider the following:
The shape of your driveway. Are there any slopes, holes, or raised ground? Consider the obstacles the gate will have when opening and closing. You may need to build a raised gate to overcome them.
The width of the gate and the distance of the columns as well as their height.
The materials you will need (the kind of wood).
What is the Best Wood for a Driveway Gate?
The wood you use has to be durable enough to withstand the weather as it will be used outside. These are the types of wood that are well suited for this:
Building a Driveway Gate
Other materials you will need for the project:
Galvanized metal plates/straps for strengthening.
Wood screws
Wood glue
Wood stain/paint
A typical gate consists of stiles, bottom, top, and middle rails (see the plan further below). You will start by making them:
Measure and cut the stiles, bottom, top, and middle rails from your chosen wood.
Put the frame together with wood glue and screws.
Cut and insert the boards into the frame. Secure them with glue and screws.
Strengthen the frame by attaching galvanized metal plates on the joints.
Add metal straps on the edges.
Install the gates on the posts.
We will go into more detail of different steps of making driveway gates, as well as a few types of them.
DIY Driveway
The driveway is the foundation for the gate. We wouldn't be talking about this project without it. So let's talk about the DIY considerations for one.
For a successful DIY driveway project, consider your budget, aesthetics desired, shape, dimensions, local regulations, and maintenance.
Gravel is the cheapest material for a DIY driveway project. Alternatives for gravel include concrete (how soon can you drive?), asphalt, and paving stone.
It's an expensive project because it involves not only materials (of which you need literally tons), as well as hiring heavy equipment paid per hour. Using recycled materials (such as crushed asphalt or concrete) can reduce the cost.
Driveway Gate Ideas
Driveway gates come in many options, types, and styles. But the main criteria when choosing your gate is the material and function.
Consider using classical columns to make your driveway gate a bastion of curb appeal and a subtle suggestion of what lies beyond. Stone pillars will enhance the appearance of your driveway gate.
Victorian scroll-work or country wood will make your driveway gate a work of art.
Wooden Driveway Gates
Wooden driveway gates can have custom iron decorative details or arches. Cedar and mahogany are the best materials for wooden driveway gates. The wood can be stained to suit the surrounding landscape.
A simple rustic wooden driveway gate will look great with farm property. A black wooden driveway gate is a good choice. It can be matched with pedestrian entry.
Wooden Gate Plans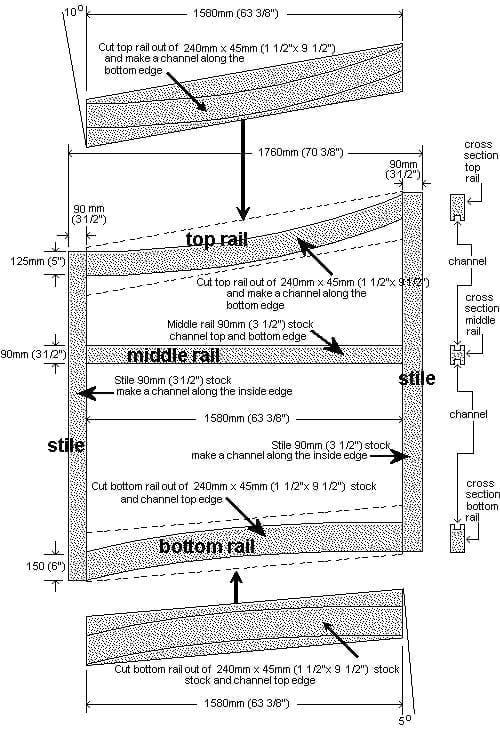 A wooden gate plan will stipulate the post size, post depth, post spacing, and hole size among other issues.
A classic New England wooden gate plan will add a beautiful accent to your garden.
Solid board wooden gate plans involve using heavy-duty hardware that provides the gate with much-needed strength.
Metal Driveway Gates
Thicker infill bars and deeper frames will give a metal driveway gate a sturdy looking finish and durability.
The best metal driveway gates have drop bolts, opening/closing latch, adjustable hinges, and a great finish.
Decorative Metal Gates
Introduce your home in style with a marvelous wrought iron driveway gate. This will offer you security, privacy, and curb appeal.
Driveway Fence Ideas
The most popular fences for driveways are wooden and metal fences. These materials can be combined too. So you can have a metal fence with wood slats, for example.
But more modern options are available too. You can make your driveway fence using fiberglass or traditional 2×4 boards. You should choose a material that complies with local building codes.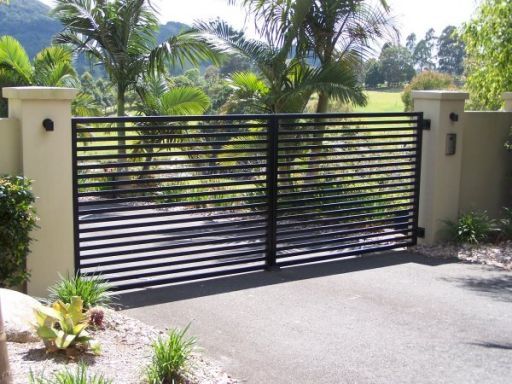 Make your driveway fence unique using a combination of white concrete and black horizontal steel slats.
Rustic inspired fences are among the trendiest driveway fence ideas. In many places, the maximum height for a driveway fence is 3 feet.
Gate Installation
Gate installation is an important part of the process. You'll want to pay as much attention as you do building the actual gate. Gate installation can take you as little as 2 hours or over 6 hours. It depends on your skill level and the complexity of the job.
Before gate installation, you should plan and select your gate. You should plan the type and size of the gate for your driveway. Planning is key.
Here's how the installation goes in a nutshell:
Align the gates (if they are double-swing). Make them steadfast with boards of wood that span the length of both of them. Use clamps to secure. They will have to remain aligned until you fully install them. This way you are making sure they are properly aligned when they are fully functional.
Install the hinges on posts at the required height.
Alight the gates to the required height and clamp them to the hinges.
Fix the hinges to the gates and remove the clamps.
Gate Hardware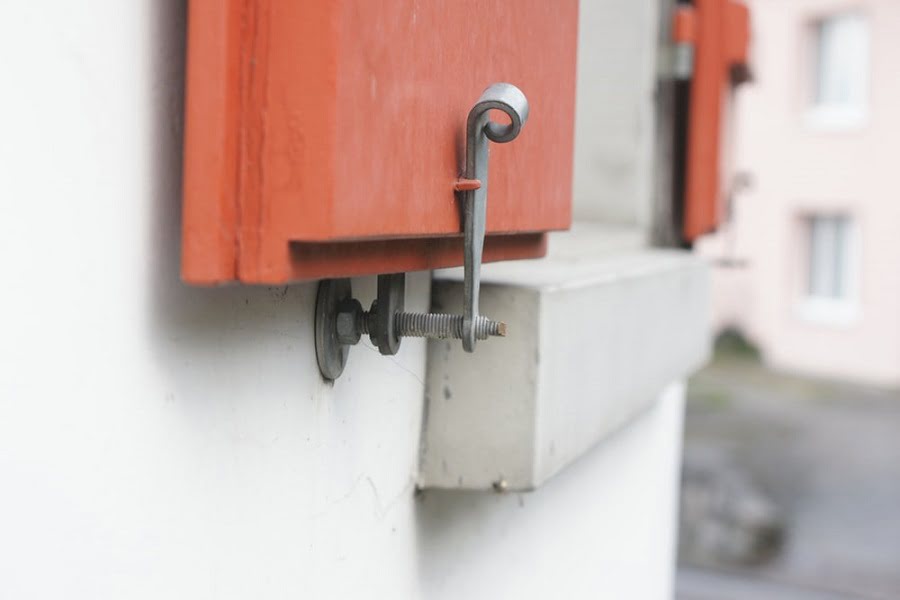 The gate isn't finished until the hardware (latches, drop rods) aren't installed. Here are the possible add-ons you may need:
A simple latch to hold the gate closed.
A strip of wood that would prevent double swing gates from wrapping.
A drop rod to lock the gate into the ground.
A latch to hold the door open.
Gate locks.
Automatic gate equipment.
Home security equipment.
Tools and materials needed for gate installation include concrete screws, an angle grinder, and a power drill, among others. Site preparation is an important part of gate installation.
Types of Gates
How to Build a Double Swing Gate
A double swing gate is a little different from building a regular gate. In essence, it only takes double the work to build the actual gates. However, there are some important key aspects to be aware of:
Careful measurement and alignment are necessary to ensure that each swinging gate meets evenly in the middle of the gateway.
The gate posts should be sturdily set to support the weight of the dual gates.
The gates need to be the right size for the opening.
Driveway Fence Gate
You can consider this the easiest gate to build as it doesn't have to be anything fancy. All you need is an entry through the driveway fence which can be an extension of it.
For a nostalgic look, consider using a white picket driveway fence gate. This is as vintage as it gets.
A cedar fence gate is a perfect entryway to your home. It will provide a great first impression for your home.
The average cost of installing a driveway fence gate is between $14 and $50 per linear foot. The total cost of the project will depend on the materials used and gate add-ons.
How to Build a Sliding Gate
The main advantage of a sliding gate is that you can make it as wide as you need. There's no extra space or support for the gate needed like with swing gates.
You will need to build the gate panels using aluminum or pre-galvanized steel. You can cut aluminum using a drop saw fitted with an aluminum blade. You will need an angle grinder to cut steel.
You can make the top rail line up with the fence rail or it can be at the top of the gate.
The gate should sit about 50 mm off the ground. The gate wheels and track will be set up into the bottom rail.
How to Build a 12-Foot Wooden Gate
The key to building a gate this wide is making sure it will not sag. So it is important to ensure all joints of the frame are reinforced.
The main tools and materials needed for the project include hinges, screws, jigsaw, compound miter saw, power drill, and a screwdriver.
A wooden gate requires a frame with four sides. The frame should be about an inch smaller than the gate opening.
Building the gate involves cutting the frame pieces to size, screwing in the top and bottom planks, and installing planks.
This involves designing the top of the gate, installing hinges, attaching the gate to the fence, installing a gravity latch, and sealing the wood.
How to Build a Strong Wood Gate
To build a strong wood gate, you need to make sure the fence can support a gate. The gate should not be greater than 4 inches in width. If it is wider, you need to build two gates that will meet in the middle (double swing gates).
A strong gate needs a strong anchor. You should anchor the posts in such a way that they will not wiggle with weight.
Heavy-duty fasteners and strong joints will make the gate to be strong. You should use rot and corrosion-resistant materials.
How to Build a Rolling Gate
A rolling gate is the easier version of the sliding gate. You can turn any gate into a rolling one by adding wheels at the bottom and installing a rail.
Arrange the wood pieces that make the layout for the gate. Turn the gate upside down and attach two rolling wheels. Attach the gate to the post using two hinges.
Homemade Gate Opener
You don't need to purchase an expensive Wi-Fi enabled smart gate opener. You can build a homemade gate opener for under 50 dollars.
You can adapt a cheap garage door opener to operate the gate. A motor will be needed to power the gate opener.
FAQ
How to build a 20-foot driveway gate?
For extra wide gates use a sliding gate. If there's enough space for swing gates, you can opt for metal double-swing gates too.
How much does it cost to install a driveway gate?
A manual gate costs on average $2,500, an electric gate will cost you about $7,000. The cost will be higher or lower depending on your location.
Does a gate increase property value?
It will definitely increase your property value. You can expect an increase of about $50,000.
Recap
Liked this article? Here's what you can read next: