Last updated on May 6, 2022
These DIY firewood shed ideas will allow you to store your firewood outside safely. They will actually look good in your backyard too.
Building a shed to store firewood outside in your backyard is a great way to save a lot of money. You're not tied to a builder's schedule too if you're doing it yourself. The cost of such a shed will depend on the size of it and the materials you use to build it. According to Home Advisor, a shed would cost $485 on the low end. However, firewood sheds tend to have lower requirements and thus cost significantly less.
What's Inside?
How to Build a DIY Firewood Shed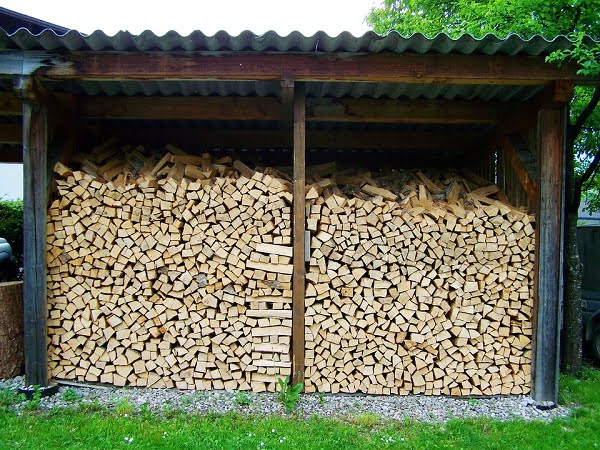 A four-pole shed with a cover is simple to build, especially if you have leftover or reclaimed lumber to work with. You can draw up a sketch quite easily and build a basic structure. However, there are a few things you need to consider:
The best way to keep firewood is to have all sides of it exposed to air. This prevents the moisture from collecting and the wood rotting away. The firewood dries faster this way too.
The shed itself has to be elevated a few inches above the ground for the same reason.
You should cover the stack of wood with a tarp but only after it's dried. A proper shed cover helps to do it.
If you build the shed against a wall of your house, make sure to leave a gap. This is to leave room for air circulation and to prevent possible insect infestation.
This EPA flyer will come in handy.
Having these basic guidelines in mind, let's go over several specific ideas for outdoor firewood storage shed.
Firewood Storage Shed with Plans
Reclaimed lumber, old pallets, and recycled roofing make this project an ideal low-cost DIY firewood shed. It's a nice challenge to take on if you already have some experience building simple furniture and structures. Read the link to learn how it's done.
Porch Firewood Rack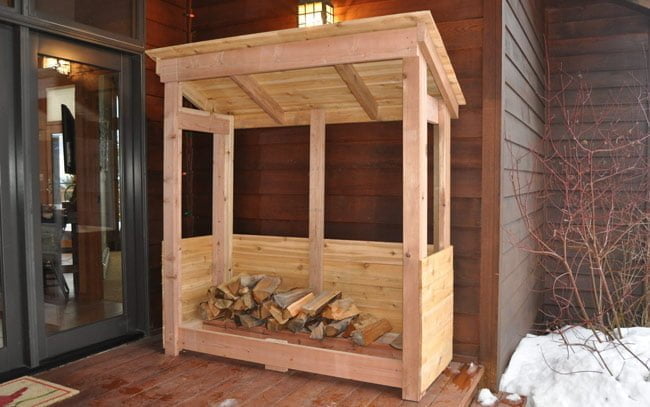 More polished storage shed that uses regular 2x4s and 2x6s. Tools required include a miter saw, an orbital sander, a drill, and an orbital sander. It will be easier if you have clamps and a circular saw. See the article to see the entire details.
Post and Beam Shed
This basic post-and-beam shed should be big enough to store firewood for winter and keep them dry. It mainly features cedar slats and posts, shaped using a chisel and a circular saw. Keep your stack of firewood from getting damp by building this simple enclosure. Check out the tutorial to find out how it's done.
Shed by the House
Having the right tools and materials is not enough. You need to be strategic in shed placement, ventilation, rain redirection, snow control, and flood avoidance for long-term usability. If you want to go big, then use an outside wall to stabilize a large shed and create multiple layers and separations to create neat piles of wood such as this one. Follow the article to see how it's done.
Small Wood Storage
Here is a two-layer shed with the bottom for large wood chunks and the top for small kindling. It was mainly built from old picket fencing, but plywood can be a good substitute. Follow the tutorial to learn how it's done.
Outdoor Rack
This shed is made up of red cedar except for the bottom, which has pressure-treated wood for better durability, and the second layer, which uses plywood for separation. Follow the tutorial to learn how it's done.
Elevated Storage
True to the DIY ethos, this shed uses hollow cement blocks for foundation and scrap plywood for roofing. This barebones storage solution can be completed quickly with basic tools. See the link for the complete set of pictures in every step.
Liked this article? Here's what you can read next: