Last updated on January 11, 2021
Looking for a space heater for your home? These space heater picks for the top 10 best-rated heaters of 2021 will help you choose.
► Our top choice: this ceramic tower heater.
A space heater has saved me a lot of times when a heated blanket couldn't. I used to live in an apartment with central heating, but they would always delay turning it on until the cold was unbearable. A small fan heater would only have to run 3-4 hours on a medium heat setting to make it comfortable. It barely made a dent in the electricity bill. It made me happy.
But which space heater is the best? That's a good question, and we aim to answer it. We've gone ahead and examined hundreds of options available to find only the best heaters for different uses. So whether you need a heater for your home, office, bedroom, or you need a mini portable version, you'll find everything on this top list.
We cover these three most popular types of electric heaters:
The ceramic heater uses a ceramic heating element and a fan to distribute warm air.
The oil heater is a conventional radiator that uses electricity to heat an oil-filled buffer. It doesn't use a fan and radiates heat.
The infrared heater uses an infrared panel to heat objects instead of air.
All of these types of heaters have their pros and cons. The best is only determined by the quality of the product, extra features, and its use case.
For example, radiant heaters are silent, but a ceramic heater with a fan is much faster. Radiant heaters are more efficient in smaller rooms while fan heaters can quickly fill up larger space with warm air.
The boring mandatory note: we get a commission for our shopping links, and they cost you nothing extra. We hope you'll find them useful.
What's Inside?
Ceramic Tower Heater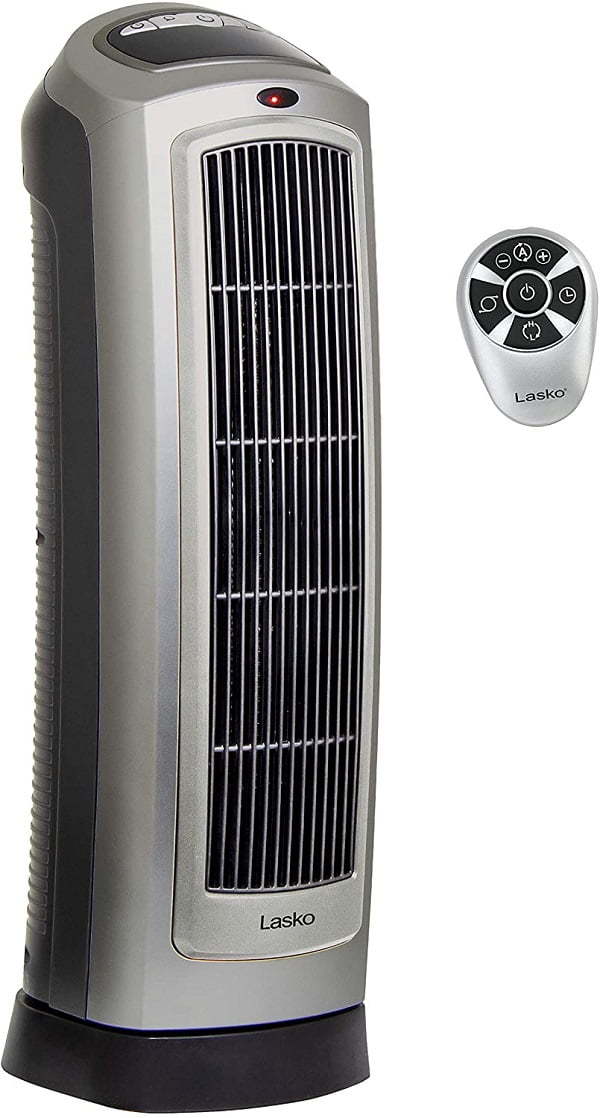 This is our editor's pick because it's all you need in an excellent space heater at a bargain price.
This tower-style ceramic heater has the one option that everyone can really use in their space heaters – a remote control that allows you to dial your temperature up or down without getting out of the comfortable nest into which you have snuggled. That's a real comfort. Other than that, it's a great 23-inch heater with an elongated ceramic element and air blower.
Why it's our choice? It's compact but can heat even larger spaces. The remote control makes it so much easier to operate. Thousands of positive reviews on Amazon confirm our choice.
Mini Space Heater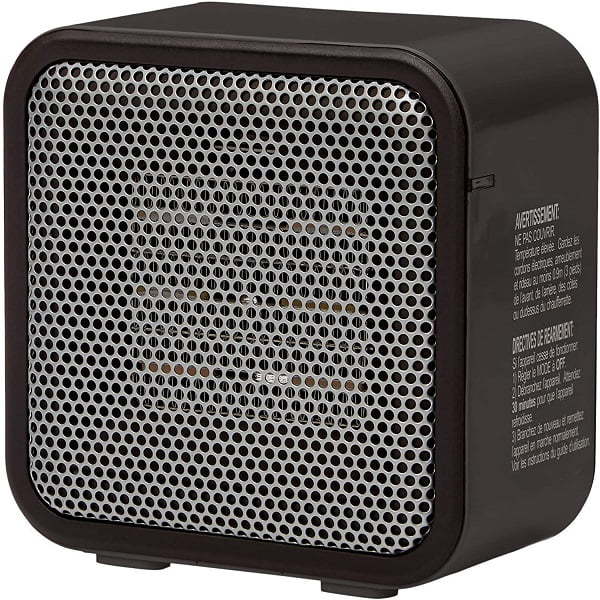 This cute little heater is another one that would be perfect for the corner of a workstation. Its low profile can easily fit under any desk without worries about it damaging the surface. Plus, that compact design is perfectly engineered against tip over if you happen to nudge it by accident. To give you an idea of its size, it's as big as a large coffee mug.
Why did we pick this space heater? As a personal compact space heater, it's quite efficient. Get it if you want a little companion that removes the chill from your space fast.
Space Heater for Bedroom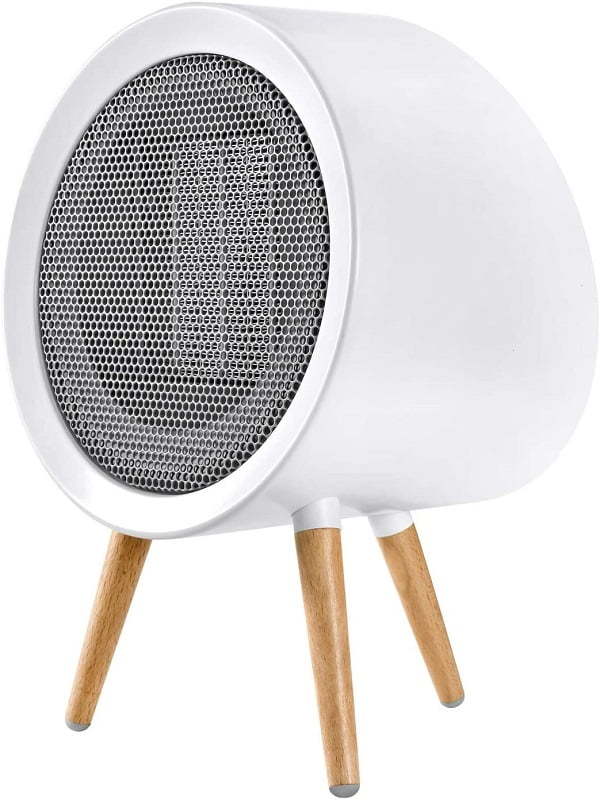 This attractive little space heater is ideal for heating any small room, such as a bedroom or bathroom. It has heating settings up to 1000W and evenly heats space while still being very quiet. The wooden mid-century style legs are a gorgeous touch. And even if the heater tips over, the safety switch turns it off instantly.
Why do we like it? As a compact space heater, it's very powerful and heats up any average bedroom in no time. Its attractive design makes it a desirable gadget.
Portable Space Heater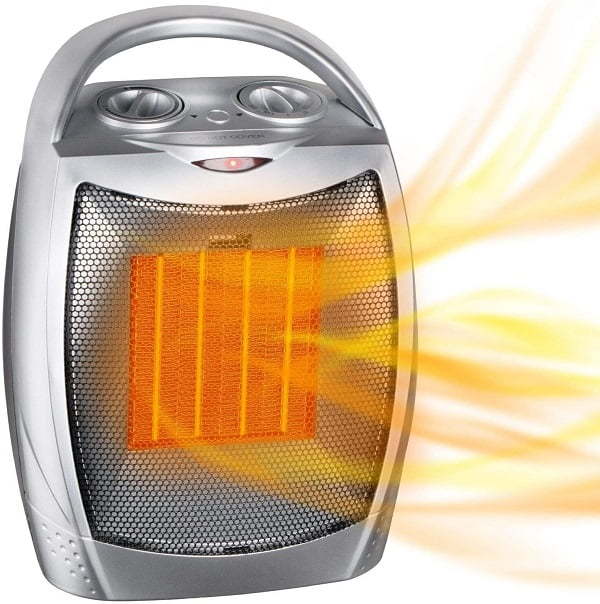 Sometimes you can get so busy that it becomes easy to forget that you have a heater on. In that case, this is the perfect model for you since it features overheat protection and an auto-shutoff feature that will remember to shut things down even if you don't. It's portable so you can take it with you anywhere (indoors). It is also equipped with a fan and thermostat, making it useful in summer as much as in winter.
Why choose this space heater? It's a very compact portable heater that takes little space (but heats it nicely) and you can keep it on a table, as well as use it in any season.
Electric Space Heater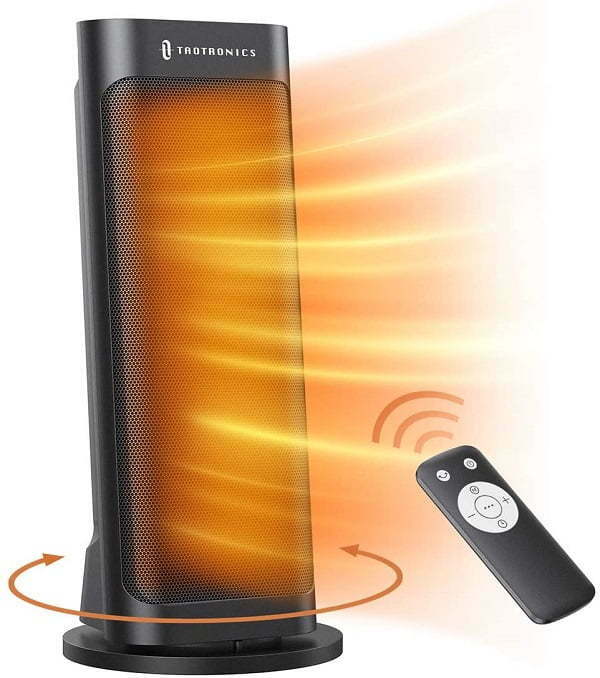 This compact (it's 18 inch tall) ceramic oscillating heater can miraculously heat even larger spaces. It's fast too as it heats in just 3 seconds. The unit is equipped with remote control, 3 heating modes, timer, safety auto shutoff features, so it's a well rounded product.
Why it's our pick? It's one of the most powerful electric space heaters, yet it's one of the smallest too. A great portable option.
Infrared Space Heater for Large Rooms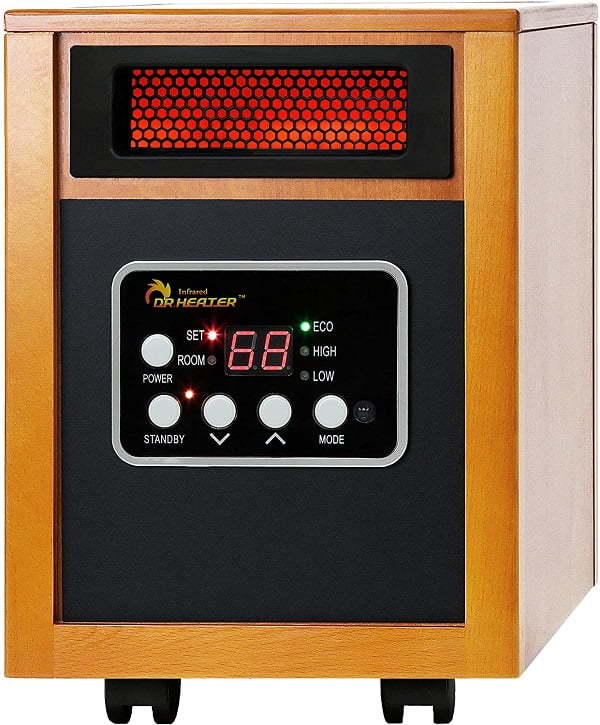 It looks vintage but it works wonders. Even thought this unit is only as power consuming as most other heaters (up to 1500W) it's able to heat much larger spaces because it uses infrared heating. That simply means it heat objects, not air, much like the sun does. This allows the unit to reach far and wide in large rooms. Other than that, it's packed with much of the same functionality and safety features as most space heaters.
Why it's our choice? If energy consumption is your concern, this space heater will do the trick. Its infrared heating function enables a much higher efficiency.
Oil Space Heater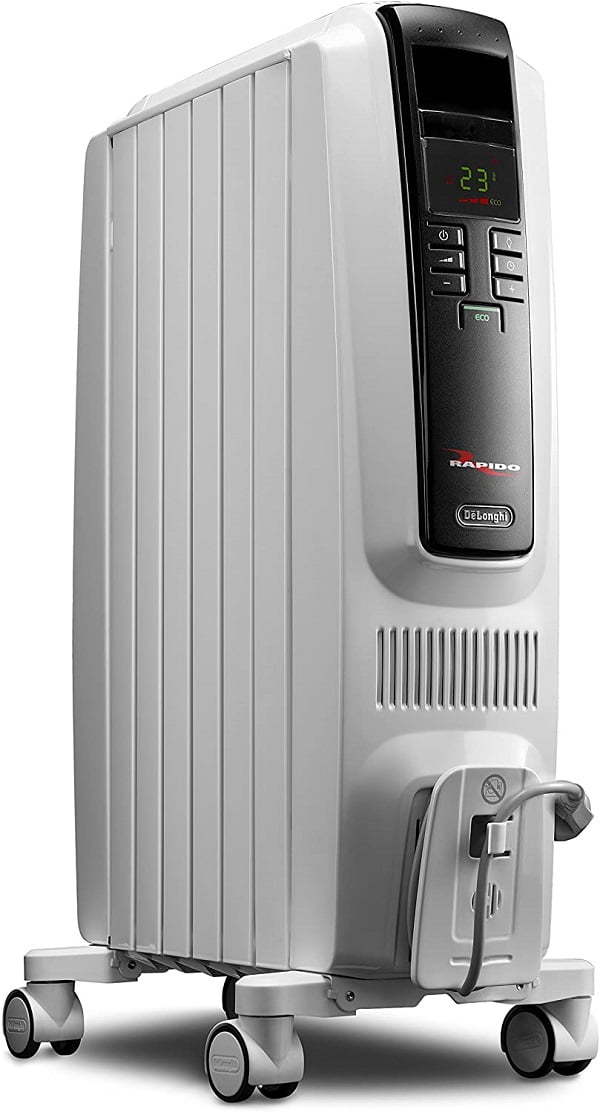 The specifications of this heater are listed to cover 144 square feet area, so it's a small to medium area. It's about 5000 BTU on high setting. It's enough to warm space. As a radiator it doesn't need oil changed, it stands there in the corner quietly (basically no noise.) The design is sleek modern and quickly becomes part of the decor.
Why it's our pick? It's portable and efficient. And it doesn't bother your home decor in a sleek modern design. Great radiator space heater option.
Eco-friendly Ceramic Space Heater

This unit is ideal for green homes. Mainly when you first feel a chill, you may need an extra burst of heat to get warm. Afterward, just a little bit of constant heat will allow you to maintain your comfort level. This eco-friendly programmable thermostat unit fits the bill perfectly on all counts.
Why it's one of our picks? It's a great eco-friendly multi-functional space heater for any room in the house.
Desktop Ceramic Heater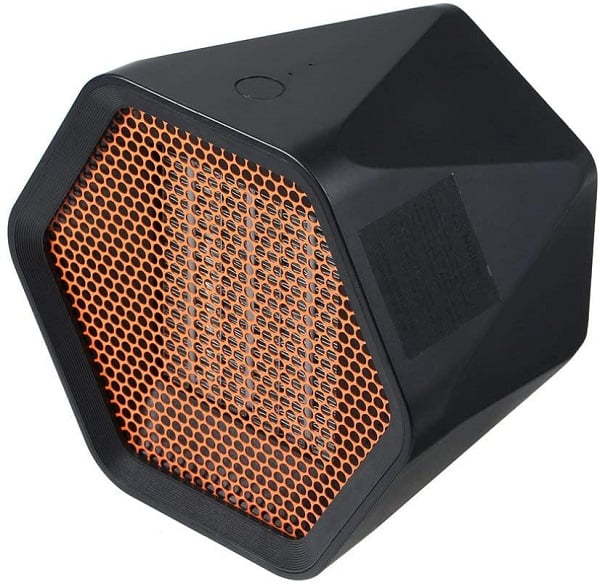 Don't be fooled by the size of this little fella. It's ideal for your desktop and it will provide the heating you need at up to 1000W power. That's quite a lot for a typical workspace so you will seldom use it on high setting. It's attractive and safe — a perfect desktop accessory for cold and long winter work nights.
Why it's on the top list? It's a surprisingly small and surprisingly effective space heater that you can take with you anywhere.
Designer Space Heater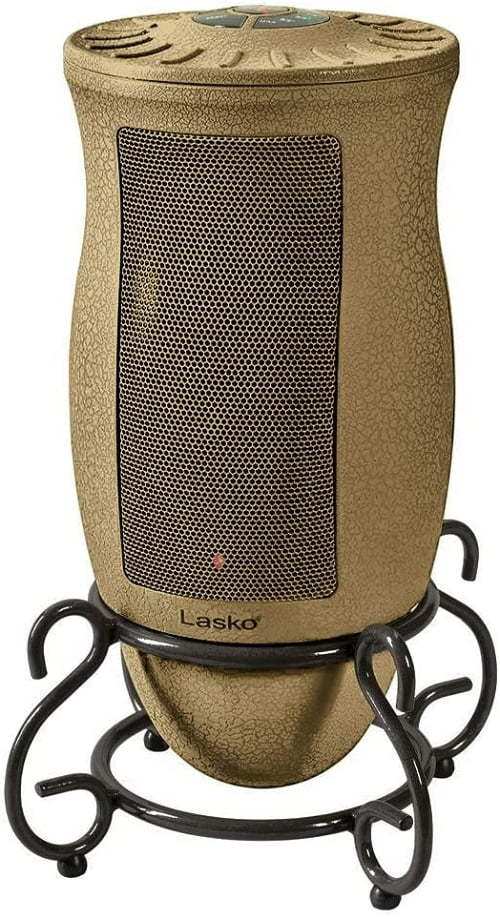 This is the final statement in space heater design. It's as decorative as it gets. On the inside is a typical high-quality heater with full features — everything you want from a ceramic space heater. But on the outside it's a unit like no other. If you want (warm) heads to turn and compliment, this is your Instagram spice.
Why it's our pick? Fast, efficient and unique design does it for us.
FAQ
What is the best kind of space heater?
There's no one size fits all. Each type of heater has its pros and cons. Radiant (oil-filled or infrared) heaters are the quietest, while ceramic heaters are the fastest. Units with programmable thermostats are the most efficient.
Which type of space heater is cheapest to run?
Infrared space heaters tend to be cheaper to run compared to other radiant or fan heaters. It's due to their nature to heat objects directly instead of filling up space with hot air.
How much does it cost to run a 1500 watt heater for 24 hours?
If you run a 1500 watt heater for straight 24 hours on a full heat setting, that will cost 1.5x24xkWh. So if your electricity rate is $0.1/kWh, it will cost $3.6/day. However you're unlikely to use your heater so much. Programmable thermostat and eco-friendly features cut the cost even more. So it will likely cost you just a fraction of that.
Is infrared or ceramic heater better?
An infrared heater will be cheaper to run in a small space than a ceramic heater. It will be silent too. However, a ceramic heater will heat larger space faster. Therefore which is better depends on case by case basis.
What type of space heater is most energy efficient?
Look for a space heater with eco-friendly options (adjustable thermostat). Regardless of its type, a high-quality modern heater will be packed with features that enable it to be as energy-efficient as possible within its means. It also depends on its use and the size of the room.
What is the cheapest way to heat a room?
Insulation is the key to cheaper heating. So no matter what space heater you use, its efficiency will greatly depend on how well insulated is your home.
Liked this article? Here's what you can read next:
---
Disclosure: As an Amazon Associate we earn from qualifying purchases.