Last updated on February 28, 2021
Looking for a gate opener for your remote gate (or to save on electricity)? These are the best solar driveway gate openers you can use.
What is the #1 best? This Ghost Controls Automatic Gate Opener.
Living on a large property with a lot of land can mean your driveway gate is quite a distance away from your house and may not even have electric wiring. The solar gate opener is your only hope for automation. But even if that is not the case, you can benefit from the energy-efficiency and protection from blackouts, especially if you live in a fairly sunny climate.
If you're going to install a solar gate opener, you will need to know a few things (other than that it has to be epic.) First of all, it's the type of your gate. The main choice is between the single and double swing gates. If a kit doesn't support dual gates, that simply means you'll need to get two of them.
For solar openers, the solar panel and rechargeable battery are important features. In most cases, a 10-watt solar panel with a 12V 7Ah battery is enough. Most openers will work from a simple auto battery (if one isn't included).
Finally make sure the opener has the capacity to handle the weight and length of your gate leafs.
The shopping links we've included earn us a commission but at no expense to you and all the convenience.
Are you ready to install an eco-friendly gate opener solution?
What's Inside?
Ghost Controls Automatic Gate Opener Kit for Swing Gates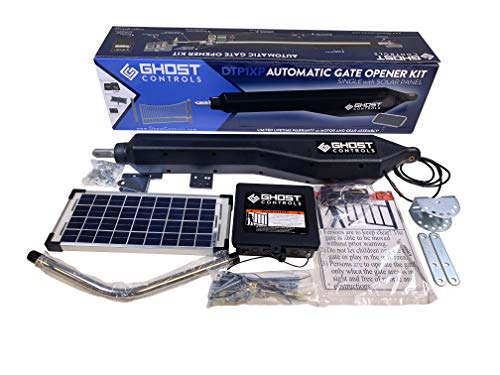 This automatic solar gate opener is made of a battery box, a solar panel, and a control box. It can handle gates that are up to 900 pounds, swing-style gates, 20 feet in length. It takes the installers about one hour to install this opener on their decorative outdoor entrance gate.
Quick facts:
Works with swing gates of up to 20 feet and 900 lbs.
10 W solar panel.
12V 7Ah battery.
Works with all types of gates (tubular bracket, chain link, or plantation style).
FISTERS EM3 Automatic Gate Opener Kit for Heavy Dual Swing Gates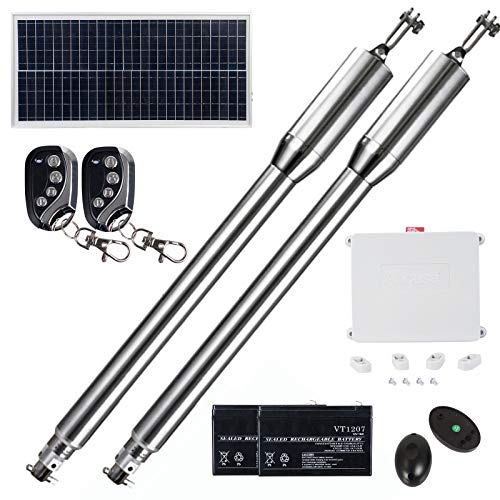 This automatic solar gate opener is made out of 202 stainless steel/IP66 waterproof, which withstands harsh weather conditions. This will normally work at -25°C-50°C and has a reliable limit switch and an infrared sensor if power fails. The installation process is not affected by the doorpost or original structure and can be installed on your original door without destroying anything. It will rotate on its base in 8-12 seconds with a maximum thrust of 300 kg. Once it rotates, it has to be lifted to show that it's on so people don't step onto it when exiting or entering the premises.
It will not influence the aesthetics of the doorway attachment. The precision coreless motor's range is up to 50m in the remote control. It has a 7Ah solar rechargeable battery with 3 years life span that provides a power supply 24 hours per day.
Quick facts:
Made of stainless steel and waterproof covering.
Works for dual swing gates up to 8.2 feet per leaf.
50 m remote control range.
11W solar panel and 7Ah battery.
Mighty Mule MM371W-SOL Automatic Gate Operator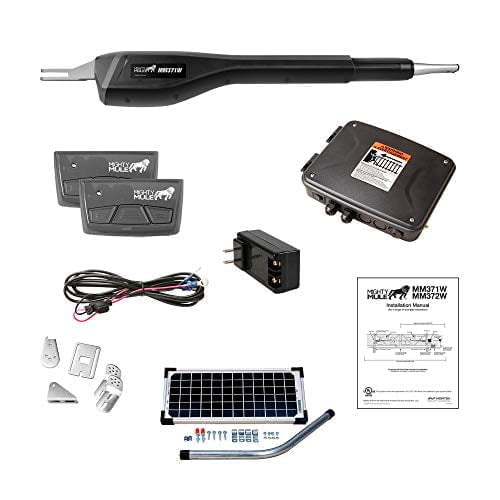 The MM371W gate opener is made out of steel and plastic designed for medium-duty single swing gates up to a maximum of 16 ft long or maximum weight of 550 pounds. To install, it requires 12-volts DC power and a heavy-duty solenoid. The solar panel kit comes with the requirement of a 12 volt automotive or marine type battery that produces a minimum of 250 cold crank amps (CCA). It also comes with detailed instructions, online how-to videos, and unlimited access to 24/7 technical support.
Quick facts:
Works with single swing gates of up to 16 feet and 550 lbs.
10 W solar panel.
Battery is not included.
ECO-WORTHY Heavy-Duty Dual Swing Gate Opener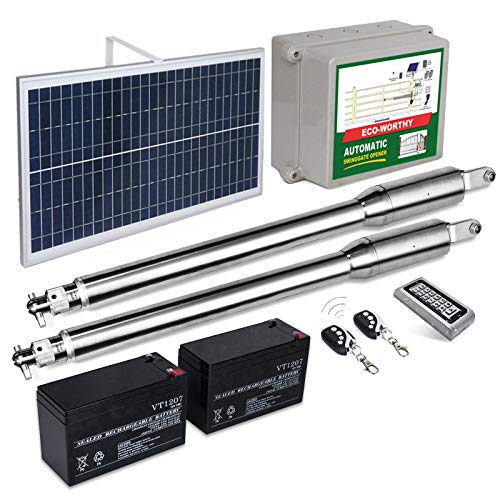 This device is IP66 rated, meaning that it's protected against dust, water, and corrosion for outdoor use. There's also a limit switch in-case the motor idles, which would automatically turn off. These protect the device from possible harm and make it last longer and work to its fullest potential.
It uses 2 12V batteries (18Ah) conveniently available at your local store near you for a great price. The weight capacity of the big gate was this solar gate opener is 2 tons max weight.
The accessory pulley station is made out of the finest 304 stainless steel with higher strength. The post anchoring screws are made to fix the surface with a concrete foundation.
The solar panels on the automatic gate opener will not weaken over time. It works 24/7 hours without limitation. Warranty is valid for two years which includes changes of defective parts by the manufacturer.
Quick facts:
Made of 202 grade stainless steel.
Works with double swing gates of up to 16 feet and 1320 lbs.
20 W solar panel.
DC House EM3 Heavy-Duty Solar Gate Opener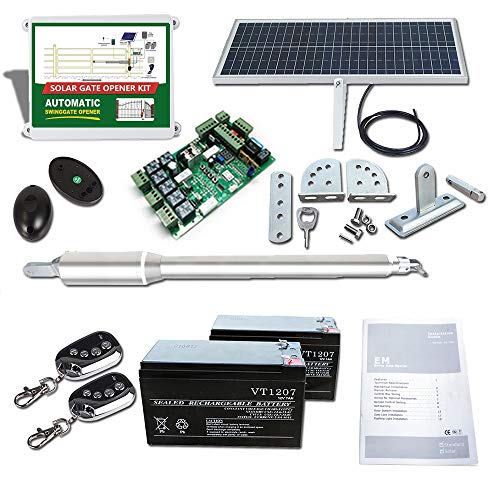 Being made of an aluminum/stainless steel base and capped with a copper throat, this automatic solar gate opener is not bad for resistance to the elements (though not perfect). The 202 stainless steel wiper blade ensures that it can't be cut with ice or snow.
The solenoid opening requires Teflon grease to resist going dry at low temperatures. It is recommended that users keep it indoors during its storage season.
It comes with two 7AH batteries that work and last well in colder weather. It carries up to 660 lbs/leaf weight capacity; up to 8′ lifting length; and as fast as 1.8″ per second operation speed(loading) on a load.
Quick facts:
Made of 202 stainless steel.
Works with single swing gates up to 660 lbs and 8 feet long.
10 W solar panel.
Liked this article? Here's what you can read next:
---
Disclosure: As an Amazon Associate we earn from qualifying purchases.