Last updated on September 29, 2021
Looking for the best Halloween lights to decorate your home for the occasion? Here are the best lighting options that you can get in 2021.
Getting ready for Halloween is always a big task. You want to be creative and surprise your guests, you want the celebrations to be fun for your kids, and you want to have a great time yourself. Doing something new every year requires a lot of thought. And the lighting is a big part of that.
So we've made a list of the best Halloween lights for the year 2021 to help you find exactly what you need. These lighting solutions are versatile and creative. Any of them will add a lot of value to your Halloween decor, be it indoors or out (they are excellent with Halloween inflatables). We've examined a lot of products, so you don't have to (our site earns a commission for suggesting links). Go ahead and check it out.
What's Inside?
Best Halloween String Lights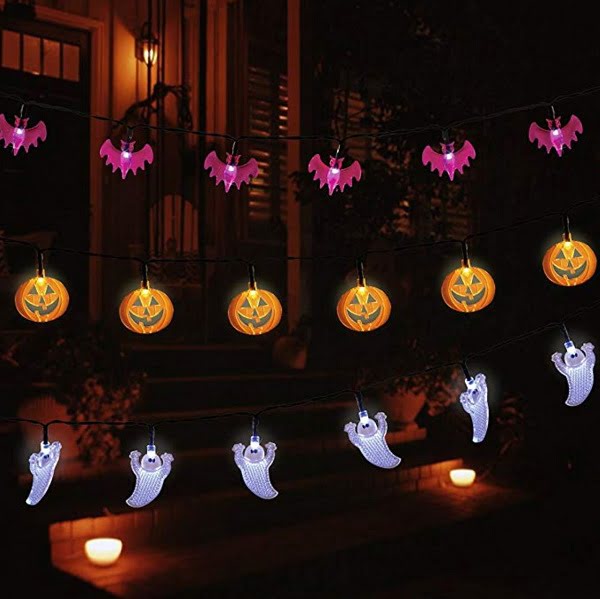 These fun and reliable Halloween string lights come in three themes – purple bats, Jack O'lanterns, and white ghosts and will suit any scene. You will not scare anyone with them, but they will make a playful addition to your Halloween decor. The LED lights are battery-powered, so you don't have to worry about power outlets and hang them anywhere you want.
The string lights can be used outside just as well as inside of your house. And even though the LED lights are low-powered, they are very bright. Each string comes with 30 lights.
Why it's our pick? This is one of the most popular Halloween lighting option and an Amazon's choice. They're very versatile and easy to use.
Spiders Battery-powered Halloween Lights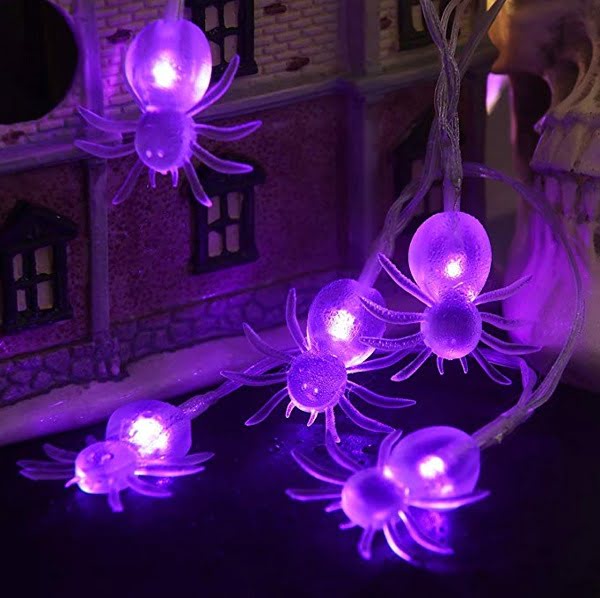 These cute purple Halloween spider lights will brighten up your Halloween decor. The string lights come in 8 different modes that will not get boring soon. And battery-powered LED lights mean that you can use them just about anywhere.
The product is made of quality plastic that will withstand any weather. Of course, you can use them inside too. And while they're too cute to scare anyway, you'll add some spidery magic to the celebration.
Why it's our pick? Spider bulbs are ideal for spooky Halloween lighting and this battery-powered LED option is our top choice.
Flickering Flame Effect Light Bulbs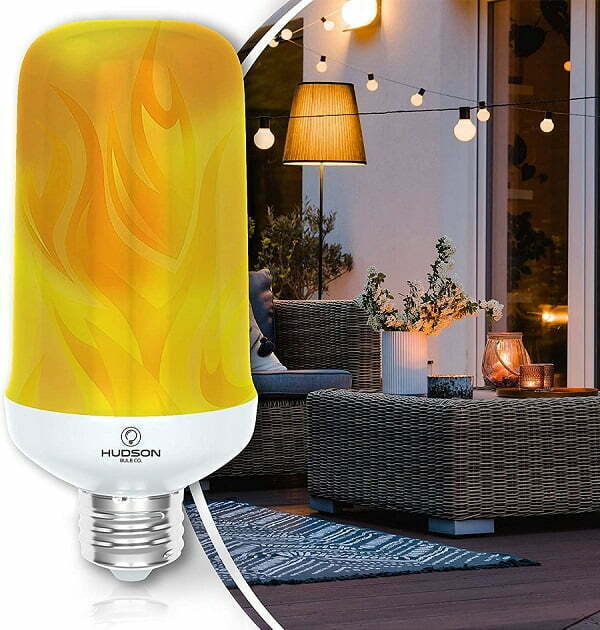 Cute Halloween-themed string lights are great, but that's not all you need to create decor that stands out. These flame effect light bulbs will help a lot. Change your regular light bulbs with these on your home lighting fixtures and lamps for a dramatic effect. With some DIY effort, you can make unique Jack O'Lanterns too. Your Halloween guests will be astonished.
The light bulbs work in four different modes, which alternate upon switching on. Get them for some really cool lighting effects.
Why it's our pick? Halloween lighting is not just about themed props. The flame effect light bulbs give you a more unique approach to Halloween decor.
Flickering Flame LED Torch Outdoor Halloween Lights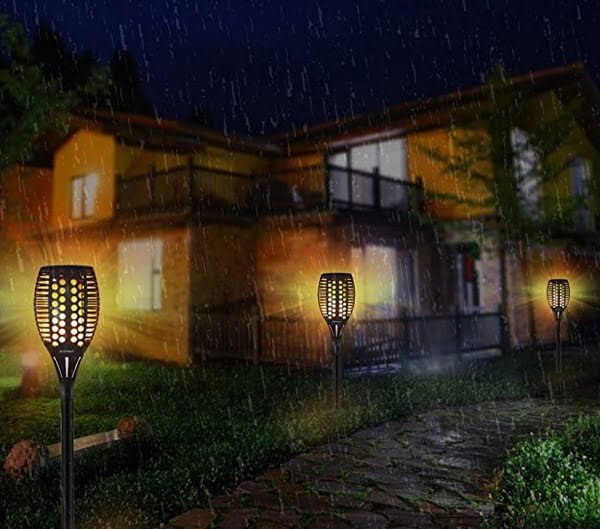 How do you plan on lighting up your front yard decorations for Halloween? String lights are great and all but if you want something different and unique, try torch lights. Of course, regular torches are highly dependent on the weather and aren't very practical. That's why these LED torches are the perfect alternative.
Create a real Halloween mood with the flickering flame effect that these torches provide. They're powered with rechargeable batteries which also power up from solar energy. Once Halloween is over, they can be used as the regular backyard or front yard lighting.
Why it's our pick? The flickering flame LED torches give you a creative way to create outdoor Halloween decor. After it's over, you can continue using all year round.
Indoor Pumpkin Halloween Lights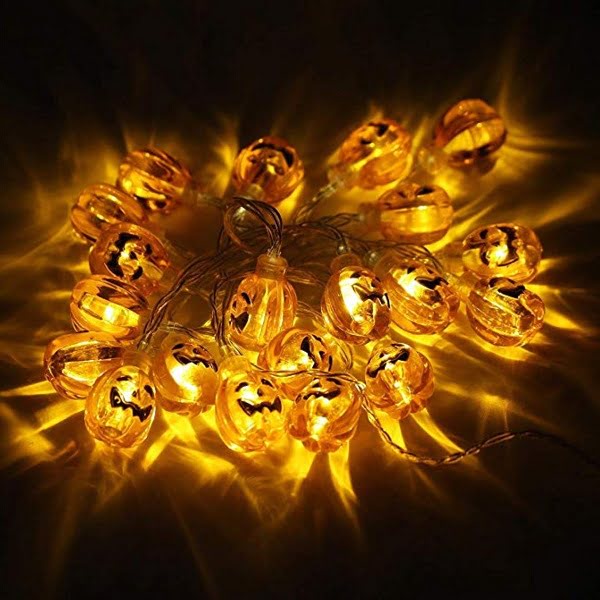 Time for some Halloween classic – orange pumpkin string lights. These lights are for indoor use only, and you can add them to a window sill or your mantel decor for the occasion. They're simple but sturdy and straightforward to use. The lights are battery-powered, and you don't need a power outlet to be nearby.
The lights work in two mods – flashing and steady. At an affordable price, they will serve you on many Halloweens to come.
Why it's our pick? These Amazon's choice of string lights is an orange pumpkin Halloween classic. Just what you need to add to your decor.
Groundbreaker Arm Lantern Light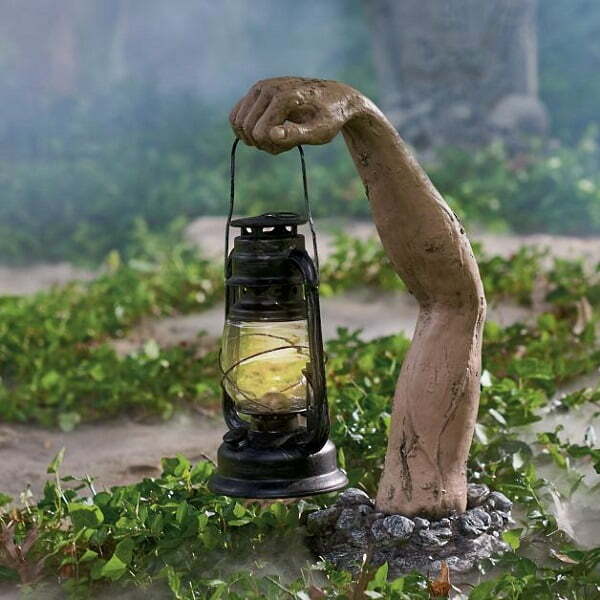 This realistic groundbreaker arm is made of resin and is painted to look realistic. You can use the protruding zombie arm indoors as well as out. This light is a very cool prop and would suit a graveyard scene.
Why it's our pick? The arm holding a lantern is spooky and scary, it makes decor that looks well thought out. It's a great choice if you're looking for something unique.
Cotton Ball Halloween String Lights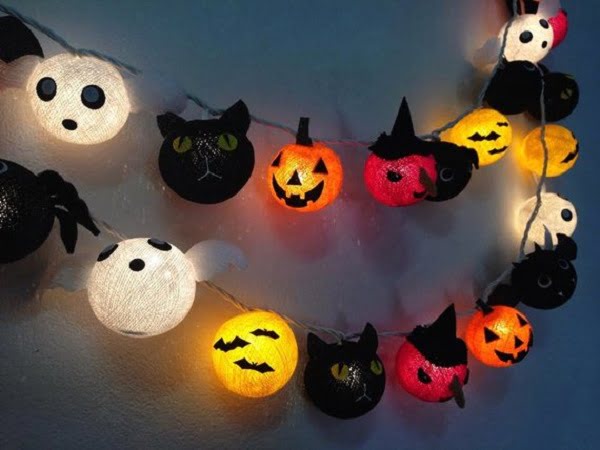 The handmade cotton ball string lights make a cute Halloween decoration. These indoor lights are cute and will make a playful addition to a kids' party. In fact, they'll work well at any party.
The product is made of natural materials, so it's environmentally friendly. At the same time, they are durable and safe.
Why it's our pick? These handmade Halloween lights are perfect for anyone who wants some DIY charm but doesn't want to do it themselves.
White Ghost Halloween Lights with Remote Control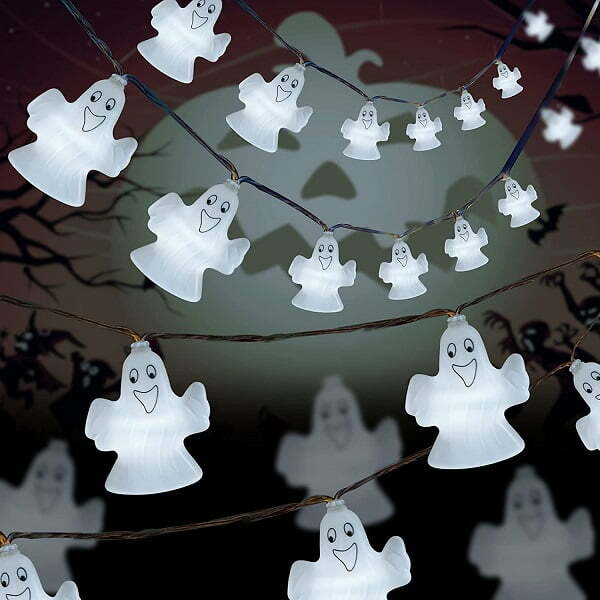 Need some cute little ghosts to light up your Halloween decor? These LED lights will do perfectly. The 10 feet long string with 50 lights in the shape of cute little hosts will be enough to decorate a room. They can also be used in a covered outside space too.
The lights are battery-operated, and you can place them anywhere you want. They come with a remote control that controls the lighting timer and intensity, which can be really handy.
Why it's our pick? These strong lights are functional and provide a lot of decor value.
Pumpkin Halloween Night Light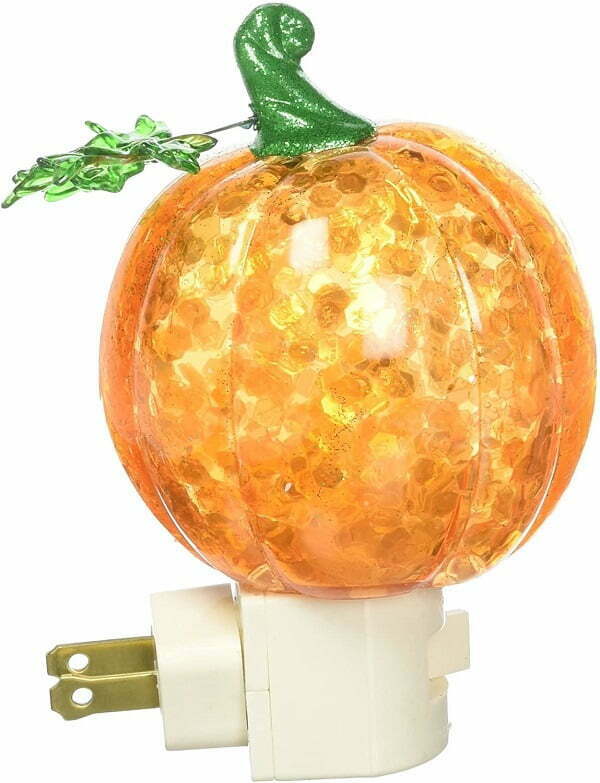 Add some charm to your Halloween with this pumpkin plug-in night light. The night light is a great way to add unconventional detail to your decor for the occasion. It can be used after Halloween as well.
Why it's our pick? It's one of the most unique Halloween lighting and decor options.
Halloween Curtain String Lights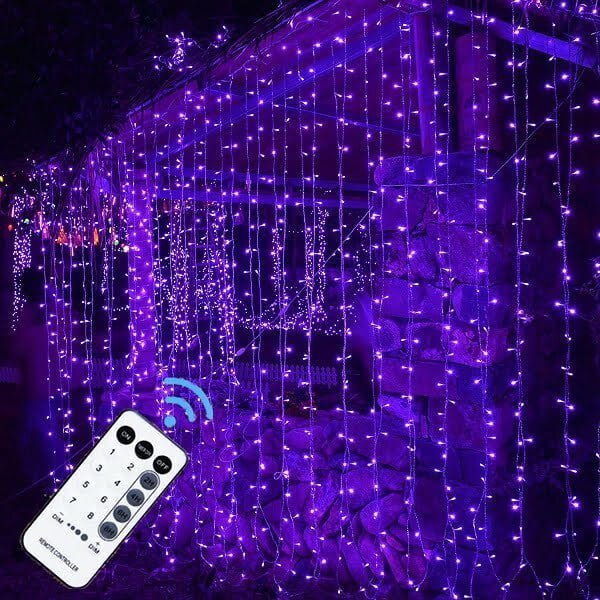 Need a lit background for your Halloween decorations? These curtain string lights will work for more than one occasion. The whole setup is 9.8 feet x 9.8 feet, and it has 8 modes to suit your celebration.
You can control the lights with a remote to be used outdoors as well as indoors.
Why it's our pick? When you need more lights, you can turn to these massive string lights with plenty of options.
Liked this article? Here's what you can read next:
---
Disclosure: As an Amazon Associate we earn from qualifying purchases.