Last updated on September 29, 2021
Looking for the best Halloween inflatables to make your outdoor decorations stand out? Here are our top 10 picks to choose from. We've just updated it for Halloween 2021!
There are many ways to create outdoor Halloween decorations, but nothing stands out better than big lighted inflatables. They've been a hit in recent years, and it's a lot of fun having one in your front yard for Halloween. It's a great way to attract compliments and have pictures of your Halloween scene taken.
So, to help you out, we've picked the best 10 Halloween inflatables for you to choose from in 2021. We've put a lot of thought into examining these products and selecting the best. A great prop should evoke certain emotions, and in the case of Halloween, they should scare and engage people. The product must also be quality-made, easy to use, and serve you for more than one season. Many of the inflatables have built-in blowers and a long electric cord that doesn't require an extension.
Check out this top list and choose the inflatables that you like the most. Please note that our site earns a commission for the following links.
What's Inside?
Pumpkin Family Halloween Inflatable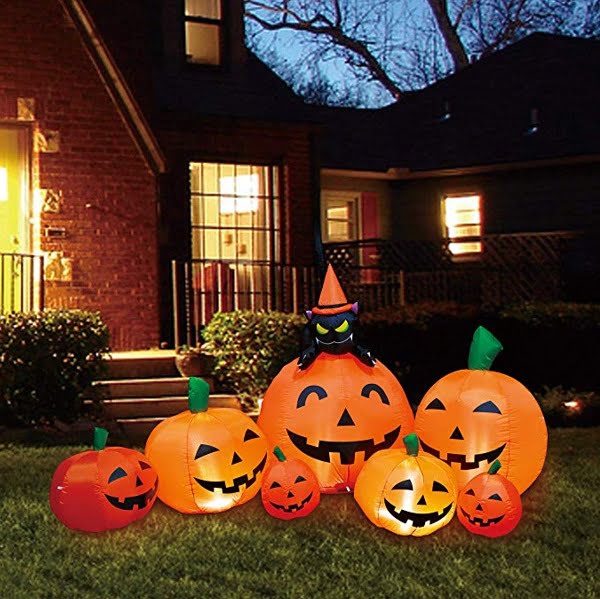 Want something that looks cute and festive? Go with the pumpkin family Halloween inflatable. It consists of seven pumpkins (and a cat), a 7 feet wide prop. It inflates and illuminates automatically and looks just like the picture.
The only small caveat is that the cat might not be visible at night (well, it's black), but you can easily highlight it with Halloween lights.
Why it's our pick? It's an inexpensive Halloween inflatable that looks just like advertised. You can't go wrong with it.
Animated Black Cat Halloween Inflatable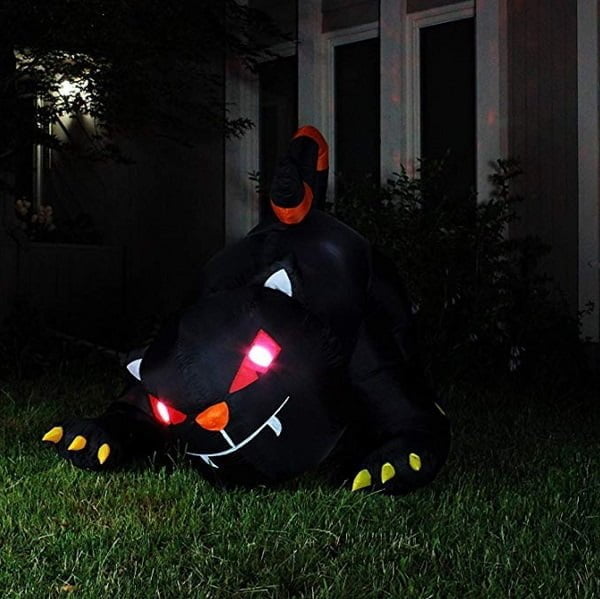 If you're looking for Halloween inflatables that stand out, this animated black cat will make heads turn. It's six feet long, has a bright red LED eyes, and spinning its head for the animated effect. It's one of those props that are impressive enough to give it a name.
The prop inflates automatically when plugged in, so it's easy to deploy. It's an easy-to-use device that looks exactly like the picture.
Why choose this product? It's a unique animated Halloween inflatable that attracts attention. Get it if you want a sure hit in your neighborhood.
Headless Horseman Halloween Inflatable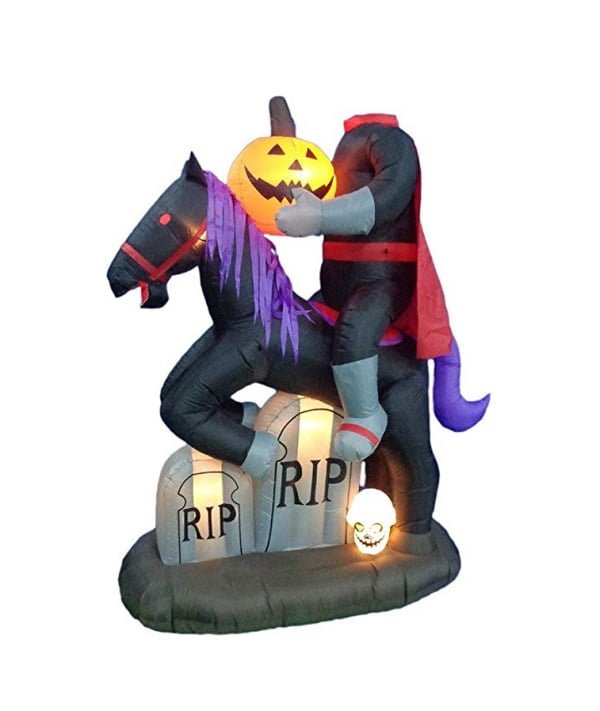 For the fans of Sleepy Hollow, here comes the Headless Horsman forever looking for his head. Can he find it in your front yard? This Halloween inflatable will certainly look cool in front of your house.
As with other inflatables on the list, this product also comes ready to use and inflates automatically with a built-in blower. It stands tall at seven feet and includes decorative tombstones.
Why it's our choice? It's a cool Halloween inflatable to have in your front yard. Definitely a conversation starter.
Castle Archway Halloween Inflatable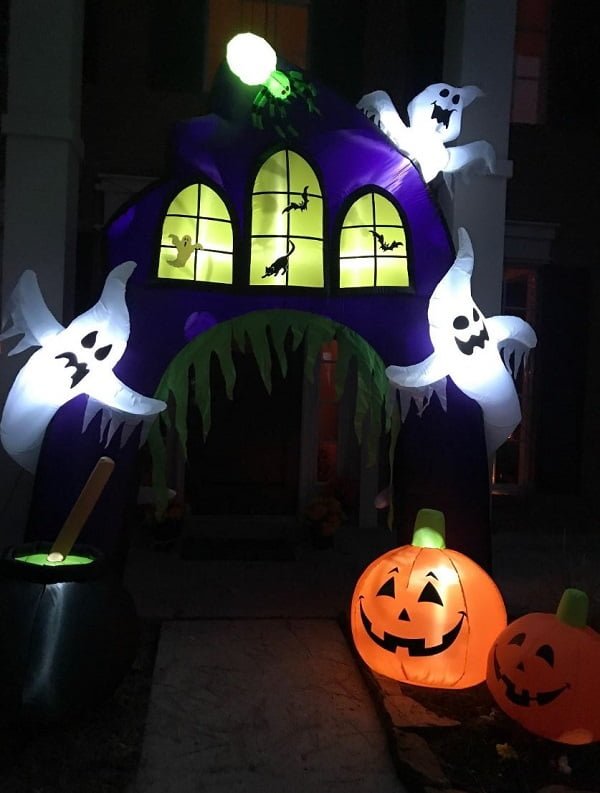 Need something for a background for some awesome Halloween pictures? This castle archway Halloween inflatable will not make your pictures Instagram-worthy. Your trick or treater will love it too.
It includes a blower, stakes, and tethers – everything needed to set it up quickly. You'll be enjoying Halloween in no time!
Why it's our pick? It's an impressive inflatable castle archway that stands nine feet tall. It will be a hit at any party.
Black Spider Inflatable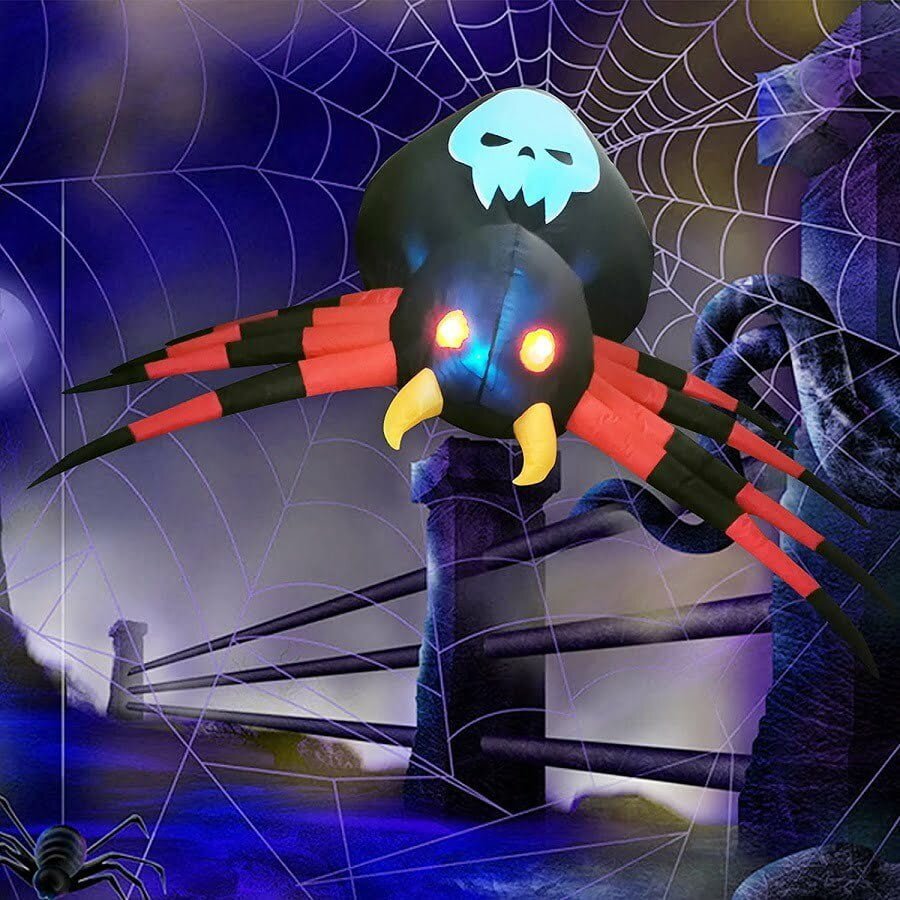 This awesome spider looks unique and will make your yard look just a tad spookier if not cute. While it's not gigantic, at 6 feet it's the size of an adult person and will not go unnoticed.
It blows up automatically with a built-in blower, and it has bright lighting making it visible at night. Putting it up in front of your house will make the heads turn.
Why choose this inflatable? If you want something big. This Halloween inflatable is imposing and fun.
Castle Halloween Inflatable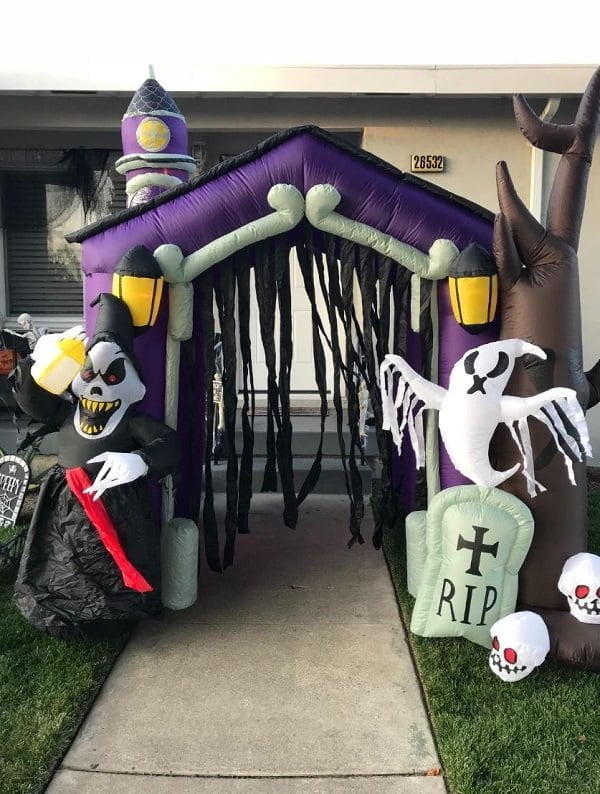 If you want everyone taking pictures with your Halloween decor, consider this castle inflatable. It is big enough to serve as a door in your entryway. You can create somewhat of a haunted house with it. Your trick or treaters will love that.
As with all inflatables on the list, it's easy to inflate, deflate and store away for the next Halloween. It's a big prob that will be a lot of fun for everyone.
Why choose this product? It's affordable for a prop this size, and it's made of quality material. The product is available on Amazon.
12 Feet GOOSH Ghost Halloween Inflatable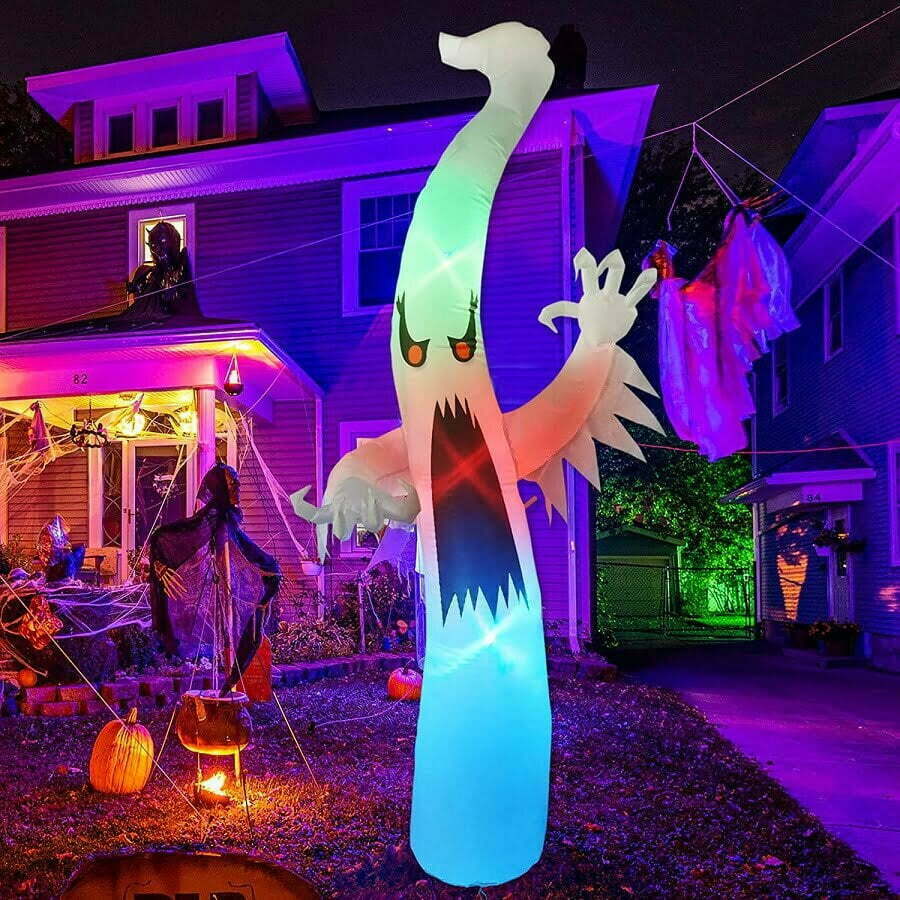 This Halloween ghost inflatable will be seen from afar, very far, and you can be sure it will stand out in the neighborhood. It's tall at 12 feet and very bright to be seen even in your backyard. This prop is spooky enough to scare someone too.
The product is made of weatherproof material, so you'll be able to use it for several seasons. As with other inflatables, it comes with everything needed to set it up quickly.
Why it's one of our picks? It's a huge and spooky Halloween inflatable to create an impressive scene in your yard.
Grim Reaper Halloween Inflatable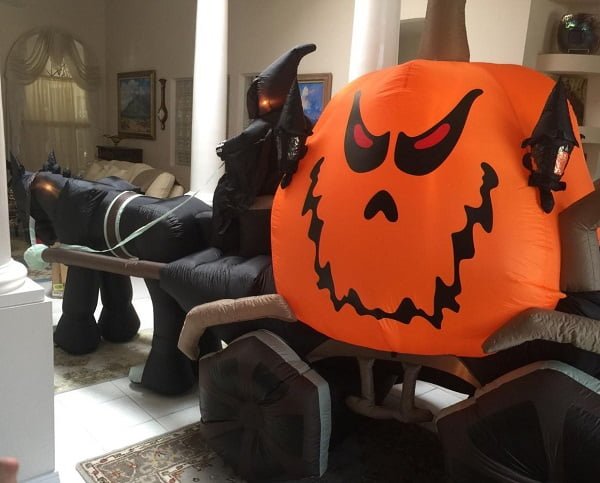 This is a spooky inflatable that will get a lot of compliments. The Grim Reaper is big (almost 12 feet long) and imposing. It's a great outdoor prop for Halloween.
It looks exactly like in the picture and inflates as well as deflates automatically. For a device, this size the ease of use is a big plus.
Why it's our choice? It's one of the scariest Halloween inflatables, so it's definitely worth considering.
Jack O'Lantern Halloween Inflatable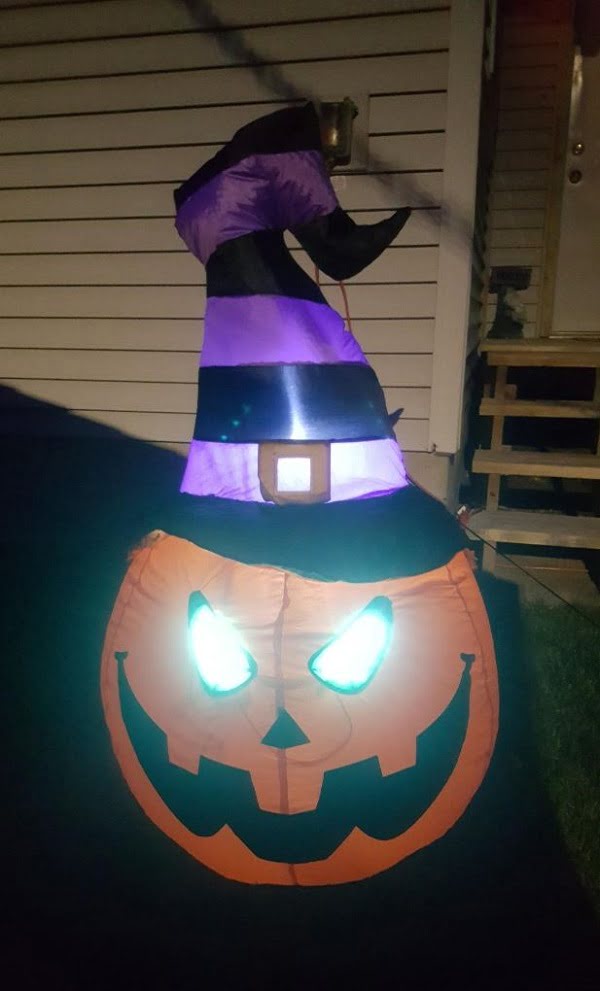 This Halloween inflatable is classic. A big 6 feet tall Jack O'Lantern in a hat with bright LED lights will scare a lot of trick-or-treaters this year. It's simple but effective.
The inflatable is made of good material, enough to withstand even the lousy weather. You'll like that it's easy to set up and put away too.
Why it's our pick? Outdoor Halloween decoration needs an inflatable Jack O'Lantern.
5 Feet Spooky Skeleton Inflatable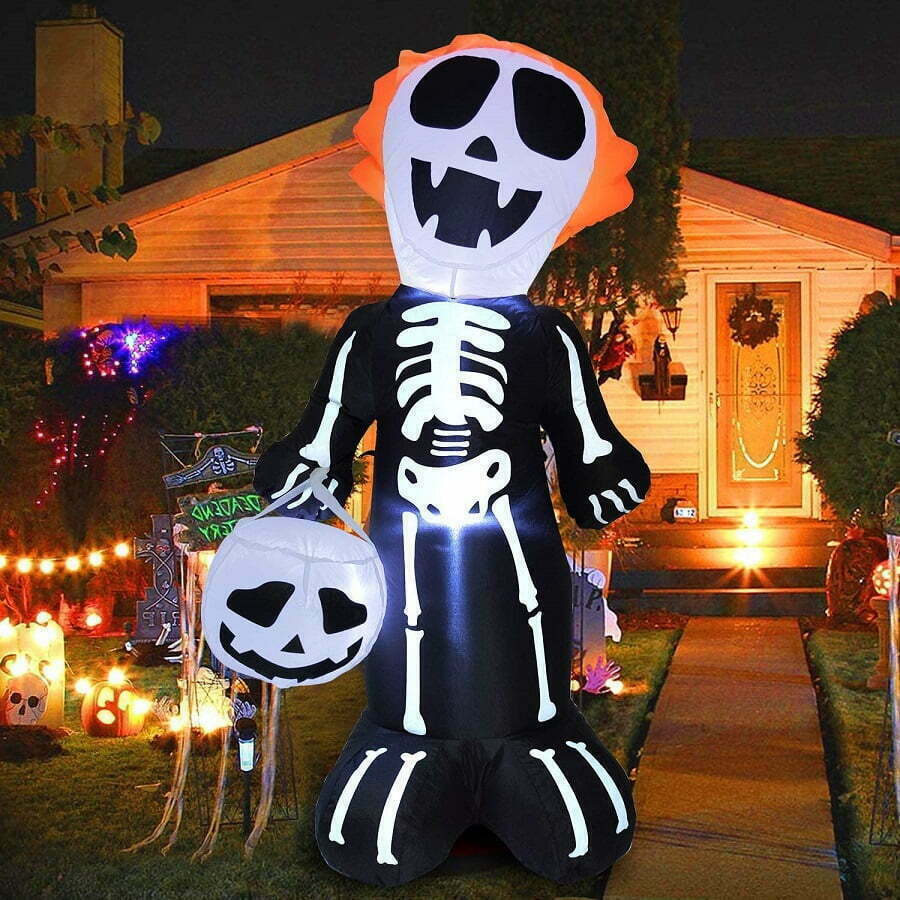 Skeletons are a must for the classic Halloween decoration setup. But you don't want to be boring. So here's a 5 feet tall inflatable skeleton with a twist. It reminds you of a real trick or treater. Only you have to blow up this one. It ought to scare a few kids too. It includes LED lights.
Why it's our pick? It's a spooky-cute inflatable and a must-have skeleton for your Halloween yard.
Liked this article? Here's what you can read next:
---
Disclosure: As an Amazon Associate we earn from qualifying purchases.