Last updated on January 16, 2021
Looking to light a room with bright floor lamps? These are our picks for the best floor lamps for bright light in 2020. Read on!
A floor lamp can have many purposes in a room. It can be a task (reading lamp) light, ambient light, or accent light. It can also light up the entire room. So, especially if you're in a room that has no overhead lighting (although it's rare in modern houses), you need a very bright lamp to provide enough of it for the entire space.
In this post, we will look at what makes a great floor lamp for bright lighting and pick ten products to fit the bill. The most important aspect we're looking at is the brightness and the lamp's ability to spread the light across the room. But we are also considering the functionality, its design and decor value.
How do you choose a floor lamp for bright light?
Here's what you can consider:
Consider the height of the lamp. For the brightest option, you will need a tall lamp such as a torchiere.
Consider how it's going to be used and if you need a dimmable light.
Consider additional options, such as built-in reading lights or even shelves.
Consider the decor value.
We've also noticed some common caveats among many lamps on the market. You will do well to watch out for them.
Things to watch out for:
The weight of the lamp – can it be tipped easily?
The delay after switching it on.
Is it compatible with wall switches?
These are just some things you'll do good to keep in mind when shopping for a lamp. We've got you covered though, and the following are our top-rated picks. Note that there's compensation involved for qualifying purchases on Amazon but at no expense to you (we've marked them #ad for transparency.)
What's Inside?
Torchiere Floor Lamp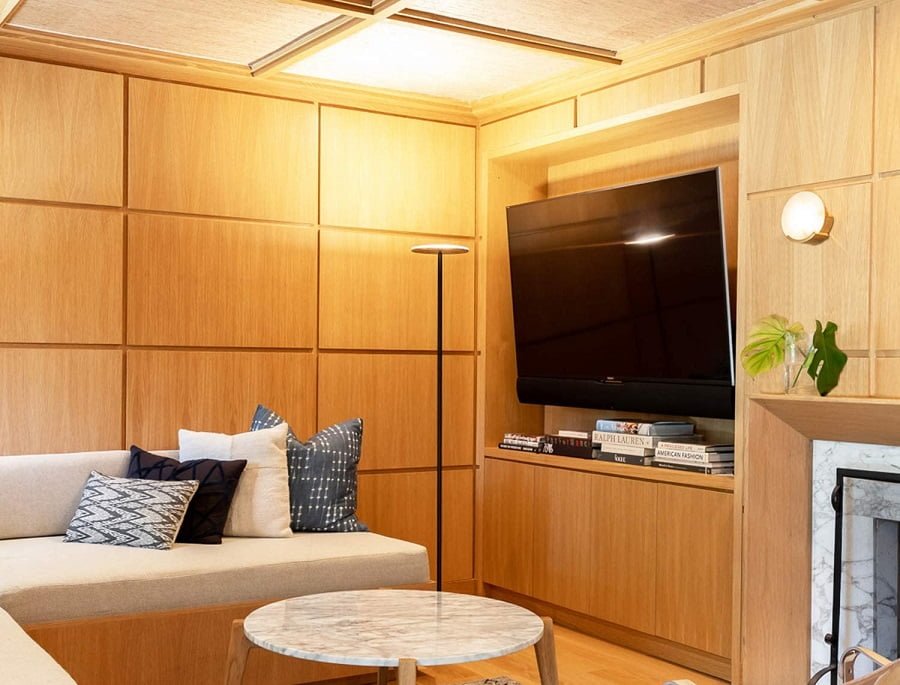 Torchiere floor lamps are an alternative to overhead lighting. They are tall and bright so they light up the room above eye level. This lamp also has an adjustable angle so you can direct the light where needed.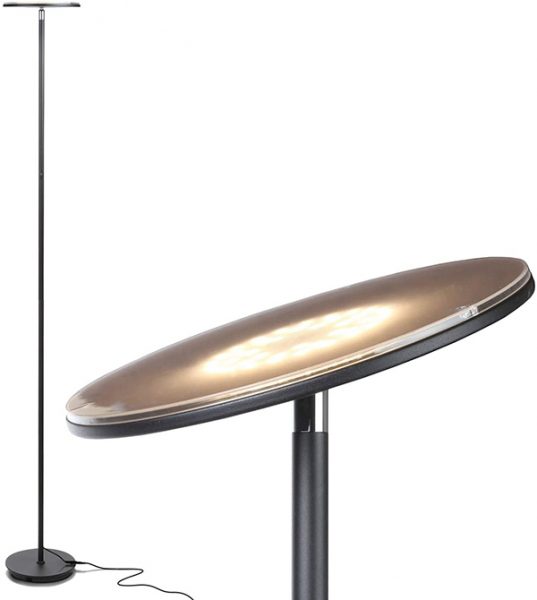 Pros: the lights are very well lit; strong and reliable; the lamp itself is sturdy and well made; has three-level settings; provides a soft light that is bright enough.
Cons: the lamp takes 2-5 seconds to turn on when the switch is flipped.
Modern Floor Lamp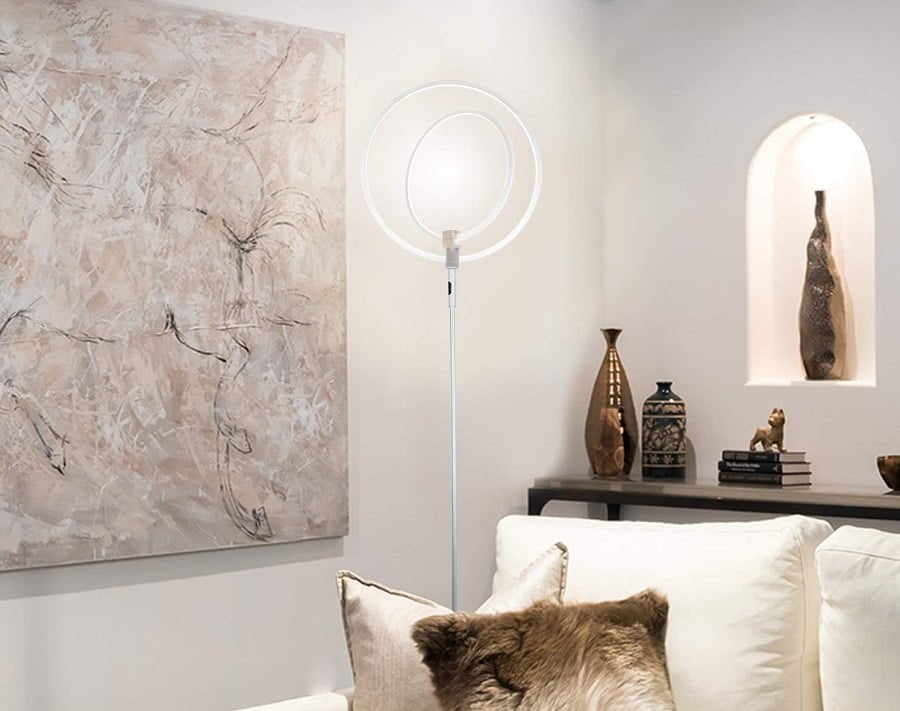 This modern lamp from Brightech is visually interesting and functional. It's very bright to provide enough lighting for the entire room. And it has a modern eclipse design that adjusts how the light is being spread.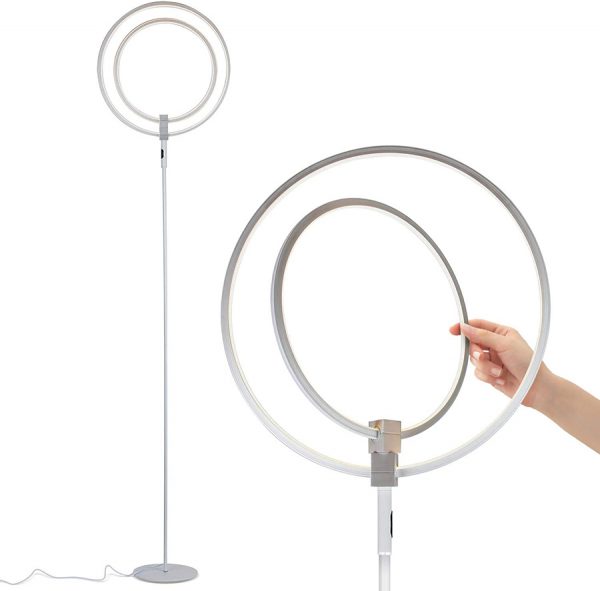 Pros: bright enough to cover a living room; nice design; has three adjustable light preferences; long-lasting and power-saving light.
Cons: the brightest setting is too bright; not light switch compatible.
Living Room Lamp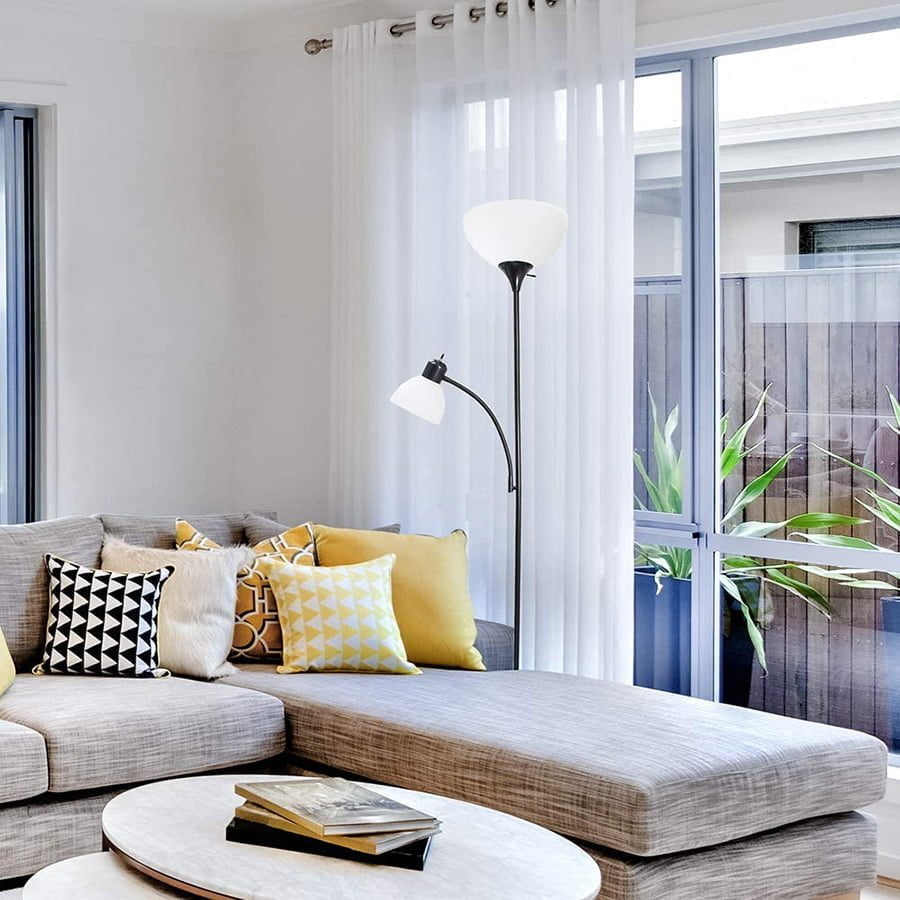 We like the functional design so for the living room lamp we definitely recommend a mother-daughter design with a reading lamp. It's a multi-purpose light that serves as a task and overhead lighting option.
Pros: three-way switch; fully adjustable reading/task light that can be used independently of the main floor lamp; good light for the price; a high-quality product.
Cons: if a 3-way bulb is not used, the settings will not work properly; not sturdy enough.
Floor Lamp with Shelves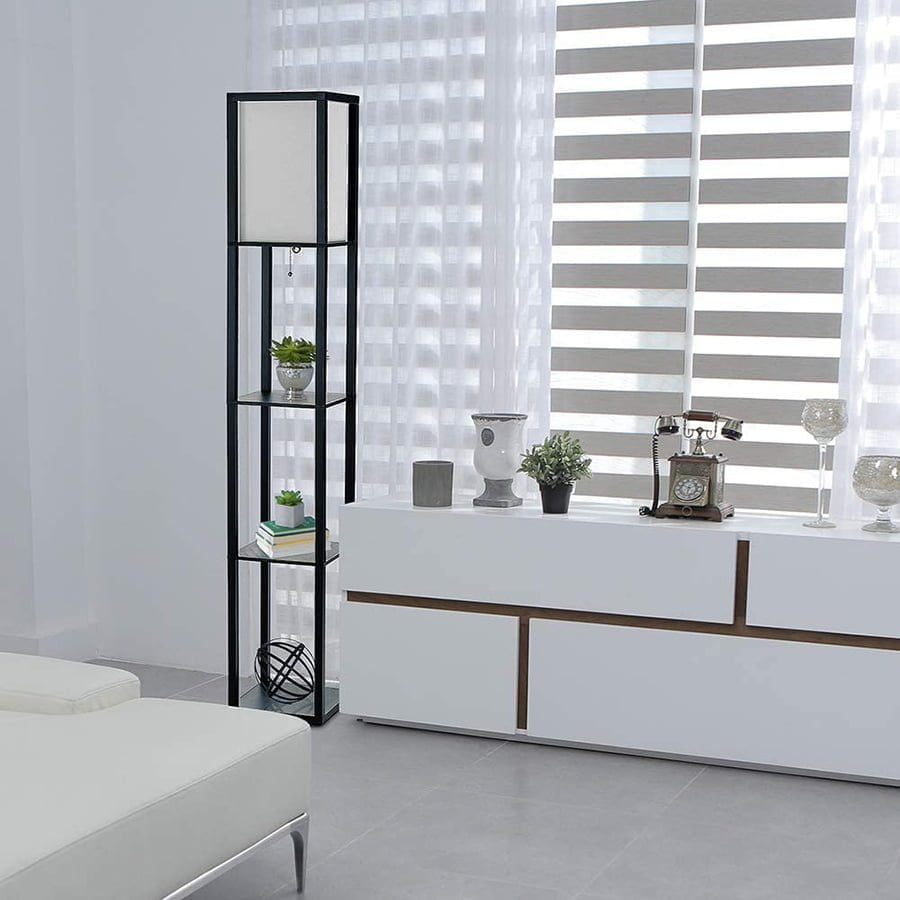 Taking multi-functional design to the next level, this is the idea for a lamp that is also a storage unit. A floor with shelves will serve both purposes – lighting and organization in one.
Pros: has an open box frame with 3 storage shelves which is very versatile; pull-chain on/off switch is easily accessible; very easy to put together; sleek, elegant yet simple design makes it worth it.
Cons: the screw holes came loose from the wood; lightweight.
Tall Lamps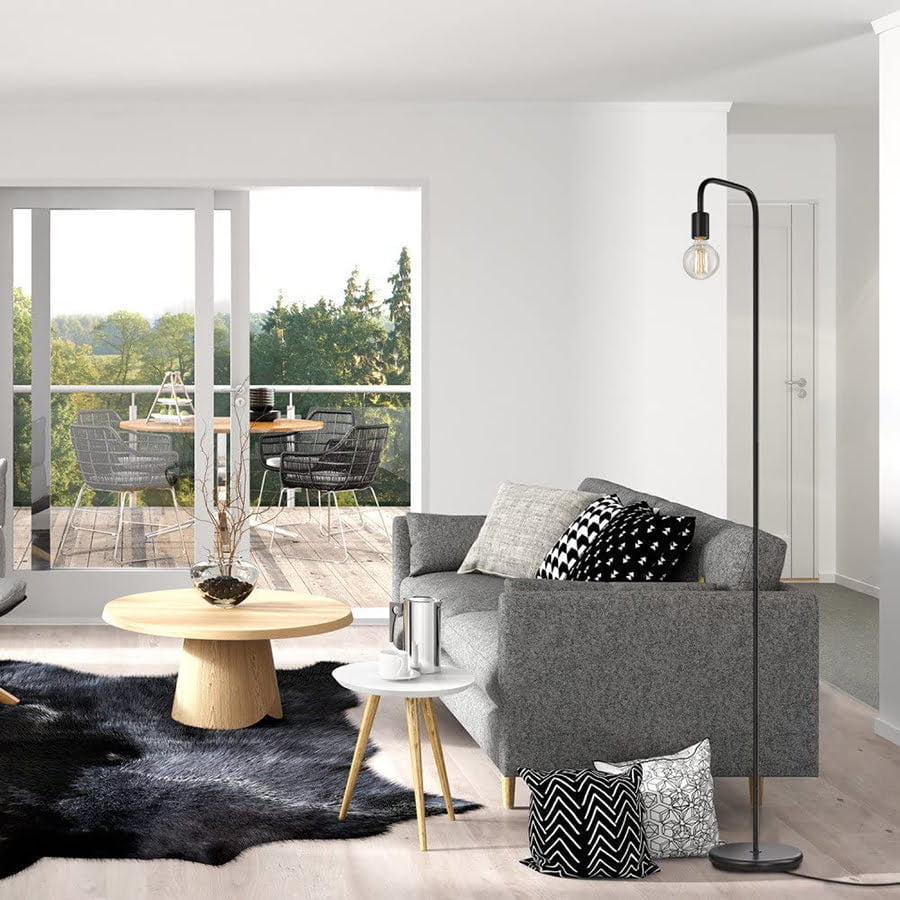 If you're going for the overhead lighting alternative floor lamp, you will need one that is above eye-level. This Globe Electric lamp is a stylish item that comes in an Edison bulb inspired design.
Pros: a perfect accent light for any space; you can place it anywhere you need it the most; modern style; perfect accent light for any space; clean minimalist style lamp.
Cons: no dimmer; the lamp isn't totally upright.
Unique Floor Lamp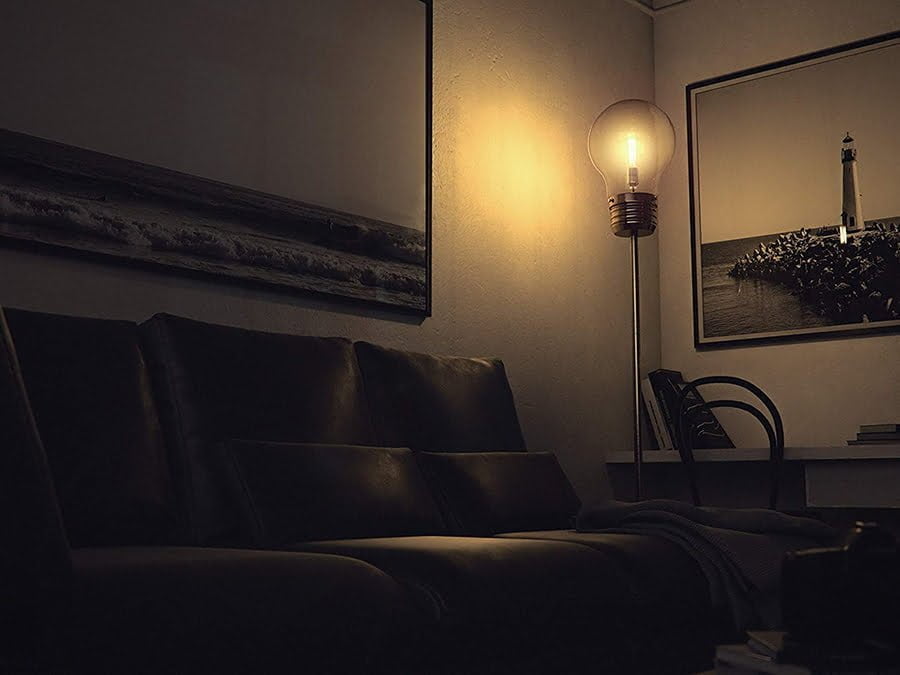 Speaking of unique design, this oversized Edison bulb for a "lampshade" is a darling. If you need a statement floor lamp, this is it.
Pros: a unique bulb-in-bulb shape perfect for a mid-century modern style; a rotary switch which is very convenient; has an antique brass finish; very reasonably priced considering its unique look.
Cons: the light bulb that comes with it is a bit too bright.
Bright Floor Lamp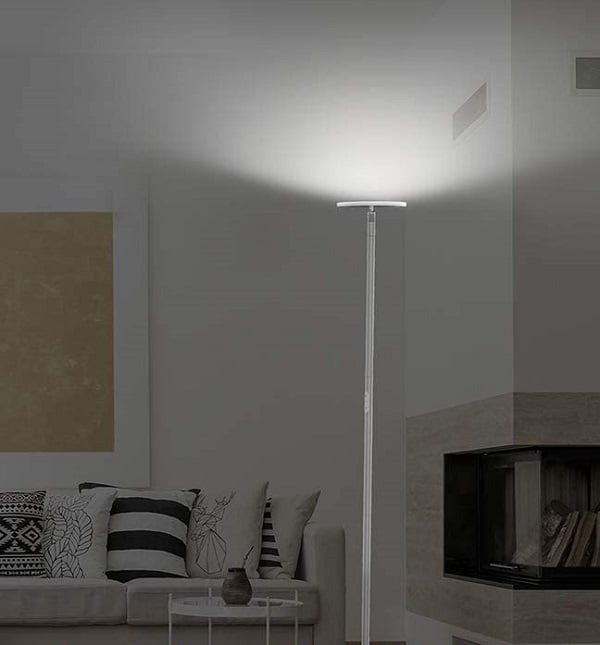 If you have no overhead lighting in a room at all, a bright daylight lamp is an excellent option. Again, torchiere lamps provide the brightest light.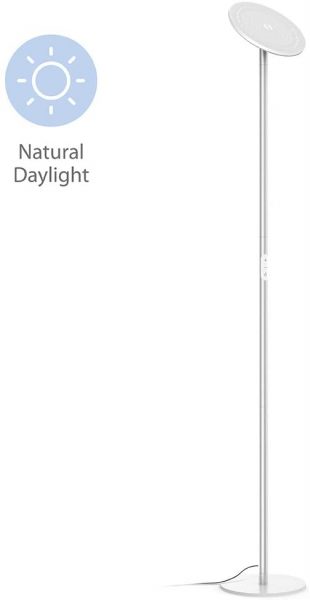 Pros: compatible with wall switches, timer, or smart plug; has a 5-level dimmer; touch-sensitive; has a 30-minute light timer; easy to assemble; the lamp remembers the previous brightness setting from your last use.
Cons: this floor lamp only emits natural white daylight; when using your wall switch, you may experience a delay of 1 to 5 seconds.
Column Floor Lamp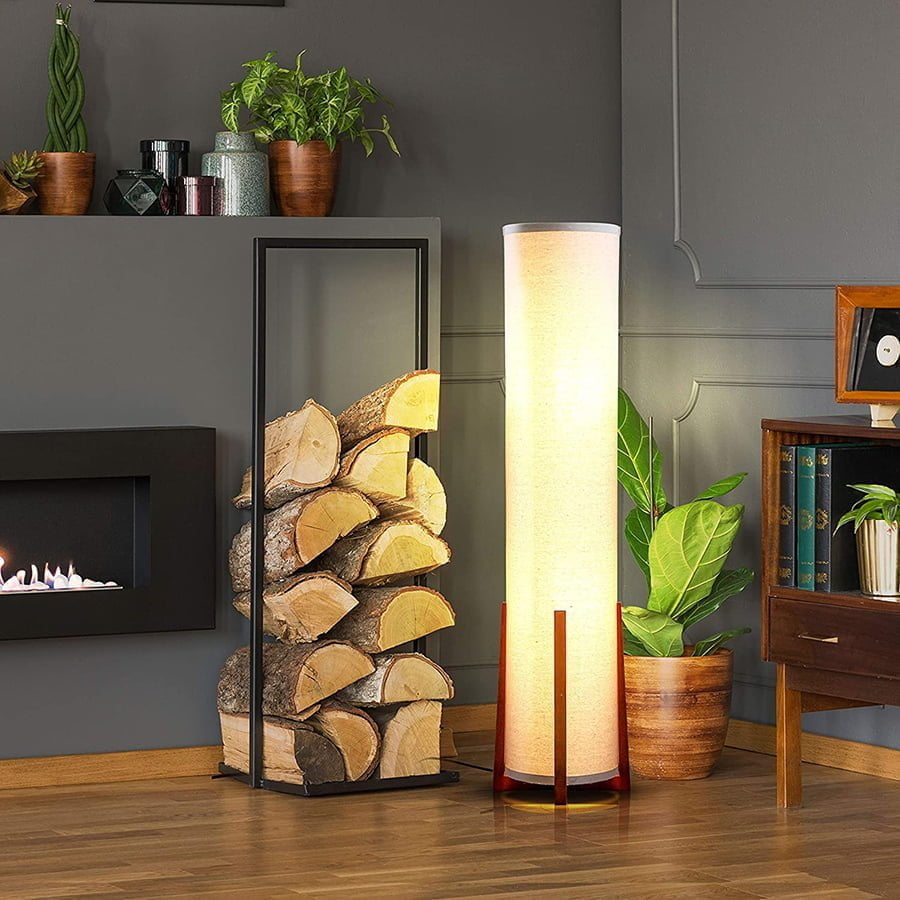 The column lamp isn't the brightest option to light up the room but it provides a lot of decor value. It's excellent as an ambient mood light.
Pros: it provides warm light to your room; perfect for couch or bedside lamp; a very impressive lighting piece for areas where you want attractive ambient lighting; sleek and modern standing floor lamp.
Cons: quite hard to assemble; not a very bright light.
Mid-century Lamp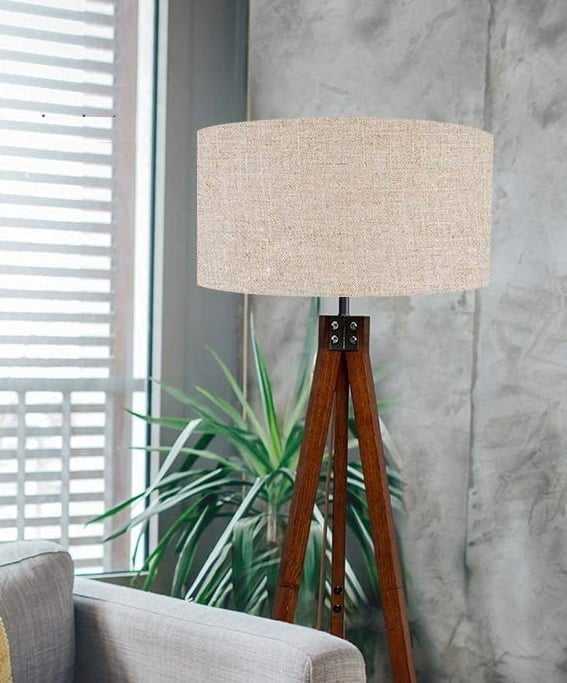 Mid-century modern style floor lamps are classic. Even if you're not going for this style in your entire room decor it makes a beautiful piece of accent.

Pros: it has a beautiful and classic shape design, which is not only a floor reading lamp but also a modern decoration for your living room, bedroom, or other room; a high-quality natural rubber wooden tripod; on/off foot switch; has a sturdy design that makes it wobble free and safe to children.
Cons: a bulb is not included in the package; the electrical cord hangs down the middle of the lamp.
Dimmable Floor Lamp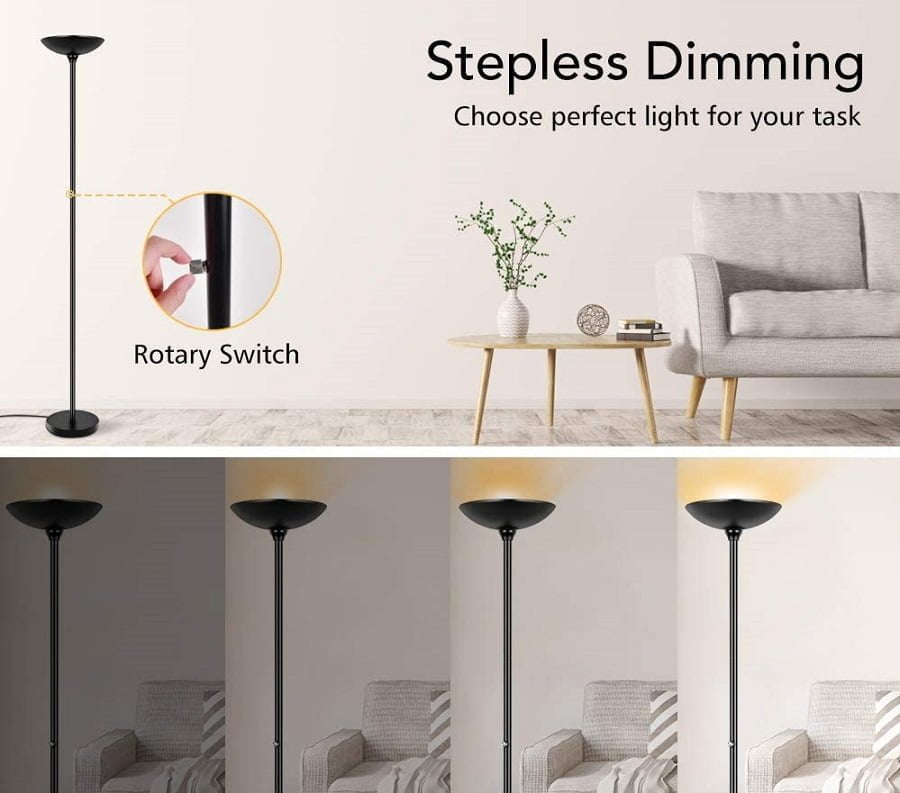 A dimmable lamp provides the most functionality to your room lighting. This design ensures you can set the right level of lighting for any setting.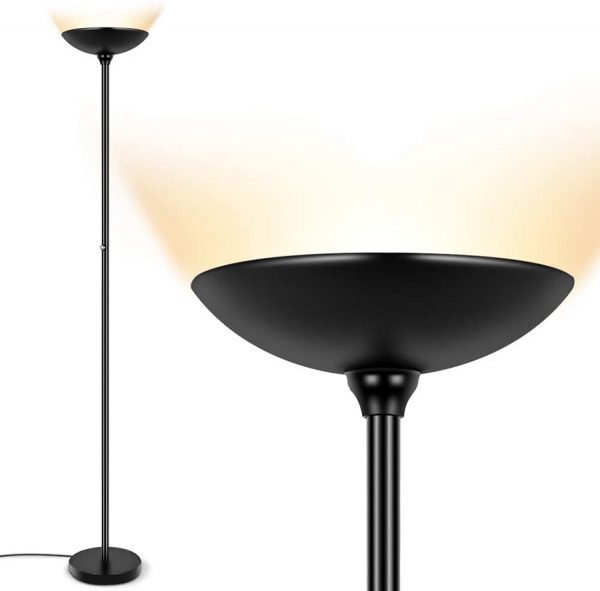 Pros: has a heavy base – this floor lamp stands steadily and won't tip over easily; modern style perfect for the living room; light is very bright and the dimmer knob is simple to use; it allows you have total control of the level of light output.
Cons: the dimmest setting is a bit too bright.
Liked this article? Here's what you can read next:
---
Disclosure: As an Amazon Associate we earn from qualifying purchases.