Last updated on February 6, 2022
Looking for the best lock to secure your driveway gate? It depends on your gate and needs, but you will find what you're looking for on this list of the top 10 best driveway gate locks of 2022.
Which lock is the best overall anyway? We pick this keyless gate lock.
You know you need a driveway gate lock when you open your front door and find an electric company co-op meddling with your electric meter. They tell you they lifted the latch pin on the gate to enter when asked. That's not an excuse to invade your property, but it happens. That's why you need a lock no matter what type of driveway gate you have.
If we look at the locks, the products vary as much as there are types of gates. These can be automatic, single and double swing, or side pull gates. You can get a gate lock to meet your needs. Or you can get a universal lock that does the job. You can probably get away with a decent padlock.
This article is about the best driveway gate locks you can currently find. There are plenty of them. Which one will keep the intruders away and your pets and kids in, though? We have a thing or two to say about it.
When researching the locks, we have found that you need to look into three key things — the material (you need something sturdy), ease of installation (you should be able to add it to your gate yourself), and the way it works (does it need a latch, or an automatic gate opener system, or is it autonomous?)
Here are our picks (including the best choice overall). You have our shopping links (that earn us some commission) that cost nothing extra for you to check out.
What's Inside?
YARDLOCK Keyless Gate Lock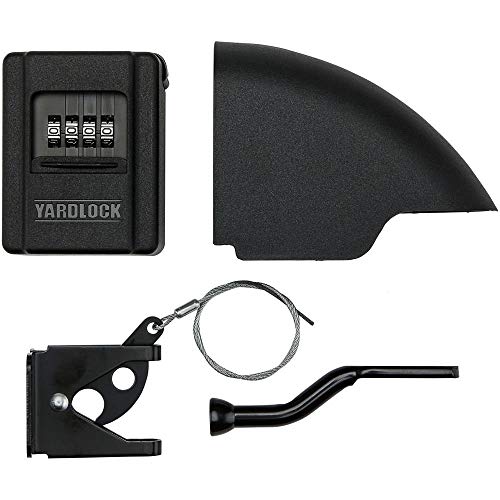 This is our #1 best pick.
Now you have a keyless gate lock that gives you advanced security and easy access without any hassle. It can operate in any weather and is built for years of dependable service. You can use it to lock or unlock a gate from either side with just one hand. It's made with zinc die-cast metal that is rigid and strong. It's the ease of use and installation, and versatility that sold us.
Quick facts:
Made of zinc die-cast with a rigid plastic shell.
Easy to install on any type of gate posts.
Opens from inside and outside.
National Hardware Automatic Keyed Gate Lock Latch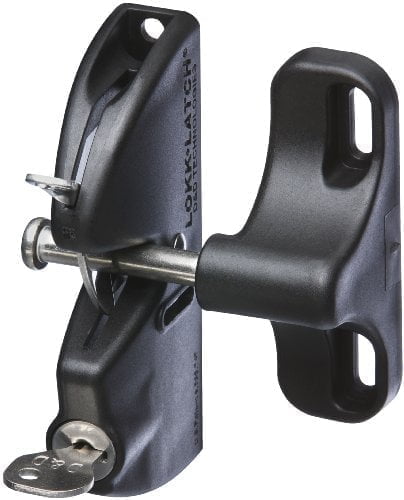 A key lockable gate latch makes a great addition to a driveway gate or any other gate in the house. This product is appropriate for metal, wood, and vinyl gates and does not rust. It is easy to install and can be adjusted to horizontal and vertical directions after installation.
Quick facts:
Universal lock for all types of gates.
Made of industrial-strength polymer and stainless steel.
Easy installation on any type of gate material.
Heavy Duty Shrouded Security Lock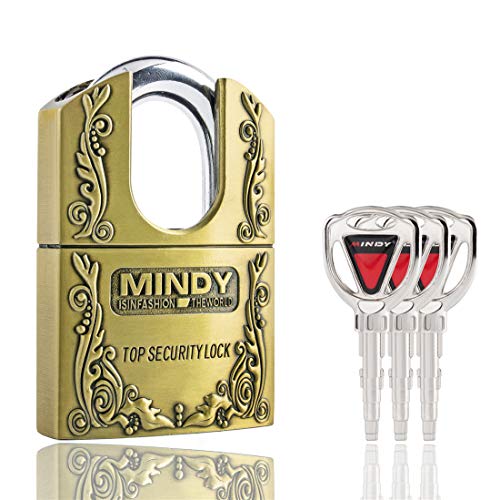 This exquisite lock is more than just a way to keep your property safe. It's an ornamental addition on its own that can be used for driveway gates or other gates. The zinc alloy lock with a hardened stainless steel shackle has a high-security rating and is durable and rust-free for lasting use.
Quick facts:
Made of zinc alloy and stainless steel.
No installation is needed if you have a gate latch to hang it on.
Universal lock can be used anywhere.
DELSWIN Outdoor Combo Gate Lock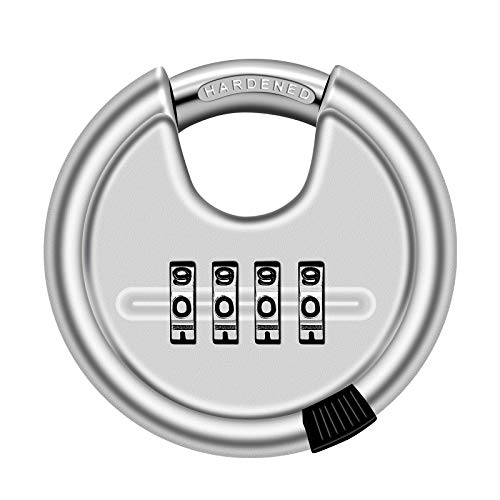 Don't worry about the weather. This gate lock will work in all kinds of temperatures and conditions. It's made of zinc alloy shackles, a heat treatment process, and a zinc alloy that makes it last for a long time. This gate lock is durable, non-corrosive, and waterproof — perfect for year-round use. Its modulation switch gives you room to adapt it easily to your environment.
Quick facts:
Made of heat-treated zinc alloy.
Universal combination padlock can be used on any gate.
No installation is needed.
Automatic Electric Gate Lock for Swing Gate Openers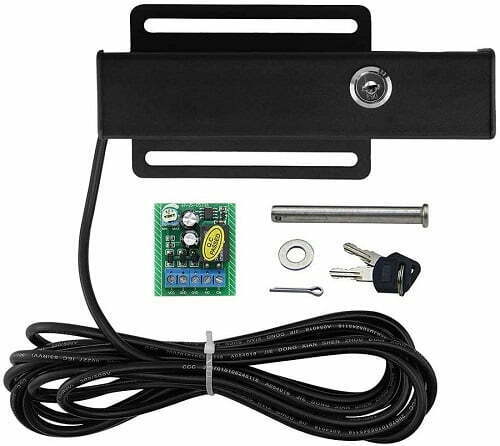 This automatic gate lock features a bolt-on design. It's compatible with pull-to-open and push-to-open dual swing gates with compatible openers. Easy to wire but may pose a challenge on double swing gates.
Quick facts:
Automatic lock system.
Needs an automatic gate opener kit.
Installation can be tricky on double swing gates.
D&D Technologies Side Pull Gate Latch Lock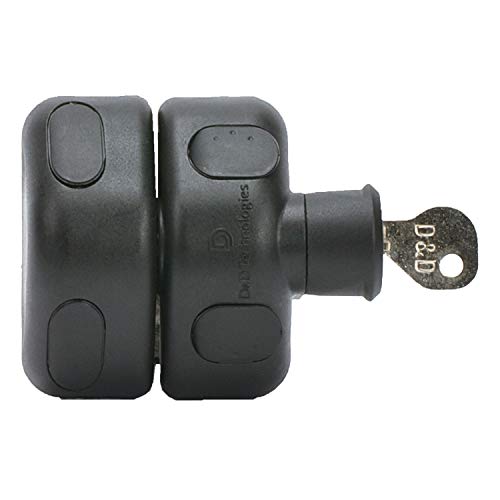 Forget about that old rusty latch. This magnetic self-latching lock can work in many areas around the home and is unobtrusive. It's constructed of industrial-strength metal alternative polymer and stainless steel components to not rust. Vertical and horizontal adjustments mean you can also adjust for a ground shift or gate sag. This safety latch can be used on many common fencing materials and is great for pets.
Quick facts:
Made of industrial-grade polymer and stainless steel.
Magnetic auto-latching.
Easy installation on all types of gates.
Mighty Mule Gate Operator Security Pin Lock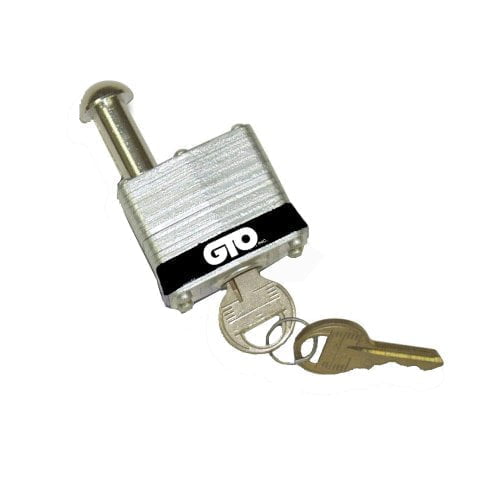 If you want to protect and secure your Mighty Mule (and compatible) automatic gate opener, installing the Security Pin Lock is the smart thing to do. It's easy to install with a DIY approach. All you have to do is replace your arm-bracket bolt with this pin lock to add a level of protection to your existing or new Mighty Mule automatic gate operator.
Quick facts:
Pin lock for Mighty Mule and compatible automatic gate openers.
Easy to install by replacing original pins.
Automatic Gate Lock for Mighty Mule Automatic Gate Openers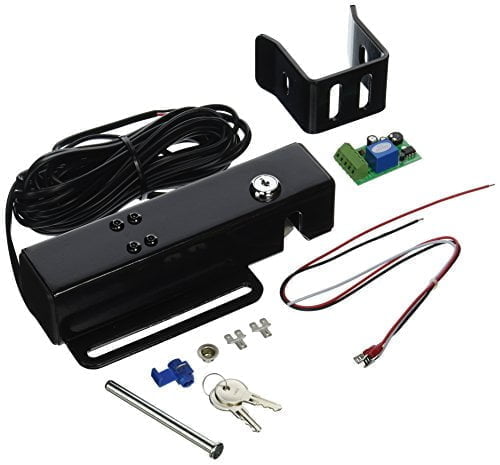 The Automatic Gate Lock from Mighty Mule provides peace of mind and added security for your single or double gate. It automatically unlocks and locks as the gate is activated, providing stability and security. You can easily DIY install it to your Mighty Mule automatic gate opener system. Gate Lock provides stability and security, resisting up to 2500 lbs. of force.
Quick facts:
Battery operated automatic gate lock.
Works with Mighty Mule compatible gate opener systems.
DIY installation.
Ghost Controls ZombieLock Automatic Gate Lock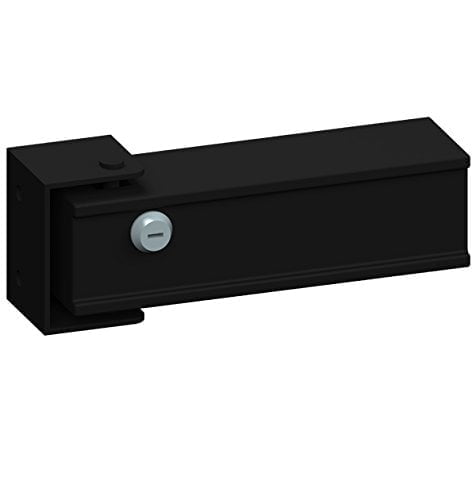 Quick facts:
Made of powder-coated aluminum.
Works with all 12VDC automatic gate openers.
Easy installation on all types of gates.
TOPENS ET24 Automatic Electric Gate Lock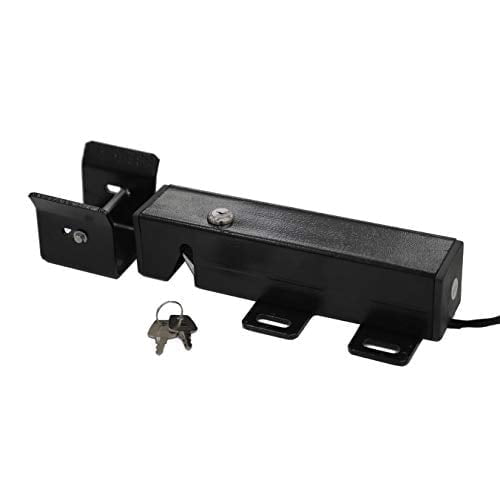 This electric security lock is a perfect accessory for your gate. When your gate opener is activated, it will prevent breakages at strong winds and improve animal safety. This automatic gate lock automatically locks and unlocks the gate when you open it. It works well for many swing gates, especially driveway gates made of metal, wood, or vinyl.
Quick facts:
Made of reinforced stainless steel.
Compatible with DC 24V swing gate operators.
FAQ
Do driveway gates deter thieves?
A driveway gate (especially if it's locked) is a way to tell someone they are not welcome on your property. A thieve who is determined to enter a property will not likely be stopped by a gate (they can break it or jump over it), so additional measures (such as security cameras) are needed to accompany a locked driveway gate.
Is it illegal to lock your gate?
If the gate is on your property and you own it, you have the right to lock it. The problem arises when the gate is on the property line, and you don't own it (your neighbor, for example.) In this case, you don't own the gate, and you can't legally lock it. The solution is to install a separate gate on your property and block the access to enter.
How do you secure a gate latch?
If the gate latch doesn't have an option to lock it with a padlock, you can install a separate latch lock or another type of gate lock. Look for a lock that would be easy to install on your gate and post or replace the latch with a locking mechanism.
Liked this article? Here's what you can read next:
---
Disclosure: As an Amazon Associate we earn from qualifying purchases.