Last updated on April 6, 2023
Traditional glass shower doors are boring and old-fashioned. If you want to improve the way your shower looks, try some of these alternatives.
Glass shower doors are timeless, but aren't they prevalent too long? Aside from the run-of-the-mill look, they lack privacy too.
An aluminum or PVC frame is often set up around the glass in a shower enclosure to decrease the possibility of breaking. It's the standard but boring style.
From a practical perspective, glass doors are excellent. When installed properly, they will fit tightly against the walls and ceiling of your bathroom, preventing water from pouring in and giving you a sense of security.
Another big advantage of glass that's hard to beat is the ease of maintenance. It is very easy to clean. And if you go the extra step to wipe the doors with a towel after taking a shower, there's not much of the cleaning left to do at all.
Thus, a good alternative would be just as functional (waterproof, easy to clean, and secure) and look better than glass.
That's hard to beat, but we've tried to pick the best options to fit the bill. See how we did.
Shower Curtains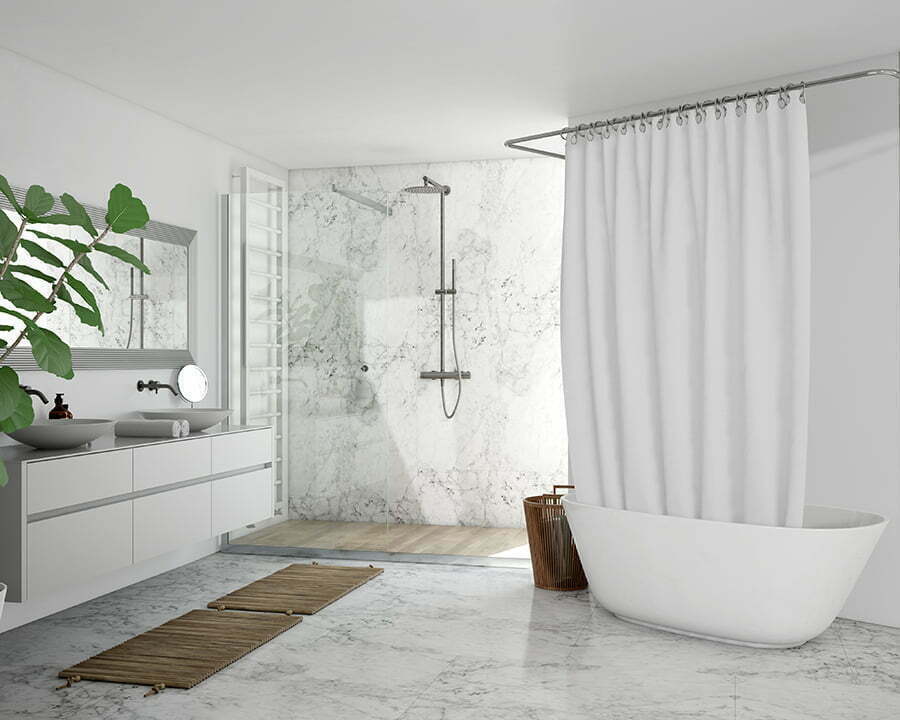 Curtains are easy, inexpensive, and attractive replacements for a traditional shower door. Shower curtains have been the norm for a long time and still offer advantages over shower doors. The right choice can even add elegance to the space.
Curtains provide more options in terms of style, color, and material than doors—low-priced, user-friendly, readily available in various styles and fabrics, and long-lasting.
On the downside, cleaning and mold might be a problem. However, they're cheap, so it's easy to replace them without bothering to clean them.
Another downside is that curtains lack the clean lines of a glass door. You can play this down by creating a cozier look.
Partial Glass Wall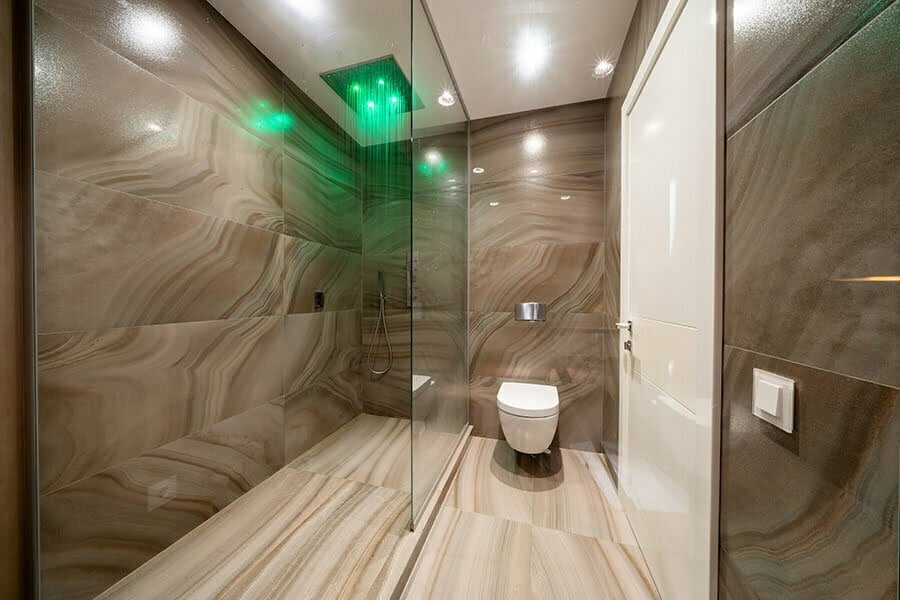 Compared to standard glass shower doors, partial walls may provide a dramatic aesthetic element to your bathroom.
Think of a frosted or clear glass wall to get the idea. Partial-wall or door showers are an excellent compromise between fully enclosed and doorless models.
Depending on where you place your partial fence, it's simple to prevent clutter and messes. This option is not as private as a curtain or full enclosure, but it is stylish and up-to-date.
The cost is anywhere from $700 to $2,000 in materials and installation fees for the bathroom.
Aluminum or Steel Grid or Frame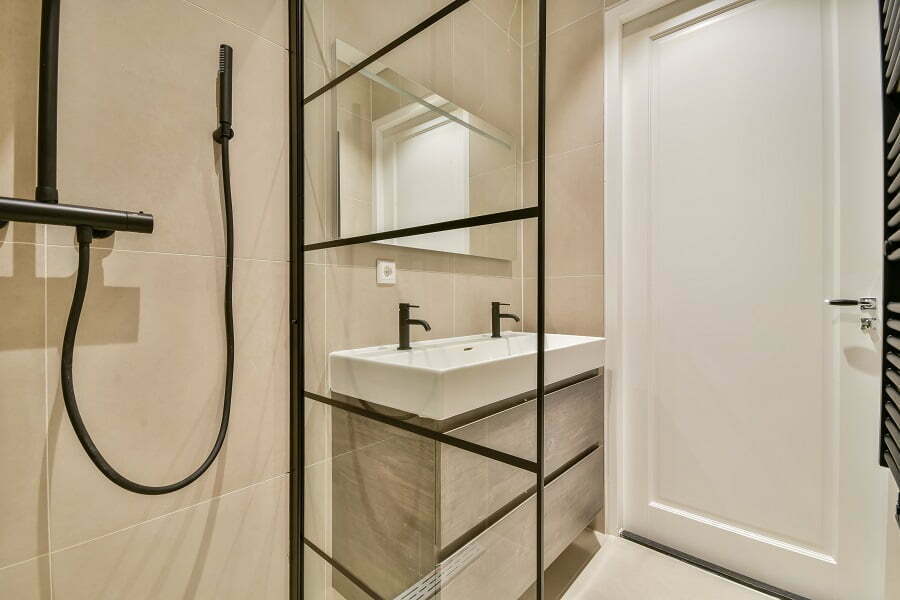 Aluminum or steel grids or frames are an unorthodox replacement for glass shower doors, but they can make any bathroom look fined.
While most individuals who go this route will install glass blocks or imitation glass in the panels, you may leave the framework bare if you like. You may choose between simple square patterns and more ornamental ones.
In addition, you may select a sliding frame that resembles traditional Japanese shoji screens but lacks the glass that they traditionally feature. It should note, though, that such displays aren't exactly commonplace.
Therefore, you'll need to place a particular order and pay extra if you want them. Also, it requires additional upkeep since it has to clean regularly to maintain its appearance. If you don't, water stains or other damage might make it seem worn and old.
The estimated price range is $800 to $1,000.
Partial Shower Doors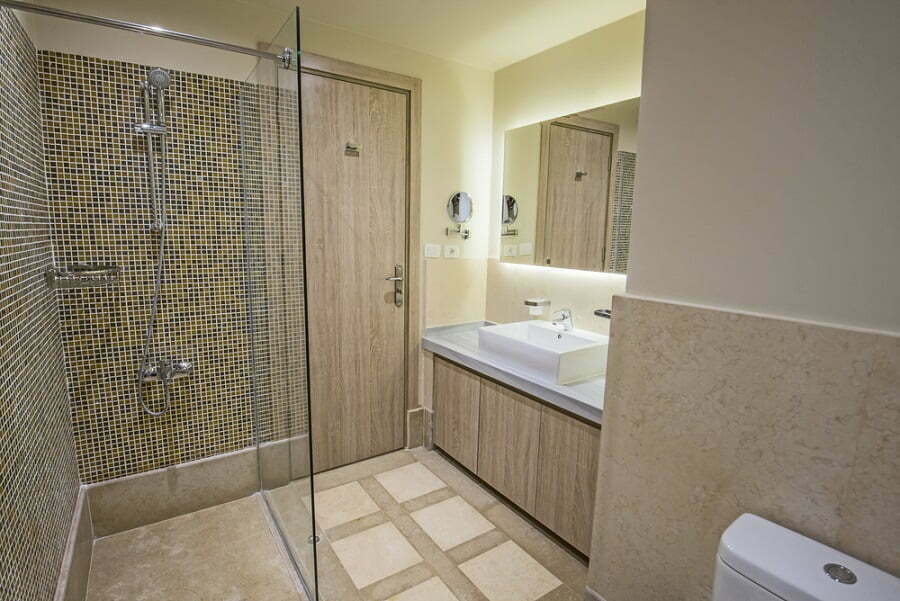 An alternative to the standard glass shower door, partial walls may provide a more dramatic visual impact on your bathroom. Take a look at a frosted or clear glass wall for an analogy.
You may find a happy medium between entirely enclosed and doorless designs with a partial wall or door shower. You may easily avoid clutter and messes by strategically placing your partial fence.
Even if it lacks the privacy of a curtain or complete enclosure, this choice looks chic and modern.
Framed Shower Entry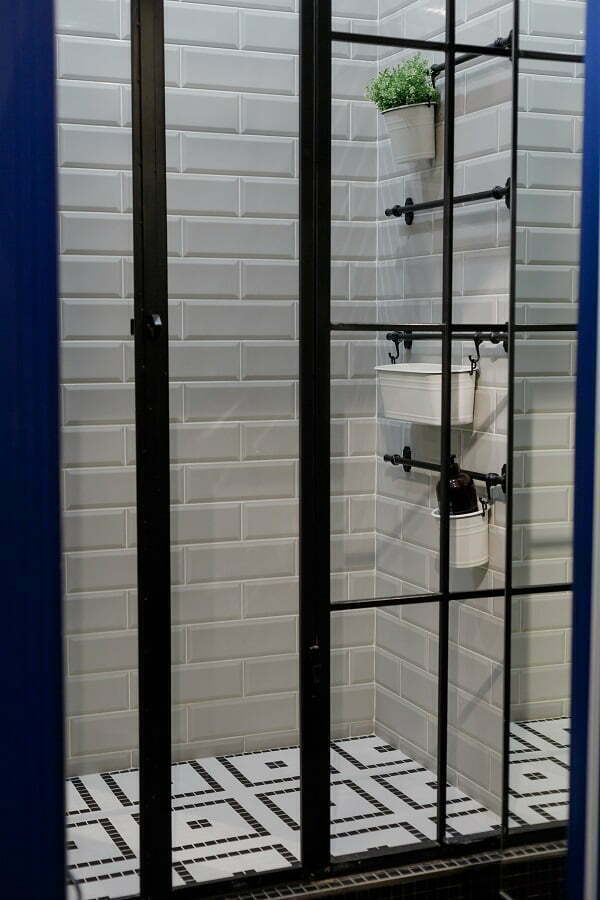 In a framed shower door, the door panel is held more securely by the frame. Having a frame around it lessens the chance of it breaking.
Framed shower doors are more cost-effective than their frameless counterparts. They need less effort to set up.
Framed shower doors may put some people off since they don't feel as cutting edge as frameless ones. They only open in one direction, and the thinner glass may be more fragile than usual.
The typical price of a framed shower door is between $300 and $1,200. They may range from $600 to $1,800 with installation.
Screen Panels
Screen panels are almost indistinguishable from standard glass shower doors but have several key differences. They can be found in many shapes and sizes and feature a wooden or metal frame.
Though many screen panels have an open side, choosing an opaque one can still provide the necessary level of secrecy.
A high-end display panel can cost more than $500, while it can have a budget option for around $200.
Maybe a better choice for a brightly lit bathroom than clear glass shower doors. Determine how many panels you need by measuring the width of your shower.
You have a fantastic option if you want to give your bathroom a modern update.
Sliding Door
Sliding doors are the obvious choice. They are well-suited for large washrooms.
Sliding doors are convenient for bathrooms with limited space since they don't need as much clearance in front of the shower as hinged or pivoting doors.
They're simple to move about, too, so they may make it easier to get in and out of the storm.
Typically, you can expect to spend between $750 and $2,400 to replace a set of sliding glass doors.
Bifold Doors
Considering that the shower curtain must be left open at all times, it may install a bi-fold door in its stead. This door folds back on itself in place of a conventional hinge when opened.
If your shower is on the roomier side, you may use this as a cheaper option to make your bathroom seem like it costs more. There is talk about switching out the glass shower door with a tri-fold one.
You can probably lock these doors using the exact folding mechanism to close them. To install a bifold or trifold door on your own, you may expect to spend more than you would for a standard door.
The entrance will cost a minimum of $600, apart from any installation fees.
Wooden Panels
When seeking an alternative to glass shower doors, wooden panels may not seem like the most excellent option.
Incorporating wooden panels into your bathroom design will give it a cozy, rustic vibe. Before being sealed, you may also paint or stain them to coordinate with your current design scheme.
When compared to other materials, wood paneling is the most eco-friendly choice. It uses a resource that naturally degrades and replenishes. Hence it has no negative impact on the environment.
Considering that trees must fall to make attractive timber wall panels, this advantage of wood paneling may surprise some. Wood and water don't always get along. $59.90-$89.90/ set.
Room Dividers
A glass shower door might also serve as a room divider between two bathrooms. Its floor-to-ceiling length is ideal for covering large, open areas like those seen in walk-in showers.
Room dividers may make from a wide variety of materials, from wood and linen to metal and plastic. You may use a screen, shelf, or curtain to divide a large room into smaller spaces for specific reasons or to create a more intimate setting.
A room divider may be a lifesaver for anybody living in a cramped apartment or a big living room that serves as a bedroom.
Typically costing approximately $100, freestanding room dividers have a low starting point at around $50. Construction and overall square footage are the primary cost drivers.
Bamboo Panels
Shower doors made from bamboo panels are eco-friendly and natural. Putting them in takes very little expertise; even a novice can accomplish it. It can withstand water, making it ideal for the bathroom.
Compare that to the cost of glass doors or metal frames, and you'll see how much more reasonable they are. Cleaning bamboo panels is a breeze.
If they become wet, dry them off with a moist towel. The risk of water damage to bamboo is not as common as it would be with standard hardwood when used in ordinary settings.
Metal Panels
Utilizing metal is a simple way to give your bathroom a one-of-a-kind appearance. Metal panels need little to no upkeep and are uncomplicated to clean.
If they get wet, use a damp towel to dry them off. Take special care to apply a thick sealant layer so they do not get corroded.
Prices range from $2 to $5 per square foot for steel metal panels that it may buy.
A Beaded Curtain
Alternatives to traditional glass shower doors, such as beaded curtains, add a dash of style and personality to the bathroom.
You were often fabricated from plastic, making them simple to maintain hygienic standards. Anybody with even rudimentary DIY abilities can hang beaded curtains.
If you don't have a shower curtain to keep the moisture out, you should wash them clean or spray them after each use to prevent mildew. They act as a filter yet let a significant amount of light through.
They hide your belongings from prying eyes while allowing you to enjoy the scenery.
A Combination of Different Alternatives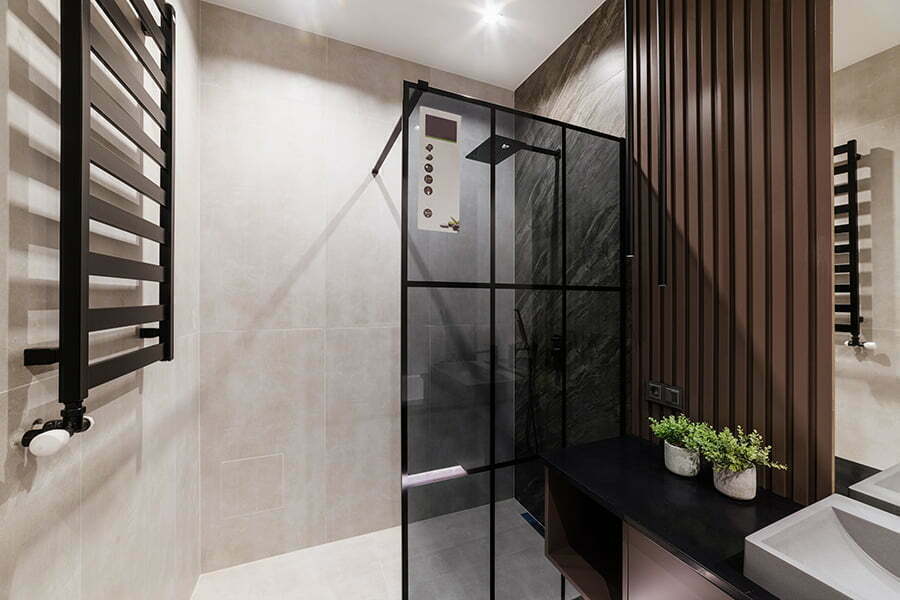 You may get shower doors that mix glass with other materials such as tiles, wood, metal, or even alternatives to traditional shower tiles.
Since the proportion of glass to "other material" may be adjusted throughout the design process, almost infinite variants are possible.
An Open Shower (No Door)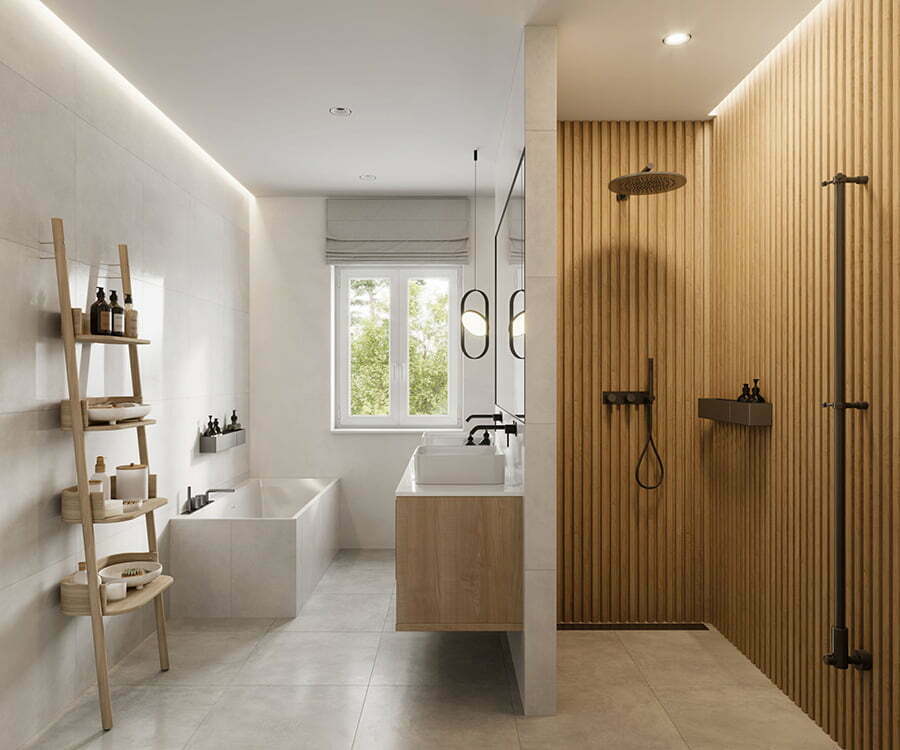 The doorless shower is perhaps the most cutting-edge and one-of-a-kind alternative to traditional shower doors.
Bathrooms and showers with an open layout are becoming more popular. A bathroom with a doorless shower feels and looks more significant because of the increased sense of space.
It's simple to clean, stylish, and a great focal point for your shower. However, the potential for water damage is one of the disadvantages. Considering the individualized nature of a doorless shower, it will cost you more to have one installed.
FAQ
Can you have a shower without a door?
Yes, doorless showers, also known as walk-in showers, offer various advantages, the most important of which is that they may improve your bathroom's aesthetic and practical appeal. Think about installing a doorless shower as you redesign your bathroom, and weigh the benefits and drawbacks of doing so.
What kind of shower door is easiest to clean?
Glass doors are no doubt easier to clean. It can be as simple as wiping them with a cloth every time after taking a shower. That way, there are no water stains or limescale buildup.
What is the difference between sliding and bypass shower doors?
They are the same. Bypass doors are the technical term for sliding shower doors due to the way they are constructed. But it's the same thing, and the terms can be used interchangeably.
Are doorless showers cheaper?
Yes, doorless showers are cheaper since there is no added cost to install a door.
Recap
Liked this article? Here's what you can read next: