Last updated on January 16, 2021
The TV quite often becomes the focal point of the living room decor and it isn't a rare occasion to spend a long evening at home watching a movie when you spend all that time looking at it. So how you place the TV is very important for the complete decor – that's why you need the right TV stand or a media console to get the look right.
In this post, we have made our subjective list of the top 10 best TV stands for you to consider. As usual, we don't just look at the price and quality of the product, we pay a lot of attention to its design and decor value – you can't make the choice of the focal point in your decor lightly.
(Looking for a floating TV shelf for small spaces?)
What's Inside?
Altra Carson TV Stand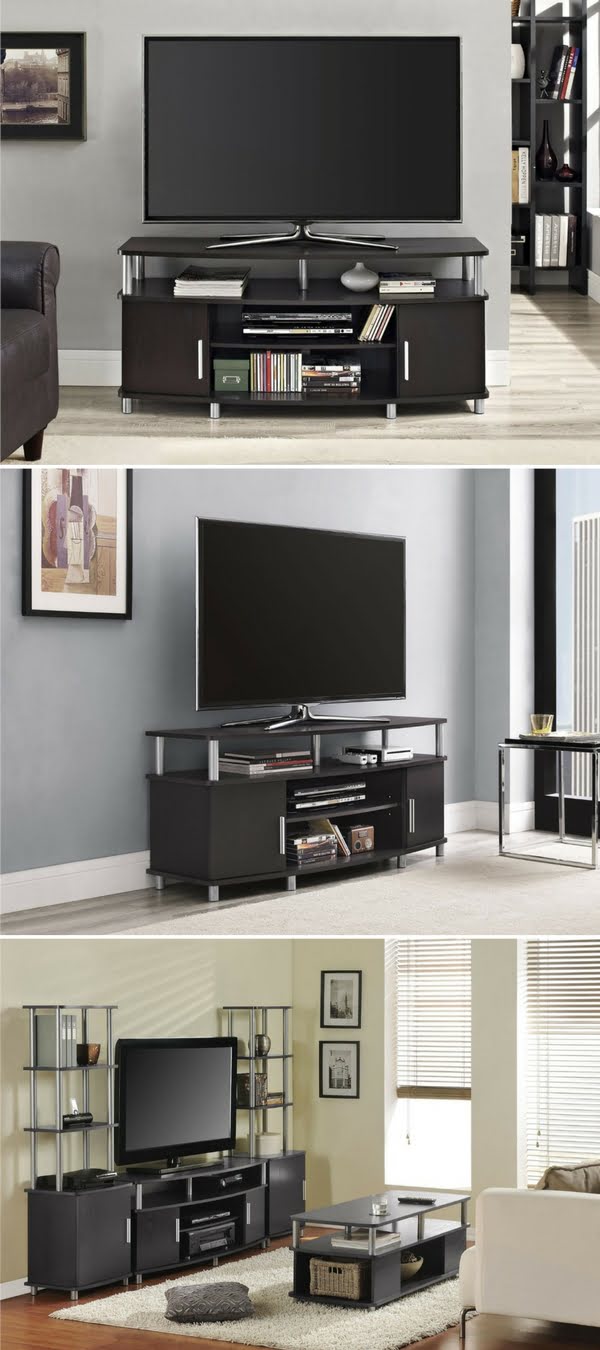 An affordable option if you want to get the job done and still receive a fairly attractive modern look. At this price point it certainly won't disappoint and considering its efficient design with plenty of space for storage and display (both open and closed), it just might be your TV stand. Available on Amazon (#ad).
Torena Multi-Storage TV Stand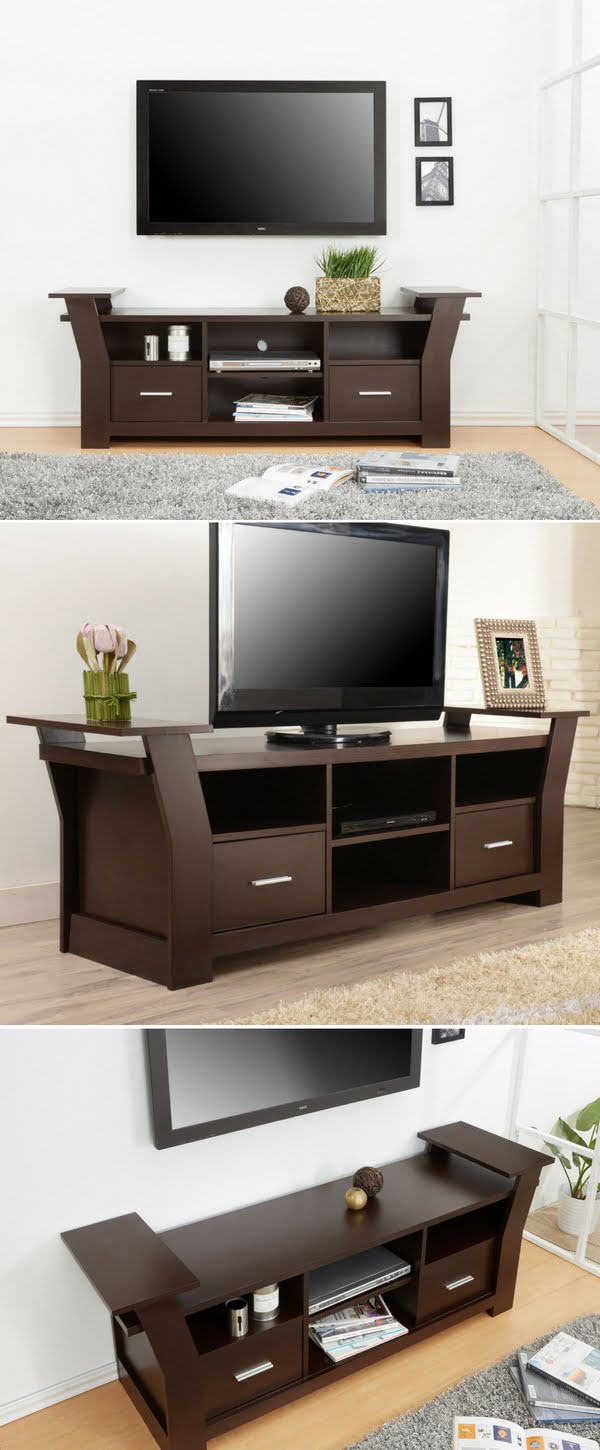 Another option to make a subtle statement with this contemporary design TV stand. Even-though it's not as high quality as some of the other units on this list, it's one of the best at this price point. It provides a lot of storage space and adds decor interest with raised side shelves and angular lines. Available on Amazon (#ad).
Jama TV Stand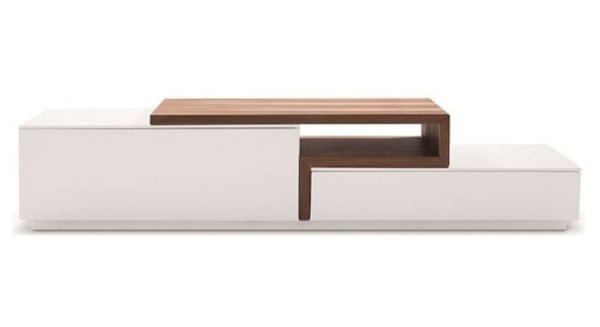 If you want to go modern, this TV stand is the perfect fit with its beautiful asymmetric design. It provides plenty of storage space in closed cabinets as well as plenty of open space for display. The unit is made of solid wood material so it is as high quality as it looks and provides an attractive wood finish for your decor. Available at Houzz (#ad).
Trieste TV Stand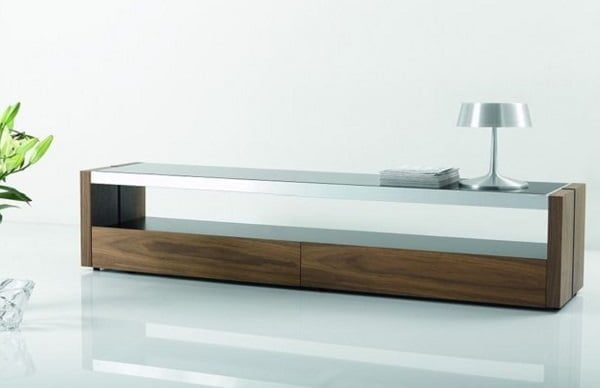 This TV stand will turn your TV into a real focal point in your living room decor. Its intricate curvy design makes a modern accent which is truly eye catching. The glass top and wooden frame make a winning combination of mixed materials. The unit has all open storage space so there's plenty of space to store books, DVDs, electronics or make displays. You can find it on Houzz (#ad).
Wilkens Media Console
Bring some industrial style to your home decor while still keeping it elegant. This TV stand with open shelving is made of reclaimed wood and brass frame which provides a blend of modern crisp lines and rustic warmth. You get plenty of room for a big screen TV and storage as well as display. Available on Houzz (#ad).
Clayton Media Stand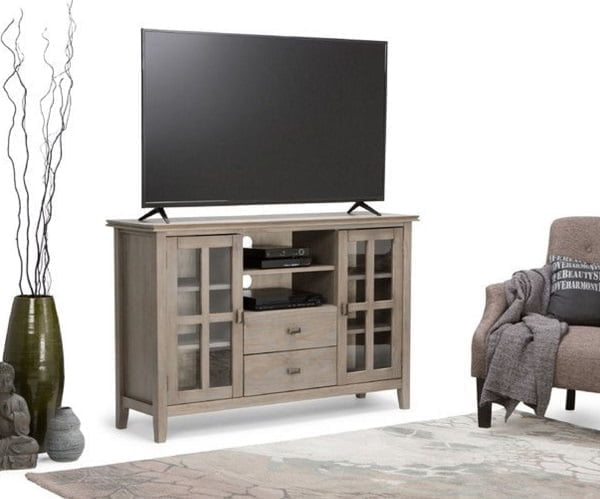 This classic and elegant piece of furniture will provide you with a lot of storage space in closed cabinets but still retain an airy look with glass doors. The wood finish is warm and attractive and it will fit in your decor perfectly, especially if you have hardwood floor. You can find it at Houzz (#ad).
Altra Galaxy TV Stand

The perfect TV stand for the minimalist look and small spaces. This unit is very compact and brilliant in its design. The TV is mounted on the top and the stand provides built-in and floating shelves for storage and display. It's small but it makes the most out of very limited spaces. Available on Amazon (#ad).
Mid Century Solid Oak TV Stand

If you're going for the mid-century look, this piece of furniture is a treat for you. Really high quality handmade from sold oak, this TV stand is compact but functional, providing shelving space for storage and display. The raised thin legs give it the airy look typical to mid-century furniture and taking very little visual space in your decor. Available on Etsy (#ad).
Pallet Wood TV Stand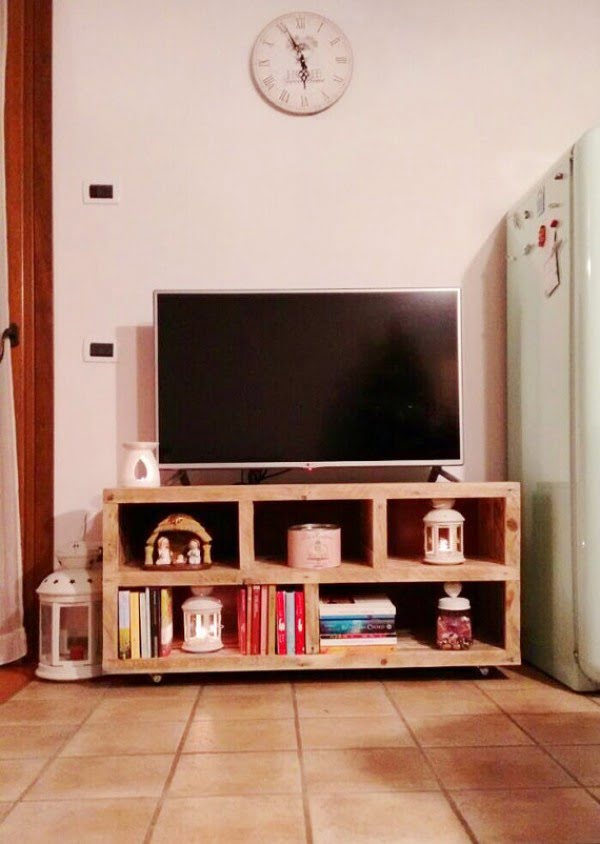 Handmade from pallet wood this TV stand will give you a very rustic style piece of furniture. It's compact but functional design will provide you with plenty of storage and display space and won't feel small at all. And finally, it will look very authentic in your living room as a perfect focal point. Available on Etsy (#ad).
Rustic Piping Media Console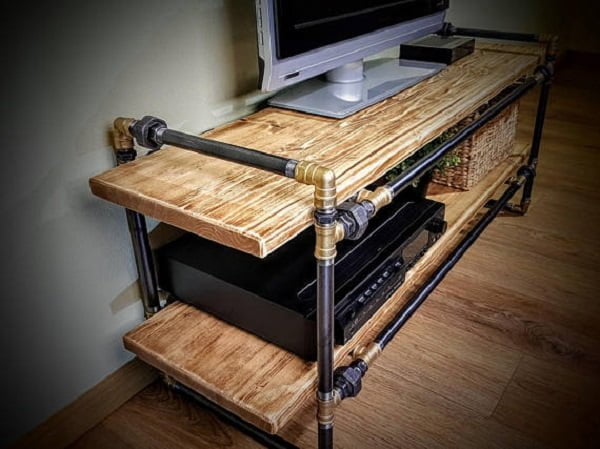 We like Etsy very much because you can get the perfect unique items for your decor there. And when it comes to focal points, this small but eye catching console made of wood and piping will make the center piece of your decor. It won't give you much space for storage but it will give you the unique piece of furniture that your living room needs. You can find it on Etsy (#ad).
Liked this article? Here's what you can read next:
---
Disclosure: As an Amazon Associate we earn from qualifying purchases.