Last updated on September 5, 2023
Be the perfect host and offer perfect entertainment. Create an amazing feel for your home with these home alternatives!
Going to a bar and spending a happy hour with friends is a great thing. However, sometimes you just want to be comfortable while drinking a glass of good wine. Enjoying your drink in your pajamas with the people you are most comfortable with is even more relaxing.
You don't need a huge home bar, even a tiny one will do as long as it serves its purpose. You can use other things as your DIY bar, even things already found in your home. You don't even need to vacate a big space, you can turn a kitchen nook into a simple home bar.
Check out some of our favorite ideas for alternative bar options at home.
Home Wine Bar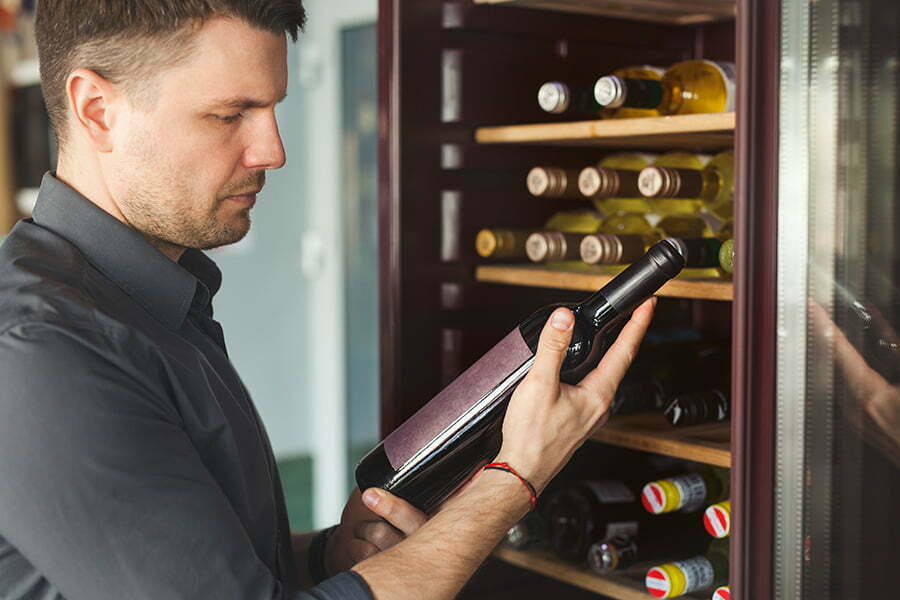 A home wine bar is one of the best home bar alternatives because everybody loves wine. Instead of using a home bar, consider setting up a home wine bar to store and display your wine properly. Home wine bars come in various designs, so consider all your options.
Kitchen Cabinet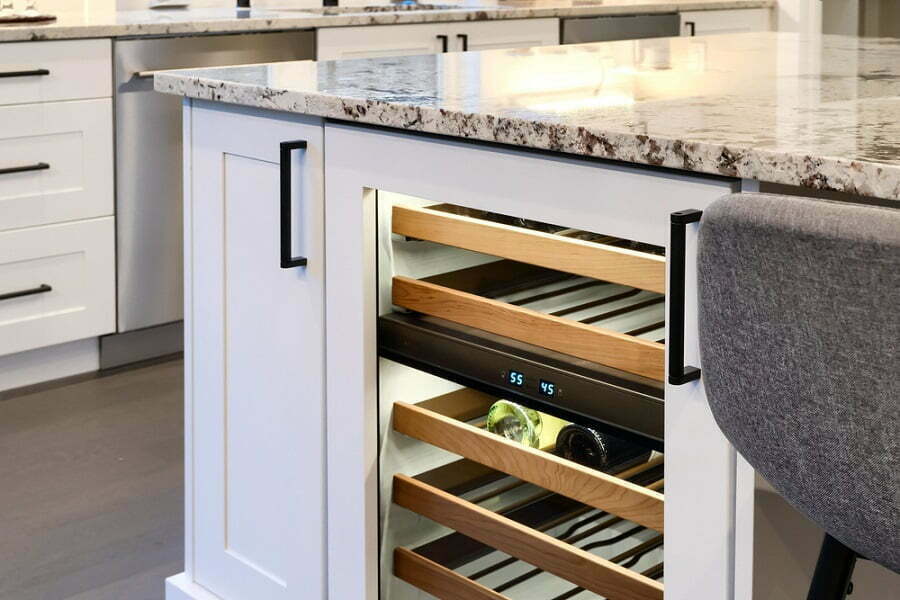 You can set aside some space in your kitchen cabinet for wine storage. You'll need to buy a wine rack that can fit into the cabinet. If you cannot find a suitable rack, you can keep the wine upright inside the kitchen cabinet.
Kitchen Pantry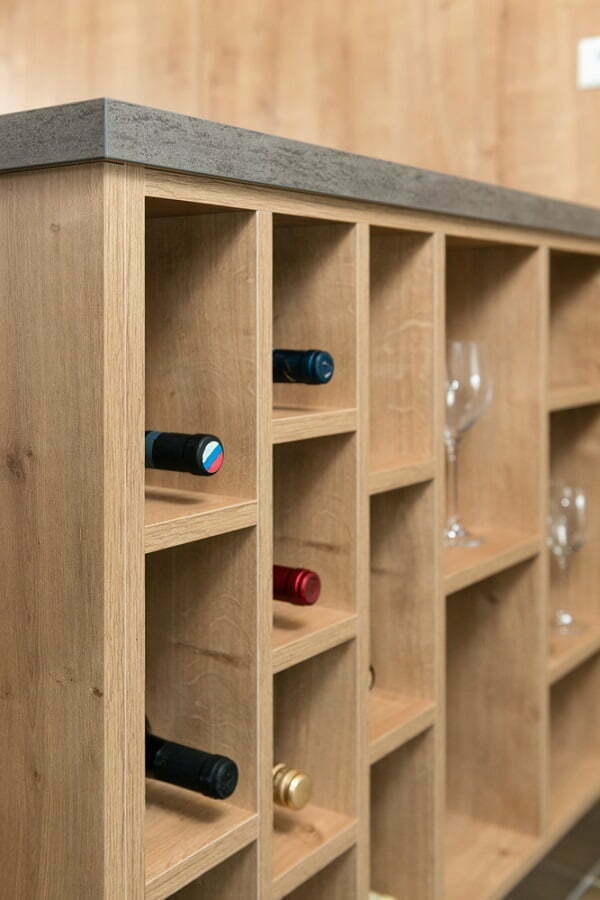 The kitchen pantry is one of the best places to store wine inside the house. This is because there is enough space and a conducive temperature, humidity, and lighting. You may need to buy a wine rack to store wine in the pantry properly, but this is not required.
Hutch Cabinet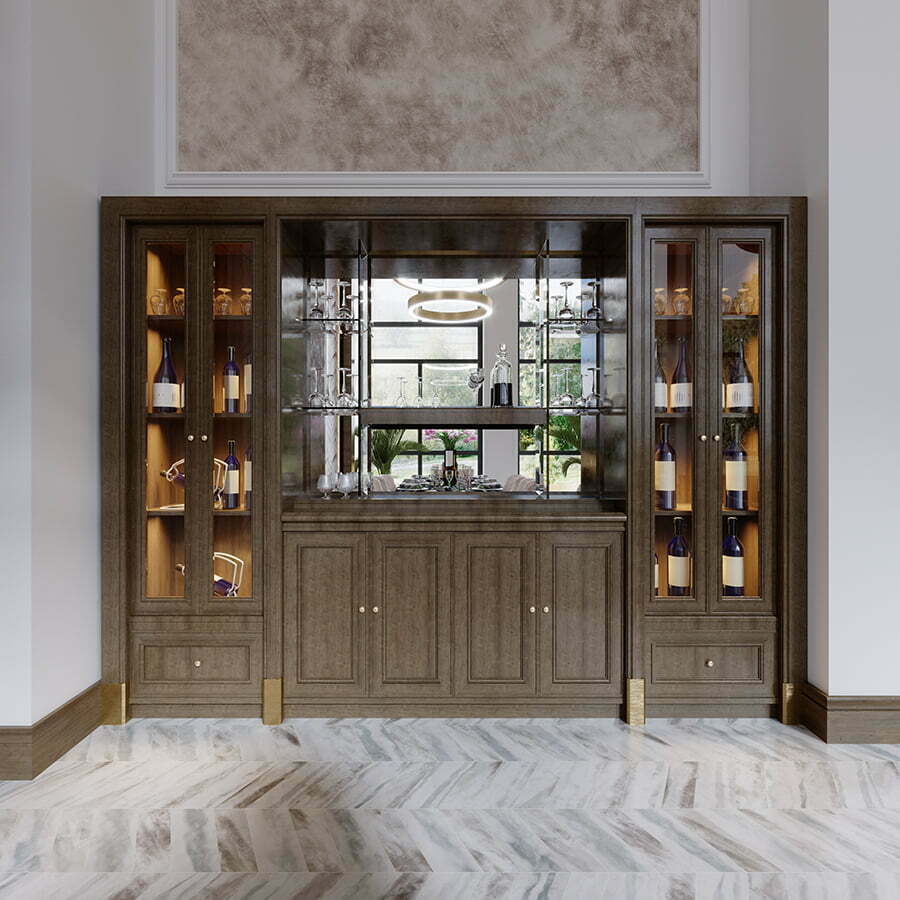 This is a special type of kitchen or dining room furniture with two sections. The lower section has cabinets or drawers with a counter on top. The upper section may have shelves or cabinets suitable for storing wine and other items.
Wall Mount Shelf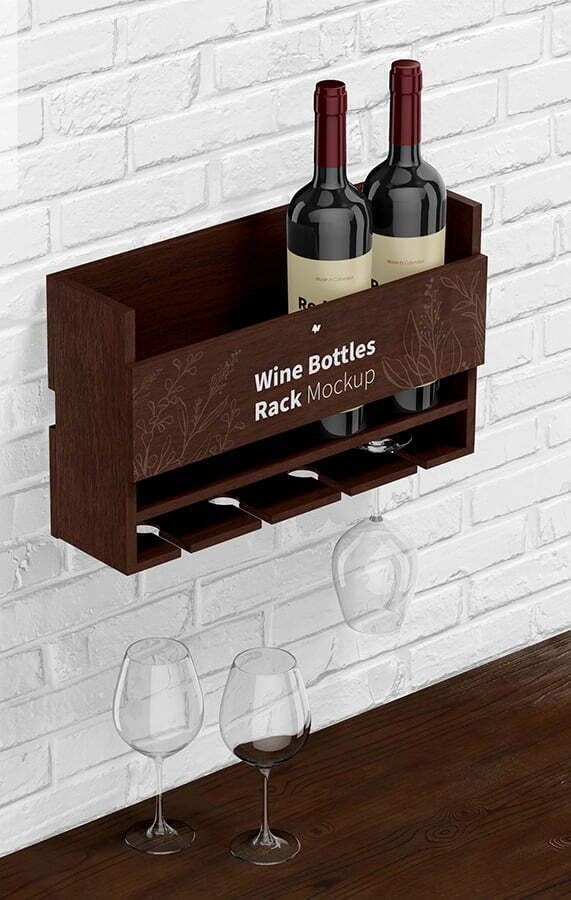 Wall-mounted shelves can increase the amount of storage in a room. They are also great for storing wine bottles. If you're looking for home bar alternatives, you'll find wall-mount shelves useful.
You can mount wall shelves in an empty kitchen corner to effectively use space.
Dresser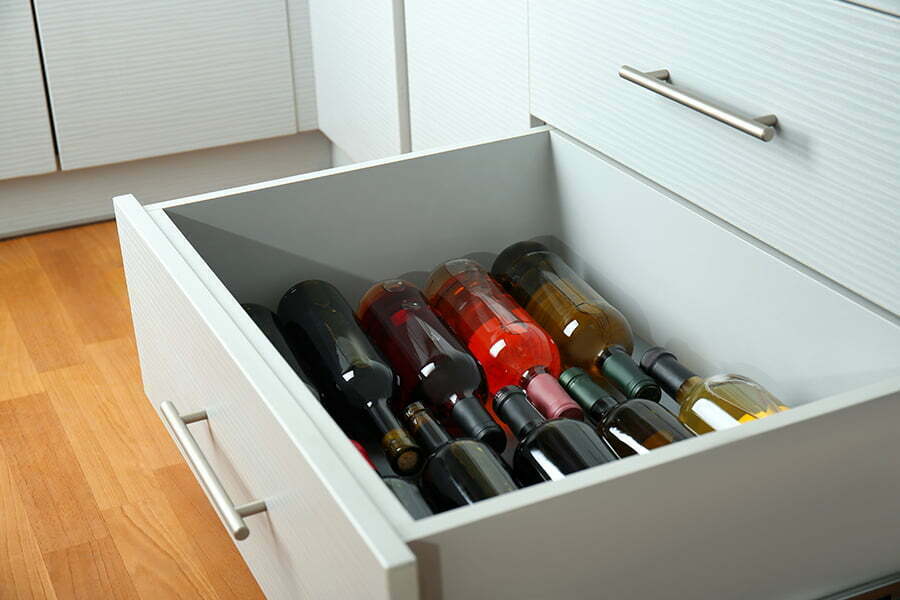 If you're tight on space or want to keep your wine in a secure place, you can use your dresser. The bottom drawer of your dresser will provide your wine with a low temperature and regulate light. Therefore, the dresser will not tip over due to the weight of the wine.
Wine Fridge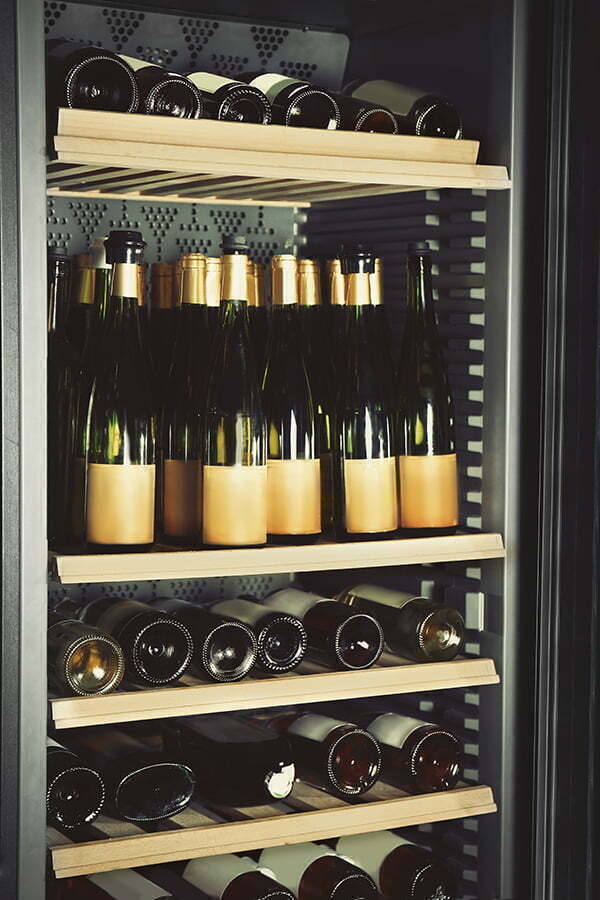 The most suitable temperature for storing wine is 11-14 degrees Celsius. You can buy a wine fridge to provide your wine with a constant temperature. These fridges come in various sizes, so be sure to pick a fridge that's best suited for your needs.
Wine Storage Rack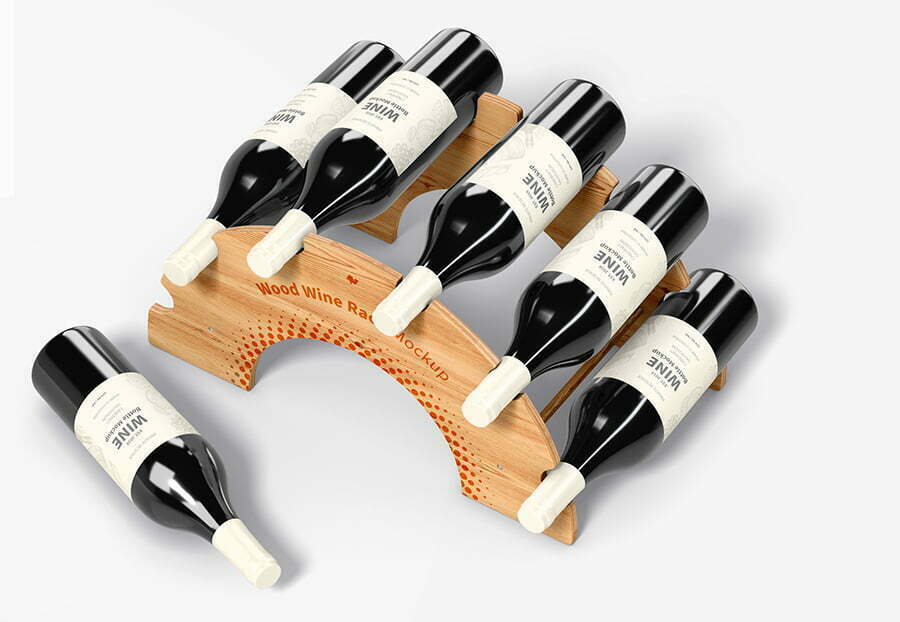 Wine racks are designed specifically for wine storage; if you would like to store several bottles, this is a must-have. Wine racks come in various sizes, so you can choose one that best matches your needs. Wine racks can be kept in the kitchen pantry, basement, or wine cellar.
Bar Cart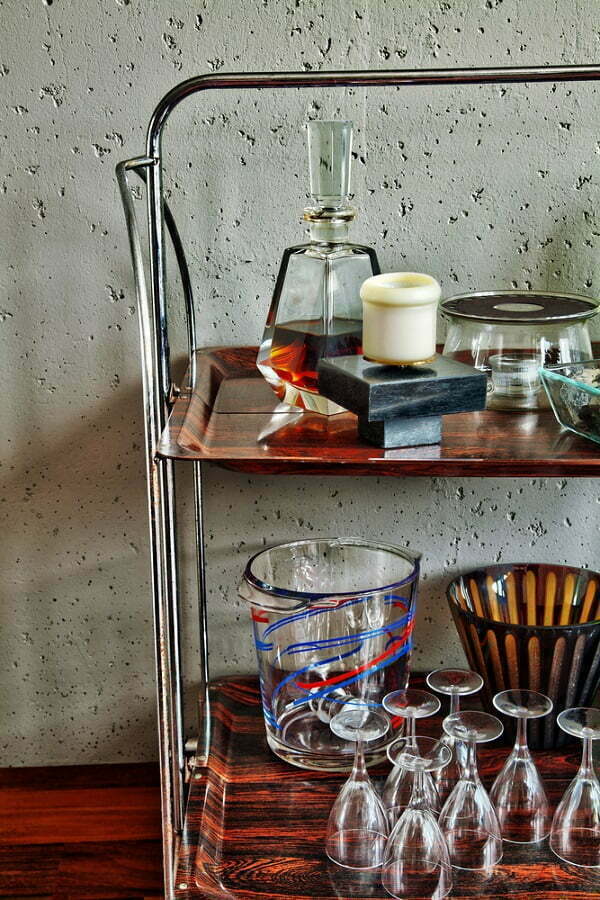 Buy a bar cart if you're looking for a creative way of storing and displaying your wine and enhancing decor. They come in different shapes and sizes, so shop around before placing your order. You can also keep wine bottles and a flower vase on the bar cart.
Bar Made of an Old Barrel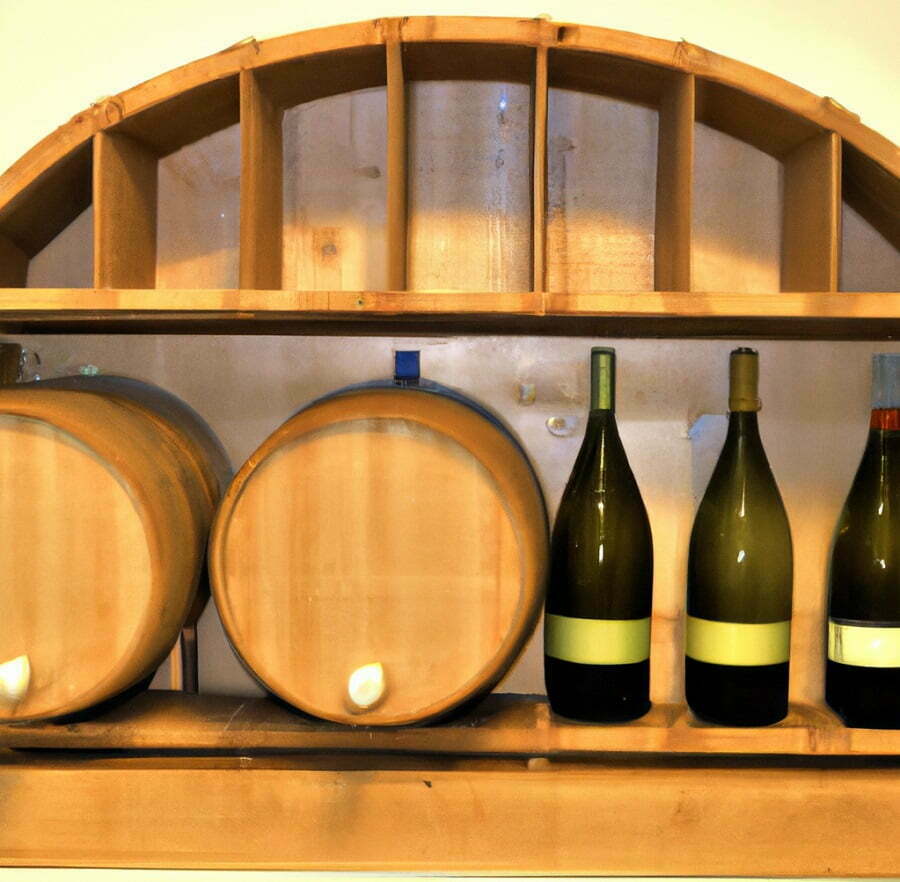 Old barrels have many uses, one of them being making makeshift tables. An old barrel bar modified to have a wine storage cabinet on its side is a great idea. There are 1-barrel and 2-barrel bars on the market, so you only need to shop around.
Pallet Bar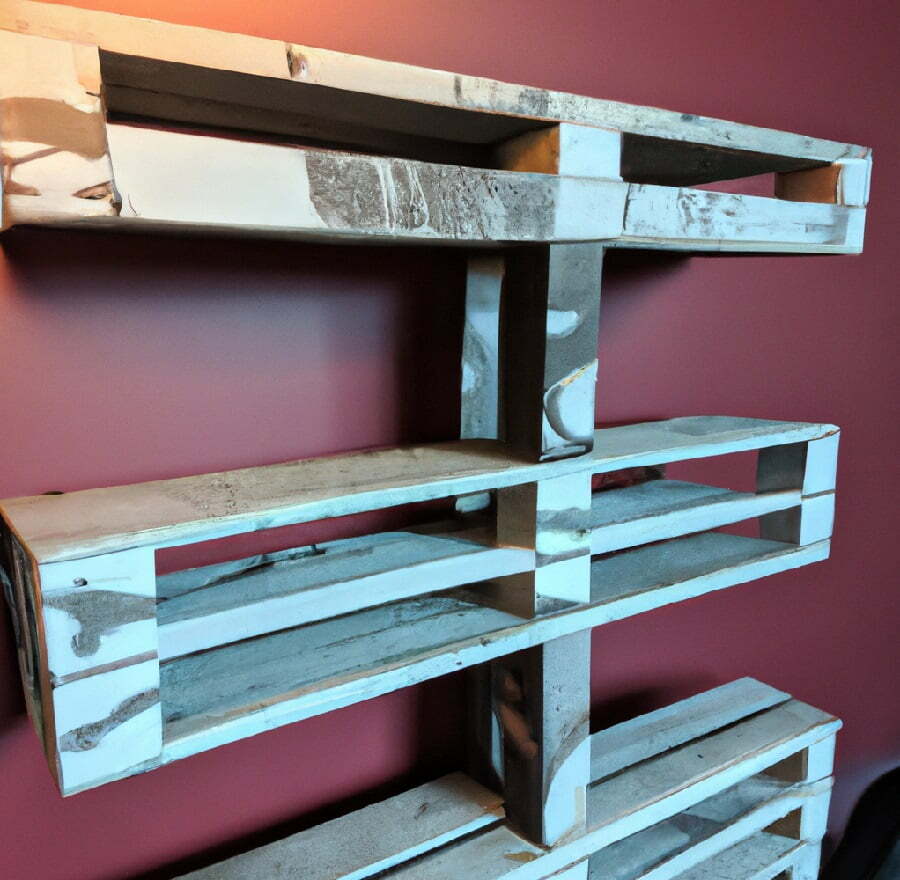 A pallet bar can make a wonderful outdoor bar as well as a great home bar alternative. Coupled with the right lighting and finishing, a pallet bar can make the best home bar alternative. You can either build your pallet bar or hire a professional.
Wine Cooler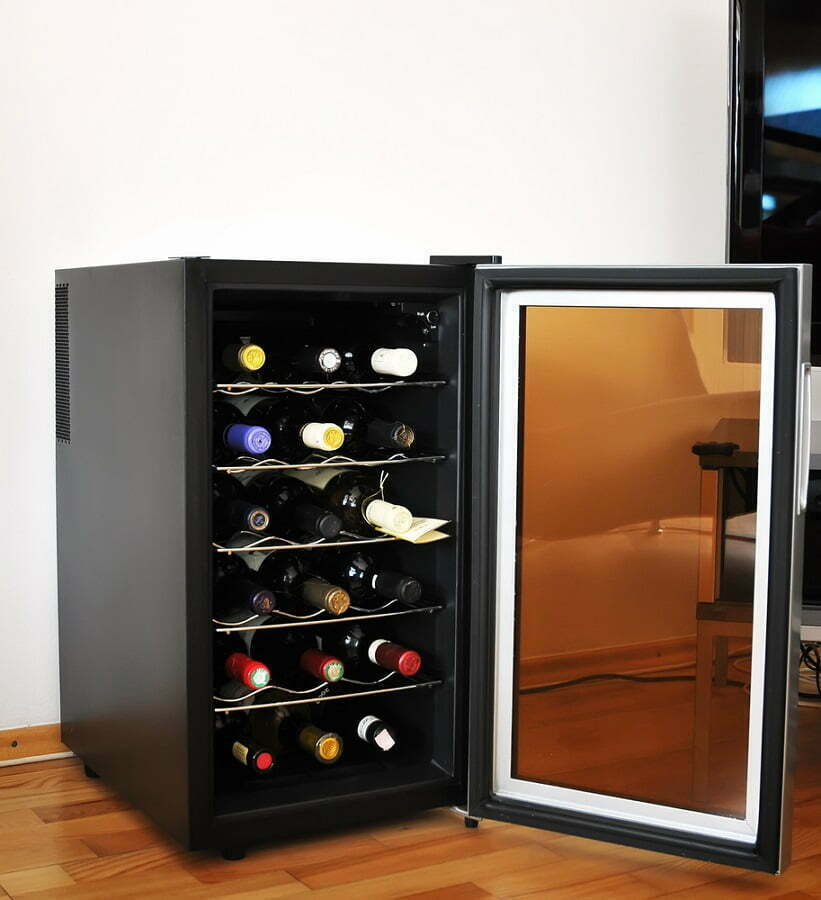 Most wine enthusiasts have a wine cooler for keeping their wine at the right temperature. Wine is best stored at temperatures ranging from 11 to 15 degrees Celsius. Be sure to select a cooler that can store the number of bottles you want.
Tall Vertical Shelf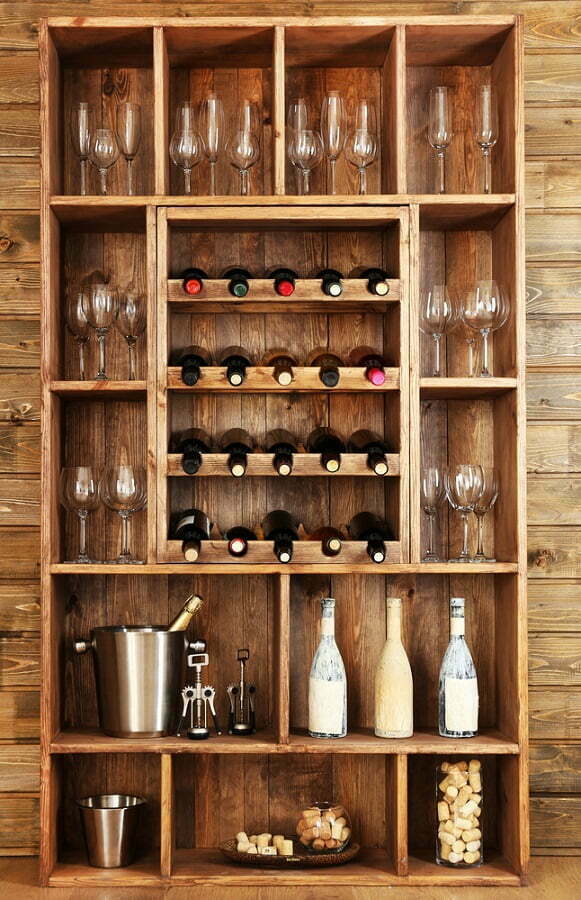 If you'd like to make good use of space, consider vertical storage for your wine. You can install a tall vertical shelf in your kitchen pantry to store your wine. The shelves can be slanted to ensure wine bottles do not slip off the shelves easily.
Pull Out Cabinet Shelves
Cabinets with pull-out shelves are great for storing wine bottles. You can view all the contents by opening the cabinet and pulling out the shelves. This will enable you to choose the right wine bottle.
The pull-out cabinet shelves can be in the kitchen, pantry, or hutch cabinet. Whatever the case, there should be a mechanism for locking the cabinet if there are minors in the house.
Walk-in Closet Transformation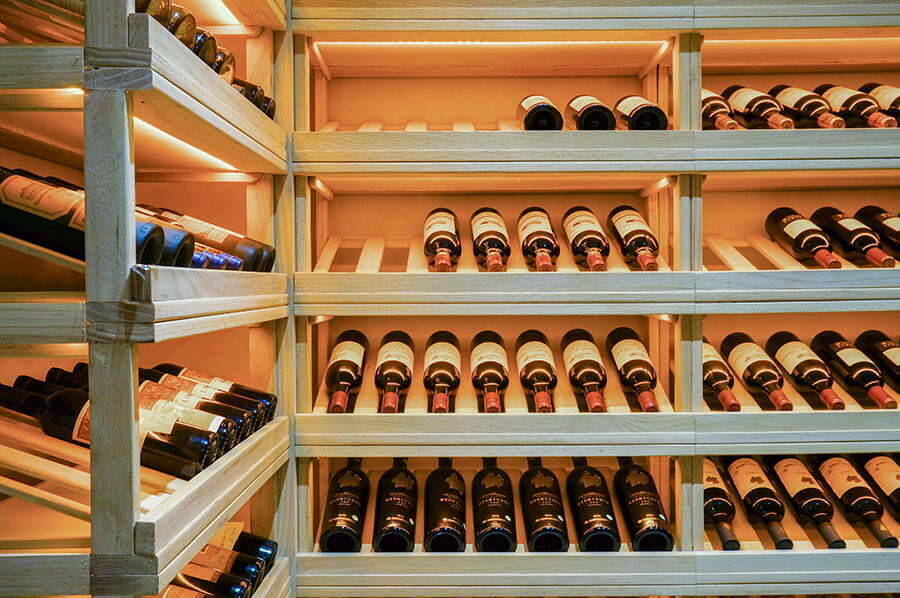 If you have a walk-in closet, you can transform one side of the closet or the entire closet into a wine cellar. Discuss your wine-storage needs with your preferred contractor before the project commences. Most interior designers and builders can show you a 3D computer model of how the cellar will look after completion.
The location is the best thing about converting a walk-in closet into a cellar. Since the closet is in the master bedroom, you can easily control who can access the cellar.
FAQ
Why do you need a home bar?
Home bars are perfect for entertaining guests because they provide a place where people can relax and enjoy themselves. A home bar is also ideal for those who love wine and other beverages.
How can I make a cheap bar?
You don't need to spend much money creating a home bar. All you need is some creativity and a few tools. For example, you can use an old wooden crate or a piece of wood to serve as a base for your bar. 
How do I build a mini bar at home?
A bar cart makes an excellent mini bar at home.
How big should a home bar be?
Just big enough as you need. If you have free space, you can build a bar with countertops, but a simple hutch or a shelf will do in small spaces.
Recap
Liked this article? Here's what you can read next: